Overview
CyberGhost is a decent VPN provider with a particular focus on unblocking streaming services. But its privacy and security evoke some concerns.
Ratings
Features
| | |
| --- | --- |
| Apps | Windows, macOS, Linux, Android, iOS, Chrome, Firefox |
| Price | ₹175.00 per/month |
| Payment methods | PayPal, Credit Card, Bitcoin, iDeal |
| Protocols | OpenVPN TCP/UDP, PPTP, L2TP/IPSec, IKEv2/IPSec |
| Log Policy | No logs |
| Simultaneous connections | 1 |
| Based In | Romania |
| Jurisdiction | Romania - Not a Fourteen Eyes Country AND Not an Enemy of the Internet. |
Robert Knapp founded Cyberghost in Bucharest, Romania, in 2011. The choice of location is no accident – since Romania is not part of any international surveillance alliances, it's a privacy-friendly state, perfect for a VPN's base of operations.
However, CyberGhost was acquired by Kape Technologies, an Israeli company, in 2017. Kape is also the parent company of Zenmate and Private Internet Access.
Today, CyberGhost has a well-established team of over 70 professionals with a strong IT background. It has also broadened its reach by establishing another base of operations in Germany.
And as of today, CyberGhost has more than 36 million users worldwide. And with that, it's definitely among the most popular and trusted VPN providers today.
But is it really that good? Or is there cause for concern when it comes to a provider that claims to be able to ghost any restrictions.
In this review, we have dived into everything CyberGhost – the good, the bad, and everything in between.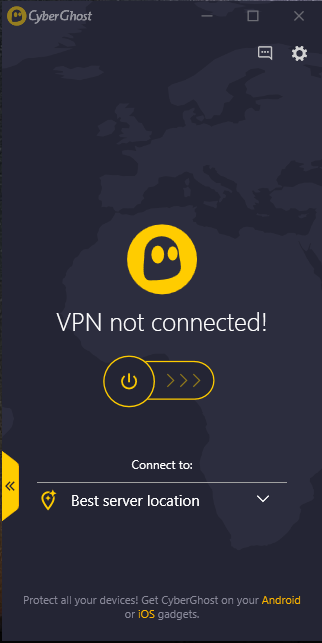 Servers
Overall, Cyberghost provides a good range of servers for its price.
It has over 7,000 servers in 91 countries.
With such an extensive server network, CyberGhost is sure to hook you up with one nearby, so you can have the best possible Internet speed, as well as access all kinds of content from different locations.
However, it's not just about the sheer number of servers and IPs.
Cyberghost takes pride in establishing a network of what it calls NoSpy servers. These servers are privately owned by CyberGhost, meaning they are the only ones that have access to them and any information that is stored on them or passes through them.
This takes cybersecurity out of the online and into the real world. Not only does CyberGhost protect you online, but they also ensure that no third parties or even authorities from anywhere will be able to request or access data on you (if there is any).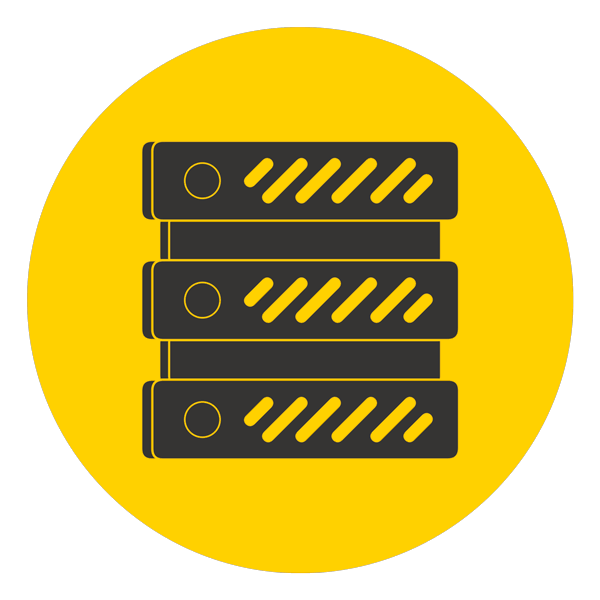 Other than that, CyberGhost has a pretty extensive server selection that will definitely get you where you need to be (virtually).
One other cool thing about CyberGhost's server setup is the servers dedicated to specific tasks. If it's streaming or torrenting you're looking for, you don't have to hop servers hoping one will work. The client will immediately give you the best possible options.
You can also choose a server based on its location. You can check the number of servers in a city/country, whether a server is P2P-optimized, its load and the number of users, and if it is a physical or virtual server.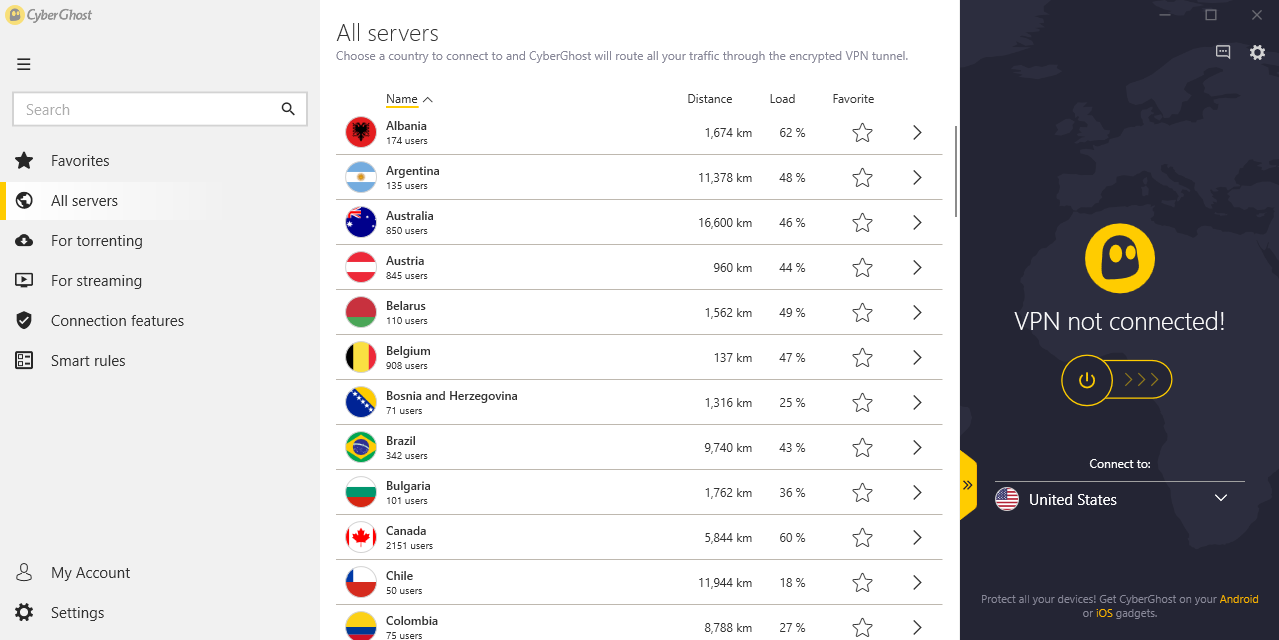 Unfortunately, there are no specialized servers on mobile apps.
CyberGhost Speed Test
Cyberghost offers competitive speeds, especially in Europe and the US.
South American and South African servers are relatively slower. But that's due to the local infrastructure, not the VPN itself.
Of course, we had to take CybeGhopst out for a spin and check out how it compares to other VPN providers in terms of speed.
To give you some context, here is our Internet speed test without using a VPN (yep, we have pretty good Internet):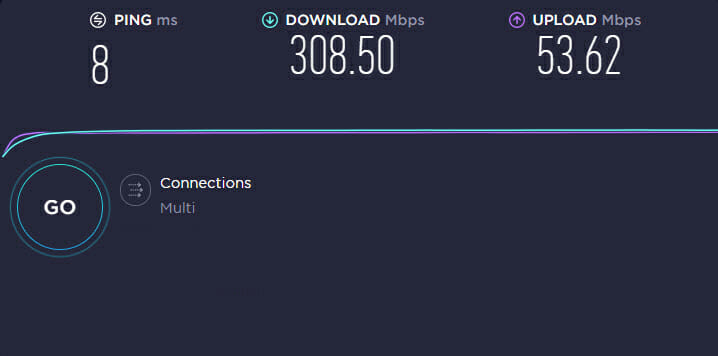 When we performed the speed test, the reaction time of the connection was 12 ms (ping) in Amsterdam and 166 ms (ping) in Nairobi. The European servers had a download speed of 210.54 Mbps and an upload speed of 21.82 Mbps, whereas Nairobi had 5.59 and 4.00, respectively.




Generally speaking, CyberGhost did well on the speed test. But as you can see, the results can vary wildly, depending on the server you connect to.
While other VPN providers are focused on giving you the best possible speed whatever you connect to, CyberGhost goes for server numbers.
Security
The key reason for using a VPN is to secure and anonymize the Internet connection in today's world of constant surveillance. So, how good is CyberGhost in the field of cybersecurity?
At first glance, CyberGhost seems to have the best protocols and encryption. But things aren't always what they seem to be.
Since 2017 CyberGhost belongs to Kape Technologies. And before going into online privacy and security, Kape (called Crossrider back then) used to work in advertising using… not the cleanest methods in its business practices.
Crossrider (Kape) developed and actively exploited malware, that would install itself on a user's device and hijack the browsers to monetize them by showing ads and pushing for products.
If this isn't shady, we don't know what is…
The company may have changed its name. but the reputation followed it and CyberGhost by proxy.
Now, there is no proof about CyberGhost or even Kape still spreading malware. But that's reason enough to approach these companies with a certain level of doubt.
---
When we were conducting our extensive CyberGhost VPNs tests, we did find out that some of the servers were leaking our DNS:

And this is a big 'No-No'.
But it did pass our IP leak test:


On top of that, CyberGhost isn't as No-Logs and anonymous as it says it is. But we will get to that…
OK, back to happy thoughts.
Let's take an in-depth look at the security features CyberGhost has and provides you with.
Encryption and Protocols
CyberGhost routes your traffic through an encrypted tunnel using standard 256-Bit AES encryption.
The AES uses the same key for encryption and decryption of your data. It is used by both governments and armed forces, which makes it a pretty reliable and impenetrable way of safeguarding your online data.
Protocols
Cyberghost offers several protocols you can choose from. It has OpenVPN, WireGuard, L2TP/IPSec, and IKEv2.
OpenVPN is the open-source gold standard connection protocol for VPNs.
CyberGhost supports TCP and UDP ports, works with most platforms, and you can even set it up on a router.
WireGuard, in turn, offers a faster connection. However, it comes with some privacy concerns.
While some VPN providers have figured out ways to take advantage of the WireGuard protocol while solving the privacy issues, CyberGhost doesn't seem to be working on a custom solution.
L2TP bundled with IPSec creates secure VPN tunnels. In simpler terms, the VPN will convert your data into L2TP form and then add an encryption layer with IPsec.
However, none of these two protocols are considered secure enough. So much so that fewer and fewer providers actually use them.
IKEv2 offers high-level stability, consistent connectivity, and better speeds than OpenVPN. So, it's the best choice for mobile devices especially due to the fact that it allows you to seamlessly switch from one Internet connection to another without dropping the VPN connection.
However, it is not immune to firewall blocks.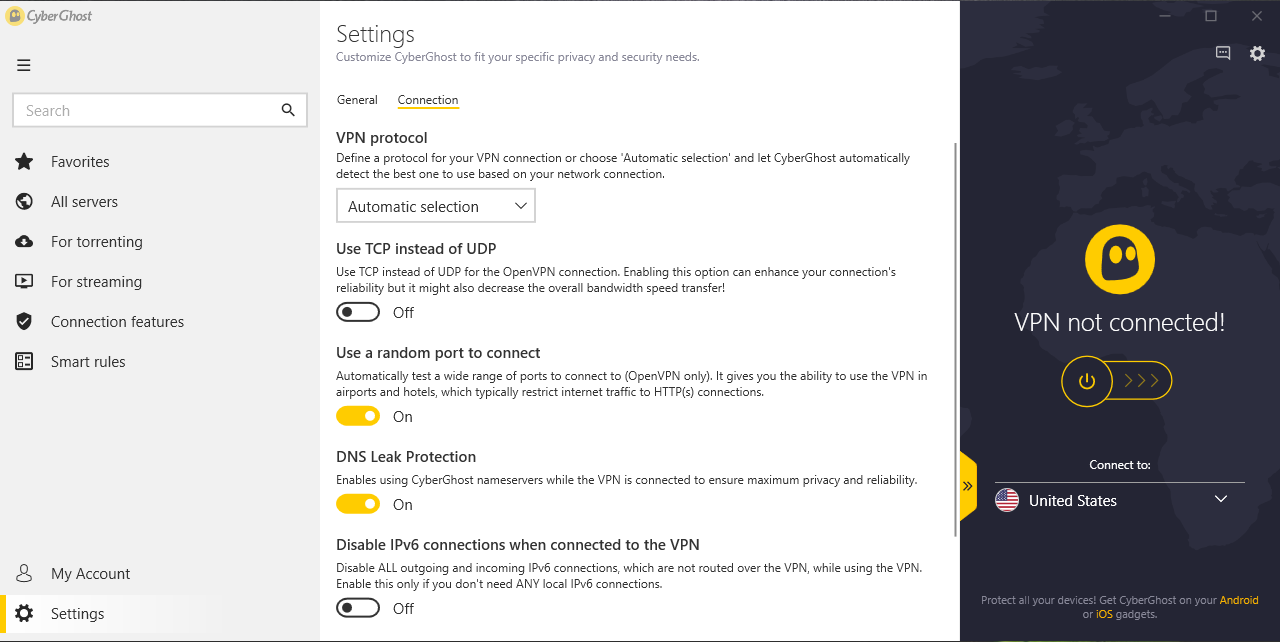 No Logs Policy
Like most VPN providers, Cyberghost claims that it doesn't keep logs. But is that so?
On the surface, everything seems to be fine.
CyberGhost has headquarters in Romania, a European country known for upholding privacy-friendly values.
Furthermore, Romania is outside the jurisdiction of surveillance alliances. So, Cyberghost can uphold its promise to keep you protected and anonymous on the web.
According to their website, their ties with you break once you connect to a server. Cyberghost also has a philosophy of being open and honest, for which they issue Transparency Reports.
However, once you take a closer look at their privacy policy (who reads them, besides us, anyway?) things start to get a bit suspicious. Have a look:
We also reserve the right to disclose your Personal Data as required by law and when we believe that disclosure is necessary to protect our rights and/or comply with a judicial proceeding, court order, or legal process served on our Web site.
Wait… Isn't the whole point of using a VPN is to stay anonymous online and not have any information revealed about you?
And how much personal data does CyberGhost collect? For what purpose? And what will be the court order that will land their users in trouble – something really serious or a bit of innocent torrenting?
CyberGhost also shares a lot of user information with advertisers, Google, and other popular platforms for marketing reasons:
we may share Non-personal Data associated with the use of our Website and the Services with 3rd part suppliers for the purposes of optimization of our Website and Services as well customer analytics and fraud prevention (e.g.VWO, Appsflyer, Google, Instabug, BugSplat, OpenX, etc)
That doesn't sit well with us either. But at least they had the decency to disclose that in the Privacy statement.
Kill-Switch
Like any good VPN, CyberGhost offers an automatic Kill Switch option.
It blocks all ingoing and outgoing traffic, including apps, downloads, if the VPN connection ever drops. This prevents you from leaking:
the system's IPs
the VPN server
domain name servers
the websites you are visiting and apps you are using
Basically, it makes sure that even if the VPN stops working, all of your data will stay safe.
It works just as well as you would expect. And we wan into 0 issues with the features during our extensive tests.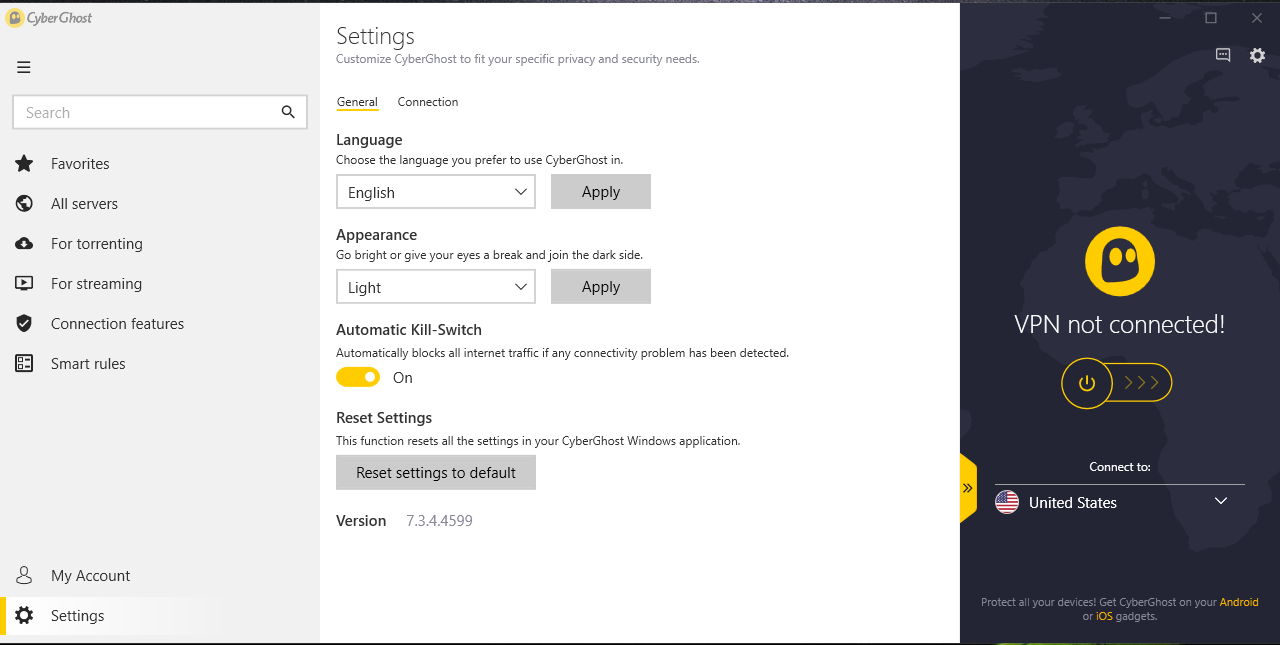 Dedicated IP
VPNs with shared, dynamic IPs assign the same string of numbers for identification to all users connected to their server. They are node-based and change each time you connect to the VPN.
Shared IPs come with automatic configuration and a possible lousy neighbor effect. The problem is that they cannot give you access to IP-restricted networks.
Dedicated IPs, on the other hand, are token-based and come with a clean reputation.
They assign you a static IP. So, you will be the only one using this IP address, and it will not change with time.
Furthermore, dedicated IPs can give you access to IP-restricted networks. However, they provide the same privacy and security levels as shared IPs.
Dedicated IPs are add-ons to your subscription. So, it's up to you to choose the IP of your preference.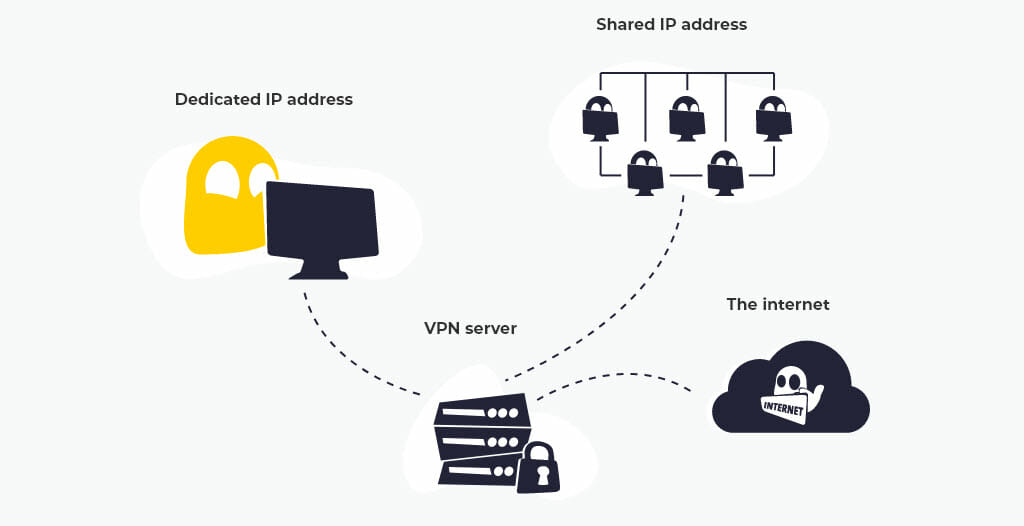 Ad Blocker
The CyberGhost 7 for macOS provides several extra features, such as the built-in Ad Blocker.
This feature filters out ads, which is not just great, but it can even improve your Internet speed.
This feature also improves your online security, as ads can also distribute malware, that gets automatically installed on your device.
However, this feature is still in development, so it still might not block all ads successfully.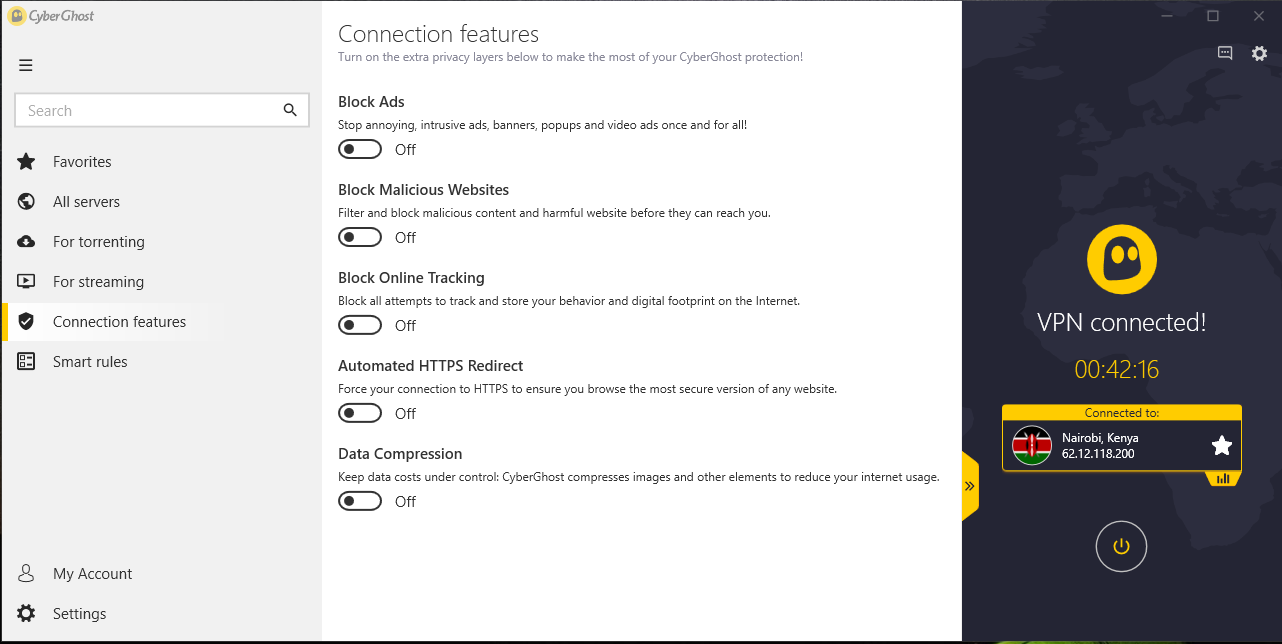 CyberGhost Apps
Cyberghost has a user-friendly solution for all your operating systems and gadgets.
The provider has desktop and mobile applications, supports browser extensions, TV apps, console apps, and even routers.
It can secure up to seven devices simultaneously, making it an excellent choice for a household.
If you wish to secure your entire Internet connection, you can create your custom connection with OpenVPN, L2TP, or IPSec on your router.
Apps for Desktops
CyberGhost is compatible with Windows, macOS, and Linux. And all of the apps are easy to use.
The application automatically finds the right set-up for your device, which is useful for individuals with no technical expertise.
The startup screen of the desktop app allows you to find and connect to a server quickly.
You can find all available locations and other filters in the sidebar, which further facilitates your selection.
For those looking for the more advanced options, CyberGhost offers plenty to play with, including some extra security features, Kill Switch configuration, blocking malicious websites and connections, data compressions, and so on.
Apps for Mobile
CyberGhost has apps for both iOS and Android.
Both apps are easy to use and provide a useful feature to compress your data traffic. This will conserve your bandwidth but slow your connection.
You can also use specific settings on individual servers, such as a trusted network, on your mobile. It comes in handy when you want to set up some options only for public Wi-Fi.
However, mobile apps do not support P2P connections. You might not be torrenting on your phone or tablet that much, but it still a bit of a drawback.
Browser Extensions
CyberGhost has extensions for Chrome and Firefox.
They encrypt just your browser traffic, but they are very handy when unblocking streaming services on your PC, accessing blocked websites, reading some content unavailable in your region, even doing some online research.
Cyberghost and Streaming Services
CyberGhost offers specialized servers for streaming services, providing not just good connection speeds, but streaming unblocking capabilities as well.
The provider claims the VPN can help you bypass geo-restrictions and offer you access to your favorite streaming content.
On their website, you can find a long list of streaming services, including:
Disney+
HBO Max
Prime Video
ESPN
Hulu
Fox
HBO Now
Kodi
IMDb
Eurosport
Hotstar
Youtube Premium
And much more
Most of these servers perform admirably. And CyberGhost is definitely focused on streaming unblocking, doing it better than many other providers (we assume that Kape's PIA is now more security-focused, while CyberGhost is dedicated to unblocking streaming services).
However, there are still some exceptions.
In general, CyberGhost can unblock streaming platforms with lighter anti-VPN protection. So, it's continuously blocked by stronger ones, such as BBC iPlayer.
On the bright side, Cyberghost usually states and updates the streaming platforms that cause issues on their website.
Gaming
CyberGhost is compatible with most modern gaming consoles, including PS3, PS4, and PS5, Xbox Series X, Xbox One, and Xbox 360.
Well, the provider says that, but it's not as easy as installing the app on your phone.
Since gaming consoles don't have VPN support, you are going to have to set up the VPN on your router.
For the most part, it can help you bypass local restrictions, get games cheaper based on location, and unblock streaming services on your gaming console.
It can help you protect against DDoS attacks if you ever run into any.
CyberGhost for Torrenting
As mentioned before, CyberGhost offers torrent-optimized servers. The question is, why would you need this option?
Many popular torrent sites offer free access to copyrighted materials. In many countries, such actions are forbidden by law. So, in the simplest terms, you need to cover up your tracks.
A torrent-friendly VPN hides your digital footprint or your use of the P2P network.
However, keep in mind that not all of Cyberghost's servers are P2P optimized. Luckily, the app gives you the option to quickly choose those that are.
In terms of speed, we have encountered zero issues with torrent clients and barely noticed the VPN connection when connected to the closest and fastest server.
CyberGhost subscription plans
CyberGhost offers four subscription plans:
Month-to-month plan: about 1000 rupees/month
1-year plan: about 330 rupees/month
A Two-year plan: around 250 rupees/month
A Three-year + Three-month plan: around 175 rupees/month

Payment Methods
CyberGhost supports several payment methods, depending on your location:
Paypal
Credit Cards
Cryptocurrency
Other Payment Methods
Free Trial
CyberGhost currently offers a 24-hour free trial for desktop apps.
The VPN also provides a 14-day money-back guarantee on the month-to-month plan and a 45-day money-back guarantee on all of the other price plans.
Customer Service
CyberGhost has an in-depth database where you can search by keyword or question.
You can also submit a request if you cannot find specific information.
24/7 customer support
The VPN has 24/7 customer support.
The staff is super friendly and knowledgeable. However, you might need to wait a bit to get a response.
Conclusion
CyberGhost is an interesting provider, to say the least.
It goes back and forth with things it does very well, and things that are still work-in-progress.
On the one hand, it has a massive server selection, lots of unique add-ons, and great streaming unblocking power. It's also reasonably priced, which is always a welcome addition to any VPN provider.
On the other hand, its privacy and security features still need a bit of work. And being a company owned by Kape Technologies definitely doesn't help.
So, depending on what you are looking for, a CyberGhost may, or may not work for you.
If it's streaming you are looking for – CyberGhost is a decent choice that will get you watching the best content from pretty much anywhere.
If you are concerned about your online security and privacy, you might want to check out some other VPN providers.