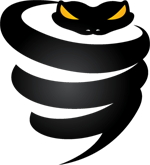 Overview
Launched in 2009, VyprVPN is one of the oldest VPN providers around. With tight security, and decent streaming unblocking capabilities, VyprVPN leaves you wanting more with a lack of advanced options, awkward desktop app design, and inconsistent speeds. However, you can't beat the price tag.
Ratings
Features
| | |
| --- | --- |
| Apps | Windows, macOS, Android, iOS |
| Price | ₹630.00 per/month |
| Payment methods | PayPal, Credit Card |
| Refund | 30 days |
| Protocols | OpenVPN TCP/UDP, L2TP/IPSec, IKEv2/IPSec, WireGuard |
| Log Policy | No logs |
| Simultaneous connections | 5 |
| Based In | Switzerland |
| Netflix | Yes |
| Torrenting | Yes |
| Streaming | BBC iPlayer, HBO |
| Jurisdiction | Switzerland - Not a Fourteen Eyes Country AND Not an Enemy of the Internet. |
| Server Locations | 70 |
VyprVPN isn't just a flashy name. It's a VPN with one heck of a history.
VyprVPN has been around from the very beginning of VPNs as a service. It is a part of a massive family of unique products, and it just might be the VPN you've been looking for.
Wait, really? Well, that's what we're here to find out!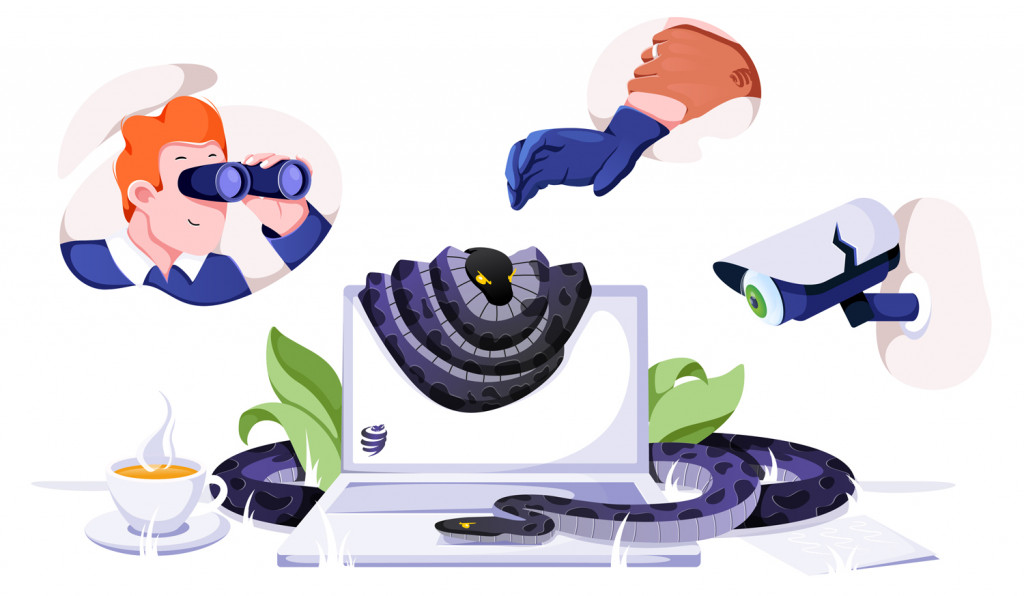 VyprVPN: An introduction
VyprVPN is a Swiss-based VPN provider. It was founded back in 2009, making it one of the oldest VPNs on the market.
The VPN was made by the same people behind Golden Frog – a company that focuses on developing software for online security. And those guys have been on top of online privacy and security since before it was a multi-billion dollar industry.
But that's not all.
The same people created Giganews, a giant in the Usenet providers world, Data Foundry, a data system operation company, and Outfox, a network specifically designated for gaming.
That's quite the rap sheet!
So in theory, VyprVPN should have all the making to be a great VPN. But just how good exactly is the big bad snake?

Can't wait?
Try VyprVPN by yourself!
VyprVPN servers
Servers are a good place to start when testing a VPN provider.
VyprVPN has over 700 servers in more than 70 countries. The provider manages over 300 000 IP addresses, and its network keeps growing year after year.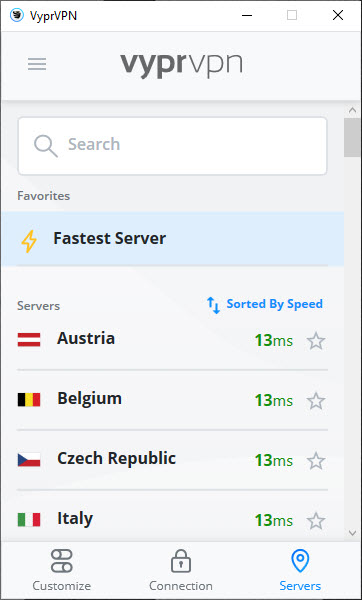 The numbers might not seem that massive. And when compared to other VPN providers, they are not. But (and that's a big but) what VyprVPN lacks in quantity it makes up for in variety. What we mean by this is that its server locations are extremely diverse. This is one of the few VPNs with servers in Uruguay, the Marshall Islands, El Salvador, and Macao.
And that's still not all.
VyprVPN is one of a handful of VPN providers that operates its own server network. While there isn't anything immediately bad about using third-party servers (it's all about the setup anyway), VyprVPN takes it a step further in ensuring your online safety and privacy. And that is something that helps us sleep a little better at night.
Not sure why this matters? Here are just some of the core benefits that come with a personal server network:
Third parties have no way of accessing the information that is kept on those servers,
The servers tend to be fast, reliable, and don't become overcrowded easily,
The hardware is also well-kept, performs to standard, and is scrubbed of any remaining user data,
Even in the event that a server goes down, you are instantly and automatically connected to a different one, which makes sure that you never lose your VPN connection.
Sweet, right?
VyprDNS
A solid and personal server network isn't the only thing going for VyprVPN.
VyprVPN also has its very own zero-knowledge DNS: VyprDNS. And here are many perks to it:
You use neither your ISPs nor a third-party DNS. Those are usually the ones to log your data.
You can bypass every local restriction out there, so you can access any website you like.
You are kept safe from any possible cyberattacks.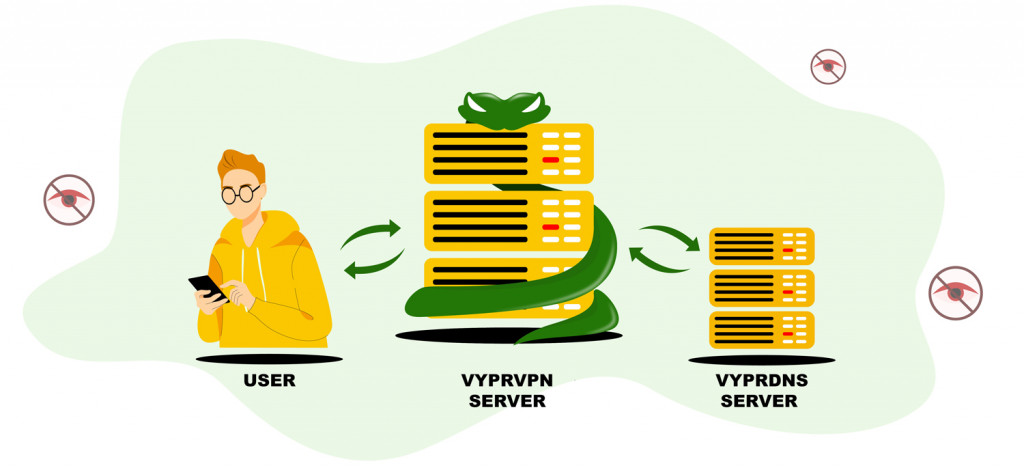 VyprVPN also gives you the option of using a third-party DNS. And with this, you have the freedom to make your very own choices about whatever you're comfortable with.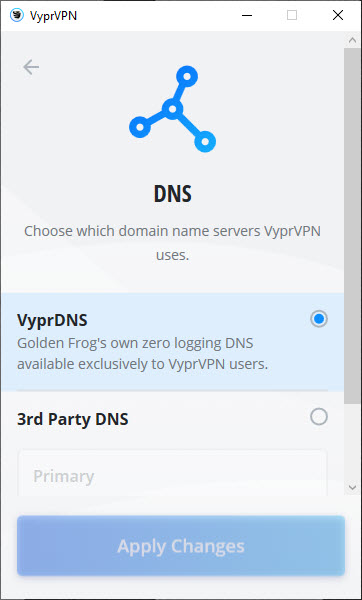 ---
Unfortunately, it's not all smooth sailing, though.
As impressive as a 'personal server network' sounds, most of the servers that VyprVPN operates are virtual. In all fairness, VyprVPN doesn't really hide the fact. But it also doesn't specify to you whether the server you're connecting is a virtual or a physical one.
According to our tests, roughly 70% of VyprVPN's servers were virtual.
So what, right? Most VPNs have virtual servers. Just look at the number PIA operates!

Haven't heard yet?
Our Private Internet Access review will catch you up!
While that is indeed true, we suspect there is something wrong with Vypr's Smart DNS setup. On more than one occasion when we tried to connect to a specific location, just to end up halfway across the globe.
This of course isn't a deal-breaker in and of itself. But it might be a problem if you are looking to get an IP from a specific country. So do take that into consideration.
VyprVPN Speed Test
When it comes to choosing the right VPN, speed is of utmost importance. Especially in our neck of the woods.
It comes as no surprise that, like all other VPNs on the market, VyprVPN claims to be the best, the fastest, the most awesome. But is that truly the case?
Short answer: VyprVPN's speeds are fine.
Long answer: The connection speed largely depends on what server you connect to. Of course, that is true for any VPN out there, but most good VPNs try to keep the speed drop to a possible minimum.
Unfortunately, that's not exactly the case with VyprVPN. It has certainly taken great strides in the last few years to improve its speeds, but there is still a long way to go.
It's difficult to gauge the average internet speed drop when connecting to Vypr's servers. So we are going to have to take you on a bit of a journey.
To give you an idea, this is what our control connection speed is like: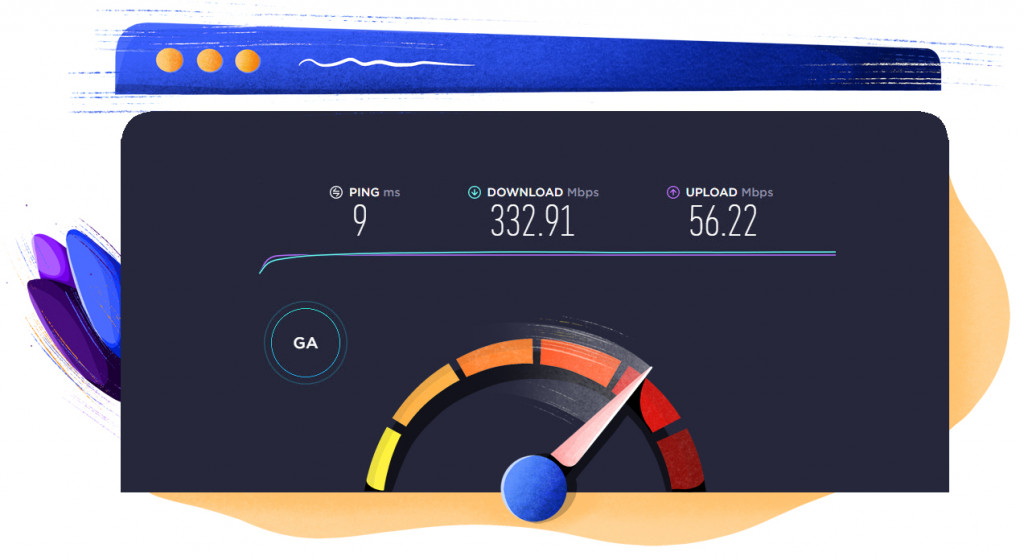 This is what happens when we're connected to the fastest server: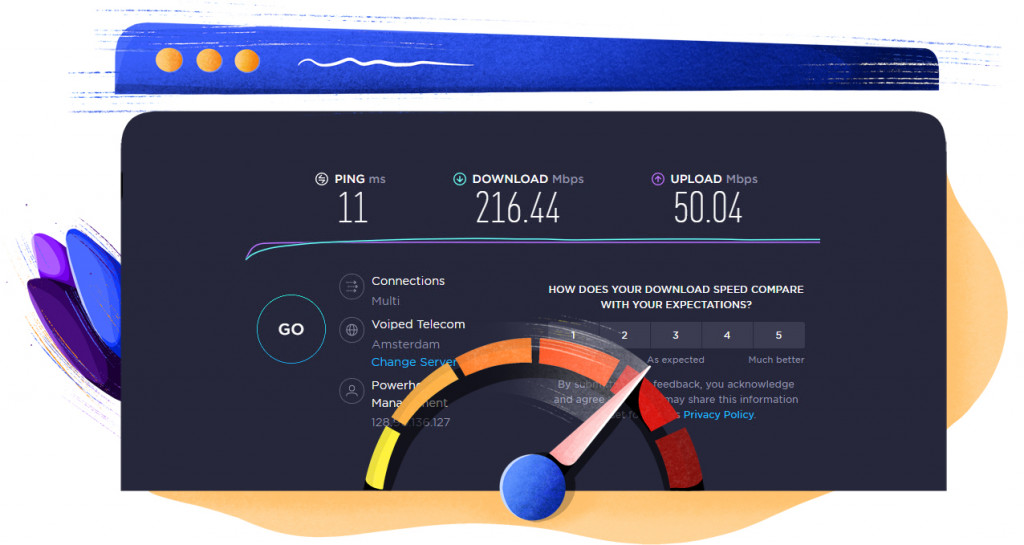 This indicates a drop of around 28% in internet speed. That's not too bad.
But things are a bit less optimistic with other locations. Here are the results when connecting to a US server: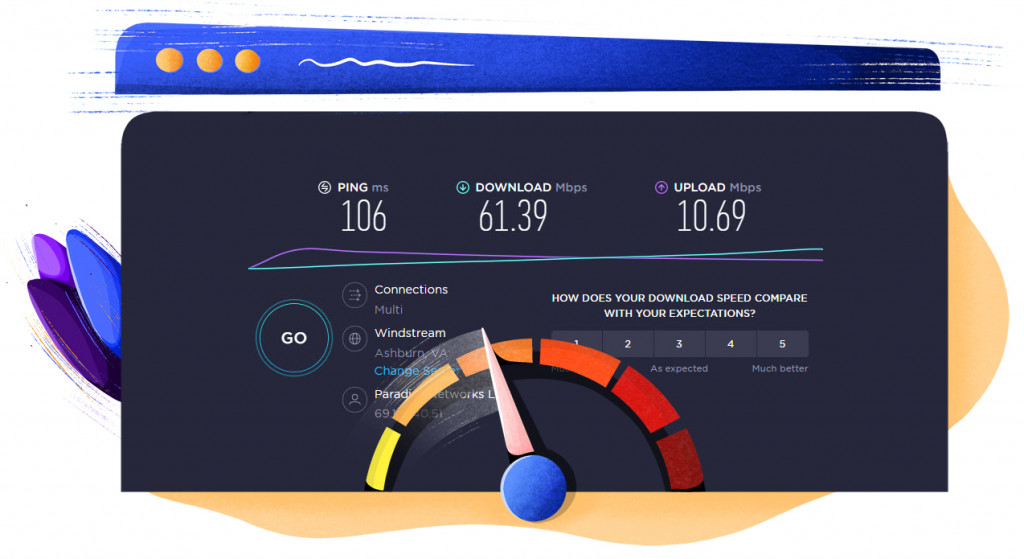 Yes, you saw it right. Almost an 80% drop. Don't be too alarmed though, this speed is still fine if all you want is some browsing or light streaming.
But we're not done yet. The numbers start getting crazier when we try to connect to an Indonesian server: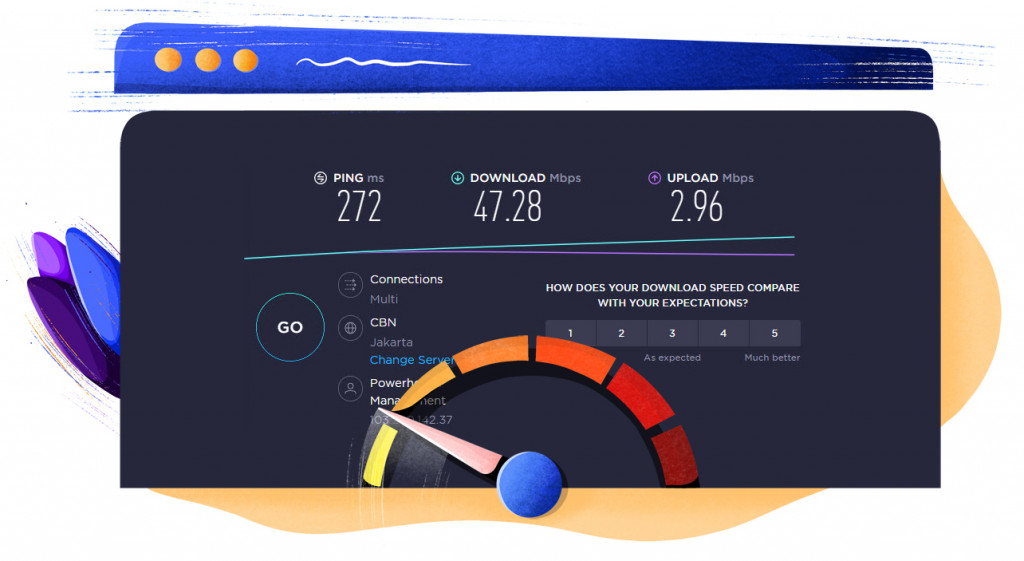 The speed drop here is 84%.
At this point, we just wanted to see how bad we can make it. And the winner is… [drumroll]… the Taiwanese server: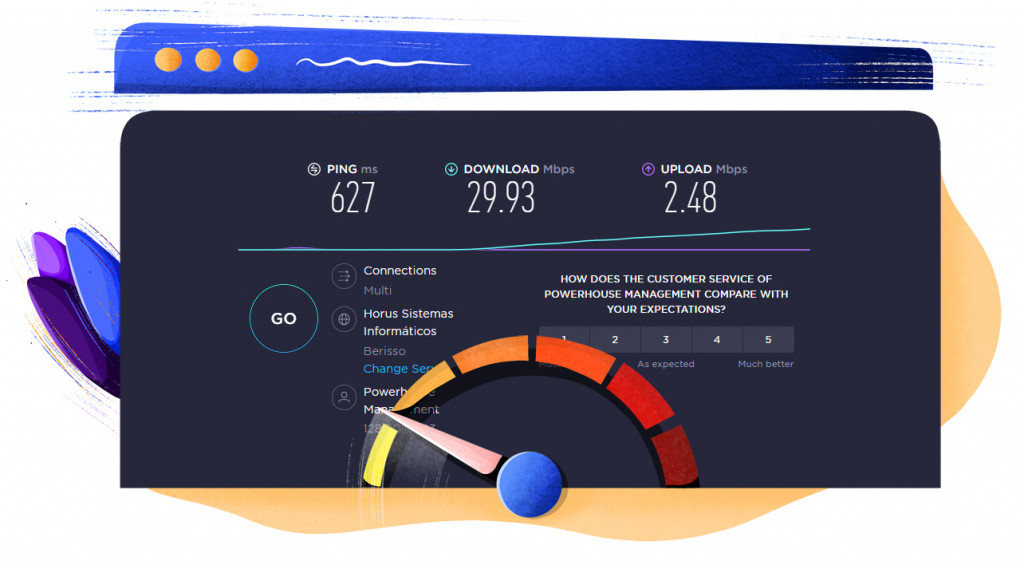 But we might be too harsh on VyprVPN. 
At the end of the day, its speeds are fine and are more than enough for your internet activities.
If you opt for the "Fastest Server" option, you're always going to get a seamless experience.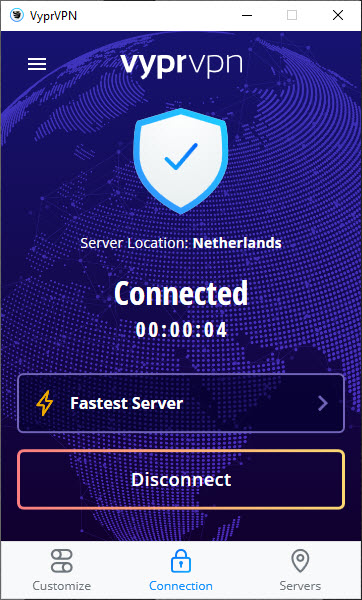 The VyprVPN app also shows its servers' load in ping time, which comes in handy when choosing the best server for you.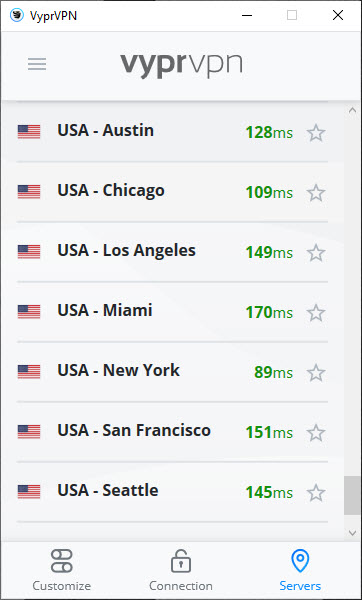 VyprVPN security and privacy features
This is where VyprVPN's origins should make all the difference. Since the primary objective of VPNs is security and privacy, Vypr's creators better be pulling out the big guns for its features.
Unfortunately, we have to first report that VyprVPN had a rocky start, making some beginner's mistakes a few years back. A bit disappointing, coming from its creators, with such a stellar track record.
But the past is the past, and a lot has changed since then. What we should be asking is: How is Vypr performing today?
We put this VPN's security features through every possible test and didn't find any leaks whatsoever: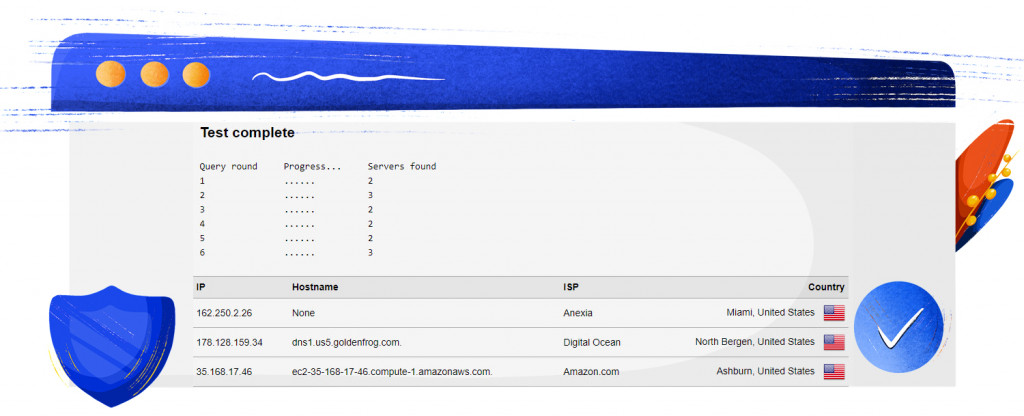 OK, time to go into detail.
Encryption
VyprVPN comes with 256-bit encryption, which is basically the boiler-plate number for any VPN worth its salt.
If this is one of your first VPN reviews (first off, congrats for sticking it this far), this is ultimately what you should be looking for from any provider. Any VPN that doesn't have this covered by now, is not worth paying for.
You can even go for 160-bit encryption with the OpenVPN protocol if you need just a little more speed.
We don't recommend this option, though, especially to the general user. If you really know what you're doing, you could probably consider this more seriously.
As well as excellent encryption, VyprVPN also offers DNS protection, thanks to the VyprDNS technology we already covered. This ensures your online safety and protects you from internet surveillance.
Protocols
Compared to some other premium VPNs, VyprVPN's supported protocols list is not very long, but (like everything else thus far) it's pretty diverse.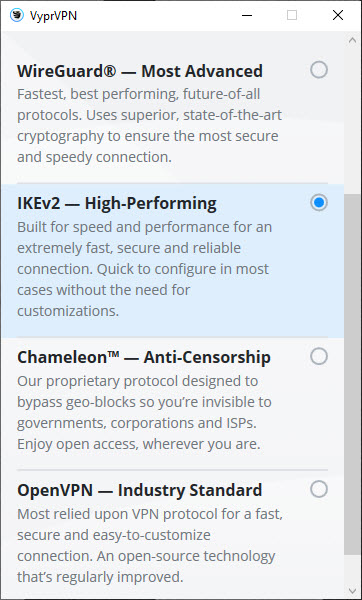 VyprVPN supports:
OpenVPN – the industry-standard protocol is available on most devices, including Windows, Mac, Android, iOS, and routers. There is also a possible manual setup for even more devices,
IPSec, which supports both IKEv2 and LT2P. This is available on Mac, Windows, and iOS (IPSec/IKEv2 only),
WireGuard – a new protocol, that has both great speed and encryption. It's available on VyprVPN's Mac, Windows, Android, and iOS apps.
Chameleon – VyprVPN's own protocol for bypassing online censorship. Similar to the others, it's available on Windows, macOS, iOS, and Android.
Chameleon is said to be VyprVPN's very own new and exclusive connection protocol. But it's actually not that new of technology in the VPN world. It simply scrambles VPN-related metadata, to make your VPN traffic appear as regular traffic. It's pretty much the same as Surfshark's and NordVPN's obfuscated servers.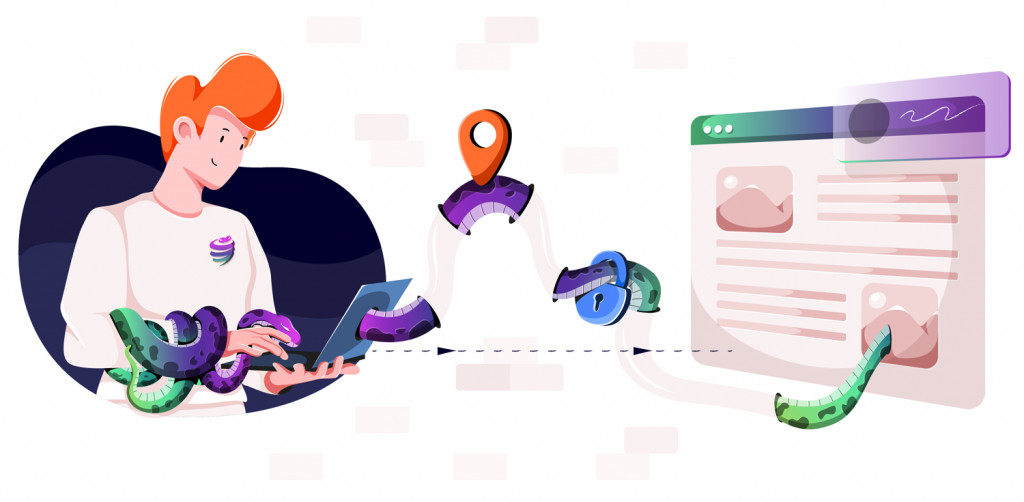 Logging policy
There is probably no getting around some of VyprVPN's rookie mistakes we mentioned at the beginning of the section.
One very important aspect of the user's online security is a VPN's no-log policy, to make sure there is no information left that can be traced back to the users.
Early on in its life, VyprVPN claimed to not log any user data, such as original and VPN IP addresses, timestamps, and amount of data used.
But it turned out that it did retain all this information for a period of 30 days. This was done to handle troubleshooting, billing information, and possible illegal activities.
Today. this kind of information would mean the end for any VPN provider. But this happened a long time ago, during the dark ages when VPNs were still figuring out their moral code.
VyprVPN has learned its lesson and in 2018 was even audited by Leviathan Security, proving that the provider's No-Log policy truly lives up to its name now.

Kill Switch
Another essential tool for present-day VPNs is a Kill Switch. This feature makes sure that even if the VPN connection is lost, your personal information or activities won't be in danger of leaking.
And VyprVPN definitely tells you it has one. But it might not be that simple.

Out of all the VPN kill switches we have tested so far, VyprVPN's seems to be the most aggressive to date.
If you enable the Kill Switch, it directly cuts off all of your traffic if you're not connected to one of VyprVPN's servers. This is quite different from blocking traffic only if the VPN connection gets lost.
If you do decide to use the Kill Switch option, we would advise you to also enable "Connect on System Boot", just to avoid unnecessary frustrations about not having any Internet all of a sudden.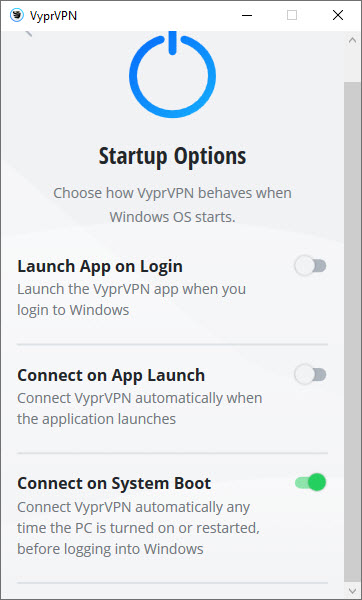 This Kill Switch does have a number of other features worth highlighting:
You can turn it off when you quit the VPN. This should prevent crashing your whole internet connection.
You can also opt for keeping the Kill Switch active even after quitting the app. In this case, though, your internet will be cut off as soon as you do.
You also have a kill-all LAN traffic option whenever the Kill Switch is active.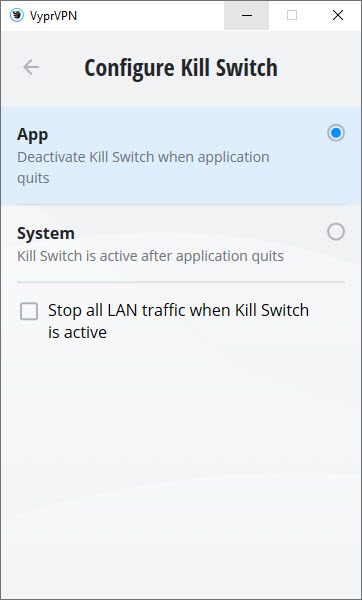 This is definitely a step towards redemption from the previous privacy and security mistakes VyprVPN has made. We do have to say, though, it's not very user-friendly.
But if you don't want to leave any chance of your information leaking, this VPN might be exactly what you are looking for.
Public Wi-Fi protection
Another (say it with us, now) unique feature that VyprVPN offers is dedicated public Wi-Fi protection.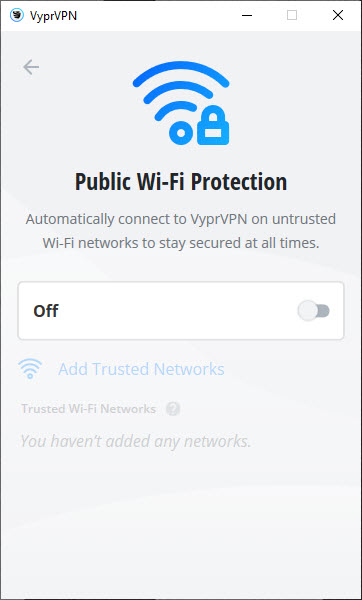 Public Wi-Fi is known to be a hotspot for cyberattacks more and more. With this increasing threat looming over all of us, we can all use a little Public Wi-Fi protection.
This feature gives you the option to add trusted Wi-Fi networks to a list. And whenever you try to connect to one not on it, the VPN will enable automatically, making sure you are well-protected at your local McDonald's.
---
So that's about it for VyprVPN security and privacy features.
There's still half of a review to go, but what would we say if it were only about security?
First off, VyprVPN was certainly created with security in mind. And it definitely provides it.  However, a lot of the security decisions struck us as strange. That, combined with the lack of advanced features and the inflexibility of others, didn't improve our experience very much.
But maybe the app usability will improve our experience?
VyprVPN apps
On to the next very important part of any VPN provider: the apps. User experience is almost as important as all those crucial privacy and security features.
Right off the bat, VyprVPN claims to have dedicated apps for pretty much every operating system and nearly every device, including desktops, smartphones, Roku, smart TVs, and routers.
That sounds cool. But then you realize that in some cases there isn't really a dedicated app. You just have to install the VPN on your router. That does technically make it work on all devices, but we call it cheating.
Another downside is that there are no VyprVPN browser extensions. 
VyprVPN supports up to 5 devices with one subscription, making it best suitable for individual use.
With the general information out of the way, it's time to get into how well those apps actually perform.
Desktop Apps
VyprVPN has apps for  Windows and macOS. None for Linux users, however.
If the VyprVPN apps didn't throw us for a loop, as its other features did, it wouldn't be true to their style. And indeed, it looks like they developed their Android app, copy-pasted it for desktop, left for lunch, and never came back.
It looks like the intention was a cool minimalist design, but kind of missed the mark.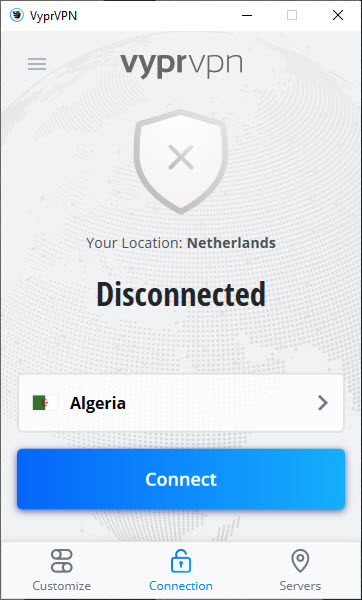 The first thing the app gives you is the option to connect to the fastest server. If you want to find something specific you have to turn to the server list, and either search for a location or do a whole bunch of scrolling.
And did we mention the huge font that VyprVPN has chosen? Yes, that is probably responsible for half of the scrolling time.
The app does let you sort the servers by country, region, and speed; the last option likely being the most useful one.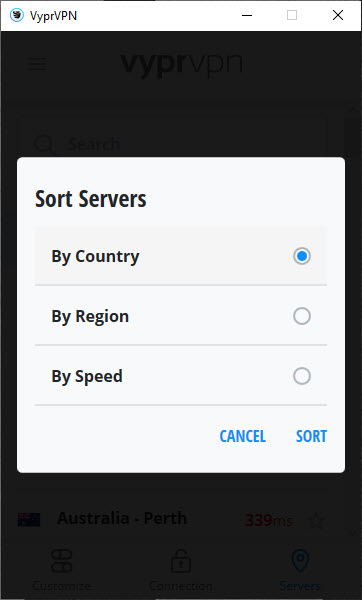 There is also a "Customize" section, which has the app's security and connection features.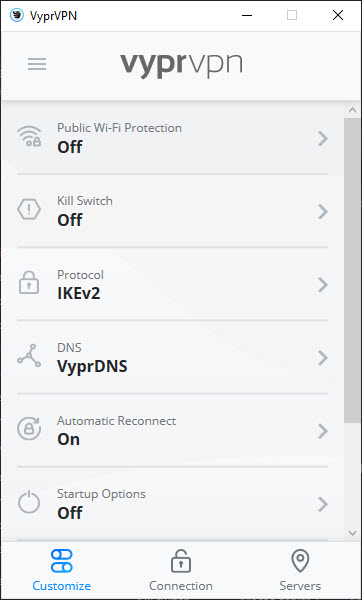 This section is accompanied by even more, yes you guessed it,… scrolling. Though, since there aren't that many options to choose from, it's not that tedious this time.
From the top dropdown menu, you can also access a bunch of their support pages. We would have preferred in-app support, but hey, this option is better than no option at all.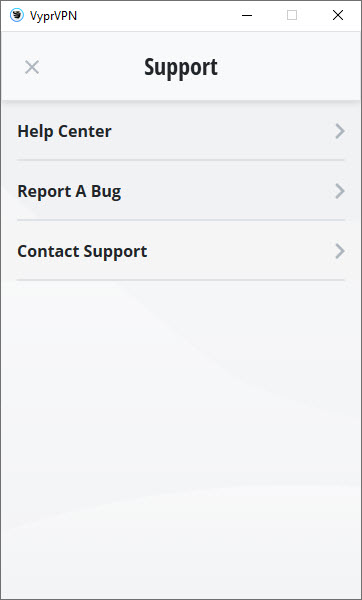 Mobile Apps
VyprVPN has apps for both iOS and Android users. As we already mentioned, the mobile apps look exactly like the desktop ones, so there isn't much we can add here.
What we can say is that the VyprVPN layout definitely works best on mobile devices. The only difference is some of the supported features.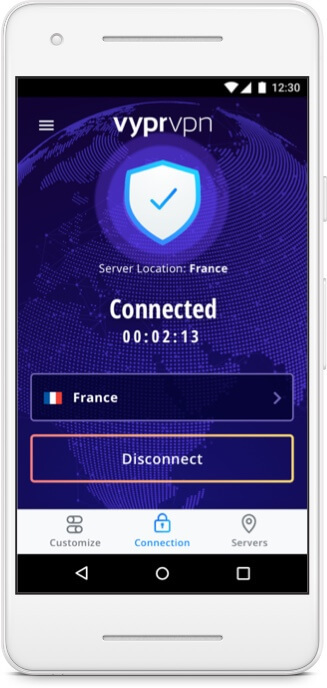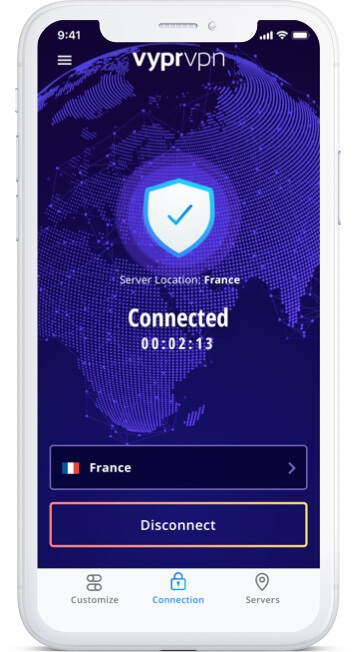 One of the truly weird things about the app is that the Android version does not have the IKEv2/IPSec protocol option, which was basically made for mobile devices.
Surprisingly though, we discovered that the Android version is the only one with split tunneling (surprising because we found this on accident). Thumbs up ?
The Public Wi-Fi feature on the mobile apps makes a lot of sense and comes in very handy.
VyprVPN for streaming
So far, it probably sounds like VyprVPN isn't really blowing our minds. And that's true.
So why are we even talking about it here? – Streaming of course!
That's right, folks, VyprVPN may lack advanced features, it might not have the most intuitive apps, heck, it might have the wackiest speed test results so far; but you know what it can do: it can expertly unblock streaming platforms.
That handy-dandy private DNS that we talked about, really comes into play here. It helps VyprVPN when trying to bypass DNS filtering, making sure that it can bypass any streaming blocks coming your way.
However good it may be, VyprVPN isn't exactly the perfect solution for any streaming platform out there. Its efforts of cracking streaming services mainly focus on the US, the UK, and Canada. If you are looking to stream from anywhere else, this is not the VPN to go for.
Even still, these three countries alone have some of the biggest streaming platforms in the world, and VyprVPN effortlessly crawls past any of their blocks. And we have to give them credit for that.
But we not going to keep you in the dark. Here are some of the streaming platforms that VyprVPN can definitely unblock. So you know whether it works for you:
Netflix
Probably one of VyprVPN's greatest successes, it can unblock the US, UK, and Canadian Netflix catalogs. With that, some of the largest libraries in the world will be at your fingertips.
Sounds like streaming heaven, right? Oh, wait, you want more? Well…

Check out how you can improve your Netflix experience!
HBO Max
That's right! One of the greatest streaming platforms in the game is easily unblocked by VyprVPN, so you too can watch everything that HBO Max so fervently protects behind its American borders.

Check out our full guide on getting HBO Max in India!
BBC iPlayer
BBC iPlayer has started blocking many VPNs, but VyprVPN can break through and help you stream some of Britain's finest content.

Check out everything you need to know to get BBC iPlayer!
ITV HUB
The same goes for ITV HUB!
Always wanted to watch the iconic Love Island? Strap in, and get ready to do a whole bunch of catching up!

Check out how to get ITV HUB in India!
Hulu
Even though VyprVPN can unblock Hulu, the lack of the dedicated IP feature is very much missed here. Hulu has a bad habit of banning users that constantly switch IP addresses, so you might want to get all of your streaming in one go here!

Check out the best ways to get Hulu in India
---
This is just a sample of what VyprVPN can do for you in the entertainment world, and we haven't even gotten to sports streaming yet!
As we all know, sports streaming services are especially vicious when they detect a user having a VPN. Luckily for you, such restrictions are still conquerable by VyprVPN, if you fancy getting access to ESPN Plus, Sky Sports, Eurosport, or DAZN. Even the tougher-to-crack platforms like NHL.tv and MLB.tv are no match.
Bottom line, if US, UK, or Canadian streaming is what you fancy, VyprVPN has got your back!
VyprVPN for gaming
This will be a tough one.
Right off the bat, VyprVPN does not have a dedicated app for any gaming consoles. You might say it's the same thing if you install the VPN on your router, but as we already stated, that's cheating.
Another thing we should get out of the way is that VyprVPN is primarily a PC gaming VPN. So if you're interested in anything other than MMOs and RPGs, you are out of luck.
On the other hand, the private server network really comes into good use here. That is, of course, if you connect to the fastest server. In all honesty, though, it is worth it, as it gives you great speed while knocking down throttling (one of the gamers' worst nightmares).
VyprVPN is also created by the same people behind Outfox – a revolutionary gaming network. And while the two don't come as a package deal, it's still nice to know that VyprVPN actually knows what it's talking about.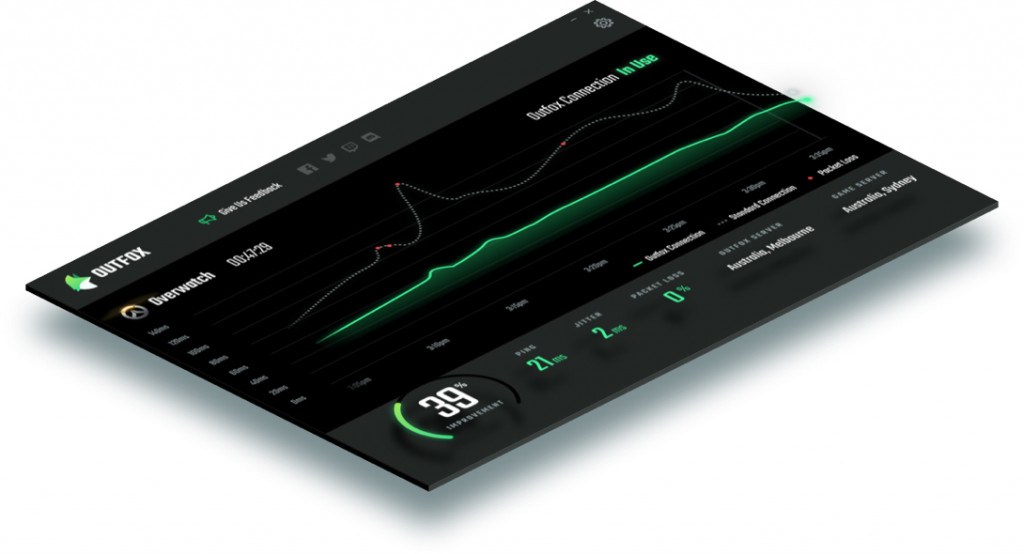 Overall, VyprVPN is a good choice if you are a gamer.
VyprVPN for torrenting and downloading
In the beginning, VyprVPN didn't play well with torrenting and had a very strict anti-torrenting policy.
But things have softened over the years and now VyprVPN is very torrent-friendly.
Yet another perk of the privately-owned servers is that you don't need to look for a server that allows P2P-file sharing, because they all do. Because of that downloading speed is also pretty good, especially if you are connected to a fast-enough server..
Side note: VyprVPN plays very well with its cousin, Giganews (remember that one?), making it one of the only VPNs optimized for Usenet.
VyprVPN subscription plans and prices
It's finally time for the make-or-break questions for a lot of people: how much does VyprVPN cost?
Before we talk numbers, we should again mention that this provider has made some strange choices. Vypr had one look at a standard VPN's subscription-plan formula and thought: Nah. We can make that weirder.
With that being said, VyprVPN only has 2 subscription plans. And it only gets more interesting from there
Their first plan is the 1-month plan, and it's $15.00 (approximately 1140 Indian rupees). And this is one of the most expensive VPN subscriptions we have ever seen.
A better deal is their 12-month subscription plan, which is $8.33 per month (~ 630 IND/month), which is still not that much cheaper.

That said, we would absolutely advise you to go for the longest subscription. You get the best bang for your buck out of all the other options.
Payment methods
VyprVPN keeps its payment methods pretty simple, for once. If you're in possession of any major card (Visa, Mastercard, Amex), Union Pay, or PayPal, you should have no problems paying for your plan.
Not too many options, but it'll get the job done.
Free trial and refund policy
VyprVPN claims to have a free trial, but in practice, it's a 30-day money-back guarantee. That means that you have one month to decide if this provider is for you.
VyprVPN's customer service
Our philosophy is that, in a lot of situations, a VPN is only as good as its customer service.
So, how does VyprVPN's customer service measure up?
Support Website
If you are looking for help, the first option you can try is VyprVPN's support website. This is ultimately a pretty lengthy database of guides, troubleshooting advice, FAQs, and so on.


We particularly appreciate their "Service Status" segment. It lists all of the issues the provider is facing right now, as well as ways you can fix them. This is something that is not found with other providers, and we now believe it's a feature they all absolutely need to have.
Another bonus is that the support website has 4 different languages, which we find to be awesome.
24/7 live chat support
If you prefer human interaction, you can try VyprVPN's 24/7 live chat support.
There is a bit of a language barrier in the beginning, but aside from that, they do try and help you with your problems. The answer, however, often takes us back to the support website, which was disappointing.
Good thing that the site is extensive enough to help in a lot of cases.
The bottom line
This has certainly been a roller-coaster of a journey, discovering the ins and outs of this interesting (to say the least) VPN provider.
But we've stalled long enough, and it's now time for the million-dollar question we've all been waiting for: How good is VyprVPN?
And this is a tough one. There is no denying that Vypr is a mixed bag of impressions. So it's hard to draw final conclusions.
Some of the provider's features perform well, and VyprVPN might even rank up there with some of the best VPN providers.
Other aspects, though, left us wanting. From the weird design choices to the limited number of features, we felt we were being thrown a curveball with almost every move. We found there were always cons to every pro. From the server selection, the speeds, and security features, to the app design and streaming unblocking capabilities.
But, when all is said and done, the cons don't necessarily make VyprVPN a bad VPN provider.
VyprVPN is a decent VPN. It's not the best one out there, but it's also not the worst. This is the type of provider you would get if you have very specific needs. And this case those are security, unblocking English streaming services, and desktop gaming. And if that sounds good for you, then you definitely found YOUR provider.