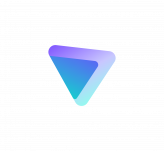 Overview
Headquarted in Switzerland, which is known for its unwavering commitment to privacy, ProtonVPN offers more than 1000 servers, including ones that are configured for Peer-2-Peer and TOR.
Ratings
Proton Technologies AG made a name for itself long before launching its own VPN service.
ProtonMail was launched in 2014 to provide people worldwide with online privacy through an encrypted email service. Throughout the years this email service has become nearly legendary, going as far as being endorsed even by the United Nations to report crimes against humanity and civil rights violations in restrictive regimes.
But the team behind ProtonMail didn't stop there. Soon they've realized that an email service is not enough in today's world of constant surveillance. So, they came up with ProtonVPN in 2017.
Many of the company's developers, scientists, and engineers come from China. So they know exactly how lousy internet censorship can get.
So they took a stand: "Safe Internet for everybody".
This is exactly why ProtonVPN is one of the very few premium VPN providers that offer a completely free version. They are also completely transparent and honest about their VPN's limitations and capabilities.

Challenge the government with ProtonVPN!
ProtonVPN is based in Geneva, Switzerland. As you are probably aware, the Swiss have very liberal Internet laws and are not part of any data retention and surveillance alliances. This, as well as amazing local infrastructure, makes this a great place for ProtonVPN's base of operations.
And that's not all that this VPN has to offer!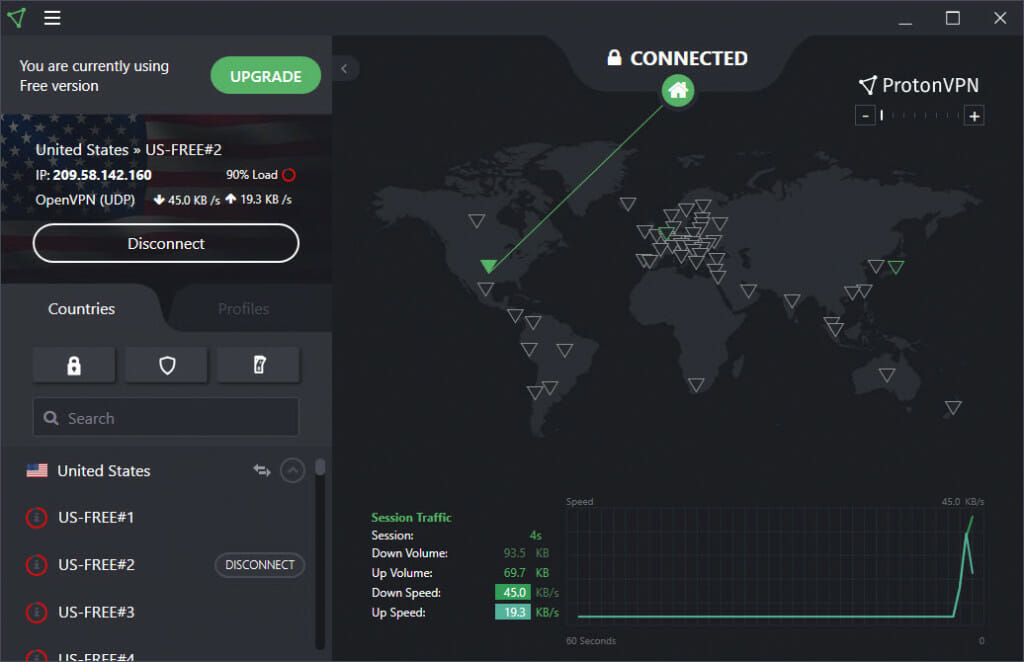 Servers
ProtonVPN has over 1,111 servers in 54 countries.
If compared to other VPNs on the market, this number is neither the best nor the largest. Still, it's a decent offer.
As mentioned before, ProtonVPN is fully transparent in its service provision. You can instantly spot this, as they classify their servers according to the purchased plan.
If you choose the free version, you will access only three servers: in the US, the Netherlands, and Japan. You will also be able to use only one device at a time.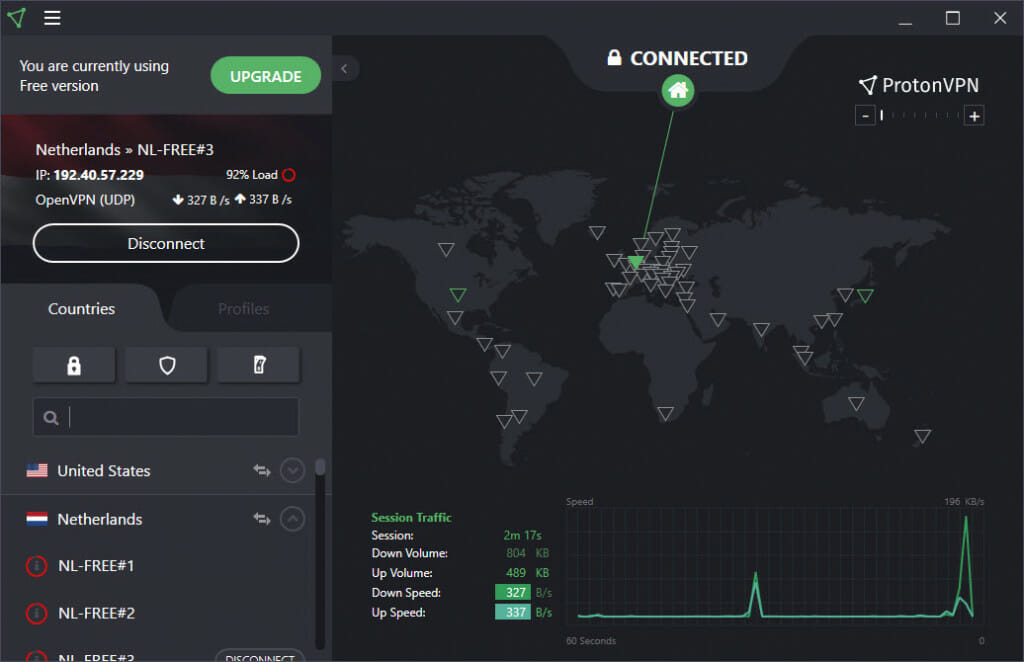 The paid plans give you instant access to all of the provider's servers and features, giving you the full ProtonVPN experience.
ProtonVPN also doesn't hide the fact its servers are virtual.
Ultimately, this doesn't make a difference for you as a user. However, there are some limitations you should be aware of.
If, for instance, you connect to the Lithuanian server, you can randomly end up in Belorussia. So, ProtonVPN might not be the best choice for users looking to connect to a specific location.
ProtonVPN speed test
The speed you get with ProtonVPN also depends on the plan you choose. And as you've probably guessed, the free version has the slowest speeds.
But Proton's free version exists to give everyone unrestricted access to online anonymity, and not stream soccer matches from halfway across the globe.
Even so, we've decided to test both the free and the paid versions of the app to give you the full picture.
So you have a point of reference, here are our connection stats before launching a ProtonVPN connection: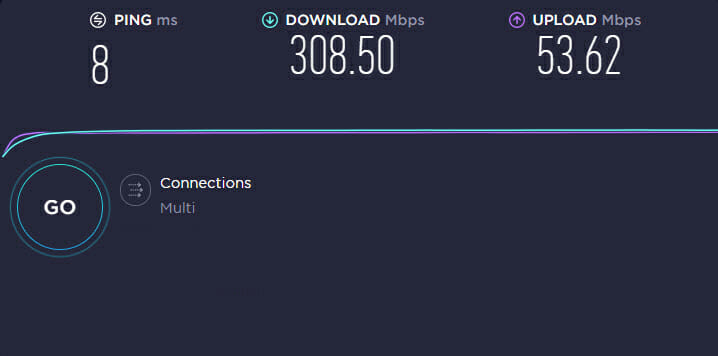 And here's what a free version of ProtonVPN will get you when connected to the closest and fastest available server:

But the free version is nothing to go by. So how do Proton's paid versions fair in terms of speed and performance? After all, the paid versions do promise unlimited bandwidth, 10 Gbps servers, and the fastest speeds.
We took several servers out for a ride, and here are the results we've seen with their best subscription plans:



Well, it's easy to see, that even though in some cases the speed and ping are pretty decent, when connected to faraway servers (especially from home), the performance can drop almost as much as with a free version.
Objectively speaking, the US servers have the biggest speed issues. So if you are looking for a VPN that shines in speed, you might want to look elsewhere (for now).
To be fair, ProtonVPN is currently working on upgrading its server network to provide better speeds and overall better performance.
However, even though speed is important, ProtonVPN's primary focus was always online security, privacy, and anonymity. So let's see how well the provider does in that regard.
Security
Since its inception, ProtonVPN has always positioned itself as a VPN service mainly dedicated to online privacy and absolute anonymity.
And this is where ProtonVPN really shines. It has a slew of features to protect you online:
Secure Core (an exclusive ProtonVPN feature that routes your connection through several of the provider's servers before leaving their network. This leaves absolutely no chance for anyone to ever track your online activities back to you)
AES-256 Encryption
Perfect Forward Secrecy
IKEv2/IPSec and OpenVPN protocols
Full Disk Encryption
Strong Legal Protection (meaning ProtonVPN will not just protect you online, it will fight for you legally if there's ever a need for that)
No Logs Policy
DNS Leak Prevention
Built-In Kill Switch and Always-on feature
Built-in TOR Support
Adblocker (NetShield)
Encryption
When it comes to encryption and protocols, ProtonVPN went for quality over quantity.
The VPN offers AES-256, the highest strength encryption, combined with 4096-bit RSA, and HMAC with SHA384.
But the provider didn't stop there. ProtonVPN also features Perfect Forward Secrecy technology.
This means the VPN generates a new encryption key for each connection, separating each subsequent session from one another. The ultimate goal is to protect your traffic, even if your link is compromised.
Protocols
ProtonVPN offers the most secure protocols, IKEv2/IPSec and OpenVPN TCP/UDP. However, these two are quite heavy, so they will slow down your connection.
ProtonVPN doesn't support PPTP and L2TP/IPSec protocols. Which is pretty cool of them. Lots of providers go for those protocols because they are faster and cheaper to maintain, but they are not as secure as the other ones.
Another worthy characteristic is that all servers feature full disk encryption. It means that even if a third party somehow accesses ProtonVPN's servers, they will not be able to get the data stored on them.

No Logs Policy
The Swiss law doesn't obligate VPN providers to keep a record of the user connection logs. Therefore, ProtonVPN cannot perform targeted logging on specific users nor hand your personal browsing history to a third party.
FONGIT and the European Commission also support Proton.
ProtonVPN has a long track record of fighting for online security and privacy. So, the users can benefit from some of the world's strongest privacy laws.
No logs policy is an essential feature of any VPN provider. ProtonVPN's team values your anonymity and security. And, needless to say, this feature extends to the free version.
Kill Switch and Always On
If you are using a VPN for privacy reasons, it is important that your VPN connection always stays on. If a secure connection suddenly drops, all of your information and whatever you've been doing online can be immediately exposed.
This is why ProtonVPN has implemented a Kill switch feature and an Always-on option which go hand in hand with one another.
If your VPN connection suddenly drops, the Kill switch will immediately cut off your Internet connection, making absolutely sure all of your data will remain safe and hidden at all times.
The Always-on feature makes sure you are always connected to a VPN server. Even if your VPN connection drops, this feature will reconnect you to a server immediately, to make sure you can go back to secure browsing as soon as possible.
Tor over VPN
ProtonVPN offers servers with built-in Tor support. This feature is highly beneficial, especially if you are looking to access the Dark Web without going through the trouble of getting the Tor Browser and learning how to use it.
Both VPNs and the Tor browser protect your identity. So, if you combine the two, you can achieve the ultimate Internet anonymity.
However, keep in mind that this feature REALLY slows down your connection.
NetShield
The Adblocker (NetShield) is a DNS filtering feature. It blocks ads, trackers, and malware. Therefore, it doesn't only protect your device but also speeds up your connection.
This feature also gives you options. You can choose to only block malware, or you can take things to a whole other level and block all ads, pop-ups, banners, and trackers.
However, you can only find the Adblocker (NetShield)  in ProtonVPN's paid versions, not in the free one.

ProtonMail
It would be weird if the company behind ProtonMail didn't somehow include this service with their VPN service.
You can only get a ProtonMail as a separate product, but it's totally worth it because you'll get:
The world's leading encrypted email service at no additional cost.
Ultimate privacy for all your email communications.
ProtonVPN Apps
ProtonVPN delivers a user-friendly solution with a futuristic feel. It offers both desktop and mobile apps.
You can also set up the VPN on your router, securing all devices and Internet traffic.
However, ProtonVPN doesn't have browser extensions (yet).
Desktop apps
ProtonVPN has applications for Windows, macOS, and Linux, all of which have an exceptionally modern design.
The app also gives a whole bunch of extra information, including each server's load, session traffic, upload and download speed, and much more.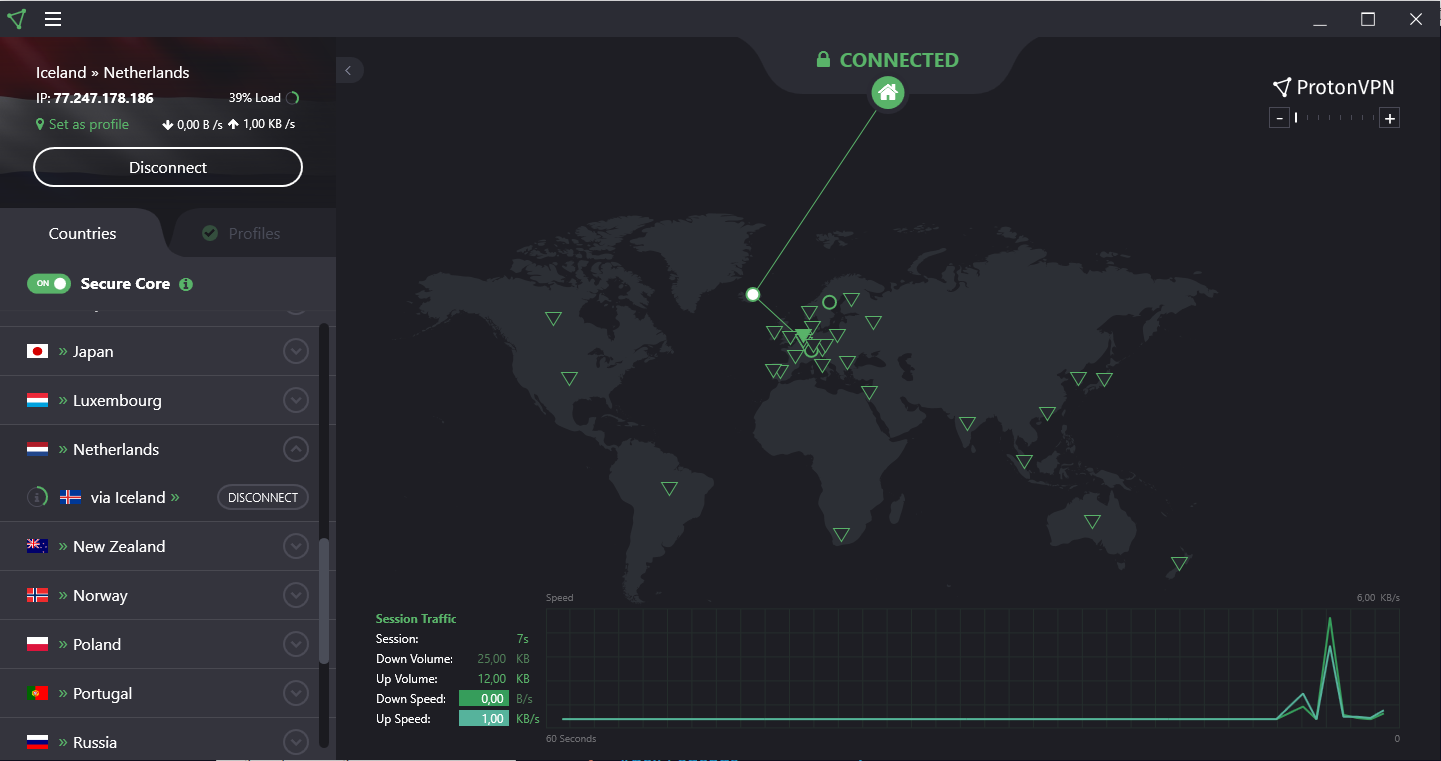 However, some users might find ProtonVPN quite inconvenient and a bit assaultive at times.
You have the option to choose the server you want from a list that pretty much every other VPN provider has, or from a map. However, if the servers are clustered together it will involve a lot of scrolling, and the map will freak out and go off-screen.
There's also a lot of clicking involved to find something you want. And while ProtonVPN definitely has some interesting advanced options, there aren't as many of them to make everything so complicated.
Mobile apps
You can install ProtonVPN both on Android and iOS.
No matter the mobile OS you are using, the apps will give you a smooth, fast, and easy experience. They also have all of the features the desktop versions have, giving you the same possibilities of using and adjusting the apps to your needs.
ProtonVPN for streaming
VPNs really started to become popular when everyone realized that they can be used to unblock streaming services. However, having a server in a certain location isn't enough anymore — a VPN also has to be able to unblock said streaming services and bypass all of their geo-blocks and restrictions.
Generally speaking, ProtonVPN can unblock certain streaming services. It has the power, the capacity, and the technology to do so.
However, as our speed tests have shown, ProtonVPN is really lacking in that department. And, well, an enjoyable streaming experience really depends on a VPN's speed.
Also, if you are looking to get ProtonVPN specifically for streaming, you can kiss the free account goodbye. Not only are the few servers available constantly overcrowded, the free version simply doesn't have the features you need to unblock even the most unrestrictive streaming platforms. You are going to have to go for the paid plans.
The paid plans also have a few servers dedicated to streaming. Those, however, are few, far between, and do not offer that much in terms of speed.
Here are a few streaming platforms we've tested ProtonVPN and know they work:
Netflix
The right VPN can double and even triple everything you can watch on Netflix by tapping into other countries' libraries. ProtonVPN definitely can unblock some of them, but not as many as some other VPN providers.

Check out what are the best VPNs for Netflix
Channel 4
The UK-based Channel 4 and its family of sister channels do not have very strict restrictions in place, and ProtonVPN can definitely get you there.

Check out what are the best VPNs for Channel 4
BBC iPlayer
UK's BBC iPlayer has some of the tougher geo-blocks and VPN restrictions. However, if you give it enough tries you can get it to work with Proton. But we would recommend choosing something else.

Check out what are the best VPNs for BBC iPlayer
ProtonVPN for gaming
ProtonVPN pairs well with different kinds of mobile, online gaming, or gambling apps.
If you are looking to bypass some local restrictions, get your hand on a game that is not available in India, such as PUBG, or Mobile Legends, ProtonVPN will definitely let you do that.
However, it lacks the needed qualities for heavier or more intense games, mainly if you are gaming on a PC or consoles.
ProtonVPN and torrenting
ProtonVPN offers P2P optimized servers in the UK, USA, Germany, France, Hungary, Hong Kong, and a few other countries.
However, you can find these only in the paid plans, not in the free version. There's not a ton of them, but at least the provider has P2P support.
When it comes to the torrent speed, it is generally ok. Keep in mind that you can check the server indicators before you connect to one.
ProtonVPN subscription plans and prices
Like most VPN providers, ProtonVPN currently has three subscription plans on top of their free option. And, as usual, the longer the plan you choose, the more you'll save:
The 1-month plan is the most expensive and will cost you almost 780 INR.
The 1-year plan will already save you 40% and will only cost you 470 INR.
Finally, the 2-year plan is by far the best one and it will only cost you 390 INR, saving 50%.

Payment Methods
ProtonVPN offers several payment methods, depending on your location:
Credit/debit card
PayPal
Bitcoin
Cash (!)
Once you select the plan, you'll need to enter your information and payment method.
This data falls under the protection of TLS encryption and Swiss privacy laws.
Customer Service
ProtonVPN doesn't offer a live chat feature to assist you instantly.
However, they do have a knowledge base and a support form you can use to contact the team for assistance.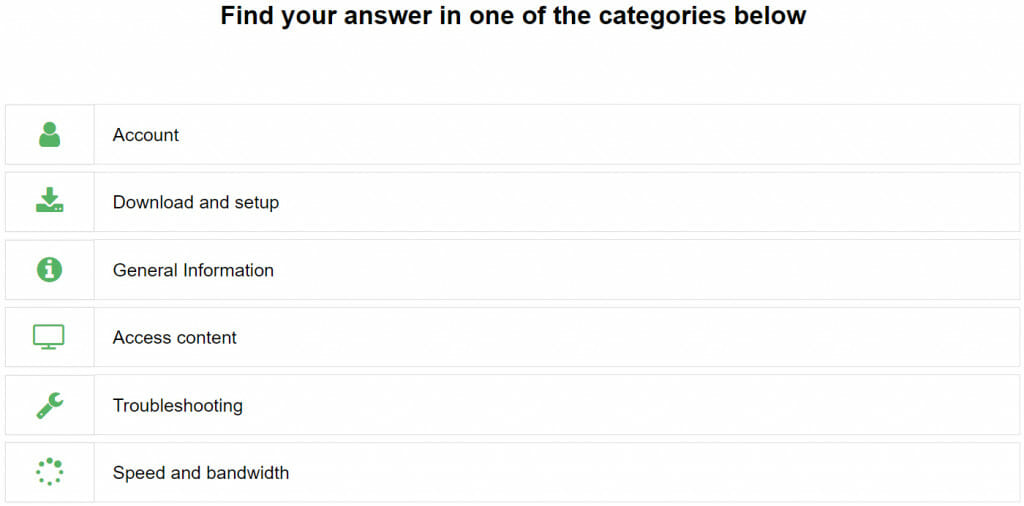 You can also choose to contact the support team via email.
You might have to wait a while for the response, but in our experience, Proton's support was always extremely welcoming, helpful, and pretty fast.
Conclusion: Online privacy for everyone
We are going to be honest with you (because that's why we're here).
ProtonVPN isn't the best VPN. It doesn't have the most servers, it's far from being the fastest, it's not packed with unique features ranging from multi-hoping to making you a latte macchiato, it can't unblock all of the streaming services under the sun, and it's not a VPN realized to its full potential.
BUT.
ProtonVPN chose to focus on online privacy and security. And it's darn good at it!
And unlike all of the other VPN providers, it offers this option to everyone who is looking for it completely FREE.
Sure, it may not be the best VPN. But with nearly every other free VPN provider looking to take advantage of you, pretty much making using their VPNs useless, ProtonVPN does something cool, something very rebellious, and something for everyone.
But if that isn't enough, and if you are willing to pay something extra, there's a whole lot more this little Swiss VPN  can offer you!