Overview
HMA is one of the oldest VPN providers on the market. Founded in 2005, it is still present among the best VPN services in the global rankings. In 2016, the UK based company was acquired by Avast, the largest Internet security developer in Europe.
Ratings
HMA, formerly known as Hide My Ass, has been around for more than 15 years which makes it one of the oldest VPNs around.
The UK-based company was off to a bit of a rough start. It was heavily criticized for disclosing user information in a federal case, which out in question the provider's no-logs policy and general privacy policies.
In 2016 it was acquired by Avast – a company best known for its antivirus software. Since then, the company has made steps to rebrand itself and rectify its image. And we aren't just talking about changing its name to HMA VPN.
---
Despite being based in the UK – a founding member of 5/9/14 Eyes – their now-improved no-logs policy (audited) guarantees that no private user information can be handed over to concerned authorities (at least, that's what they claim).
Other than that, their coverage goes far and wide, speeds are quite impressive, security protocols are up-to-date, and all their associated apps boast an excellent UI, leading to a positive user experience.
But we are not about jumping to conclusions. So let's have an in-depth look at everything HMA has to offer and how it fares in everything that matters to become one of the world's leading VPNs.
Servers
HMA has over  1,060 servers in more than 290 locations in 210 countries.
The number of locations and countries HMA covers is, indeed, impressive. We have never seen such a diverse and extensive server network in Africa and the Asia Pacific.
Plus, they also offer servers in localities with strict oppressive internet policies like Russia, Vietnam, and even Iran.
For India, they have two server locations in Mumbai that offer 6 IP addresses (which isn't that impressive and can get overrun by users pretty quickly).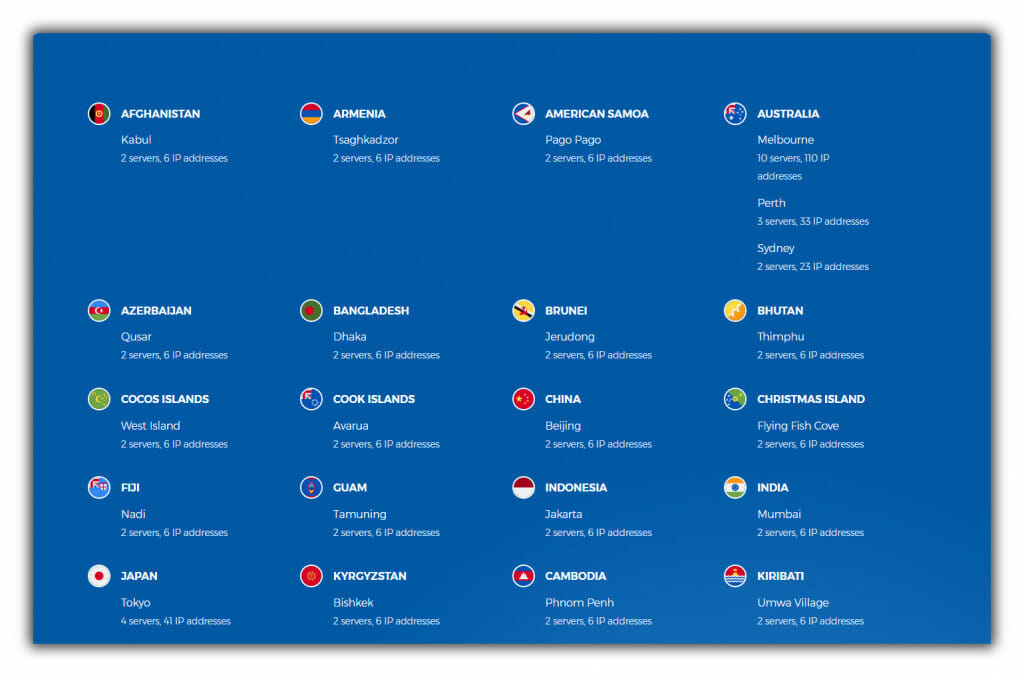 However, in sheer numbers of servers HMA is falling behind most other VPN providers. It's five times less than NordVPN and 25 times less than Private Internet Access.
At the same time, HMA relies on more virtual servers than actual ones. And while that might seem like a plus, since virtual locations (having their own pros and cons) do provide a more stable in reliable connection (especially in locations with bad local infrastructure), our tests and studies have shown, that HMA is not completely truthful when it comes to disclosing physical and virtual server locations.
While HMA claims that only 5% of their servers are virtual, in reality, it's closer to 50%.
While not a big deal in terms of VPN use and privacy, VPNs should be transparent and not hide certain facts from users. This just makes them look bad.
On the bright side though, HMA has over 189 servers specifically optimized for streaming, and most of them are P2P friendly (however, HMA no longer discloses how many servers are P2P optimized).
HMA VPN Speed test
VPNs are awesome, but because they use special connection protocols and encrypt your data, pretty much all of them slow down your Internet connection. The question of quality is: How bad is the dip?
We are happy to say that HMA takes internet speed very seriously and provides a fast and stable connection even in some of the more remote locations in the world.
Recently HMA introduced 20 Gbps servers. In comparison, even NordVPN offers 10 Gbps at best.
We tested a few servers globally, including the US, the UK, Germany, Japan, and India.
It turns out that the UK servers performed the best, with impressive download speed, decent upload speeds, and relatively low pings.
The US servers also met our expectations. Sure they weren't as good as the UK ones, but the speed loss was hardly noticeable (even though the ping was much higher).

The Netherlands' servers (EU) also performed equally well.


However, when we moved towards Asian servers, speeds dropped significantly, and ping rates increased.
Overall, all servers except those in Asia provided enough bandwidth and speed to stream HD content, have video calls, and enjoy online gaming.
Security
HMA has a checkered past in terms of security and privacy. But we will try and not hold it against them.
Being a UK-owned firm, HMA is subjected to adhere to the 5/9/14 Eyes alliance. This means that if requested, they are legally required to hand over all collected information.
Although they have always claimed to have a no-log policy, it turned out to be a lie — in 2011, they provided sensitive user information to the FBI to apprehend a hacker.
Also, rumor has it that Avast, alongside Jumpstart, had been selling user data to third parties.
---
HMA's reputation took a toll, prompting an update of their privacy policy, which now guarantees zero-logs.
Other than that, they claim to have state-of-the-art encryption and protocols in place and feature split tunneling, a kill switch, and other security and privacy features.
But the VPN world is unforgiving. Sometimes it takes but one strike to be out…
So let's see whether HMA warrants another inning. 
Encryption And Protocols
One of the basic features a VPN should ALWAYS have is encryption. But some providers have it better than others.
So how good is HMA at encrypting and protecting your traffic and online activity?
They use 256-bit AES encryption, a military-grade protocol along with Perfect Forward Security, and 4096-bit RSA keys.
This is pretty much top-tier VPN encryption.
By default, HMA uses the OpenVPN protocol over UDP. And if UDP is throttled via the desktop app, users can switch to TCP.
The first one is fast, whereas the second one is comparatively stable.
Other than that, HMA supports most of the popular VPN protocols, including L2TP, PPTP, and IPSec (depending on the operating system you are using).
Even though OpenVPN is a solid option, we were a bit sad to see that HMA is not using some of the more recent generation protocols, such as WireGuard.
Most of the top-tier VPN providers have already cracked the protocol's privacy flaws, but HMA doesn't seem to be taking steps in that direction.
Other than that, we have run HMA from all the necessary tests and found no major security flaws.

No logs
After a very bad publicity hit after Hide My Ass helped a federal investigation by disclosing a user's credentials and personal information, HMA has talked steps to define itself as a truly no-logs VPN.
These days HMA claims that it never logs a user's IP address, online activity, DNS queries, login credentials, data transfers, and usage time.
VerSprite, an independent auditor, has verified their claim.
So far so good… Theoretically, even if HMA was required to hand over user information — they would have nothing to show.
Kill Switch
HMA has a kill switch feature, which kills the internet if a VPN connection is dropped.
This feature is in place to ensure the user's complete anonymity.
The unique thing about HMA's no logs feature is that it can function as both a network lock kill switch and as a specific app kill switch.
This is especially handy if you are using a VPN for torrenting or viewing some geographically restricted content you don't want your ISP to find out about.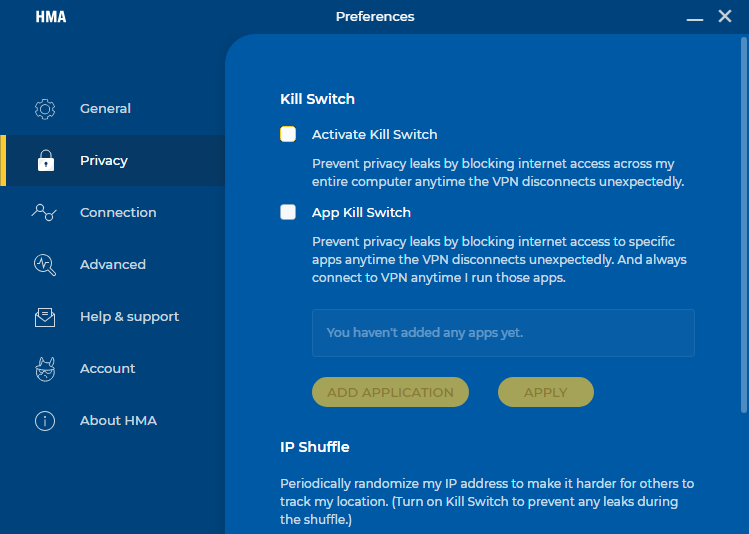 Split tunneling
The split tunneling feature is handy because it allows you to choose which apps go through a secure VPN connection, and which bypass it using the full speed of your internet connection.
At this point, most high-end VPNs have this option, but not all of them do it to the same degree of quality.
HMA's split tunneling feature is only available on Android devices.
It works well, but the OS limitations mean that you can only choose which apps need the most protection if you are an Android user.
A good feature to have, but it's a shame that it's limited to just one platform.
HMA Apps
HMA is quite versatile when it comes to operating systems.
It has some of the most easy-to-use apps for Android, iOS, Windows, macOS, Apple TV, Linux, and Android TV.
One user account can be simultaneously used on five or ten devices (depending on the selected plan), making it an excellent option for small offices and households.
Apps For Desktops
Once signed up for an account, you can use your credentials to log into any HMA application.
After you do, you have the option to choose a specific server to connect to or use the Lightning Connect feature to connect you to the nearest, fastest server.
The desktop app is easy to use. You can toggle features such as Wi-Fi protection, kill switch, IP shuffling, etc.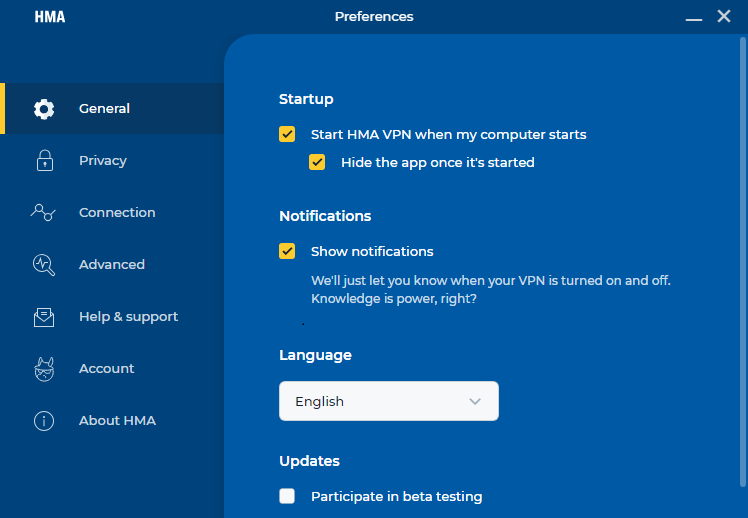 You can also view and choose P2P servers or switch between protocols if required.
Be wary; by default, the app is set to disclose user data with third parties for analytical use (so how about that no-logging, HMA?).
Apps For Mobile
The mobile apps have a similar look and feel to the desktop application. However, some advanced features are missing, such as a kill switch or protocol switching.
Also, the Android app is the only one with the split tunneling feature.
Apps are available for Android 5.0 and above and iOS 9 and above.
Browser Extensions
HMA provides extensions for Firefox and Chrome.
They are relatively easy to use, and connections are swift and secure.
However, they function more like proxies, securing only browser-centric activity and nothing else.
Streaming
Since recently HMA features 189 servers optimized for streaming.
This is not much when compared to other VPN providers. But when HMA says "Optimized for streaming" it really means is.
HMA can access various Netflix libraries as well as Amazon Prime, BBC iPlayer, and much more.
We've managed to play all the videos we wanted in HD, and came across no lags or buffering.
However, these results were seen on specific servers, and they might not be the same on other servers as they might be flagged by streaming services with strict no-VPN policies.
Therefore, if you look forward to streaming content from other than UK, US, or EU libraries, the chances are that you may see some disruptions.  
Gaming
The upload, download, and ping rates remained decent across our tests, so gaming won't be an issue with HMA's 20 Gbps server.
They also claim to have dedicated apps for PlayStation and Xbox. But, that is not true as these consoles do not provide VPN support.
However, lots of VPNs do that. You can actually set up the VPN on your router so all connected devices can use it.
We've tried it and it works well both for streaming through your console and accessing better prices for games (as long as you have the right server).
Torrenting
Let's get this one out of the way: HMA supports torrenting.
They have dedicated P2P servers listed in their apps. And all of them perform well.
However, many people report seeding issues on their support page, something that can get better by a server switch.
HMA Subscription Plans and Prices
Unlike other VPN providers, HMA finally has a specific offer for India. And we are ecstatic to see someone who understands our local struggle.
The plans that HMA offers India are as follows:
A 1-month plan for 299 Rs/month
A 12-month plan costing 199 Rs/month
A 36-month plan that will save you 75% and costs just 139 Rs/month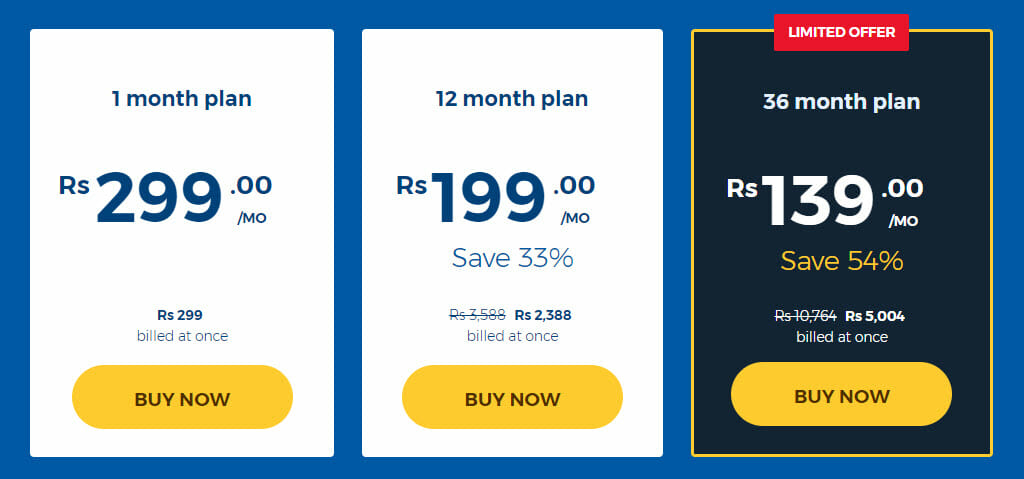 What Payment Methods Does HMA Accept?
We'd wish HMA understand the local payment methods as well as it does local prices…
Indian users can only for an HMA subscription via bank card.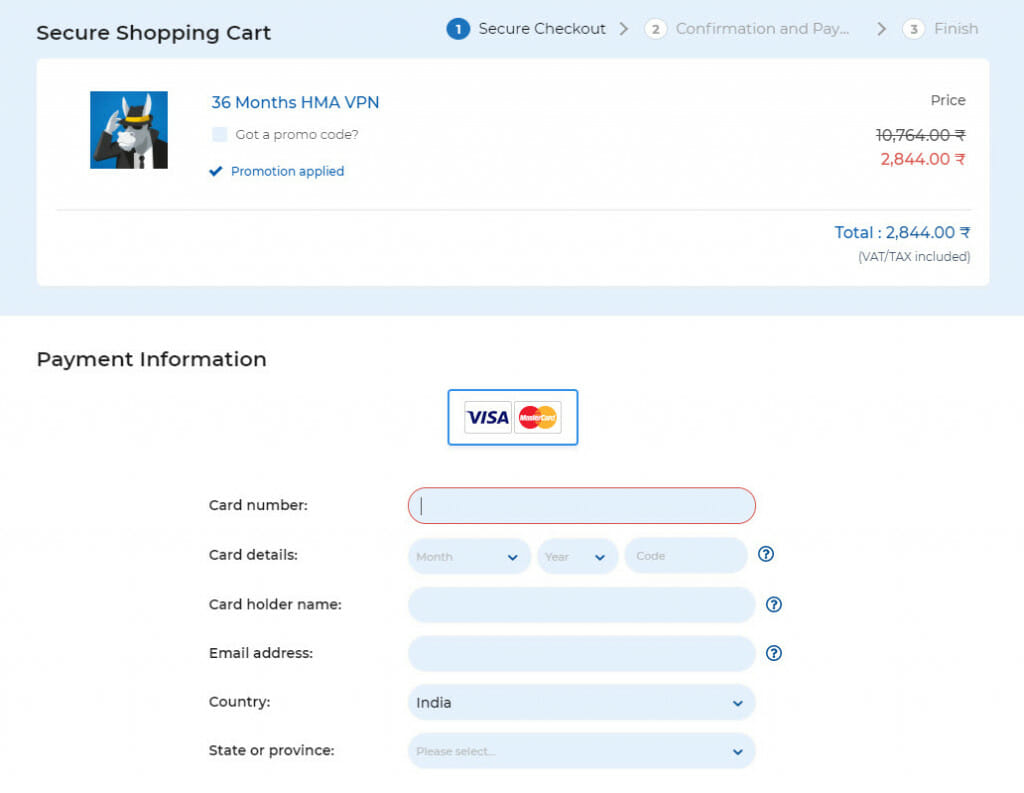 Does HMA Have A Free Trial?
Yes, they have a 7-day free trial, plus they offer a 30-day money-back guarantee.
Customer Service
HMA has a 24/7 support staff, always looking forward to settling concerns and rectifying issues.
They also have round-the-clock live chat support, where the response time per our tests was in minutes.
You can also contact them by opening a support ticket or via social media.
Other than that, there are many resources on their support website, including guides, blogs, FAQs, and community forums.
The bottom line: Did HMA make up for past failures?
Overall, yes.
HMA has all the features that one may seek from a credible VPN.
Hide My Ass is far from being the best VPN out there, but it still manages to provide exceptional security, unblock restricted content, and great internet speeds.
Plus, their servers are capable of handling resource-demanding games and videos.
However, if you want to operate it in areas other than the EU, the UK, or the US — opt for the 7-day trial before subscribing.