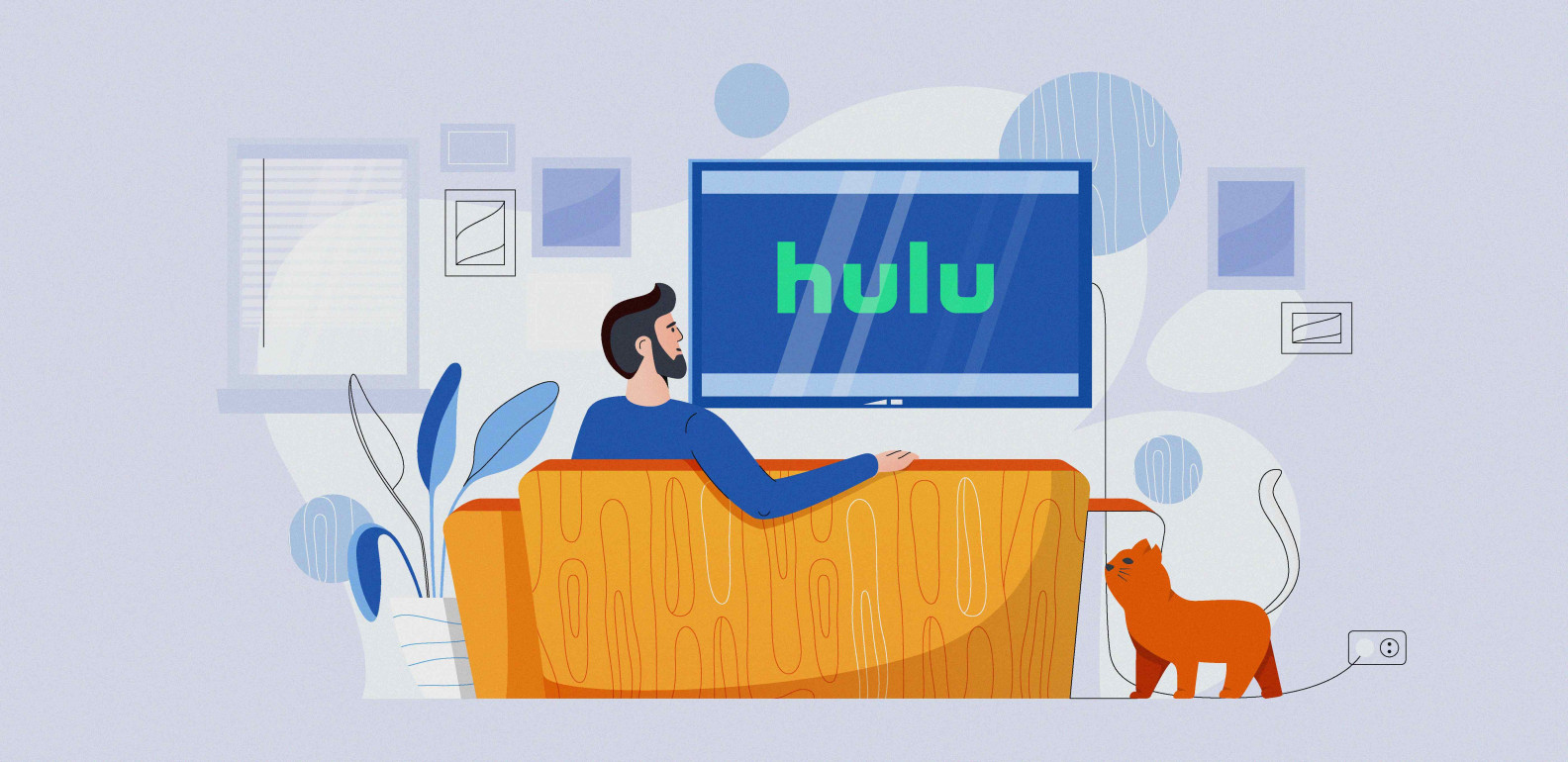 How To Get Hulu In India Today
Hulu – mostly owned and controlled by Walt Disney and NBCUniversal – has maintained its relevance despite the many new competitors, with 39.4 million paying subscribers and about 100 million viewers in total.
The streaming service offers a wide variety of famous shows from your favorite networks such as ABC, NBC, and Fox. But this doesn't do justice to the awesomeness that Hulu offers its subscribers.
Right now Hulu hosts over 2 500 movies, as well as 41 000 episodes of some of the world's favorite, and most widely acclaimed series.
And that's still not all!
Hulu is also one of the few streaming platforms that have live TV streaming.  This includes channels such as MSNBC, Fox News, Cartoon Network, the Disney Channel, ESPN, and many more.
But wait, there's even more!
Apart from an awesome choice of shows, movies, and live channels, Hulu is also producing some of the best exclusives, pretty much all of which become instant hits.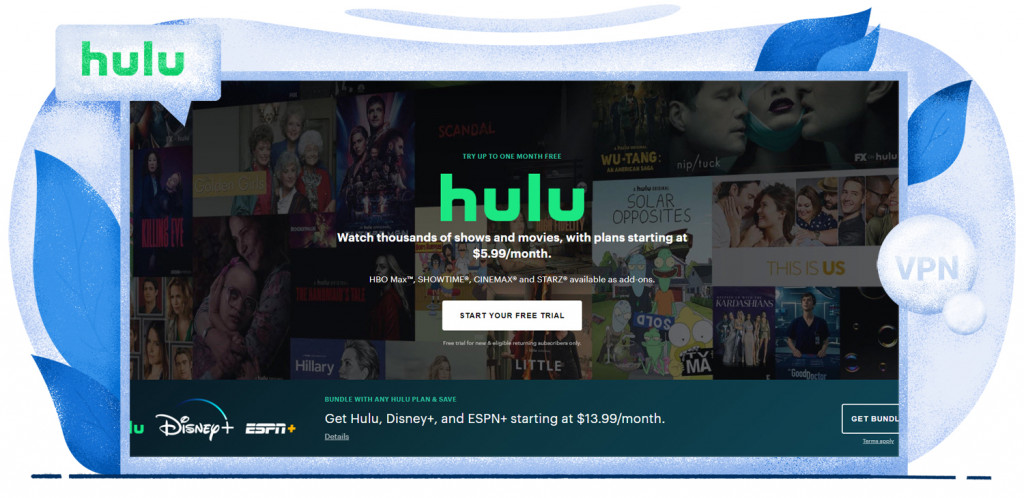 So it's fair to say, that while Netflix and HBO are old news, constantly fighting about streaming rights, Hulu has been knocking it out of the park!
Sounds awesome, right?
Well, there's always a catch when it comes to streaming services. Not all of them are available everywhere and that's definitely the case for Hulu. But we'll get to what that is and how you can beat the system.

But first…
What's On Hulu?
We feel like we haven't done justice to the awesomeness that is this amazing streaming service.
So let's get into what makes Hulu one of our favorite streaming platforms to date!
Movies
First of all, Hulu is not just any average streaming platform hunting down any possible movie rights it can get its hand on.
The movie selection on the streaming platform is as intelligent, as it is exclusive and extensive.
You will find some of the best movies that Hollywood has to offer, and ones that none of the other streaming platforms have.
Into great, award-winning, mind-boggling dramas? Hulu has got you set with movies such as 12 Years a Slave, Gone Girl, Parasite, Portrait of a Lady on Fire, Arrival,  and oh so much more.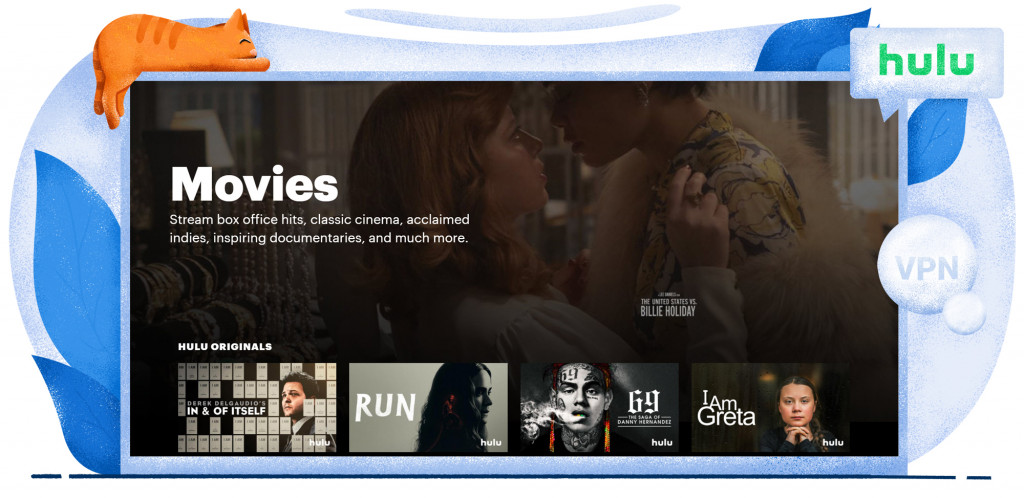 Into sci-fi and action movies you can't look away from, cause you just might miss something? Hulu's got you covered with Christopher Nolan's Batman trilogy, Kick-Ass, 13 Assasins, the Die Hard series, Once Upon a Time in the West, and tons more.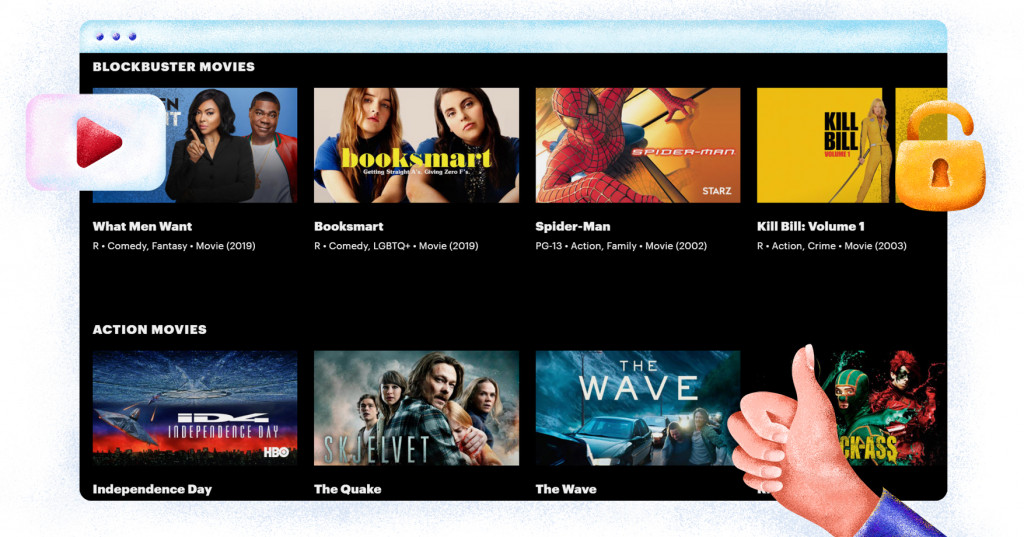 Hulu even has some awesome choices of content for us Bollywood lovers, with such awesome flicks like Hotel Mumbai, Margarita with a Straw, The Warrior Queen of Jhansi, and so on.
But Hulu doesn't just buy the rights to popular movies, it also creates its own, and pretty much every one of them is an instant hit. You just can't afford to miss the awesomeness that is Run., The Binge, Little Monsters, or 69: The Saga of Danny Hernandez, a captivating documentary into the life of the polarizing rap-sensation Tekashi69.
Shows
As awesome as Hulu's movie collection may be, you have probably first heard of the platforms because of its series.
And boy, does Hulu know how to create thoughtful, and thrilling shows.
Ever heard of The Handmaid's Tale? This ongoing series was probably the one that brought Hulu into the spotlight, making it everyone's favorite streaming platform. And trust us when we say, you can't miss out on it.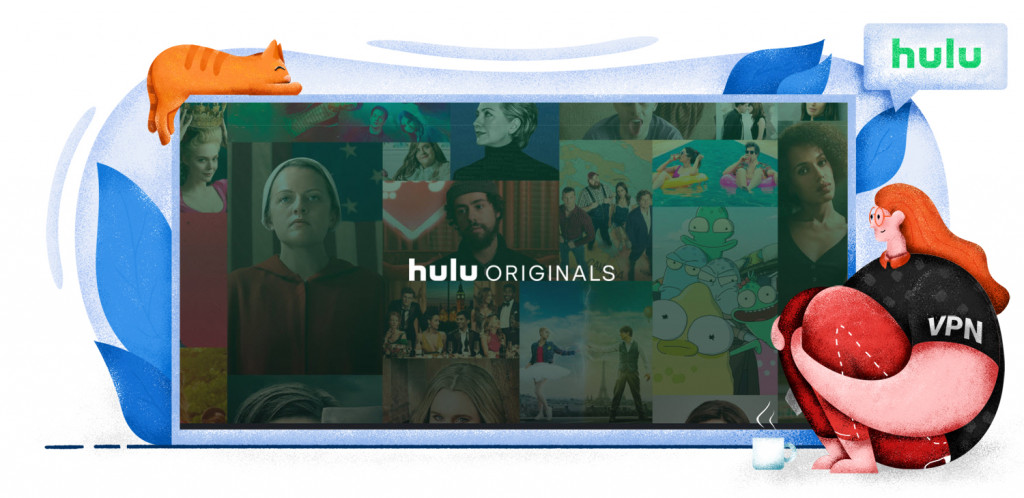 But dystopian futures is not the only thing Hulu is great at. There is also horror, such as Castle Rock, awesome comedies like Shrill, science fiction such as 11.22.63, even adult cartoons such as Solar Opposites, and pretty much every other genre imaginable.
Apart from creating some of the best series and shows today, Hulu has managed to collect the creme of the crop from the best productions today, such as A Teacher, Big Sky, Snowfall, Mare of Easttown, Fargo, American Dad!, Archer…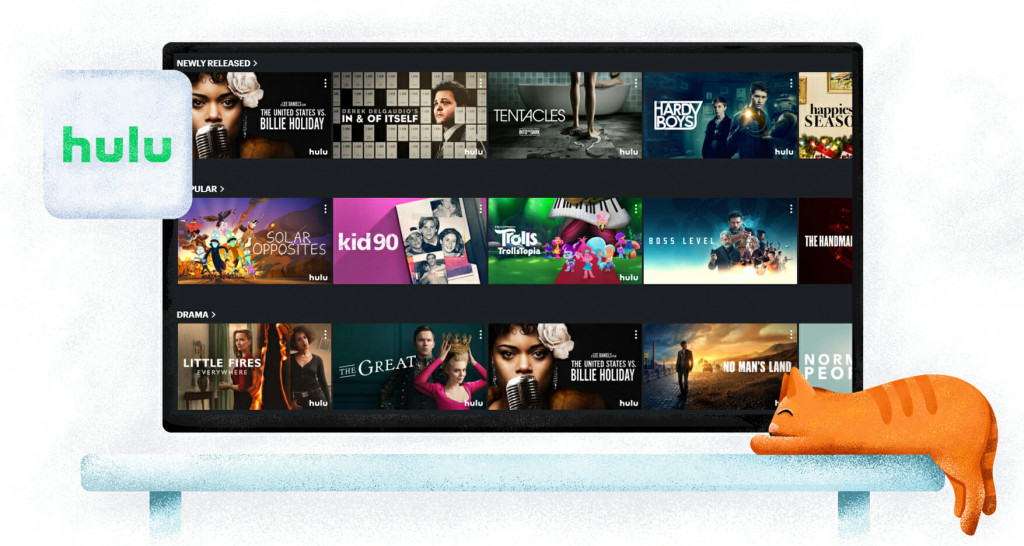 Honestly, we could keep going for hours. But I think you get the point.
So the most important question now is:
Is Hulu Accessible In India?
Right now, Hulu is only available in two places in the world: The United States (but that's a given), and… Japan. And that's it for now.
This doesn't mean that the streaming platform will never become available in our neck of the woods. In fact, Hulu keeps promising to roll out its streaming platform goodness in other parts of the world, including India.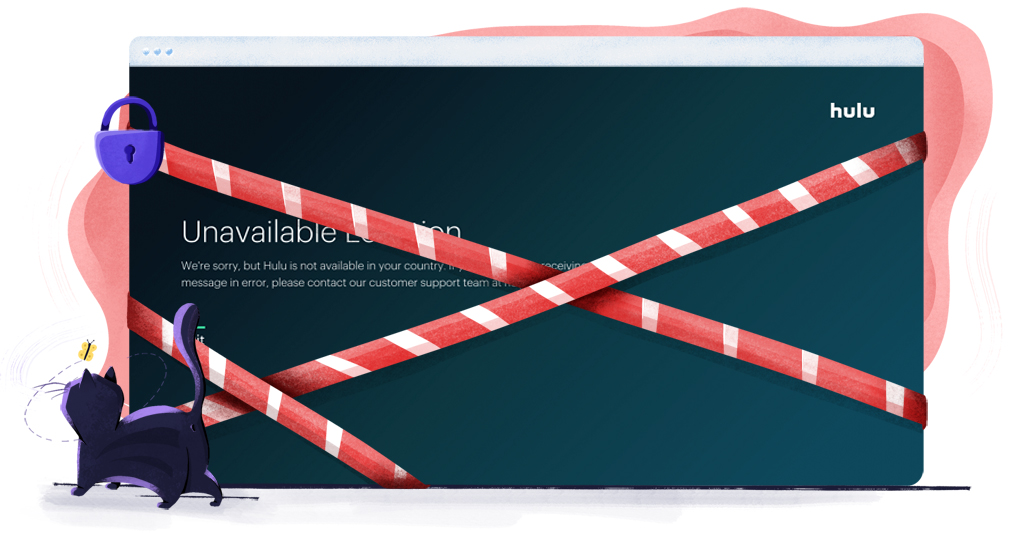 However, when and if that will happen still remains to be seen. Every year the guys at Hulu keep announcing new launch dates, and every year they get pushed back.
According to the Disney CEO and chairman, Bob Iger,
"Disney+ is going to roll out to Western Europe, India, and Latin America sooner."
Don't freak out, we did not mess up our articles. Even though this quote is about Disney+, Disney owns Hulu and is prioritizing its international rollout. After all, Hulu is a much more established platform and we already have Disney+ Hotstar.
However, no official launch dates have been mentioned yet.
So does this mean you have to wait for "sooner"? Certainly not! You can access Hulu's top content offerings in India even today, even right now.
All you need is the proper tools to do so. And we are here to supply you with them!
How Can You Get Hulu In India Right Now?
Even though Hulu isn't accessible in India right now, you can still get it and watch the new Handmaid's Tale episodes as they are rolling out along with millions of fans throughout the world.
Therefore, to get access to Hulu's hot content, you need two things:
1. A subscription to Hulu (requires a US bank card).
2. A way to bypass geographical restrictions imposed by Hulu for countries other than the US and Japan
What is Geoblocking, and how can you overcome it?
Overcoming these two issues might seem complicated at first. After all, Indian banks don't just give out American bank cards, and you are not planning to move just yet, and definitely not for the thrill of watching Castle Rock.
But don't you worry; we wouldn't have made you read this far if we didn't have a solution ready!
A Virtual Trip To The Land Of Streaming
Streaming services are very particular about their territories. This is why Hulu is not available outside of the countries it is present in.
And that's where you'll need a very good VPN.

Never heard of a VPN before?
With a good VPN by your side, you will make Hulu (or any other streaming platform for that matter) believe that you are in the US. The pearly gates of streaming heaven will open up to you, and you will be drowning in the best movies and shows in no time!
However, just about any VPN will not work with Hulu.
See, streaming platforms know about VPNs almost as well as we do, so they take active steps to block them. So you need to choose a tried and true provider, that you know will work.
Don't worry, we'll save you the trouble of taking out six hundred subscriptions and see which ones of the VPNs work. We've already done that for you.
What Is The Best VPN To Use With Hulu?
Your best shot for some awesome Hulu streaming is NordVPN!
Why, you ask? Well here are but some of the reasons we recommend NordVPN for streaming Hulu specifically:
NordVPN has over 5500 servers in 59 countries worldwide, with over

1970 servers in the US alone

.
With this wide array of options, you are sure to find a fast, stable, and reliable server, which will grant you instant access to Hulu.
While some VPNs are created for security, and others for streaming, NordVPN is one of the few VPNs that managed to combine the best of both worlds.
With stable servers, great connection speeds, and impressive streaming unblocking capabilities, NordVPN will be your personal key to any of the streaming services you might want to watch.
Speaking of streaming unblocking capabilities, NordVPN is the only provider that managed to make this as easy and intuitive for the user as possible.
NordVPN's SmartPlay feature combines the best qualities of Smart DNS and VPN technology, automatically giving you the selection of servers that will definitely work with Hulu.
The war of streaming services with VPNs is real. Platforms keep creating new ways to block VPN users every day. This is why NordVPN has recently introduced obfuscation to its servers.
With this amazing technology, the fact you are using a VPN will remain hidden. This way you will be able to bust through any firewall without even noticing it.
NordVPN is amazingly fast.
This is why you will be watching all of Hulu's streaming goodness in stunning HD – just like it was supposed to be enjoyed.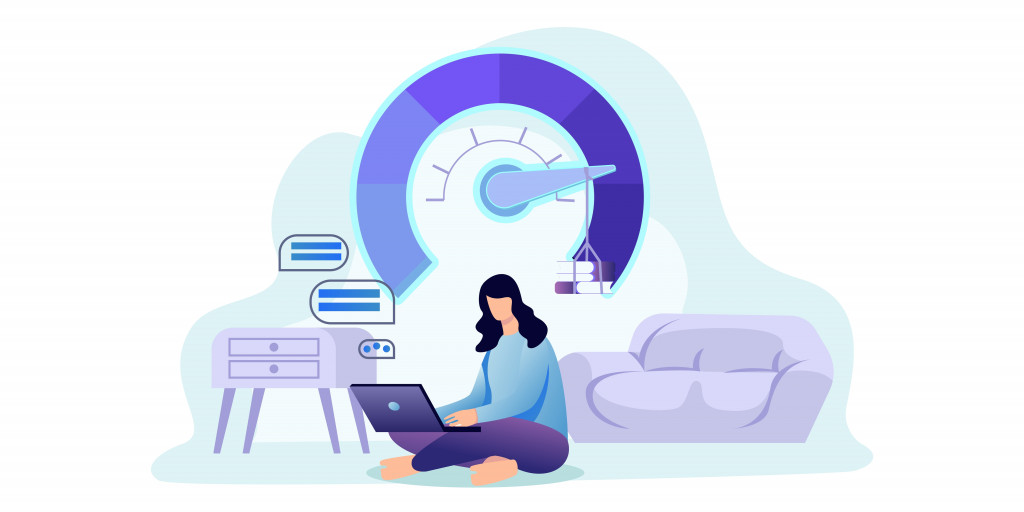 This is one of the few providers that actually offers you a dedicated IP option.
Streaming services tend to block dynamic IPs used by VPNs. With NordVPN you can have an IP that only you will be using.
NordVPN
Still not convinced NordVPN is the best VPN for the job?
Getting Hulu In India: The Step-By-Step
So we've figured out the right VPN for the job, now it's to get down to the nitty-gritty.
All you have to do is follow this simple guide step-by-step, and you will be screaming along to Deadpool's naughty jokes in no time:
1. Get NordVPN (we assume you have already done this, or else we [and Hulu] will be very disappointed in you), and connect to a US server, optimized for streaming.
2. You are going to need a way to pay for your Hulu subscription. Since Hulu only accepts US payment methods, you are going to have to be creative here as well. But we've got your back.
Head on over to US Unlocked, and apply for an awesome virtual US bank card. Once approved, load it up with enough money (Hulu's monthly subscription is $5.99, and you do get one month free, so it's totally worth it), and you're sorted!

Get your virtual US bank card today!
3. Once you have the virtual card, create an account on Hulu using your new credentials.
With US Unlocked you can even create a merchant-specific card, which will only be charged by Hulu, to the budget planning is all taken care of as well.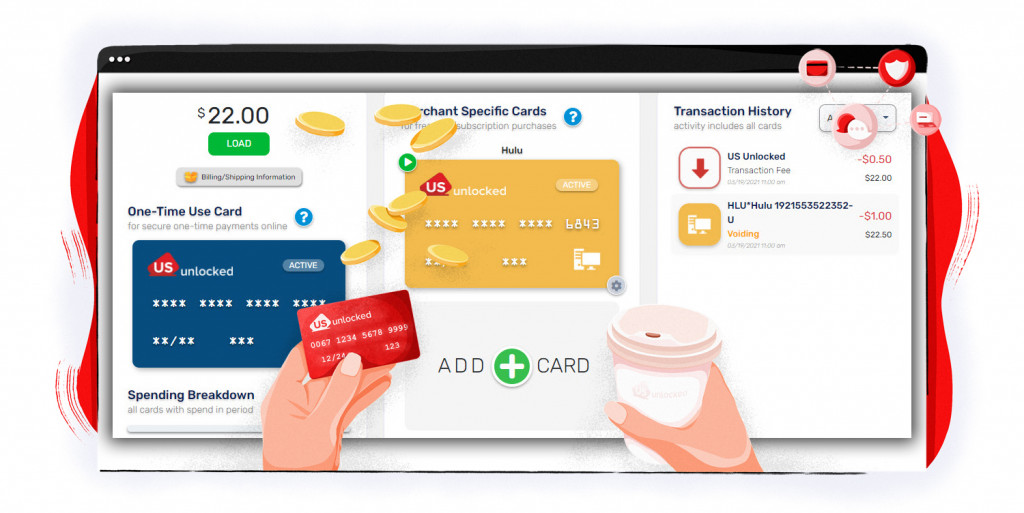 4. Login and start streaming!
That's it!
See? Not complicated at all.
Anytime, Anywhere
So there you go!
We can't stress enough, how good Hulu is. And trust us when we say, that this is one streaming platform you will never regret getting.
Whether it's Casual, Little Fires Everywhere, We, or The Handmaid's Tale that will get you hooked, you won't be able to put Hulu down as soon as you start streaming.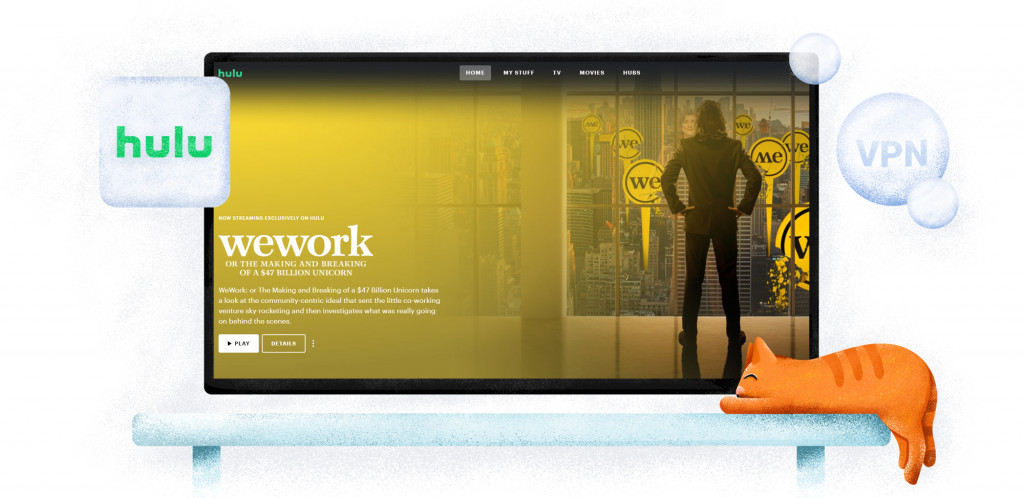 So grab NordVPN, and your own virtual US bank card courtesy of US Unlocked, and get Hulu today!
Don't forget to brag all about your new-founds streaming superpower to friends!