Overview
IPVanish is a reliable VPN provider. With a big focus on security, privacy, secure data storage, and speed, this provider may lack the streaming unblocking capabilities that other providers have, but it excels in that which it is dedicated to.
Ratings
Features
| | |
| --- | --- |
| Apps | Windows, macOS, Linux, Android, iOS, Chrome |
| Price | ₹305.00 per/month |
| Payment methods | PayPal, Credit Card |
| Refund | 30 days |
| Protocols | OpenVPN TCP/UDP, PPTP, L2TP/IPSec, IKEv2/IPSec |
| Log Policy | No logs |
| Simultaneous connections | Unlimited |
| Based In | United States |
| Jurisdiction | United States - Five Eyes (United States, United Kingdom, Australia, Canada, and New Zealand) |
IPVanish is one of the biggest VPN service providers out there, but is it really as good as everyone claims?
Well, we did our best to answer that question.
Founded in 2012 by Mudhook Media Inc. (a sister concern of Highwinds Network Group) in Orlando, Florida, IPVanish is a premium VPN that offers exceptional security with versatility.
They claim to be the fastest VPN service that blankets all digital activities, keeping you safe and secure as you browse online. And all of this comes at a very reasonable price.
We tested IPVanish to see if they are as good as advertised.
Servers
IPVanish has 40,000+ IP addresses hosted on more than 1,600 servers in over 75 countries. No matter where you are, IPVanish has a server close to you to help you surf anonymously.
Typically, VPN providers evade building servers in South America and Africa, but not IPVanish. However, they do avoid locations with oppressive internet policies, like Russia, China, Hong Kong, and Turkey.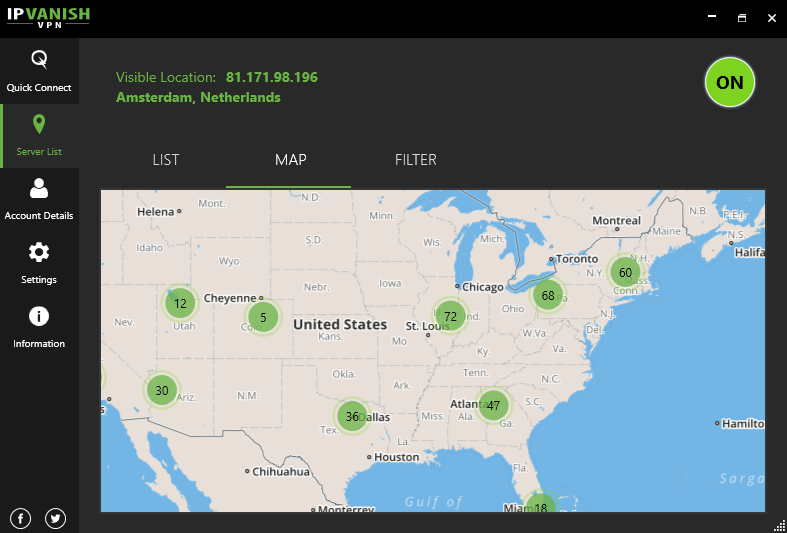 The best part is that they own 90% of their data centers, which considerably raises the security level. Most of their equipment and hardware are self-owned and not leased so you know there is no third party involved.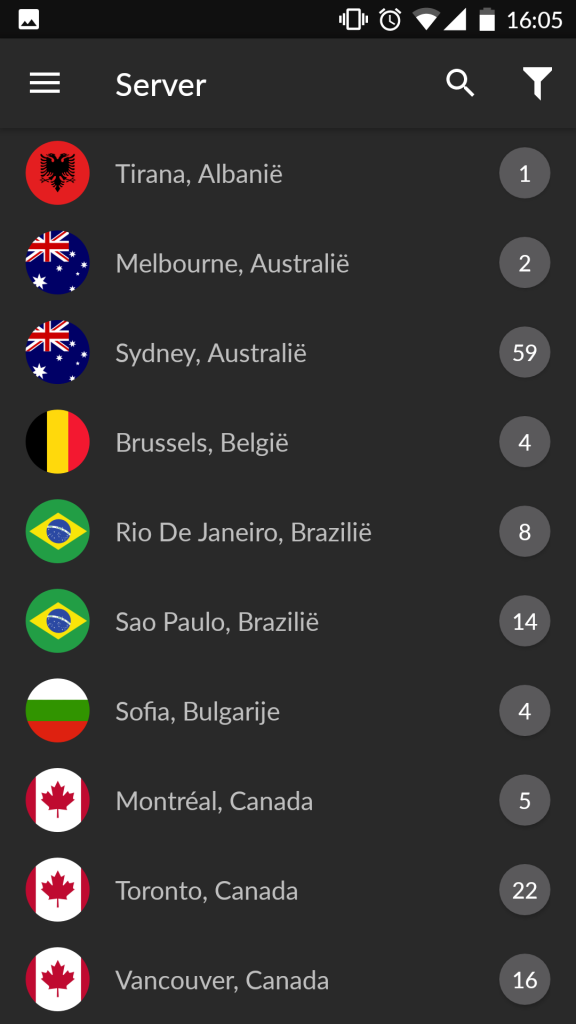 IPVanish speed test
The trouble with VPNs is that they can slow down the internet considerably. That's why it is crucial to opt for a service that delivers on its promise of speed.
Our IPVanish test revealed some pleasing results.
Since they outright own most of their data centers, their servers are configured to provide a secure, fast connection.
The speed you will be getting greatly depends on how far away is the server. But no matter how many servers we've tried, and even though the ping increased dramatically, we've never seen any significant drop in download speeds. This means that at least your browsing, downloading, and video watching endeavors with IPVanish will always be pretty much seamless.



Our tests have shown that they offer stellar speeds in the US and EU as compared to their competitors. But everywhere else in the world, their service leaves a little something to be desired.
To put it simply, internet speeds vary according to the region – the closer you are to a server, the better your experience will be.
However, even though IPVanish was lacking in the speed department for years compared to other VPN providers, they have recently started to upgrade their server park with 32 Gbps servers. While the upgrade is still going on, it might be hard to say how drastically that will increase the VPN's performance. But from what we've seen so far, this can be a massive gamechanger that will put IPVanish back at the top.
Security
A VPN is the most effective and most accessible tool to protect from all kinds of online threats and surveillance. However, many services only claim to cloak their users effectively, but they fall short when tested.
IPVanish does a bang-up job of providing anonymity to all users. Turns out that this VPN can make your device a breach-resistant zone where you can do as you please without the fear of being watched. For instance, their network block feature restricts smartphones from connecting to open public networks left as bait by cybercriminals.
To keep you as secure as possible, they also offer features like a kill switch, Obfuscation (stealth), a no-log policy, IPv6 leak protection, DNS leak protection, and AES 256-bit key encryption.


Encryption and Protocols
IPVanish seems to take user security very seriously.
The service supports OpenVPN — the golden standard of VPN protocols, along with AES 256-bit encryption — the highest possible quality for VPNs.
Apart from that, the provider's client also supports other VPN protocols. These include:
IPSec (Internet Protocol Security): It encrypts IP packets for transporting and tunneling. However, on its own, it does not support an authentication function or an encryption algorithm, so it has to be paired with other protocols.
IKEv2 (Internet Key Exchange Protocol Version 2): This protocol is created using IPsec, and it defines how IP packets should be encrypted over IPSec. When active, it can help you overcome the inherent limitations of a weak connection, letting devices switch between Wi-Fi and cellular data without disconnecting from the VPN.
PPTP (Point-to-Point Tunneling Protocol): When all else fails, PPTP supports older Os' and hand-held devices. But it isn't exactly known for security, so use it only if other protocols are not responding.
L2TP (Layer 2 Tunneling Protocol): This protocol is best for mobile devices that do not support OpenVPN. Though all issues that come with PPTP are addressed here, speeds are not the best, and configuration can be tricky.
OpenVPN: OpenVPN is the most widely used VPN protocol as it's known to deliver a seamless, reliable connection on all popular operating systems.
IPVanish supports OpenVPN without the need for any additional third-party apps. It even lets you pair OpenVPN with UDP (User Datagram Protocol) and TCP (Transmission Control Protocol) for added security and enhanced benefits.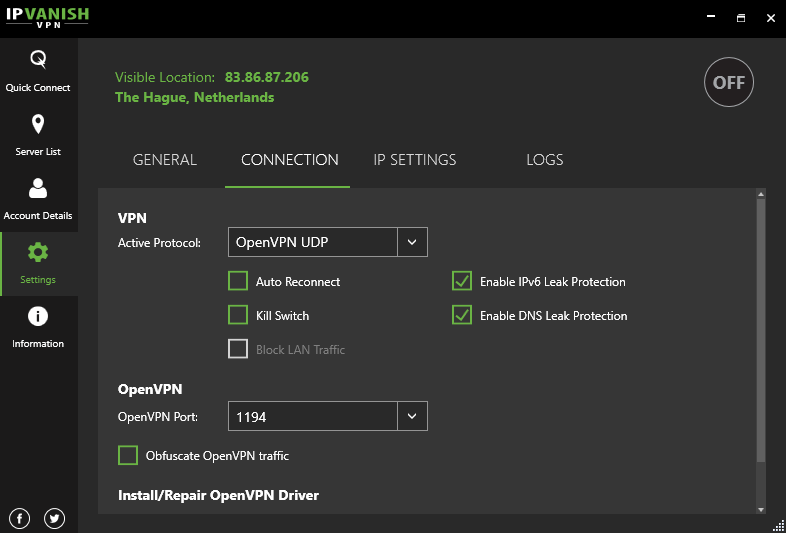 So if you like to keep things simple and don't want to play around with the settings, IPVanish seems like the right choice for you.
Logging
IPVanish does claim that they don't store user activity as a policy. But, a 2016 scandal disproved this claim. 
Department of Homeland Security asked IPVanish for assistance in a child abuse and pornography case. Justice was served as the VPN came through with incriminating information. However, it did prove that their no-logs claim was a lie, nothing more than a marketing gimmick.
The company is headquartered in the United States, making them subject to the 5/9/14 Eyes surveillance alliance. So if requested, they have to hand in wanted records to the authorities.
Interestingly enough, IPVanish was taken over by new management in 2017. The new bosses, i.e., StackPath are adamant that the VPN is no longer keeping records, so they won't have anything to show even if requested.
However, they continue to track non-personal data, including the type of browser and OS used and page requests, bounce rates, average time spent on a site, etc. Basic marketing stuff, but still.
So choose wisely. Only you can decide how much risk you are willing to take.
Kill Switch
This function ensures that your IP address never gets leaked.
Thanks to the Kill Switch feature, even if you get disconnected from the VPN, your IP address will remain hidden. The kill switch automatically cuts you off from the internet entirely, so that none of your sensitive data or activities will fall into the wrong hands.
However, this can be an issue if you are downloading a sizeable file, as interruptions can lead to failed downloads. Luckily, you have the option to disable the kill switch.
OpenVPN Scramble
This option helps you hide all OpenVPN traffic to keep it from getting detected by countries that use deep packet inspection.
Courtesy of OpenVPN scramble, you can bypass strict protocols and firewalls even in countries and networks that have taken measures to detect VPN connections.
This option can be used on Android, macOS, iOS, Windows, and Fire Stick TV.
IPVanish Apps
IPVanish supports all major platforms and operating systems, including Windows, macOS, Linux, Android, and iOS. You can even protect the whole network by installing the VPN on your router.
IPVanish supports up to 10 devices simultaneously with a single account. This is uncommon in standard packages of other VPN providers that allow no more than 3 to 6 devices per user account.
One option for instance that's hindered by complexity is choosing a server from the world map. You'd think it would be simple, and yet IPVanish doesn't make this basic feature clear to a new user.
This is a recurring theme in IPVanish's app designs. They offer a lot of advanced options, but none of them are particularly easy to find or use. The service would greatly benefit from a couple of standard options for streaming and downloading, to make setting up a VPN less daunting for starting users.
Apps For Desktops
We reviewed the Windows and the macOS app, and the results were promising.
Both the apps are easy to use, stable, and responsive. However, the Windows app took a lot longer to connect than expected.
The macOS app performed well in all areas, providing quick and stable connections.
IPVanish supports Windows 8.1 and 10, macOS 10.11 and above, and Linux (Debian or RedHat-based distros).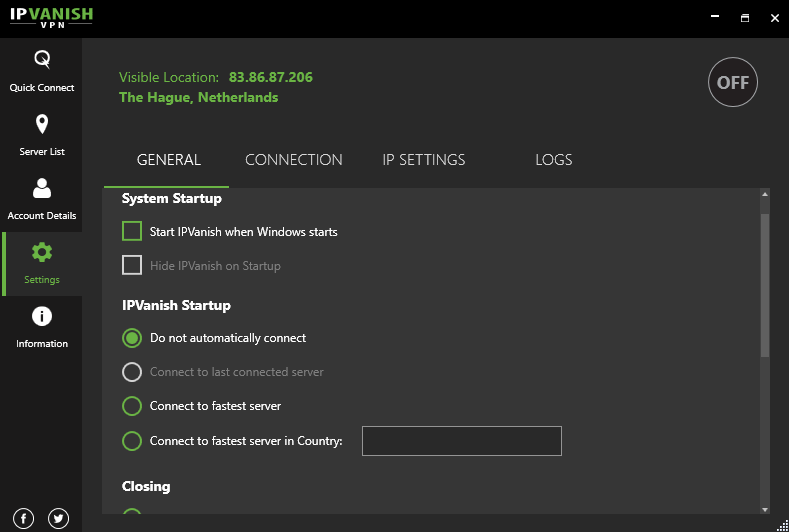 Apps for Mobile
The two most popular mobile-based operating systems are Android and iOS, and IPVanish supports both of them.
All devices running on non-alpha or beta version Android 5.0 or above can use the app.
In contrast, iPhone users can run it if their device has iOS 11.0 or above.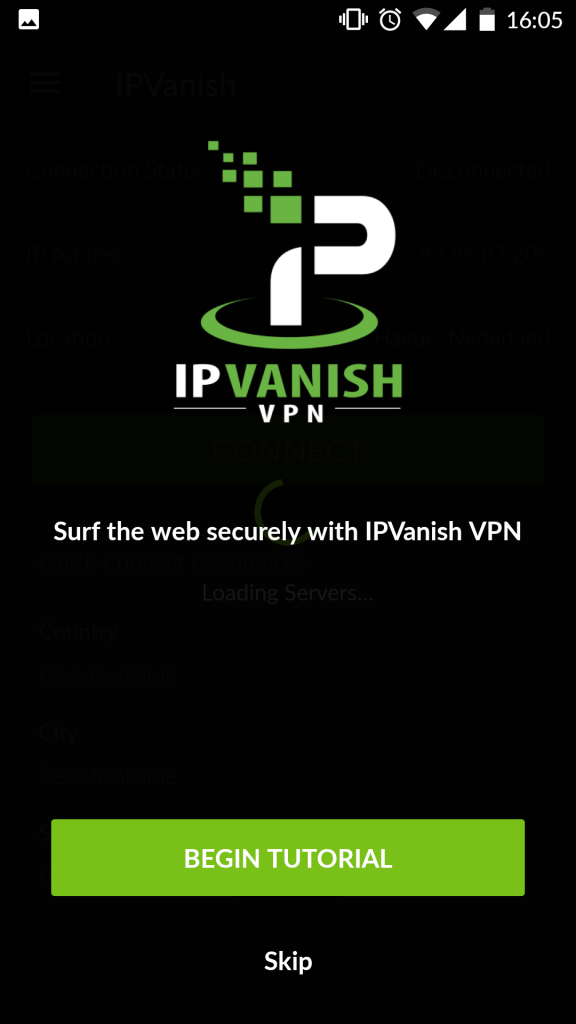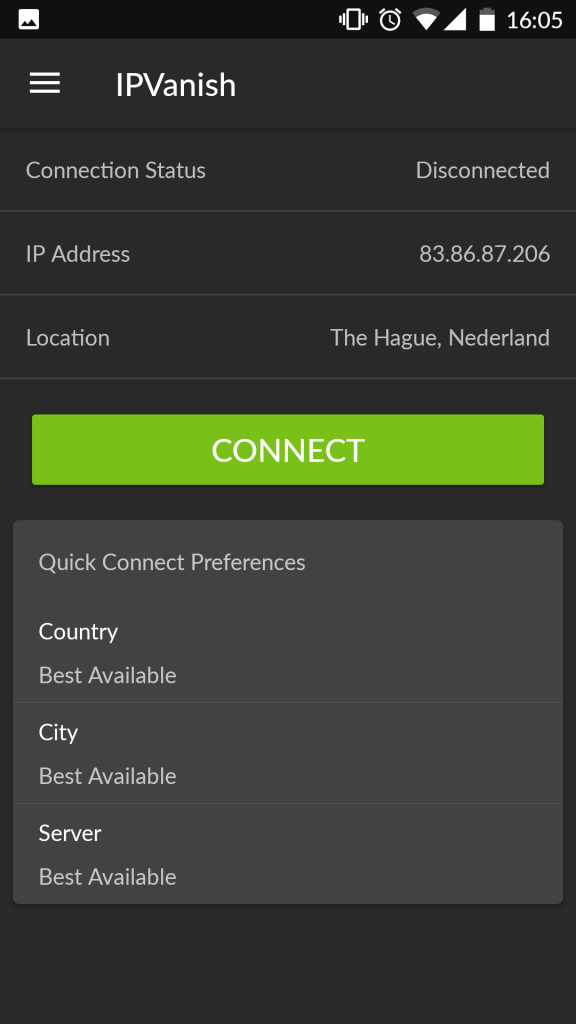 Both versions have good ratings on the respective app stores, and that's because they do what they are supposed to. No hate there.
Browser extensions
Unlike other VPNs, IPVanish doesn't seem to care much for browsers.
For now, you only get a Chrome extension, and that too seems like it was an afterthought.
IPVanish And Streaming Services
If you are looking to get a VPN to unblock streaming platforms such Hulu, Disney Plus, Amazon Prime, or the many different Netflix catalogs, you'd better look elsewhere. IPVanish isn't the best VPN for streaming unblocking. And, to be fair, it never said it was.
IPVanish was always focused on security. And unblocking streaming services, well, that's a whole other story.
However, IPVanish does help you get around the basic blocks, such as restricted content on YouTube, or some free streaming services that do not have advanced VPN blocking technology.
Is IPVanish good for gaming
IPVanish seems to have the right infrastructure to support online gaming. But no latency and quick refresh rates remain a distant dream.
We weren't expecting delays, but that's just what happened. Our overseas testers had it pretty bad because they weren't located in geographical proximity to the servers.
If you're a gamer in India a lot will depend on the quality of your local internet infrastructure as well as the server you choose to connect to.
We hope that IPVanish's new 32 Gbps servers will help somewhat increase connection speeds for gamers.
Torrenting
You need a SOCKS5 proxy server to use torrents, and IPVanish supports it.
However, you'll need to set it up manually, but it is easy to do by following the instructions provided on their support page.
In short, you won't face any issues while using torrent software; the upload and download speeds are excellent and stable.
IPVanish subscription plans
IPVanish takes a unique route to packages than other providers by offering only two plans instead of three – the monthly and the annual plan.
The monthly plan will set you back around 820.00 rupees. By far the best deal is with the one-year plan, which costs just 305.00 rupees. But if those don't do it for you, IPVanish is also the only VPN provider that has a quarterly plan which will cost you about 405 rupees a month.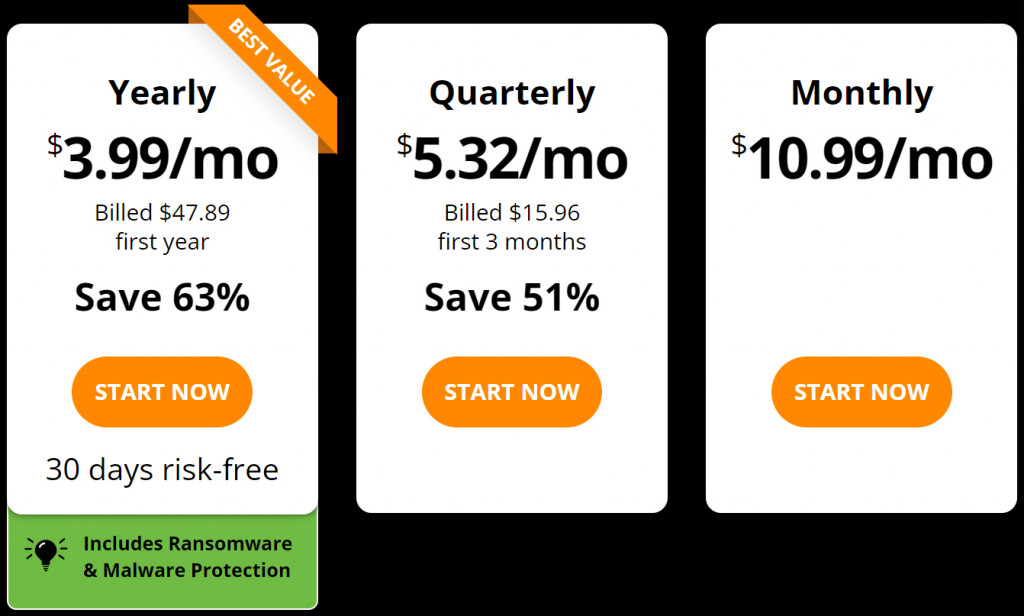 Payment Methods Accepted
IPVanish doesn't offer a whole lot of variety when it comes to payment options.
As of now, you can pay for your subscription with credit or debit cards, or via PayPal.
Does IPVanish Have A Free Trial?
No, IPVanish doesn't offer a free trial. However, what it does have is a 30-day money-back guarantee.
But wait, there is a catch — it is only applicable on the annual package and not the monthly one.
Customer Service
IPVanish doesn't have a live chat option, but you can get in contact with their support staff via email. The response does take a while, but we would usually get one within a day.
Plus, you have the option to call them up, if you don't mind the fee.
Other than that, their support website has a good number of articles and troubleshooting guides to help you quickly diagnose the issue, even if you face response delays.
IPVanish – a VPN for the advanced
So what's the bottom line? Well, IPVanish offers great value for money.
IPVanish might not be the best option for streaming or gaming, but that's not its focus. This provider is devoted to extreme security and privacy online. And it gets that job done perfectly.
This VPN provider is definitely not for everyone. It's not the easiest service or app to get the hang of immediately. However, if you are looking for the more advanced security options, or are a security nut, IPVanish definitely delivers on all accounts!