Overview
CyberGhost is a reliable VPN provider with a huge focus on streaming. Some of its security features may be lacking, but it more than makes up for it with a huge network of servers and the ability to crack virtually any streaming platform.
Ratings
Features
| | |
| --- | --- |
| Apps | Windows, macOS, Linux, Android, iOS, Chrome, Firefox |
| Price | $2.29 per/month |
| Payment methods | PayPal, Credit Card, Cryptocurrencies, iDeal |
| Refund | 45 days |
| Speed | 8.5 / 10 |
| Protocols | OpenVPN TCP/UDP, PPTP, L2TP/IPSec, IKEv2/IPSec |
| Log Policy | No logs |
| Simultaneous connections | 7 devices |
| Based In | Romania |
| Netflix | USA, UK |
| Torrenting | Yes |
| Jurisdiction | Romania - Not a Fourteen Eyes Country AND Not an Enemy of the Internet. |
| Server Locations | 91 |
Servers
Cyberghost VPN has an interesting offer for anyone looking for a wide range of fast VPN servers to access for a low price. There are some downsides to this proposition, however. But looking at the overall amount of speedy servers compared to the price point makes a subscription to CyberGhost look like quite a steal.
The Romania-based company has been quickly building up its server network. Now it can advertise a network of 6600 servers, based in over eighty different countries.
Usually, you would see a lot of fluctuations between servers in different locations, but surprisingly, that does not appear to be the case here. If you find a server with normal loads, even the connection speeds to the US are quite decent.
As is the case with most VPN providers, the majority of servers are based in Europe and the US. However, Cyberghost has some interesting other locations featured as well. For instance, there are several servers available in South America and even in South Africa. The speed of your connection will be lower here, mostly due to the local infrastructure being a lot worse than we're used to in the Western world. It's also nice to see that there are no servers based in nations that are known enemies of free speech.
Overall the server selection Cyberghost presents us with is very nice. Especially if you travel a lot or want to use some more exotic locations to surf from.
Cyberghost App
CyberGhost's desktop application is very easy to use. Installing the app on both Windows and macOS is very easy and most features are readily accessible for even less experienced users.
As soon as you finish with your subscription, the website instantly sends you to the download page, where the app automatically downloads to your device.
This may seem a little pushy to more experienced users, but for those who have less technical expertise, this is a godsend. They will not have to look for specific versions of the application to install. Instead, they instantly get the right one for their device.
First off, let's take a look at the desktop app itself. The startup screen is very clear and easy to read and allows you to quickly connect to a VPN server. If you want more options, you can click the sidebar and access the list of all available locations and servers. From here you can easily access servers that are optimized for P2P and streaming, and you can also see how much traffic a specific server is pulling at this time.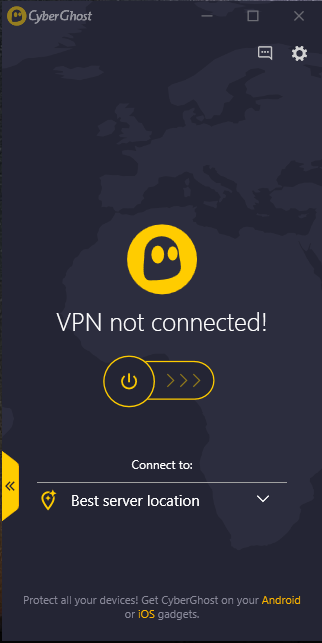 The CyberGhost application gives you a lot of options to configure your connection as you like. There is the usual protection against DNS leaks and of course, there is a Kill Switch option.
Besides these options, Cyberghost also offers a few interesting extras. There are the automatic Adblockers, and you can force an HTTPS connection on websites that do not have it. These extra options make CyberGhost an interesting provier, even for more experienced VPN users.
This feature, however, is still a work in progress. We did notice that the built-in adblocker did not successfully block all of the ads.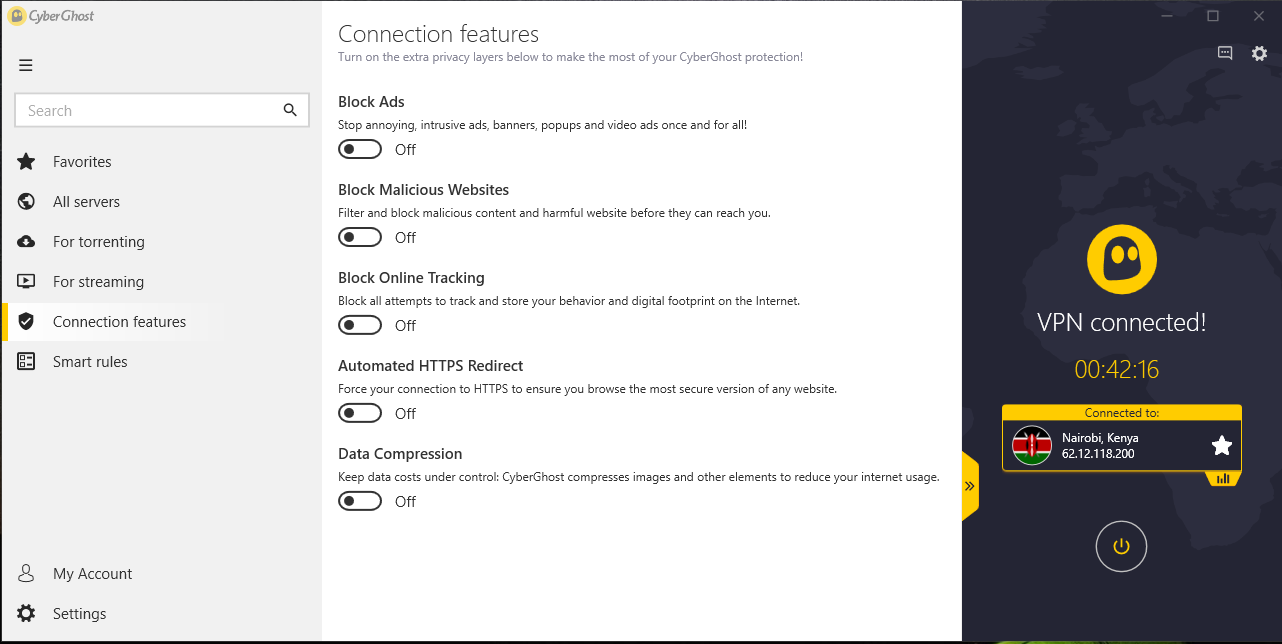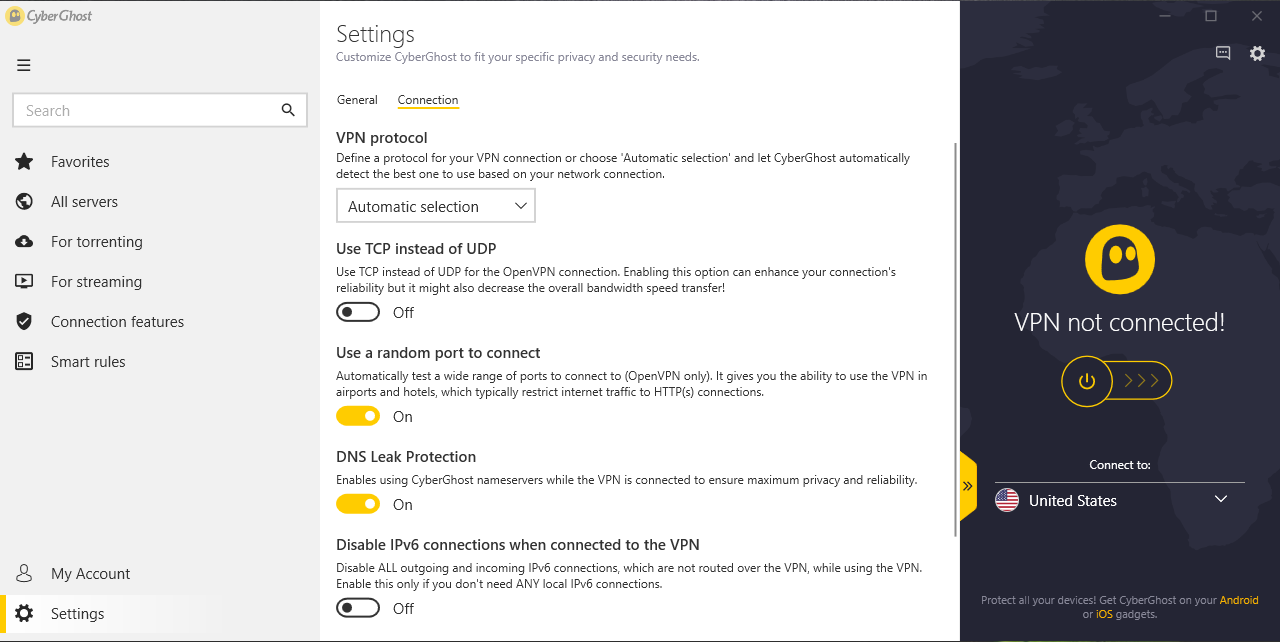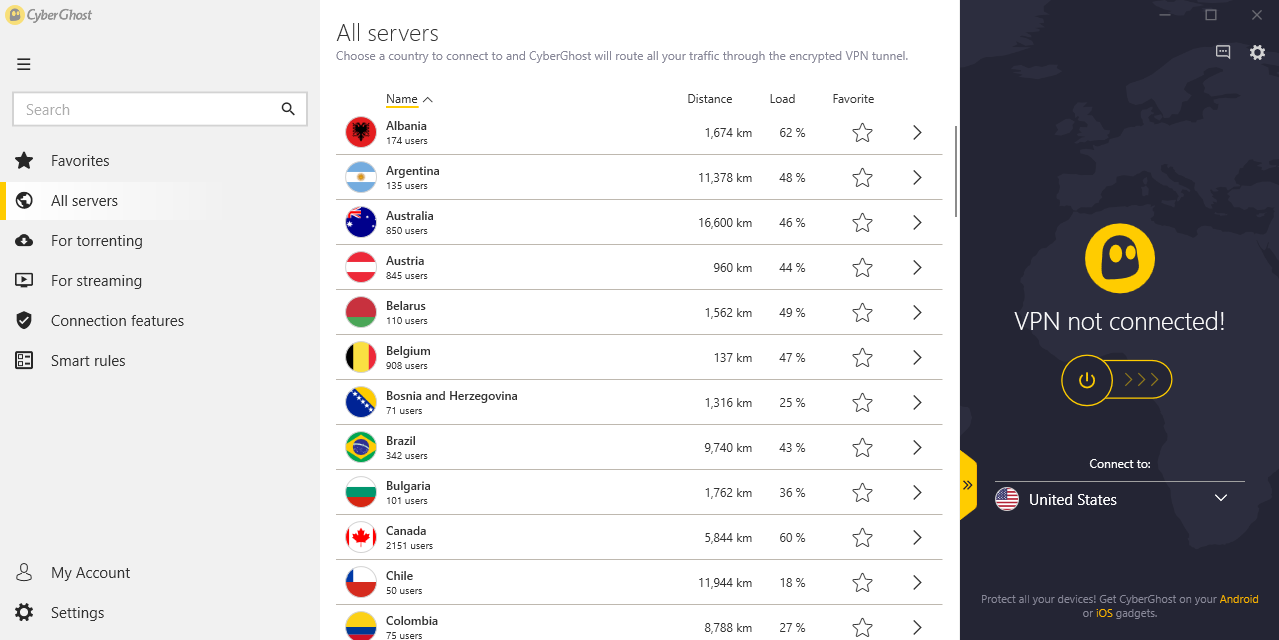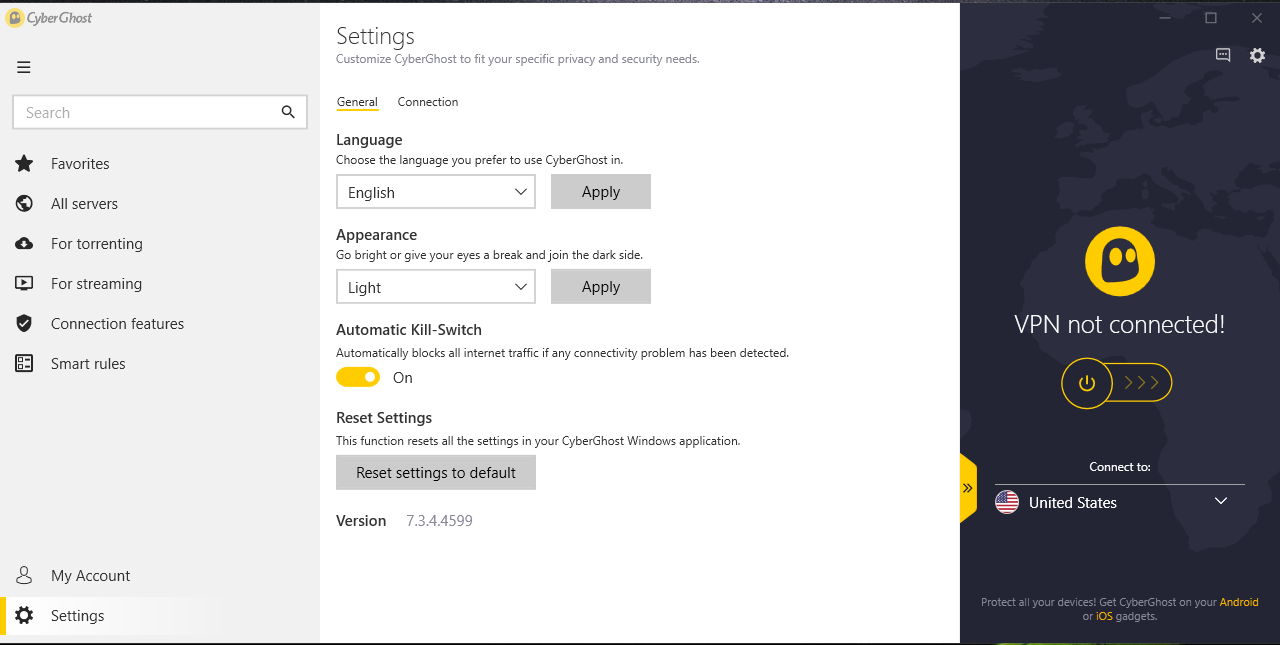 Mobile Apps
The mobile applications CyberGhost offers are, sadly, a lot more limited. A lot of the extra features are missing from the mobile apps and the number of settings is limited.
What is an interesting feature is the option to compress your data traffic. This helps you conserve your bandwidth, which is a very welcome addition in the age of data caps. However, this feature also tends to slow your down connection quite a bit.
The CyberGhost application also lets you use specific settings only on certain servers, which is handy. This allows you to make exceptions for your trusted networks, like at home or school, but not for other open WiFi connections.
Circumventing geoblocks
CyberGhost makes a point of advertising its capabilities to circumvent geographical blockades on their website. Not only for US Netflix and BBC iPlayer but also services like Hulu and HBO Go.
Of course, there are other providers that offer the same service, but most turn out to not work as well as advertised once you try them. This does not seem to be the case with CyberGhost. To our surprise, most services worked instantly and without a hitch.
There are specialized servers available for different types of streaming services. With a few exceptions, most of these servers perform admirably. Connection speeds are good enough for streaming the US content from Europe or any other place in the world in 1080p with no issues.
Of course, we have to place the caveat here that Cyberghost and other VPN providers are locked in a constant struggle with content providers over these geo-blocks. At the time of writing these functions are all working, but this can change at any moment. For now, Cyberghost has this part of their service covered and we expect this to remain for a while.
As long as a VPN provider advertises being able to circumvent geoblocking, they tend to have these services working fine.
Speeds
Cyberghosts VPN servers offer some excellent speeds, especially in Europe and the United States.
Because the application makes it easy to see which servers are relatively quiet, you can easily make sure you get the best speed results. As is to be expected, the rest of the world's connections are a bit slower. Just to give you an idea, we tried connecting to a server in Kenya, just to see how it performed. With a download speed of 5.59 Mb/sec, this was a very slow connection. However, looking at the available infrastructure in these countries, we cannot fault the service too much for this.
All of the available streaming and Peer-2-peer-servers perform very admirably. Please do note that Cyberghost does not offer P2P-servers in the United States, but most users will not be bothered by this fact. What is interesting, is that these specialized servers do not show up in the mobile application. After a little research, we found that CyberGhost does not allow Peer-2-Peer connections on mobile. A small downside to those that want to use BitTorrent when on the road.



Subscription plans and prices
When it comes to subscription plans, Cyberghost keeps things simple. You will find no special subscriptions here with all kinds of different functions. Every available sub has all the features available, only the pricing and length of the subscription plans are different.
The basic Cyberghost will set you back 12.99 dollars per month. This seems a little overpriced, so we were glad to see that this price drops quickly for longer subscriptions. If you get a 1-year subscription, the price drops to 4.29 dollars per month. For a two-year plan, you pay 3.25 dollars a month, and for a 3-year plan, you pay 2.29 a month. With this plan, you also get 3 months for free!


We did notice that there are some places that offer a "lifetime subscription" to CyberGhost. This is not offered on their own website, but only through third parties. Please be careful if you are considering making a purchase like this.
If you compare the regularly offered prices by Cyberghost to other VPN providers, the pricing structure seems very reasonable. Especially with the longer subscriptions, Cyberghost can measure up to most "premium" VPN providers out there. If we were to compare them to the absolute top of our testing, it'll fall short of the very best. But if you're looking for a VPN that specialized in circumventing geographical restrictions, Cyberghost is definitely a viable option.
Privacy and Security
At first glance, everything seems to be in order. Cyberghost utilizes the most secure protocols and encryption.  The company's website clearly states how CyberGhost's policy works and they state to not collect any data.
If you dig a bit deeper, however, you'll find that there is data being kept, especially on the frontend. But this is only related to user behavior and is used for SEO and marketing purposes.

There is a transparency report on the website, but most of the data it features is very hard to verify independently. The report makes it seem that the company receives a lot of requests for data or the blocking of certain IP addresses. If you just want to use Cyberghost for watching US Netflix or other streaming services, you're probably fine.
Netflix and Torrents
Circumventing geographical blockades is where CyberGhost VPN really shines. They advertise with this feature for a reason.
The streaming servers are all top quality and perform well, even under some load. Just about every server we tested instantly hooked us up with US Netflix and other services worked just as well. There are even some Japanese streaming services that work, which is awesome for fans of Japanese cinema and anime.
CyberGhost also gives you the option of renting your own IP address. Because you will be the only one using this address, instead of the thousands logging in with the normal servers, the chances of you being blocked are slim. It also gives you the option to securely approach your home computer without having to turn off your VPN. It's a nice addition, to say the least.
BitTorrent works like a charm with Cyberghost. That is if you're using a computer. On mobile, Peer-2-Peer connections are not allowed. Using a P2P with CyberGhost does give some food for thought, as the company that owns the business may not be the most trustworthy. As they mention specifically that they might work with private parties, it's not unthinkable that they may share data with instances like copyright protection suits. Be weary of this before you choose Cyberghost for BitTorrent.
Customer Support
CyberGhost tends to make sure that its services are easy to understand. But if you do end up with a support question, they have a web ticketing system, chat, and support section available for customers. The database they have on their website looks to be incredibly in-depth.
However, a lot of the information here was sadly subpar. Articles contain little helpful information or are hard to parse. Some topics clearly deserve their own section but are for some reason divided into sections of the knowledge base.
Finding the chat support feature can take a little time. If you do manage to get a hold of one of the support staff, they are very knowledgeable and are able to assist you in getting your VPN running.
Conclusion
CyberGhost can offer you speedy and stable connections that will make some of the other providers envy. The number of servers, locations, and speeds can compare with most "premium" VPN providers on our list. The starting price may be a little high, but for longer subscriptions, the pricing is very reasonable.
If you want, you can try the service for 45 days and if you're not happy, you can get your money back.
Overall, Cyberghost is an interesting VPN provider, with some intriguing selling points. If you are less experienced, and just want to watch streaming services and use BitTorrent, you can give the service a try. In return, you'll get a VPN with a unique feature set, that is remarkably easy to use.
FAQ
How do I use CyberGhost coupons?
Just copy the relevant promo code to your clipboard and paste it to the appropriate field while entering payment details.
Some CyberGhost coupons only apply to unique products; therefore, before submitting your order, ensure that all the requirements in your coupon are met.
How to speed up CyberGhost?
First, try another VPN server. Connecting to your nearest server would have the best speed indicators.
Then, check the server load. The load is displayed as a percentage, showing how busy the server is at the moment. If the server's capacity has been reached, your connection speed may be slower or even discontinued.
How do I cancel my CyberGhost free trial?
Sign in to your CyberGhost account.
To Unsubscribe automatic payments enter the Subscriptions and press "Turn auto-renewal off".
Disable Auto-Renewal.
Confirm deactivation.
How to use CyberGhost with Utorrent?
To download Torrent files with CyberGhost, you should follow the following steps:
Open the CyberGhost app.
Choose the "Torrent Anonymously" feature placed in the lower-left corner of the menu. Then, a torrent-friendly server will be automatically chosen.
Ensure that you pick the "extra speed" and "block online tracking" features.
After that, choose the "Start Anonymous Torrenting" tab.
Check Connection Dashboard, which displays your download speed, upload speed, and the scrambled IP address.