Overview
Private Internet Access is a popular VPN provider worldwide. And it's not a mystery why: great speeds, a huge server network, and competitive price make it a good VPN. But how good exactly?
Ratings
Features
| | |
| --- | --- |
| Apps | Windows, macOS, Linux, Android, iOS, Chrome, Firefox |
| Price | ₹163.00 per/month |
| Payment methods | PayPal, Credit Card, Bitcoin, Amazon Pay, Google Pay |
| Refund | 30 days |
| Protocols | OpenVPN TCP/UDP, PPTP, L2TP/IPSec, WireGuard |
| Log Policy | No logs |
| Simultaneous connections | 1 |
| Based In | United States |
| Jurisdiction | United States - Five Eyes (United States, United Kingdom, Australia, Canada, and New Zealand) |
Private Internet Access is one of the most popular US-based VPNs on the market. And PIA achieved this popularity due to its fast speeds, great apps, and one of the largest server networks out of all VPN providers.
PIA was founded by Andrew Lee in 2009. However, ten years after, on November 18, 2019, PIA was acquired by  Kape Technologies. Kape is a cybersecurity company that operates two other VPNs, CyberGhost and Zenmate.
There is no doubt that PIA has passed the test of time, as it serves over 100,000 users worldwide today.
With this review, we take a deep dive into this provider with an absurd amount of servers. The good. The bad. And everything in between.
Servers
The number and location of servers are among the most critical issues for VPN providers. A higher number of servers means more IPs, a faster connection, better access to content, as well as more options to avoid blocks.
Just a few months ago, PIA had approximately 3,300 servers in 30 countries. However, recently PIA has released its 'NextGen VPN Network', significantly increasing its server count. Today, Private Internet Access has over 24,364 servers in 77 countries. With this massive expansion, PIA has become one of the market leaders by the sheer number of servers.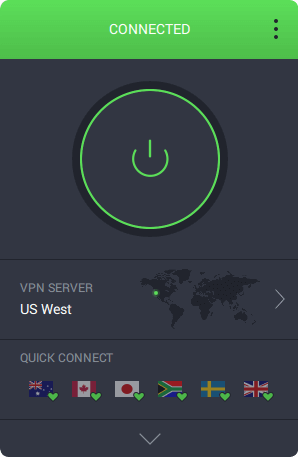 But that's not all this network provides!
PIA's new servers feature improved hardware components. They have substituted the 1 Gbps network cards with 10 Gbps and now use RAM disks to protect sensitive data.
Most Private Internet Access' servers are in Europe and the USA. However, there is also a healthy amount of them in Asia, Australia, and Africa. The company doesn't stop there and is continually increasing the number of its servers.
If it were just about the number of servers, PIA would have been the best VPN out there hands down. However, this is not the only thing that makes a VPN great.
Private Internet Access Speed Test
Overall, PIA provides a stable and fast Internet connection. And the huge number of servers plays a key role in this.
Its US and EU servers are some of the best-performing on the market. But we cannot say the same for the connections in both Asia and Australia. However, this is mostly because of local network conditions, not the VPN itself.
We performed a speed test on PIA, both in Europe and the US, to fully showcase its performance.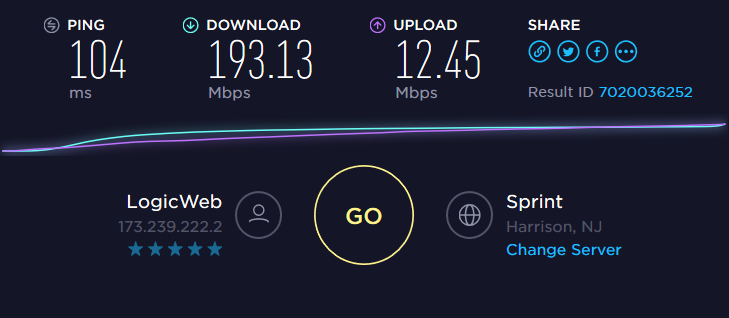 The reaction time of the connection in Amsterdam was 11 ms (ping) and 104 ms in Harrison, NJ. Europe had a download speed of 193.16 Mbps and an upload time of 19.45 Mbps, whereas the US had 193.13 and 12.45, respectively.
Private Internet Access is neither the best nor the worst in terms of speed. But it's good enough to land it a spot in our top 5!
Security
VPNs can do a lot of incredible things, but their primary purpose is security. So how does PIA fair in that regard?
Well, PIA has a particular stance on changing laws and generally tends to comply with them. For instance, when Russia imposed Internet privacy laws that compromise users' anonymity, it stopped offering its services there.
We do prefer to see a bit more rebellion in our VPN providers.
On the other hand, Private Internet Access has far fewer extra features than its competitors.
In terms of security, PIA offers:
Traffic encryption
P2P Support
WireGuard, PPTP, OpenVPN, and L2TP/IPSec protocols
SOCKS5 Proxy
No traffic logs
Multiple VPN Gateways
Blocks ads, trackers, and malware
Unlimited Bandwidth
Protection for 10 devices simultaneously
Encryption and Protocols
Private Internet Access features high-grade encryption. It uses the cryptographically secure Blowfish CBC algorithm in conjunction with the OpenVPN protocol. It also offers WireGuard, IPSec/L2TP, PPTP, and SOCKS5 technologies.
Blowfish is a symmetric encryption algorithm and a block cipher. It uses an identical secret key for encryption and decryption; it divides the message into fixed-length blocks.
This is a bit of an unorthodox choice by PIA. Even though the Blowfish cipher hasn't been broken to date, the AES-256 encryption is generally considered a more secure solution.
OpenVPN is powerful, as it makes your VPN traffic look like regular HTTPS traffic. It is the gold standard of all VPN protocols and offers great security.
To stay in the same lane with all the other VPN providers, PIA recently rolled out WireGuard. This is a lighter VPN protocol that offers faster speeds. However, it does have some privacy concerns that few providers have cracked and PIA has yet to address them.
PPTP is also a fast protocol PIA uses, as it provides lower encryption. However, it is very stable, and it works well on Wi-Fi hotspots.
IPSec/L2TP offers the same level of encryption as OpenVPN. However, it requires more CPU processing as it encapsulates the data twice.
The SOCKS5 is a very interesting addition to PIA's service and very few other providers use it. It can process an almost infinite number of request types. However, this proxy is application-specific. That's why many find it the best choice for torrenting, not general browsing.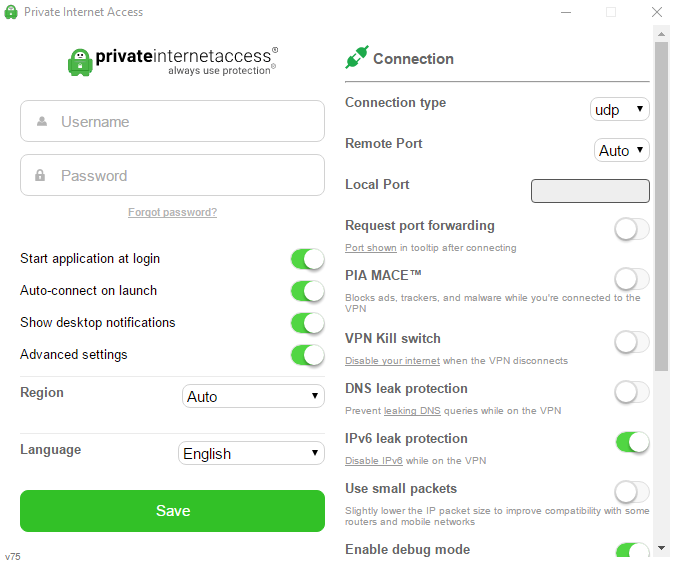 No Logs
Private Internet Access is based in Denver, Colorado.
Generally, the US is not the best location for VPNs, as it imposes strict regulations. More precisely, US VPN providers are obligated to keep certain logs to comply with the authorities, which might even legally force them to give up this data.
Private Internet Access' location is undoubtedly a drawback. Even so, the provider claims to not keep traffic logs. So what does this mean?
Well, in an ideal world, a VPN that doesn't keep logs wouldn't have anything to share with the authorities upon request. So there is no way you could be traced online.
Unfortunately, there's usually not a way to check whether a VPN actually doesn't keep logs. So we have no choice but to take PIA's word for it.
Up until now, PIA didn't have any issues. Even so, the US is subject to international alliances that make accessing citizens' data legal. So, it's one thing to take into consideration.
Split-Tunneling
Split tunneling allows you to choose which apps bypass the VPN tunnel.
By default, all of your internet traffic will go through a secure VPN tunnel. However, with the split tunneling feature, you can manually choose which apps bypass this tunnel, using the full speed of your internet connection.
This feature is also useful for using nested networks, bypassing the VPN for individual hosts and networks, enabling IPv6, or implementing a per-app killswitch.
Some users also use split-tunneling for media management apps, gaming platforms, and streaming services.
One good example is simultaneously hiding your P2P connection and gaming without lag.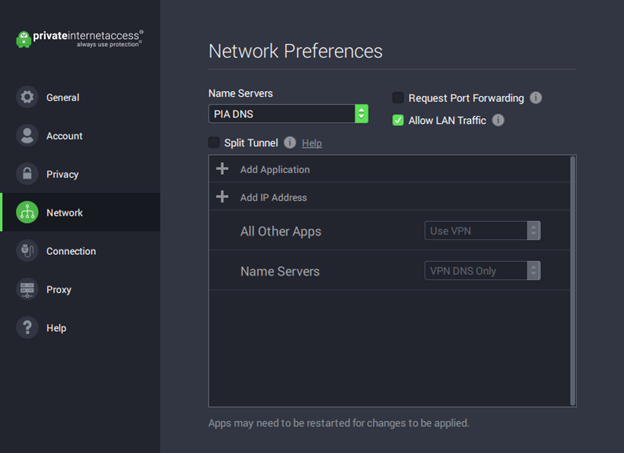 PIA MACE
Private Internet Access has server-grade filtering software to improve the user experience.
Without getting into technicalities, this advanced firewall returns unwanted domain names' IP addresses, and so on.
For example, if you open a website that has some kind of tracking code, PIA MACE will let you bypass all of the tracking requests. This way there won't be anyone looking into what you do online, tracking your activities, or installing tracking code on your devices.
PIA MACE is exceptionally beneficial, as it provides a faster, protected, and more memory-efficient experience.
It also scraps the need to install extensions or browser configurations and reduces battery drain on mobile devices.
Private Internet Access apps
PIA allows you to use up to ten devices simultaneously. It is more than most providers offer, but not as much as others at the same time.
Once you sign up for PIA, you will be taken to the Download page, where you can choose a desktop, mobile app, or browser extension.
The desktop and the mobile versions provide more or less the same functionalities. However, mobile apps have a much better design than the old-fashioned desktop app.
Apps For Desktop
Private Internet Access is compatible with Windows (32-bit/64-bit), macOS (64-bit), and Linux (64-bit).
The desktop app also features a simple 'location picker' where you can find the closest server according to ping time.
However, if you wish to change your server, you'll need to disconnect from the current one then manually connect to another. Some find this step outdated, and the app could use a bit more automation.
PIA has proved an excellent choice for Windows. However, the Mac version falls slightly behind in terms of download and upload speeds.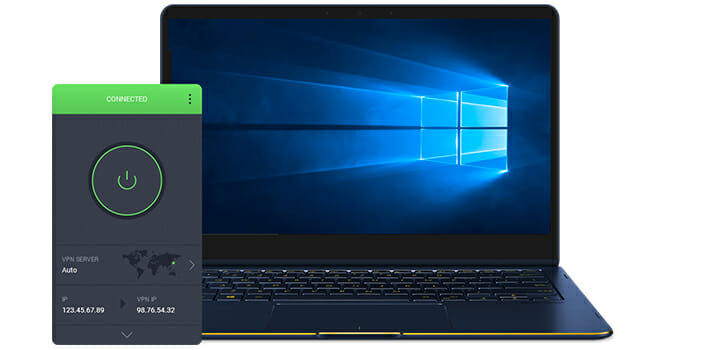 Apps for Mobile
PIA has apps for both iOS and Android. And both have received wide acclaim from users. However, we can say the apps are quite basic, similar to the desktop version.
The mobile app also filters out ads and similar pop-up notifications. It is as easy to set up and use as you would expect with an app.
Interestingly enough, the apps provide information on your connection's quality in terms of upload/download speeds, which is a welcome little addition.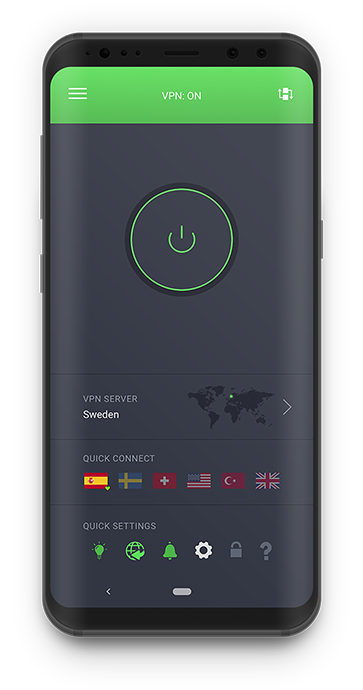 Browser Extensions
Private Internet Access provides browser extensions for Chrome, Firefox, and Opera. And the Opera extension is what really sets PIA aside from the competition.
Browser extensions work just as you would expect an extension would. They only filter the traffic that goes through the browser and are generally helpful to access blocked sites, some streaming platforms, send messages and emails.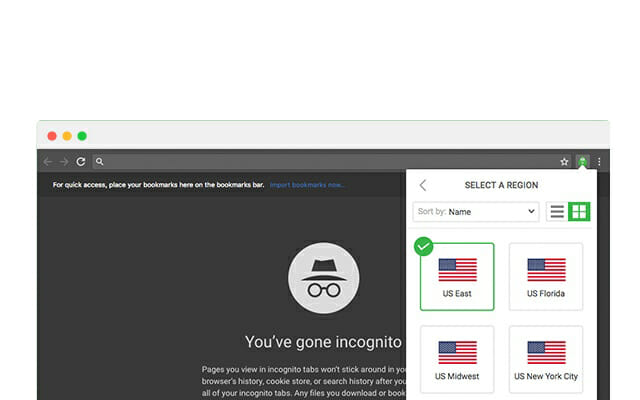 PIA And Streaming Services
Private Internet Access advertises full access to the Internet, bypassing firewalls and censorships. But that's not the only thing a VPN can do.
Lots of providers feature streaming unblocking capabilities, which allow you to access streaming platforms otherwise unavailable in your region. But can PIA do that?
Well, Private Internet Access does not have specialized features that allow you to bypass regional restrictions. And this is where PIA's stance on complying with local regulations comes in. Since US laws prohibit the use of this technology, PIA does not have it.
But it's not all bad. Thanks to its expansive server network, Private Internet Access will still grant you access to a few Netflix libraries and BBC iPlayer. But you will have to hop through a few servers.
PIA can also unblock a few of the more specific and tough streaming services, such as Hulu and HBO Max. However, those are fewer and do require the use of a very limited number of streaming-optimized servers the provider offers. So we are not sure how long these unlocking capabilities will last.
In other words, you can reach streaming services that are not that tough on VPNs. However, if you want your VPN to get you access to as many streaming platforms as possible, you should look elsewhere.
Gaming
All VPNs slow down your Internet connection, and so does PIA.
As we explained in the speed test, it is neither the fastest nor the slowest choice. However, the servers in Asia and Australia are certainly not appropriate for gaming.
Using PIA for gaming will probably cause buffering and lagging, especially with more intense games. The best use of this VPN is to download games or unblock stores from other countries.
You can also install PIA on your console and use it for content streaming. That is probably the best way to go.
Torrenting
Authorities and other parties can easily trace P2P, as it is not a standard Internet connection. So, VPN providers need to cover this issue or hide your use of P2P connections.
PIA offers dedicated P2P support, meaning it is optimized explicitly for peer-to-peer networking.
You will be able to connect to a specialized VPN server and share files at remarkable speeds while maintaining absolute privacy.
As mentioned, PIA also has a No Log policy, meaning no one would be able to trace your torrents back to you, ever.
Private Internet Access subscription plans
Private Internet Access offers three pricing plans:
Month-to-month plan: about 739 rupees as a monthly payment.
One-year subscription: about 247 rupees/month.
Three-year plan: 163 rupees/month

Payment Methods
Private Internet Access offers both recurring and non-recurring subscriptions, depending on the payment method.
Your subscription will automatically renew using the following payment methods or automatically drafted payments:
PayPal
Credit Card
Amazon
Google Play
Apple/iTunes
So, if you wish to cancel your subscription, do so before your current plan expires.
If you are interested in a one-time purchase, consider the following non-recurring subscriptions:
Bitcoin
Ripple
CashU
Okpay
Paygarden
Specific regions offer other non-recurring subscriptions or PaymentWall compatible payment options:
Mint
ecoPayz
Neosurf
Ticket Surf
Free Trial
Private Internet Access doesn't have a free trial.
However, it does offer a 30-day money-back guarantee for all three price plans. So, don't risk anything by trying out this VPN, as you can get a full refund if you are not satisfied with their service.
Customer service
Once you install PIA, you get a randomly generated username. It is unidentifiable by strangers, and you use it to get in touch with the VPN staff.
The provider recently introduced live support, which is quite helpful, but you can only use it if you already have an account.
PIA also has a dedicated support site that is supposed to help you with all of your VPN, setup, and feature-related issues.
But we have to be honest, this support website is not easy to navigate. In order to find the answers you are looking for you are going to spend a lot of time searching and reading. And the information presented in the knowledgebase is not very beginner-friendly.


If you don't find what you were looking for, you can also submit a ticket. It usually takes the team a few hours to get back to your request.
Conclusion
Private Internet Access offers some quality features. And some of those are a huge selection of servers, split tunneling, PIA MACE, and dedicated P2P support.
However, it lacks some additions compared to other VPNs. It has promising results on the speed test, but its No Logs policy is quite questionable due to its location.
PIA isn't the ideal choice for streaming either. While it does have the capability to unlock streaming services, it falls far behind some of the other VPN providers.
Even so, Private Internet Access is a decent VPN provider. And its biggest strength is a very simple, straightforward, and smooth app experience with a lot of compatibility across platforms, as well as decent protection and anonymity.
So if you're looking for an easy-to-use, fast, and noninvasive app for security and access to a lot of fast servers worldwide, Private Internet Access is definitely worth a shot!