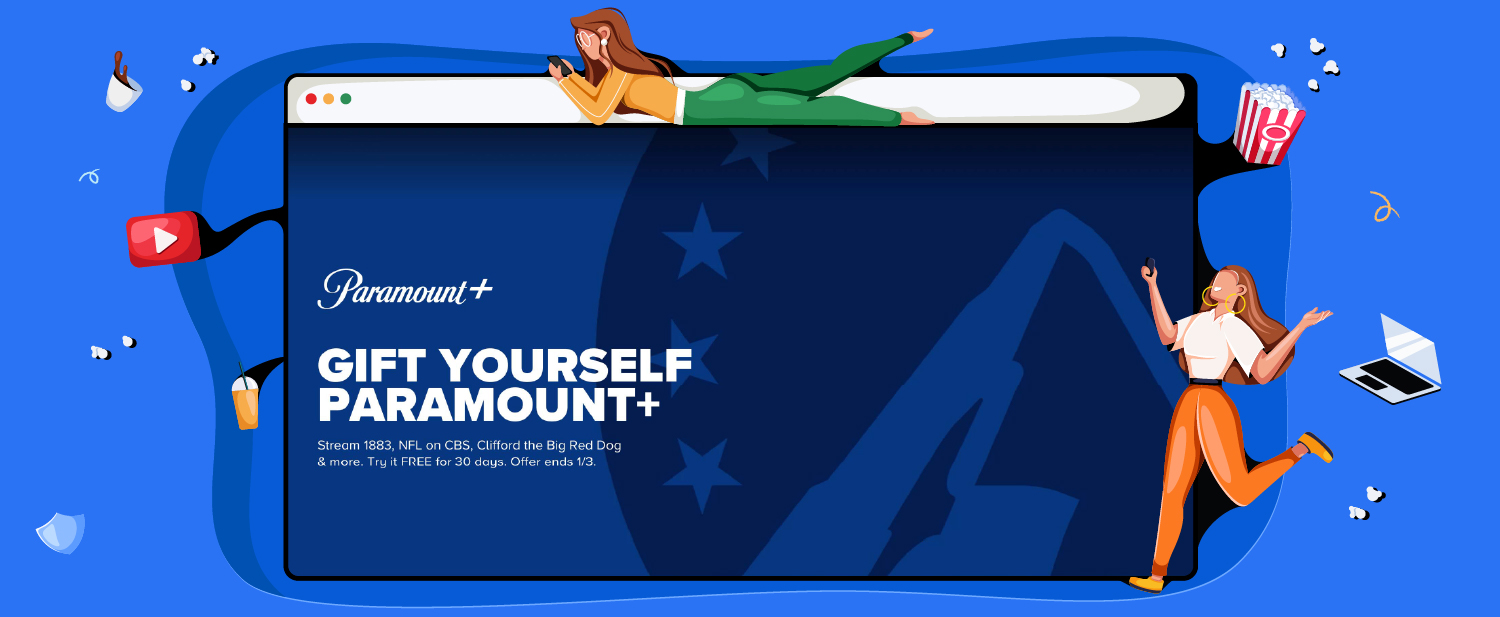 How To Stream Paramount+ In India?
Do you know what the perfect streaming platform consists of? It has the most highly acclaimed movies and shows starring the best actors in the business. It should also offer original content and never run out of high-quality programming. And a dash of streamable sports is the cherry on top. Well, there's just one streaming platform that fits that description, and it's Paramount+!
The newest streaming service launched in March 2021 and effectively combined everything CBS All Access was trying to be, with the behemoth that is Paramount Pictures. Now, there is a whole new mountain to climb in the streaming wilderness. And if there's anyone who knows all about mountains, it's us in India. We pretty much live under the biggest one of all.
However, when it comes to the newest, and very much promising streaming service that is Paramount+, accessing it from India might be just as hard as climbing Mount Everest. Luckily, we are not the faint of heart, and neither are you!
So let's talk everything that Paramount+ is, will be,  but most importantly – how you can join us at the top of the streaming mountain!

ExpressVPN: Access Paramount+ today!
What's on Paramount+?
Paramount+ is still in its early days. Even though the streaming platform is coming off the back of CBS All Access, it's still winding up to take on the competition. So even those that have heard of Paramount+ do not know about this goldmine of a service they offer.
But as soon as you get a taste of what Paramount+ is, you will never be able to put this streaming service down.
Packed to the brim with exclusives, content, and things you just cannot stream anywhere else, Paramount+ is already making Netflix, Disney Plus, and Amazon Prime Video sweat.
But we're not just here to hype the platform up. So let's see what it actually has to offer:
Paramount+ Originals
Most streaming services are always trying to get rights to well-known shows and movies.
Paramount+, on the other hand, focuses on producing and promoting some outstanding original productions. Some of those titles include RuPaul's All Stars Drag Race, Halo the ever-popular iCarly, Queenpins, Evil, and so so much more.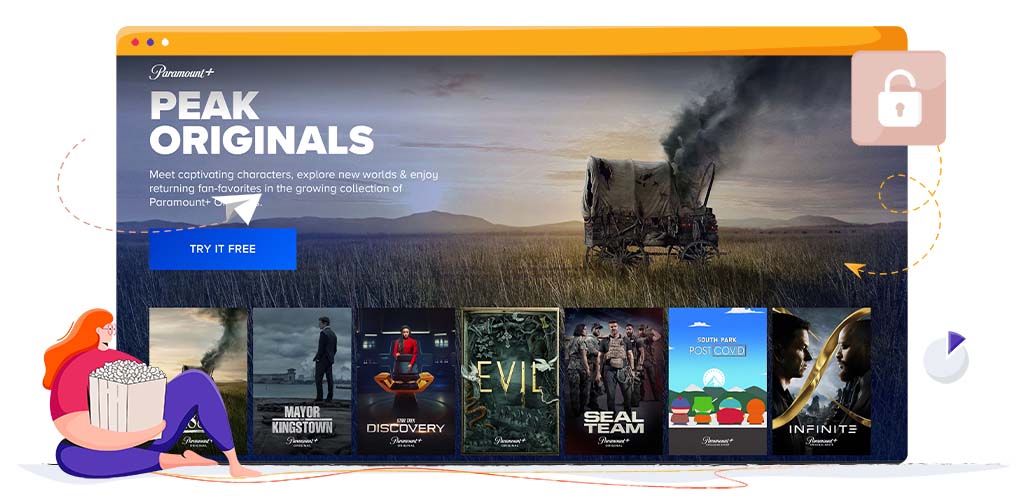 All of this – within the first few months of the streaming platform's launch. So you know we are in for some quality stuff!
Movies
A massive focus on original productions doesn't, however, mean, that Paramount+ isn't looking to swipe some of the best movies from under the noses of the competition. And when you have Paramount Pictures as your big brother, you can't be bullied out of the streaming game.
With all of Paramount's own productions exclusively available to the platform, Paramount+ has decades' worth of movies you won't find anywhere else!
We're, of course, talking about stuff like Infinite, A Quiet Place (part 2 as well!), all the Star Trek films, The SpongeBob Movie, and much more where that came from.
You can't get such great variety anywhere else — an excellent movie for every mood.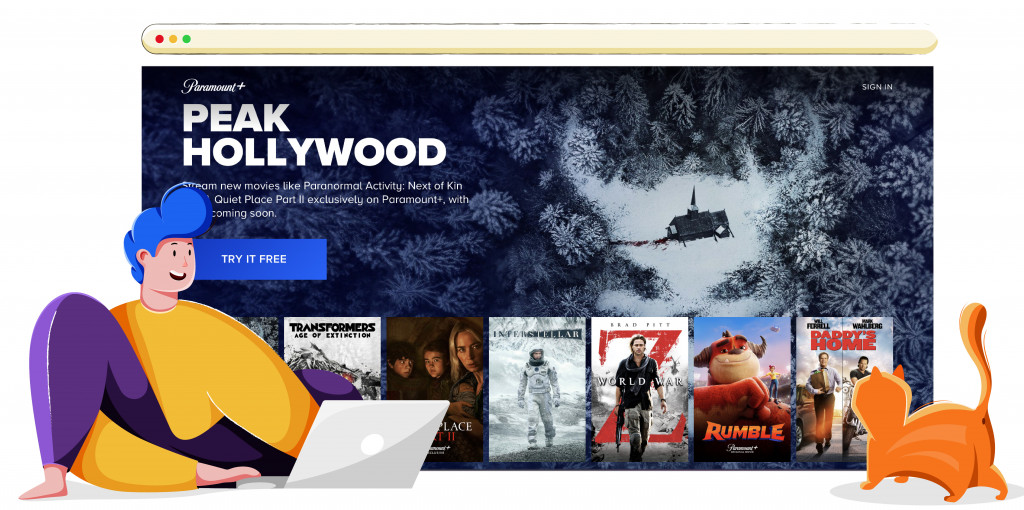 Shows
No matter the kind of series you are looking to binge on, you will find it here.
For science fiction, you can watch Star Trek: Picard, for our law/political drama lovers, there is The Good Fight, those feeling sinful can watch Evil (exclusive), and those who love crime drama can watch NCIS.
Also, Paramount+ has all of the highly-acclaimed CBS shows that you just won't be able to put down, such as The Young and the Restless, Big Brother, Love Island, and Neighborhood.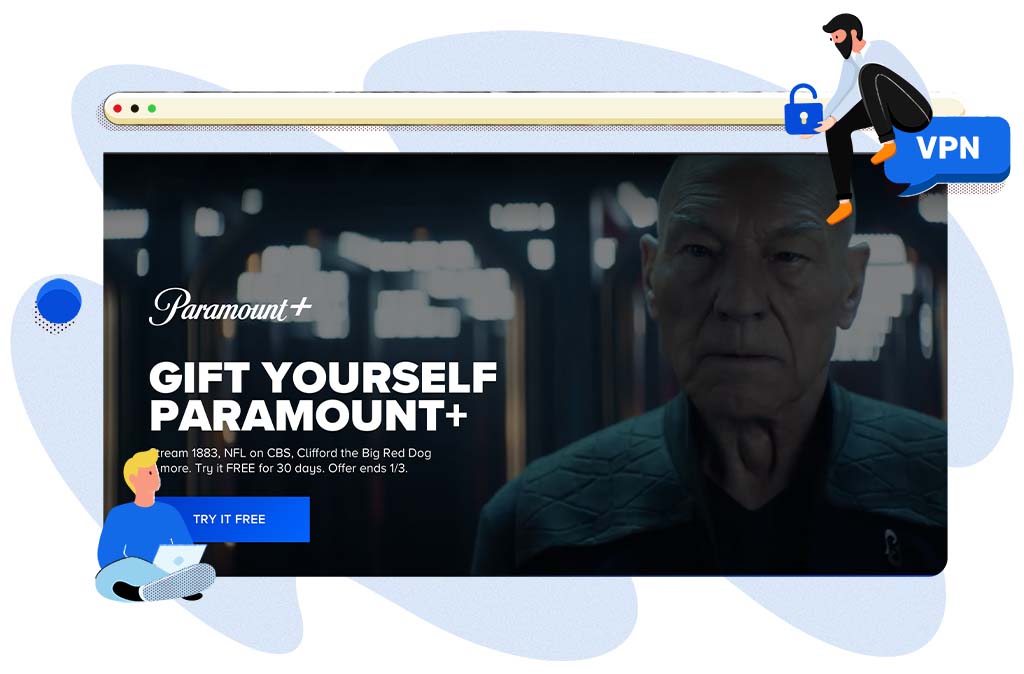 Sports
If you think we're done, think again! Because Paramount+ is one of the very few streaming platforms that cover sports.
Which ones? Well the NFL for one! Do we need to say more? Well, we will anyway.
Sports fanatics can find everything they need on just one streaming platform that is also super affordable.
From The Masters, the PGA Championship, UEFA Champions League, SEC on NBC, and Women's Champions League, you can find just about everything sports-related on here. By the way, this is probably the best place to stream anything UEFA in the world! Paramount+ has revolutionized football streaming for the US and made the entire world envious.
And do you know any other streaming services that have such variety when it comes to sports streaming?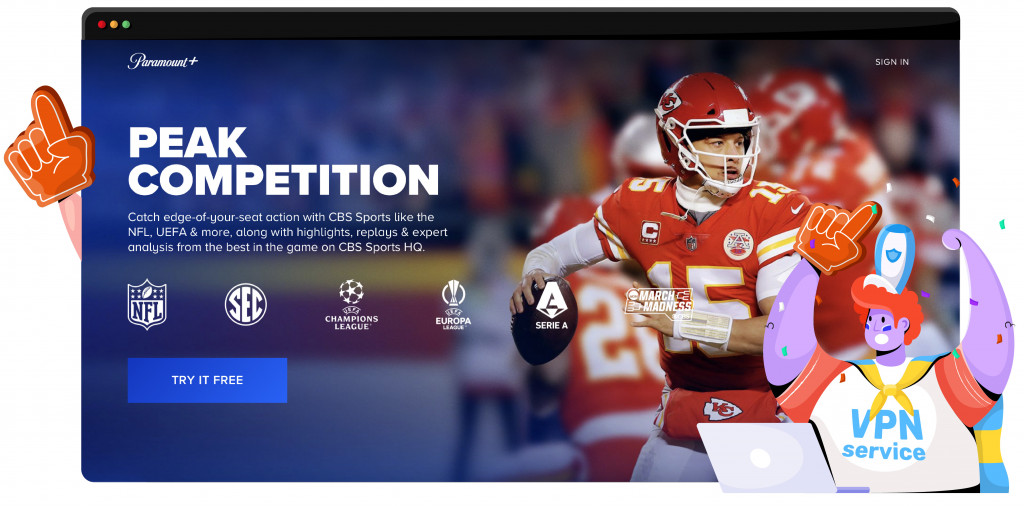 Is Paramount+ accessible in India?
So far, Paramount+ just might sound too good to be true. So you know there has to be a catch.
In this case, it's the fact that only US residents can access the platform. And it doesn't seem like Paramount+ will be available in other regions anytime soon either.
Over the last few months, there has been buzz about Paramount+ going for global domination. It has even managed to launch in Australia, and some of the Nordic countries, as well as strike a few deals to become part of other streaming services in other parts of the world. However, nothing has been said about India just yet.
So if you were to try and access the platform right now, you would immediately be faced with two major problems:
You'll get a BLOCKED screen popup.
Even if you somehow get past the block, you probably will not be able to start a free trial period or subscribe fully, as you need to have a US-issued payment method to do so.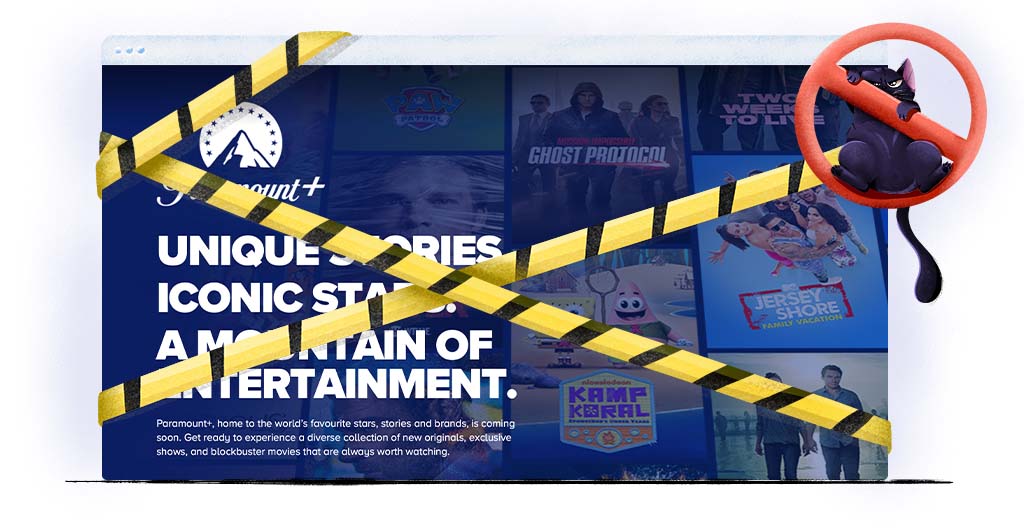 Well. This is the Internet. And this is TechTypical. So if there is something to stream, we definitely know how you can stream it!
Choosing the right VPN for Paramount+
So, Paramount+ has a 'paramount'-level geoblock that is incredibly tough to bypass. So, you need an equally powerful VPN for this mission.
And we have, after a lot of testing, concluded without a shadow of a doubt that the best VPN for this job has to be ExpersVPN!
Why ExpressVPN? Well:
ExpressVPN has a massive fleet of local, US servers that are perfectly tuned to let you access any American website and streaming service!
If you need a reliable way to get an American IP address, ExpressVPN is simply your best option.
While most VPNs focus on online security or streaming, ExpressVPN lets you have both in one intuitive package.
Perfectly set up to bypass even the toughest of blocks, ExpressVPN doesn't need anything fancy to upsell you on streaming unblocking. It just does it!
ExpressVPN isn't called that for nothing. It's got speed for days!
This VPN has some of the best speeds on the VPN market, which is absolutely crucial for streaming something from as far away as India!
Have we piqued your interest about ExpressVPN?
Then check out our completely ExpressVPN review!
Getting Paramount+ in India: A step-by-step guide
We know. Tackling these streaming unblocking issues might seem scary at first. And when the stakes are this high, you can't afford to make any mistakes.
So, we've put together a small little guide that will hold your hand throughout the process, so you never get lost on your way to the mountain top.
Ready? Here we go!
Step 1. First, get ExpressVPN. Go on, do it!
Step 2. Now that you have connected to a US server and can access the streaming service, you are going to find a way to pay for it, and it only accepts US-issued payment methods.
This might seem like an impossible task,  but our friends at Wise will make this mission an absolute breeze. Just visit their website, subscribe for an account, load it up with the appropriate amount of money, and go back to subscribing. It will all take you but a few minutes!
Subscribe to Paramount+ with Wise!
Step 3. Connect to a US server, and make an account using your virtual card details.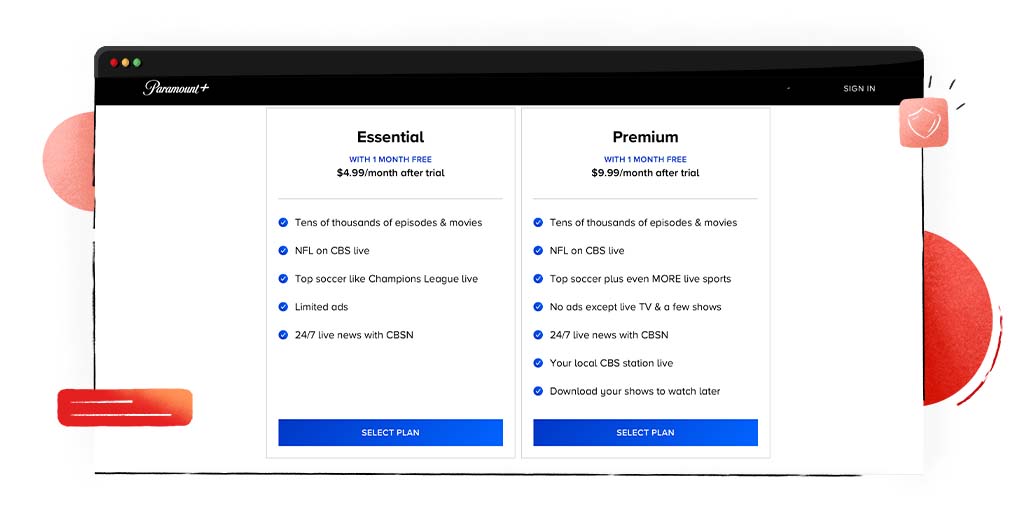 Step 4 (but not really). And that's it. You're all done!
Be The First To Get A Paramount+ Subscription In India
Paramount+ is undeniably excellent and also quite affordable. However, it isn't readily accessible in countries outside the US. And we just don't think it's fair to keep all this awesomeness to yourself!
But with the right tools and an awesome guide we have put together specifically for you, this will never be a problem again!
Now. Get yourself a fancy ExpressVPN subscription and enjoy the mountain of content!