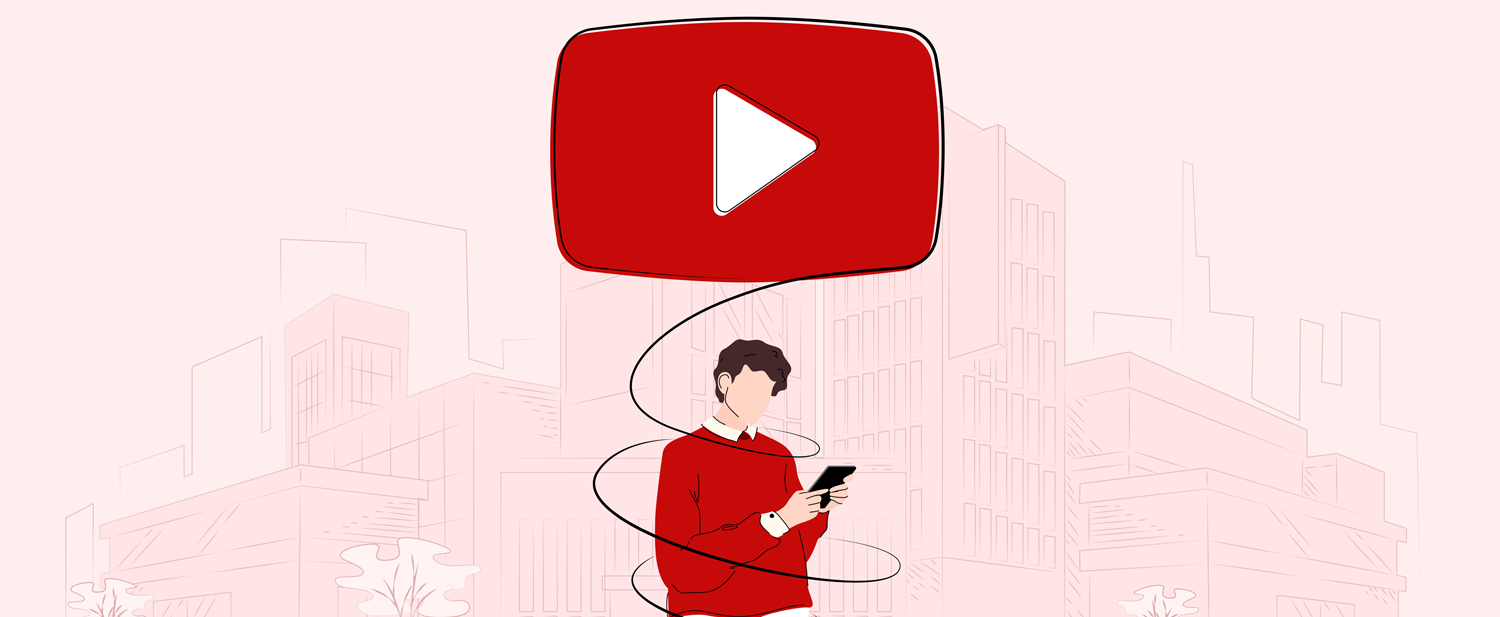 How Can You Watch YouTube TV In India?
You've definitely heard of YouTube. You have probably heard of YouTube Premium. But have you ever heard of YouTube TV? Well, probably, since you ended up here. But do you fully appreciate what this new generation streaming platform is capable of?
YouTube TV isn't just another one in a long line of run-of-the-mill streaming services. It competes in the same league as the likes of fuboTV, Sling TV, DirectTV, and Hulu + Live TV in the good ol' US of A. And to be frank, that's a whole other bracket. YouTube TV isn't about snatching up the rights to as many movies and series as possible before others can, its snatching up entire streaming platforms and cable channels!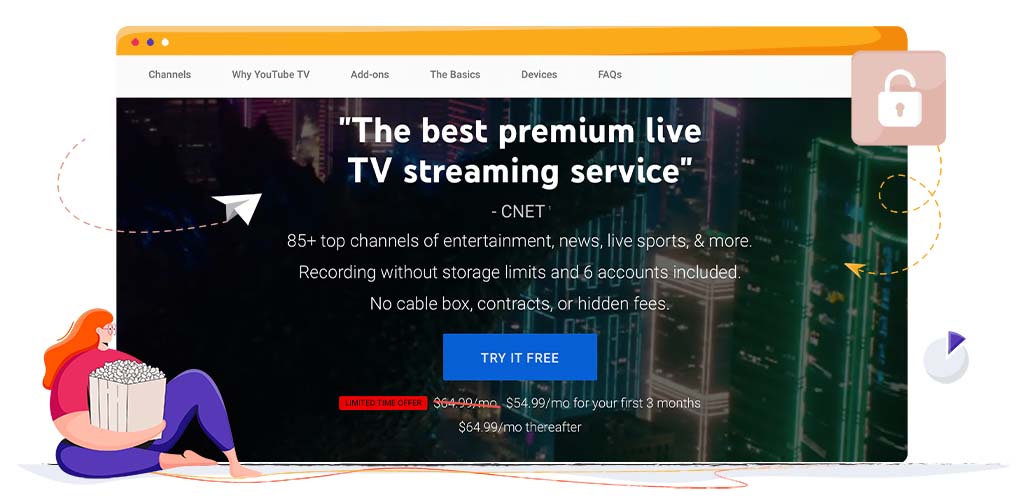 YouTube TV is designed for those who want to dump their satellite or cable subscriptions. Because in this day and age, why would you even want one?
Now, people can easily watch their favorite shows on their TVs, laptops, phones, tablets at home, or on the go. And YouTube TV can do all of that… and so much more!
So let's have a nice long look at how YouTube TV made life so much easier. But even more importantly, how you, yes you, can get in on some YouTube TV streaming action in India!

Want YouTube TV?
Get ExpressVPN and enjoy all the streaming you want!
What's available on YouTube TV?
So what makes YouTube TV so awesome?
Well, think of it as a one-stop shop to watch all the American TV you could ever want on a single platform that's as easy to use as Netflix. Now add to that all the on-demand movies, series, and shows you could ever imagine. Now add a pinch of originals, as well as all the most sought-after sports streams.
Like what you see? Well, that's about YouTube TV.
However, we don't think this short rundown does the platform any actual justice. So let's get into everything that makes YouTube TV one of the biggest streaming platforms around.
Channels
Let's start with the big one. The channels.
There are almost 90 channels on YouTube TV that include anything and everything one would want to see on TV. Lifestyle, entertainment, news, local channels, sports…
But that's not all. You can stream live news channels on YouTube TV like NBC, CBS, FOX, ABC, as well as local PBS channels. Other than that, the platform gives you access to CNBC, BBC America, CNN, Fox News, MSNBC, and CNBC.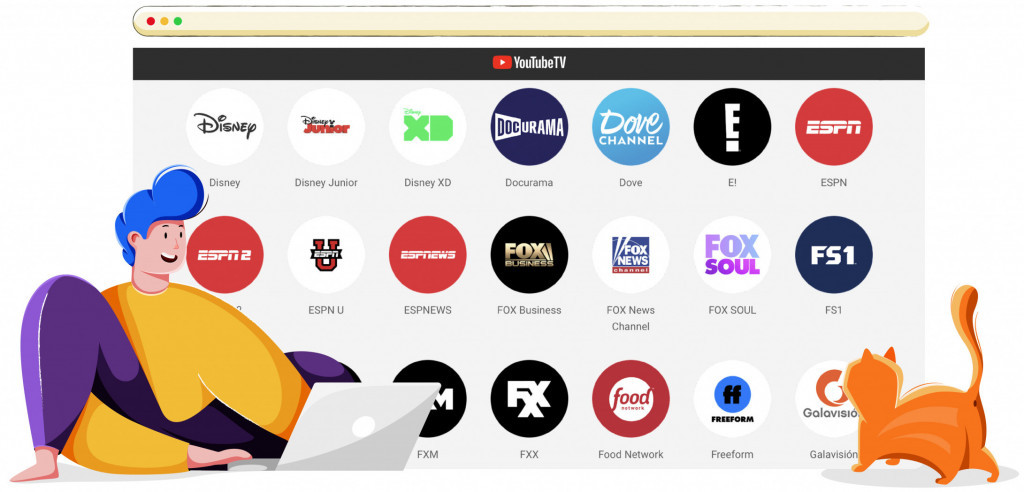 But even that's not all!
There are several channels for sports lovers. These include the NFL Network, ESPN, CBS Sports, ESPN 2, MLB Network, and NBA TV.
But if you think YouTube TV is all about news and sports, we're going to stop you right there!
The online TV platform has famous lifestyle and entertainment channels such as FX, Discovery (HGTV, Travel Channel, and Food Network), the Disney Channel, Cartoon Network, Nickelodeon, Comedy Central, BET, TNT, and TBS.
Long story short, this is pretty much all of American TV in one place. And we're pretty sure that's everything you could hope for!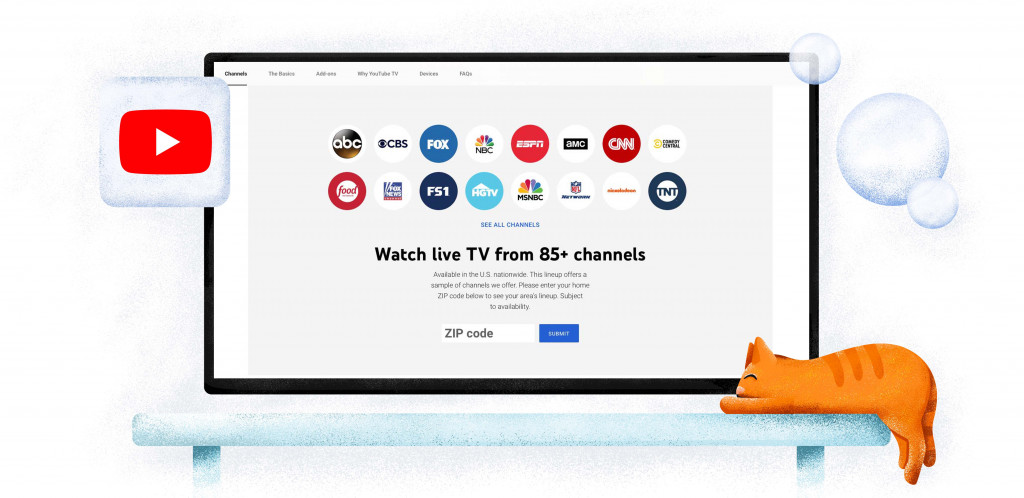 On-Demand shows and movies
All kinds of TV isn't the only thing that YouTube TV has to offer. The streaming platform also has an on-demand section, and that's a full-blown streaming service.
The precise number of movies and TV series available on YouTube TV is unknown, but we counted over 2,000.
If you're on the lookout for great movies and shows, the possibilities are truly endless here. There's a wide variety of genres on YouTube TV, including, but not limited to, animation, rom-com, thriller, Disney, family, crime, and romantic movies.
The platform has no shortage of fan favorites, such as Bad Moms, Baywatch, 22 Jump Street, Avatar, Demi Lovato: Simply Complicated, and many, many, many more movies in its ever-growing library.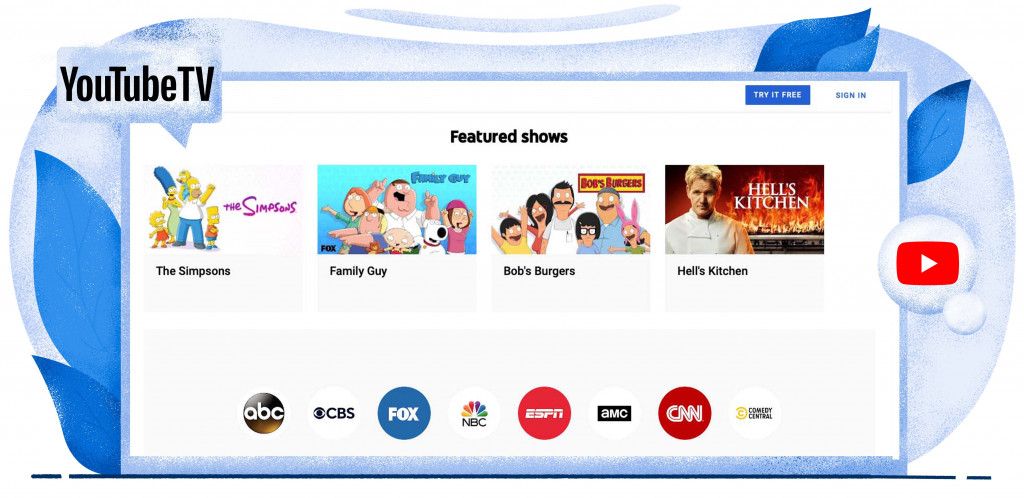 Movies don't cut it for you?
YoutTube TV has even more shows! These include Rick and Morty (duh, it has Cartoon Network and Adult Swim), South Park, The Office, Friends, The Big Bang Theory, Parks and Recs, and The Fresh Prince of Bel-Air. We could keep going… And we will!
The platform even has originals, like Justin Bieber: The Next Chapter, The Gift: The Journey of Johnny Cash.
With this much on-demand content, you can't help but wonder, why would you even need any other streaming services apart from YouTube TV?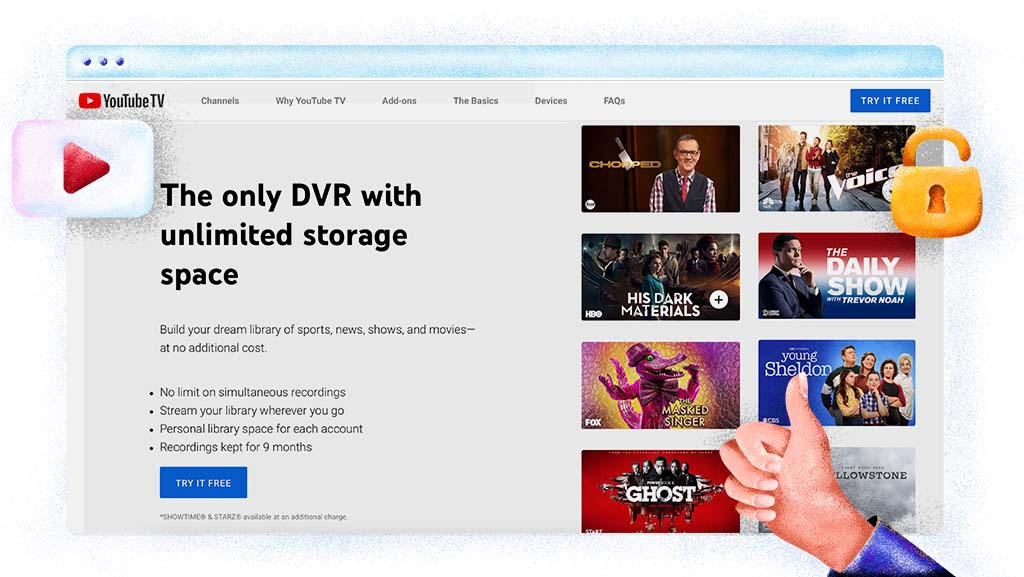 Add-ons
Did you think we were done? Not just yet!

The really cool thing about this particular streaming service, you can get other streaming platforms on it as well. That's right! Streaming platforms within a streaming platform. Streamingception!
You can pretty much access any other streaming platform through YouTube TV.
Of course, we're talking about the big guns, such as Showtime, Starz, NBC, ConTC, MLS, and even HBO Max. Just in case there was not enough for you to stream.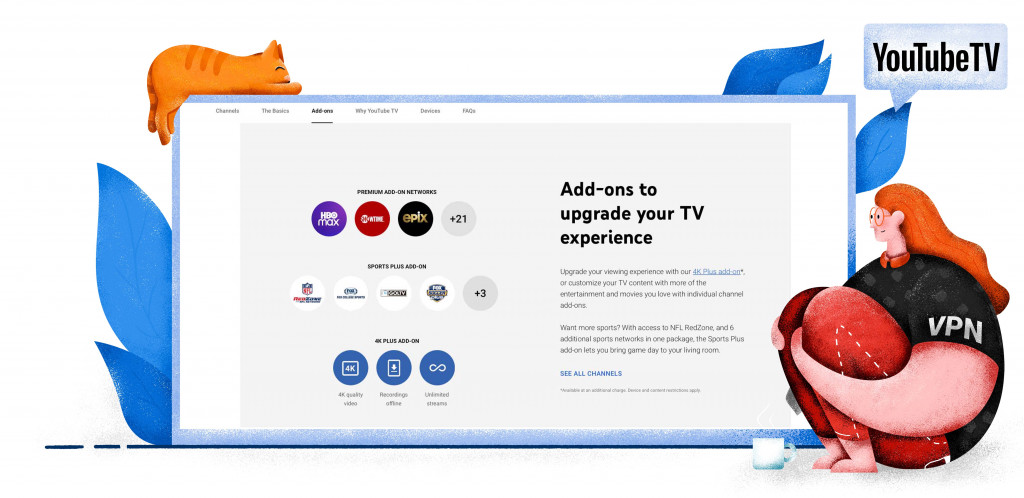 Is YouTube TV available in India?
Unfortunately, YouTube TV is only accessible in the United States, so it won't work in India.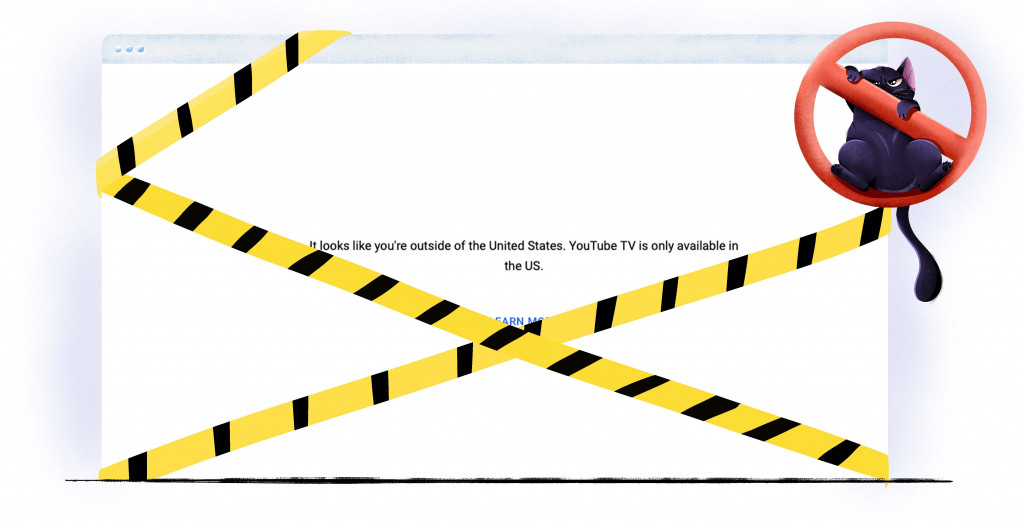 This is because most of the featured channels and streaming platforms are exclusive to the US. So you are restricted to merely swooning over the magnificence that is one of the most popular hubs for streaming and watching TV.
Or are you?
How can you access YouTube TV in India?
First of all, don't panic! There is a foolproof way to enjoy everything YouTube TV has to offer wherever you are.
Keep in mind that if anything is restricted on the web, there's always a way to access it if you have the right tools. And a VPN is the only solution to the problem.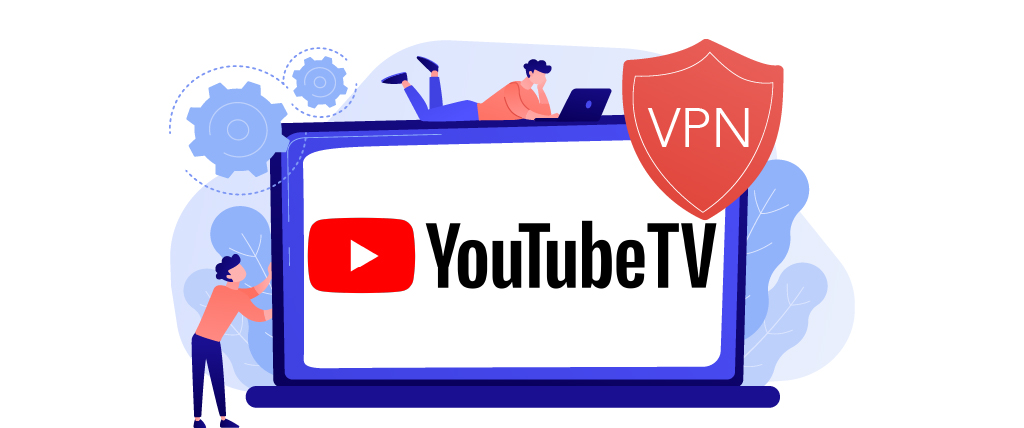 With the help of the right VPN, you can make any streaming platform think that you are in the States, and access anything and everything it has to offer!

Why is a VPN the perfect solution, you ask?
However, we aren't talking about the random, free providers — they would be instantly flagged.
So you need something beyond exceptional. That said, a VPN with the following features will suffice:
Robust servers in the United States, and lots of them.
The ability to evade some of the toughest geoblocks and limitations.
Fast enough to handle all the fun that YouTube TV has to offer.
Extra security, concealment, and, of course, streaming features.
Which VPN to use?
Given the strict standards that a VPN for YouTube TV is held to, just about any provider won't cut it.
The only VPN you should trust with this sensitive task is, of course, ExpressVPN!
You're probably wondering 'Why?'. Well, there are more reasons to get ExpressVPN than we can count, so we'll try and limit ourselves:
It stands tall among the few VPN services that genuinely and always work.
ExpressVPN boasts one of the most extensive server networks in the United States, so you can be sure you will be streaming in no time.
It is the fastest VPN around. And this is essential when trying to stream YouTube TV from as far away as India.
It's perfectly optimized for streaming, and will never let you done. Wherever you are, whatever you want to stream!
Not enough ExpressVPN knowledge?
Check out everything there is to know in our review!
Just remember to keep your ExpressVPN app connected to a US server at all times, so it doesn't give away your actual location in Varanasi!
Broadcast yourself… from India!
As you have probably gathered, YouTube TV isn't your average streaming platform. One of those that keep popping up every other Tuesday.
No. This is a platform that's doing something different. It's combining and bringing all of the American TV the whole world can't get enough of and bringing it online. And this is a feat that has never been done before. Not to this scale. So who would be better suited to do that, than the platform that brings us an endless supply of cat and ASMR videos?!
And sure, the $65 dollar per month initial price point is pretty steep. But this isn't Netflix. It's not limited by whoever has the rights to a certain movie or show this week. YouTube TV is pure, unlimited, and endless content.
Want to stay ahead on all of the US news, shows, reality TV, movies, series, sports, and, oh, so much more? Now, with the help of our trusted friend ExpressVPN, you can!