Overview
NordVPN has been one of the leading VPN providers for years, and it definitely does not disappoint. With great speeds, a fleet of reliable servers, all of the latest protocols, and a slew of unique features, NordVPN has earned the right to be at the top of our list!
Ratings
Ever since people have started becoming aware of various privacy policies as well as their rights to data protection, the use of VPNs has seen a spike. And among these VPNs, NordVPN has been a clear leader for the past couple of years providing an extremely diverse range of reliable services in the realm of online data protection.
An ever-growing server network, over 14 million clients all over the world, and several useful features have made NordVPN what it is today.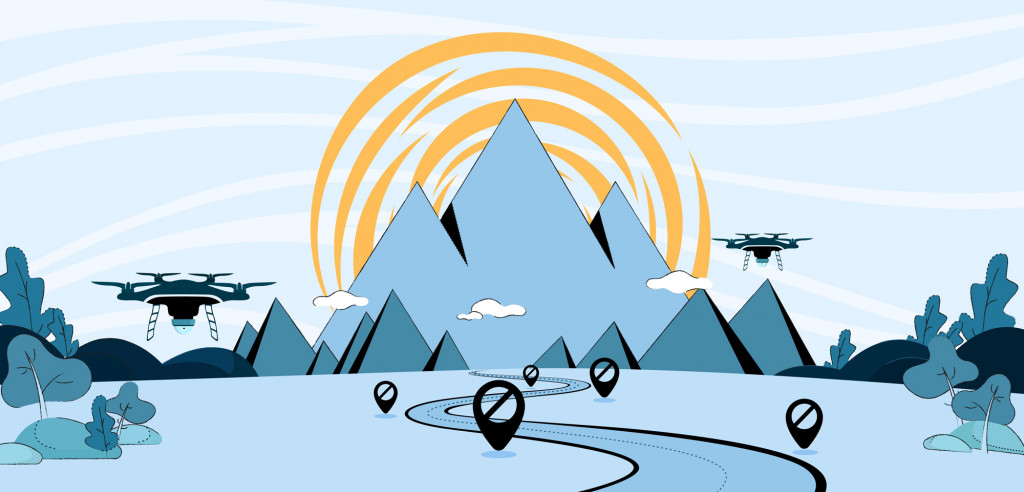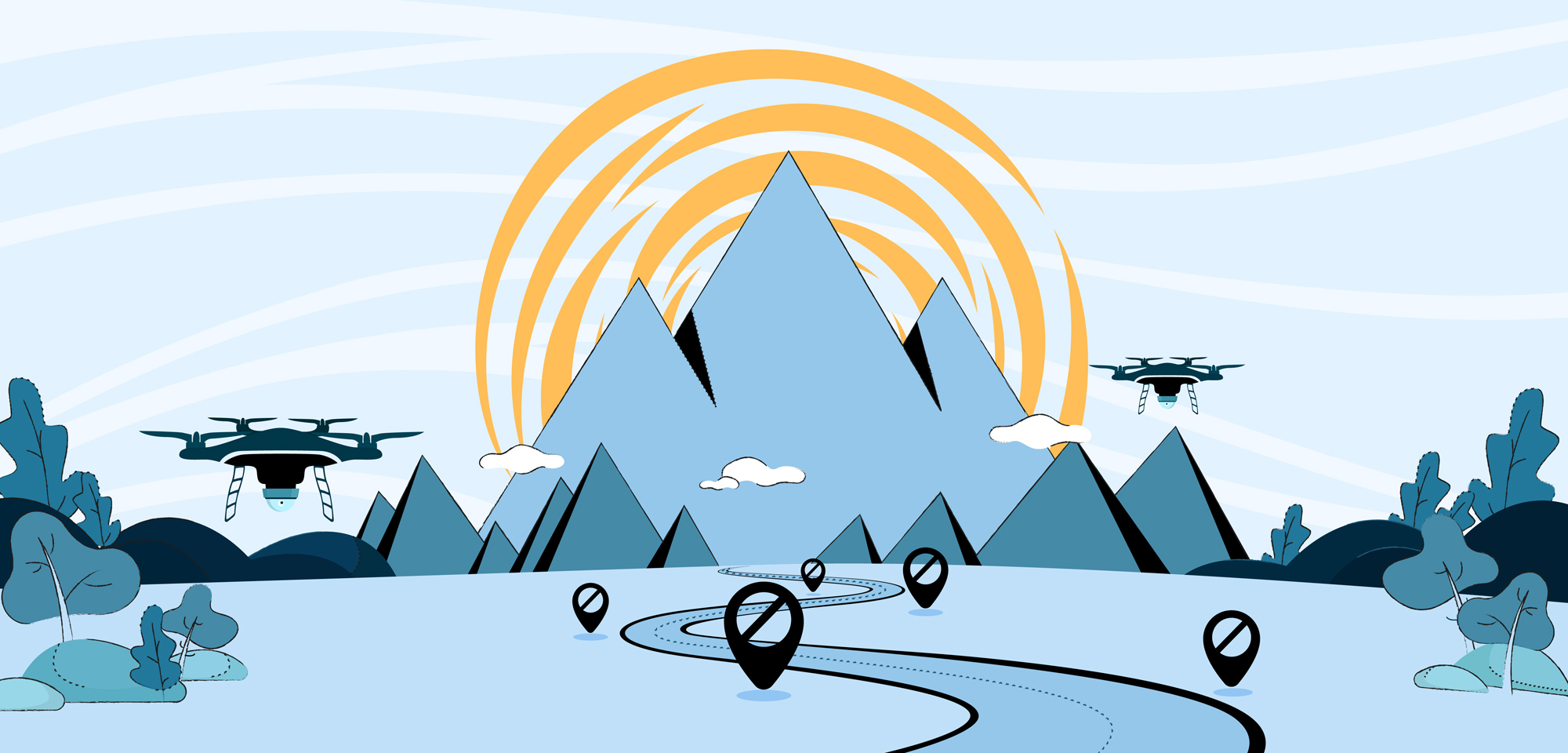 But to truly find out whether it is that good or not, we decided to put it through a series of tests in order to get you guys the most authentic impression of how good NordVPN actually is. These included extensive speed, performance, and security tests as well as tests performed to check NordVPN's compatibility on a range of devices.
And we now believe we have the answer you all are looking for.

Time to get the world's leading VPN!
Your introduction to NordVPN
Before we dig into NordVPN's technical details, let's talk a bit about the company itself.
NordVPN was founded in 2012 in Panama, which is considered the Internet privacy haven due to the fact it doesn't have any significant censorship or data retention laws. Panama is also not a member of any international surveillance groups, which means you can be sure your data is being handled securely and is not going to get in the hands of any third-party.
Now that you know a little bit about NordVPN, let's move on to the facts that actually matter!
Servers
One of the crucial aspects of any VPN provider's value is the number of servers and locations. And NordVPN definitely does not disappoint!
With over 5500 servers in 59 different countries, NordVPN is one of the absolute leaders in this category. Its servers span across Europe, Africa, Asia, North/South American, and Australia. This means you will always have a vast amount of options to choose from, whether it's privacy, streaming, or bypassing local restrictions you're looking for.
NordVPN is also expanding its network in the Middle East and the Pacific so you should see more servers popping up soon.
Essentially, more servers mean more possible IP addresses and more anonymity, which makes it easier to avoid blocks and access content while knowing that your data is safe and encrypted. This also means that you can always find a server close to you, which is a crucial component for speed.
To make things even better, NordVPN claims that almost all of its servers are physical servers rather than virtual servers. Even though there is some controversy around this fact, the information mostly checks out.
NordVPN Speed Test
Hearing about all those servers would've definitely made you happy. But locations won't matter if your video is stuck on buffering now would they? Let's find out how NordVPN's speed lines up!
NordVPN does say it gives you "the fastest VPN experience", so we decided to make sure.
Speed really depends on which server you connect to, how far that server is from you, what are you using the VPN for, and what is that server's load. Even though a VPN can cause a drop of 35% in speed on average, NordVPN had an average drop of about 32%. This might seem like a significant decrease but, honestly, it's quite impressive and should not affect your streaming or gaming experience much.
What might surprise you is that connecting to the right server might even increase your internet speed, which we found out when we connecting to some of the closer ones.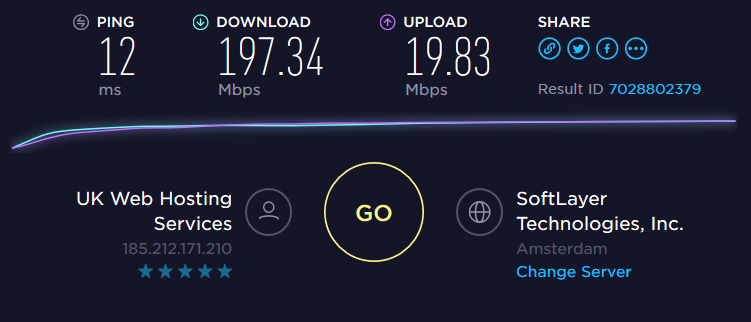 To sum it up, we can easily conclude that NordVPN will maintain a strong connection and provide consistent speeds without any breaking issues in the network. Streaming with any popular service such as Netflix, Hulu, HBO also worked seemingly smooth and there were no buffering issues.
As torrenting is quite popular in India, you'll find that using torrents and magnet links will be pretty much seamless. However, this was our experience with NordVPN, and your experiences might differ based on numerous factors.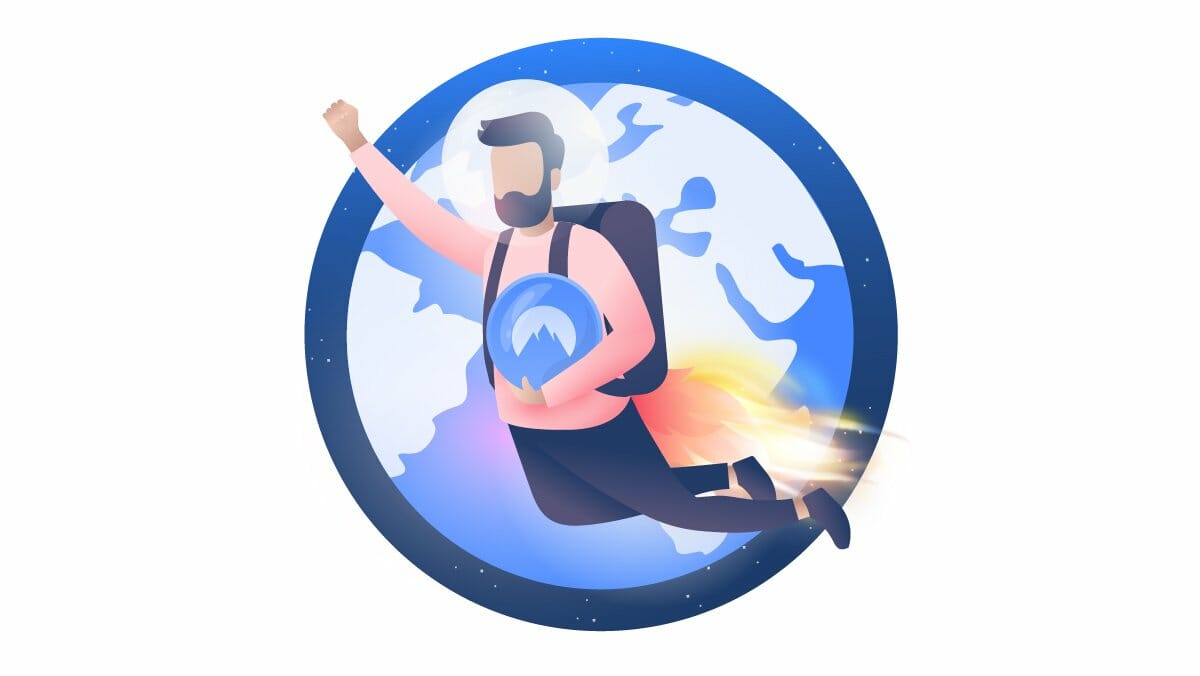 Quick connect
Quick Connect, is a feature that makes connecting to one of NordVPN's servers even easier.
It automatically chooses the optimal server with the highest speeds and the most stable connection. So if you aren't looking to bypass a certain geographic restriction, we highly recommend using Quick Connect to get the best results.
NordVPN security features
With all the data leaks and breaches happening around us, data privacy and protection have become extremely important in today's world. Reliable protection should be your utmost priority when choosing a VPN, considering the fact that there are loads of hackers lurking around to steal your personal information while the government wants to know your every move.
Lucky for you, a strict "no-logging" policy, military-grade encryption, and a bunch of special privacy and security features make NordVPN ultra-reliable in this department as well.

Take back your online privacy with NordVPN!
Let's dive into the realm of protection that NordVPN provides and explore its privacy features!
Encryption and protocols
NordVPN uses AES 256-bit encryption which is quite literally the best in the business.
This pairs up perfectly with the "Perfect Forward Secrecy' (PFC) feature that provides you a new key every time you log in, making you appear as a new user every single time. This means that the data of all your previous sessions will get erased and in case someone tries to hack you or your system, there simply won't be any personal information or history that they could steal.
The encryption protocols used by NordVPN include the OpenVPN TCP/UDP (default) and IKEv2/IPSec (immediately available for macOS and can be installed manually on Windows). Both these encryption protocols are top-of-the-line and considered the safest at this time.
Additionally, NordVPN is currently also developing its own protocol called NordLynx, which is built around the revolutionary WireGuard. It's known as the fastest VPN protocol out there today.
However, to gain that speed WireGuard sacrifices some privacy. NordVPN has solved this issue by adding a double NAT (Network Address Translation). This allows you to enjoy all of the speed while sacrificing none of the privacy.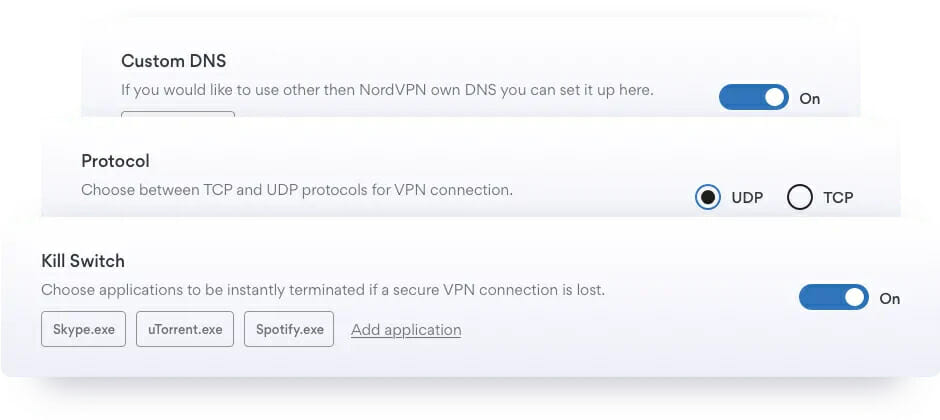 Kill Switch
NordVPN is the only VPN that comes with not one, but two kill switches. This ensures the best possible protection against de-anonymization and exposing your traffic. These two kill switches are as follows:
Internet Kill Switch: In case your VPN connection drops, all your traffic will get blocked.
App Kill Switch: You will stay connected to the Internet, but some of the apps you choose will get cut off (very nifty when using torrents o sending sensitive information)

CyberSec
CyberSec has to be one of our favorite features of NordVPN.
This feature blocks ads, trackers, and malware domains providing you with complete protection. We gave this feature a shot and found that it effectively does everything NordVPN says it does.
Still confused why you'd want to use Cybersec? Well, here are a few reasons:
More Privacy: You might have heard how ads have turned into advanced tracking tools that record your online activities in order to display targeted advertisements. Cybersec can help prevent this by making your internet experience much more private.
Better Security: Online ads can also be used to spread malware that can infect your devices without you clicking on them. Cybersec protects you against this sort of malvertising by blocking all malicious domains based on a real-time threat list.
Improved Performance: All these ads tend to eat up a lot of your bandwidth too, making your online experience into something frustrating. Blocking these ads will help you gain that bandwidth back and save much more on data!
No ads, pop-ups, malware, etc., doesn't that sound wonderful?

Double VPN
The multi-hop feature in NordVPN encrypts your data across two separate servers before connecting you to your destination on the Internet. This is very important for anyone in dire need of protection of identity such as political activists, journalists, and basically anyone looking to remain safe while expressing their freedom of speech.
Benefits of the double VPN feature include:
An extra level of security: The mix of two protocols coupled with a multi-hop feature makes your connection virtually unhackable.
Total IP Protection: Since your IP was changed by the first server, the second has no information about you and thus, you cannot be traced in any possible way.
Absolute Privacy: Absolutely no one (not even your own ISP) will ever know your final destination on the internet.


Onion-over-VPN
If you're aware of the dark web, chances are you might have heard of the TOR browser. NordVPN is one of the only VPNs that work with the Onion network and it does this with the Onion-over-VPN feature.
This feature adds another level of encryption using the TOR network on top of the existing standard VPN protection. These two services combined give you an unparalleled level of security on the internet. Its advantages include:
Simple access to the onion network: The easy GUI allows you to access this feature with just one click.
Extra Security & Privacy: The two independent stages of encryption work in coherence to make it impossible for anyone to hack your system and know what you are up to.
However, there is a certain trade-off when using the Onion Network. It is extremely slow, so don't expect fast speeds while using this feature.


Split tunneling
Recently NordVPN introduced the long-awaited Split tunneling feature to its Windows and Android apps.
This great feature allows you to choose which applications go through a secure VPN tunnel, and which use your regular connection. This way you can:
Secure some of your applications while still using the full speed of your regular connection.
Ensure that some of your apps that need it most are always secure (messengers, torrents, bank apps, etc.)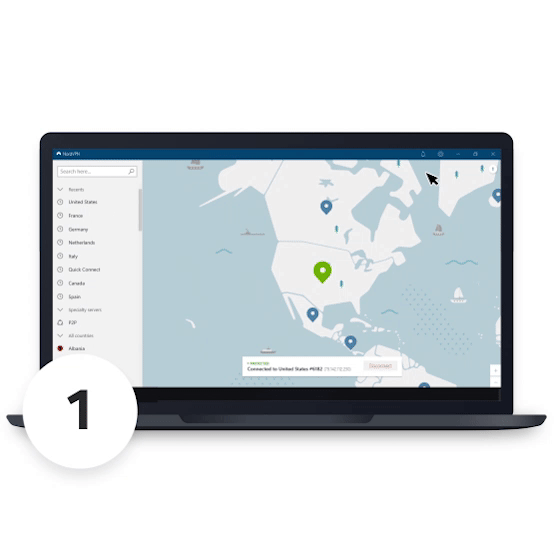 The infamous breach
Back in March 2018, NordVPN's server in Finland was partially hacked. However, no user data was leaked or obtained by the hackers since NordVPN doesn't store any of these details.
Consequently, NordVPN revamped its security standards for all its data center partners and has since carried out several extensive security audits that have proved its system to be free of any major vulnerabilities.
NordVPN applications
NordVPN takes care of its users on all platforms whether that is Android, macOS, Windows, Linux, iOS, Android TV, Chrome, or Firefox.
The provider's apps are intuitive and extremely easy to use. And the best part is the apps retain most of their functionality and possibilities across all platforms.
The setup is pretty straightforward and gets you started with all the best options enabled automatically. However, you can always adjust the app's settings to your preferences.
The slick, minimalistic, and simple design proves to be very inviting for new users since they can almost immediately get a hang of the app.
The Quick Connect option will connect you to the optimal server. However, in case you need to connect to a specific location, you can do that manually.
There is a lack of advanced features though, but you won't notice this unless you're a veteran and require some kind of special usability and protection.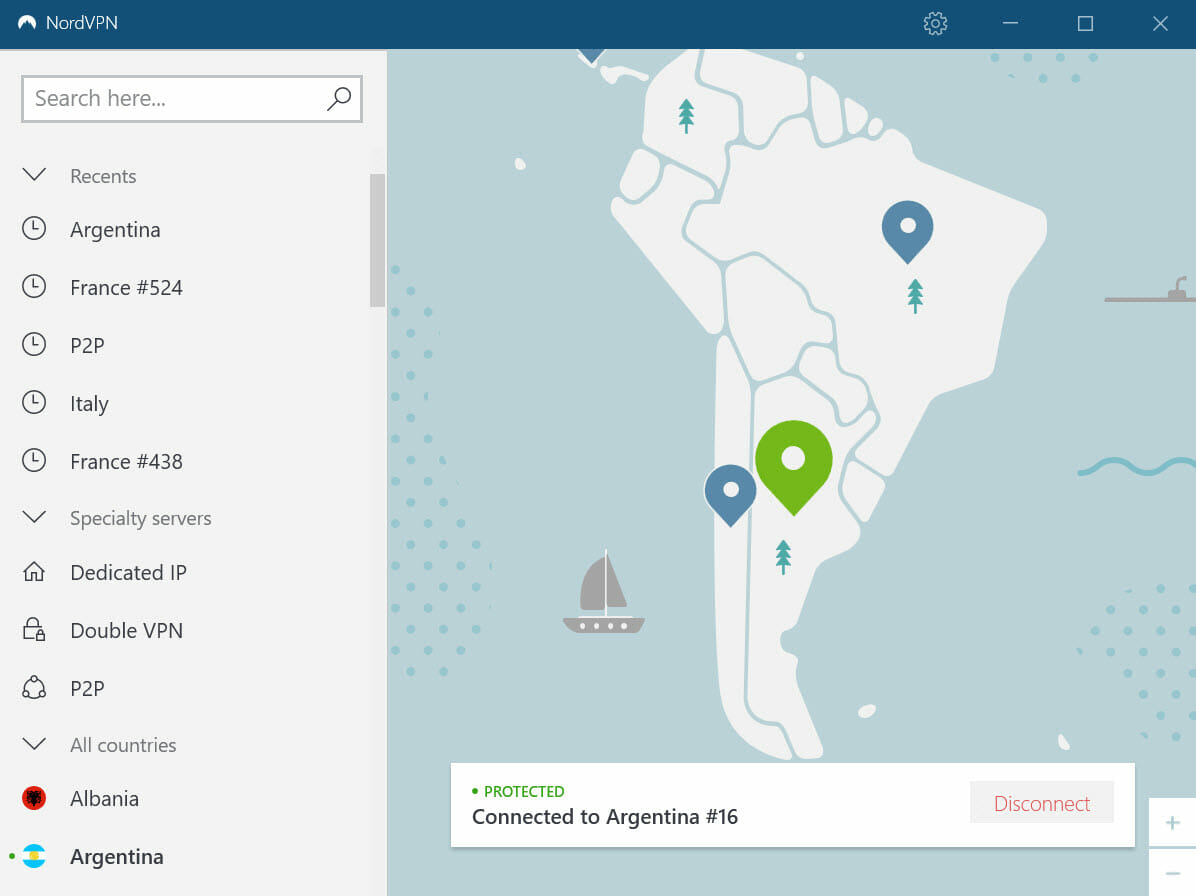 Mobile Apps
NordVPN has optimized apps for both Android and iOS.
Both of the apps also have dedicated Android and iOS servers which always ensure great speeds and secure networks.
Surprisingly, the mobile apps have exactly the same functionality as the desktop versions, with advanced features like Quick Connect, Double VPN, Onion Over VPN, Kill Switch, and Custom DNS.
Additionally, the Android app has split tunneling, giving you even more options for all your internet needs.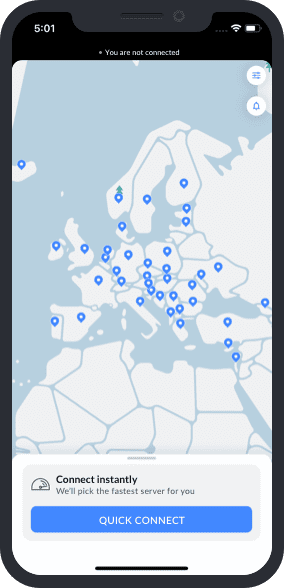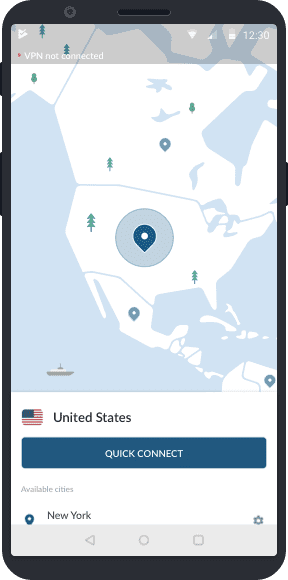 Browser Extensions
NordVPN offers browser extensions on both Chrome and Firefox, which are extremely easy to use.
These extensions work with both desktop and mobile devices, which is a plus. However, do note that when you have these browser extensions running, only the traffic passing through your web browser will be encrypted.
The extensions also have additional features enabled, such as CyberSec, which helps block ads and offers protection from malware.
To make things even better, these extensions come with a default WebRTC feature that offers an additional layer of protection from accidental IP Leaks.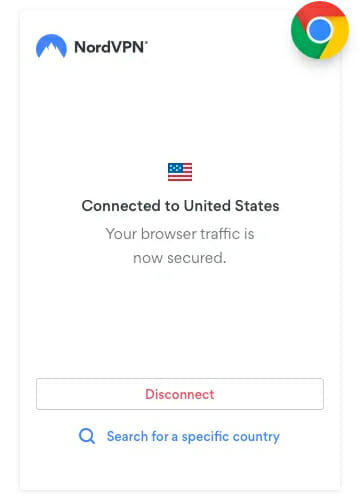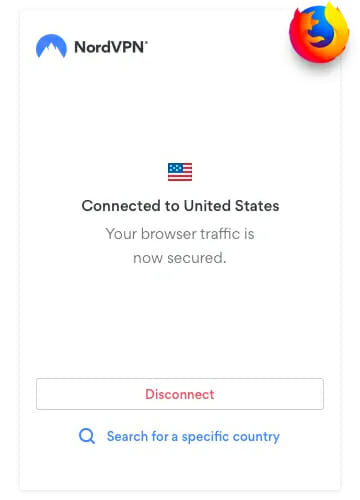 NordVPN and streaming services
Even though VPNs have lots of advantages and their main priority is definitely security, one of the key reasons people want to get a VPN, is unblocking streaming services. Whether it's streaming platforms not available in your country, local content from abroad, expanding existing libraries — the right VPN can do just that.
So how does NordVPN fair in this regard?
NordVPN is built with streaming in mind. It has a bunch of servers that have been optimized for streaming, both giving you immediate access and providing a smooth VPN experience.
So say you're sitting in your hometown of Mumbai but you want to watch a certain Anime that is only available in the Japanese Netflix library? What do you do? Well, the answer is NordVPN. You open the NordVPN app, set your server location to Japan, and voila! All your favorite anime shows are now within arm's reach.
Furthermore, it comes with a really cool feature known as SmartPlay. By combining the best features of a Smart DNS and VPN technology, SmartPlay automatically chooses the best server to connect to in order to unblock a specific streaming platform. And all this without any effort.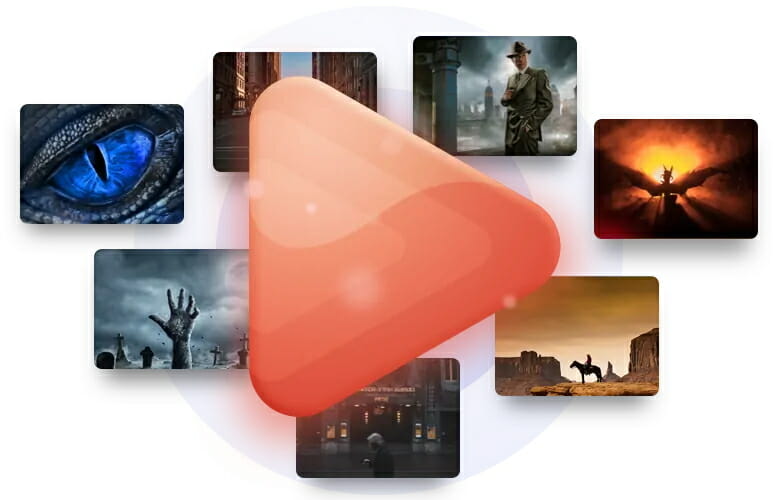 NordVPN pairs well with almost all of the famous streaming services.
Netflix, Disney+, BBC iPlayer, Amazon Prime Video, Apple TV Plus, Hulu, ESPN Plus, and ESPN3 all work seamlessly with NordVPN.
So no matter what you want to stream, NordVPN is definitely one of the top choices for that.
Gaming
Gaming requires a fast internet connection with a low ping since you definitely don't want any delays in your gameplay. Although most VPNs significantly slow down the internet connection, NordVPN yet again emerges as a winner.
Even though Xbox and PlayStation do not support the built-in NordVPN functionality, it's still quite simple to set up. Providing you with consistently high speeds and an abundance of servers dedicated to gaming, NordVPN guarantees a gaming experience free of any lag.
You might be surprised to know this, but if you somehow select the right server, NordVPN can actually result in an increase in your Internet speed, thereby giving an even better experience.
It also helps guard you against bandwidth throttling and any DDoS attacks that might take place.
As you know, modern gaming consoles store all of your financial information and are under constant threat of data leaks and breaches. NordVPN can give you that extra level of protection your personal information deserves.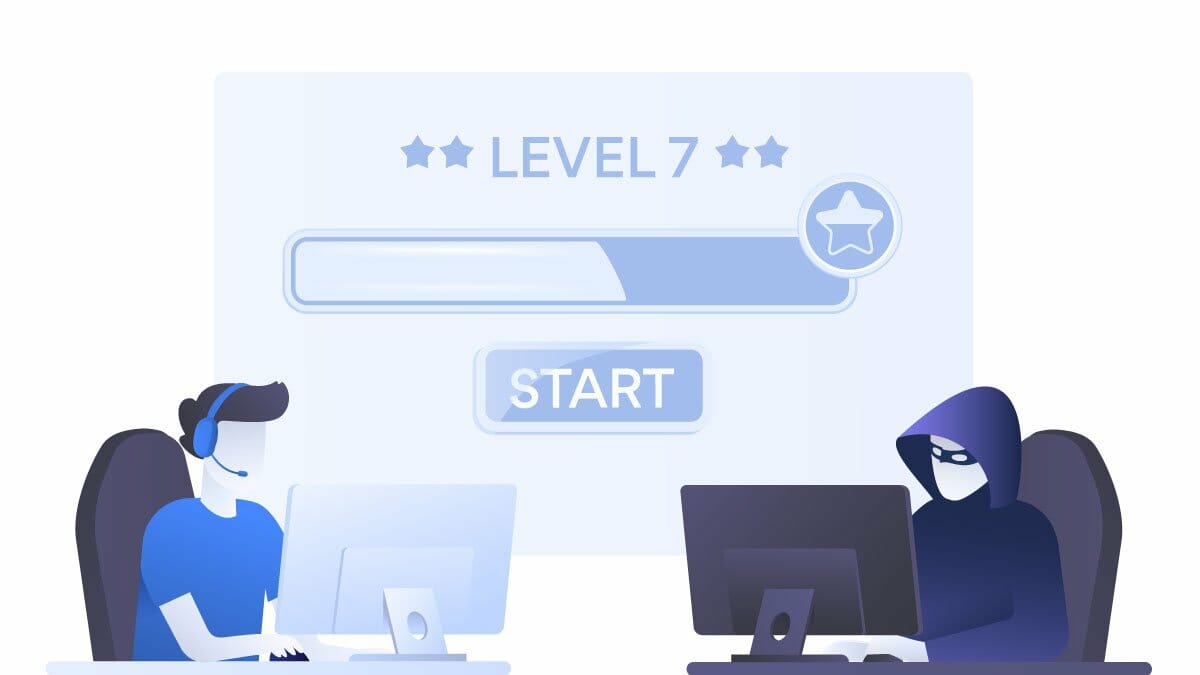 So if you're someone looking for unlimited access to the world of gaming, the opportunity to access the best deals on the market, or even the chance to get your hands on titles before they get released in your region, NordVPN is definitely a safe bet.
Torrenting
Even though it's considered fairly illegal in several parts of the world, torrenting remains quite common in India.
This might not come as a surprise, especially with all the other features laid out earlier, but NordVPN is absolutely amazing to use with Torrent applications. Considering how most countries (including India) are trying their best to put an end to torrenting, NordVPN is here to help you out.
NordVPN is fully optimized for torrenting thanks to its dedicated P2P servers. And in case you ever forget to enable this feature, NordVPN has a built-in feature that automatically enables a VPN connection whenever the software detects P2P activity.
Not only this, NordVPN assures its users of privacy protection through a series of amazing features such as a no-logging policy, and several layers of DNS and SOCKS5 proxies for ultra-fast downloads.
How much does NordVPN cost?
The software could have all the best features in the world but if it costs an arm and a leg, chances are you won't be purchasing that service.
Thankfully, NordVPN is super affordable despite its amazing security features, lighting speeds, and stable connections. Although it may not be "The Cheapest", it definitely is one of the easily affordable ones.
NordVPN currently offers 3 subscription plans:


1-month plan for about ₹890.00.
1-year plan for around ₹366.00 per month
A crazy 2-year plan that will cost you just ₹276.00/month and will save you up to 68% in the long run. This exclusive subscription is only available with us. So don't miss out!
Get the NordVPN deal of a lifetime!
Payment methods
Even though there used to be more payment methods available for NordVPN, in recent times their numbers have declined due to privacy reasons. In India, there are only two ways in which you can pay for your VPN subscription.
The first one is a credit/debit card. Even though this might seem like a convenient option, it still results in an invasion of privacy since your bank will ultimately know that you have purchased a VPN service. Regardless, this is the method used by most.
The second and the method that should be preferred is cryptocurrency. All payments made through cryptocurrencies are 100% safe and anonymous and allow you to use the VPN without any worries of the payment being traced back to you in any way.
NordVPN accepts BTC, BCH, LTC, BTT, and a whole lot more cryptocurrencies. It uses the CoinPayments platform to receive payments from its users and it's pretty much as good as it gets.
However, there is a slight drawback with cryptocurrencies. The transaction time can sometimes exceed 24 hours as compared to the instant payment carried out by a credit card, but these 24 hours are a small price to pay considering the anonymity you are getting, don't you think?
Does NordVPN accept PayPal?
Even though NordVPN has stopped PayPal payments in most countries, this option is still available in India.
So you can purchase the world's leading VPN with even more ease and comfort.
Is there a free version?
NordVPN used to have a free trial up until a couple of years ago. But now their policies have changed and they no longer have that option.
However, what they do offer is a 30-day money-back guarantee. So if you purchase NordVPN and its quality doesn't satisfy you, you can request a full refund.
Customer support
Well, any service is only as good as its management and support team. And let's just say NordVPN has a great team behind it.
Customer support is essential for a service such as NordVPN because there can be numerous people who might not have ever used a VPN before and thus, would need help setting it up.  This is where good customer service steps in.
NordVPN offers a variety of services to make the lives of their customers easier.
Firstly, there is a support website with over 500 pages of instruction manuals and troubleshooting guides. Chances are, if you have a question, the answer is already there and you just have to look for it.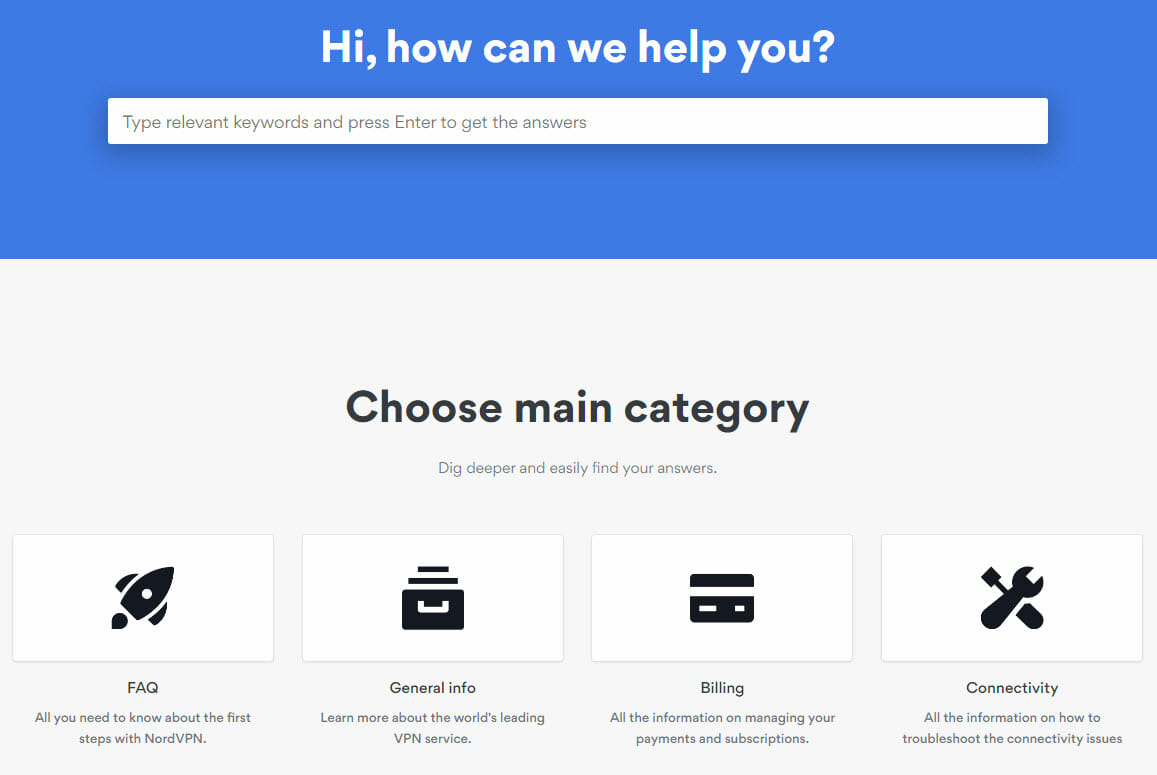 Next up, they have a 24/7 live support chat. If you have any queries or are facing any problems, you can hit up the customer representative and get your problem solved. And the best part is, this system is active 24/7 so you don't have to worry about time zones or weekends. We even tested their live chat ourselves and always got a response within a few seconds of waiting.
In case your problem can't be solved by these means, they do have a customer support email. However, email responses do take longer. So we suggest reserving this option as a last resort.
Bottom line: Is NordVPN the best?
Going through this long review, looking at all the features, the prices, the services, the different options can really leave your mind boggled. After all, all you really want an answer to is – Is NordVPN worth it?
And the answer is YES. Considering the excellent encryption it offers along with a stable and lightning-fast connection, there honestly isn't any other service that provides a better bang for the buck.

You have read this far, might as well get NordVPN!
All these pros combined have earned NordVPN a name as one of the best VPN services available in the market today and we don't see that changing any time soon!