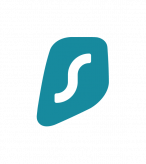 Overview
Surfshark quickly made a name for itself as one of the leading VPN providers in the world. With top-notch encryption and protection, unlimited device support, and some of the best streaming unblocking capabilities, Surfshark is quickly becoming one of the world's most favorite VPN providers.
Ratings
Founded in 2018 in the British Virgin Islands, Surfshark is one of the most reliable, popular providers on the market. It has a global user base of over 2.4 million and more than 200 employees.
Regardless of its incorporation, Surfshark has offices in lots of countries, such as the UK, Lithuania, Cyprus, the Philippines, and the Netherlands, further increasing its presence in the modern world.
What makes Surfshark one of the most trusted providers is its No Logs policy. The BVI has no data retention laws, meaning they don't collect their customers' information. But that's not all!
Surfshark has a lot to offer, so let's get into that!
Servers
As a VPN user, you are probably aware that the number of servers and your experience is positively related. A larger number of servers accounts for more IPs, more anonymity, and allows you to explore more features.
The prevalence of the servers further increases the quality of the VPN provider. A widespread network allows for excessive browsing from different countries. For example, specific VPNs provide access to local streaming platforms or torrenting from restricted countries, whereas others don't.
Surfshark has a well-established network of over 3,200 servers in 65 countries in Europe, The Americas, Asia Pacific, the Middle East, and Africa.
All of Surfshark's servers are P2P-friendly, offer a Private DNS, Camouflage Mode, IPSec / IKEv2, and Extension support.
Surfshark's Speed Test
In general, a VPN slows down the Internet by at least 35%. However, we decided to perform a speed test on Surfshark, connecting to a European server, to get the exact results.
The reaction time of the connection before using Surfshark was 42 ms (ping), which increased to 64 ms (ping) when using the VPN, a change of 52.38% which is pretty good in the VPN world. The download speed increased from 35.68 to 39.98 Mbps, which is an increase of 12.05%. On the other hand, the upload time decreased from 39.41 to 32.57 Mbps, a negative change of 17.35%.

If we consider all three variables, we can say that on average, Surfshark slows down the Internet by 15.69%, far better than most other providers.
In simpler terms, using this VPN might even speed up your connection. What's more, it initiated no delay or buffering while watching movies.
So, we are safe to say, Surfshark did well on the speed test.
Security and privacy
Like other VPN providers, Surfshark erases the connection between your real IP address and digital identity. They do so by a variety of industry-leading security features and top-of-the-line connection protocols.
The company features a strict no-log policy and a kill switch in case the VPN connection drops. They add an extra protection layer by its private DNS for each server and leak protection for the IPv4 stack.
Surfshark also features 100% RAM-only servers, further increasing their client's privacy.
Surfshark also offers a unique feature called Camouflage Mode to add anonymity.
Today, the use of a VPN has become a popular, global trend. However, it is essential to choose the best provider according to its features. So, let's get into the details!
Encryption and Protocols
Encryption is an essential VPN feature. It generates a key to encode your entire internet connection as well as any file you might be sending (or receiving) through the web. It prevents unauthorized parties such as the ISPs, the government, or cybercriminals, from hacking into them.
Like most trusted VPNs, Surfshark protects its users' data with the classic AES-256-GCM encryption. Also known as the Advanced Encryption Standard or the Rijndael algorithm, it encodes all data that goes through Surfshark's network.
VPN protocols allow for a safe data transfer on the web, which is essential for browsing or using social media. The default protocol on all Surfshark apps is the IKEv2/IPsec. However, they also provide OpenVPN, Shadowsocks, and WireGuard.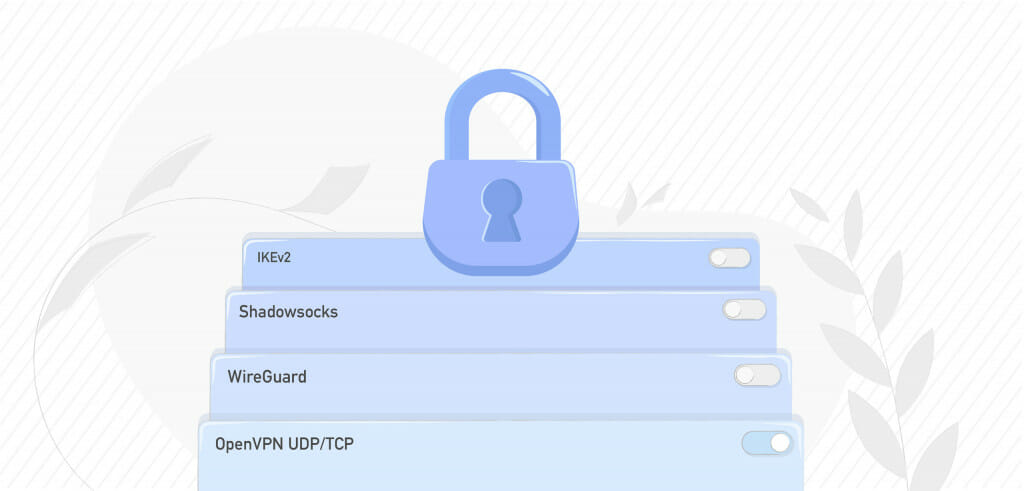 Kill Switch
Using a VPN protects you from any undesired parties and related dangers on the Internet. But what happens when the VPN drops without any prior warning? Here's where the Kill Switch kicks in.
The Kill Switch automatically deactivates your internet connection when the VPN fails to protect your data from third-parties. Thus, it retains your encryption, hides your identity and torrent downloads, and provides security, even in restricted countries.

NoBorders Mode
The NoBorders Mode lets you access restricted websites even in countries with the toughest Internet laws. Surfshark provides an opportunity to unblock streaming and sites, un-limit applications, and un-censor restricted content.
The provider provides access to censored content, such as news sites or social media accounts. This is why this is an essential feature to use when traveling to countries such as China, Turkey, Russia, and censorship-heavy regimes.
Lastly, Surfshark unblocks many apps worldwide, such as Viber, Skype, WhatsApp, or Discord.
MultiHop
Surfshark's MultiHop feature takes user protection to a whole other level.
It relays your connection through two VPN servers, hiding your identity and traffic even better.
The MultiHop might also improve your connection speed.
Camouflage Mode
Camouflage is another unique feature that very few other providers have.
The purpose of Camouflage mode is to mask the use of a VPN. More precisely, this feature entirely hides the fact that you are using a VPN at all, making your connection look like regular traffic.
So, not even your Internet provider will be able to spot the traces of VPN usage.
This, in turn, increases your privacy and further protects your online presence. This also allows you to bypass firewalls and blocks created specifically to detect the use of VPNs.
CleanWeb
The CleanWeb feature is designed to block advertisements and malware, which usually interrupt the user experience on the Internet and might even infect your device with malware (malvertising). Unlike regular ad-blocking browser extensions, the CleanWeb also applies to apps.
Malware imposes a risk of third-parties hacking your data. With its CleanWeb feature, Surfshark gets rid of scammers and provides a safe web experience.
What's more, ads and similar nature pop-ups use up your mobile data. So, Surfshark saves you some cash while boosting your browsing speeds.

GPS Spoofing Feature
Surfshark is the first VPN and by far the only VPN to have a GPS spoofing feature for Android.
Apart from changing the IP address, this feature allows users to change their device's physical GPS location.
Usually, mobile apps use the user's GPS location, instead of IP address, to track their activities. With the introduction of an optional location spoofing feature, Surfshark allows its users to set their virtual location to one of its servers.
Surfshark Apps
No matter how good a VPN provider is in concept, a lot of its functionality depends on how good and clear the application is.
The ideal VPN client has to be accessible to newcomers, while also allowing those in the know to access some of the more advanced features the provider offers.
A VPN app also has to be cross-platform compatible, so you can use it on any of your devices.
Luckily, Surfshark has dedicated applications for pretty much every modern OS, including Windows, macOS, Linux, iOS, Android, Smart TVs, even gaming consoles. And the best part is Surfshark can be installed on an unlimited number of devices.
Apps for Desktops
Surfshark provides applications for Windows, Mac, Linux, all of which feature a user-friendly interface.
The desktop apps account for blazing connection speeds and allow for accessing restricted content.
The app interface is crystal-clear, while simultaneously giving the more advanced user a few extra options to set their VPN connection as they please.
Apps for Mobile
Surfshark offers a solution for both iOS and Android, both of which are exceptionally easy-to-use.
However, we noticed one drawback regarding the "disconnecting" notification. Sometimes it gets stuck onto your screen and… Well, it doesn't do much, that's just annoying.
The good news is that Surfshark is currently working on solving this issue, so it might not be a disadvantage for long.
Browser Extensions
Surfshark has extensions for Chrome and Firefox.
Both browser extensions provide all Surfshark features, such as CleanWeb, Private DNS, Whitelister, a Kill Switch, MultiHop, Camouflage Mode, etc.
The extensions protect your privacy and hide your online identity only when using browsers.
Surfshark and streaming services
Many get a VPN for the sole purpose of accessing restricted content. And Surfshark is one of the industry-leaders when it comes to streaming.
For instance, the Indian market has faced strengthening regulation in the last few years. So, the use of a VPN has almost become a necessity at this point.
However, a good VPN that employs the use of Smart DNS and VPN technology, can get you around any restrictions and allow you to access practically any streaming service under the sun. So how does Surfshark compare to other providers?
Well, Surfshark has a lot of streaming unblocking power. And here are just a few platforms that it can unblock:
Over 15 Netflix libraries (US, Japan, UK)
BBC iPlayer
Disney+
Amazon Prime Video
Hulu
HBO Max
Dazn
Hotstar
Peacock
YLE Areena
AbemaTV
Access any any streaming platform with ease!
Surfshark for gaming
In general, VPNs tend to slow down the Internet connection. So most VPNs actually hurt your gaming experience when paired with your console. However, Surfshark doesn't fall into this group, as it provides a sound and fast connection.
Surfshark can be set up on both Playstation and Xbox. It will take a bit of manual work, but the provider has extensive guides that will help you through that.
But more importantly, the use of this provider might save you some cash. Usually, you can buy games at different prices in different regions. As Surfshark has a vast number of servers worldwide, you are almost guaranteed to grasp a price advantage. Just set the server in the country with the lowest price, and get the game you want.
Torrenting
Surfshark is one of the VPN providers fully optimized for torrenting.
All of Surfshark's servers are P2P optimized, which very few providers are able to pull off. This means that you are not going to have to sacrifice speed in order to download – you can simply connect to the fastest server and download seamlessly.
Another essential feature is the No-Log policy, which is especially important for torrenting, as no one would be able to trace your P2P connection.
Surfshark's Kill Switch is also extremely handy with torrenting. Even if the VPN connection drops – you won't leave yourself exposed and no one will ever find out you've been using a P2P network.
Surfshark's subscription plans
Surfshark offers three pricing plans: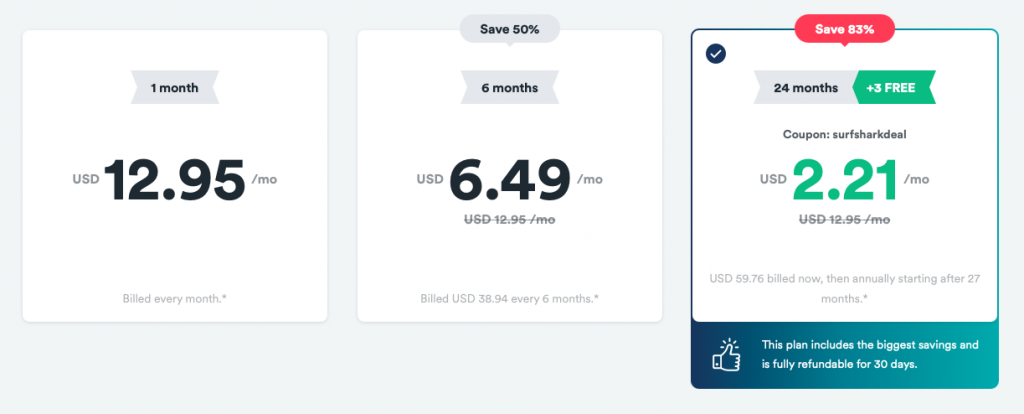 The month-to-month plan is about 965.00 rupees/month;
The 6-month plan is around 483.00 rupees/month;
The best 24-month subscription costs just 164.00 rupees/month.
Payment methods
Surfshark accepts several payment methods:
Credit Card
Debit Card 
Paypal
Google Pay
Cryptocurrency
Other popular methods that may vary by region
However, the critical issue is that the acceptable payment method depends on your location.
Once you select a plan, you will be able to choose how to pay for your service.
Free Trial
Surfshark does have a 7-day free trial for Android devices. However, after you install the application on your mobile device, you can then use the same login information to give it a try on any other of your devices.
The subscription limit is piling up fast, so you better get on that!
Surfshark also offers a 30-day money-back guarantee, so you can try out the service for a full month and then get a full refund if you don't like it (but you will).
Surfshark's Customer Service
Surfshark offers a useful information library on its dedicated support page. It has guides, troubleshooting guides, setup guides, streaming unblocking information – everything you could ever want or need just a keyword away.
What's more, the provider also features a 24/7 live chat feature.
In general, we were satisfied with Surfshark's customer support, as the team was responsive and happy to assist. They've always provided us with honest and useful information and never tried to upsell us, unlike many other providers.
Is Surfshark Worth It?
Surfshark justified its reputation as one of the best VPN providers on the market.
It offers quality features, all of which strengthen the anonymity and safety of Surfshark's users. The service is compatible with different devices, including desktop, mobile versions, and browser extensions. The provider's servers are well spread out and compared to other providers, Surfshark doesn't slow the internet connection as much.
All in all, we are convinced that Surfshark deserves to rank among the best VPN providers out there today.