Overview
IPVanish is a reliable VPN-provider, and a good option all together. In short: you'll pay a little more, the app is slightly more complicated than others, but you'll certainly get a little extra too compared to other services.
Ratings
Features
| | |
| --- | --- |
| Apps | Windows, macOS, Linux, Android, iOS, Chrome |
| Price | $3.99 per/month |
| Payment methods | PayPal, Credit Card, Cryptocurrencies |
| Protocols | OpenVPN TCP/UDP, PPTP, L2TP/IPSec |
| Log Policy | No logs |
| Simultaneous connections | Unlimited devices |
| Based In | United States |
| Netflix | USA |
| Jurisdiction | United States - Five Eyes (United States, United Kingdom, Australia, Canada, and New Zealand) |
Established in 1999, IPVanish has been a reliable VPN provider for quite some time. The company runs a network of over 1,600 servers in over 75 countries. As per usual, most of these are located in Europe and the US: Asia, Oceania, and Africa apparently are less interesting locations. The African continent only has 11 IPVanish servers, and every one of them sits in Johannesburg.
The server count in China and Russia is even lower (zero), because of the ever-changing internet policies in those territories.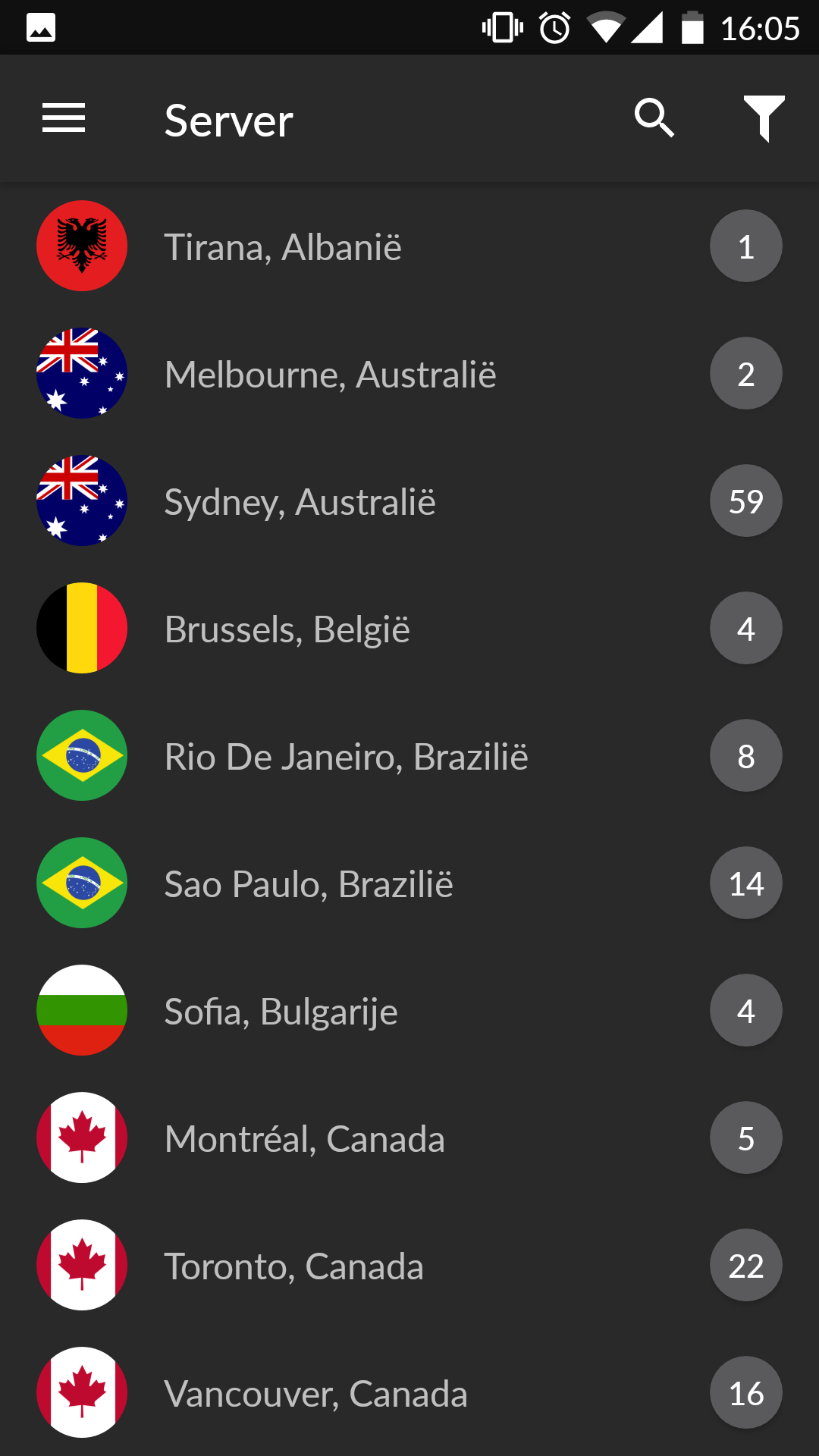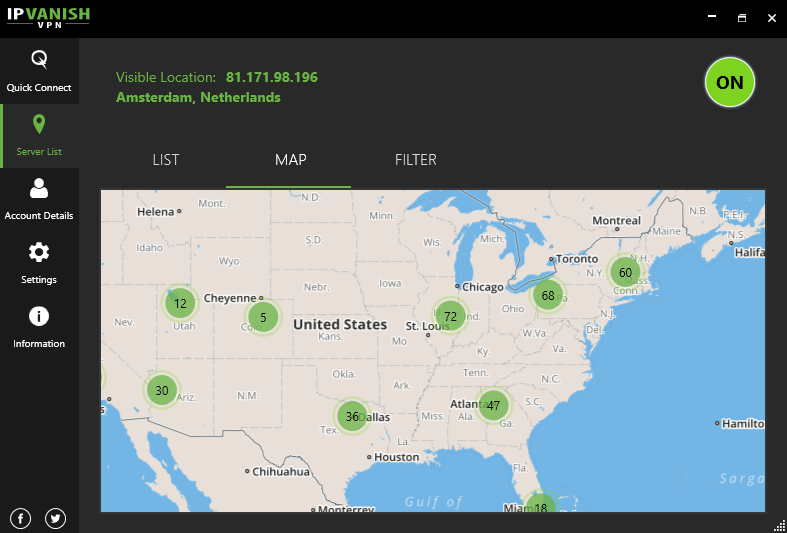 Internet speeds vary depending on the region too.
In the EU and US, speeds are generally good, but they still don't reach the average performance of other VPN providers. This feels a bit off, considering IPVanish is generally a bit more expensive than other quality VPN providers.
Of course, IPVanish ads a free "SOCKS5" proxy to its service, which makes it possible to surf the internet anonymously without having to download a specific program. There's one disadvantage though: the connections you establish through this proxy are less secure than through the VPN.
Apps
IPVanish offers several applications (including VPN for Android) to quickly establish your connections to their VPN network.
These apps offer a wide range of options, which may present a challenge to starting VPN users. Luckily, the IPVanish website offers clear instructions to get your connection up and running and tweak your settings to your personal preference.
Setting up a VPN connection through the app is relatively simple, and IPVanish is constantly improving its software based on customer feedback.
But still: inexperienced users probably need a little help and determination to see things through.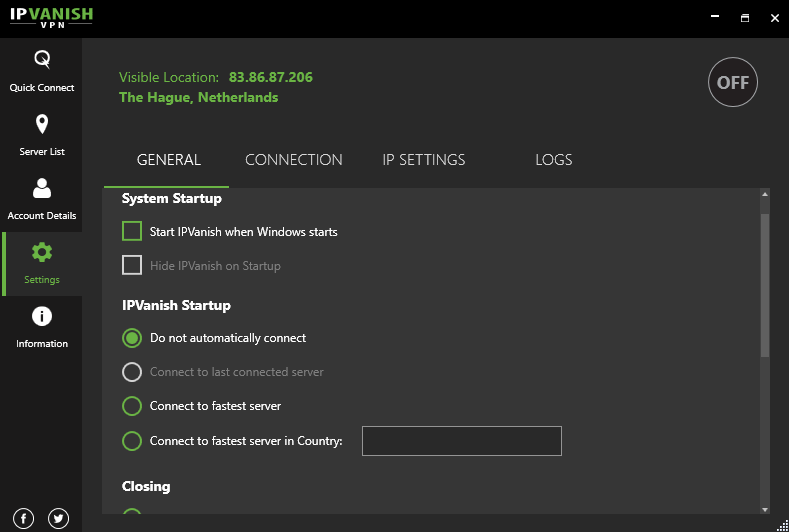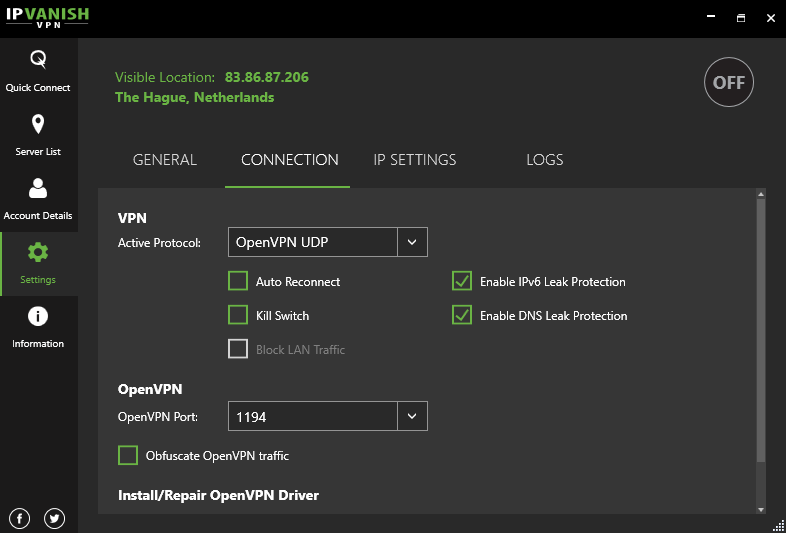 One option for instance that's hindered by complexity is choosing a server from the world map. You'd think it would be simple, and yet IPVanish doesn't make this basic feature clear to a new user.
This is a recurring theme in IPVanish's app designs. They offer a lot of advanced options, but none of them are particularly easy to find or use. The service would greatly benefit from a couple of standard options for streaming and downloading, to make setting up a VPN less daunting for starting users.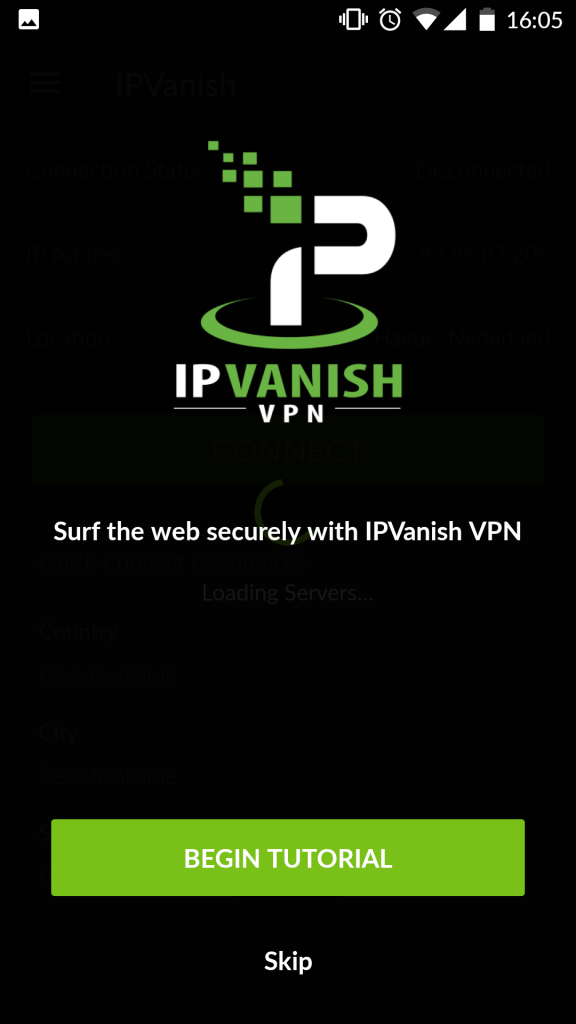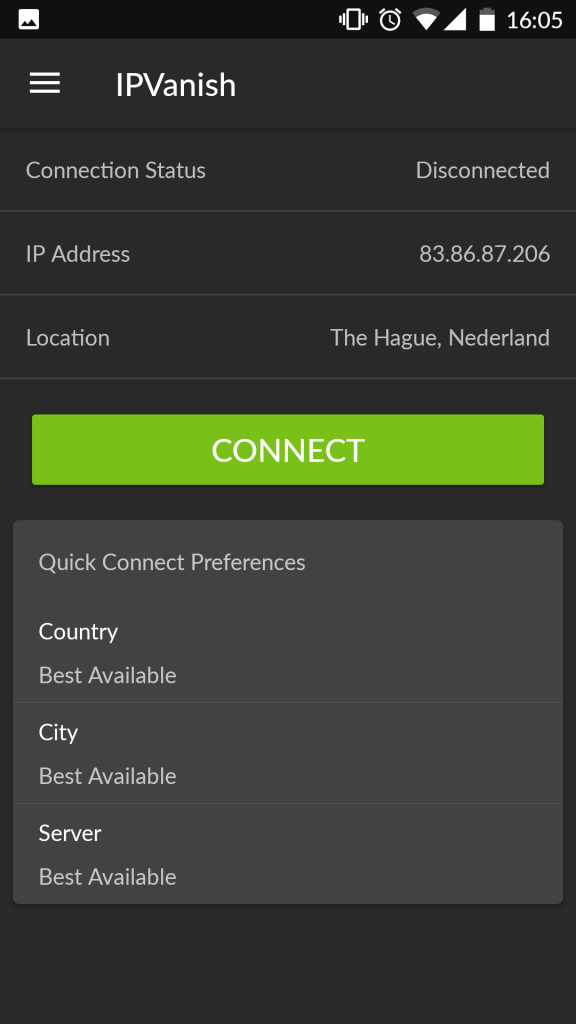 IPVanish and streaming services
IPVanish doesn't advertise the circumvention of geoblocking, so we won't score them on it.
However, this doesn't mean it is impossible to overcome geographical restrictions with IPVanish's VPN service. It simply means they aren't actively engaged in continuously shuffling IP addresses to fool geo-blocked services, like Netflix or BBC iPlayer.
IPVanish Speed Test
Most VPN providers use third-party servers and cloud services to enhance their operational network. VPN providers with a full-blown network of their own do exist, but those are rare.
However, IPVanish is one of the few VPN service providers that has a network of its own, which makes it stand out among the rest. The network of serves has one purpose only: hosting your Internet connection.
With a personal fleet of servers, IPVanish can offer its users faster speeds than most VPN providers, because servers exclusively deal with the needs of their clients. And that counts!



Average up- and download speeds in Europe and the US are quick enough to satisfy most users. Even though they sometimes fall a little short of the other VPN providers.
Outside of Europe and the US, Internet speeds (like with other providers) drop considerably, courtesy of local infrastructure conditions.
IPVanish costs and subscription plans
If you want to get IPVanish, you have three  subscription options:
A one-month plan will cost you $10.99, which is one of the most expensive options of any VPN provider.
IPVanish is also the only provider with a quarterly plan, which will cost you $5.32 per month.
An annual plan for the first year will cost a mere $3.99 a month.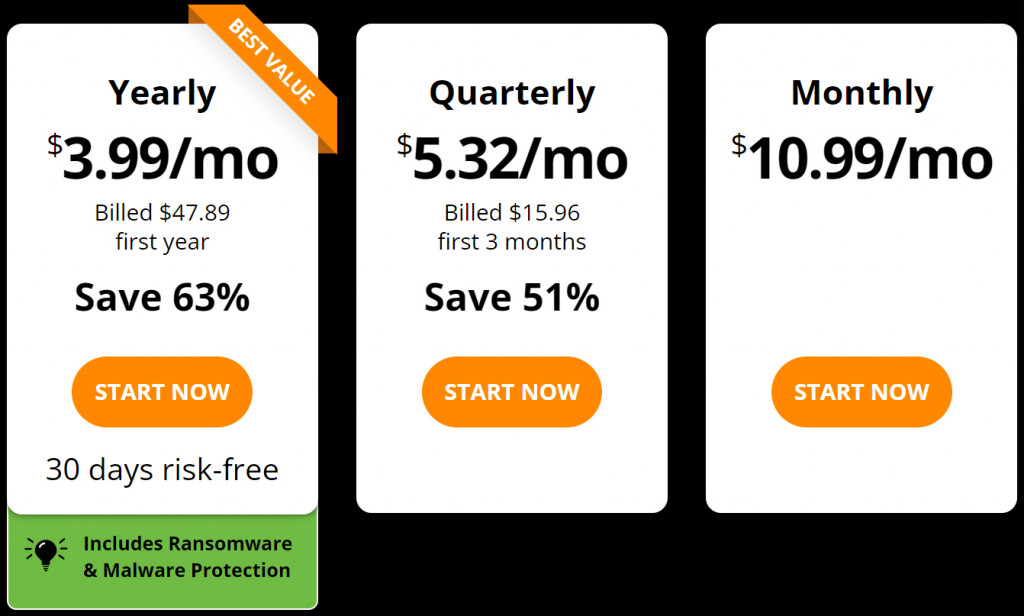 Privacy and security
Any VPN provider that's in for the long haul has to invest in privacy and security. And IPVanish has done its share to secure your safe browsing.
After China and Russia altered their policies concerning data storage, the company simply stopped providing services in those countries. This is a sure sign that IPVanish values the online security of their customers over geopolitical gains.
Also, any connection you make through IPVanish's servers is encrypted by means of 256-bit AES encryption. This encryption standard is nearly impossible to break, ensuring your online activities are safe from peeping toms.

Apart from this, IPVanish supports the most popular VPN protocols. The only exclusion from the roster was the IKEv2/IPsec protocol, which is not unusual for something that was launched recently, but still.
IPVanish also supports SOCKS5-proxy, allowing you to surf anonymously without installing a separate program. This helps to keep your internet speeds up in exchange for a little bit of security and privacy safety.
You can find more info on testing your VPN connection in our dedicated article.
Netflix and Bittorrent
Many VPN providers advertise options to circumvent geoblocking. However, practically this isn't always the case – at least not all the time.
It is rather refreshing to see IPVanish NOT advertising its unblocking capabilities while offering them anyway! You'll still have to find your access point to things like American Netflix or BBC iPlayer. But IPVanish has servers abound and spawns enough IP addresses to ensure your connection to these services.
BitTorrent, on the other hand, is fully and openly supported. IPVanish' servers are available for your up- and downloading all the time. And they manage to keep the speed up as well!
Customer support
VPN providers aren't always state-of-the-art when it comes to customer services. Many companies offer the possibility of a direct chat with an employee for a quick problem resolution, but for more complicated stuff you'll need to look at other support methods.
IPVanish offers handy tutorials to guide you through your setup process, on all devices. A central knowledge center on the website is helpful as well.
Live chat is notably absent, however, and a 24/7 support service is only available through email. Not that the emails are answered speedily, and delays do occur – making one wonder why it's called a 24/7 service in the first place. Luckily the email answers are generally concise and to the point – employees seem to be well informed about most issues regarding their VPN services.
So is IPVanish worth it?
IPVanish is a reliable VPN provider, and a good option altogether.
The slightly high price point (compared to other services) and the overly complicated app interface could go for a bit of tweaking, but we are sure they are working on it as we speak. But besides that, there are hardly any issues.
If that's what you're looking for, IPVanish can definitely help you bypass those nasty geoblocks. And we adore the limitless use of BitTorrent on offer. Add to this the general reliability and relatively high and stable speeds of its VPN servers, and IPVanish certainly makes the dash for the top tier of VPN providers.
In short: you'll pay a little more, the app is slightly more complicated, but you'll certainly get a little extra too compared to other services…