The word's most popular VPN!
Overview
With impressive speeds, a fleet of servers and a toolbox of unique features NordVPN is one of the best VPN providers for everyday and advanced use. So don't miss out on VPNService's exclusive two year subscription!
Ratings
Features
| | |
| --- | --- |
| Apps | Windows, macOS, Linux, Android, iOS, Chrome, Firefox |
| Price | $3.71 per/month |
| Payment methods | Credit Card, Cryptocurrencies, iDeal, Amazon Pay, Google Pay, UnionPay |
| Refund | 30 days |
| Speed | 9 / 10 |
| Protocols | OpenVPN TCP/UDP, IKEv2/IPSec, WireGuard |
| Log Policy | No logs |
| Simultaneous connections | 6 devices |
| Based In | Panama |
| Netflix | USA, UK, Australia, Germany, France, Canada, Japan |
| Torrenting | Yes |
| Streaming | HBO Max, Hulu, Showtime, Amazon Prime Video, Paramount+, BBC iPlayer, ITV HUB, Channel 4, Crackle, Tubi TV, fuboTV, YouTube TV, Crunchyroll |
| Works in China | Yes |
| Jurisdiction | Panama - Not a Fourteen Eyes Country AND Not an Enemy of the Internet. |
| Server Locations | 59 |
For years NordVPN has been dominating everyone's list of top VPN providers. With over 14 million clients worldwide, a diverse and ever-growing server network, and tons of unique features that is certainly justifiable. But the real question is — is NordVPN worth it?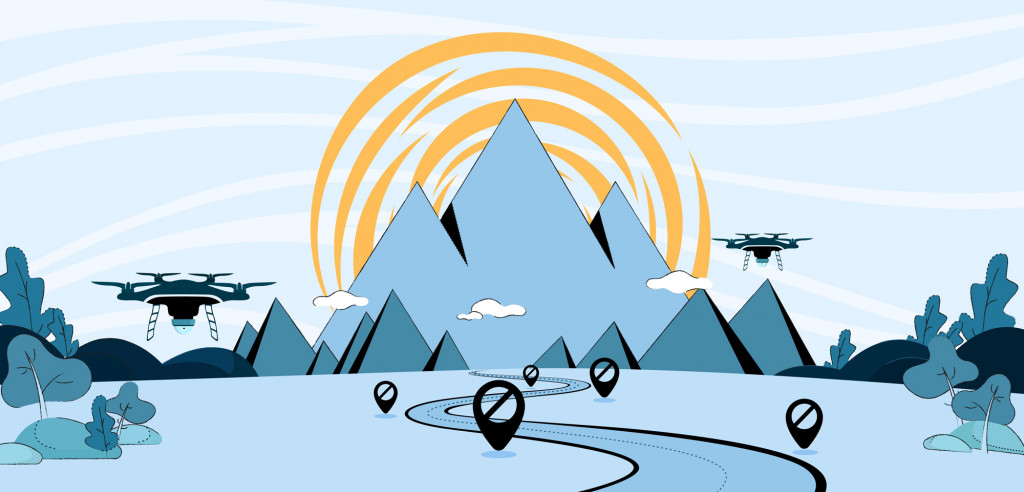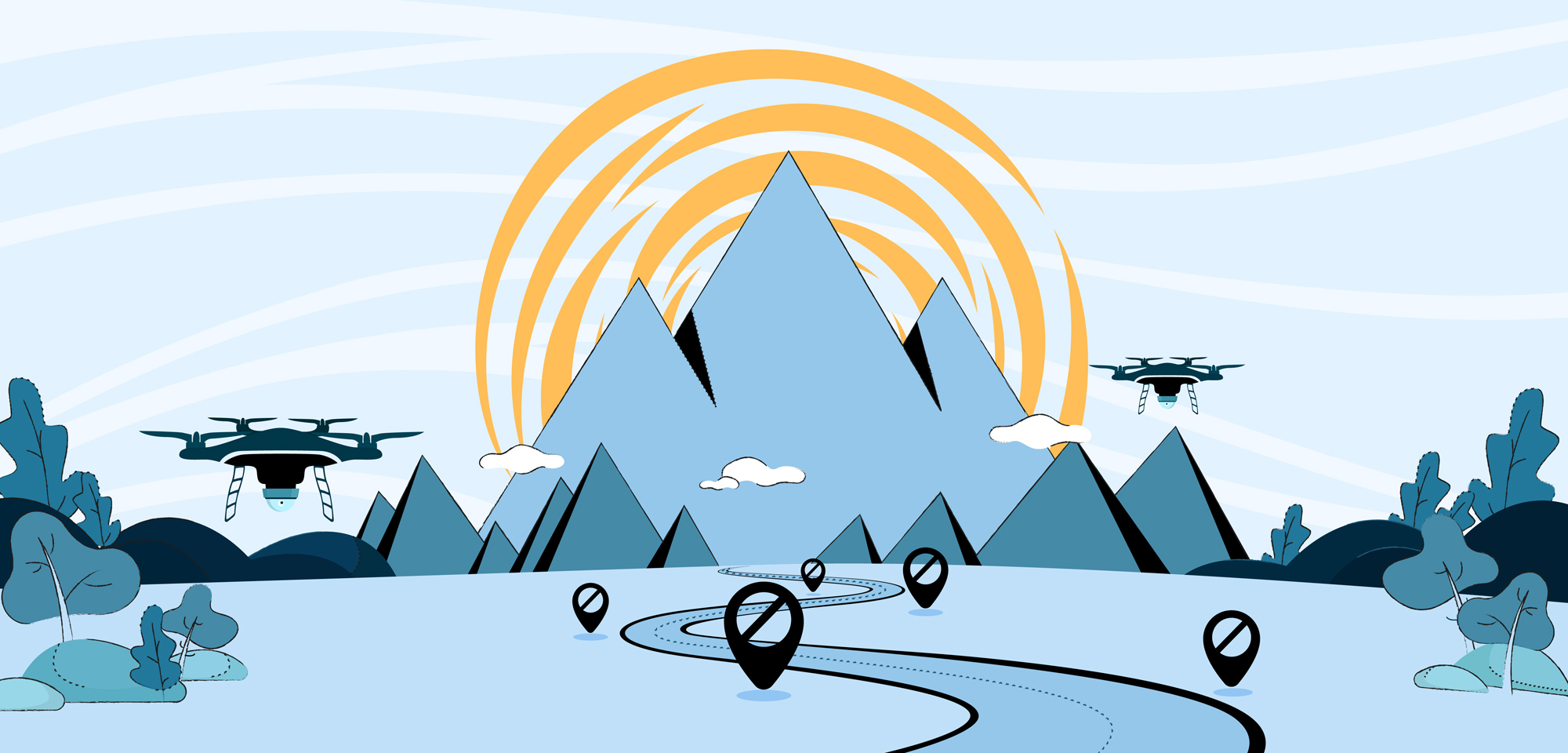 We've decided to put NordVPN through the wringer with our honest, thorough, and in-depth review. We ran the service through multiple extensive speed, performance, and security tests, tried it out on all the popular devices, systems and with all of our favorite services, checked out all of its extra features and tools. And now we feel we have the definitive answer to that question.

But first things first…
An introduction
NordVPN was founded in 2012 and is based in Panama — the Internet privacy haven perfect for a leading VPN provider's headquarters. Since the country does not have any censorship or data retention laws, nor is it a member of any international surveillance alliances, you can be sure all of your data is well protected and won't be handed over to a third party.
However, a 2018 US patent infringement lawsuit filed by Luminati Networks Ltd. (the company behind the infamous HolaVPN) alleged that NordVPN, in fact, belongs to a Lithuanian business solutions company Tesonet:
"Between November 2015 and June 2018, Hola had a business relationship with Tesonet related to HolaVPN and Tesonet's VPN service called NordVPN"
NordVPN has since debunked those rumors stating that its relationship with the Vilnius-based company was purely business. By 2022, when VPNs have become a bit more transparent with how they do things, it has become known that Tesonet is a local incubator that has released several VPN providers over the years.
But VPNs are reclusive creatures, so we cannot confirm nor deny any of that.
NordVPN servers and server locations
Local laws aside, a VPN provider is only as good as its server network. And, boy, does NordVPN have you covered.
As of October 2020, NordVPN had a network of over 5 500 servers across 59 countries all over the world. This isn't just great for speed, which is affected by how far away you are from the nearest server. With hundreds of servers across Europe, North and South America, Australia, and a rapidly expanding network in the Pacific, Middle East, and even Africa NordVPN basically guarantees you will never miss your favorite Netflix shows wherever you are.
NordVPN also claims that it is one of the few providers that doesn't use virtual servers. And while there is some controversy regarding whether that is completely true, the information mostly checks out and it might be comforting for some to know they are paying for an actual physical server.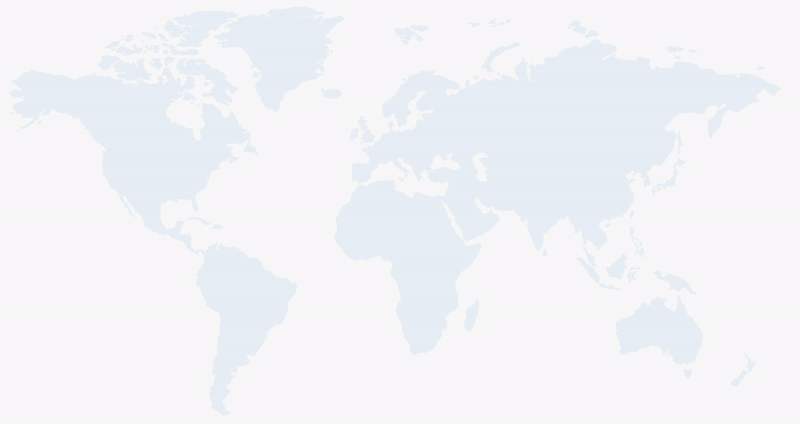 NordVPN Speed Test
So NordVPN has servers and locations covered, but what about speed? It really won't matter if you can connect to an American, Canadian, or Australian server if most of your time is spent waiting for the video to buffer.
The provider proudly calls itself 'the fastest VPN experience', but is that true?
Well, this really depends on the server you choose to connect to, how far away it is, what you use it for, and how much traffic it's getting. During our tests, we've encountered an average speed loss of 32% which is pretty impressive and shouldn't affect your streaming or gaming experience. But if what you're looking for is constant online protection without sacrificing your online performance, NordVPN delivers like no other.
Here are the results we got when connected to the provider's fastest and closest server: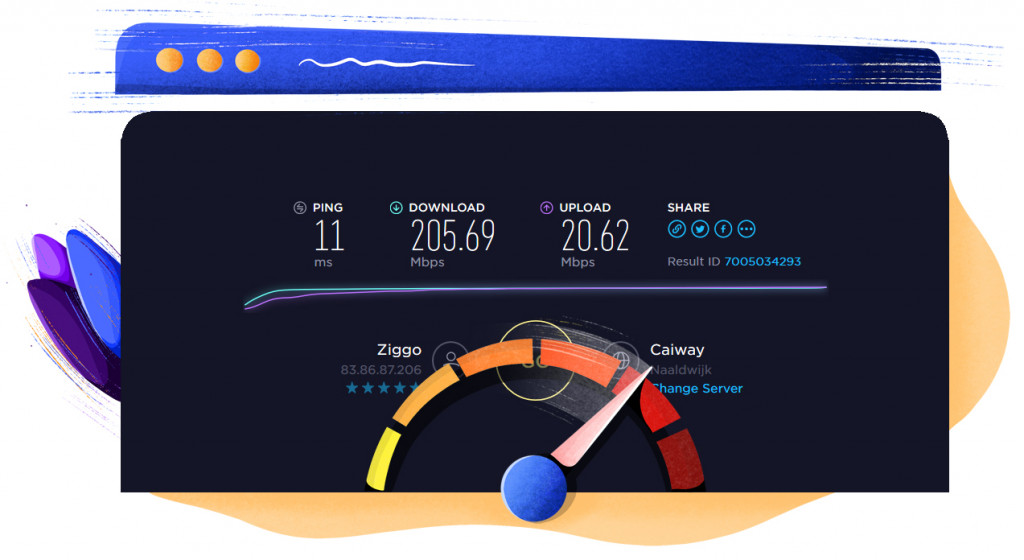 This has basically left our regular connection without any kind of negative impact and has actually improved our download speed by 2.4%! And that's actually more than you can ask off a VPN provider.
But that's not to say that the rest of NordVPN's European servers are not performing at their peak capacity! Check out the results we got when connected to a random server in Europe: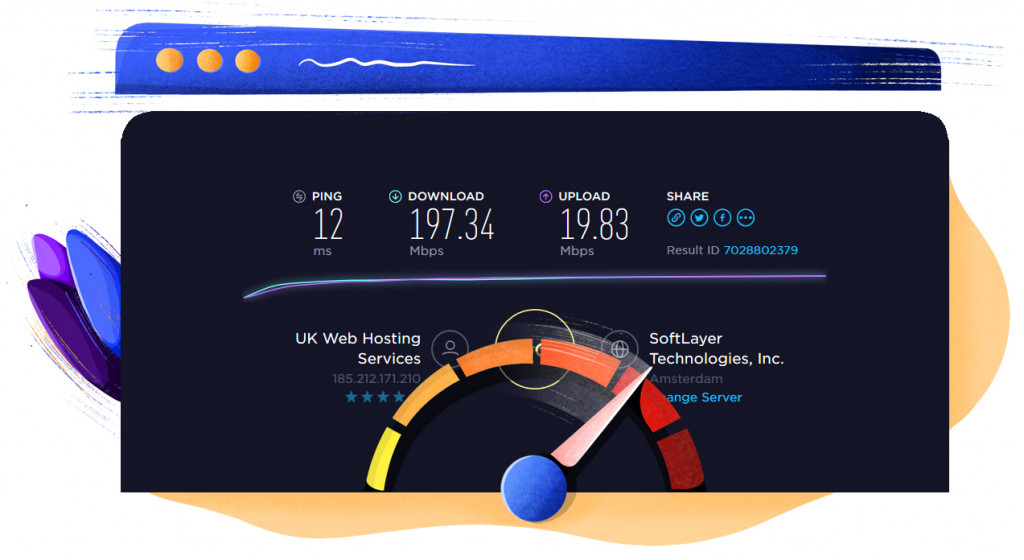 Barely any change in performance with just a 1.3% drop find download speeds.
Impressed by Nord's performance so far, we've decided to take it to the US and see how well the American servers do. And, as you would expect, the results were as great as ever: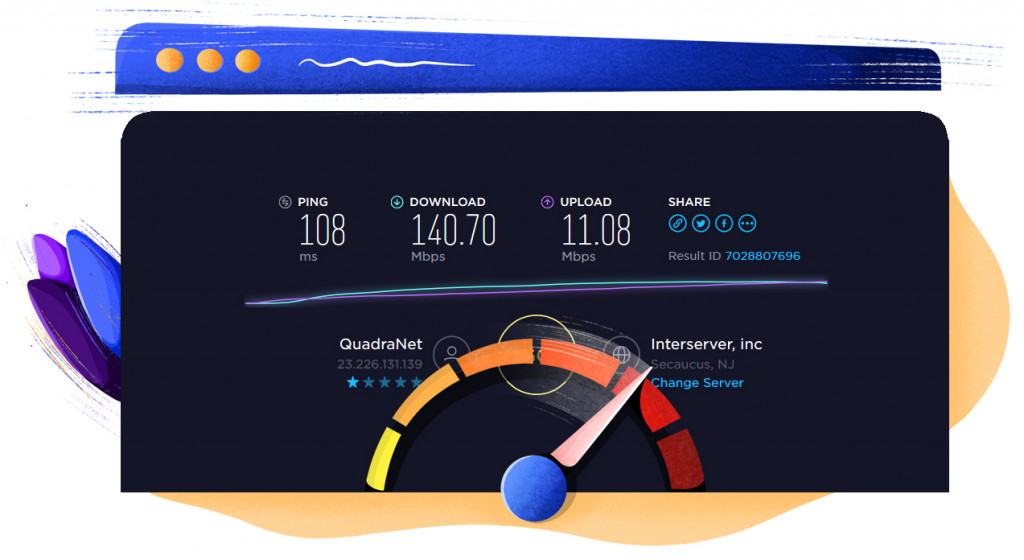 Sure, the speeds dropped and the ping increased. But all things considered, this is an amazing performance and very few other providers can actually outdo Nord when it comes to speed.
In a nutshell: NordVPN generally provides consistent speeds and maintains a strong connection without any game-breaking issues. We haven't encountered any problems with streaming content with any of the popular services, browsing went smooth, Torrenting was a breeze and most of the servers seem very reliable and stable. That being said, your personal experience with NordVPN may be very different and depend on tons of factors.
NordVPN offers the user a 'Quick Connect' option which automatically chooses an optimal server to ensure high speeds and a stable connection. So unless you are looking for something specific or trying to bypass geo-blocks, we suggest using that feature to ensure the best possible experience.
Bottom line: NordVPN is definitely one of the fastest VPNs today.
Futureproofing with faster servers
In the second part of 2020, NordVPN started a massive update of its server park, replacing its 1 Gbps servers with new and improved 10 Gbps ones.
This was a massive and rapid step up as until then the provider only had two 10 Gbps servers placed in Amsterdam (the Netherlands) and Tokyo (Japan). But by December 2020 NordVPN had already upgraded 20% of its server park.
While most providers are still doing fine with 1 Gbps servers, NordVPN looks to the future and plans to stay one step ahead. With VPNs becoming more common, and faster networks, such as 5G, turning into the new standard, speed is becoming even more crucial to any VPN provider. If they won't keep up, they will fall by the wayside. And NordVPN's upgraded server park, combined with its NordLynx protocol is sure to keep it ahead of the curve.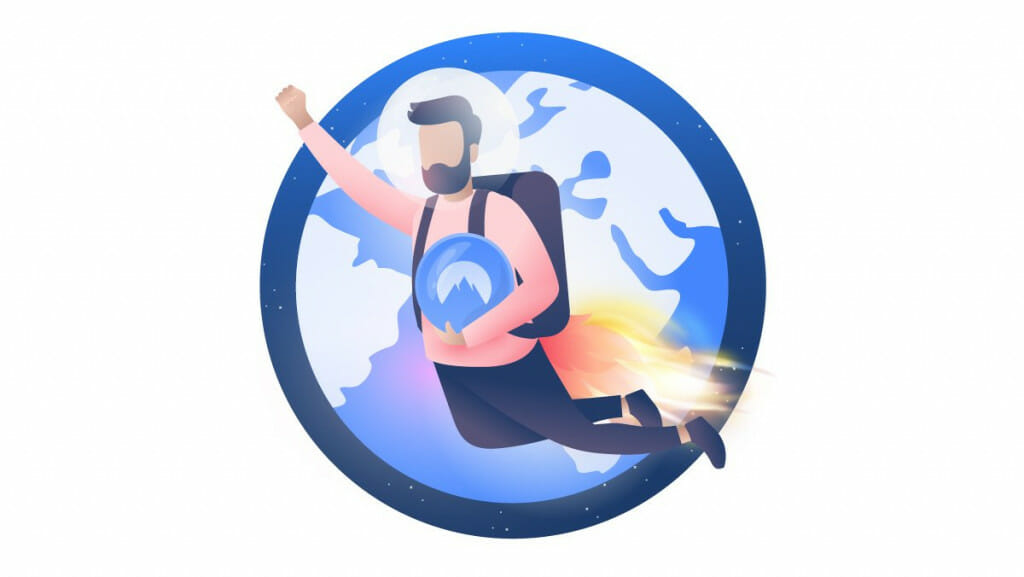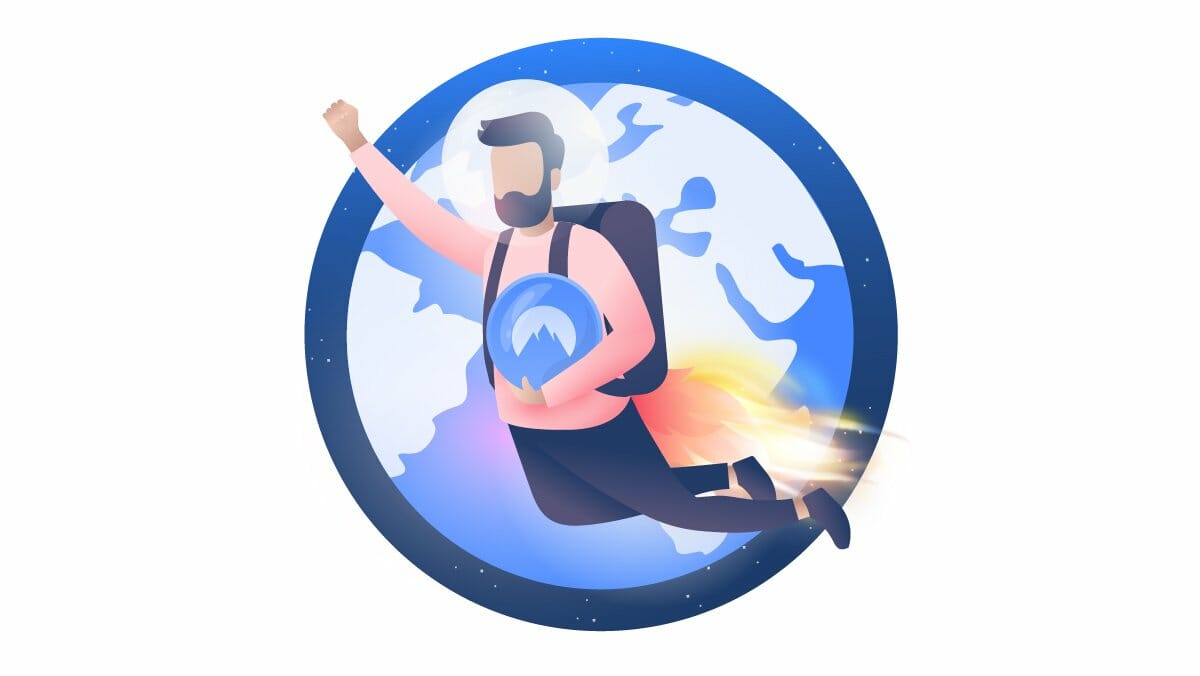 NordVPN security and privacy features
In this day and age privacy is everything. With governments looking to know everything you do and hackers breathing down your neck to steal your personal information, reliable protection should be at the top of anybody's list when choosing a VPN.

Luckily, NordVPN has got your back. With its strict 'no-logging' policy, military-grade encryption on par with the systems some government agencies use, and a bunch of special privacy and security features NordVPN has proven time and again to be one of the most reliable VPNs out there.
Where do we begin?
Encryption and supported protocols
NordVPN uses bleeding-edge AES 256-bit encryption which is the best possible option available today. This pairs well with the 'Perfect Forward Secrecy' (PFC) technology that assigns you a new key every time you log on so you appear to be a new user every time. This doesn't only mean that all the data of your previous sessions is completely erased and unrelated to the following ones, but in the unlikely event of you being hacked there simply won't be any personal information or history to steal.
NordVPN uses two of the most popular and secure encryption protocols today: the ever-popular and highly secure OpenVPN TCP/UDP which is the default, and IKEv2/IPSec (immediately available for Mac OS, but can be manually installed on the Windows client). On top of that, NordVPN is currently in development of its own NordLynx protocol built around the revolutionary WireGuard. It packs a serious punch in terms of security, speed, and flexibility and is already available to use with some of the servers.
Kill Switch
NordVPN is the only VPN that comes with not one, but two whole kill switches to ensure the best possible protection against de-anonymization and exposing your traffic:
Internet Kill Switch – this will block all of your traffic if the VPN connection drops.
App Kill Switch – it will close the apps you use, but will not stop the traffic.

CyberSec
CyberSec is a security feature that blocks ads, trackers, and malware domains. We gave the feature a spin and found that it effectively blocks any unwanted ads and suspicious sites.
There are several reasons you might want to use the CyberSec feature:
More privacy – with ads turning into advanced tracking tools that record your online activities for targeting advertisement, CyberSec can turn your online surfing into a much more private pastime.
Better security – online ads are often used to spread malware (malvertising) which can infect your device even if you don't click on them. CyberSec protects you and your devices by blocking all of the malicious domains based on a real-time threat list.
Improved performance – ads tend to eat up a lot of your bandwidth turning the Internet into the most frustrating experience. Blocking the ads with NordVPN CyberSec can greatly improve your online experience.
An improved experience – it's just so much better to go online without being bombarded with ads, pop-ups, and malware, isn't it?

Double VPN
NordVPN is one of the few VPN providers that offer a multi-hop option. This basically means that the service encrypts your data across two separate servers before going online. The multi-hop function is the must-have tool in the arsenal of modern-day political activists, journalists, and anyone else looking to protect their freedom of speech.
This feature offers several benefits to those concerned about their privacy:
An extra level of security – double encryption and the mix of two protocols makes your connection virtually unhackable.
Total IP protection – since your IP was changed by the first server, the second has no information about you and cannot be traced back to you.
Absolute privacy – nobody, not even your own ISP will ever know your final destination on the Internet (they will, however, know that you are using a VPN).


Onion-over-VPN
For those looking for maximum online security, NordVPN is one of the few VPNs that work with the Tor Network. The Onion-over-VPN feature adds another level of encryption using the Tor Network on top of the standard VPN server before connecting to your destination on the Internet.
There are several reasons you would want to take advantage of this advanced option:
Simple access to the Onion network – just one click and you're there.
Extra security – with two independent levels of encryption you can be sure no one will ever steal your personal information.
Absolute privacy – with this level of encryption no one will ever find out what you've been doing online.
The trade-off for this extra level of security is that the Onion Network is very slow, so don't expect lightning-fast speed.



Obfuscated server technology
As soon as somebody realized VPNs can be used to bypass local blocks, they started looking for a solution. Internal networks, such as schools and offices, ISPs, sometimes entire countries developed VPN-blocking firewalls. As soon as these firewalls detect VPN-specific traffic, they block you from accessing whatever you want to access.
Banning stuff is easy. Working around those bans, on the other hand, is not. Recently, NordVPN has established a network of obfuscated servers, designed specifically to bypass these firewalls, make VPN data undetectable, and let you access anything from anywhere.
NordVPN implements this technology using several methods:
It adds additional SSL/SSH encryption to add another level of encryption, and hide VPN metadata;
Scrambling data and making it appear as regular HTTPS traffic filled with meaningless information that firewalls and blocks can't recognize;
Only a handful of VPN providers have this technology, which makes NordVPN stand out even more.
Obfuscated server technology can be used to:
Conceal the fact you are using a VPN from your ISP, local networks, or even the government;
Bypass VPN blocks and access websites and platforms that ban the use of VPNs;
Add an extra layer of security to your connection, especially if you are working in heavily restricted regions.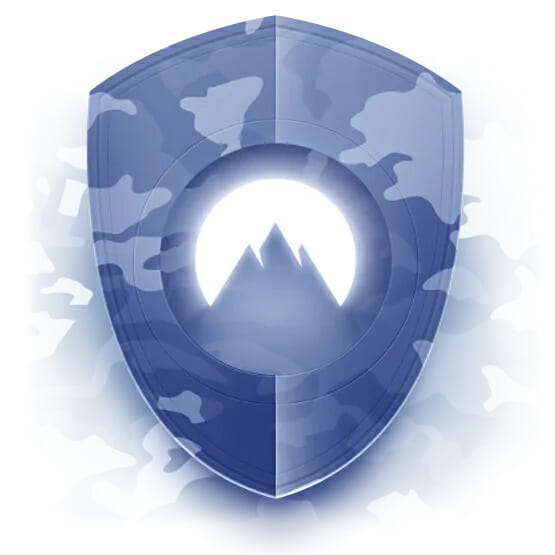 Split tunneling
A recent update finally introduced the long-awaited Split Tunneling feature to the NordVPN app. Surprisingly, NordVPN didn't have this feature for years, but now it's finally here.
Split tunneling is a handy little feature that allows you to choose, which traffic goes through a secure VPN tunnel, and which uses the regular connection. With this feature, you can stream content from across the world with one browser, while having access to local content with another at the same time. Or you can add an additional layer of security to all of your messaging apps, while browsing the web or watching local content. You can also enable split-tunneling to handle just your P2P connections, without impeding your Internet speed for other activities.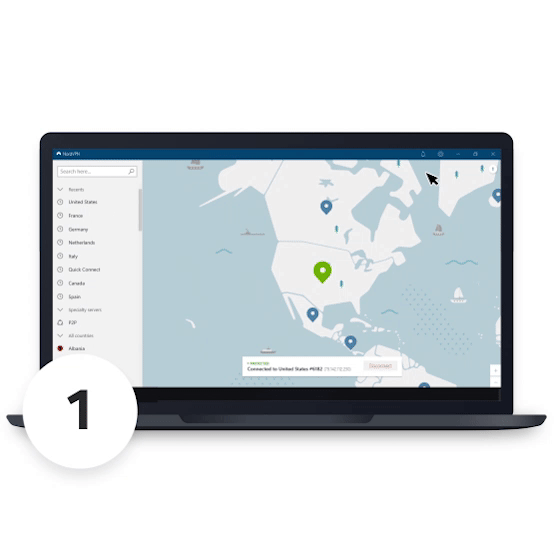 However you wish to use it, split tunneling is a very welcome addition to NordVPN.
Split tunneling is currently available only on Windows and Android, with a release on other devices scheduled for the near future.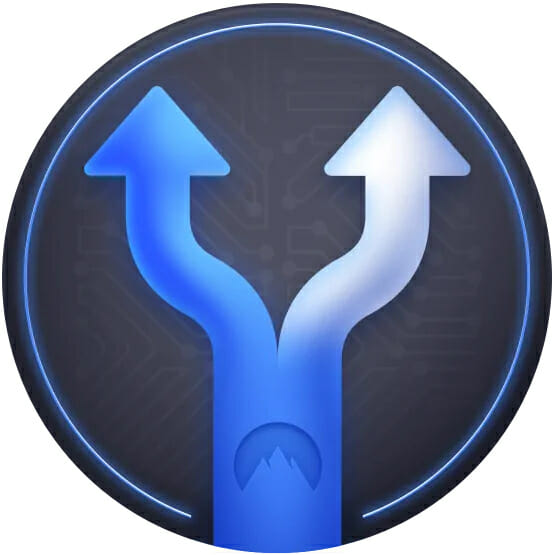 The 2018 breach
Ok, let's address the elephant in the room.
Presumably, on the 5th of March 2018, one of NordVPN's rented servers in Finland was hacked. The company claims that the breach was made possible due to a poor remote management system setup by the server's owner without the provider's knowledge.
As stated by the company's officials, the most significant risk that could have come from the breach was that the attacker could have monitored the unencrypted traffic of users connected to that server and their end-destination on the Internet. However, a thorough investigation carried out by the provider showed that the hack had no traffic monitoring in place, and it could not get access to any user activity logs, because NordVPN doesn't store them:
"They did not discover users' identities, usernames, or passwords because none of our applications send user-created credentials for authentication"
Now, obviously, this looks bad for a VPN company.
Luckily, it seems NordVPN learned from this mistake. Since the incident, the company has taken steps to prevent any further breaches of this nature. It carried out a thorough internal audit to make sure none of the other servers were compromised, revamped its security standards for all of its data center partners, and has since carried out several extensive security audits by third parties that showed no major system vulnerabilities.
NordVPN firsthand
With this impressive line-up of features and options is the NordVPN app still easy to use and can the average user pick it up without having to take a special course?
You bet!
NordVPN has always offered excellent customer experience and usability regardless of the platform or device you use. The setup is very straightforward and gets you started with the best options enabled right of the bat. Afterward, you can always adjust the client to better suit your needs and preferences.
The app goes for a slick, minimalistic, and simple design so that any user can quickly get the hang of it. The Quick Connect option at the top of the screen will immediately connect you to the best performing server nearby. But if you need to connect to a specific country or server, there's always the option to use the neat map or use the country and server list on the left part of the app.
From there you can also access all of NordVPN's settings and adjust them to your personal preference.
There are some differences between NordVPN clients for different platforms and devices, but those are few and won't require you to get used to the app all over again.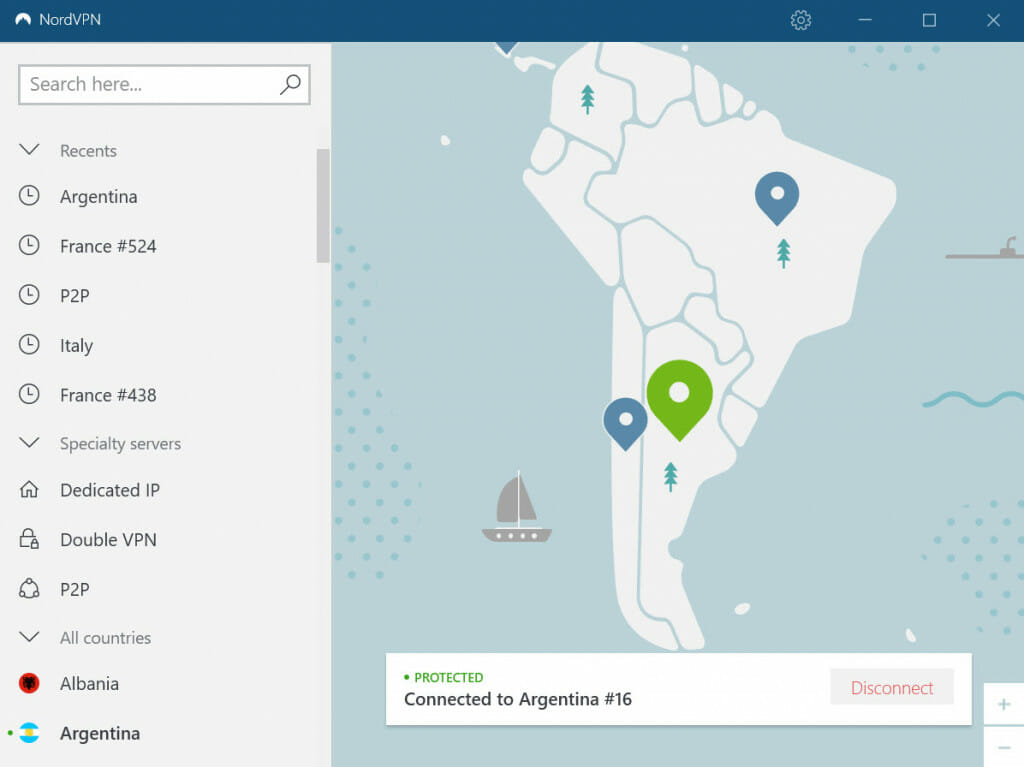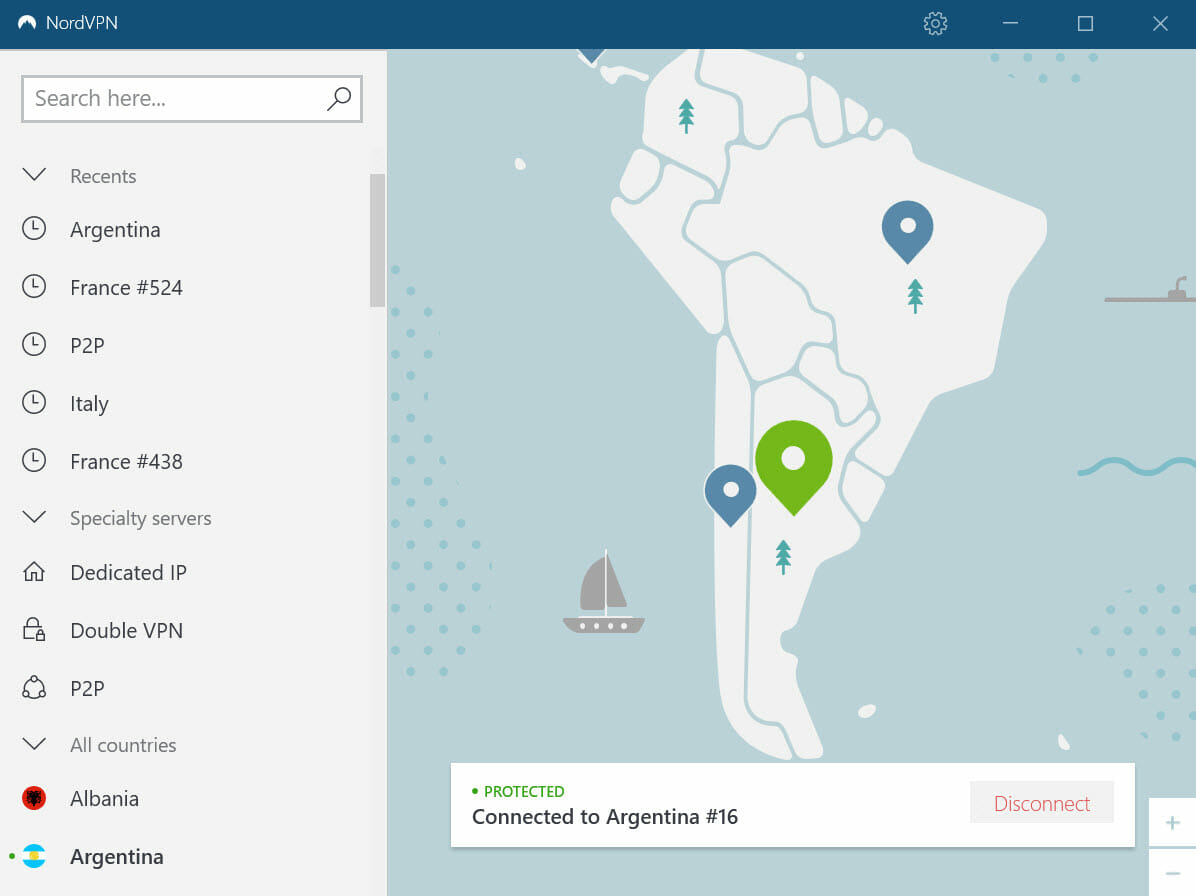 Mobile Apps
Mobility is everything. So how does NordVPN keep up with today's fast-paced world?
As you would expect, NordVPN has apps for both Android and iOS devices. Both versions are optimized for use with their respective platforms for a smooth and seamless experience.
Both apps also employ the use of dedicated Android and iOS servers to always ensure great speeds and an optimized connection.
Interestingly enough, the mobile apps also have all of the desktop client's advanced features, including Double VPN, Onion Over VPN, a Kill Switch, and Custom DNS.
Unlike the desktop clients, though, the apps also feature split tunneling, giving you even more options for all your Internet needs.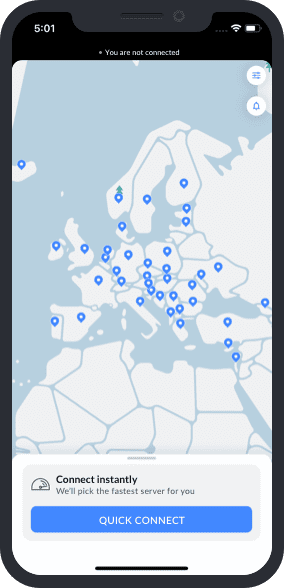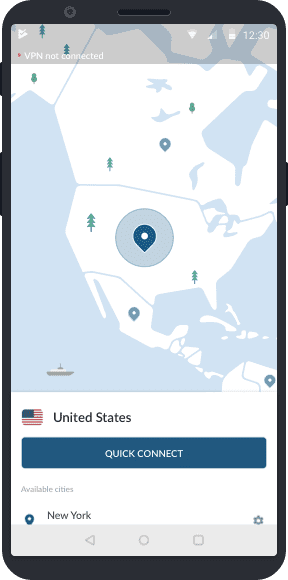 Browser Extensions
NordVPN also offers browser extensions for Chrome and Firefox and is one of the few providers whose extensions work with both desktop and mobile devices. These lightweight and easy-to-use extensions will only encrypt your browser traffic and also offer you a few extra features, such as CyberSec to block ads and protect you from malware.
For an extra layer of protection, the extensions come with a default WebRTC feature to protect you from accidental IP leaks browsers are famous for.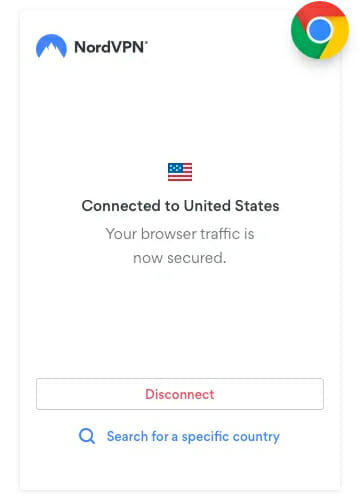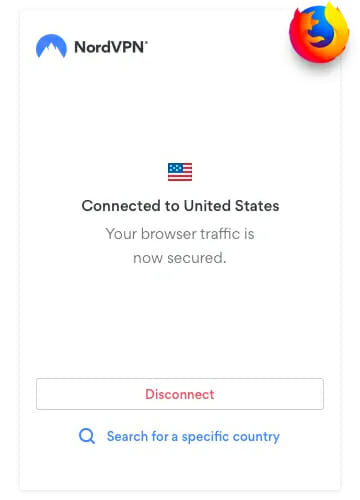 Does NordVPN work with Netflix and other streaming services?
Streaming is the #1 reason people look into getting a VPN subscription. Why should you settle for the shows available with your local Netflix or limit yourself to the streaming platforms available in your country? And with the streaming services clamping down on VPNs it is fair to ask, whether NordVPN is any good at bypassing geo-blocks and unblocking streaming services?
NordVPN has a SmartPlay function specifically designed to bypass geo-blocks and other restrictions, allowing you easy access to otherwise inaccessible content.
Here's a rundown of streaming services that NordVPN is compatible with.
Even though Netflix has begun an all-out war against VPNs, blocking several of their IPs, NordVPN cuts through all of those restrictions with ease. We found out that 95%+ of NordVPN's servers still work with Netflix and allow you to stream all the content you want.
While some are already over the Mandalorian, others still have several months to go before Disney+ in launched their respective countries (and some may even never get it). NordVPN allows you to connect to a variety of servers where Disney+ is already available and enjoy all of its content with consistent speeds and without any restrictions.
Even though the popular British streaming service has some of the toughest geo-blocks, NordVPN knocks them all down with ease. Simply connect to a UK server and enjoy a weekend of binge-watching the best Britain has to offer.
The variety of Amazon Prime Video content is incredible. And NordVPN lets you watch all of it wherever you are and whichever library you prefer.
Apple TV+ offers a lot of unique content you won't find anywhere else. And NordVPN lets you watch all of it!
Hulu
NordVPN does grant you access to the popular Hulu streaming service. However, A VPN is not enough to stream Hulu. We suggest checking out our full guide on how to unlock Hulu using a VPN.
NordVPN is one of the best VPNs out there to stream your favorite sports. Whether you prefer ESPN+ or ESPN3 this provider has got you covered.
Is NordVPN good for gaming?
If you're a hardcore gamer chances are a good connection means the world to you. With the tendency of VPNs to lower internet speed and increase ping, a VPN may not be the best option for a smooth gaming experience where twitch reflexes are key.
That being said, NordVPN is still one of the most reliable VPNs out there for gaming. Even though Xbox and PlayStation do not support the built-in NordVPN functionality it is fairly easy to set up. And with consistently high speeds and a lot of dedicated gaming servers, NordVPN is sure to provide you with a silky-smooth, buffer- and lag-free experience.
In some cases, if you are playing with a bad connection, NordVPN can actually increase your Internet speed and make your gaming experience that much more enjoyable. It is also one of the top tools to use against bandwidth throttling, as well as DDoS attacks (but you are probably safe there).
But the single best feature NordVPN offers gamers is unlimited access to the world of gaming as well as the opportunity to take advantage of the best deals on the market.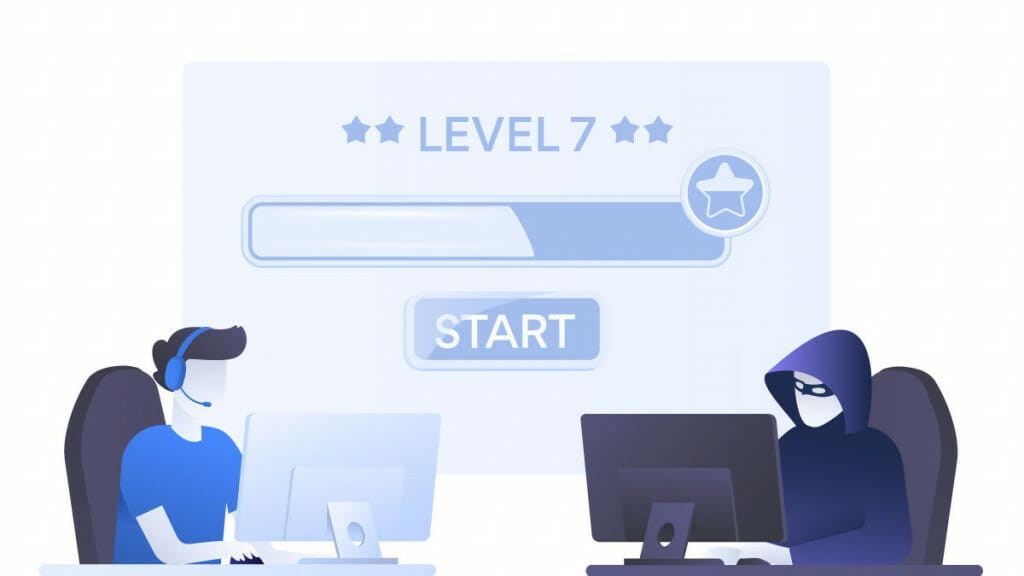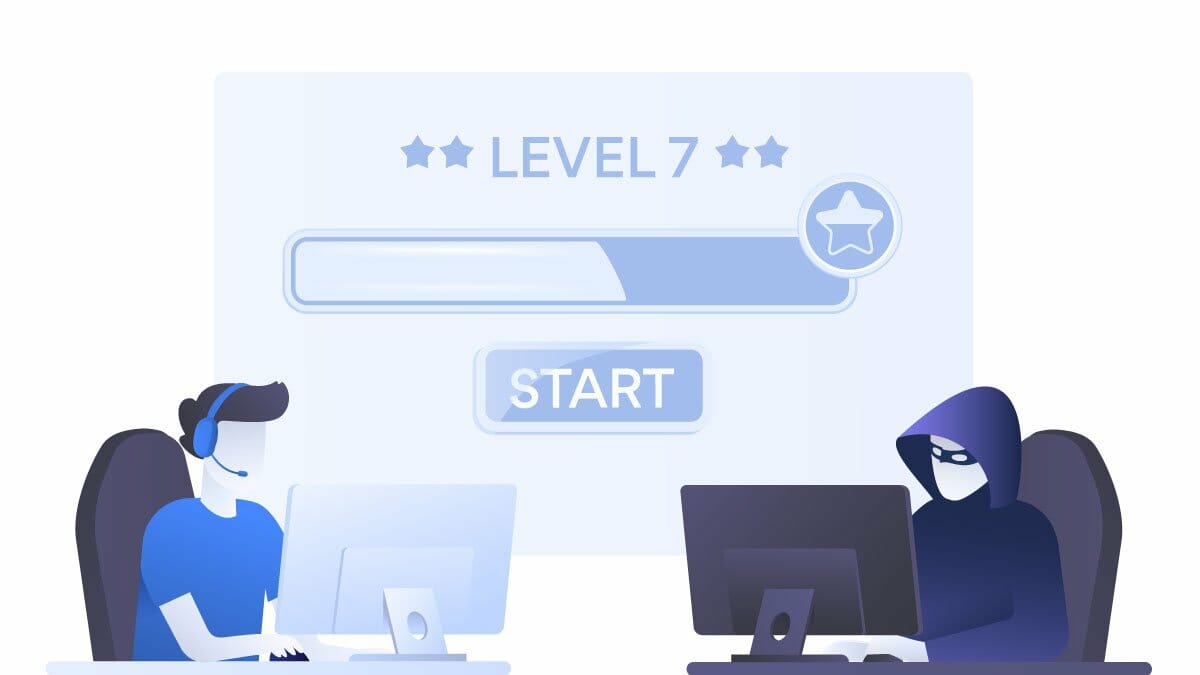 Wherever you are you can always check out what's new in your favorite marketplace, access foreign Steam regions to take advantage of the best deals, and even get your hands on some games early.
Does NordVPN work for Torrenting?
You didn't hear this from us, but yes, NordVPN is perfect for using BitTorrent.
With countries all over becoming tougher on Torrent users, NordVPN is here to help with a slew of P2P-friendly servers around the world.
With a P2P option in the apps, NordVPN will automatically find the best suitable server for your location. And even if you forget to enable the option, if NordVPN detects P2P activity it will automatically reroute you to a torrent-friendly server.
Along with its top-notch P2P support, NordVPN has a bunch of other features for Torrent enthusiasts, such as its no-logging policy, several layers of DNS and traffic leak protection, and even SOCKS5 proxies for faster download speeds.

How much does NordVPN cost?
Advanced security options, impressive speeds, a stable connection are all great, but it all comes down to how much a VPN costs and whether the buck is justified by the bang.
It warms our hearts that, despite its stellar reputation and a bunch of special features, NordVPN is still one of the cheapest VPN services around. Albeit not the cheapest one, but still very affordable.
Like most VPN providers, NordVPN offers several plans, so you can choose the one that best suits your needs:


1-month plan for $ 11.95
1-year plan for $ 4.92/month
A crazy 2-year plan that will cost you just $ 3.71/month and will save you up to 68% in the long run.
Beware of the small print though, as the sneaky people at NordVPN renew your subscription at full price after the initial period.

What payment methods do they accept?
If you are thinking of getting NordVPN, you have a wide variety of payment options.
NordVPN accepts most of the popular payment methods including credit cards, prepaid cards, Google Pay, AmazonPay, UnionPay, iDeal, even cryptocurrencies among others.
Some of the payment options may vary depending on the region you are in.
Does NordVPN accept PayPal?
NordVPN has had a difficult relationship with PayPal.
In early 2020 the provider stopped payments through PayPal in most locations due to what NordVPN described as "ideological disagreements".
However, our research shows that the PayPal payment option is still available in some countries, such as Germany and France.
NordVPN is currently implementing the Paddle payment processor which allows you to make payments via PayPal.
Is there a free version?
It makes sense that you would want to test if the VPN suits you before committing to a long-term payment plan.
NordVPN doesn't have a free or trial version, per se, but it does offer a 30-day money-back guarantee option. This means you can subscribe to a plan, try the service out for a month, and if by some miracle it doesn't suit you, they will fully refund you and cancel your subscription.

That's about as free as VPNs get!
Is NordVPN's customer service any good?
Any service is only as good as the people behind it. So let's say you are not as tech-savvy as us and need some help installing or tuning the app — would NordVPN customer service be able to provide you with support and assistance?
NordVPN actually offers several options to resolve any and all of your issues. Whether you are new to the world of anonymous browsing or an experienced user, NordVPN is there for you.
First of all, NordVPN has a dedicated support website that is full of over 500 pages of useful information, ranging from simple installation manuals to troubleshooting guides to the most advanced tutorials. It's a bit difficult to navigate when compared to other providers' support websites, but the information is definitely there.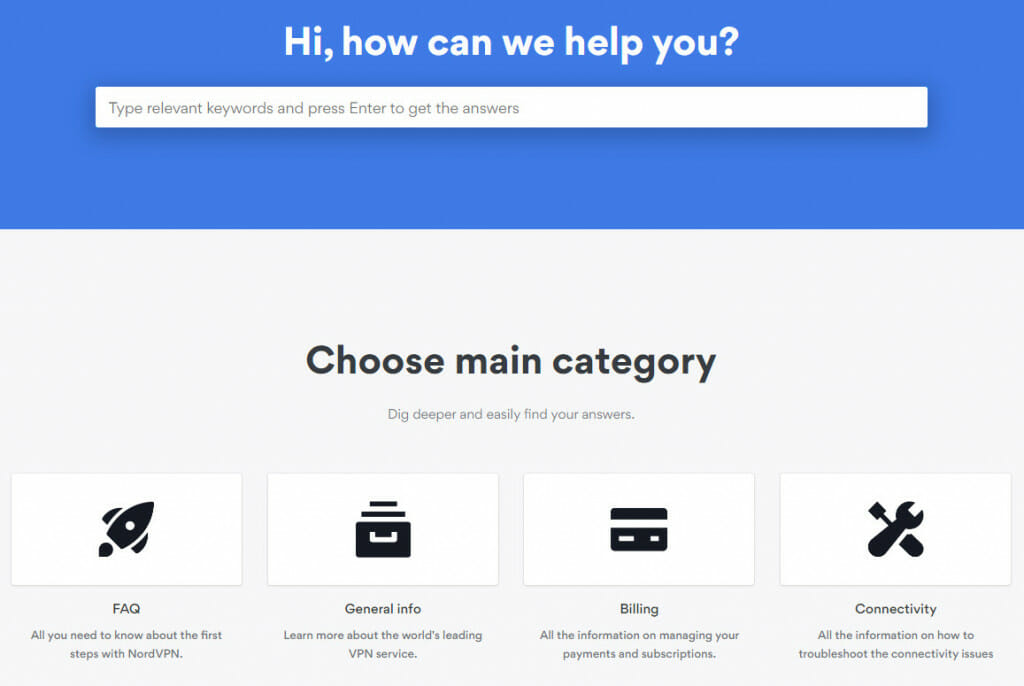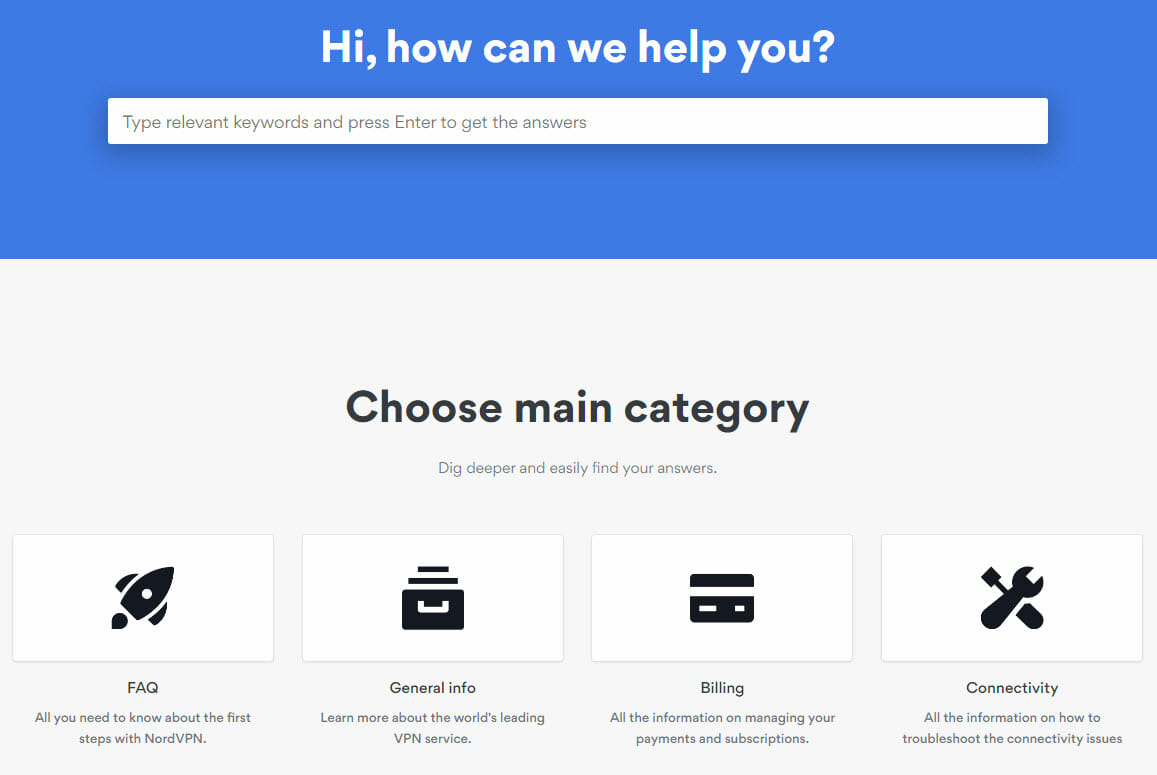 24/7 live customer service
In addition to a thorough support site, NordVPN also offers its customers 24/7 service via live chat or email.
We've checked out their live chat and we always got a response within a few minutes. The Customer Support Reps were helpful even though their answers were usually just copied from the FAQ page. If the support agent isn't able to solve your problem you'll get another assistant who is sure to help you.
Customer Service via Email works just as well but does take a bit longer. We recommend reserving this option for solving difficult issues.
So how good is NordVPN?
It's so easy to get lost in the many features, options, and tools NordVPN throws at the users. And we could honestly go on for hours. But the bottom line is: is NordVPN actually that good?
To be completely honest: yes, yes it is. With its impenetrable encryption, fast and stable speeds, a fleet of servers all over the world, flexible setting, intuitive interface, and a bunch of extra features NordVPN has definitely earned its spot among the best VPN service providers.
Every once in a while you may run into an unstable server, and some of the more tech-savvy users might find the client lacking some of the more advanced settings, but otherwise, NordVPN is just about the perfect VPN provider that is sure to satisfy any and all of your security, browsing, streaming, and gaming needs!

What platforms does NordVPN work on?
NordVPN supports most of the major operating systems and devices including Windows, Mac OS, Linux, iOS, and Android. NordVPN also offers browser extensions for Chrome and Firefox.
Does NordVPN keep logs?
NordVPN commits to a strict 'no-logging' policy. The service only retains your username and time of your last session for 15 minutes after you log out.
How many devices can you use NordVPN on?
You can connect up to 6 devices simultaneously via NordVPN. But you can also install NordVPN on your router and make the number of connections unlimited.
Does NordVPN have split tunneling?
Yes, NordVPN has the split tunneling feature available on Windows and Android apps.
Can you install NordVPN on your router?
Yes, you can, but only if your Router supports OpenVPN as a "Client". You can find a thorough guide on how to install NordVPN on your router on their support website.
Does NordVPN offer any solutions for businesses?
NordVPN offers businesses a package solution with NordVPN Teams which includes a secure and remote connection from anywhere in the world, private and shared gateways, and a lot of team management features.
Can you use NordVPN on Xbox and PlayStation?
Neither Xbox nor Playstation supports the built-in NordVPN functionality. But you can still install the service on your preferred gaming console with the help of NordVPN's thorough guides on their support website.
How much does NordVPN cost?
NordVPN offers several payment plans. The longer you subscribe to NordVPN for the lower the cost. And with a special offer courtesy of VPN Service you can get NordVPN for as little as 3.30$ per month.
What types of payments does NordVPN accept?
NordVPN is very flexible when it comes to payment options. They accept most of the major credit cards, iDeal, Google Pay, Amazon Pay, UnionPay, and even some cryptocurrencies.
Does NordVPN accept PayPal?
NordVPN is using the Paddle payment processor which allows making purchases via PayPal.
Does NordVPN have a free trial?
No, NordVPN does not have a free or trial version. However, it does offer a 30-day money-back guarantee option.
How to get a refund for your trial?
To get a refund on your 30-day money-back plan you simply have to contact their support team via Live Chat or Email.
How can you reach customer support?
You can contact NordVPN's customer service via chat on their support website or by Email.
What is NordLynx?
NordLynx is a security protocol developed by NordVPN around the infamous WireGuard. NordLynx is still in development but you can already use it with some servers.
What is NordPass?
NordPass is a service developed by NordVPN that lets you securely store, organize, and access all of your passwords from anywhere.
What is NordLocker?
NordLocker is an encrypted cloud service developed by NordVPN which lets you securely store and share up to 500 GB of data.