Overview
Private Internet Access is a highly popular service, and it's not hard to see why. Both the quality and quantity of the server network are top class, with excellent speeds and competitive pricing as the main attractions.
Ratings
Features
| | |
| --- | --- |
| Apps | Windows, macOS, Linux, Android, iOS, Chrome, Firefox |
| Price | $2.03 per/month |
| Payment methods | PayPal, Credit Card, Cryptocurrencies |
| Speed | 8.5 / 10 |
| Protocols | OpenVPN TCP/UDP, PPTP, L2TP/IPSec |
| Log Policy | No logs |
| Simultaneous connections | 10 devices |
| Based In | United States |
| Netflix | No |
| Torrenting | No |
| Streaming | No |
| Jurisdiction | United States - Five Eyes (United States, United Kingdom, Australia, Canada, and New Zealand) |
Private Internet Access (abbreviated PIA) excels in fast, reliable VPN-servers in countries where you need them most.
For this reason alone it is no surprise Private Internet Access is very popular amongst VPN users who want to reach US Netflix or the UK's BBC iPlayer from other territories. As well as those who are on the lookout for some anonymous browsing.
The total tally of servers may be smaller than that of other VPN providers. But the provider is constantly expanding its server pack and the servers it does have are without exception lethally quick, and hardly ever fail you.
PIA's 24,450+ servers in 77 important VPN countries mean it's possible to find a solid server almost anywhere in the world. The USA and Europe unsurprisingly lead in numbers of servers. But you won't have a problem connecting to one in Asia (with Japan especially well-served) or Australia. The odd one out are Africa, although Private Internet Access is clearly catching up for African regions.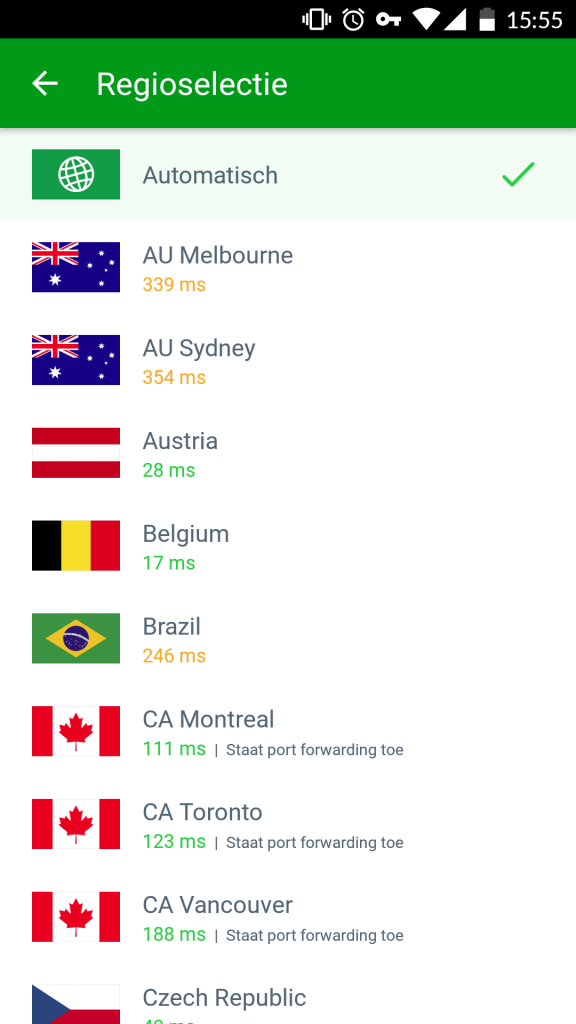 Private Internet Access Apps
The various applications Private Internet Access offers are up to most of their tasks, mostly, but are not without issues.
The spartan setup of the Windows app for instance makes switching servers a somewhat old-fashioned experience. First, you need to disconnect from a server, then select another one, then manually connect to that one. Steps that could use a touch of automation, if you ask us.
PIA's smartphone apps, like it's VPN for Android, have better designs, and also give more information about the connections. After installing it's a walk in the park to binge Netflix without having to worry about your privacy.
You can also use PIA to download torrents or even play online games. As long as you pick the server that covers your needs. App interfaces for smartphones are much easier to interact with than interact with the desktop client, so you can easily connect to a solid VPN server in a few taps. We also like the little dials that inform you of the quality of your connection in terms of up- and download speeds. But this information would be much more useful in desktop apps.
This strikes us as a bit off: while basic functionalities are roughly the same on both desktop and mobile apps, the latter has a much better design.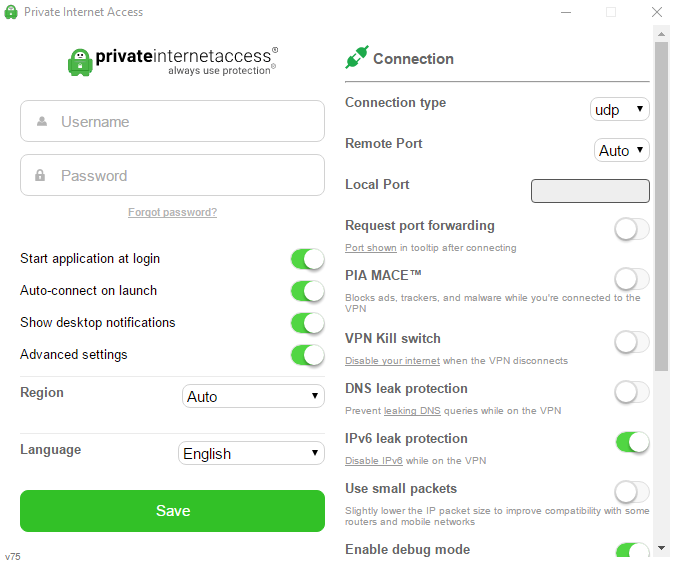 Geoblocking
Most VPN providers offer special services to circumvent geoblocking. But Private Internet Access is not one of them.
Of course, it is possible to reach a streaming service like US Netflix or BBC iPlayer through a PIA VPN connection. But the blocking efforts of these streaming giants clearly take their toll. PIA users need to switch servers a lot to finally land on a server that is not hampered by geo-blocking efforts.
Private Internet Access' base of operation may have something to do with it. PIA is based in the US and new laws there make it illegal to bypass geo-blocks. Good news for streaming services. But PIA-users, especially non-Americans, may want to consider other providers if they want to keep binging series on US Netflix.
Private Internet Access Speed Test
The speed of a VPN service is are largely dependent on the geographical location of the server, and on how stable their connection to the Internet is.
PIA really has this down to a T: their servers are without a doubt among the most stable and fastest VPN servers around today. Never mind the sometimes dubious claims by other providers to this title…
PIA's servers based in the US and EU are lightning-fast: it only takes seconds to connect to a VPN server, and you're off. Something we don't often see with other VPN's.
Of course, Private Internet Access' server park is only as fast a the infrastructure surrounding it. Connections in Asia and Australia are hampered by local conditions, impacting speeds independent of your use of VPN. Gaming in these territories, under these circumstances, is probably not a good idea. But when you get hold of one of the faster PIA servers, Bittorrent and streaming are no problem.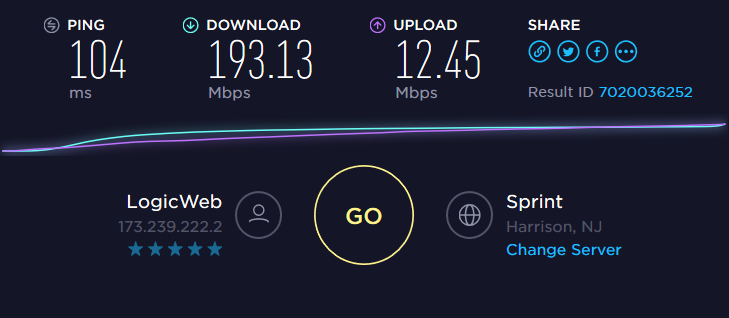 Private Internet Access' price and subscription options
Private Internet Access, like most providers, offers three subscription options.
The least expensive one is a three-year subscription for $2.03 per month. A year-long subscription is $3.33 per month, and there is a single month subscription for $9.95. With these kinds of prices, PIA can compete with some of the largest providers of VPN services. Especially when you take the quality and speed of the service into account.
To further increase its pull on new customers, we feel Private Internet Access could benefit from a free trial option, for a couple of days. The quality of the service speaks volumes, once you try it. Free VPN's are available, but we don't recommend using these.

Privacy and security
A reasonable yardstick for determining how a company deals with privacy issues is its stance on (changing) laws. In our opinion, Private Internet Access takes this very seriously, considering it stopped offering servers in Russia once the country changed its laws concerning Internet privacy, compromising anonymity for those who seek it.
Another yardstick is encryption. PIA users should feel relatively safe, although a recent form of protection in the shape of IKEv2 is conspicuously absent from the list of encryption protocols.
Apps use OpenVPN as a standard, with the exception of iOS devices (something that can be fixed by using a separate OpenVPN app and filing your PIA details there). The apps do, however, offer the possibility of setting up your own DNS server, further shielding you from cyberattacks.
You can find more info on testing your VPN connection in our dedicated article on this matter.
Torrents and Netflix
Although Private Internet Access offers no specialized functions to stream Netflix from territories other than your own, you can still use their service to unlock region-restricted streaming services and access content libraries from different countries.
Most servers will do the work just fine. But, as we wrote before, it may sometimes need some switching between servers to find the right host for your browsing activities. Speeds are generally great, so binging US Netflix won't pose much of a problem.
A nice, thoughtful addition to PIA's service is it allows BitTorrent and other Peer-2-Peer network activities on their servers. Other companies often restrict this to "just Bittorrent", so this is a nice exception to the rule.
Another nice perk is Private Internet Access' ad blocker, a default tool called MACE that's built into the service. No matter which device you use when you go online, your Internet will be ad-free. Both things add to our appreciation of the service, for they genuinely improve the overall quality.
Customer Support
Every PIA user, after installation of the apps, gets a randomly generated user name, one you won't be able to change. This seems a bit clumsy at first, but you'll start to appreciate the safety aspect of it. You won't be recognizable to strangers.
This username is used for correspondence with PIA's staff, without giving away your real identity.
Most customers' service questions are answered through an online form; getting an answer usually takes a couple of hours. Notably absent is a service with a quicker response time: there's no 24/7 chat service available, no phone hotlines, et cetera. PIA seems to be aware of the problem though. From what we saw, the company is working on customer service with shorter lead times. The service's staff often uses social media like Reddit to cater to the urgent needs of their clientele.
Lastly, we'd like to mention the highly practical tutorials that help you set up the PIA VPN on your router to use as a default gateway. With this kind of setup, you make sure your internet traffic is encrypted at all times. It requires a bit of router tinkering, which some users may find too much of a hassle, but it is actually quite easy to manage with the help of the aforementioned tutorials.
Conclusion
Private Internet Access is a highly popular service. And it's not hard to see why. Both the quality and quantity of the server network are top class. With excellent speeds and competitive pricing as the main draw.
Using BitTorrent, or streaming Netflix or iPlayer content is easy, and online gaming is doable too. Although it won't be without the occasional lag when you play with people in remote locations, but that depends on the general quality of their Internet connection. Still: when players in the US want to challenge EU or Asian gamers, or the other way around, PIA probably has the best VPN connection for you.
FAQ
What is PIA VPN Kill switch?
Kill-switch is a basic software primarily designed for controlling the connection status of a particular network adapter. If any changes in connection status or IP address are detected, it kills your internet access immediately.
In other words, it is a safety mechanism to prevent personal data from leaking in case the VPN connection drops.
How do I add PIA VPN to my iPhone?
You can install the Private Internet Access iOS app directly from Apple's App Store. You can also get PIA VPN on your iPhone from the official website.
If you go to the PIA VPN website, select "Support" at the top of the site and then "Client Download and Support." Click the "Download" button in the iOS app box. It will then take you to Apple Store, where you can download the app to your iOS gadget. Please note that the app requires iOS 7.0 or higher. After launching a VPN, you will need to enter your credentials from the welcome email and sign in.
How to set up a PIA VPN on a router?
PIA VPN can be installed on your router directly, however, it requires some tech knowledge. To configure it for DD-WRT, Tomato, LEDE, and ASUS-WRT routers, as well as pfSense gateways, we recommend you reading detailed setup guides from PIA.