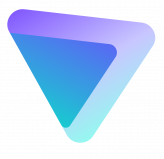 Overview
Headquartered in Switzerland, which is known for its unwavering commitment to privacy, ProtonVPN offers more than 1000 servers, including ones that are configured for Peer-2-Peer and TOR.
Ratings
In 2017, one of the most famous email services, ProtonMail, launched a new product, ProtonVPN. This was considered their response to the growing online surveillance and security threats.
Headquartered in Switzerland, which is known for its unwavering commitment to privacy, ProtonVPN offers more than 1000 servers in 54 countries. Some of them are marked as configured for Peer-2-Peer and TOR, which is really convenient in terms of UX. However, dedicated servers are only available to paying subscribers.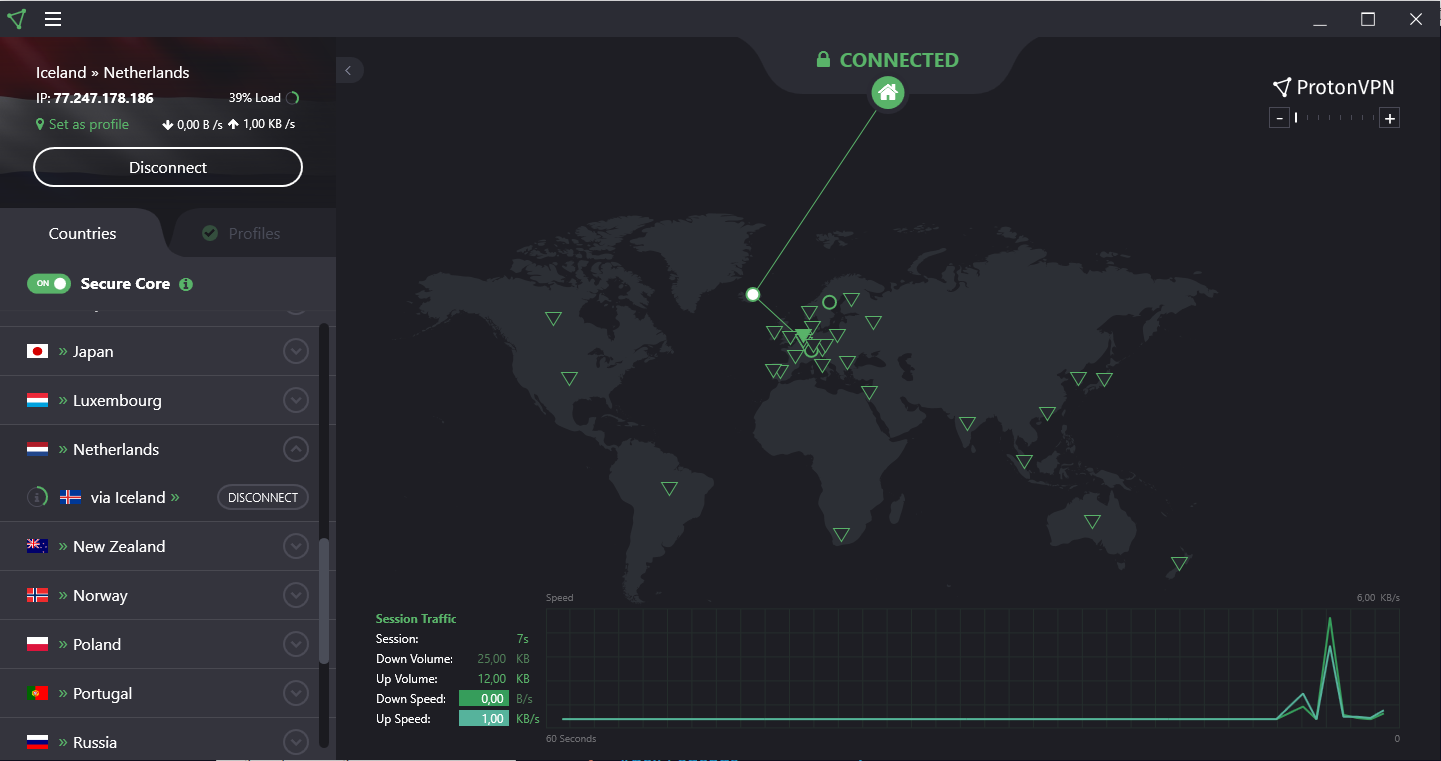 ProtonVPN Speed Test
Interestingly, with Secure Core, you get maximum security, but ping delays are high. If you use the standard modes, you will get pretty decent connection speeds.
Proton servers' connection speed is surprisingly good in regions such as South Africa and India. While not comparable to connections in the EU, our tests showed better results than some other well-known VPN providers. You should take into account that the performance between EU and US servers can differ significantly. Also, when connecting to an overloaded server, expect speeds to drop.


ProtonVPN streaming services support
Most of the streaming services restrict some TV shows and movies based on geolocation. With the free VPN, you can hardly unlock Netflix. ProtonVPN is able to unblock streaming services and different content libraries, however, you can only get the advanced streaming options with the Plus servers. To get this feature, go for the Plus or Visionary subscription plans.
In the Android and iOS apps, you'll see the Plus Servers list. In macOS and Windows apps, the Plus servers will be indicated by a 'P' icon on display. From then on, unblocking the American Netflix library is as easy as connecting to a US server.
To unblock Hulu on desktop, you need to connect to the Plus server in the U.S. Why is it essential to use Server Plus? Like other streaming platforms, Hulu combats VPN services for breaking its policy. If the company detects a VPN connection, it will block you from accessing its content. With the Plus Server option, the chances of this happening are slim.
With ProtonVPN, you can get Amazon Prime Video versions for Germany, UK, and the US. Thus, you will get access to the original content from Amazon, such as The Man in the High Castle, Transparent, and Sneaky Pete. The English Premier League can also be watched via ProtonVPN on Amazon Prime Video.
Keep in mind though, that accessing different Amazon Prime libraries is not as easy as reloading Netflix. You will have to take out a local subscription if you want to browse a foreign catalog.
To watch BBC iPlayer through ProtonVPN you will need to connect to the Plus UK server, log into BBC iPlayer, then sit back and relax.
Disney+ has already bought the Marvel Universe, the Star Wars franchise, National Geographic shows and documentaries, and Pixar films. Classic Disney films and some content from 21st Century Fox are also available on this platform now. Thanks to ProtonVPN, you can unlock the Germany, Italy, UK, and US versions of Disney Plus.
HBO Max may seem a little like Disney+, but it is packed with completely different and exclusive content. It streams shows from the WarnerMedia library, including TNT, TBS, Cartoon Network, Adult Swim, CNN, and all Warner Bros. and DC films. HBO Max is famous for such titles as The Wire, Deadwood, Friends, Wonder Woman, Rick & Morty, etc. The library also includes many classics and new movies from its original production. ProtonVPN users can watch all of this and even more, being anywhere in the world.
ProtonVPN for gaming
Did you know that online players are often spied on? A threat to your privacy may even be hidden in game design! For example, when you use your webcam or microphone to chat with other players. Some companies record your data to sell it to advertisers, while others collect vast amounts of data for their own sinister purposes.
No one can be sure their data is safe on gaming companies' servers: you've probably already heard stories about hacker attacks and data leaks. Indeed, fraudsters can steal your identity and damage your reputation in the gaming community.
Another reason to use ProtonVPN for gaming is its server park. Whether you are playing Counter-Strike or PUBG, you can switch to any other server at any time.
Privacy
Is ProtonVPN Safe? ProtonVPN is based in Switzerland and the Swiss are fierce advocates of privacy. The website's privacy statement is clearly worded and seems to rule out most forms of logging.
All ProtonVPN apps use OpenVPN with IKEv2 encryption by default. When testing the connections, we found no leaks. Your DNS requests are sent through ProtonVPN DNS, and your location and IP address remain entirely hidden from the websites you visit. On top of that, the Kill Switch feature works flawlessly on the desktop.
For those looking for maximum online protection and privacy, ProtonVPN offers Secure Core. This feature efficiently transfers your data across multiple VPN servers. It makes it very difficult for other people to determine your exact location, but it comes at the cost of a slight decrease in speed. Secure Core connections use dedicated servers located in secure bunkers in Switzerland, Sweden, and Iceland. All of these countries have excellent privacy policies.
ProtonVPN subscription plans and pricing
ProtonVPN is one of the few providers that offer a genuinely free VPN with no data limits.
We are not fans of free VPNs, though, as they are often quite questionable. However, if you are dead-set on using a free VPN, ProtonVPN is probably the best option you can go for. The free version grants you access to standard servers in three countries: the Netherlands, Japan, and the U.S. These are slower than the premium ones, but they are sufficient for regular web and social media browsing.
ProtonVPN used to have an extremely layered, complicated system of plans and prices. However, with their recent revamp of the entire website, they have finally refined their payment system and made it more in line with what's common in the VPN industry.
So, these days ProtonVPN gives you three premium subscription options:
The 1-month plan is the most expensive one and will cost you $9.99.
The 1-year plan gets you 40% off and is $5.99.
And, of course, the longest 2-year plan is the best option which saves you 50% and will only cost you $4.99 per month.

Usability
The ProtonVPN app looks very nice, there you can quickly find the features you want.
By default, the application uses the IKEv2 encrypted protocol, one of the best security options available today. The interface has a handy map next to the server list. It allows you to connect to specific locations manually, however, the final server choice is up to the application.
ProtonVPN also features a handy feature that allows you to check your network speed on the fly. This is a very welcome add-on, as it allows you to monitor the service's performance without running an external speed test.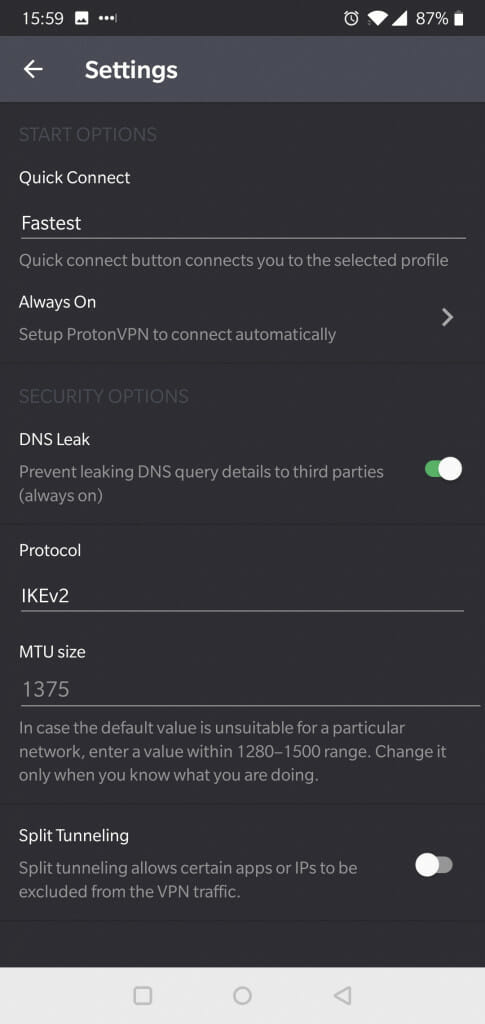 Users can create specific profiles that will automatically connect to the fastest server or a specific country. Another interesting option is split tunneling, which allows you to configure certain programs not to use a VPN connection. It helps these programs use your regular fast connection at the cost of losing data security. However, the traffic that is routed through a VPN connection will remain safe.
Proton VPN for Android and iOS works the same way as the desktop application. All functions available to Windows and macOS users are present on mobile devices. The app is fast, easy, and reliably prevents data leaks.
What is ProtonVPN Secure Core?
The Secure Core option is a double VPN server configuration routed through ProtonVPN servers. In short, your data will first get routed through one of the Secure Core servers before going to the second VPN server and exiting the encrypted tunnel.
Is ProtonVPN good for gaming?
By using ProtonVPN, you can access game releases that might be geo-protected as well as purchase games for better prices in different regions. You can also switch to a more appropriate server when playing online games with your friends abroad. ProtonVPN has three different plans making it suitable for gamers of all levels.