A VPN with a powerful bite!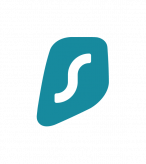 Overview
Surfshark is quickly becoming one of our favorite VPN providers. Air-tight security, incredible speeds, and an avalanche of unique features and options are quickly making it one of the best VPN providers in the world!
Ratings
Features
| | |
| --- | --- |
| Apps | Windows, macOS, Linux, Android, iOS, Chrome, Firefox |
| Price | $2.49 per/month |
| Payment methods | PayPal, Credit Card, Cryptocurrencies, iDeal, Amazon Pay, Google Pay |
| Refund | 30 days |
| Speed | 9 / 10 |
| Protocols | OpenVPN TCP/UDP, IKEv2/IPSec, WireGuard, Shadowsocks |
| Log Policy | No logs |
| Simultaneous connections | Unlimited devices |
| Based In | Netherlands |
| Netflix | USA, UK, Australia, Germany, France, the Netherlands, Russia, Canada, Japan |
| Torrenting | Yes |
| Streaming | HBO Max, Hulu, Showtime, Amazon Prime Video, Paramount+, BBC iPlayer, ITV HUB, Channel 4, Crackle, Tubi TV, YouTube TV, Crunchyroll |
| Works in China | Yes |
| Jurisdiction | Netherlands - Nine Eyes (Five Eyes + Denmark, France, Netherlands, and Norway) |
| Server Locations | 64 |
VPNs have been around for a few years now. And it seemed that the place at the top has long since been taken by the providers everyone knows.
And yet, there was one VPN that arrived late and still ended up being one of the most popular kids at the party. Its name — Surfshark.

Surfshark: An Introduction
Launched in 2018, Surfshark was originally based in the British Virgin Islands — a self-governed part of the UK. For a while, this was a pretty good place to have a base of operations for an ambitious VPN. Back then, Surfshark actually shared it with ExpressVPN.
However, in 2021 Surfshark actually changed its base of operations to the Netherlands. While that might be seen as a change for the worse, we are seeing more and more VPNs going in this direction. We assume that VPN providers are doing this to have a more legitimate presence as a business. And while the Netherlands is part of international surveillance alliances, this is also one of the best places in Europe thanks to its incredibly strong privacy protection laws. User online activity requests are very difficult to file and process, and in most cases, they get shut down anyway. So we'd say, the data you trust Surfshark with is still as safe as ever.
In just a few years after its initial launch as a humble iOS app, Surfshark has evolved into one of the most unique VPN providers in the world. And not just because it doesn't have 'VPN' in the name for once.
But we're not here to make empty claims.  We're here to pass judgment. That said, let's take a look at how good Surfshark actually is.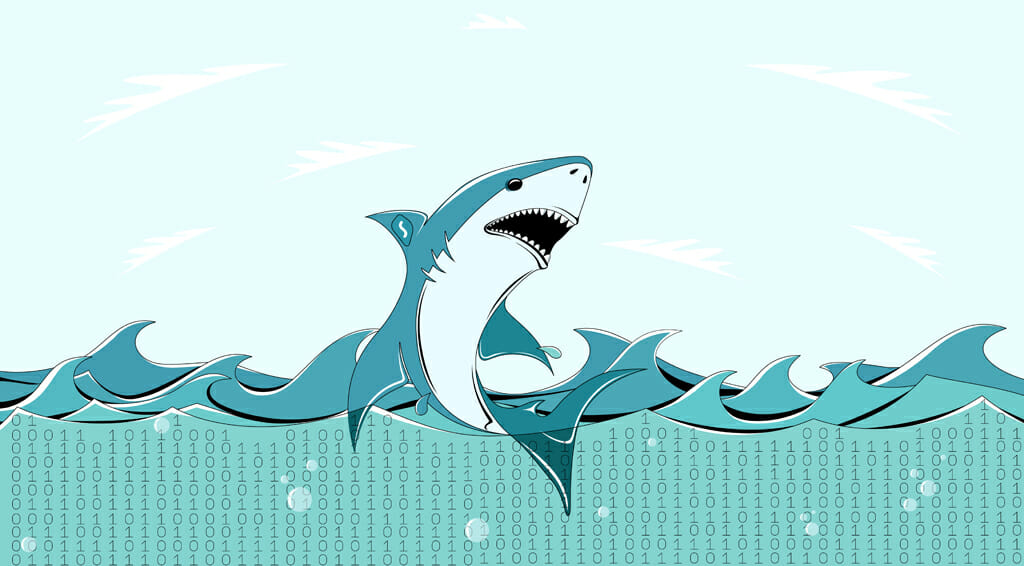 Surfshark servers
An expansive and reliable server network is a must for any ambitious VPN provider. More servers mean more options to have a fast and stable connection as well as access to any content from anywhere in the world.
And Surfshark definitely ranks up there with the best.
As of May 2021, Surfshark has a vast network of 3200+ servers in 65 countries all over the world. And that number is constantly growing.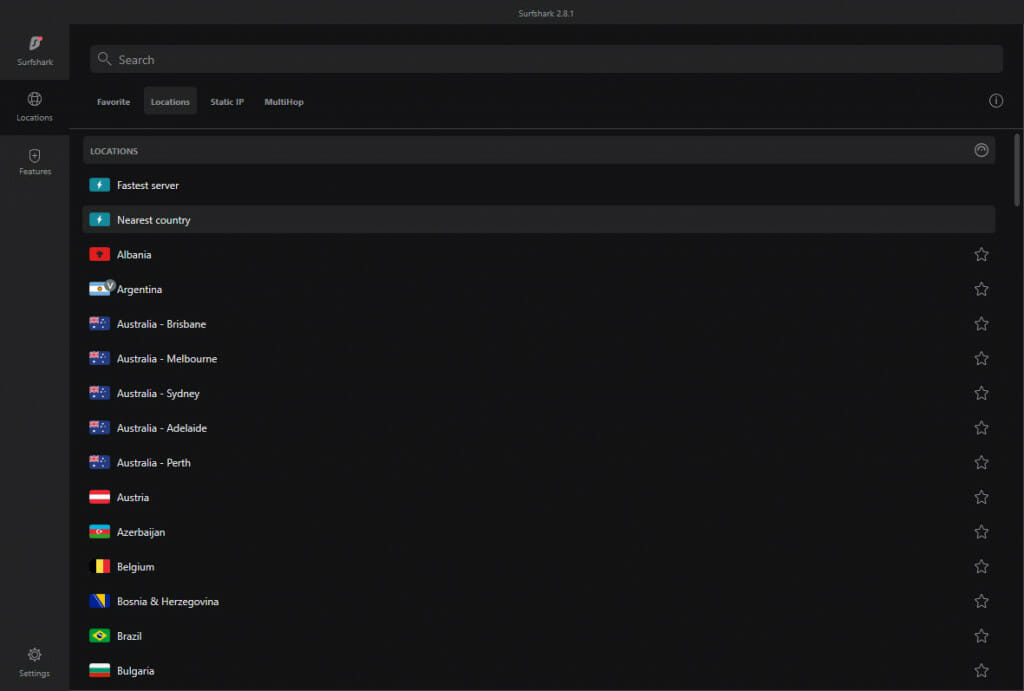 As with any VPN provider, most of the servers are located in the US (over 500 servers in 20+ locations).
However, unlike others, Surfshark also has servers in some of the more exotic locations. Those include Central and South America, Hong Kong, Asia Pacific, Africa, UAE, and even Russia where VPNs are actually banned. You can't but admire this devotion to bringing safe Internet and breaking down walls in some of the most restrictive regions in the world.
The next step in VPN servers
What Surfshark lacks in numbers, it makes up for in quality.
By July 2020 the provider has fully upgraded its physical server park to have 100% RAM-only servers. This made Surfshark the first VPN to have fully hard drive-free physical servers, ensuring more privacy, more security, and more transparency.
With RAM-only servers no information is stored on the physical drives and, thus, can't be manually extracted from them. On top of that, RAM memory is easier to wipe off any rudimentary data as part of routine maintenance.
All of this makes Surfshark's no-logging claims not just a fancy word.
---
While other providers are obsessed with numbers, Surfsharks took the time to ensure all of its servers are up to one standard. That is why all Surfshark's servers have private DNS, ensuring third parties cannot view your DNS requests, are P2P-optimized, Obfuscated, and support all of the provider's features.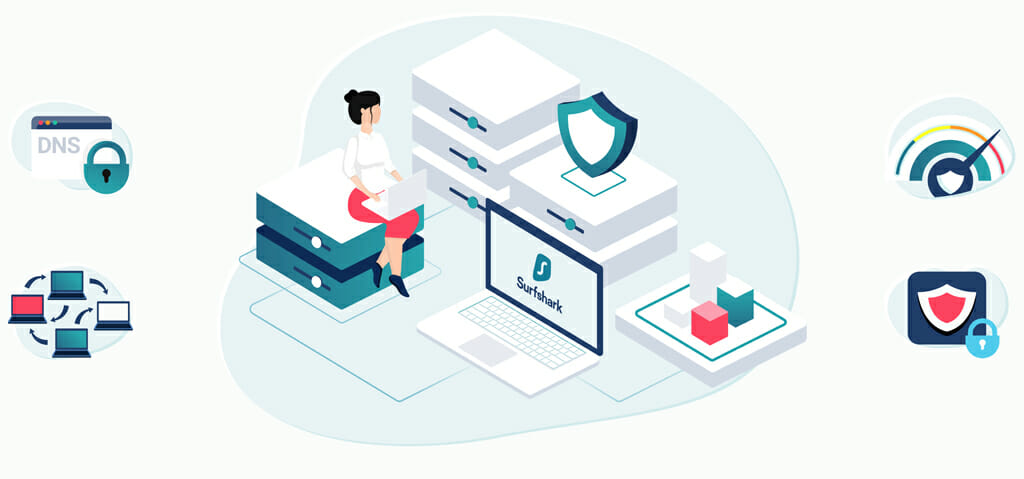 Surfshark also gives you easy access to static IP addresses — a feature that is mostly absent with most of the other providers, or one you have to pay extra for.
Sure, it's not as powerful as a dedicated IP you can get with a few other high-end VPNs, other people are still using the same static IP, but it's a pretty cool option to have right off the bat. It makes accessing frequent local networks, certain platforms even streaming services that much easier.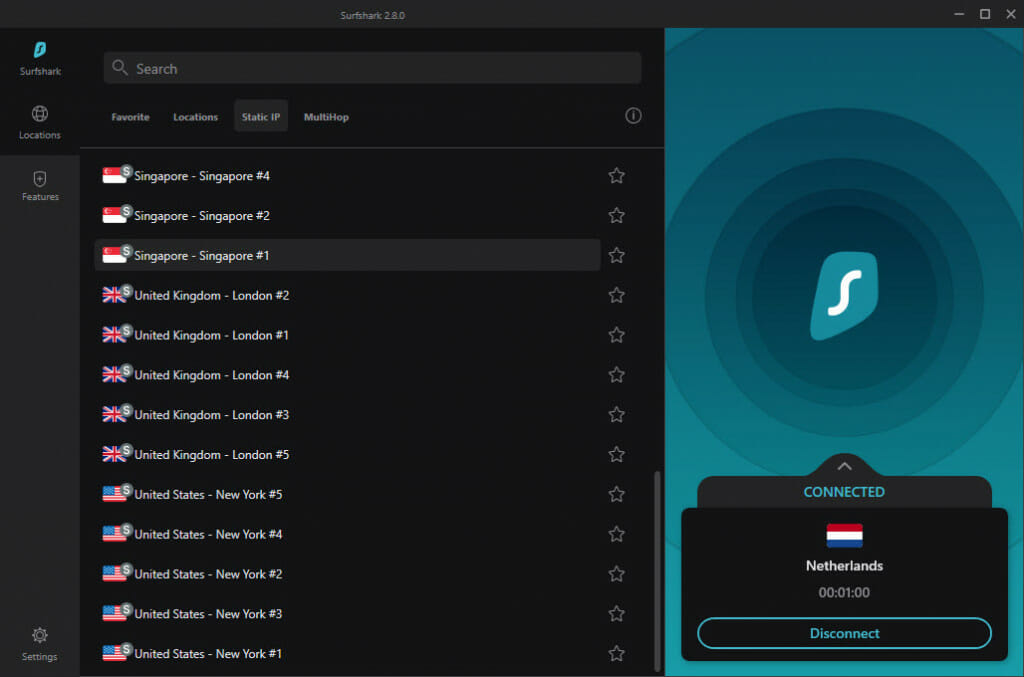 This is a feat very few other VPNs have been able to pull off so far.
Surfshark speed test
One of the biggest challenges VPN providers have to deal with is speed.
While Surfshark doesn't actively advertise being the fastest, it definitely ranks among the best in terms of speed and performance.
First of all, connecting to a server takes but a split second. It's one of the fastest connection speeds we've seen even among the high-end providers. And it's a joy.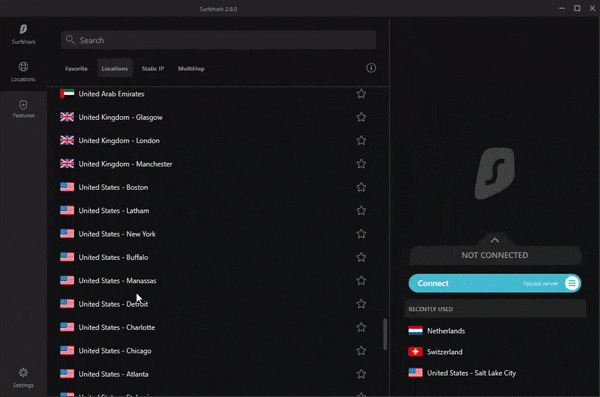 We took out Surfshark's many servers for a spin, and the results were unexpectedly outstanding.
But don't take our word for it. Check out our actual speed test. To give you a point of reference, here's our control speed: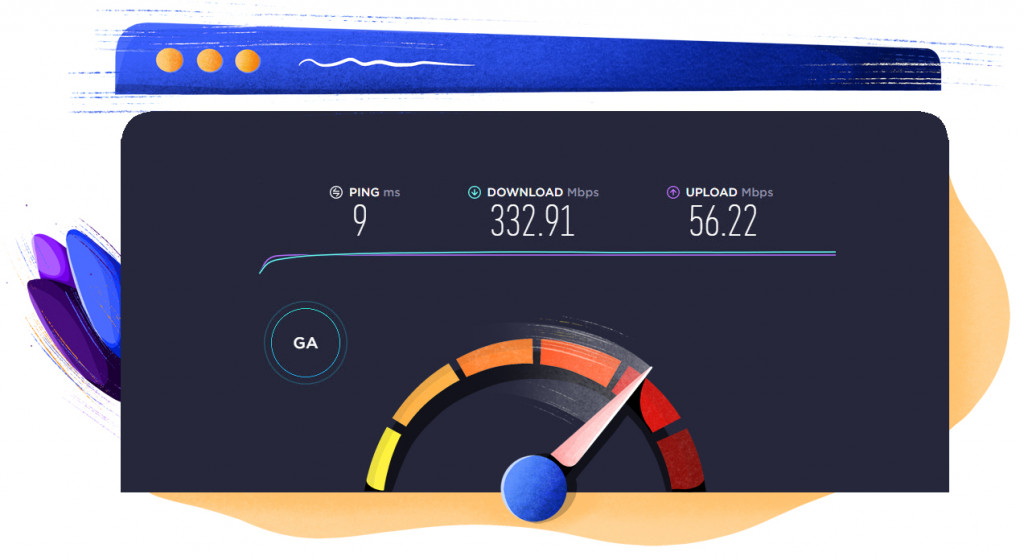 And here's the speed test results that we got when connected to Surfshark's fastest server: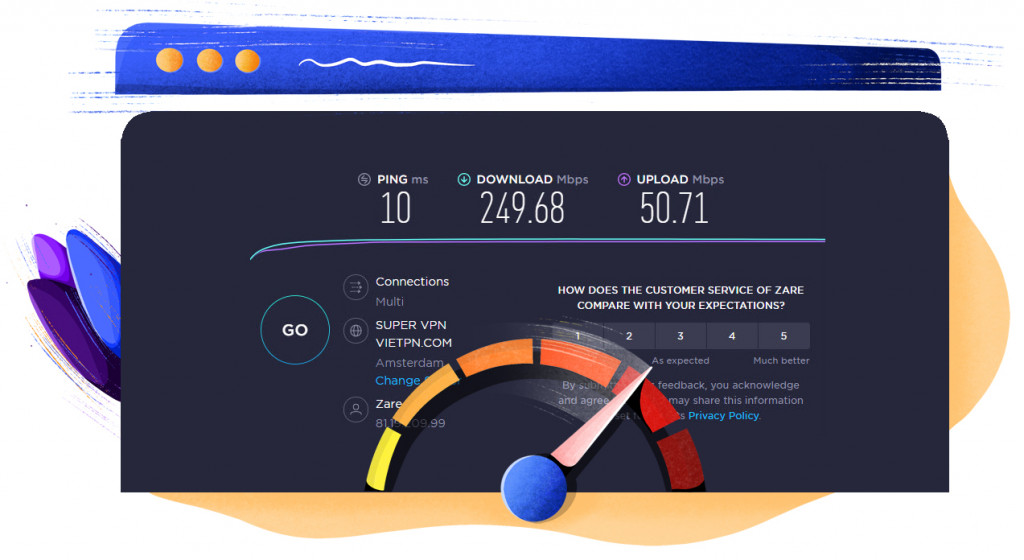 So that's a mere 25% drop in download speeds, and just a 9.8% difference in upload speeds. And that's a result so good for a VPN, you can basically chalk the difference up to being nonexistent.
But wait! Things can even get better!
Some of the European servers we have tried perform even better than the fastest one. Like this one, we really liked in Zurich, Switzerland: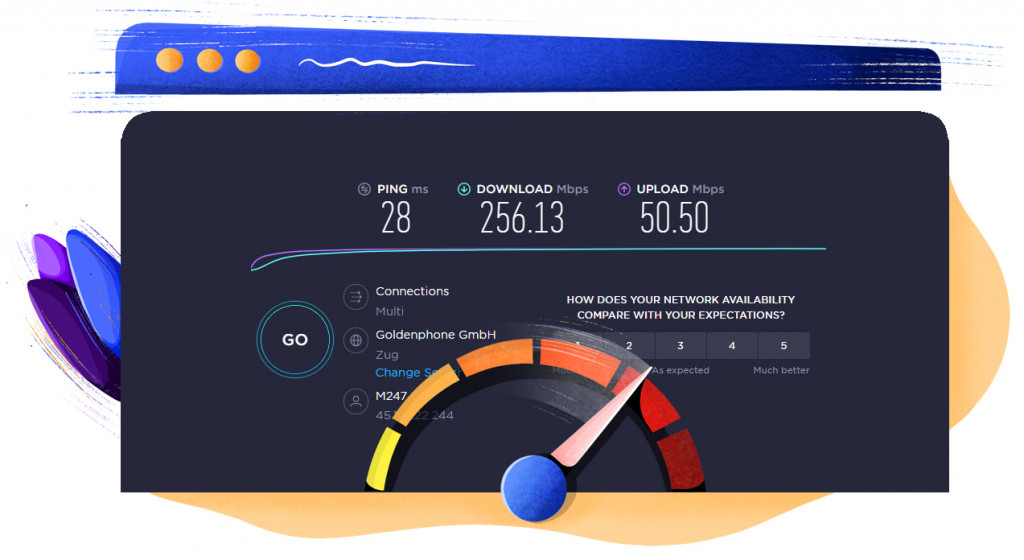 While the ping did increase quite significantly due to the distance, the download speed is actually better with just a 23% drop. And the upload speed stays pretty much the same. Surfshark is picky when choosing its servers, hardware, and local infrastructure, and it really shows with some of the more distant servers outperforming the closer ones.
And, finally, we had to test the US servers and how they handle the further connections. The result? – Still impressive: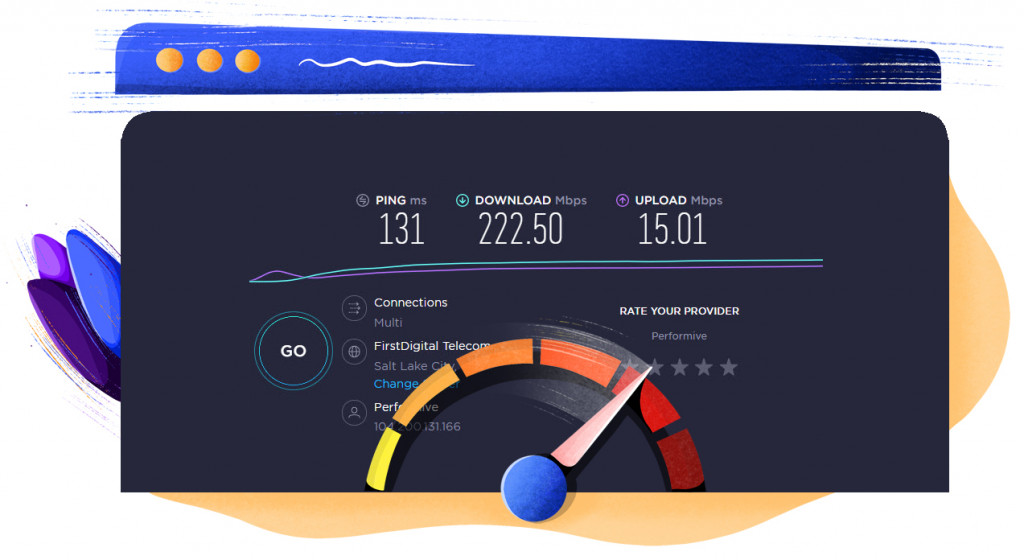 While the ping is quite high, and the upload speed did drop a lot, the download speeds have only seen a drop of 33%, which is pretty incredible, if we do say so ourselves.
While ALL actual VPNs slow down your internet connection, some do it less than others. Most VPN providers can't pull off anything better than 37%, and that's the industry norm, and yet Surfshark blows all the competition out of the water!
Surfshark gave us some of the best speeds in the industry. So if that's a factor for you in choosing your VPN service [which of course it is], this one is definitely worth it!
---
To make matters even better, the app shows each server's current load in ping, making it easier to choose the perfect one.
Surfshark also has a built-in speed test. You can stress-test any and all of the provider's servers based on their location, function, or type which is extremely useful when looking for a perfect connection for your particular needs.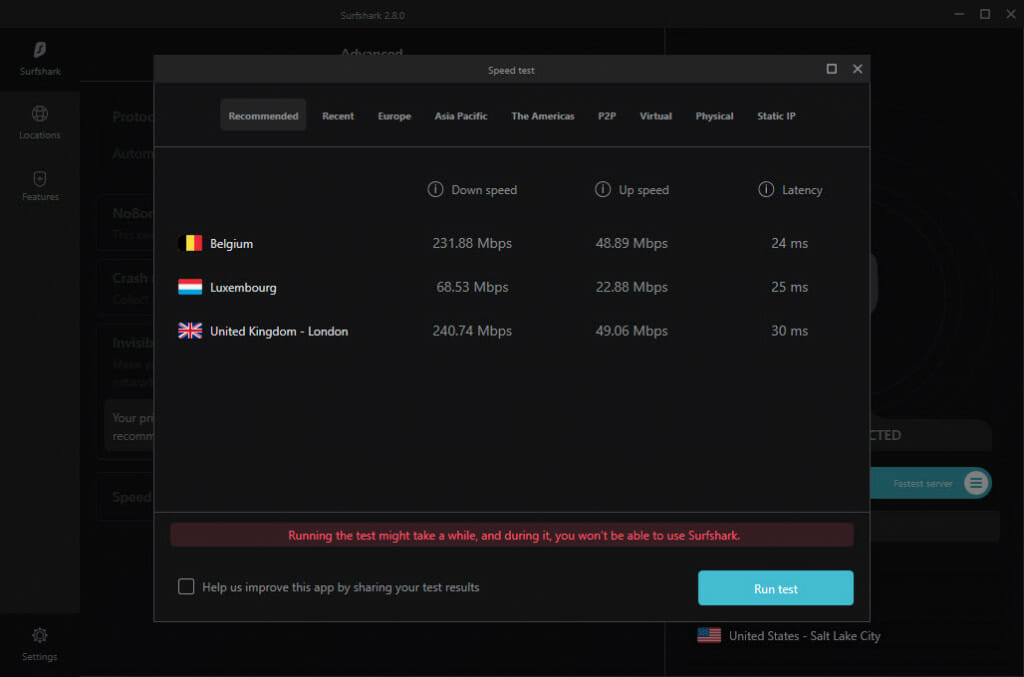 Security
Despite their many unique and exclusive features, VPNs are first and foremost all about security. So how does Surfshark fare in that regard?
We'll spare you the read: it's great!

Surfshark packs all the latest cybersecurity features, as well as a slew of extra, unique ones.
In its short life, this busy little VPN went through two independent audits. In 2018 it got the seal of approval from a German cybersecurity company Cure53. And in 2019 the provider passed an audit by AV-TEST — an independent Cyber Security Institute.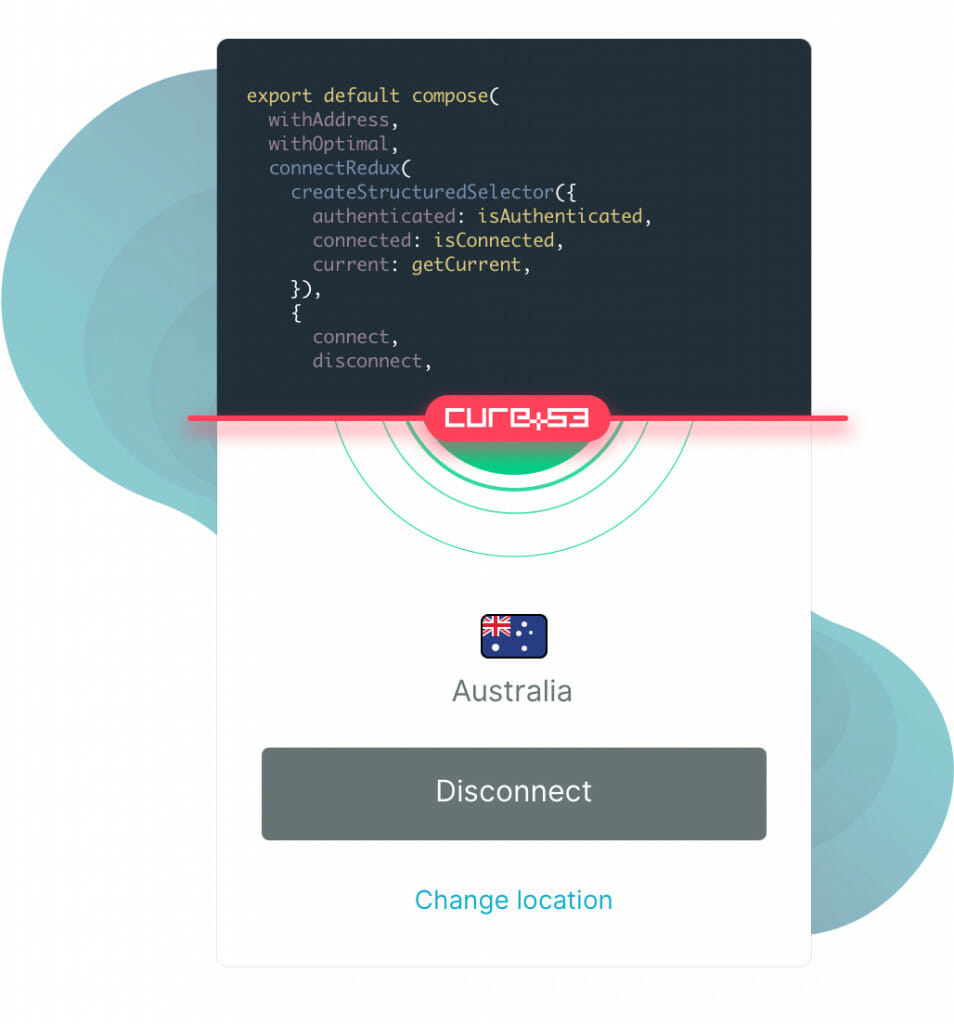 This is already an impressive flex. But we're nothing if not thorough, so we've decided to take a deep dive into everything Surfshark has to offer security-wise.
We ran Surfshark through every security check imaginable, hoping to sink our merciless teeth into something to critique, but have come up empty.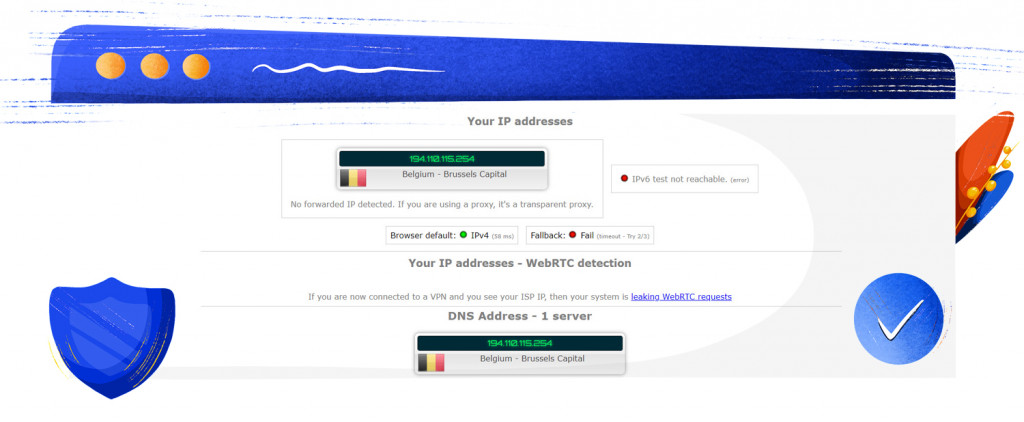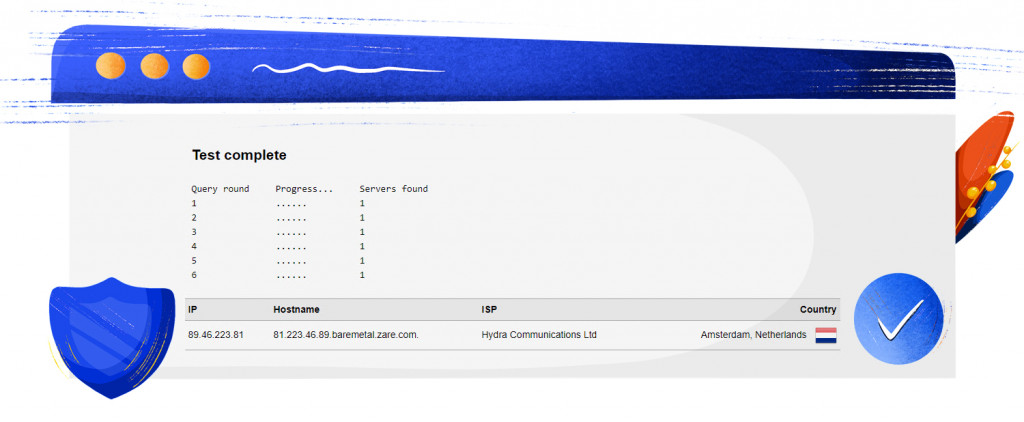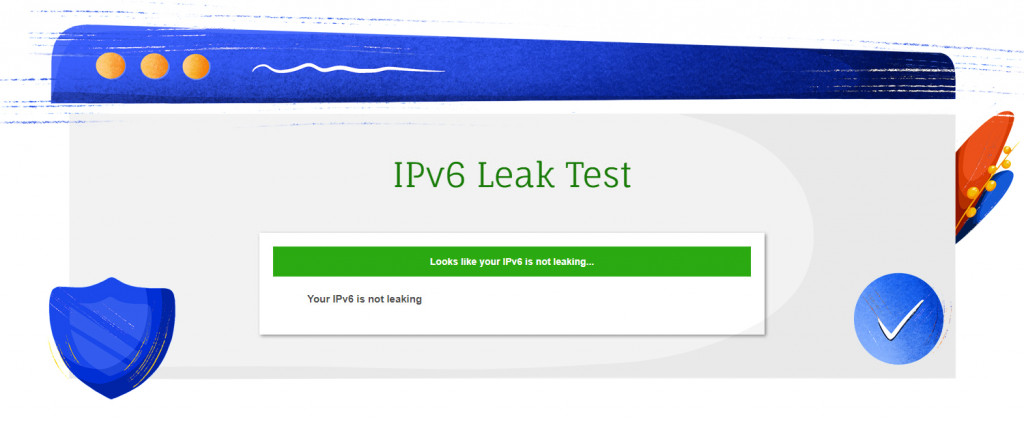 But that's far from everything Surfshark offers its users…
Strap in! There's a lot of ground to cover.
Encryption
Surfshark comes with top-of-the-line AES-256-GCM encryption — the best encryption algorithm to date.
Extremely secure, virtually unbreakable, this encryption protocol is trusted by the US government itself, so you know any data you'll send and receive will be safe.
To ensure air-tight encryption, Surfshark passes your connection through numerous complicated steps. It might just take a split second, but here's what the app actually does for you:
1. First, your connection goes through an asymmetric key exchange to connect the VPN application to a VPN server.
2. Then the connection goes through a Symmetric-key exchange to achieve Perfect forward secrecy (PFC) which makes each of your sessions unique and makes you appear as a new user every time you connect (so even if your previous session was compromised, each following one will have no information about it).
3. After that, ALL of your traffic gets encrypted with AES-256 encryption.
4. And to make sure the connection stays protected, there are also integrity algorithms at play, that make sure your information isn't tampered with.

Don't worry though. All you see is: … Connected! And it takes about as long.
Protocols
Surfshark supports all of the most relevant connection protocols.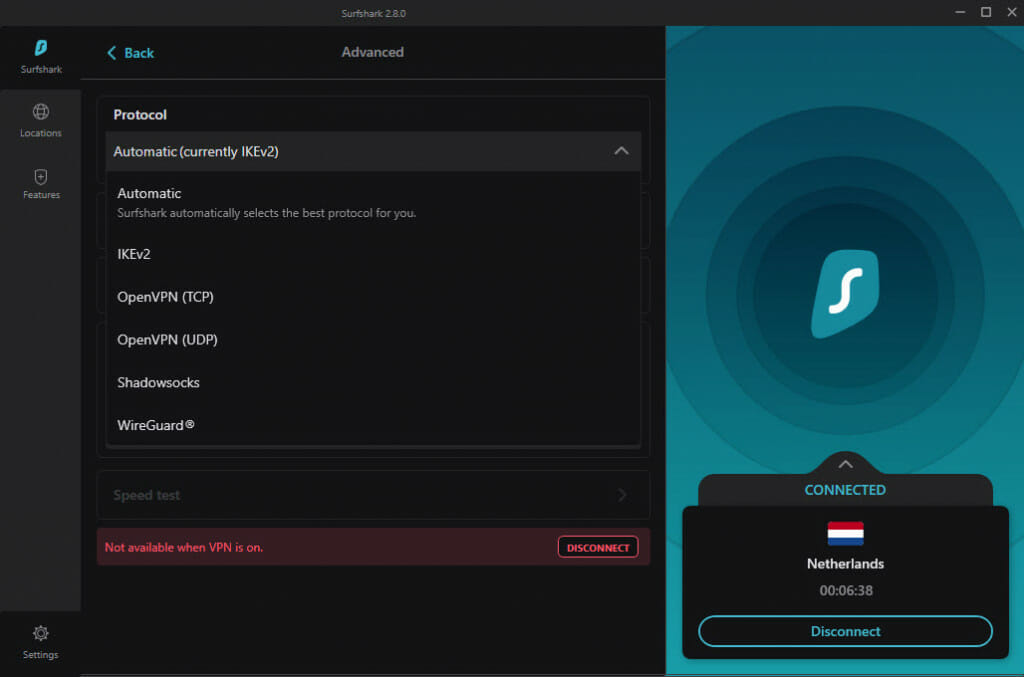 There's IKEv2, the standard OpenVPN TCP/UDP, and even Shadowsocks made to bypass firewalls in the most restrictive countries.
In October 2020 Surfshark finally unveiled their own — new and improved — WireGuard protocol.
The provider modified the protocol so you get a dynamic IP address instead of the static one. This way Surfshark managed to take full advantage of the speedy protocol, while fully solving all of its privacy flaws.
We took it out for a spin, and it still has that new car smell.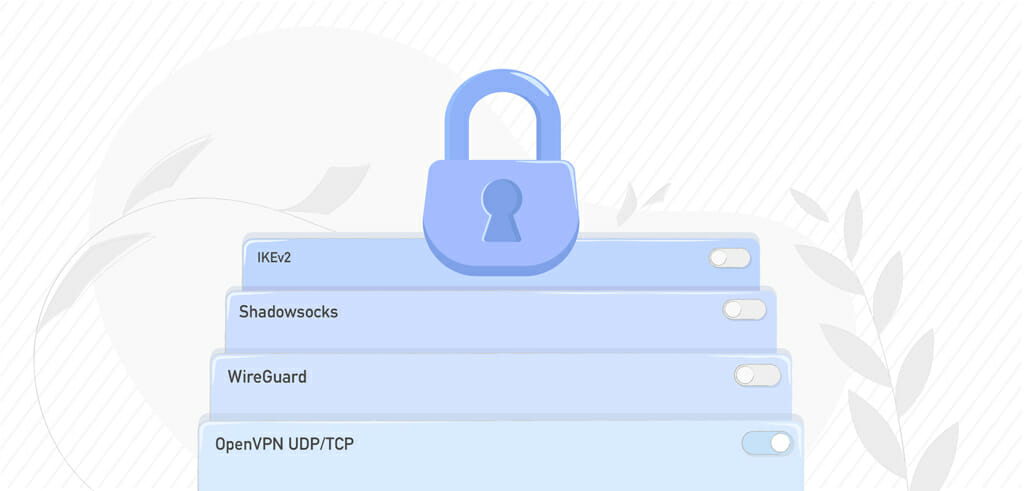 No Logging
Surfshark is committed to the no-logging policy.
The provider doesn't log, track or keep any information about your online sessions. Those include your IP address, browsing history, destinations on the Internet, connection timestamps, network traffic, even bandwidth.
Zilch. Nana. Nothing.
Even the RAM-servers are being routinely wiped. So even if there's a slight chance something seeped through the nonexistent cracks, you can rest assured it's been cleaned.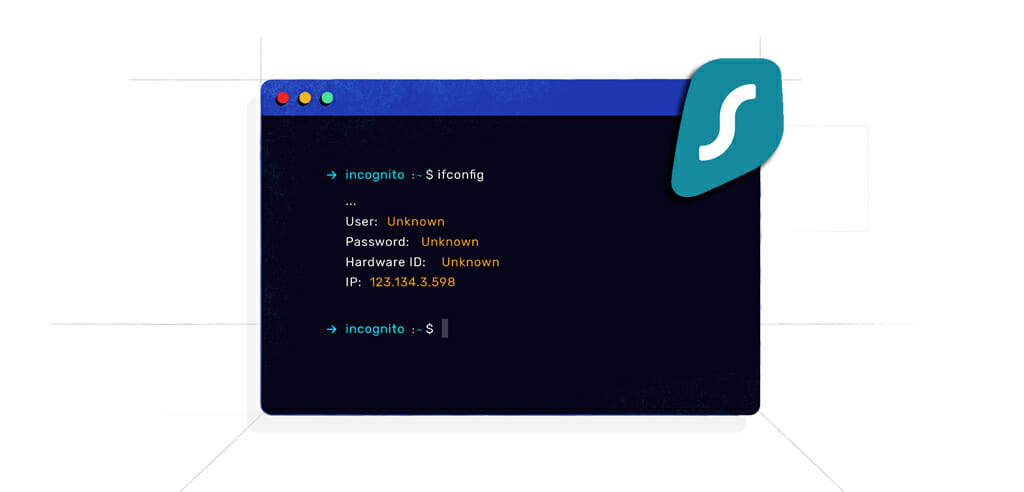 Kill switch
Surfshark comes with a built-in Kill Switch. So even if your VPN connection drops, your Internet will be cut off automatically.
The Kill Switch is a must-have feature to:
Keep your connection secure and private at all times
Prevent your IP and personal information from being leaked if the VPN connection drops.
The Kill Switch pairs well with the "AutoConnect" option, which immediately encrypts all of your traffic as soon as you turn on your device.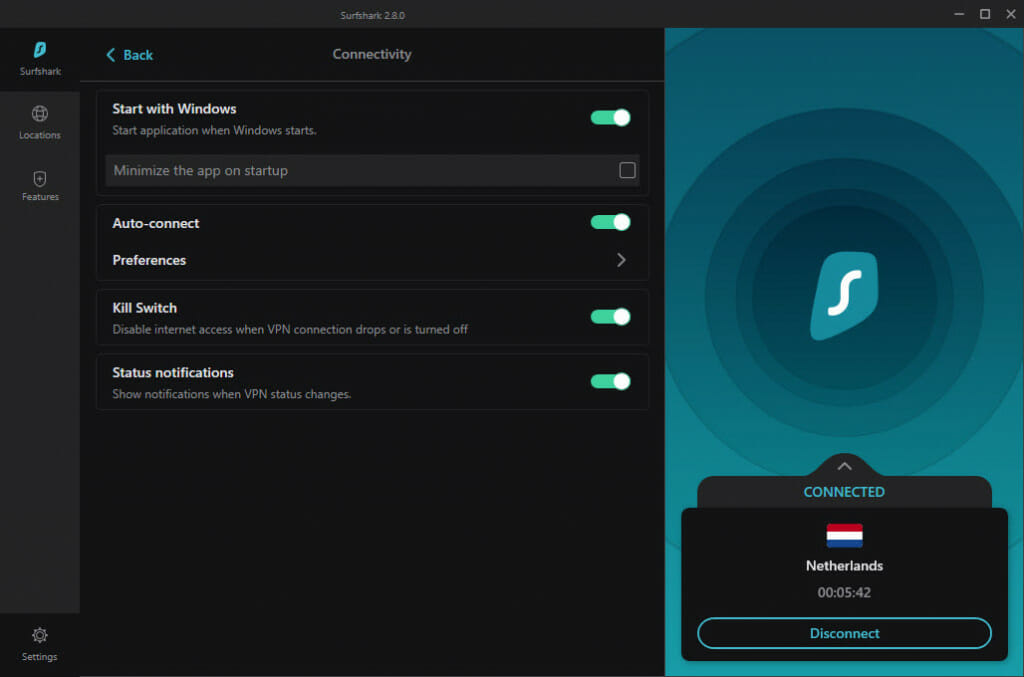 NoBorders Mode
Remember when we said Surfshark was packed with unique features no other provider has? Well, the NoBorders mode is definitely one of them.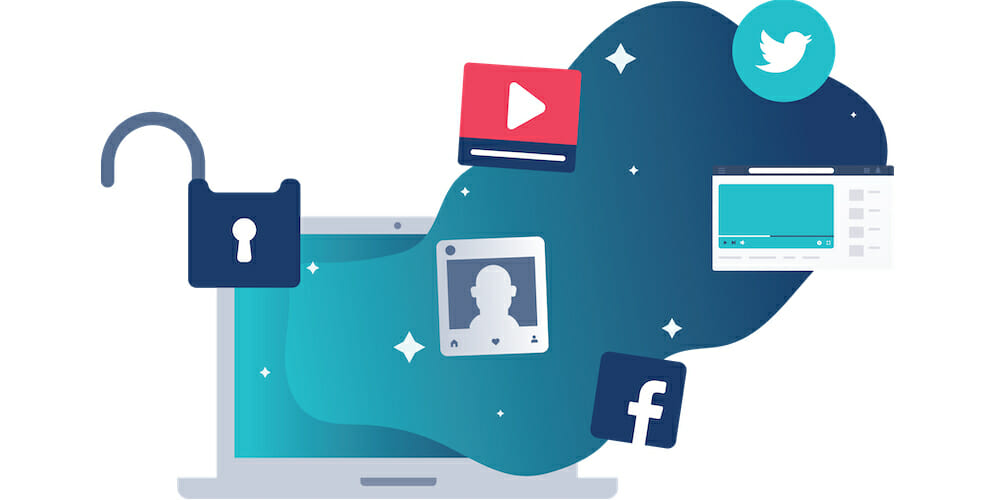 The NoBorders feature was specifically designed by Surfshark to be used in some of the most restrictive and censorship-heavy regions in the world, such as China, Russia, Turkey, or Iran. However, the mode works just as well with your office firewall.
Whenever Surfshark detects any kinds of restrictions on your network, the application automatically enables NoBorders mode and gives you a select number of servers that perform well under pressure.
The NoBorders mode is especially useful for:
Traveling to restrictive countries.
Bypassing firewalls and content blocks on local networks.
Accessing websites that use geo-blocks.
"Because the Internet should be open to everyone"
MultiHop
Surfshark is one of two VPNs (the other being NordVPN) that come with a Double VPN option.
This nifty little feature relays your connection through not one, but two VPN servers, giving you double the privacy.
This can be helpful for a number of reasons:
It adds an extra layer of security to your connection, making it completely unhackable and untraceable.
It allows you to mask any online activity, without anyone ever knowing your final destination on the web.
The feature swaps your IP twice with none of the servers having any information about the other, so no one will ever be able to trace the connection back to you.
In some cases (when connecting to faraway servers) it can actually improve your connection speed.
We've thoroughly tested the MultiHop feature, and we've never had more than a 45% decrease in speed. Which is pretty darn impressive.
The list of MultiHop servers isn't as extensive, but there's a lot to choose from and a lot of welcome diversity.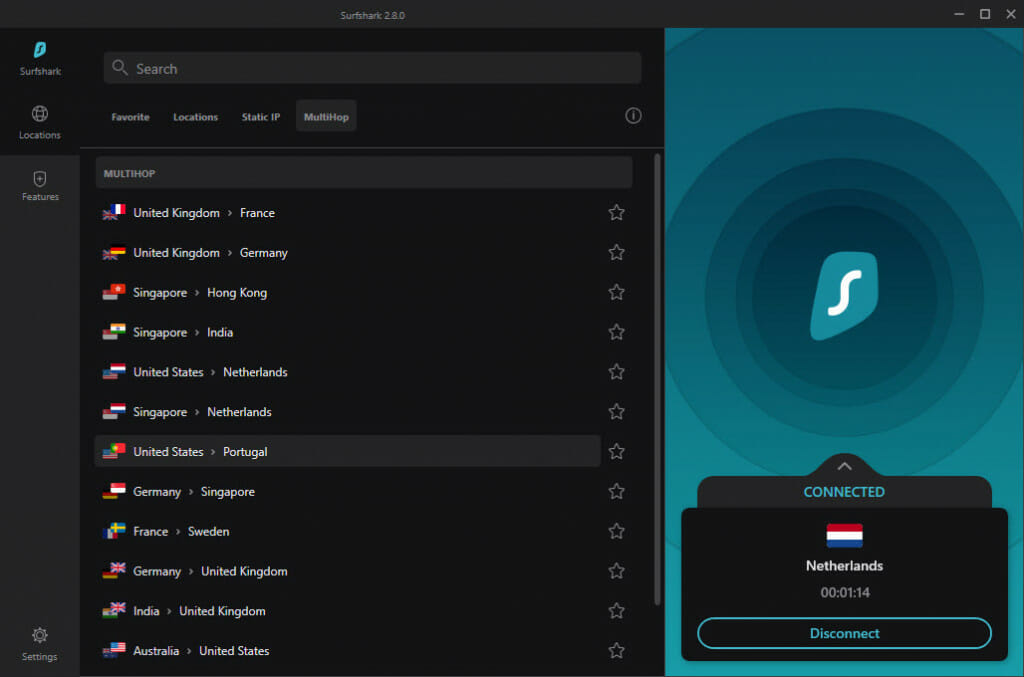 Camouflage mode
Surfshark was one of the first providers to utilize obfuscated server technology and give it a catchy name.
This feature was developed by the provider in response to many services, firewalls, and websites becoming wary of the growing VPN popularity and blocking users based on traces of VPN-related data. Camouflage mode removes any of those traces by scrambling this data and making it unreadable to the blocks.
Camouflage mode helps you:
Bypass any blocks imposed by your local network;
Mask all of your traffic and make it even harder to trace your activities;
Conceal the fact you are using a VPN (even from your ISP).
The best part is — you don't even have to do anything to enable this mode. It runs automatically whenever you use OpenVPN protocols.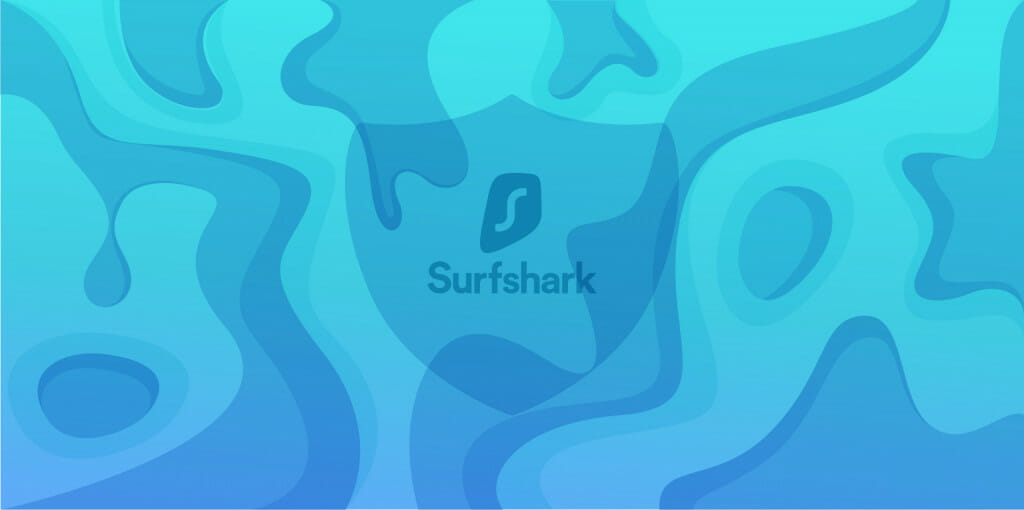 CleanWeb
VPNs are no longer just about creating an encrypted tunnel. Anyone can build a Virtual Private Network — the OpenVPN protocol is open source.
What really sets a provider apart from the competition are new and exciting options.
And Surfshark is packed with exclusive features, very few other providers have.
One of them is CleanWeb — an ad-blocker that comes with every Surfshark app.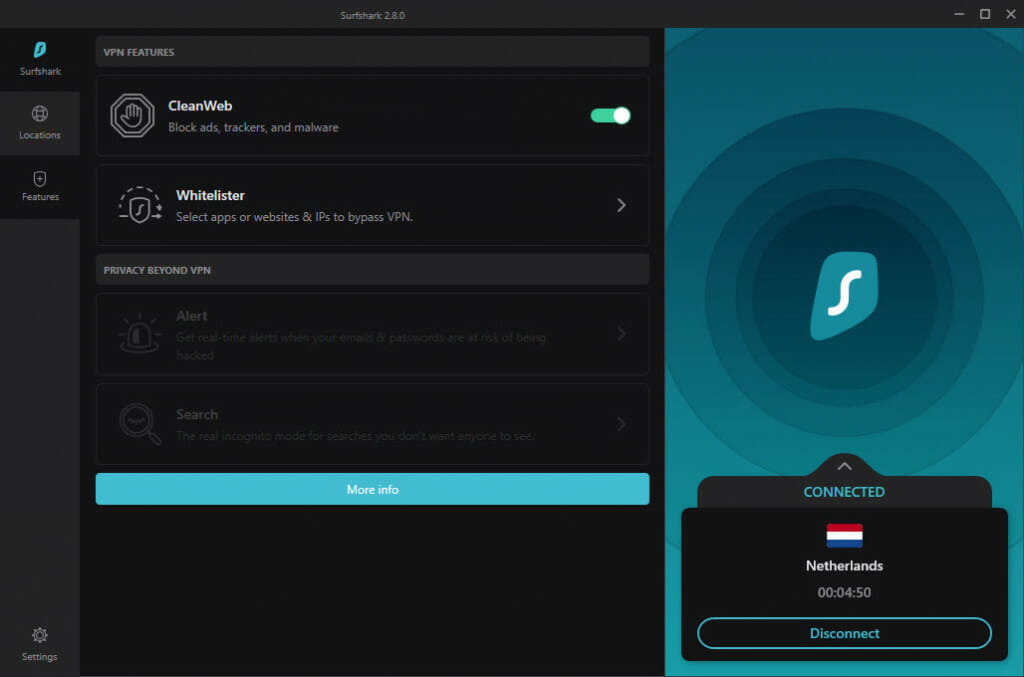 CleanWeb is not just your standard ad-blocker you can install on your browser. It was specifically designed to improve your online experience and keep you safe and protected online.
And here's what CleanWeb can do for you:
It blocks all ads, banners, and popups not just in your browser, but also in all of your apps.
It keeps advertisers from collecting your data.
CleanWeb doesn't just block ads, it also blocks malware. Think of it as having a preemptive antivirus.
The feature can also help you avoid phishing attempts by blocking suspicious websites, pages, and links.
Banner ads, pop-ups, browser tabs opening up all by themselves tend to eat A LOT of your data — CleanWeb will help you save all of it.
By blocking lots of ads, CleanWeb also helps you dramatically boost browsing speeds.
Whitelister
Surfshark comes with one of the most unique split tunneling features we've ever seen.
While most VPN providers allow you to route some of the applications' traffic through the VPN connection, Surfshark's Whitelister feature comes with two settings:
You can choose which apps bypass the VPN connection and which are routed through it.
You can also pick which websites are routed through the VPN connection, and which use the regular one.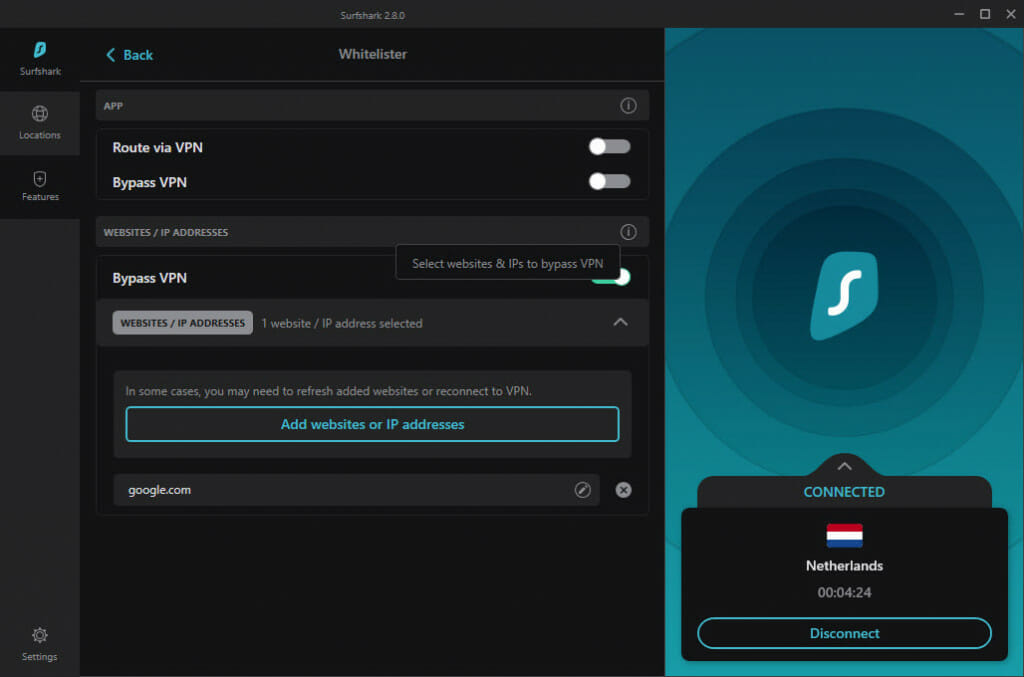 This unique split tunneling feature can be put to use in more ways than we care to count… But that won't stop us from trying:
Obviously, you can choose which apps go through an encrypted VPN tunnel (BitTorrent, messenger apps, etc.), and which don't, distributing protection and speed whichever way you see fit.
You can protect yourself on websites that need it most, while still using the full speed of your Internet connection on others.
Get two IP addresses at the same time which is a unique option in itself that has lots of applications (gaming on different accounts, applying for trial versions of different software and services, etc.).
You can access devices on your local network while being protected online.
So if you don't want your boss to find out you spend your days watching PewDiePie videos, you can just route YouTube through Whitelister, or use Edge to go through a VPN connection (who's going to check Edge anyway) and bypass any blocks imposed by your tyrant boss who just doesn't get the cultural impact of meme reviews.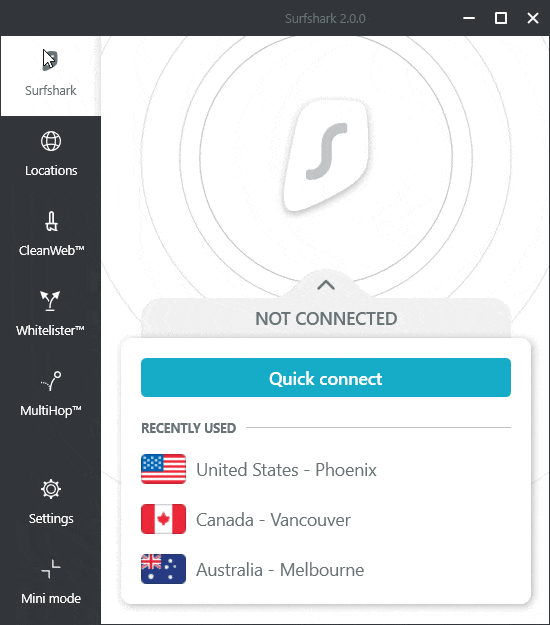 GPS spoofing
Seems obvious, right? If a VPN can change your virtual location, why can't it change your physical location as well?
Well, Surfshark thought exactly that and became the only VPN in the world that has GPS spoofing technology. When activated, this feature overrides the device's coordinates with that of the VPN server you are connected to.
Boom! You're browsing from Albania!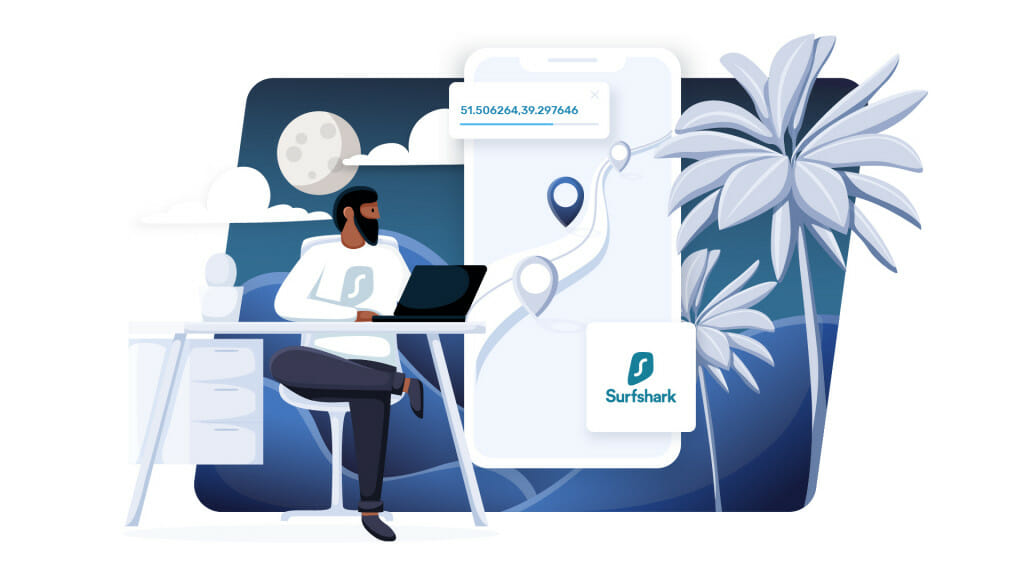 The GPS Spoofing feature by Surfshark has numerous unique applications:
It prevents mobile apps from tracking your whereabouts taking privacy to a whole new level.
It makes all other GPS spoofing add-ons obsolete.
With it, you can change your virtual locations to take full advantage of the apps that track it (GPS-based games such as Pokémon Go, Tinder, Grindr, and other dating apps, etc.)
It's simply awesome!
Surfshark's GPS spoofing feature is currently only available on Android.
Surfshark Search
Now that we've covered the defaults every Surfshark app comes with, time to get into the add-ons, that really got us excited.
First on the list — Surfshark Search (wow, try saying that three times faster!)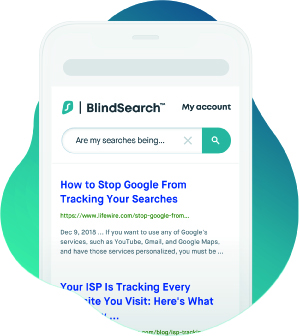 Surfshark Search is a search engine built to combat the growing intrusiveness of popular search websites (looking at you, Google).
By collecting, storing, analyzing, and selling your data, the search engines we're used to no longer show us what we're looking for but rather what they want us to see.
Surfshark Search aims to bring back the pure, innocent, and accurate search results that are based on your search queries alone.
The search engine uses Bing API (just like the DuckDuckGo search engine) to get you the best results.
No records of previous searches.
No collected data.
Ever.
This is a paid extra feature. However, along with the app itself, it costs next to nothing.
Surfshark Alert
Alert is one of the latest additions to Surfshark introduced in June 2020.
With security breaches being at an all-time high with over 500 of them detected each day, Alert was developed as a B2B solution to help businesses scan, identify and protect themselves from potential breaches.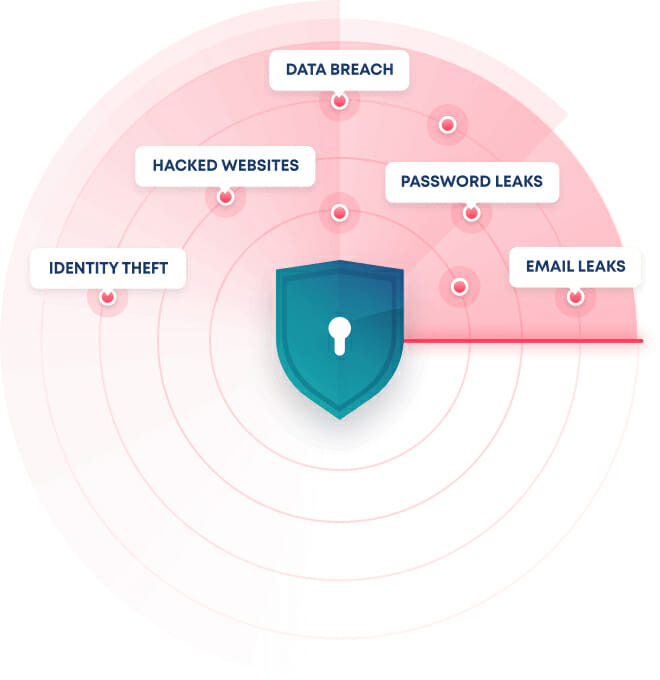 According to the provider, the Alert feature can:
scan the entire internet in just two days and detect 500 sources of breached data per day.
Surfshark Alert strives to bring efficient cybersecurity to every business. And it does so by:
Constantly monitoring and identifying leaked credentials of your employees and clients.
With 95% of all breaches happening due to insufficient employee security, this is a must for any modern business.
Incentifying proactive risk prevention by informing vulnerable accounts to update their credentials.
Monitoring for new possible vulnerabilities using the Internet's largest databases.
Validating and enforcing online security for new employees and clients.
We're not saying Alert can replace your cybersecurity expert, but it's probably the next best thing.
Surfshark One Security Suite
As you can tell, at some point Surfshark started to be too big for its own good.
With so many new, unique and exciting products under their belt, the guys back at Surfshark knew they couldn't limit themselves to just a VPN anymore. So, in late 2021 the provider launched its Surfshark One Suite, which covers everything you need to secure your personal online life in one smooth package.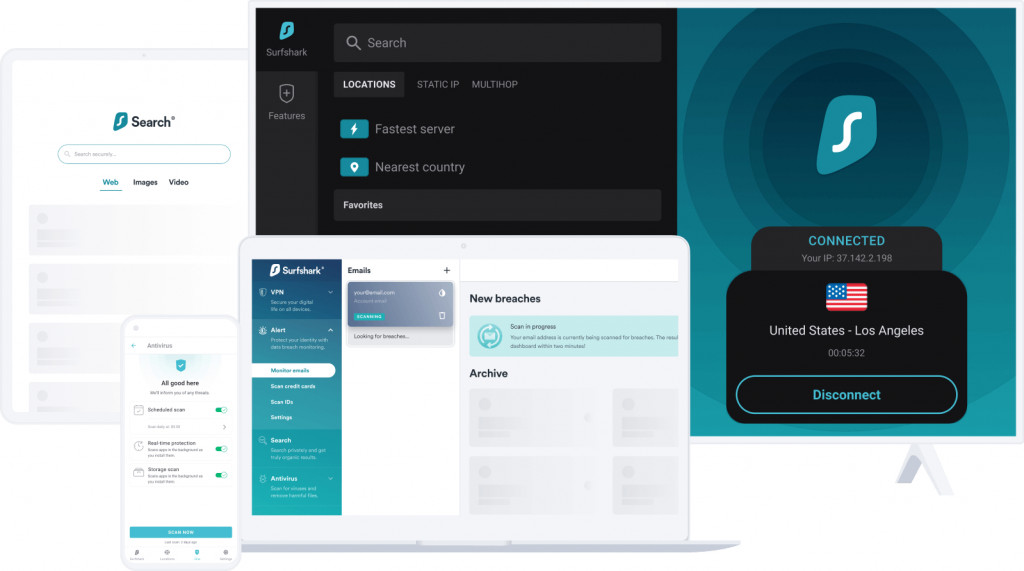 The all-in-one Surfshark One Security Suite gets you:
The Surfshark VPN
Surfshark Alert for tracking breached and leaked credentials
The anonymous search engine Surfshark Search
And their brand new Surfshark Antivirus, which will scan and protect your device from malicious software.
All of this is about as protected online as one can get! And it's not that much more expensive than just a VPN.

A VPN not enough?
Get the Surfshark One Security Suite!
Incogni
The latest, and probably the most unique out of all of Surfshark's addons, is Incogni – a completely original service that is said to request the removal of your personal information from data brokers.


Data collection is an epidemic!
If you've ever used the Internet, downloaded an app, or created an account on social media, rest assured there is a thick folder on you in a data broker's virtual vault somewhere.
But even if you decide to go off the grid completely, you won't be completely safe. Data brokers regularly scrape public records as well as simply the internet in its entirety and automatically gather information on you. As a result, there's always a file on you somewhere. And that file is passed around more than a turkey on Thanksgiving… for a price, of course.
And even if you're the most avid VPN user ever, there's little you can do about data brokers still getting their hands on some information about you.
Incogni was created to change that once and for all.
Incogni files a data removal request on your behalf and jumps through all of the legal hoops – hoops that would probably drive any person up the wall as well as cost a fortune – on your behalf. What you get in return is:
Thousands of companies remove information about you upon legal request.
You save what would be days of your life if you ever tried to do that on your own.
You save thousands in legal fees.
True online anonymity and privacy.
This is a completely unique feature that no other company offers as a service, let alone a VPN. And it's a giant step for VPN providers as privacy advocates.
And, as such, it is currently its own separate thing with its own price tag:
You can either get a monthly subscription to the service for $11.49,
or you can subscribe to the service annually and get 50% off paying only $5.79/month.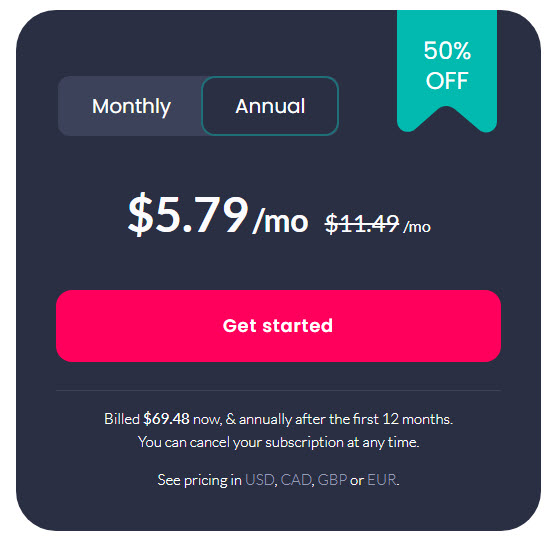 You win whichever plan you choose!
Surfshark Apps
Surfshark has apps for pretty much everything under the sun.
This includes all of the popular operating systems. All mobile operating systems. Gaming consoles, SmartTVs, and browsers.

But the best part is, unlike most premium VPN providers, Surfshark is available for an UNLIMITED number of devices.
What this means, is that you can get one Surfshark subscription, and secure all of your devices at home and at the office. Heck, share it with your friends, family, Bob from work.
This IS as good as it gets.
That said, how good are the Surfshark apps?
Desktop apps
Surfshark has applications for Windows, macOS, and Linux.
The apps are as easy to use, as they are to install. Very lightweight and the connection always takes but a second.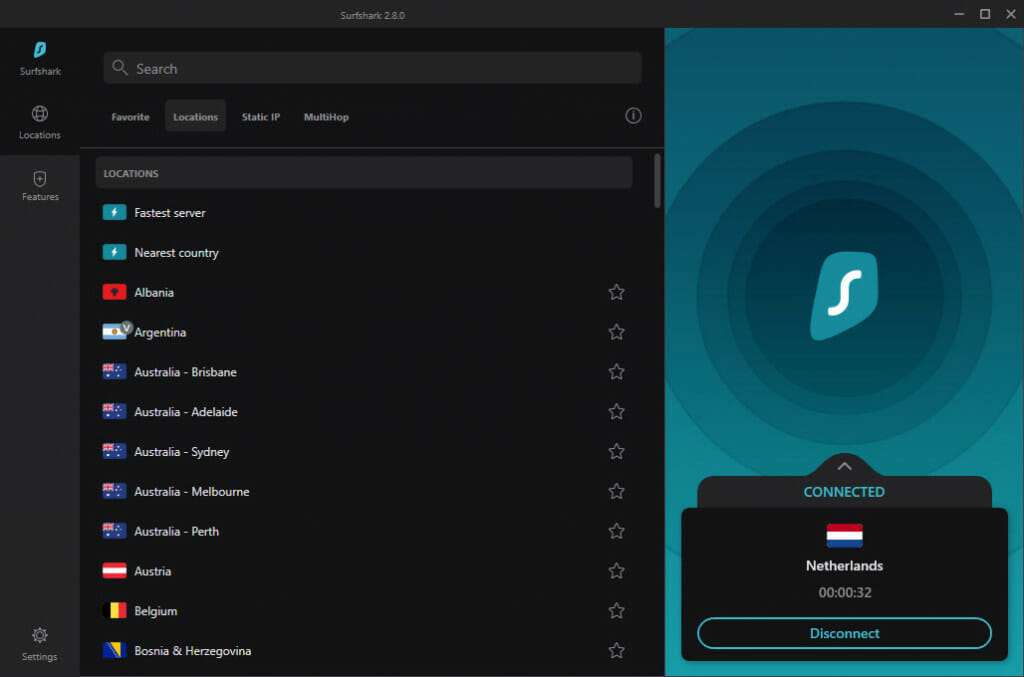 Right off the bat, the application gives you a list of servers to connect to, as well as Static IP and MultiHop options.
Not looking for anything specific? You can instantly connect to either the fastest server or the closest country with a single click.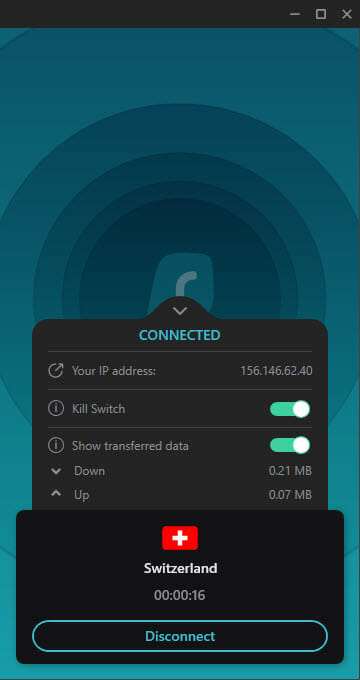 All of the app's extra features are easily accessible and very straightforward in their setup.
And if you're looking for advanced settings, you have the option to enable different connectivity options, choose your preferred protocol, and even make your device invisible to others on your network in the Settings menu.


The advanced features are not super-diverse and there is a feeling that the app reserved a lot of space for the future. However, the options are extensive enough to give the more advanced users something to play with and comprehensive enough for beginners to quickly get the hang of them.
Sounds good, but it's not all smooth sailing.
On several occasions, we did encounter an issue where the VPN would simply refuse to connect, and the only remedy was a complete system restart.
To be fair, however, we do put VPNs through a lot of stress-testing, that no normal person will. So you will probably never encounter the issue.
Mobile Apps
Surfshark has apps for Android and iOS.
The app design is pretty basic and straightforward, but they do offer all of the functionality of the desktop versions, including your choice of protocols, a kill switch, static IPs, and a Multihop function.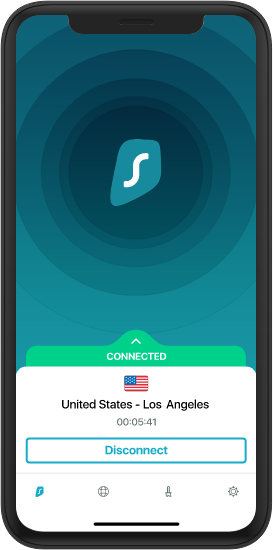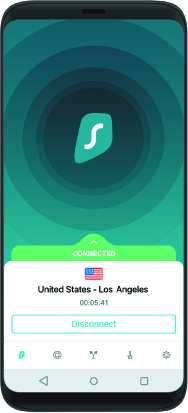 The Android app especially stood out to us. It features GPS spoofing, which allows you to tinker with your location. Pretty cool and completely unique.
However, mobile apps do seem to be a thing that still needs some work from the guys at Surfshark.
First of all, we were very much surprised that Surfshark supports Android OS as far as the 5.0 build. So we had to give it a try.
We dug up an old Android phone from the back of the bottom drawer, installed the app, but we could not connect to a server no matter how much we tried.
However, it worked perfectly with all of the later Android versions with connections being fast, stable and seamless — Who uses Android 5.0 anyway?!
Once in a while, we would also get an infinite "Disconnecting" popup on iOS. The VPN does disconnect, but it is a bit annoying.
That said, these are all minor issues that are sure to be ironed out with the next update.
Browser extensions
Surfshark has browser extensions for Chrome and Firefox.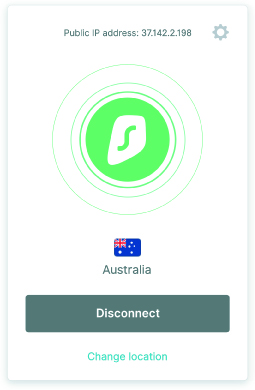 Both work as well as you would expect. They offer the full selection of servers and allow you to encrypt and reroute your browser traffic.
You can use the extensions to access blocked sites, keep your connection secure and your IP hidden at all times.
They also add a much-needed layer of encryption, privacy, and safety to all of your communications. And they work just as well at unblocking streaming services.
Speaking of which…
Surfshark and streaming services
Surfshark is one of the leading VPNs when it comes to unblocking streaming platforms of any kind. It utilizes some of the best technologies to get you as much entertainment as you could possibly want and it does so flawlessly and seamlessly.
Being the underdog has its advantages. Surfshark isn't as well-known as some of the other VPN providers, and the streaming services haven't caught on to its awesomeness yet.
We will probably run out of Internet before we list everything Surfshark can unblock. So here's a list of some of the more popular platforms it can definitely crack:
Netflix
Ok, elephant in the room. Surfshark doesn't just unblock Netflix — it is THE VPN to unblock Netflix.
Surfshark unlocks the most Netflix libraries out of all current VPN providers.
While most VPNs are focused on unblocking the US library, Surfshark guarantees access to over 15 Netflix libraries (and the rest is just rubbing it in).

Find out everything there is to know about using VPNs with Netflix!
HBO Max
The streaming service only available in the US that has some of the toughest geo-blocks is no match for Surfshark either. Just in time for everything that's going on over there!

Access the most exclusive streaming platform today
Disney Plus
The hottest streaming service around and Surfshark unblocks it with ease to give you access to all of the Disney, Marvel, and Pixar magic.

Find out how you can get Disney+ from anywhere!
Amazon Prime
Surfshark is able to unblock not just Amazon Prime US, but the streaming platform in pretty much any country.

Every Amazon Prime library at your disposal!
BBC iPlayer and ITV
The US isn't the only place with great (and free) streaming platforms. And Surfshark is great at cracking everything Britain has to offer as well (it probably serves you tea and crumpets if you ask nicely too).

Get the most British of all streaming services!
---
And the fun doesn't stop there. Surfshark is equally good at unblocking sports streaming platforms that have some of the toughest VPN blocks.
It will get you access to platforms such as ESPN and ESPN+, fuboTV, beIN, as well as bypass most local blackouts.
It's pretty safe to say that with Surfshark you will never miss a game ever again.
Smart DNS
To make sure you are always able to access any streaming service using any device, Surfshark offers a Smart DNS feature in addition to all of its VPN functionality.
The feature comes free with any Surfshark subscription and lets you generate new  IP addresses directly on the provider's website.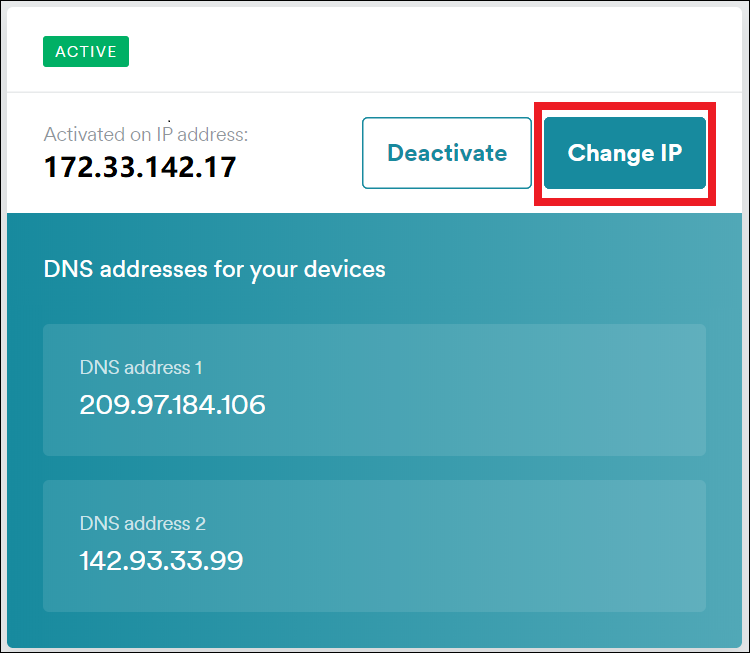 Sure, this feature isn't as intuitive as, say, NordVPN's SmartPlay, but the option is there and you can use it on virtually any device. Even those that do not have native VPN support.
Trust DNS
Speaking of Smart DNS, Surfshark is also the creator of the completely free Trust DNS app for Android and iOS.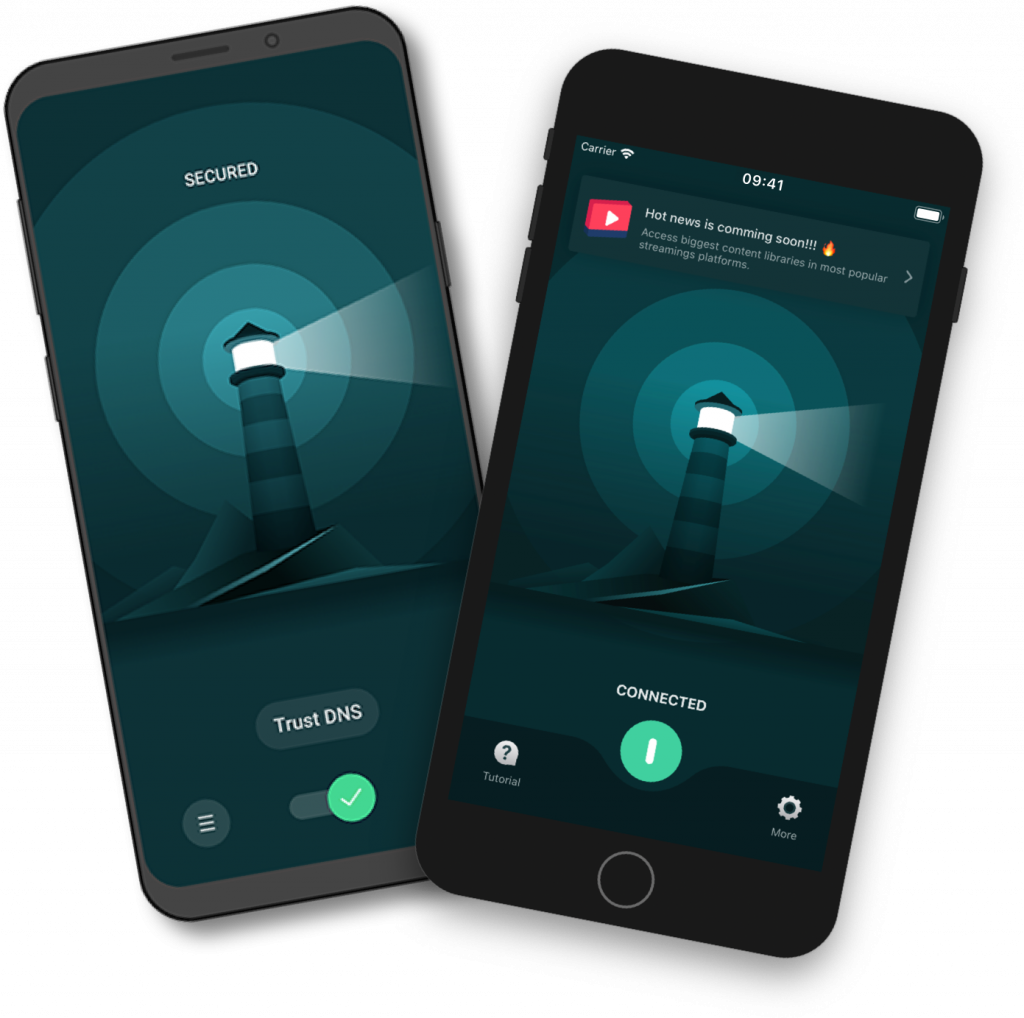 Trust DNS isn't a feature of Surfshark, but rather a separate free application developed by the same provider. But we are on a roll, so what the heck…
This free DNS changer allows you to:
Choose from over 100 public DNS servers
Execute private and secure DNS requests
Block online ads and some basic malware
Install parental control on your devices
Access streaming services and websites that are restricted at a DNS level.
We gave the app a little spin and it works as magically as advertised.
Gaming
If you haven't heard, your gaming console can do a hell of a lot more than just play games (pfff…)
You can use your console to stream Netflix and any other of the gazillion streaming services, browse the web, order a pizza, chat online, etc., etc., etc. Chances are, you might even be able to play games!
The point is, you might need a VPN on your gaming console as much as on any other device.
With consoles being the constant target of hackers, as well as frequent victims of data breaches and leaks, you might want to take extra precautions to protect your personal information.
Even though none of the recent generation consoles have VPN support, Surfshark can be installed on Xbox One, Xbox series X & S, as well as Playstation 4 & 5.

Sure, the setup will take a bit of tinkering, but Surfshark has extensive guides which will hold your hand throughout the process with no margin for error.
In turn, you get:
A secure and private connection.
Unrestricted access to games and entertainment that might not be available in your country.
Access to better prices in online stores (and having servers in countries with the lowest prices is definitely an advantage).
No more bandwidth throttling.
An extra layer of protection against any kinds of online attacks.
We gave Surfshark a try on the gaming systems, and haven't encountered any lag or other performance issues that could hinder the gaming process.
It was definitely one of the smoothest gaming experiences we've ever had with a VPN.
Torrenting
Good news for torrent enthusiasts. Surfshark is pretty much the only VPN provider all of which servers are P2P-optimized.
This means you can use any server Surfshark offers for torrenting. Whether you are looking for access to a specific website that is only available in a handful of countries, or looking to get the best download speeds, Surfshark has got you covered.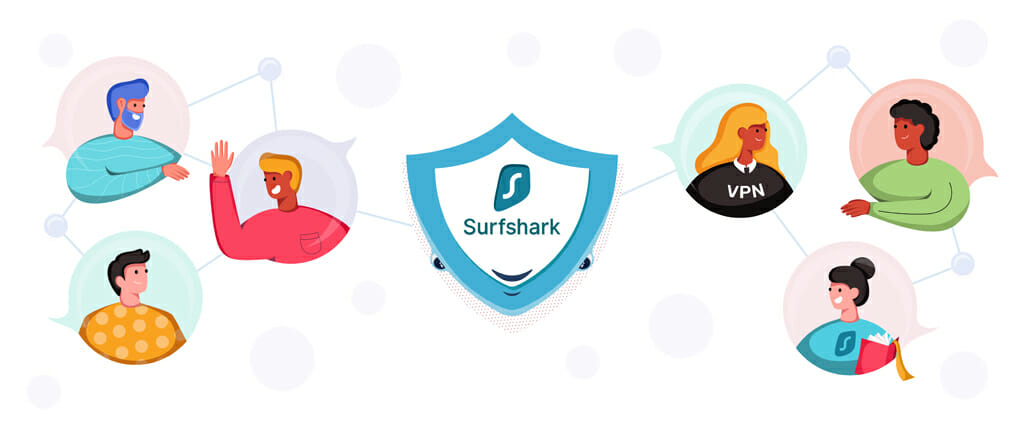 We would recommend going with the fastest server for torrenting. That way you won't even feel the presence of a VPN connection while staying completely anonymous and untraceable online.
You can always use Surfshark's Whitelister split tunneling feature to make sure your P2P connections always go through a secure VPN tunnel.
Surfshark subscription plans and prices
After this exhausting rundown of all of Surfshark's many features, one would think that it's one of the more pricey VPN providers. After all, it's probably one of the most unique VPNs out there with a slew of exclusive features.
Wrong!
Surfshark is, in fact, one of the most affordable premium VPNs around.
As is the case with most VPN providers, Surfshark offers three subscription plans. And those get better by the offer:
A 1-month subscription is the most expensive one costing $12.95.
Their 12-month plan is $3.99/month.
And the best 24-month subscription will only cost you $2.49/month.

If you choose to go for the full online security package that Surfshark so kindly offers, the price will be a bit high (though, honestly, not by much), and the subscriptions plans will be different:
A 1-month Surfshark One subscription will cost you $14.44.
The 6-month package is an instant 45% off and will only cost you $7.98 per month.
And the 24-month deal is the best option Surfshark has, which is only a bit more expensive than the VPN on its own, costing just $3.98 per month.

What payment methods does Surfshark accept?
The better question would be — what payment methods doesn't Surfshark accept?
You can basically pay for Surfshark with anything, including:
Almost any kind of debit, credit, and prepaid cards
iDeal
Paypal
Google Pay
Amazon Pay
Cryptocurrencies
Other payment methods (may depend on your region).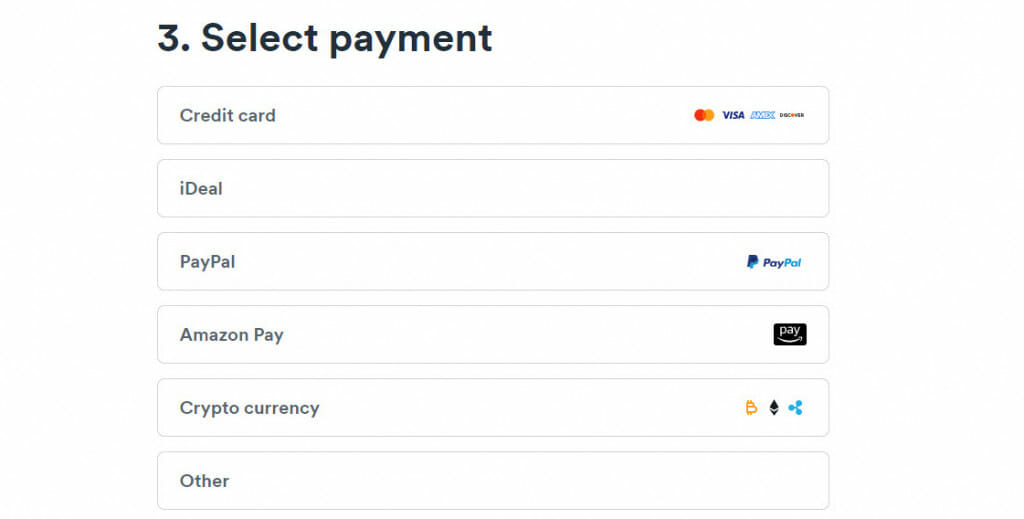 Does Surfshark have a free trial?
Just when you thought things couldn't get any better, Surfshark kicks it up a notch.
Surfshark offers a 7-day free trial with access to all of the app's functionality.
It's pretty tricky to get — you won't find it on the official website (unless you do some digging). But we'll tell you how you can get your hands on some of the free Surfshark goodness and make the most of your testing period.
As of writing, the free trial version of Surfshark is only available with the Android app.
However, if you've been reading our review as thoroughly as we've been writing it, you already know that Surfshark is available on an unlimited number of devices. So what you do is get the Android trial and then install the application on any other devices using the same login.
Easy as that!
As if that wasn't enough, Surfshark also has a 30-day money-back guarantee, which basically means you can take the service out for a spin for an entire month, and get a full refund if you're still not convinced it's awesome!
Customer service
We keep saying that a VPN's customer support is just as important as the VPN itself. So how does Surfshark fair in helping you with all of your questions, issues, and troubleshooting?
Spoiler alert! They are great at this as well.
Support website
First and foremost, Surfshark has a great support website.
FAQs, extensive guides, troubleshooting, using the many VPN features, setting up a VPN on consoles and routers, unblocking streaming services, filing for tax returns — you name it!

The support website is well organized and has everything you might need to learn how to use your Surfshark VPN to its fullest potential.
It might be lacking in the design department, but who has time for aesthetics when you're missing the latest WandaVision episode?!
Live support
If you thought that Surfshark's support website is good, their live support will blow you away.
Surfshark features 24/7 live support. And honestly, we can't get enough of it!
It's one of the most helpful and friendly customer support services we've seen in the VPN world.
The support staff is extremely friendly, swift, and helpful, and they can pretty much solve all of your issues. They're not just sending you to their blog or copypasting responses either, they do actually check and provide you with all the necessary information.
You can also get in contact with Surfshark's support via an online form.
And to make things even easier, the VPN app features direct access to all of the provider's support pages.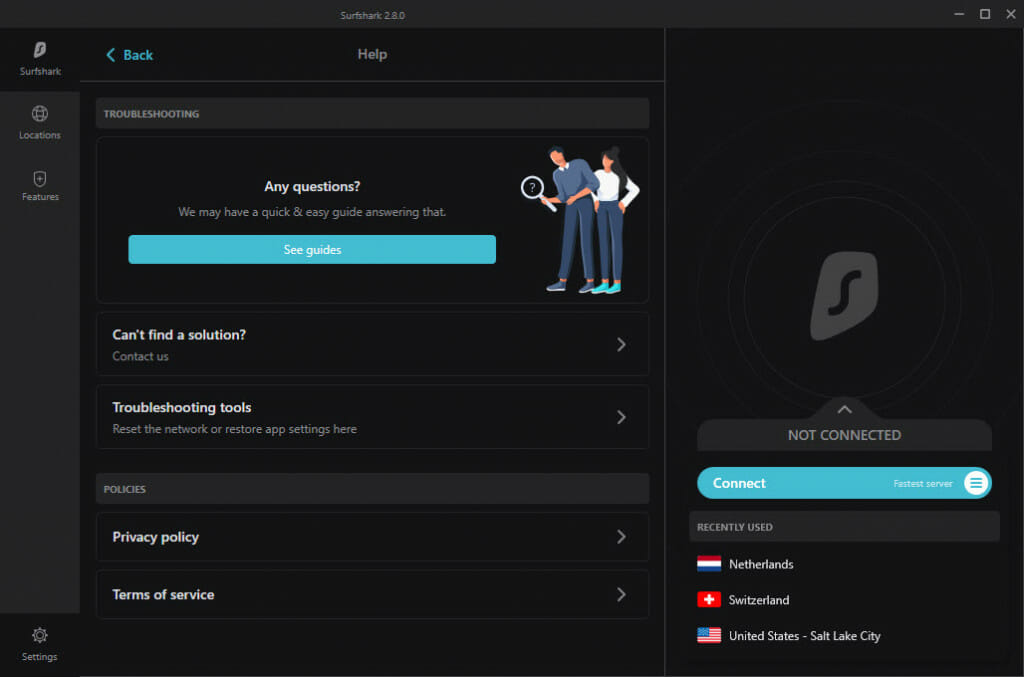 Bottom line
Full disclosure: we are big fans of Surfshark!

Sure, Surfshark might not have as many servers as some of the other providers, and the apps can be a bit work-in-progress from time to time. But the minuscule things it lacks and is working hard to fix, it more than makes up for with:
Stellar performance
Incredible speeds
A slew of unique features
Powerful streaming unblocking capabilities
Full P2P optimization
A simplistic and intuitive app
Great customer service
Honest price point
We honestly think that Surfshark more than deserves to be among the top-rated VPN providers, giving those that spent years perfecting their service a run for their money.
And we can't wait to see what the guys at Surfshark come up with next!
Be careful, leading VPN brands, there's a new big fish in the pond!
What is Surfshark?
Surfshark is a VPN service provider. Founded in 2018, Surfshark is one of the leading VPNs and offers a guaranteed no-logging policy, a wide selection of servers in over 65 locations all over the world, top-of-the-line security, and a wide range of exclusive features.
Where is Surfshark based?
Initially, Surfshark used to be based on the British Virgin Island. However, in 2021 the company changed its base of operations to the Netherlands.
What devices does Surfshark support?
Surfshark has dedicated apps for Windows, macOS, Linux, iOS, Android, Firestick, as well as browser extensions for Chrome and Firefox.
Surfshark can also be installed on Smart TVs, Apple TV Plus, Xbox One and Xbox Series X & S, and Playstation 4 & 5.
How many devices can Surfshark be used on?
Surfshark VPN can be installed on an unlimited number of devices with a single subscription.
How to use Surfshark?
To use Surfshark all you have to do is:
1. Get a Surfshark subscription.
2. Install the appropriate application on the device of your choosing.
3. Open the application and connect to one of Surfshark's many servers.
4. That's it! You are now browsing anonymously and securely.
How to install Surfshark on FireStick?
Surfshark has a dedicated application, designed specifically to use with FireTV.
To install Surfshark VPN on your FireStick all you have to do is:
1. Get a Surfshark subscription if you don't already have one.
2. Search for Surfshark on your FireStick device.
3. Install the application on your FireStick device, run it and connect to one of the provider's servers.
How to use Surfshark with Kodi?
To use a VPN with Kodi all you need to do is:
1. Get a Surfshark subscription if you don't already have one.
2. Install and launch the application.
3. Connect to any of the provider's US servers and enjoy unrestricted access to the Kodi application.
How to install Surfshark on your router?
To install Surfshark VPN on your router the first thing you need is a VPN-compatible router.
For detailed instructions on how to install Surfshark on your router, we refer you to the provider's support page with detailed instructions and guides on installing the VPN on all of the supported routers.
Does Surfshark work in China?
Surfshark is one of the best VPN services to use in China. It fully supports the Shadowsocks protocol, which is used to bypass Internet restrictions and online censorship in some of the most restrictive regions in the world, including China.
How to use Surfshark when downloading torrents?
All of Surfshark's servers are P2P-optimized. This means that all you have to do to safely and anonymously download torrents is launch the Surfshark application and connect to any of the provider's servers (we recommend using the fastest options to utilize as much speed as your connection will allow).
You are free to use any Torrent software and any torrent websites with Surfshark.
What is Surfshark Whitelister?
Surfshark Whitelister is the provider's split tunneling feature. It allows you to choose which applications always pass through a secure VPN connection, and which go through a regular one utilizing the full speed of your Internet connection.
The standout feature of Surfshark's Whitelister technology is that it doesn't just work with applications, but with websites as well.
Does Surfshark work with Netflix?
Surfshark guarantees access to 15 Netflix libraries, including Netflix US.
To access foreign Netflix libraries, all you have to do is connect to a server in the country which catalog you would like to access, and reload your Netflix app. That's it!
How to reach customer support?
You can access Surfshark's customer support pages straight from the application from the dedicated "Help" page.
You can also reach Surfshark's support straight from the provider's official website.
Can you get Surfshark free?
Surfshark has a 7-day free trial that is currently available in Google Play Store. After signing up with the service through Google Play, you can then install the application on any number of devices using the same login information, and use it without restrictions for 7-days.
Surfshark also has a 30-day money-back guarantee, so you can try the service out completely risk-free.
How to get a refund from Surfshark?
To get a full refund on your Surfshark subscription, all you have to do is contact Surfshark's live-support team through their website or via email: [email protected].
How to cancel a Surfshark subscription?
You can cancel your Surfshark subscription at any time through the provider's Live-chat service on their website, or via email: [email protected].