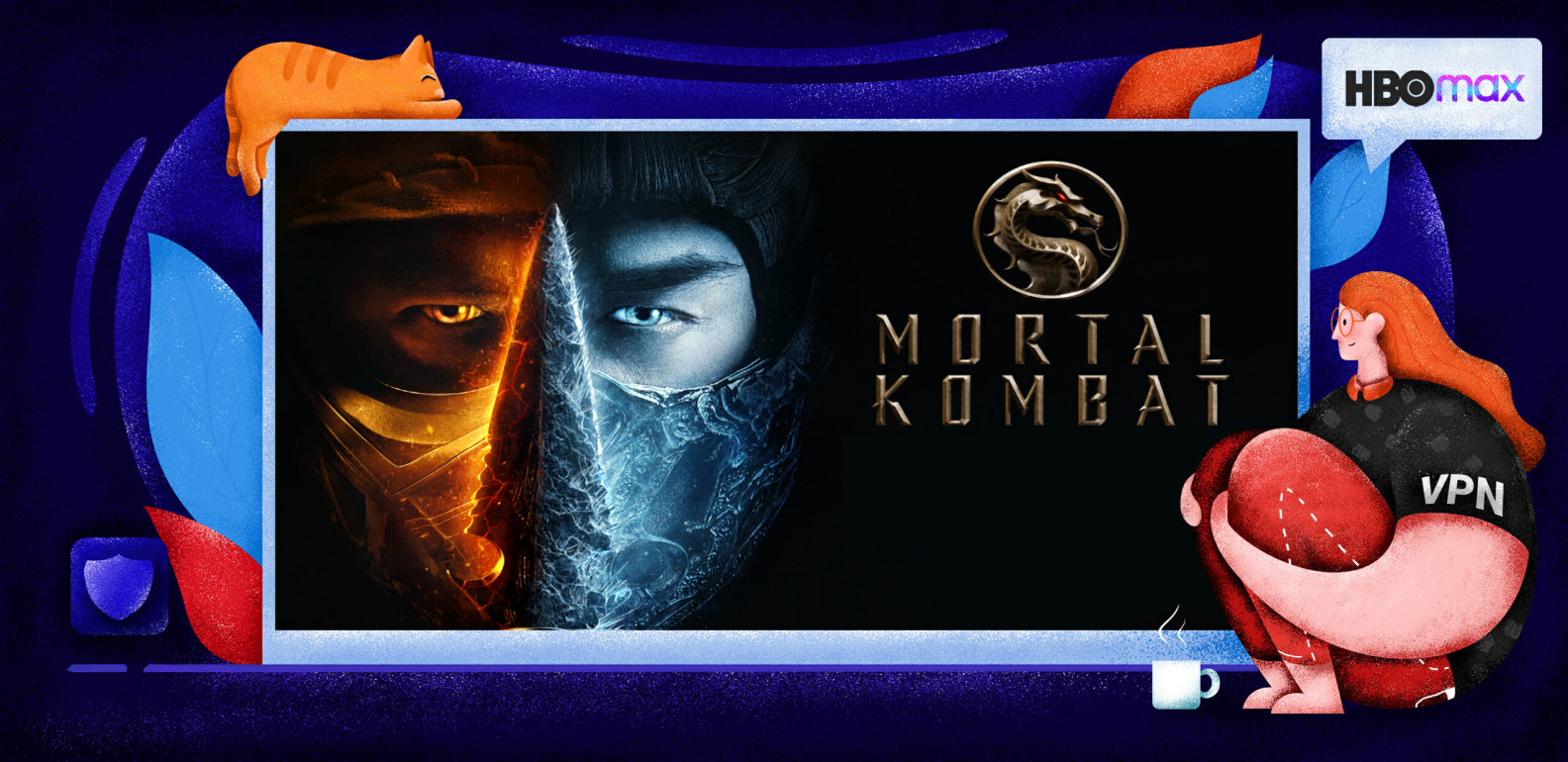 How to Watch the Mortal Kombat in India
GET OVER HERE!
And get over here it finally did! The new Mortal Kombat movie is nearly out, and we can't wait!
Before it was the most long-awaited movie of April 2021, Mortal Kombat was the bloodiest ever game with the first-ever secret character. And we loved it!
Over the years, we have witnessed many sequels and spin-offs, along with three movies, "Mortal Kombat" in 1995, "Mortal Kombat: Annihilation" in 1997, "Mortal Kombat: Rebirth" short film in 2010, and a few YouTube mini-series. Incidentally, the YouTube shorts did way better than the big-budget movie.
But even so, the Mortal Kombat movies have become cult classics… maybe for the wrong reasons ?
The new Mortal Kombat, however, has all the chances to get everything right.
Directed by Simon McQuoid, will air on the 23rd of April, 2021.
Where can you watch Mortal Kombat?
You will not want to miss the Mortal Kombat reboot.
The movie is slowly rolling out across the world with different release dates in different countries. In India, Mortal Kombat will come out in theatres on the 23rd of April (same as in the US). But with the world still being on fire, and the restrictions still being tough, we hope you will stay safe.
But that doesn't mean you have to miss out on the most anticipated release since the Snyder Cut!
So the question has to be asked: How can you watch Mortal Kombat from the comfort of your safest couch?
---
Once released, Mortal Kombat will be available exclusively on HBO Max.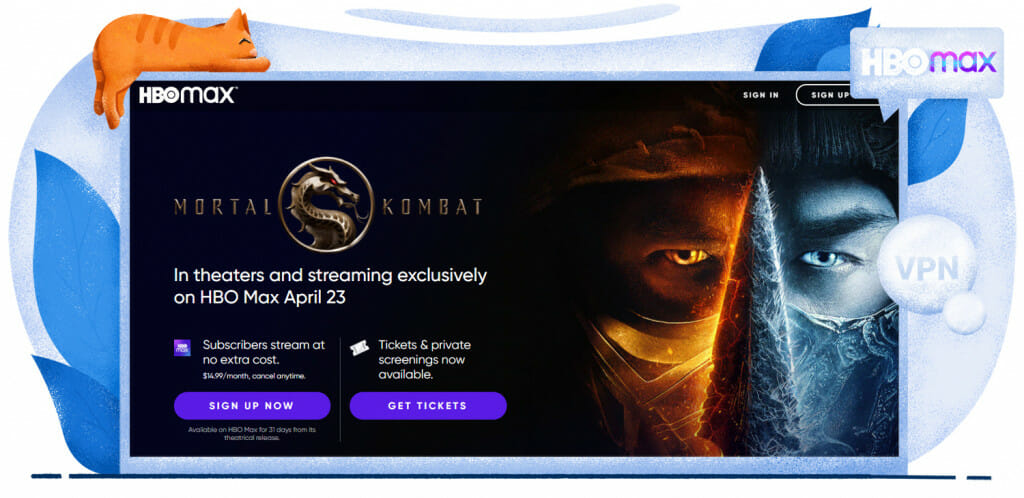 You might think you got it bad at this point, but we have two more disappointing news.
HBO Max is available exclusively in the United States. Warner Bros' 2021 theatrical releases, in turn, are available only 31 days on streaming services after their release.
To put it simply, you will have one month to watch Mortal Kombat on HBO Max.
So is all lost?
To that, we say: NO.
Can you watch Mortal Kombat in India?
Let's not beat around the bush. The short answer is: Yes!
In India, you are going to have to solve two issues to get HBO Max.
The first and most obvious is bypassing the geographical restrictions imposed by the streaming service.
The second – HBO Max is a paid platform and it only accepts US-issued bank cards.
The rules might be strict, but they were made to be broken (just like Sub-Zero's spine).
So rest assured, with a bit of ingenuity and knowledge, you will be able to experience Mortal Kombat together with millions of fans all over the world.

Mortal Kombat on HBO Max: The foolproof guide to streaming
All of this might seem confusing and difficult.
But don't worry, we'll hold your hand and guide you through the process. So you will be naming Mortal Kombat characters in no time.
Step 1 – Bypassing geo-restrictions
First of all, you need to get a VPN. This is the only way to make HBO Max available in India.

Not sure what a VPN is and why you need one?
With a good VPN, you will be able to change your virtual location to the USA, granting you access to HBO Max.
Without a VPN, all you will be able to see is the message "Out of service area screen".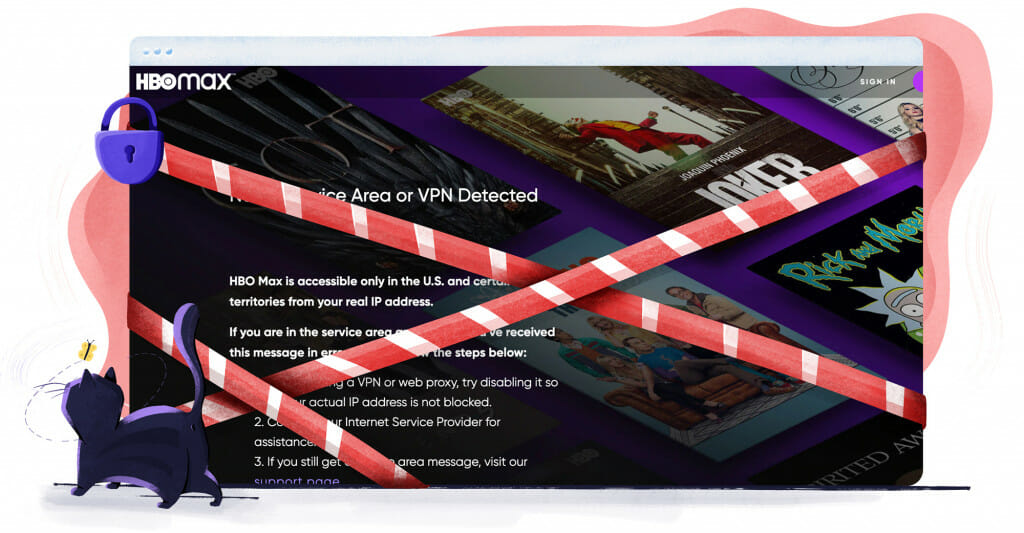 We recommend NordVPN.
This is your safest bet. Instead of going through tons of free VPNs and slowly realizing none of them work, when all of Mortal Kombat is already spoiled, go with the provider that:
Has tons of servers in the US.
Is guaranteed to unblock HBO Max.
Is fast and reliable enough to let you stream Mortal Kombat in all its gory goodness.
Step 2 – Get an American bank card
As mentioned before, HBO Max only accepts US-issued cards.
Luckily, we know how you can get one in India.
To do so, you will need to visit our friends at US Unlocked.
Get your virtual US bank card today!
By following our link, you will make sure to tell them we've sent you. In return, you will get what you are looking for.
Then, you will need to create an account, patiently wait for it to be approved, and load it with an appropriate amount of money.
By the way, HBO Max's monthly subscription is $9.99/month. And in India, you can load your US Unlocked card with a  direct bank transfer.
Step 3 – Create an Account
Once you "are" in the USA with a US-issued bank card, things get much simpler.
You need to visit HBO Max and create an account, just as you would if it was available in India.
One thing to keep in mind is not to turn off the VPN at any point and have it connected to a server in the US (duh…).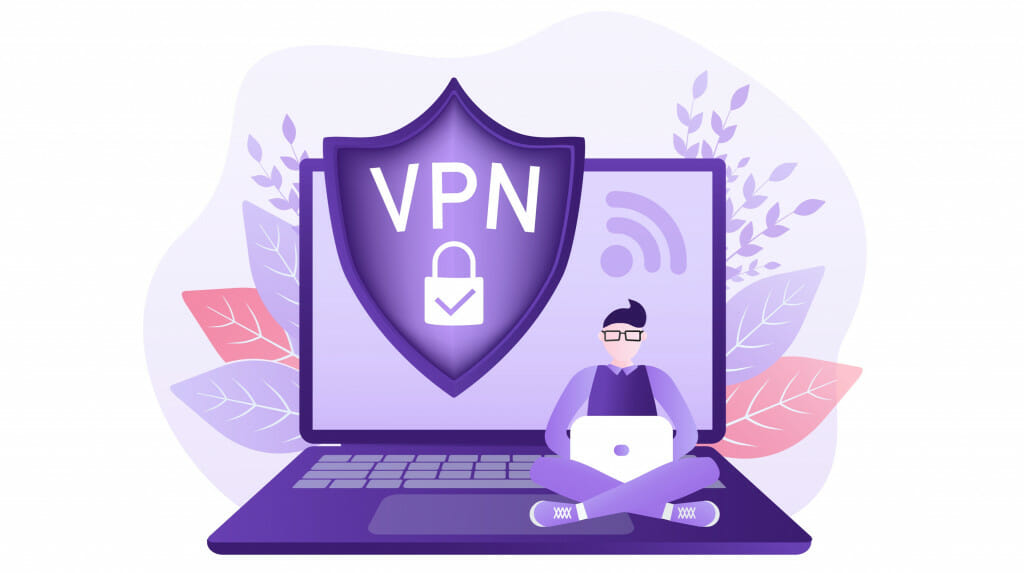 Last but not least, make sure to yell MORTAL KOMBAT as loud as you can.
FATALITY
The upcoming Mortal Kombat looks pretty impressive.
It's unlike the previous movies, as it features completely over-the-top violence and gore. So pretty much every fan's dream.
And there is nothing standing between you and all of that gory goodness! A combination of NordVPN and US Unlocked will break through any restrictions and get you shouting 30-year-old catchphrases in no time!
Wait no more and get straight to business, as the 23rd of April is just around the corner!