Overview
HMA is one of the oldest VPN providers on the market. Founded in 2005, it is still present among the best VPN services in the global rankings. In 2016, the UK based company was acquired by Avast, the largest Internet security developer in Europe.
Ratings
HMA VPN is one of the oldest providers on the market. Founded in 2005, it still holds its place among the best VPN services in the global rankings.
In 2016, the UK-based company was acquired by Avast, the largest Internet security developer in Europe. Since then, the company grounded its marketing and advertising campaigns. It even went as far as to change its name from HideMyAss to HMA (such a shame).
Currently, the provider offers more than a thousand servers in the Americas, Europe, Australia, Asia, and Africa. It is even present in Macau, Taiwan, Guam, and Russia.
HMA VPN Speed Test
Internet speeds with an HMA VPN connection are surprisingly good.
The smart load balancing built into the service ensures your browsing is routed to the quickest and most stable server available. Even the most demanding VPN users will be able to find relatively fast servers in locations that tend to get a bad rep.
Speed within Europe and the U.S. is excellent. In the screenshots, you can see the speed results after connecting to the U.S. servers from Europe.



Browsing and streaming go with no interruptions and latency.
As for gaming, everything went smooth as well. However, once in a while you do hit an occasional lag. But this is pretty much the norm with almost any VPN provider.
HMA VPN streaming services support
US Netflix, off-limits to European users, has a similar range of special VPN servers on HMA "Liberty Island" locations. Enjoy uninterrupted streaming – until Netflix catches up, that is.
Smaller, more local streaming services offer even less resistance to the streaming of their geo-blocked content. Sporting events, for instance, aired through national broadcasters, are easy to access and stream.
Despite the VPN blocking efforts of streaming services like Netflix and BBC iPlayer, HMA seems to be ahead of the curve. Its "Donkeytown" servers are set up in such a way to specifically connect to BBC iPlayer without problems. 
Amazon isn't exactly on-board with people using VPNs to get around its geo-restrictions, and if it detects you're using a VPN, it will probably try to block your IP address. Fortunately, HMA VPN has servers optimized for streaming, so it shouldn't be a problem.
You may succeed in getting access to the Apple TV Plus content if you select certain U.S. servers. You can also try some European servers if the content you are looking for is available there.
Unfortunately, HMA VPN can't guarantee access to Hulu as of now.
HMA VPN for gaming
After recent updates, HMA VPN servers run at 20 Gbps which is great for online gaming, no matter if it's an MMORPG or some battle royale-type game you are itching to play. All the servers are optimized for fast and secure gaming. You are free to choose any of the 190 countries to ensure you have the best ping, upload, and download speeds.
Interestingly enough, HMA VPN has servers in places such as Russia, China, South Korea, and Singapore which means you can take part in beta testings unavailable for most gamers. 
Privacy and security
According to some sources, HMA VPN cooperated with the U.S. and the UK authorities in sharing user logs related to a hacking case. Although this led to the arrest of a hacker known as the "LulzSec fiasco", many users claimed they are concerned about the provider's policy.
However, the hype calmed down when in May 2020, HMA announced that they stopped collecting user logs and now position themselves as a truly no-log VPN. According to the provider's statement, they do not track users' real IP addresses, online activity, and even the volume of the data transmitted through the servers.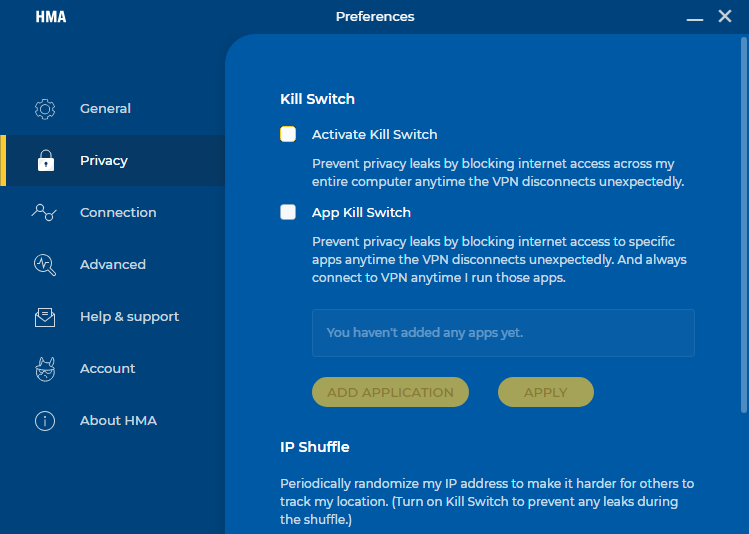 Anonymous surfing is easy when using HMA. The provider features every important security protocol known to the VPN world, and we didn't find any leaks or other security issues when we tested the service. HMA seems to be doing a really good job here!

You can find more info on testing your VPN connection in our dedicated article on this matter.
Since HMA is now part of Avast Software, known for its excellent virus scanner, it certainly adds to HMA's reputation.
Pricing
There are three basic plans you can choose from when subscribing to HMA VPN:
12-month plan which costs $4.99/month
24-month plan which costs $3.99/month
an exclusive 36-month plan you can only get with us, that will save you 75% and costs just $2.99 a month.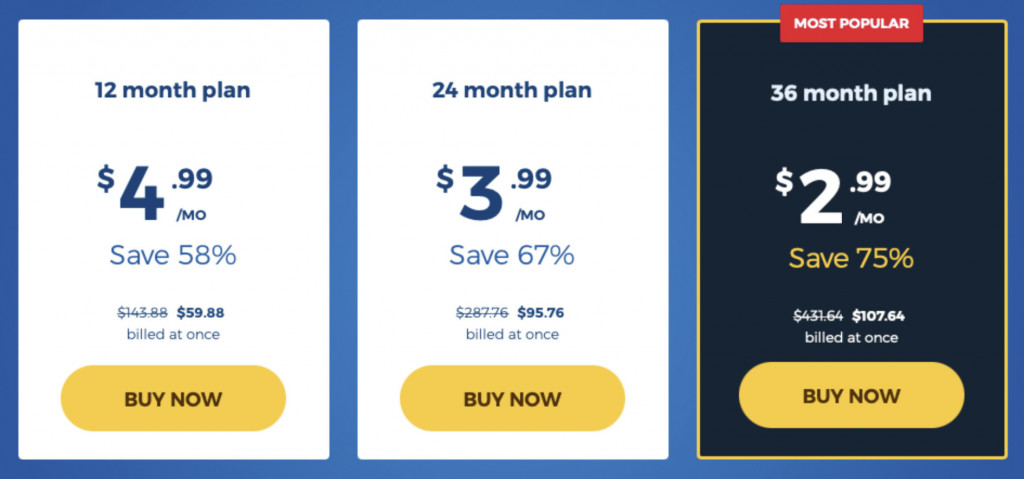 HMA also has a business solution that lets you connect up to 30 devices simultaneously and scale the subscription along with the growth of your business.
The provider has a 30-day money-back guarantee that allows you to try out the service risk-free.
Usability
Both desktop and mobile HMA apps excel in their simplicity and utility. Everything in its straightforward design is aimed towards finding the right VPN server for you as quickly as possible.
One of the most interesting features in the latest version is an IP refresh button which allows you to quickly change your IP address in the selected location with just one tap. This is especially useful if the IP you're using suddenly becomes blocked by some service. With this nifty feature, you don't have to go through disconnecting and trying other servers – just one tap and you're there.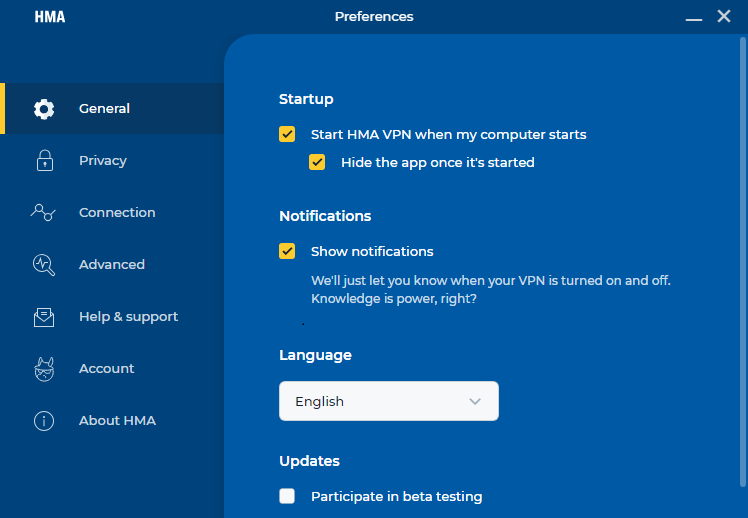 Another awesome feature is the Kill-switch. Apparently, it is not available for iPhone and iPad, however, Android users can find it in the sidebar.
Split-tunneling is another perk available for Android only.
Conclusion
HMA VPN offers an excellent service for both experienced and beginner VPN users.
With HMA by your virtual side anonymous surfing is a walk in the park, and as long as you keep your activities within the confines of the law, your privacy is not a concern.
Access to popular streaming services such as US Netflix or BBC iPlayer (UK) from abroad is a breeze. HMA is also recommended for companies, with several unique options and functions supporting company networks.
FAQ
Does HMA VPN support P2P and torrenting?
Yes, HMA VPN could be good for torrents. However, you need to select P2P-optimized servers. Most of them are located in Prague, Frankfurt, Amsterdam, London, and New York.
Where can I see all payment options and change the payment method?
You can find all the payment methods listed here. To change your current payment method you need to log into vpn.hidemyass.com and under "Billing" stop current subscription, which will allow you to "Renew" with the new billing details.
Which HMA VPN servers are the best for accessing Netflix?
To access full Netflix library with the best speed it is suggested to connect to the U.S. servers. We recommend servers located in New York, Liberty Island. However, you may try other regions as well. Here you may find all the HMA servers optimized for streaming.
How can I contact HMA VPN support? Do they have a live chat?
You may submit a request through the Help section or contact HMA support team via Live Chat on any platform.
What protocols does HMA VPN work with?
HMA VPN works with the next protocols: OpenVPN®-UDP (also called "Auto-Path"), OpenVPN®-TCP, PPTP, L2TP.