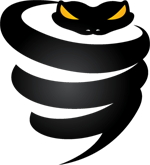 Overview
Launched in 2009, VyprVPN is one of the oldest VPN providers around. With tight security, and decent streaming unblocking capabilities, VyprVPN leaves you wanting more with a lack of advanced options, awkward desktop app design, and inconsistent speeds. However, you can't beat the price tag.
Ratings
Features
| | |
| --- | --- |
| Apps | Windows, macOS, Android, iOS |
| Price | $8.33 per/month |
| Payment methods | PayPal, Credit Card |
| Refund | 30 days |
| Protocols | OpenVPN TCP/UDP, L2TP/IPSec, IKEv2/IPSec, WireGuard |
| Log Policy | No logs |
| Simultaneous connections | 5 devices |
| Based In | Switzerland |
| Netflix | USA, UK, Canada |
| Torrenting | Yes |
| Streaming | BBC iPlayer |
| Works in China | Yes |
| Jurisdiction | Switzerland - Not a Fourteen Eyes Country AND Not an Enemy of the Internet. |
| Server Locations | 70 |
VyprVPN isn't just a cool name and an intimidating mascot.
Founded way back in 2009, the Swiss-based VyprVPN is one of the oldest VPNs out there.
This VPN was created by the masterminds behind Golden Frog – a company that was building online security software at the dawn of the Internet, Giganews – one of the most popular Usenet providers in the world, Data Foundry – a data system operation company, and Outfox – an optimized gaming network.
So right out of the gate, VyprVPN is coming in hot with an impressive rap sheet.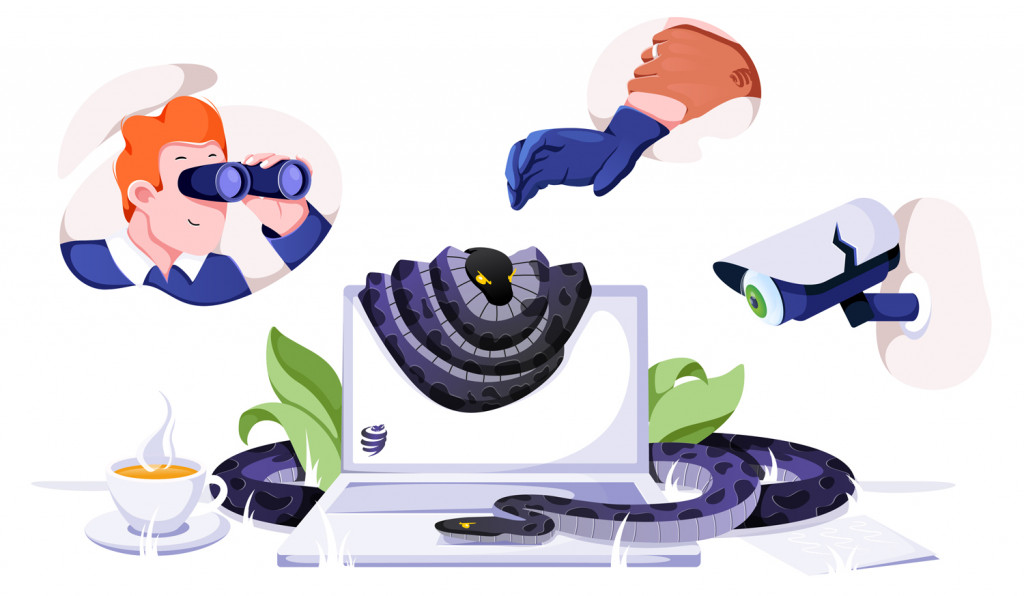 But as important as prior experience and being an OG in the world of cybersecurity may be, the world of VPNs is unrelenting. New providers are popping up every other day looking to tear down the competition.
So where exactly does the big bad Viper land in the VPN food chain?

VyprVPN servers
VyprVPN hosts over 700 servers in 70+ countries around the world and manages over 300,000 IP addresses. Its server network is also constantly growing in both numbers and location diversity.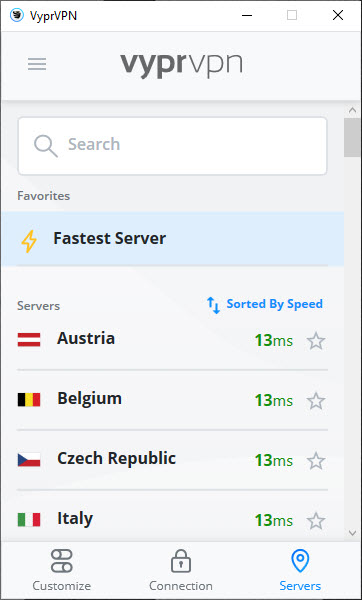 Now, you might be thinking: These are not really impressive numbers…
True. But while VyprVPN doesn't have the largest server network around, it does have one of the most unique and diverse selections of servers we've seen. It's probably the only VPN provider to have servers in El Salvador, the Marshall Islands, Uruguay, Macao [wait, where's Macao?].
While this choice of server placement may seem strange to some, we have to salute VyprVPN for bringing online security and anonymity to places we actually had to look up on Google Maps.
But that's not all. VyprVPN has a few other things going for its servers.
VyprVPN is the only provider that has its own servers. And while there is nothing immediately bad about a VPN using third-party servers (saves on maintenance, for sure), VyprVPN having its own server park just makes you feel all safe and cozy at night.
Jokes aside, though, a personal server network has a lot to offer. With this, VyprVPN basically guarantees that:
No third parties will ever be able to access the servers and any information that may or may not be stored on them.
All of their servers are stable, fast, and none of them ever get overcrowded.
Hardware is well-maintained, well-performing, and completely wiped of all user data.
Even if one of the servers goes down, VyprVPN will automatically switch you to a different one, ensuring that your VPN connection never drops.
VyprDNS
Servers aren't the only thing that VyprVPN owns. It's also one of the few VPNs that have their own zero-knowledge private DNS called… well… VyprDNS.
Owning your own private DNS really pays off. It makes sure that:
You do not use your ISPs or 3rd party DNS, which are usually configured to log and monitor your data.
The user can access virtually any website, bypassing any local restrictions.
You are safe from man-in-the-middle and other cyberattacks.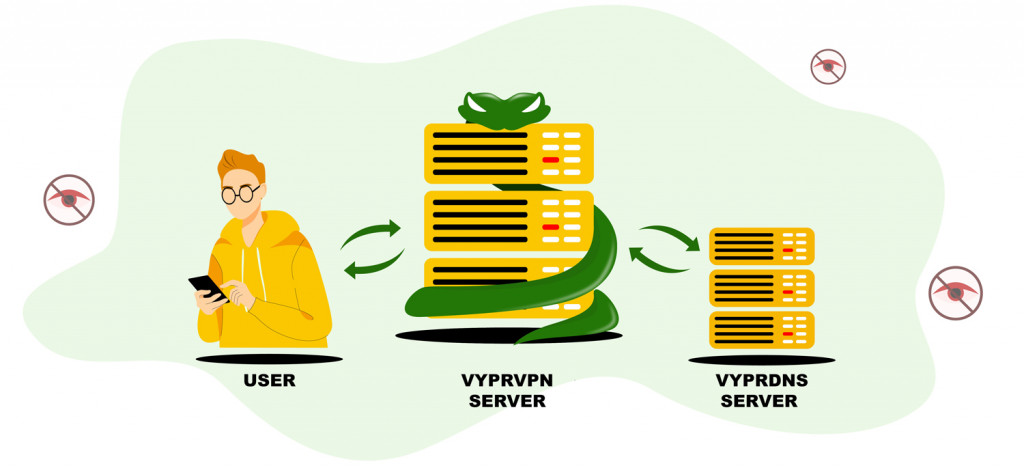 If that's not your cup of tea, however, the VyprVPN app does offer you the possibility to use Third Party DNS, making sure you have all of the options and no one is forcing you into anything.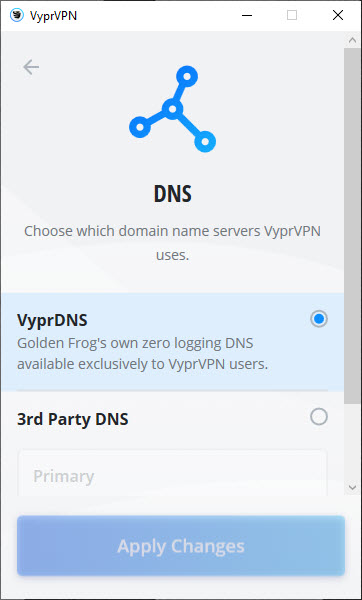 ---
So far, so good, right?
Well, it's not all fun, games, and private hardware.
VyprVPN mostly uses virtual servers to connect you to different locations. And while Vypr does not hide the fact it's using virtual servers, it does not explicitly say, which of the servers you are trying to connect to are physical, and which are not.
Our tests indicate that as much as 70% of VyprVPN's servers are virtual.
Big whoop! Most VPNs use virtual servers anyway.
While that is true, something might have gone wrong with Vypr's Smart DNS setup.
On multiple occasions when we tried to connect to, say, Qatar, we ended up in good old Macao [ah, the times we spent there].
While this isn't anything game-breaking, this might pose an issue for those looking to get an IP from a specific location.
VyprVPN actually has a guide on how to solve this issue, blaming everything on websites and search engines, but, alas, it did not work for us.
VyprVPN Speed Test
Speed tests… The trial by fire of any VPN service.
Of course, as every other provider, VyprVPN says it's the fastest VPN around. But does it follow through on the claim?
Well, VyprVPN's speeds are decent.
The connection speed greatly varies depending on the server you connect to. And while that can be said about virtually any VPN provider, the drop in speed can be barely noticeable in the grand scheme of browsing, gaming, or streaming, or turn your online experience into a game of "Who's going to time out faster – the website, or you".
Sadly, VyprVPN tends to fall into the latter category.
While the provider has drastically improved its speeds in the last few years, some connections and speeds still leave a lot to be desired.
It's very hard to determine the average drop in Internet speed when connected to one of VyprVPN's servers. So to give you an idea of what to expect, here's our regular connection speed: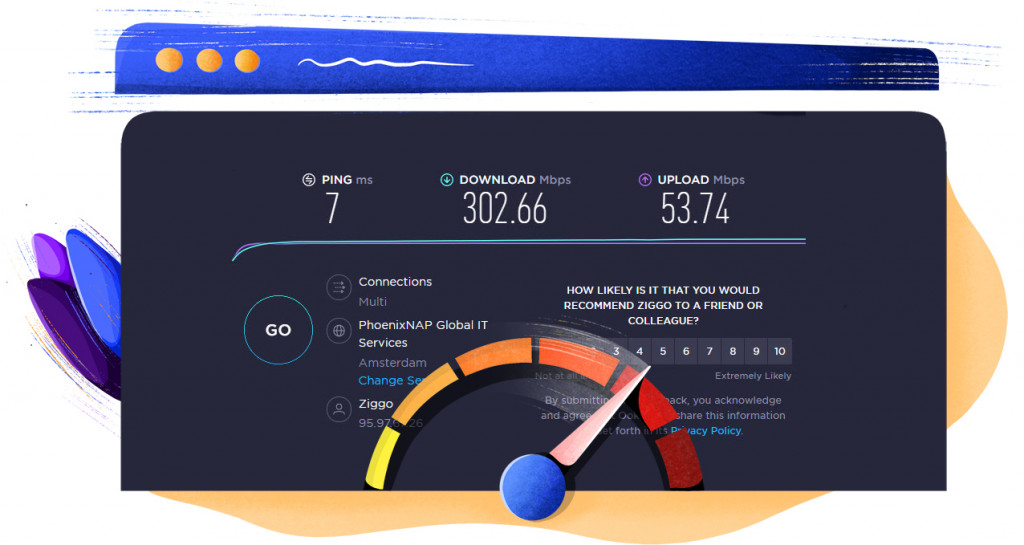 And here's the speed when connected to the optimal (fastest) server: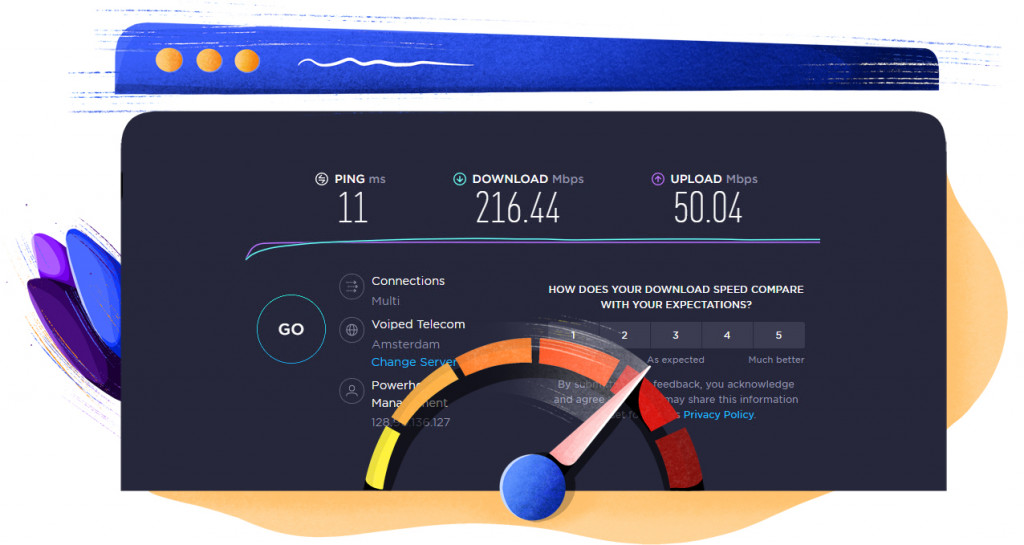 So a speed drop of about 28%. That's pretty decent.
But then you connect to a US server, and get these results: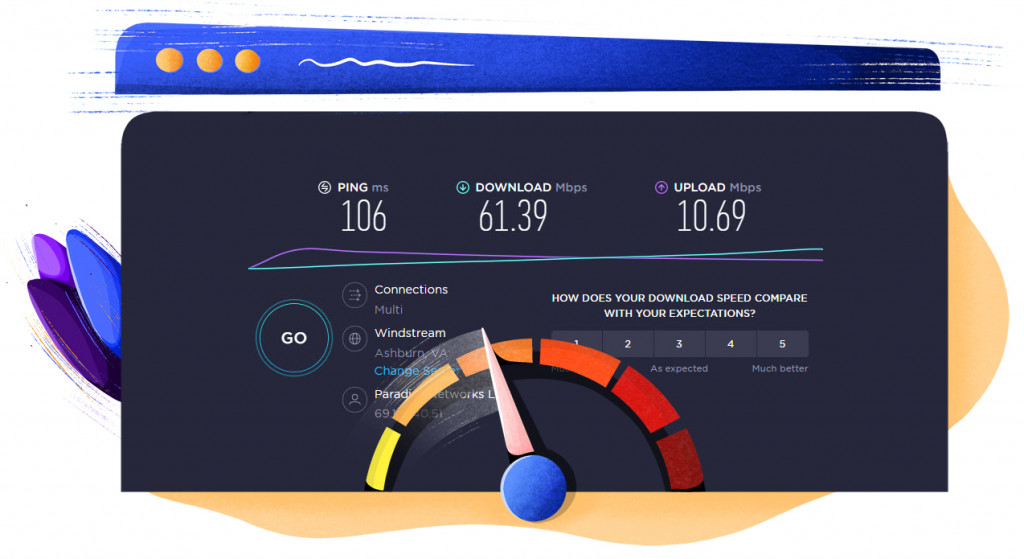 That's almost an 80% drop.
But the speed is still pretty decent for browsing and streaming. So maybe things aren't that bad.
But then you take things a bit further and connect to an Indonesian server: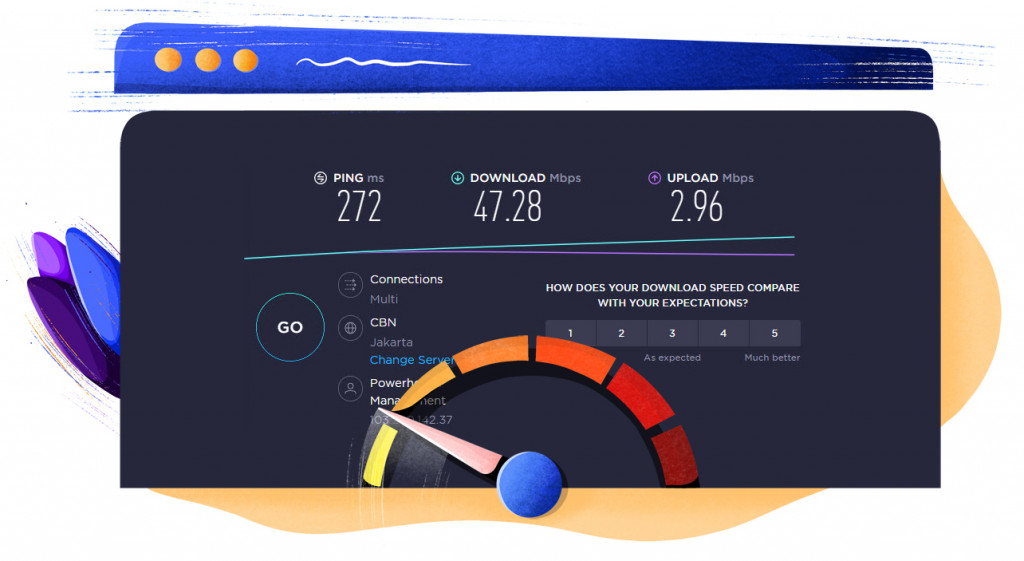 That's a speed drop of 84%.
But then you get curious and find out things can still get worse. Here's what we got when connected to a Taiwanese server: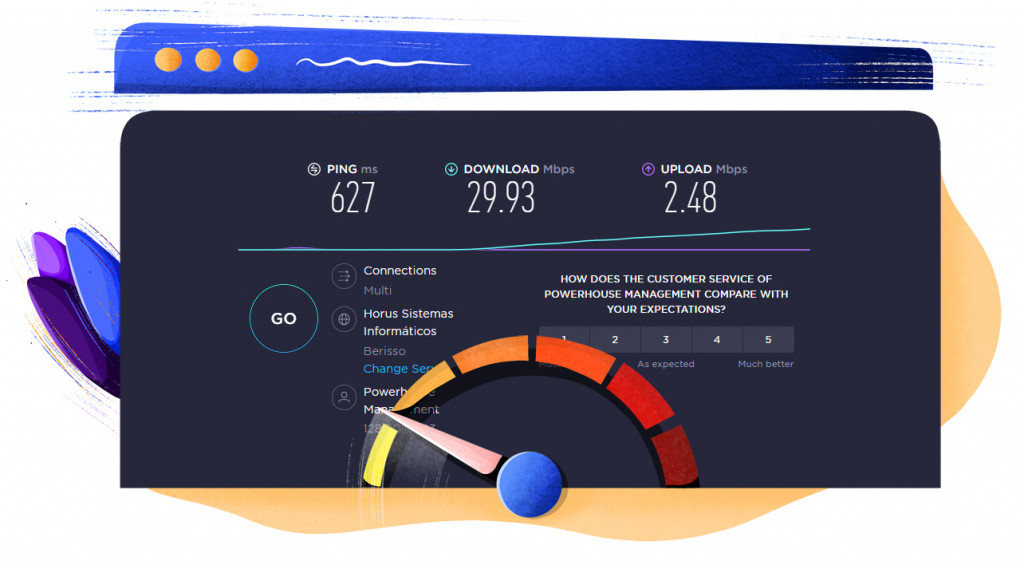 That's a 90% drop in download speed, a 95% drop in upload speed, and check out that 627 ms ping, son!
At least the server in Macao is doing fine: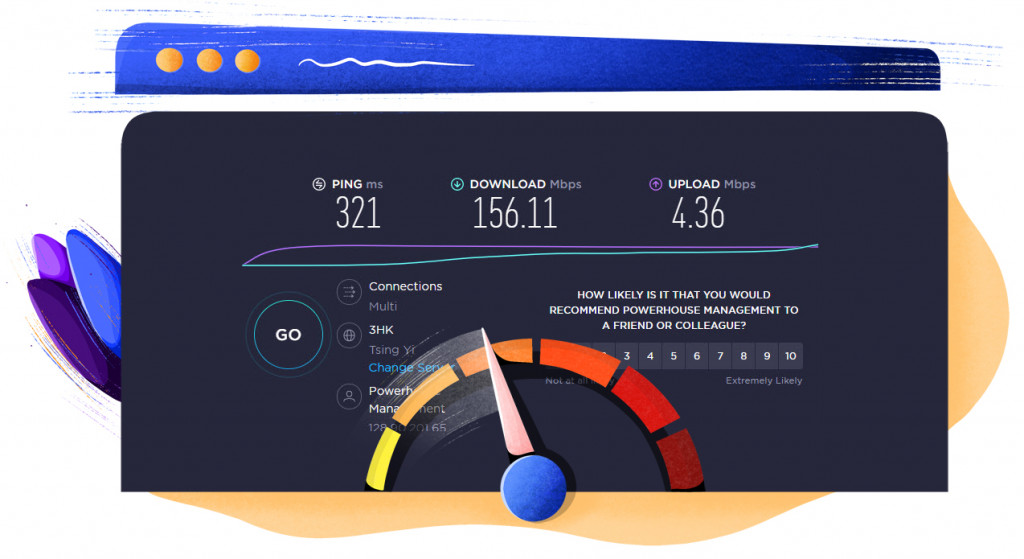 But we're being too harsh on VyprVPN.
For the most part, the provider's speeds are decent and will definitely be sufficient enough for all your online needs.
To make things easier, the VyprVPN app does come with a handy "Fastest Server" feature. If you choose to stick to that option, you should be good, and experience no connection issues whatsoever.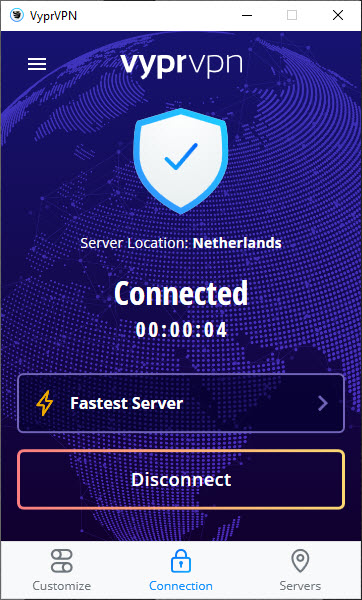 The app also displays the servers' ping time, which makes it that much easier to choose the perfect one to connect to. Really comes in handy if there's more than one server in a particular country.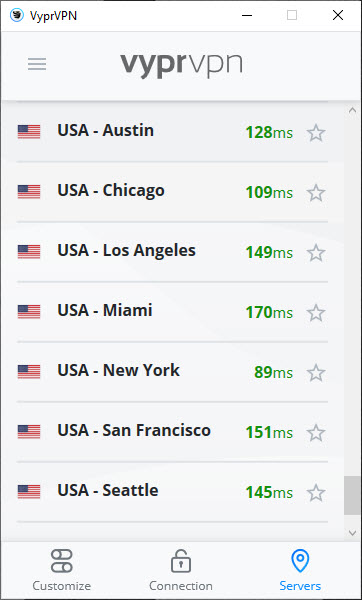 VyprVPN security and privacy features
VPNs are first and foremost all about security, privacy, and anonymity online.
Given VyprVPN's history, as well as the people behind it who were creating cyber-security software from day #1, we came in with high expectations.
Now, there's no way around it. VyprVPN was off to a bit of a bumpy start and made a few rookie mistakes early in its life cycle. And the Internet will probably never forgive nor forget those.
But a lot has changed since then. So the real question should be how good of a VPN it is today, rather than 10 years ago.
We put the provider through all kinds of security tests and trials and found nothing to complain about [which really made us feel uncomfortable].
Case-in-point: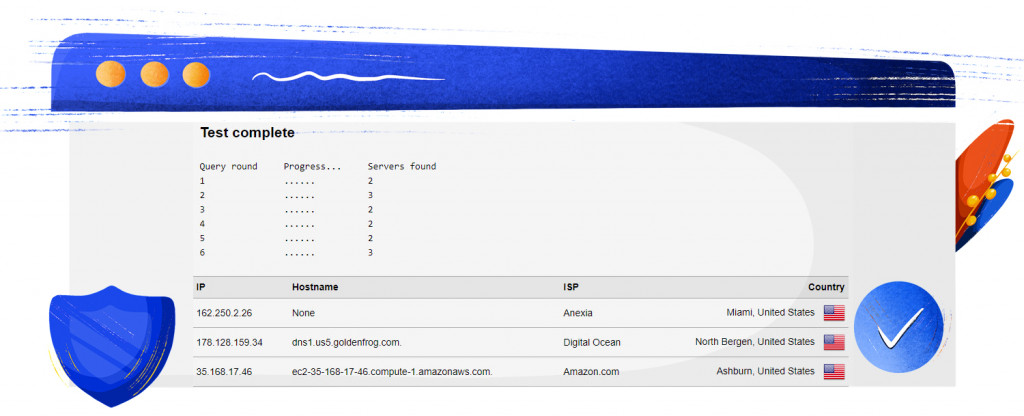 OK, enough with the pictures, let's get our hands dirty.
Encryption
As any self-respecting provider, VyprVPN comes with mandatory 256-bit encryption.
This is today's gold standard, and if a VPN doesn't have that covered by now, it might as well close up shop.
However, if you like to take chances and get a bit more speed in exchange for a bit less protection, VyprVPN lets you choose 160-bit encryption with the OpenVPN protocol.
We would not recommend it, though, unless you are not after absolute online protection and know what you're doing.
On top of having great encryption, VyprVPN also hooks you up with DNS protection thanks to its VyprDNS technology to keep you safe from man-in-the-middle attacks, as well as online surveillance.
Protocols
The list of VyprVPN supported protocols is pretty short, but pretty diverse at the same time. It definitely has everything you need to stay protected online.
VyprVPN supports:
OpenVPN – the industry-standard protocol is available on Windows, Mac, Android, iOS, and routers, but with possible manual setup on other devices as well.
IPSec with support for both IKEv2 and LT2P, available on Windows, Mac, and iOS (IPsec/IKEv2 only).
WireGuard – the most recent of VPN protocols, built to provide speed above all else. This is the most lightweight protocol that offers the best speeds with powerful encryption, and it's been made available on VyprVPN's Windows, Mac, iOS, and Android apps since late 2020.
Chameleon – VyprVPN's own protocol is designed specifically to bypass online censorship. The protocol is available on all major platforms, including Windows, macOS, iOS, and Android.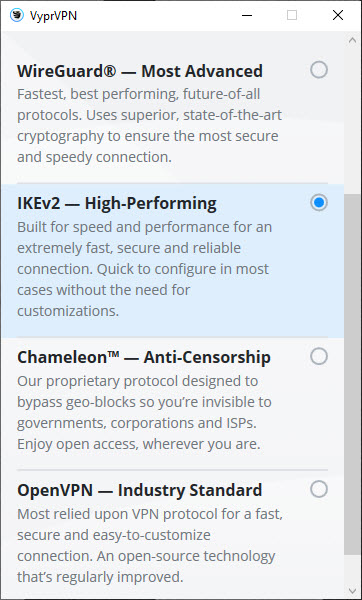 Now, there are two protocols that caught our particular attention.
VyprVPN's WireGuard privacy concerns
First of all, it's WireGuard.
While more and more VPN providers are implementing it into their apps due to its obvious benefits, the protocol does come with inherent privacy issues.
The out-of-box WireGuard protocol stores your IP address on the VPN servers indefinitely, which could compromise the user's privacy. While most big VPN providers have found possible solutions for the issue (like NordVPN, and Surfshark), VyprVPN has never addressed them.
This might be a case of a misplaced memo for the copywriter, but, for us, this is a pretty major cause for concern. So use WireGuard at your own risk.
VyprVPN's Chameleon protocol
The other protocol that caught our eye was VyprVPN's own Chameleon protocol.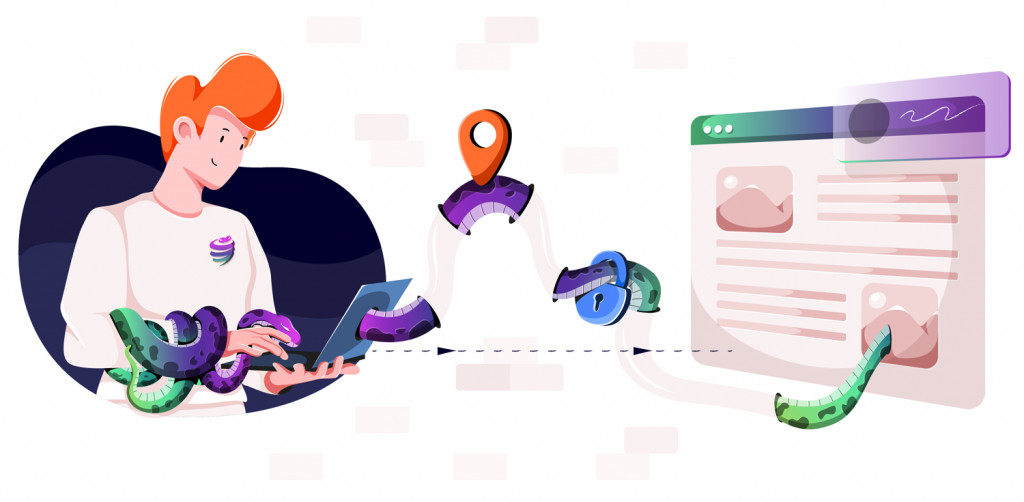 As Golden Frog puts it, "the protocol was designed specifically to bypass firewalls and blocks in the most restrictive regions of the world".
The protocol works fine and it's definitely helpful when breaking through some of the nastier blocks.
However, we wouldn't go as far as calling in a new VPN connection protocol.
Chameleon is based on OpenVPN and simply scrambles VPN-related metadata to prevent blocking by deep pocket inspection (DPI).
This technology is actually not that new in the VPN world. Surfshark was the first VPN to introduce obfuscation to its servers, shortly followed by NordVPN.
The technology is cool… But a new, revolutionary protocol? – That's a bit much.
Logging policy
So there's no getting around the elephant in the room…
Being one of the oldest VPNs around, VyprVPN was prone to make some mistakes early on. And one of them was stating that they do log user data, including their original IP addresses, VPN IP addresses, timestamps, and the amount of data used. They would retain this data for 30 days to handle troubleshooting, billing information, and any illegal activity that may have been committed using Vypr's services.
Now, this will put any VPN provider on the Internet's hit list. But you have to remember that this was ages ago, back when the few VPNs roaming the cybersphere were still trying to find their footing.
The only reason we bring this up is because someone will definitely call us out in the comments otherwise. So there you go.
Since then VyprVPN has revised its privacy policy and was audited by Leviathan Security in 2018 to prove that they truly are a No-Log VPN.


We would love a reputable VPN provider to do audits more often but we are willing to trust VyprVPN on this one.
Kill Switch
Like any modern VPN, Vypr comes with a kill switch which ensures that if the VPN connection ever drops, none of your personal information or traffic will be exposed.

However, VyprVPN probably has the most unique and most aggressive kill switch we have ever seen.
First of all, unlike ALL of the other VPN providers we have tested, VyprVPN's kill switch goes to town immediately.
If you have the Kill Switch enabled, it will immediately block all of your traffic if you're not connected to one of the provider's servers, as opposed to blocking traffic if a VPN connection drops.
We are not sure what lead the guys at Golden Frog to this decision, but if you want to use the Kill Switch option, you best be sure you have the "Connect on System Boot" feature enabled as well. Otherwise, it will get really annoying really soon.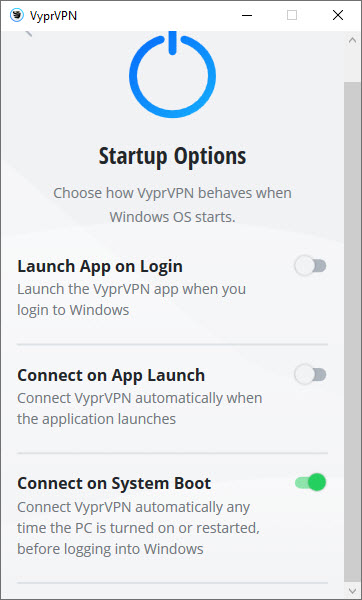 Other than that, VyprVPN's kill switch has a few unique features for those who really want to go into the privacy Twilight zone:
You can turn off the kill switch when you quit the VyprVPN app (this helps with crashing your entire connection a little bit).
You can also keep the kill switch enabled even when you quit the app. With VyprVPN that basically means that you will have no internet once you turn off the app (or the app crashes).
The app also allows you to kill all LAN traffic when the kill switch is active.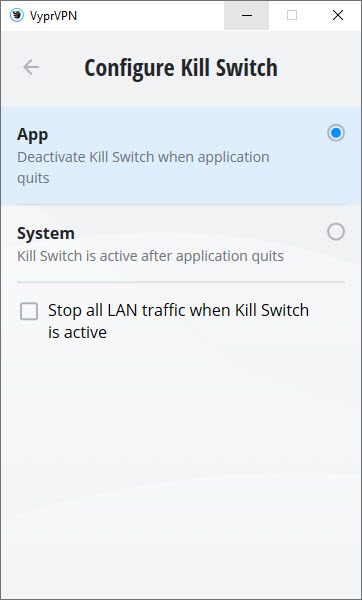 We have to give props where props are due – this is a pretty unique kill switch configuration.
But is it user-friendly? – Not really.
This might just be us. We have been testing providers for years now, and we are used to kill switches working in a very particular way.
So we found VyprVPN's kill switch (however well it works), to be more frustrating than useful.
However, if you would like to have complete and absolute control over your internet traffic and leave absolutely no traces of your online activity behind – VyprVPN is probably the provider for you.
For the rest of us – probably add a few more features to the kill switch configuration, and we'll be friends.
Public Wi-Fi protection
Another unique feature of VyprVPN is its dedicated public Wi-Fi protection feature.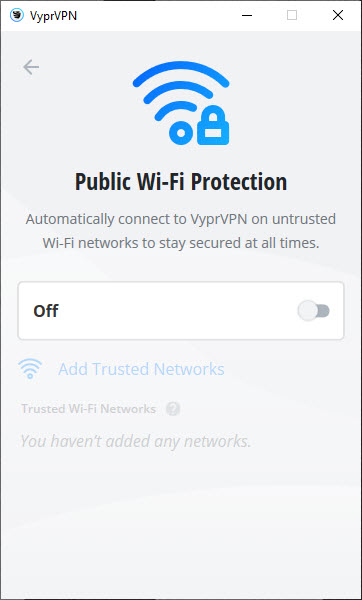 With public Wi-Fi becoming the new major cybersecurity risk for each and every one of us, VyprVPN has implemented a rather unique feature designed specifically to minimize these risks.
With the Public Wi-Fi Protection feature enabled, the app will automatically establish a secure VPN connection once you go online on a public network, keeping you safe and sound wherever you decide to browse Reddit.
You also have the option to add networks you trust to the list, so you won't have to connect to a VPN every time you go online.
---
That's pretty much it for all of the features VyprVPN has to offer.
If we had to make a call about VyprVPN's security and privacy features right here and now, we'd say that VyprVPN is definitely a secure and reliable VPN provider.
However, the lack of advanced features and customizability, as well as some out-there solutions does damper the experience a little bit.
VyprVPN apps
A VPN may have the best features, but if the app design isn't there, this can kill off any goodwill you have towards the provider.
So, how good are VyprVPN apps?
First of all, VyprVPN does boldly state that it has dedicated apps for most desktop operating systems, mobile devices, routers, smart TVs, and Roku.
That sounds pretty cool, but in some cases, the provider doesn't actually have a dedicated app for the platform. Instead, what it tells you to do is install the VPN on your router. Well, in that case, pretty much every provider with an OpenVPN protocol supports pretty much every device.
So it's a bit of an overstatement on their part, but we'll let it slide.
Also, sadly VyprVPN does not offer any browser extensions.
VyprVPN supports up to 5 devices with one subscription, which is probably not enough to get the entire household covered but is definitely sufficient for all of your gadgets and then some.
That said, let's check out how good the dedicated apps actually are.
Desktop Apps
VyprVPN has apps for Windows and macOS. So right out of the gate, Linux users can sit this one out.
As you've come to expect, VyprVPN's app is pretty… out-there. To be honest, it looks like they've ported the Android version to desktop and called it a day.
We think the provider was going for a slick and compact design, but they ended up with a pretty tough-to-use client.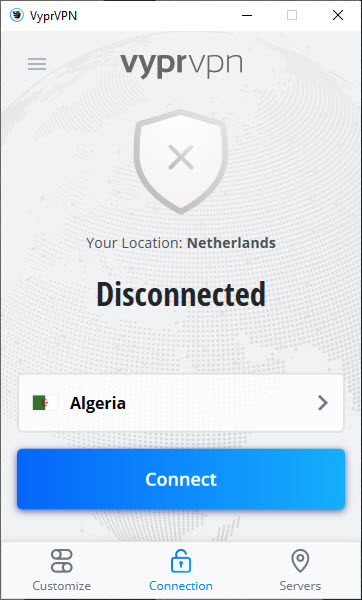 As soon as you launch the app, you have the option to connect to the fastest server.
If you're looking for something particular, you can switch to the server list and either search for the desired location, or scroll… a lot. Given the huge font VyprVPN decided to go with, anything other than clicking "Connect" will involve a lot of scrolling and or typing.
You can also sort the servers by country, region, or speed, with the latter probably being the most useful option.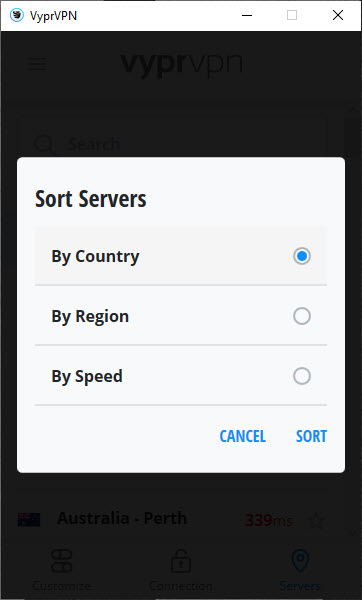 You also get the "Customize" section with all of the app's security and connection features (or lack thereof off), laid out in yet another scroll. However, given that there are very few options to play around with, you won't have to scroll that much.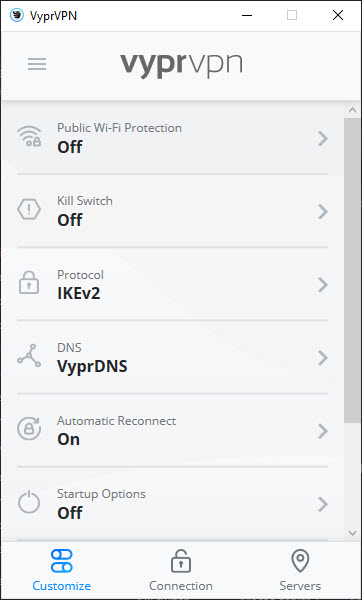 The top dropdown menu also gives you access, or should we say links, to VyprVPN's support website, blog, and other pages.
In-app support would have been much easier, but at least the option is there.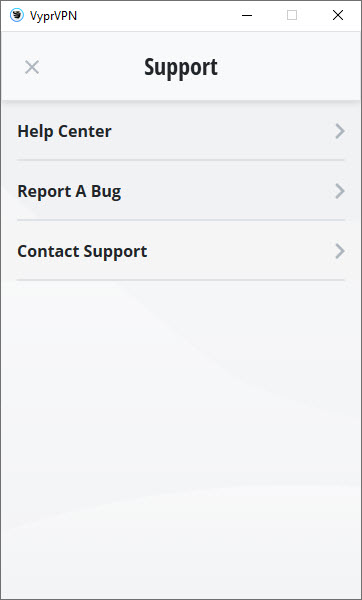 Mobile Apps
VyprVPN supports Android and iOS mobile devices.
The apps look exactly the same as the desktop ones, so there is honestly not much we can say about them.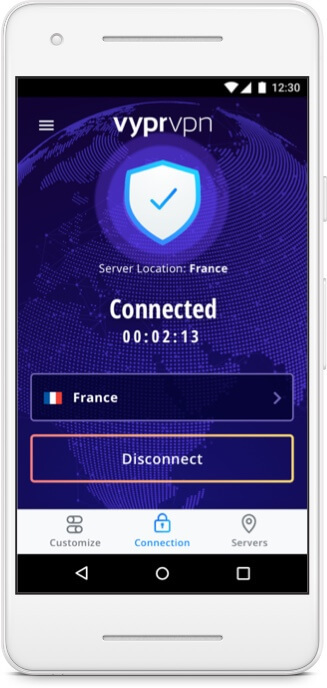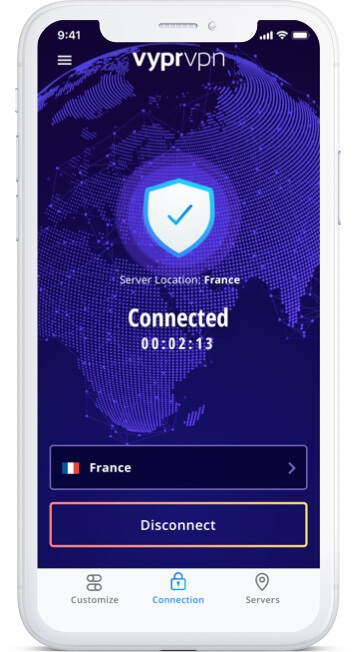 We do have to say that as a phone app, VyprVPN does leave a better impression. This was definitely mobile-first software.
The only difference here is some of the features.
For example, Android does not support the IPsec connection protocol, which means no IKEv2, which means no seamless transition between Internet networks. That's bad.
On the other hand, Android is the only platform that supports split tunneling [which we only found on accident, actually]. That's good.
The mobile apps work just as well as the desktop ones, and the Public Wi-Fi feature is very much appreciated here (and makes much more sense).
VyprVPN for streaming
You might think that so far VyprVPN did not WOW us with its service. And you're right.
So why did this provider make our exclusive list at all then?!
Well, streaming of course!
What VyprVPN lacks in extra features, intuitive apps, and speeds it makes up for with its streaming unblocking capabilities.
This is where having your own private DNS really comes in handy! This piece of technology really helps the provider go the extra mile and bypass any DNS filtering streaming services set in your way.
Thanks to this and some other features, VyprVPN has a pretty decent track record when it comes to unblocking streaming services. That is if you are looking to access platforms in either the US, the UK, or Canada. Other than that, you might be better off looking elsewhere.
Still though, the success rate and the ease with which VyprVPN slithers past the geoblocks, firewalls, and restrictions is pretty impressive. And we have to give them kudos for that!
So… Kudos!
Here are but a few platforms that VyprVPN will help you access:
Netflix
This is probably one of VyprVPN's biggest strengths.
The provider easily unblocks the US, UK, and Canadian catalogs, giving you access to some of the best Netflix libraries around. What more could you ask for? Oh, wait…

Check out our guide on getting the most out of your Netflix experience!
BBC iPlayer
Even though BBC iPlayer has been taking steps to block VPN users, VyprVPN can still get you some of the best shows, movies, and series Great Britain has to offer.

Can't get enough of those British shows?
Check out our full guide on getting BBC iPlayer from anywhere!
ITV HUB
The same goes for ITV HUB. So good news for all of the Love Island fans out there.

Still not enough?!
We have a guide for ITV HUB as well!
Hulu
VyprVPN does unblock Hulu, we have to give them props.
But the dedicated IP option is sorely missed here since it's very easy to get blocked by Hulu when you log in with different IPs every time.

Everything you need to know about getting some Hulu in your life!
HBO Max
The provider proudly and effortlessly unblocks one of the hottest and most exclusive streaming platforms around, giving you access to the best HBO Max has to offer.

You can't handle what HBO Max has to offer!
Or can you?!
Amazon Prime Video
The big bad snake can get you access to Amazon Prime Video as well. But only in the UK and the US. However, honestly, do you need more?

Everything you need to know about streaming Amazon Prime Video wherever!
---
This is definitely not everything VyprVPN can and will do for you streaming-wise.
We haven't even touched on the sports streaming platforms!
With sport streaming services being particularly aggressive towards VPN users, VyprVPN still manages to bypass all of those blocks to bring you the likes of ESPN Plus, DAZN, Sky Sports, Eurosport, and even some of the tougher dedicated streaming platforms, such as NHL.tv, and MLB.tv.
So if streaming is what you're after when choosing your perfect VPN provider, then VyprVPN just might have what you're looking for.
VyprVPN for gaming
So gaming… [trying to get out of the conversation noises]
It's hard to sell gamers on VPNs as it is, and with a picture as complicated as VyprVPN, you really feel like you're stuck in one of Christopher Nolan's movies – just trying to piece it all together.
On the one hand, VyprVPN does not have any dedicated apps for any of the major gaming consoles.
And sure, you could argue that you can install the VPN on your router and bla-bla-bla. We get it. That's not what this is about.
First and foremost, VyprVPN is primarily a PC gaming VPN.
So if MMOs and RPGs are your thing – this provider is right up your alley. Everything else (mobile devices, consoles, all that good stuff) will probably not do you any good unless you decide to install the VPN on your router.
Gaming is where VyprVPN's private server network also comes in handy. That is if you connect to the fastest server. But it really does make a difference, giving you great speeds, as well as defeating throttling and all those things we gamers hate.
What's also worth a mention, is a decent selection of servers that give you access to much better prices. India, South American countries, Turkey, the Philippines – all of those countries are known for much better deals on games.
So, if you are looking to save a few bucks you spent on a VyprVPN subscription, this provider will definitely do it for you (that is if you can get it to connect to the right server).
Oh, and by the way. Remember Outfox – the network optimized for gaming from the developers of VyprVPN we mentioned earlier?
Well, you won't get it for free with a VyprVPN subscription, but it's still nice to know that the devs behind Vypr actually know what they are talking about when it comes to gaming, and don't just spout nonsense.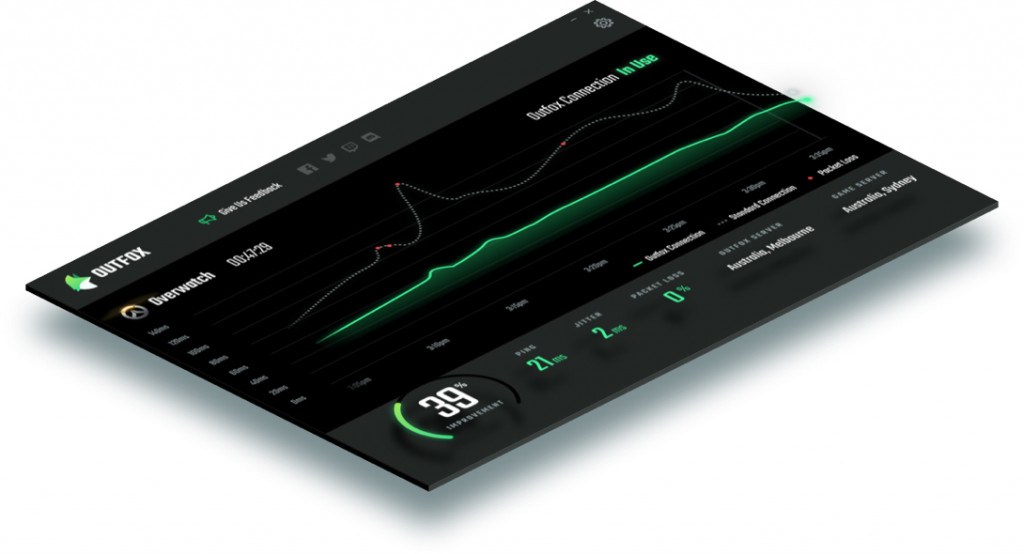 Overall, yeah, it's a good VPN for all your gaming needs.
VyprVPN for torrenting and downloading
So what about file sharing, torrenting, downloading, and all that good stuff?
As you may have heard, Golden Frog and VyprVPN started off with an extremely harsh anti-torrenting policy. But that's a thing of the past by now.
These days VyprVPN is very torrent-friendly.
Since all of the provider's servers are privately owned, you don't need to look for a particular server that allows P2P-file sharing. They all do.
The provider does not block P2P traffic, and downloading speeds are great as long as you're connected to a server that can handle them.
Usenet
Speaking of downloading…
VyprVPN is one of two VPN providers we've heard of (the other one being 5 Euro VPN) that are optimized for Usenet.
Makes sense, given that the team behind VyprVPN is also the developers of Giganews. So this comes as a given (plus, you can get their Usenet and VyprVPN subscriptions as a package! Sweet!).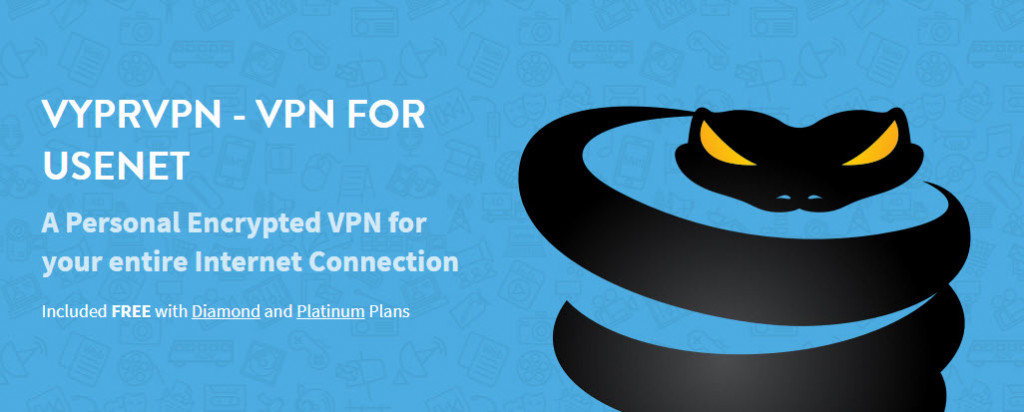 While Usenet is a much safer, and much more private way of downloading than torrenting, the issues that come with VPN optimization for Newsgroups are mainly speed- and bandwidth-related (but a helpful sprinkle of added anonymity never hurts).
Given that Golden Frog operates its own server network for both Usenet and VPN services, none of those things are ever an issue.
If you play your cards right and choose the fastest server, the only problem you'll be facing is finding a Usenet that can keep up (luckily, we have a few suggestions).
VyprVPN subscription plans and prices
Now, the one question to rule them all: How much does VyprVPN cost?
We feel this is the "do or die" question for a lot of you guys, so we'll cut right to the chase.
No, wait.
VyprVPN's price plans are as weird as all of the other choices this provider makes. But we've grown to respect that.
So. VyprVPN has 2 subscription plans. But trust us when we say they are like nothing you've seen with the other VPNs:
The first and most expensive subscription plan is a 1-month one that will cost you $15.00 per month.
The second-tier subscription is a 12-month plan that will cost you $8.33 a month.

Payment methods
You'd think a VPN provider would support all kinds of payment methods, from the regular bank card for us common folk, to anonymously mailing squirrel tales for those who want to keep things extra anonymous [and creepy].
VyprVPN, however, keeps it simple, but effective, nonetheless. They accept:
All major card payments (Visa, Mastercard, Amex)
Union Pay
PayPal
Free trial and refund policy
VyprVPN says it has a free trial, but what it has de facto is a 30-day money-back guarantee.
So if you are not satisfied with their service, at least you know you can get a full refund within a month.
VyprVPN's customer service
We always say that a VPN provider can be the best there is, but without proper support, they will fall short.
So how good is the Vyper?
Support Website
First of all, VyprVPN has a few options for getting help.
For one, there's the support website, which has a pretty extensive database of guides, FAQs, troubleshooting advice, and more.


One thing we particularly like about the support website is the "Service Status" segment, which has all the latest issues, and solutions the VPN service is facing.
The reports are kept well up-to-date, which is actually very helpful. We find this feature sorely lacking with most other VPN providers, and really liked this about VyprVPN.
Sidenote. The support website is available in 4 different languages, which is also great.
24/7 live chat support
Another way to get in touch with support is through their 24/7 online support chat.
We tried it.
It is there, and it is definitely 24/7 (we managed to contact them at 2 AM, hey, VPN testing is stressful).
Even though there is a bit of a language barrier to break through, they do thoroughly analyze your problem. The response is usually just a link to one of their support guides, which is a bit disappointing. But, as we've just said, their support website is so expansive, that it does help in most cases.
So overall, not bad, VyprVPN. Keep it up.
The bottom line
We hope this has been as helpful for you, as it has been exhausting for us.
However, there's still one bottom-line-all-stakes-are-off-anything-goes-sudden-death question that remains unanswered: How good is VyprVPN overall?
To be honest, VyprVPN is a mixed bag. So it's hard to have a general impression.
Some of the things VyprVPN does really well, on par with some of the biggest VPN providers out there. It also managed to surprise us with some of their choices.
At the same time, some of the weirder design decisions, a lack of features, and some things that take a lot of getting used to make a different impression.
VyprVPN's speeds are good… until they're not.
VyprVPN's server selection is impressive… if you manage to connect to the right server.
The provider's security is reliable… until you forget to disable the kill switch and break your brain trying to figure out why you don't have internet for 26 minutes.
The mobile app is pretty straightforward… until you switch to desktop and discover in-app scrolling is apparently still a thing.
VyprVPN is a boss when it comes to unblocking streaming services… if the only streaming services you are interested in are US-, UK- and Canada-based.
Look, VyprVPN is an all-around decent VPN. We've definitely seen much-much worse. But we've also seen much better.

Looking for something else?
We'd say, that VyprVPN is the perfect provider when you ever want to use a VPN for something pretty specific. And with Vyper it's: security, desktop gaming, and English streaming service unblocking.
So if you don't need your VPN to come with a milk frother, and save you some bucks, we say Slither For It!