Best Free Streaming Services
Streaming platforms are not a novel concept anymore. It seems a new one is born every other minute. It's becoming a little anxiety-inducing to keep up with everything you have to subscribe to, and watch everything you've been meaning to watch.
India is no exception. Sure, we didn't get streaming services until 2016 (That's not hurtful at all). But as soon as Netflix and Amazon Prime decided to expand into growing markets, everyone wanted a piece of us.
And of course, all of the streaming platforms that come to mind are paid ones.
Netflix, HBO Max, Amazon Prime, Hulu, Hotstar, Sony Liv, whatever else is launching next week – all of those platforms seem desperate to reach deep down your pocket and take your hard-earned money for that single series you've been dying to watch.

But did you know that amid this craze of streaming platforms, there are ones that do not charge you anything?
You heard it here first, folks, there are completely free streaming services that deliver premium and even exclusive content!
They might not be as well known and as sought after as, say, good old Netflix, and there's a catch there as well (but we'll get to that) but they definitely do not disappoint. And, hey, with no subscription charges they pretty much win by default!
Dying to know what are the unsung heroes of the streaming world?
We're not going to keep you waiting!
The Best Free Streaming Platforms Today!
Ready to save some money and still have enough streaming power to sit through next year?
Of course you are! Who doesn't like not spending money, and gorging on popcorn every night, am I right?!
Here are some of the best free streaming platforms the Internet has to offer, with some of the most diverse, exclusive, and unique content.
Let's get streaming!
We all know Sony Liv, but did you know Sony owns another streaming platform that is completely free?
Crackle is a free, over-the-counter, ad-supported streaming service that features some of the best movies and shows for your viewing pleasure.
Crackle's video library is diverse and ever-changing. Nearly every day Crackle has something new to offer to its viewers – the old, the new, the good, the weird, the horror, the drama, the comedy, and everything in between.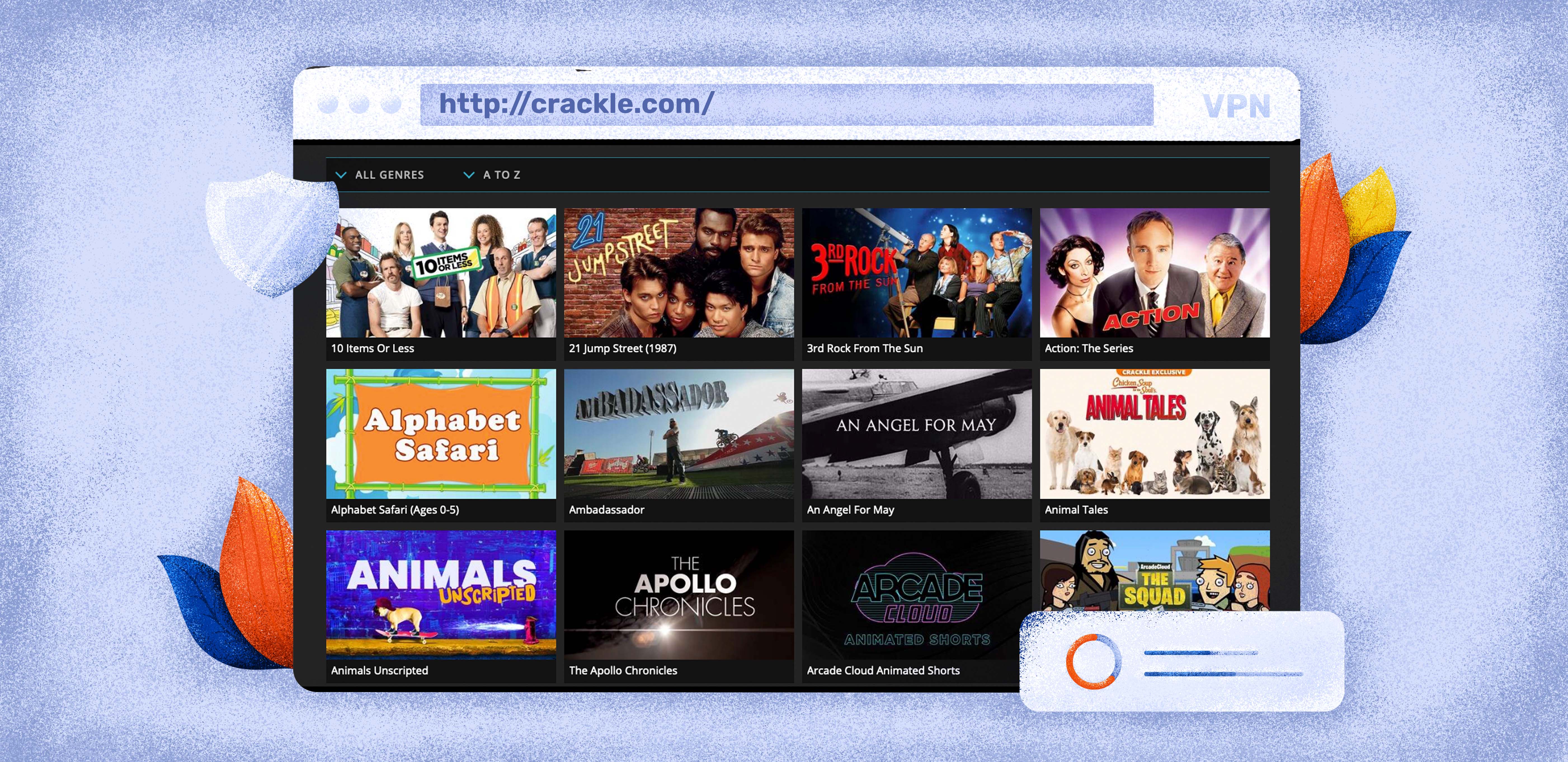 If you're into shows and movies, but don't want to pay too much for them, Crackle is THE place to be!
And if you like it enough to create an account (which you don't even have to do to enjoy the platform), you can even create your own watchlist and queues.
How awesome does that sound?!
But, however awesome that may be, Crackle is only available to viewers in the US. But we will get to how you can change that.
Tubi is one of our all-time favorite streaming platforms, And not just because it's free!
This paltform has some of the most expansive, diverse, and unique content libraries out of all of the streaming services.
It has movies, shows, all kinds of movie collections, anime, even a dedicated platform designated for kids (Tubi Kids). All of this completely free.  All you have to do is watch an occasional ad, but hey, if you've ever owned a TV, you're pretty much immune to those.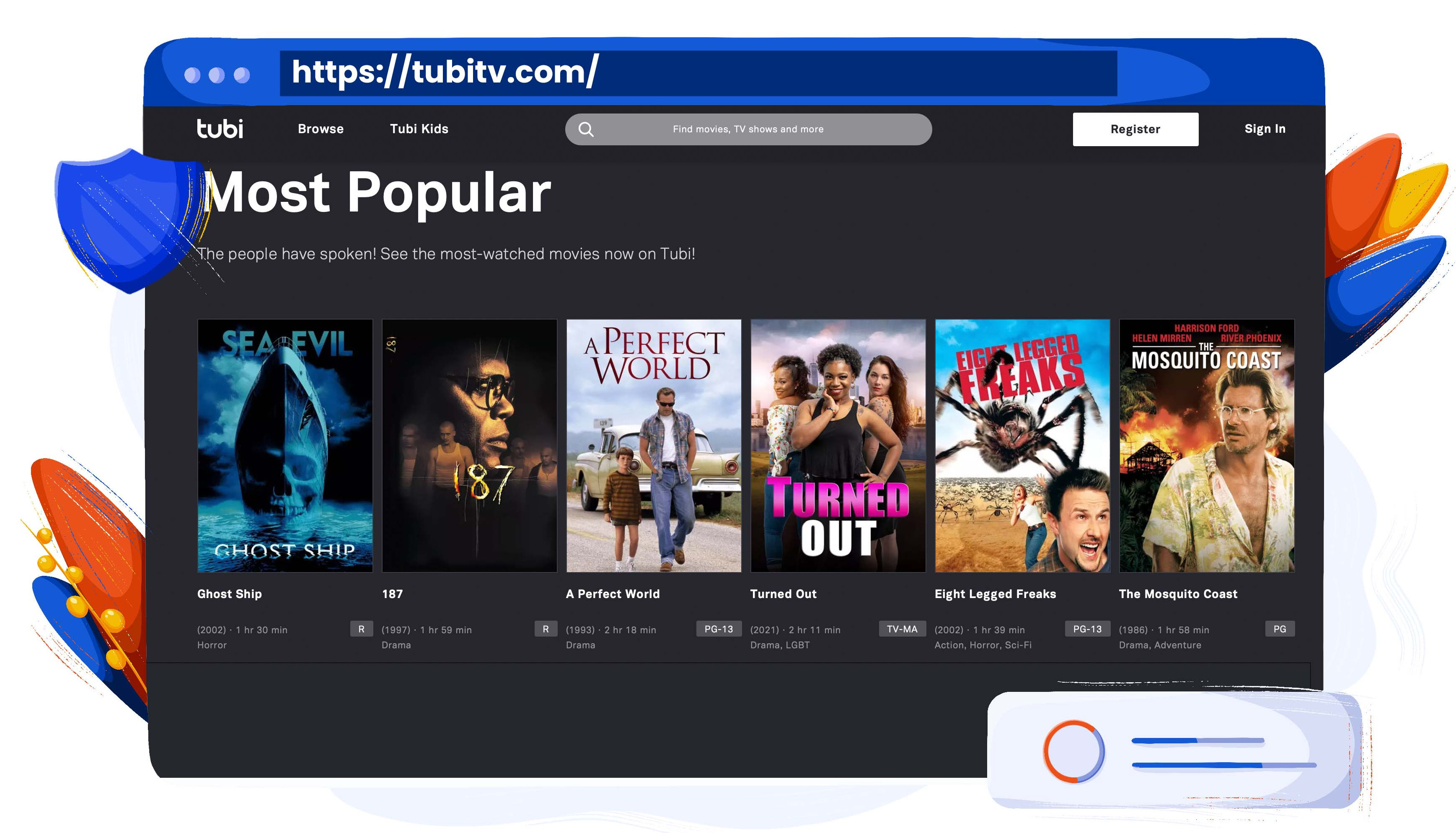 Just like Crackle, Tubi TV is only available for viewers in the US, but we will get to how you can enjoy it in India as well.
Next on our list is the NBCUniversal-owned streaming platform Peacock.
Even though Peacock was off to a bit of a rocky start, it has since grown its streaming library nearly exponentially. it now hosts over 10.000 hours of premium streaming content – some of the best there is.
Some of the shows featured on the platform include such cult hits as The Office, Parks and Recreation, Downtown Abbey, 30 Rock, and much, much, much more.
Not only that, but Peacock is one of the very few streaming platforms that actually hosts live US TV feeds, so you can enjoy actual American television, live sports coverage, and everything you might be interested in from the land of the free.

Peacock TV does have tiers. It has a free ad-supported version but also paid Premium subscription plans, that will help you get rid of all the pesky ads and unlock some of the content behind a paywall.
Like all of the previous platforms, Peacock TV is only available in the US.
Are you an edgy anime fan? Well, then you probably know Crunchyroll!
Crunchyroll is a worldwide streaming platform that hosts some of the largest collections of anime, manga, doramas, and whatever else gets you out of bed in the morning.
And the best part is – all of that awesomeness is completely free.
Well… to an extent. Crunchyroll does have premium subscription plans which offer earlier access to shows, better streaming quality, more devices, and other awesome perks.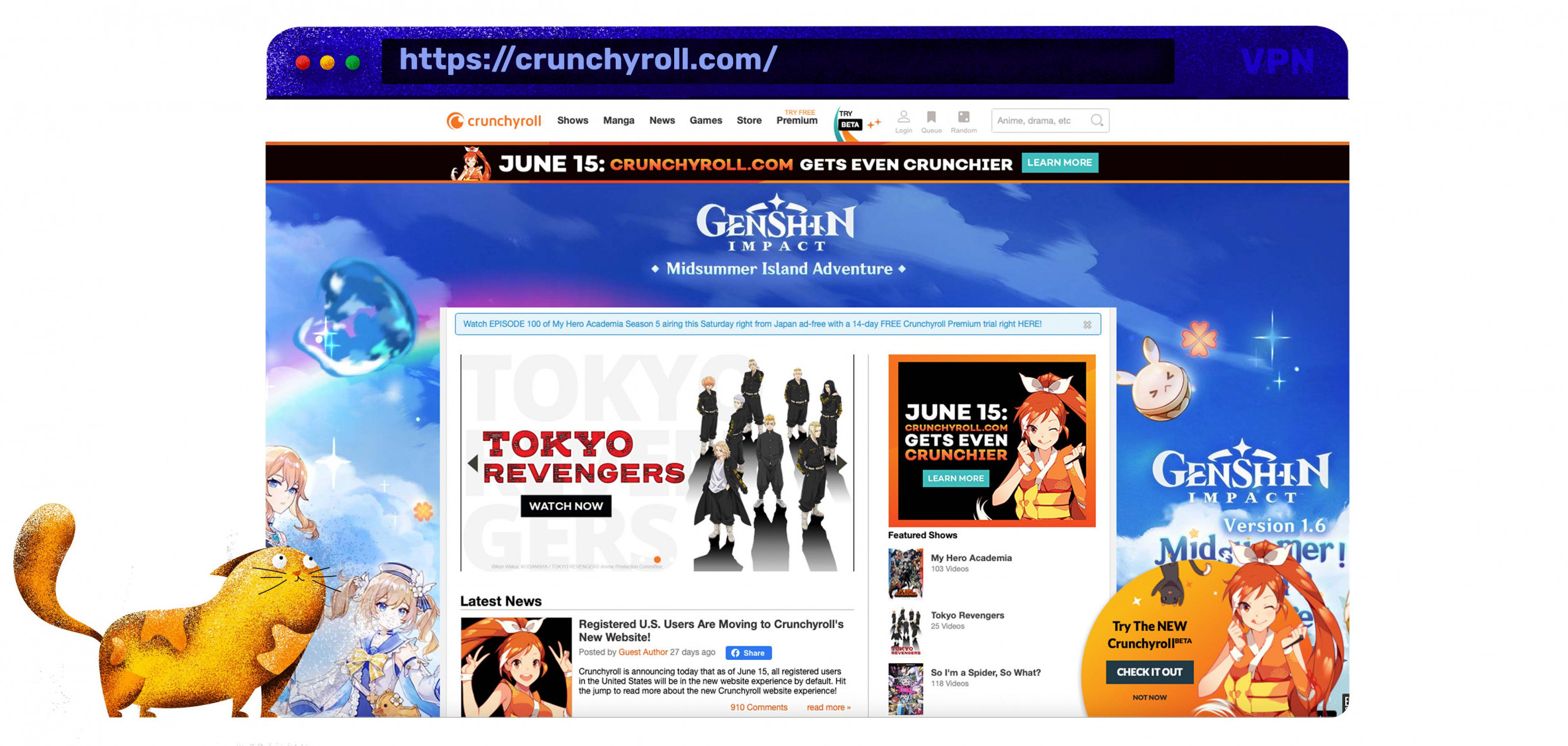 The good thing is, Crunchyroll is available worldwide. The bad thing is, all of the Crunchyroll libraries are different. The anime you are dying to watch may very well be unavailable in India, but still accessible elsewhere.
Don't worry though, we know how to fix all of your problems!
If manga and anima don't tickle your fancy, are you a fan of superhero shows instead? Believe it or not, there are free streaming services for that as well!
Yes, it's not all Disney (not yet, at least).
CW TV, accompanied by a satellite streaming platform CW Seed, is streaming some of the best DC comic-book shows completely free for anyone who is willing to diverge from the Marvel Cult.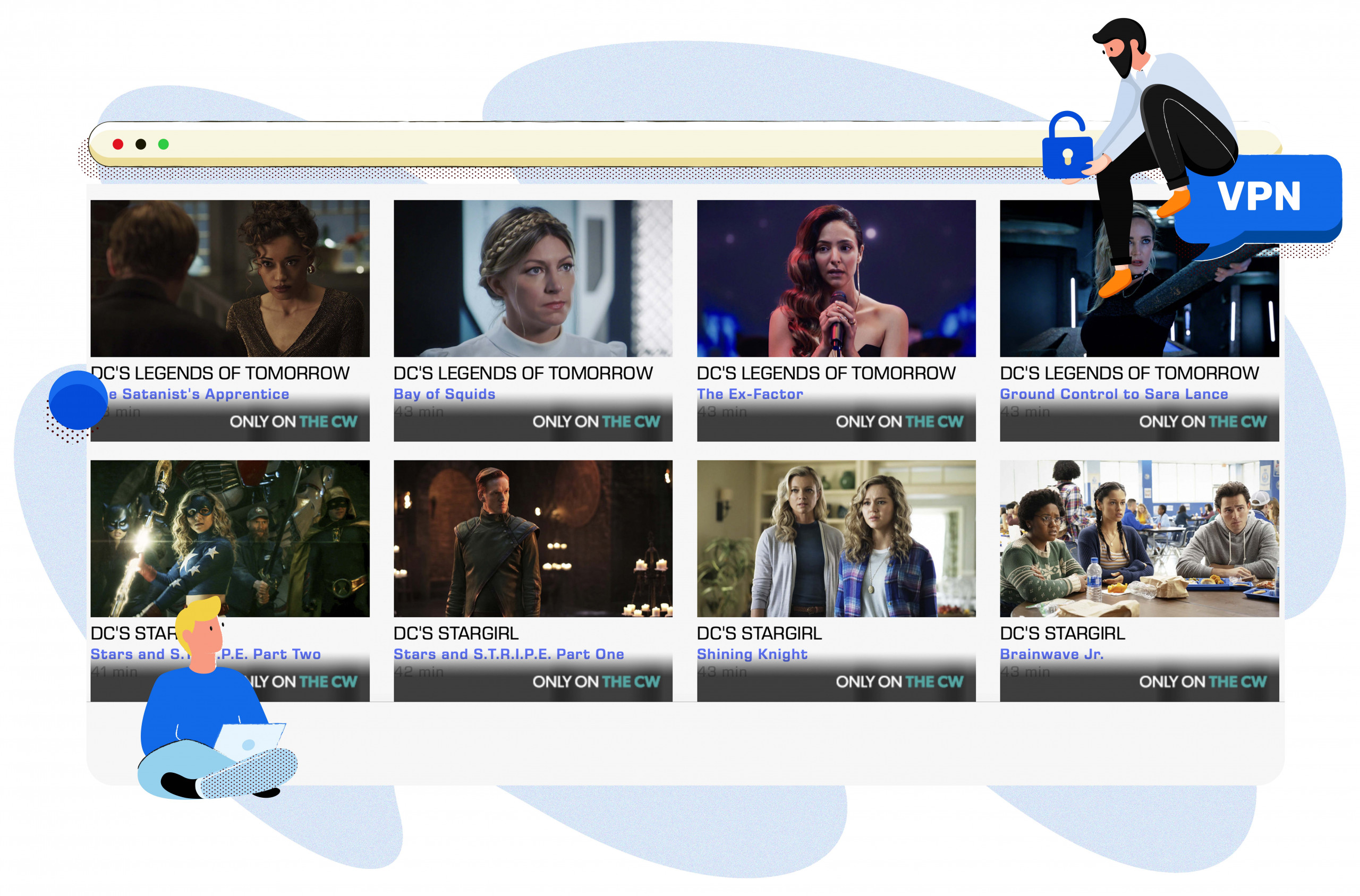 The Arrowverse in all its glory, as well as a massive selection of other exclusive shows and programming available round the clock, in all their entirety, without the need to torrent hundreds of seasons to catch up.
Is this heaven?
Well, for the fans in the US it probably is! For us… as we said, we'll get to it in a minute.
Voot
It's not just the US that has all the fun, India has its own free streaming platforms.
One of the more famous ones is Voot.
Voot is an awesome option for those who are looking to get some free Indian goodness to stream. With over 40.000 hours worth of movies, shows, kids' shows, and even regular channels (including Nickelodeon, MTV, Vice, and Colors), Voot is sure to keep everyone satisfied and entertained.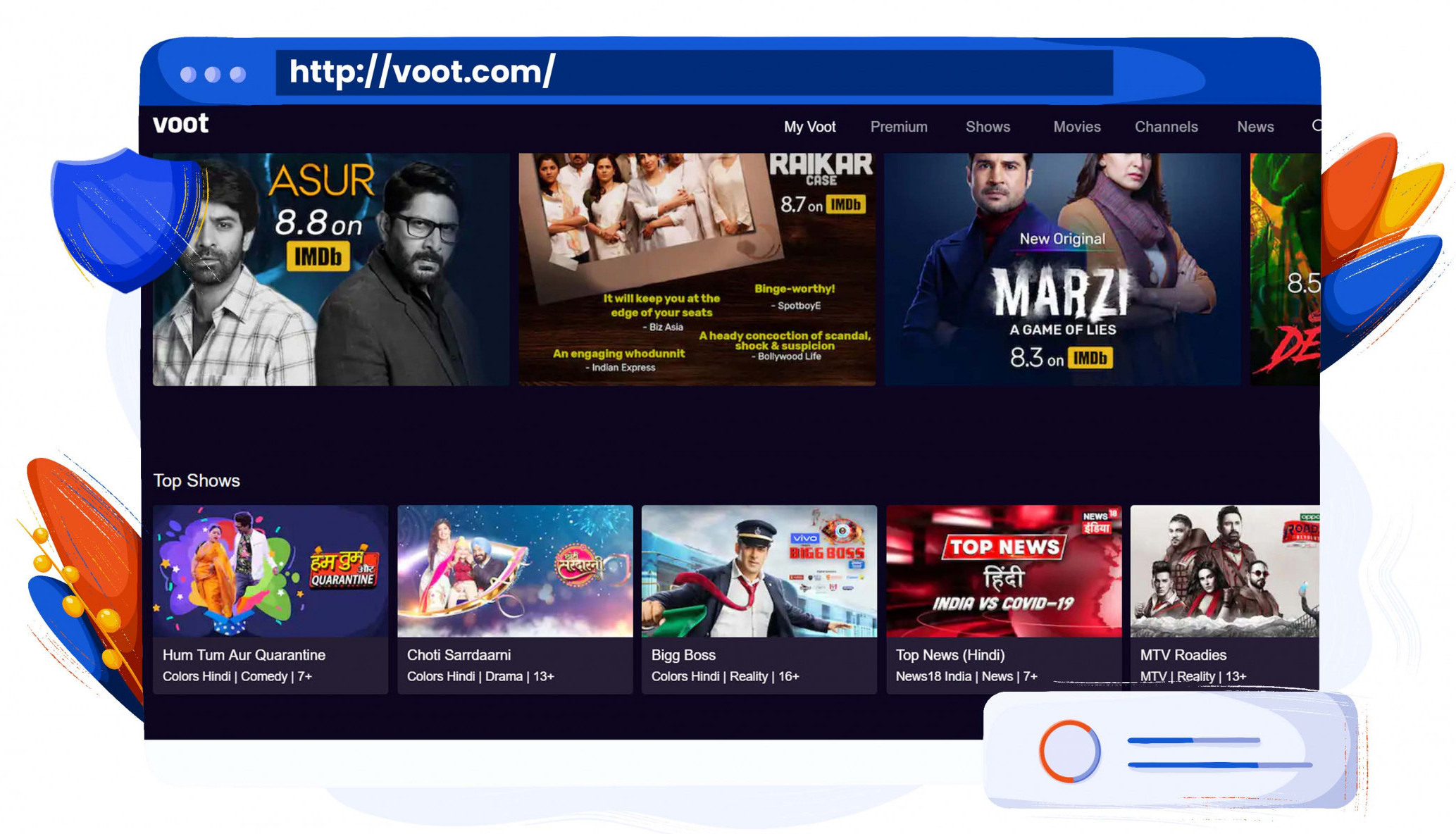 Unlike most of the other streaming platforms featured on our list, Voot is not just available in India, it's also an exclusive Indian free streaming platform.
IMDb is no longer the Internet Movie Database, it is its own streaming platform.
The Amazon-owned platform hosts some of the best streaming content out there. It might not be as diverse as some of the other streaming platforms, but it does live up to its name, featuring some of the best movies and series out there, including some of the most acclaimed classics for all the cinema buffs out there.

The service is completely free, is supported by an occasion ad, but it's only available in the US for the time being, with massive plans of expansion constantly being pushed back.
Vudu
Let's get weird.
Even Walmart thought it should have its own streaming service. So it launched one called Vudu!
Vudu is a bit more out there than most the other streaming platforms. It does have a wide selection of free movies and shows that you can enjoy by simply signing up, but the really unique thing about Vudu is that you don't have to take out a monthly subscription and pay out of pocket all year round to enjoy just a couple of movies a year.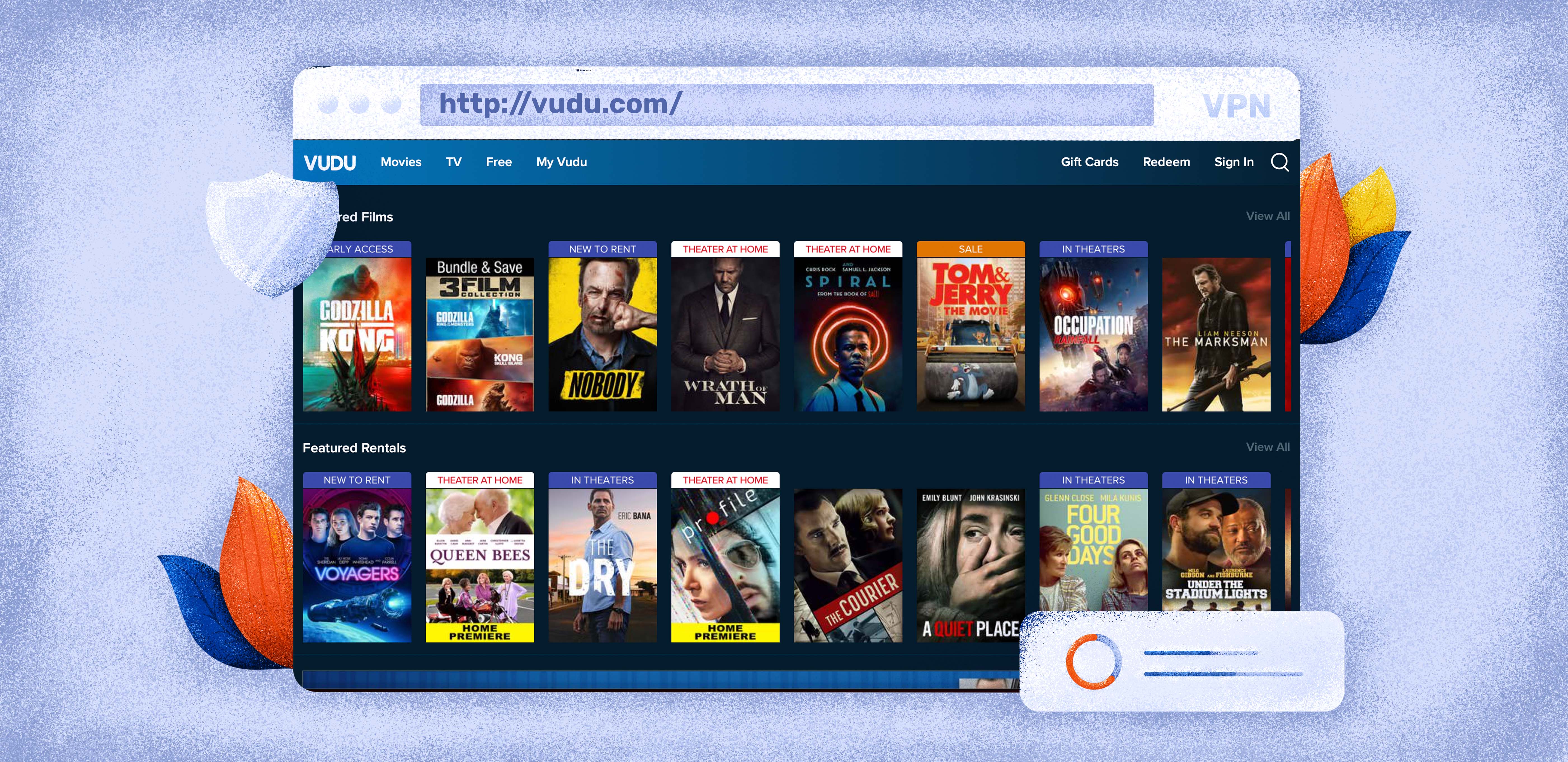 With Vudu, you can pay for a particular show, or movie, or whatever else and just watch that. Think video-cassette rentals in the good old days (remember those, 90s kids?), but online and for cheaper than ever!
PopcornFlix works (and looks) like your run-of-the-mill illegal online website. But it's a legitimate streaming platform, trust us.
The content PopcornFlix offer might not be as mind-bogglingly unending as, say, Netflix, but it's definitely worth checking out. It has some of the most awesome (and insane) movies and shows you just won't find anywhere else, as well as some exclusives (we're baffled by how they managed to pull that off ourselves).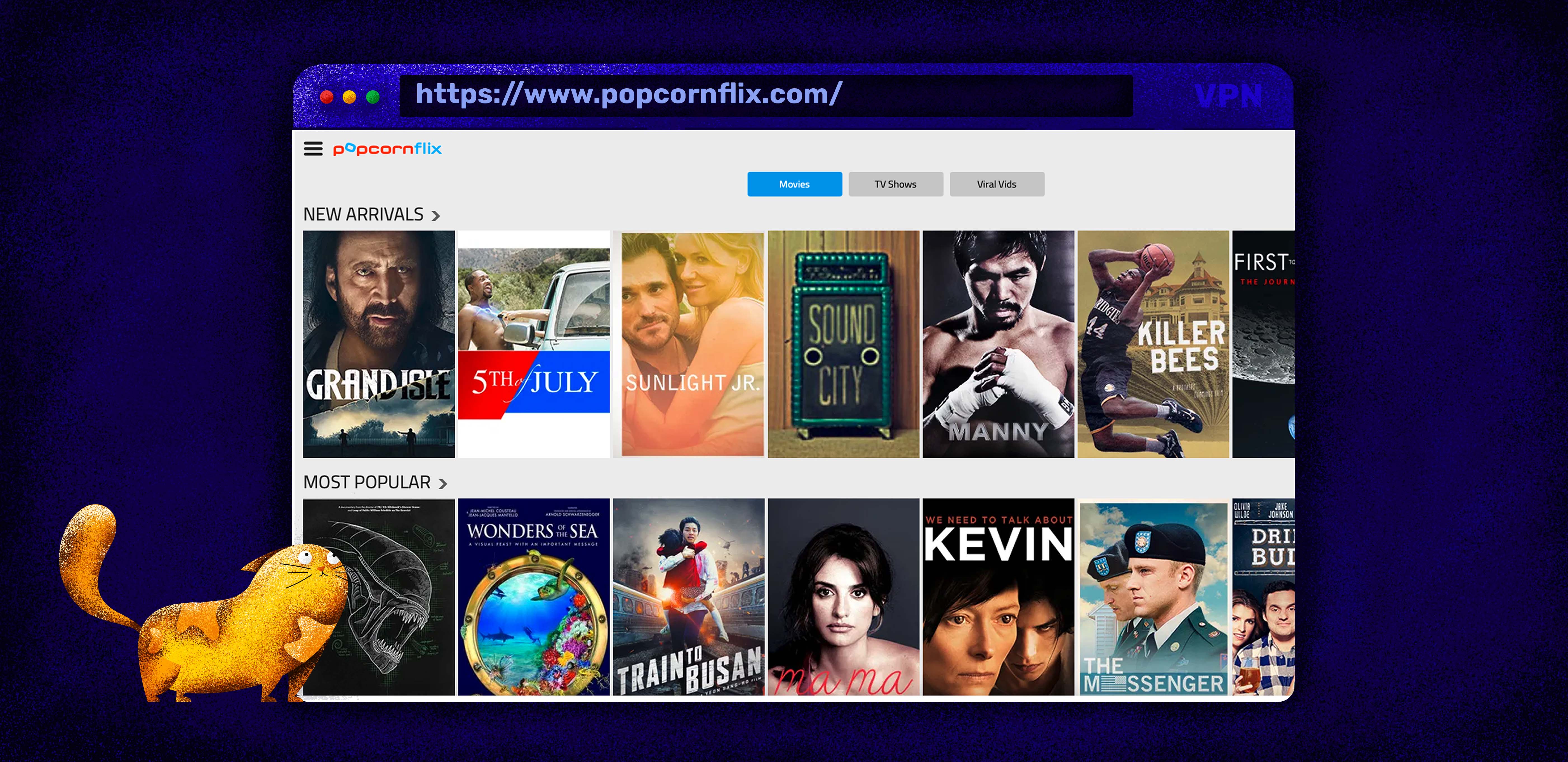 Now, PopcornFlix is available pretty much everywhere, but the content it hosts is not. So you might be rubbing your hands in anticipation to watch that movie you heard legends about, but have never actually seen, but then it turns out it's not available in your country.
Bummer! But a fixable one.
Plex may have started as media-slinging server software, but boy has it evolved since then.
These days, Plex has become an awesome free online streaming service. Movies, TV shows, podcasts, web shows,  live tv, music – you name it and Plex will probably have it. The platform itself will take a bit of getting used to, but hey, it's free!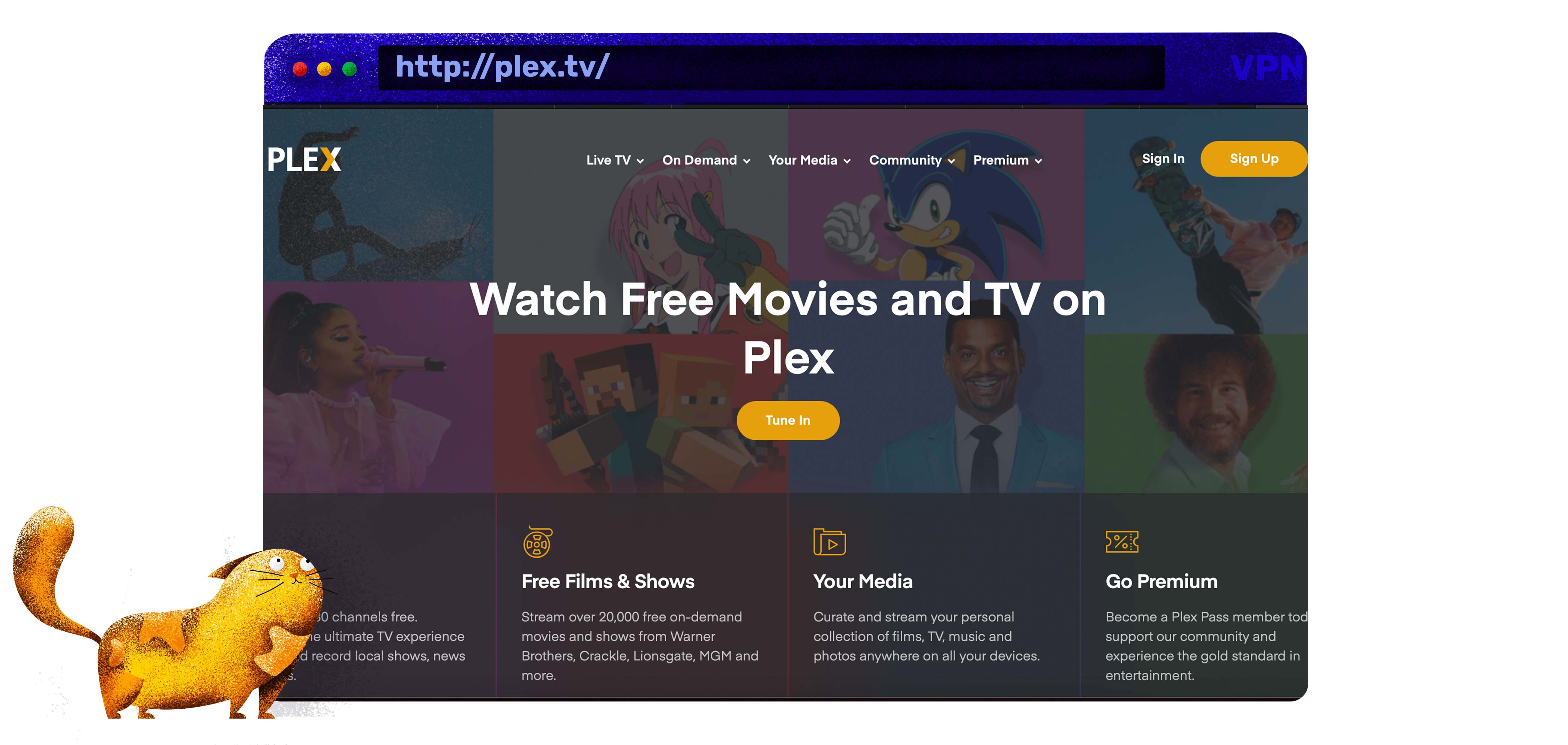 PlutoTV did not have an easy start in the streaming game. But after merging with CBS, the platform managed to expand its library and win users over with some of the best live TV offers available.
This is definitely the go-to free streaming service to watch some American news, live event coverages, sports competitions, and much more. But that's not to say it doesn't have a decent selection of movies and shows to stream. It definitely has those to offer as well!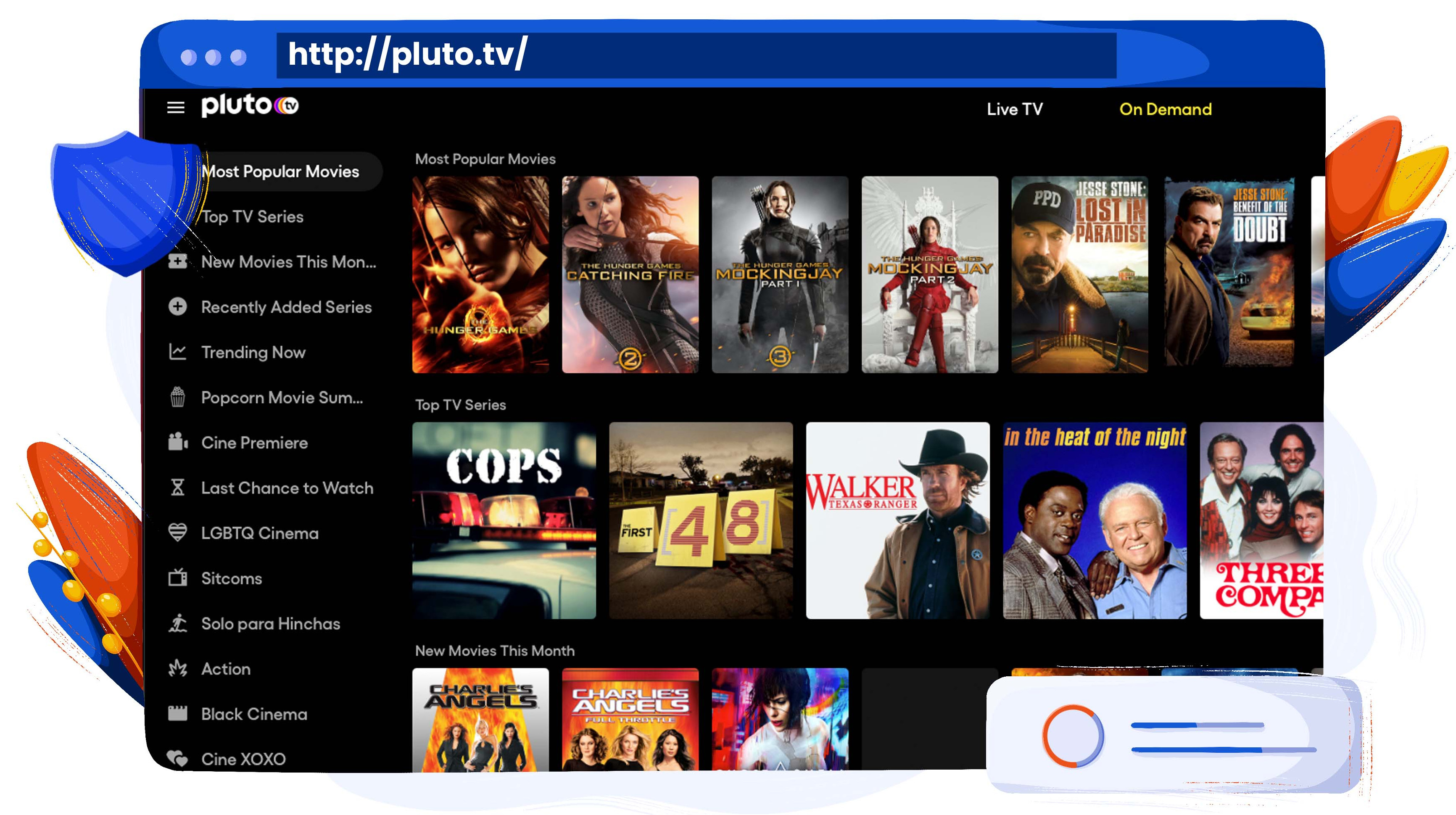 For reasons beyond us, PlutoTV is only available in Austria, the US, the UK, Switzerland, and Germany.
But that's an easily fixable issue.
Hacking Into Free Streaming Platforms
If you have been reading closely, most of the streaming platforms we've talked about are only available in the US or at least apply some kind of geo-restrictions.
Not all of them, but definitely most of the better ones.
Is that fair? — NO!
Can you fix this? — Sure you can!
These days, if there's something on the Internet, you can get it. And this rule applies to premium streaming platforms just as well as… well… (help us out here)… just about anything we guess.
Ah! Racist tweets is a good one!
These days, all you need to tune in to any and all of these streaming platforms is a decent VPN!

Never heard of a VPN before?
This amazing piece of software can change your virtual location, trick the free streaming platforms (if it's good enough) into thinking you actually are in the place where they are available and allow you to enjoy all the content you want.
And, hey, you still get to watch those ads, and that means the platforms still get revenue (if you're a light sleeper).
Don't know which one to choose? Well, you are in luck, because testing and recommending VPNs is what we do best!
Here are the top choices you just can't go wrong with!
It should come as no surprise that NordVPN tops our list as the best VPN for unblocking any and all of the free streaming platforms.

This is pretty much the only provider that managed to combine VPN and Smart DNS technology into one, easy, and badass streaming unblocking package.
With thousands of servers in the US, this provider can crack any of the streaming platforms we've mentioned, and pretty much any other one you find.
And with insane speed, NordVPN will let you stream anything you could ever want in full HD.
Awesome right?
Not a fan of the leading providers (why? but ok). Then Surfshark is your second-best option.

This young provider is taking the VPN world by storm, offering some of the best and most unique features, as well as incredible performance.
A vast array of servers in the US will let you crack any of the free (and paid) streaming paltforms
Surfshark is the VPN for streaming unblocking. It can bypass pretty much any firewall and block, and let you stream anything from anywhere.
Plus, it's probably the most affordable premium VPN out there.
And the name is pretty awesome too!
ExpressVPN may have made the shift to security rather than streaming. And yet it's still one of the best providers out there for unblocking US-based streaming services.

This provider hosts one of the largest network servers in the US, giving you plenty of connection options and choices.
It's still pretty good at unblocking streaming services and works with every single platform we've mentioned (we've done our testing).
ExpressVPN owns up to its name by being very, very fast.
Plus the extra security definitely will not go to waste!
Strap In For Unlimited Streaming
So there you have it!
We may have mentioned some of the platforms you are well aware of, and some you have never even heard of. But they are all there, all free, and all for your viewing pleasure.
With these many platforms at your side, you might even consider dropping the one, two, or sixteen paid streaming subscriptions you have to get your daily fix of streaming. Because why pay for something you can get for free?!
But while the free streaming service business model keeps the rest of the world perplexed, keep in mind that you will need a decent VPN for streaming.
Luckily, with our help, it's always a single click away!