Best free streaming platforms
Gone are the days when only Netflix and a few other platforms ruled the streaming industry. The streaming space has become crowded with several services today – never have we had so many to choose from!
Throw in the newer options Disney+ and Apple TV+ into a basket of streaming behemoths like Netflix and Amazon Prime Video, and you have yourself a battle for the best. As an African aphorism goes, when elephants fight, it is the grass that suffers. In this case, your wallet ends up being the casualty as you try to subscribe to the best option.
Free streaming services to the rescue!
This, however, doesn't have to be the case. With free streaming platforms, you can enjoy the content you like at no subscription cost. The only fee you have to pay is watching ads that will occasionally pop up (Hey, it's just like regular TV, but better!).
That's a reasonably affordable 'price' considering the wealth of content you will be getting. If you're looking to save a few bucks, we don't need to emphasize how suitable these platforms are.
Note that most of these services won't match what is offered by the likes of Netflix. Neither will they have all the latest TV show episodes nor just released blockbuster movies. That is a compromise you will have to live with in exchange for the free content. But that doesn't mean free platforms have nothing to offer — some of them pack a ridiculous amount of quality content and some of the all-time great movies and shows if you are looking to look for them.
Most of these services have geographical restrictions on their content. Bummer. But that doesn't mean that you won't be able to access them. Armed with a VPN, you can bypass these restrictions and enjoy hours of binging for free.

We have taken time to review several streaming services in the market and here is a list of the Top 10 that we've found for you.
So if your upcoming New Year's resolution is to cut down on carbs and stop pirating the latest releases, we've got you covered with thousands of hours of free and perfectly legal binging material.
With that out of the way, let's get started.
Although it lacks a live TV, Crackle is among the best free streaming service on the market today. The platform has been around for a while, having been launched back when Netflix was shipping DVDs. It is currently owned by the Japan-based multinational conglomerate Sony but is only available in the US and Canada.
Crackle comes with originals too, some featuring award-winning actors like Bryan Cranston and Martin Freeman. We like that users don't have to register but have the option to, whenever they want. Having an account lets you save your favorite titles and create watch-lists.
You can enjoy titles like Train to Busan, Teenage Mutant Ninja Turtles, Hell's Kitchen, and many others here. The platform also frequently updates its offering, so you can be assured there will be something good for you.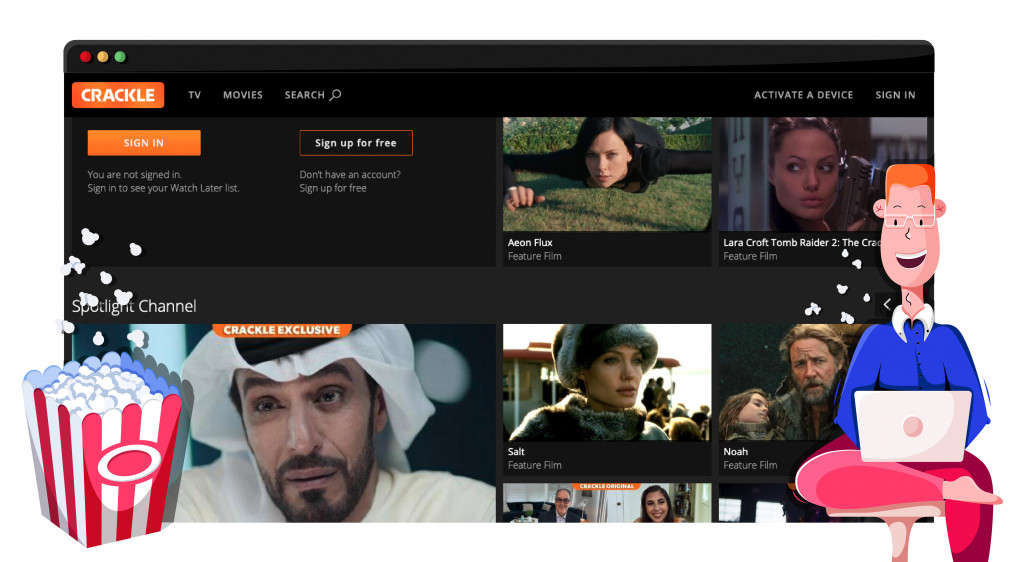 Oh, and by the way, we've made an exhaustive guide on how to access Crackle from anywhere and get streaming in no time!

Check out our guide on getting Crackle
Kanopy is a movie-centric platform that features a wide range of titles, including recent indie and world cinema hits like The Disaster Artist and Moonlight (boy, those are good!). If you are a fan of classics, you will feel right at home with this platform.
Unlike other streaming services in this list, Kanopy requires you to have a public library card or a university card to enjoy it at no cost.
Kanopy claims it is available everywhere, but that isn't completely true. It is only available to users with cards from public libraries and universities it has partnered with.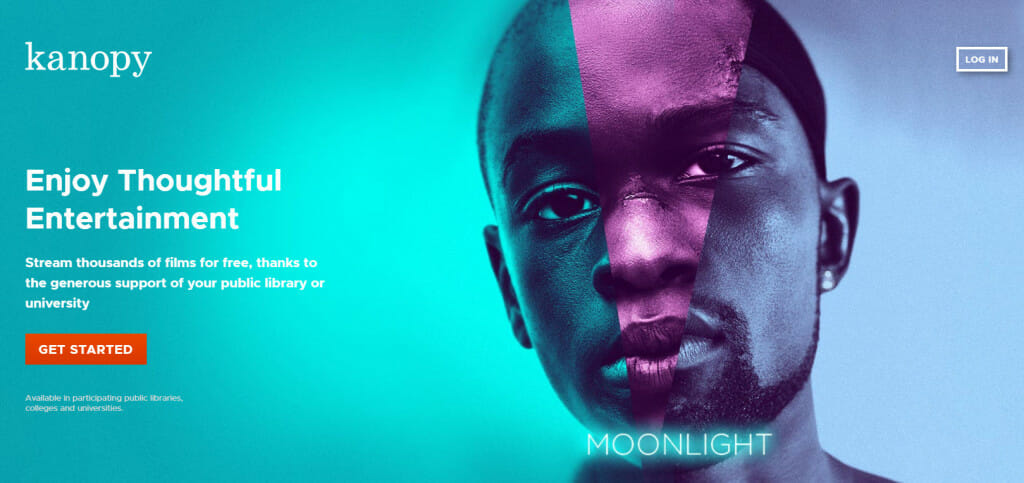 Peacock Free is the free version of NBC's Peacock and is only available in the US.  Even so, it is easily the best free streaming service.
The platform features a live TV option with over 10,000 hours of content and comes with some originals as well. Here you can enjoy top-tier content like Parks & Recreation, Jurassic Park, Friday Night Lights, Bourne Identity, and Cheers. Looking at its extensive library, it is accurate to conclude that the service is an absolute steal.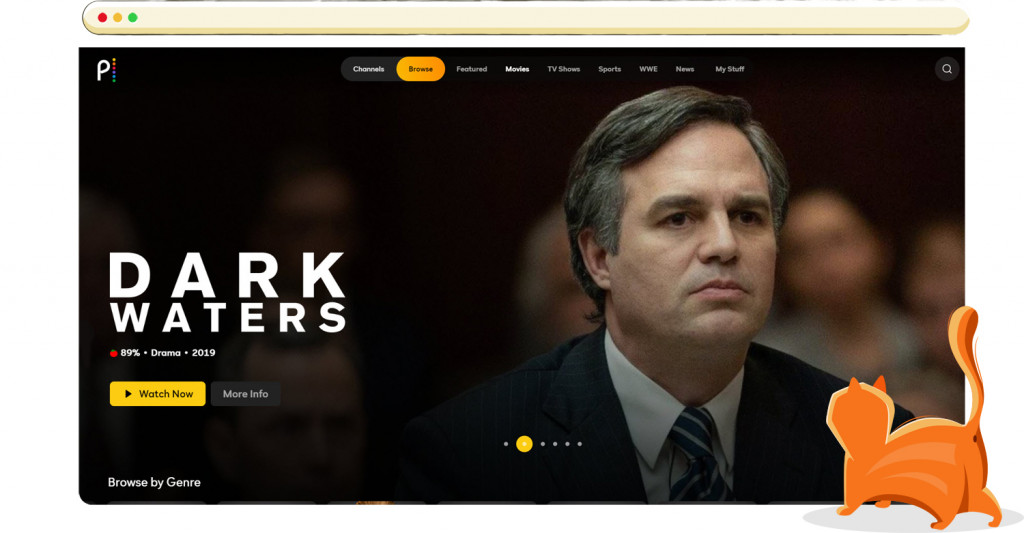 A Peacock Premium subscription, available at $4.99/month, unlocks even more content. If you want to do away with the ads, however, you'll need to subscribe to Premium Plus package at $5/month.

Enjoy Peacock wherever you are!
Popcorn Flix is another great free streaming service. Although it comes with a library of several movies and TV shows, don't expect to bump into many new releases on the platform. But if you are looking for classics like Roman Holiday and Reds, you'll find more than enough.
Popcorn Flix doesn't require you to sign up so as to access its content, which contributes to the smooth user experience.
While it has its original content, chances are you won't be familiar with what is offered. Disappointing! I know.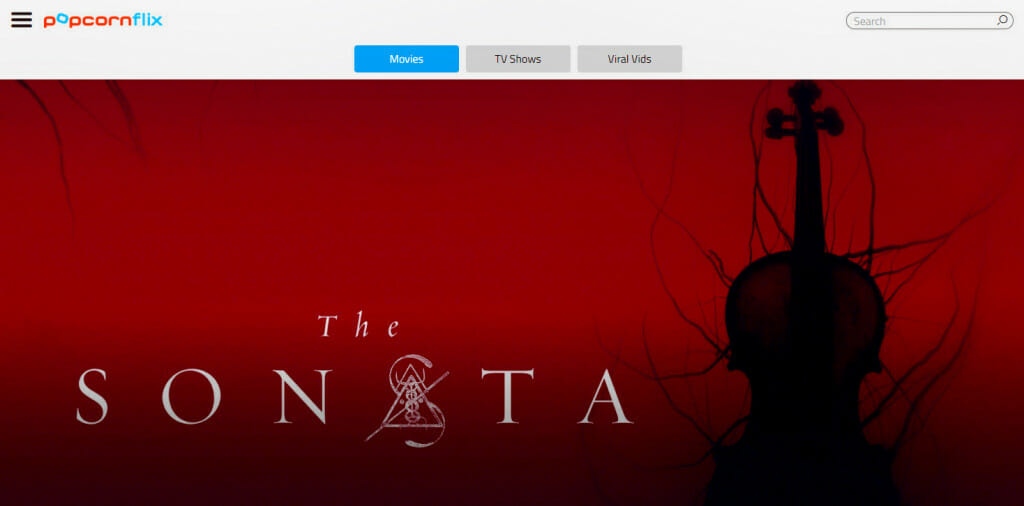 Is any anime fan reading this? Oh yes, you.  Here is the best streaming service for you!
Crunchyroll comes with over 1,000 series and several other simulcast shows. The bulk of its content is subbed, so you might not love the service if you like dubs more.
Some of the shows you can enjoy are One-Punch Man, Death Note, and Hunter X Hunter. Crunchyroll also has its original anime series like Onyx Equinox, The Rising of the Shield Hero, and A Place Further than the Universe.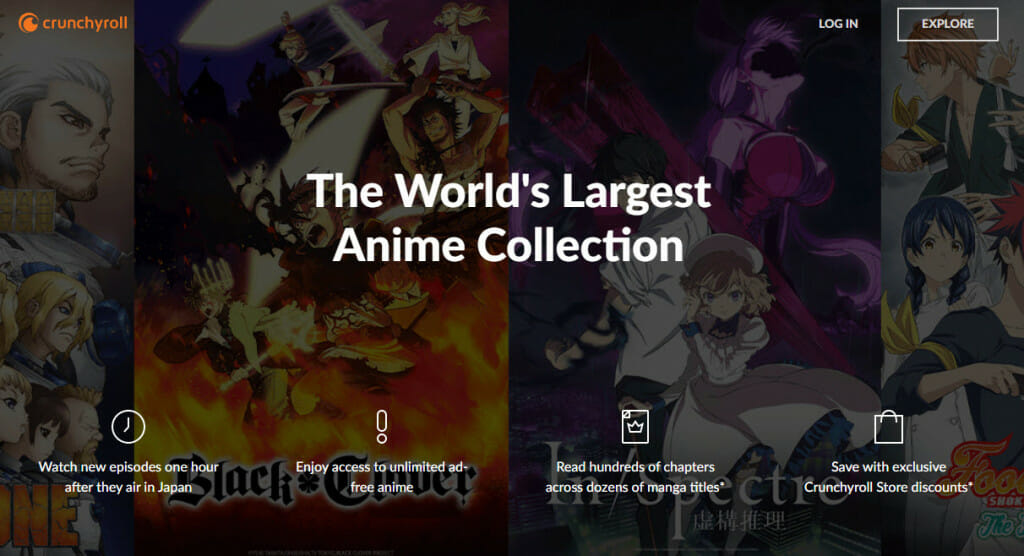 Crunchyroll may be free, but its library of anime greatly varies from country to country. So if you can't find something you've been meaning to watch at home, finding a way to switch to another country might very well get you what you crave [Psst, you can easily do that with a VPN! And guess what? — We have a guide for that too!]

Check out how to get the most out of you Crunchyroll experience
Although it is primarily known for its media-slinging server software, Plex has evolved over the years and entered the streaming space. Its free-to-watch content offering started poorly, but it has recently started getting on track.
Feel free to enjoy titles such as I Am Not Your Negro, Ender's Game, All the President's Men, Pacific Rim, and many others on Plex at no cost.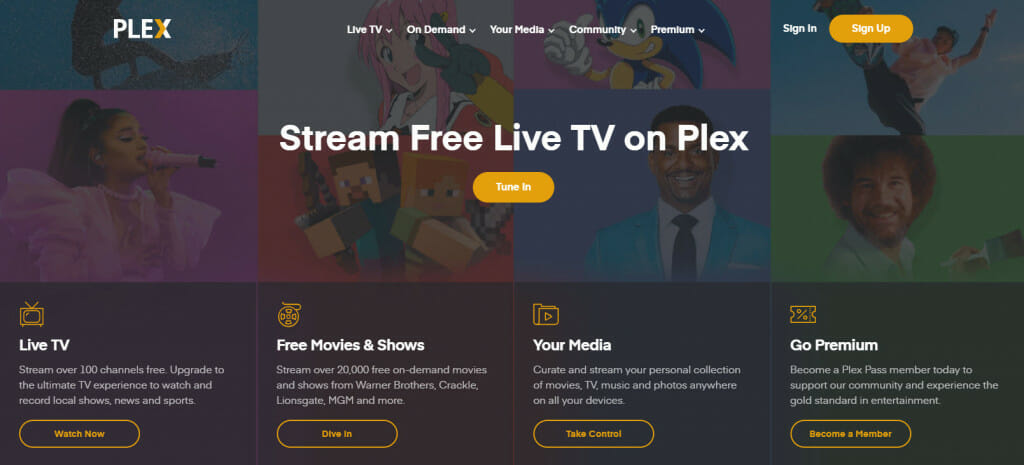 Tubi is a free streaming service with an extensive library from popular networks like A&E and Starz and studios like Paramount and MGM. However, its content is restricted to only users residing in the US. Some of the titles you will find here are Memento, Galaxy Quest, and Fury.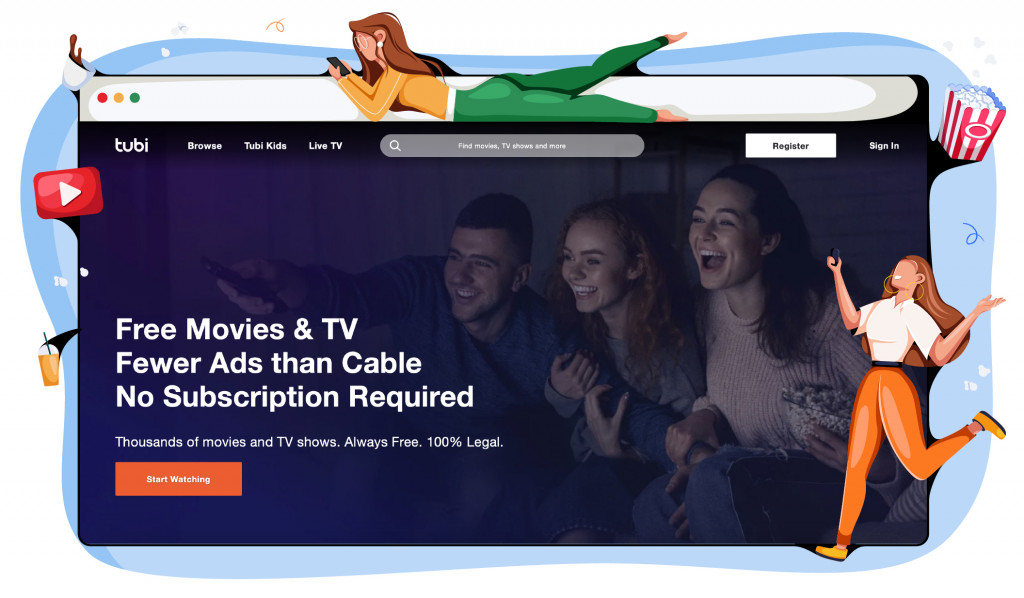 One impressive feature about this service is the grouping of its offerings into several categories. This is very useful when you want to browse through quickly and find an interesting title to watch on a Sunday night to start off your week.

Check out how you can get Tubi from anywhere!
The Amazon-owned IMDb (Internet Movie Database) has been a good reference and resource site over the years when it comes to filmographies. Now, Brace yourself for its free streaming service which has recently been rebranded as Freebee.
Freebee comes with an impressive content library, mostly classic shows. Think of it as Amazon's way of offering free streaming. Don't bring up Amazon Prime video unless you've got at least $8.99/month.
Some of the titles in Freevee's library are Desperate Housewives, Roadhouse, and The First 48. It also comes with original programming.

Pluto TV's live channels offering wins the platform a spot in our list of the best free streaming services. After being acquired by Viacom, Pluto merged with CBS and has since expanded its library.
Today, Pluto is home to several news and sports channels. It also packs a decent selection of TV shows and movies.
Registration for the service is optional, but it brings extra benefits like resuming play on a different device and adding channels to your favorite list. The service is available in Austria, the US, the UK, Switzerland, and Germany.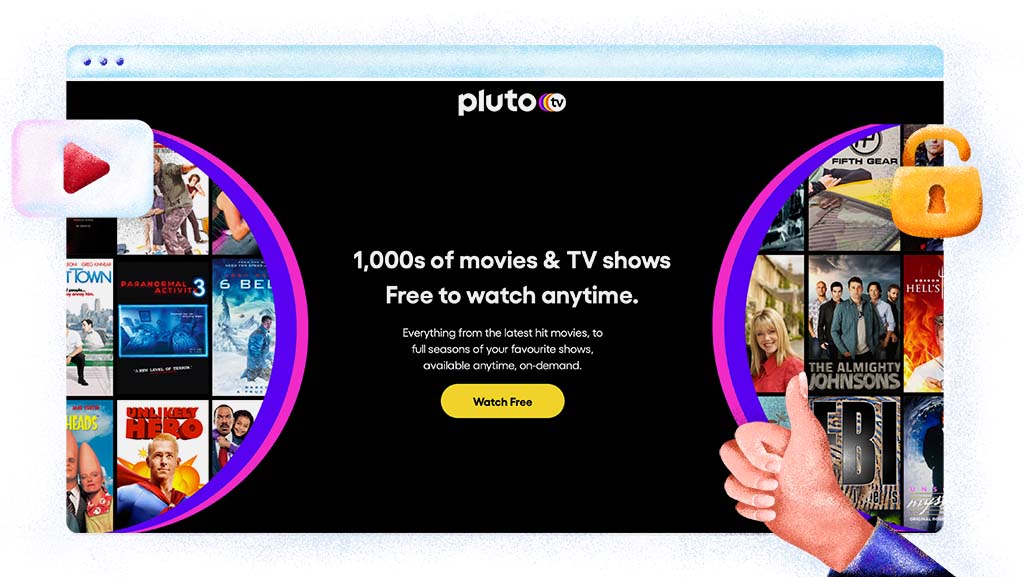 Vudu is last on this list, but do not make the mistake of playing it down or underrating it. The platform is limited to US residents albeit it offers a wide range of movies and TV shows in its free catalog.
Its registration process barely takes a minute to complete as it only requires your name, email, and password. It also has an option to sign up using Walmart –its parent company.
Vudu has continuously updated its library to cover almost every conceivable genre out there. A large section of its library features older Hollywood titles – so you know where to stop for those.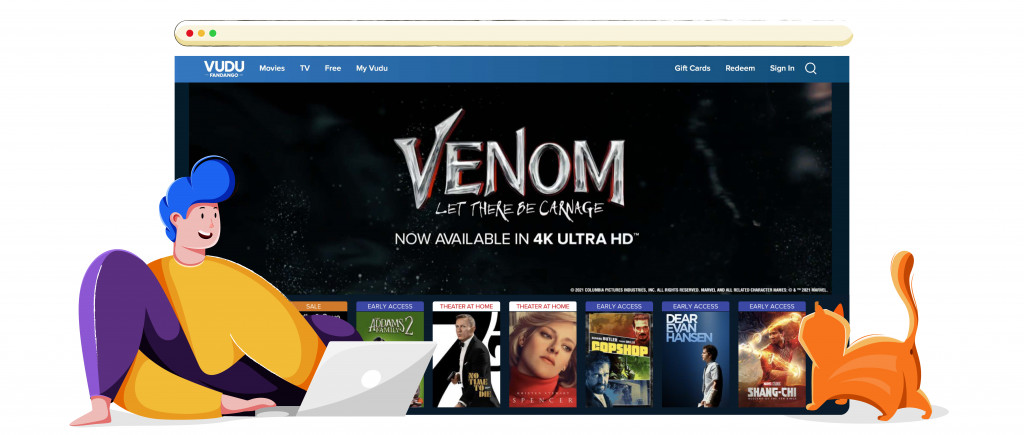 How can you access all of this goodness from anywhere?
The majority of the platforms above have geographical restrictions on their content. Only those living in the US can directly access the titles available on these platforms. If you live outside the US or have traveled away from the US, you'll need a VPN to unblock the content.
With the right VPN, such as NordVPN, you can enjoy endless hours of TV shows and movies. NordVPN comes with a SmartPlay function that allows you to access geo-blocked content effortlessly. The VPN achieves this by blending the best of Smart DNS and VPN technologies.
With its constantly expanding network of servers across the world, with a large bulk of them being in the US, and an extremely fair price for a Premium service (especially if you use our special deal), NordVPN is an excellent bargain! And thanks to our list of the best streaming services, you can access hundreds of thousands of premium entertainment twice as cheap as any paid subscription out there!
So why are you still here? Go get a subscription and start watching!