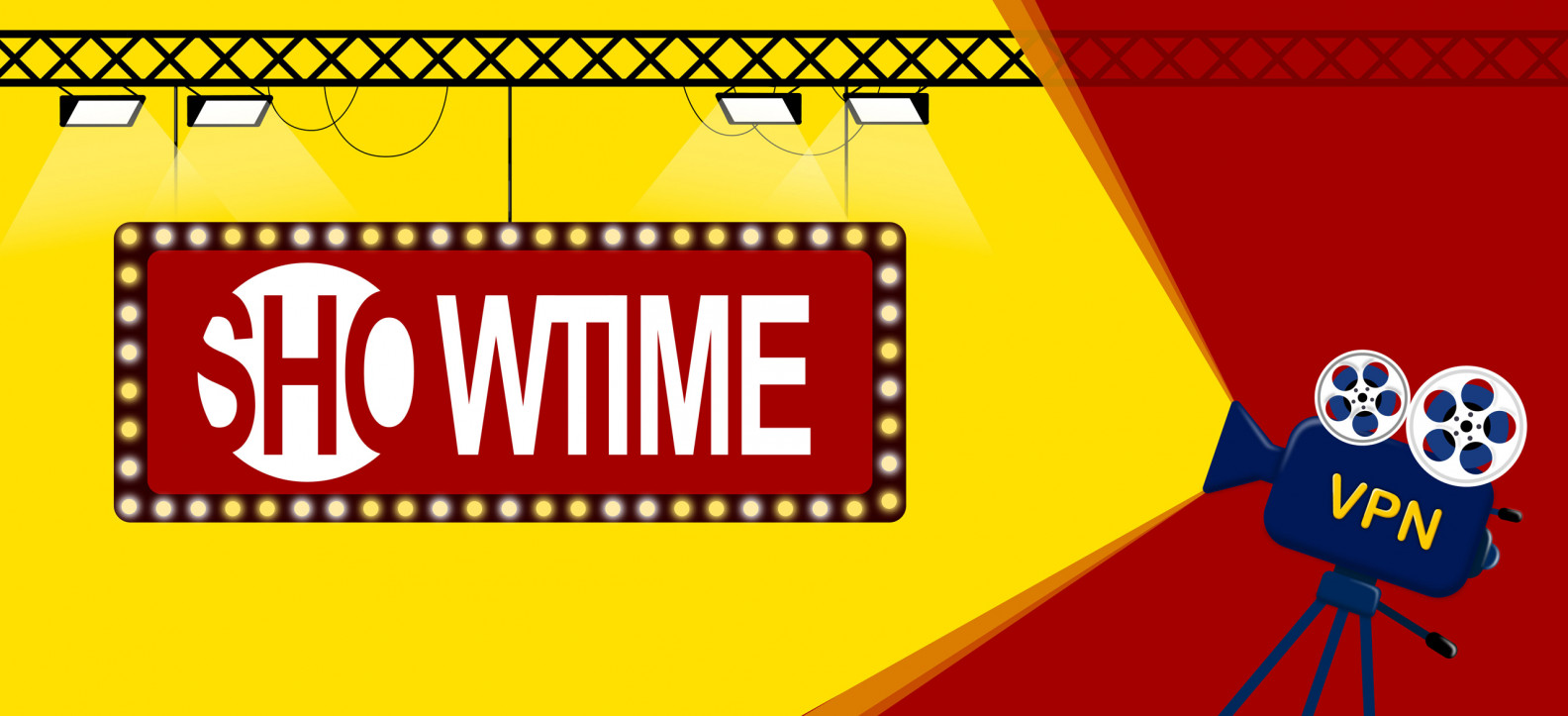 How To Stream Showtime In India
We have no shortage of streaming platforms here in India. But we're also kind of cut off from the really good and exclusive stuff. And one of those is Showtime – one of the coolest streaming services you will ever see!
TV shows? Movies? Documentaries? You name it! Showtime will put Netflix, Hotstar, and Zee5 combined to shame with everything it's got to offer. Showtime packs a massive punch when it comes to some of the best Hollywood movies, some of the greatest series, as well as live concerts, as well as live and exclusive boxing and MMA matches. And that's just to start with.
Showtime was also one of the first paid TV platforms to start producing its own content. And some of it is even more exclusive and cool than the likes of HBO Max. Some of the best shows your friends won't shut up about were made here. And unlike all of the other streaming platforms, you won't find them on Disney+ Hotstar.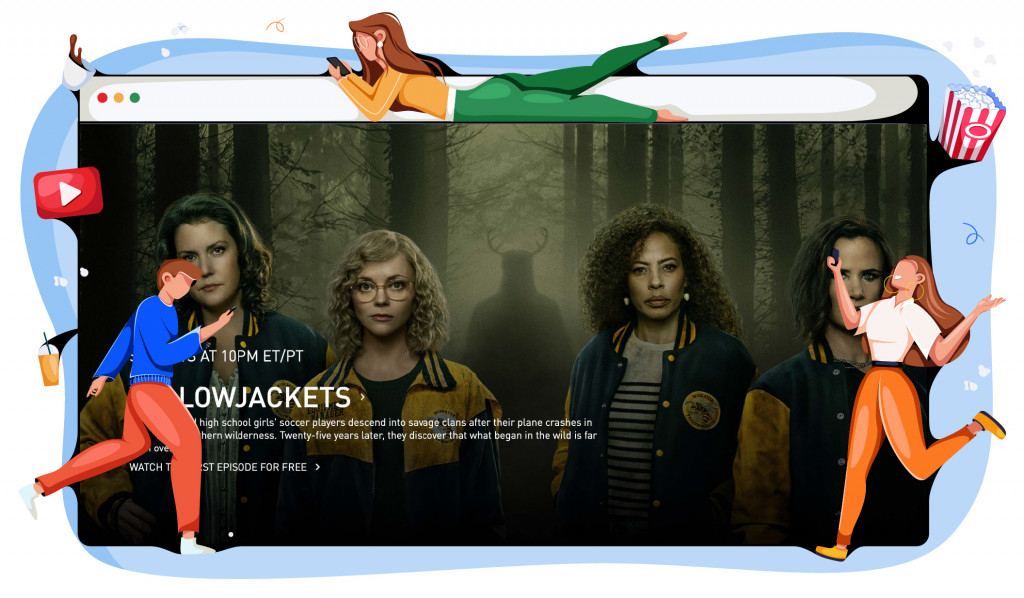 So far – so good, right?
Well, if you're already anxious to get your hands on some Showtime viewing pleasure, you might be in for a disappointment of a lifetime. But we will get to that, as well as everything you can do to fix it!
But first, we don't think we've done Showtime justice when it comes to everything the platform has to offer.

ExpressVPN: Access Showtime from India right now!
What's on Showtime?
We don't mean to scare you, but what's NOT on Showtime?
With a name like that, you know that the Showtime streaming platform is packed with enough content to keep you entertained for days.
What is that exactly? – We're so theoretically glad you theoretically asked!
Movies
Broad strokes – Showtime has virtually every movie genre covered from every single era.
For example, you could watch the 1998 classic Saving Private Ryan and then watch Abducted, the Canadian science-fiction mystery (yes, even we didn't know that genre existed) that was released in 2021.
In it for the action? You got your 21 Bridges with the late and great Chadwick Boseman, the Aliens movie, the cult-classic Blues Brothers, Django Unchained from director Quentin Tarrantino, and literally hundreds more.
In it for the laughs? Showtime has that covered with some of the best knee-slappers such as all of the American Pie movies, How to Talk to Girls at Parties, all of the Scary Movies, and the awesome Scott Pilgrim vs The World. Whatever comedy genre you might be into, you can bet your last rupee Showtime will make you laugh!
In it for the thrills? Then feast your eyes on American Psycho with Christian Bale, Dark Waters with the awesomely talented Mark Ruffalo, and the trippy Enemy with our personal favorite Jake Gyllenhaal.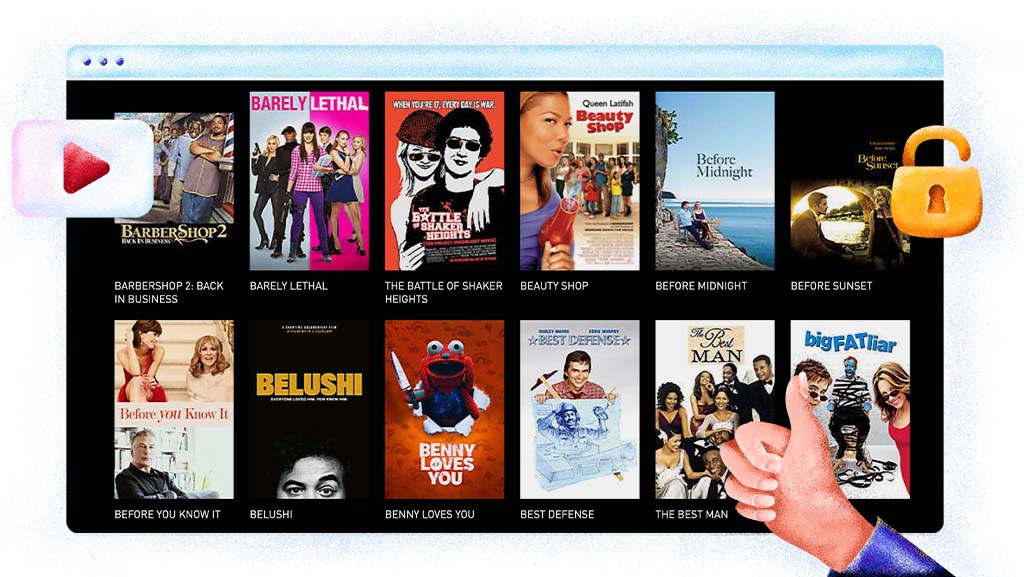 Honestly, we could keep listing stuff until we run out of Internet. There are also dramas, westerns, horror movies, family stuff… You get the picture – Showtime has it all!
Shows
However many movies a streaming platform has, we all know it's all about the series you can get hooked on. Whether you'll stick around for the next season – that's the true test of any streaming platform.
So how about it, Showtime? Can you get your viewers addicted to any of your own shows? – Well, Showtime gave us Dexter… Next!
OK, we'll talk about Showtime's series a bit more. Years later, in 2021, it went back to fix that underwhelming ending and gave us Dexter: New Blood. Which ended up being awesome!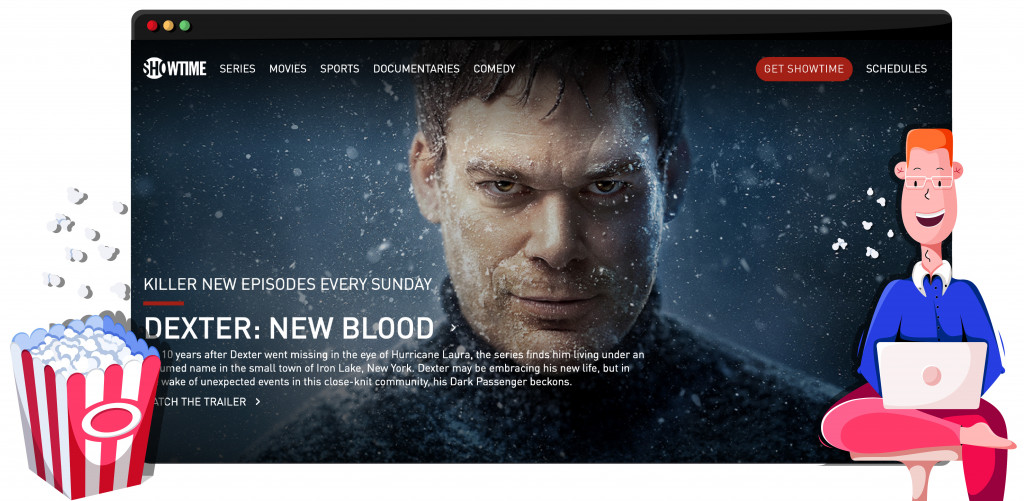 But if it were just about one show, we wouldn't even bother writing all of this. Showtime packs a bunch of shows that will sink their hooks into you – some of them are original productions, some of them not, but all of them are awesome.
Some of them include Moonbase 8, City on a Hill, Shameless, Kidding with Jim Carrey, and Your Honor. The platform also lets you stream classic hits such as Homeland and The Borgias.
Additionally, Showtime has produced some of the most classic, eye-opening documentaries, including VICE, The Reagans, and more.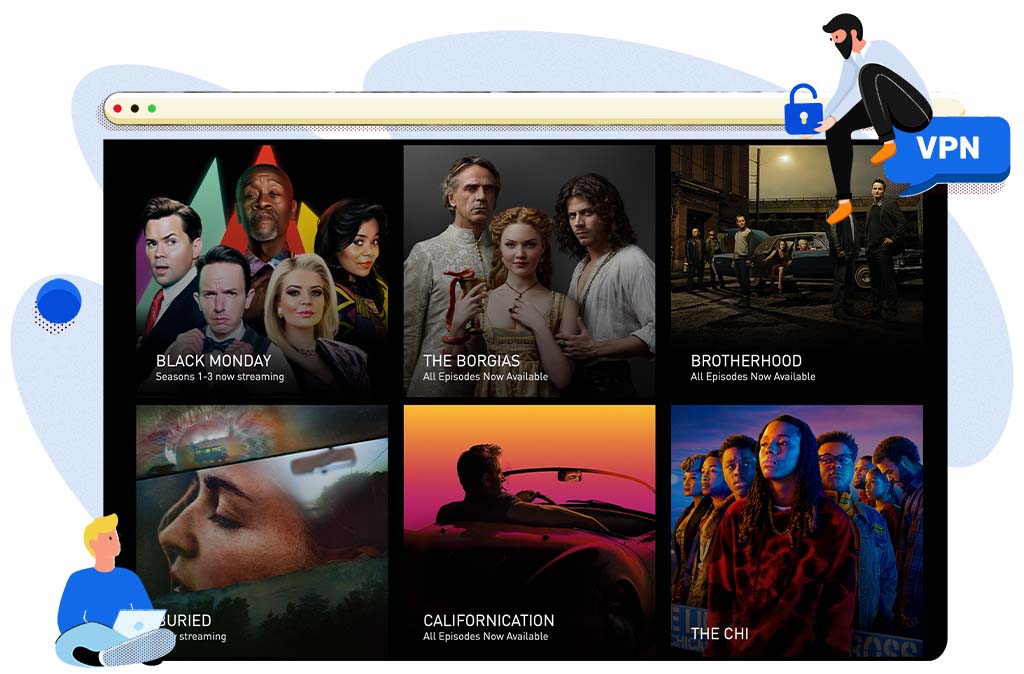 Sports
If you think that streaming platforms can only get you movies and shows, you are mistaken. At least with Showtime!
Showtime is one of the few non-sports streaming platforms that actually feature sports. With its main focus being boxing, MMA, and UFC, this little streaming platform will get you documentaries, live broadcasts, and exclusive matches you will only find here and nowhere else!
The streaming platform goes one step beyond and even hosts some of the fighting events. So you know they are exclusives and you won't be able to get your hands on them anywhere else.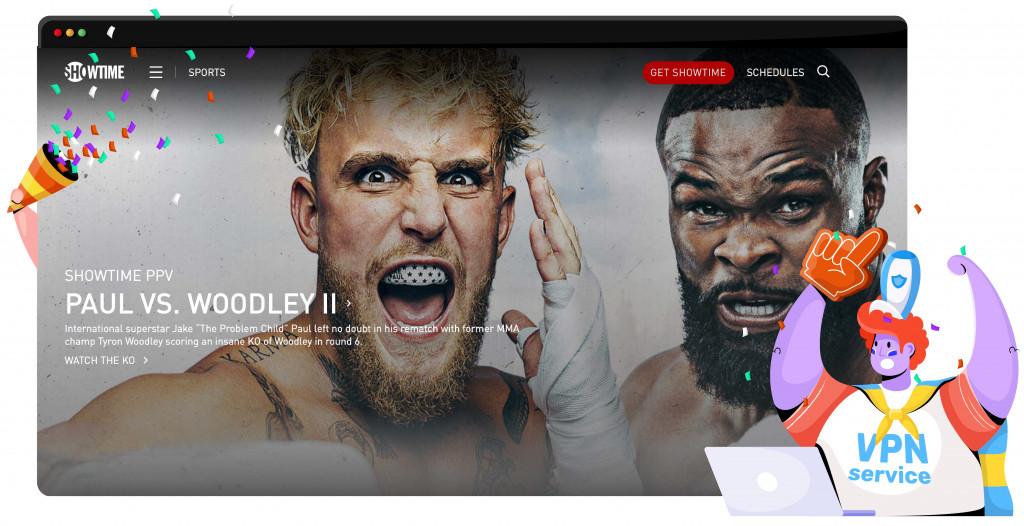 Speaking of live events…
Live TV
Did you think that was all? Well, no!
Showtime started off as a premium pay-TV channel, so it knows the virtue of mindlessly flipping through channels better than anyone else! Thus, the platform offers you Live TV as well, so you will always have something to watch.
What is that exactly? Well, that's basically all of Showtime and Showtime Anytime programming with movies, shows, stand-up comedy, and whatever else real TV has to offer. All of it is exclusive to Showtime!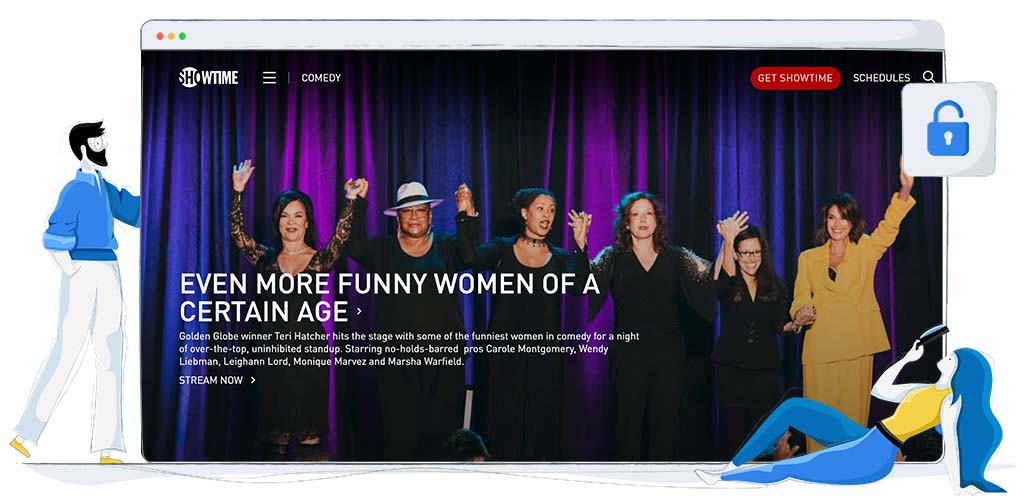 Is Showtime accessible in India?
As amazing as this ride has been, it's time for the sad part.
Showtime is only available in America as the programs it offers are not licensed outside of the US. What this means, is that there is no way you can get Showtime in Mumbai.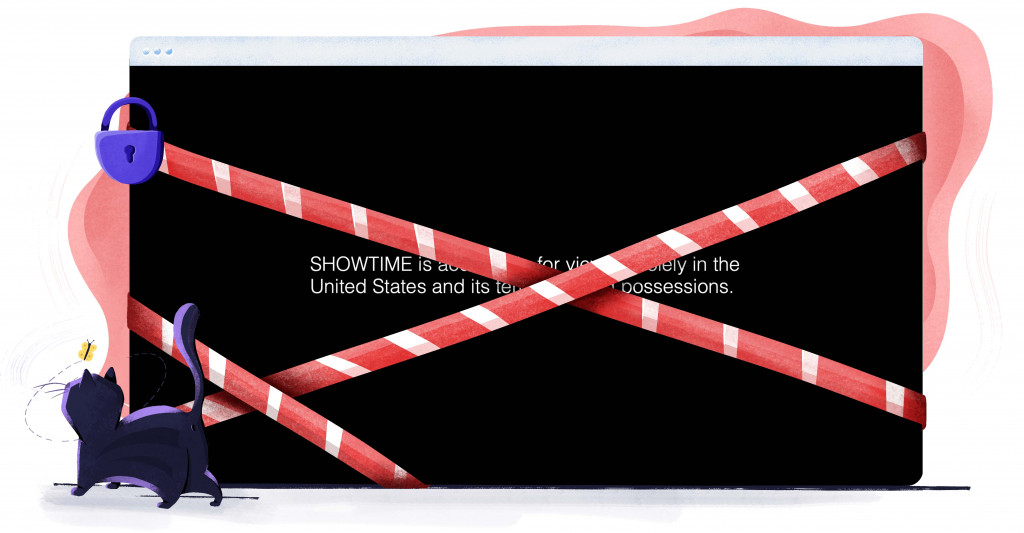 Or is there?
How can you get Showtime in India right now?
Mission: Access Showtime in India is underway.
Lucky for you, it is a pretty straightforward process. All you need to do is 30 minutes worth of tinkering and then stream away.
So, there are two main things you will need to do:
First of all, you are going to have to convince the streaming service that you are indeed in the United States to have the right of passage.
Second, you are going to have to subscribe to the platform. But even with its free trial month, you are going to need a US-issued payment method, and that's no easy feat.
Luckily, we've got the perfect solution for both.
Unblocking Showtime: All you need is the right VPN!
Showtime has one of the most rigid geo-blocks in the business. Meaning, the platform will go to any length to keep anyone who does not belong out of its After Hours section.
So, you are going to need a beast of a VPN, whose streaming unblocking capabilities will be equal and/or greater than the blocking capacity of Showtime.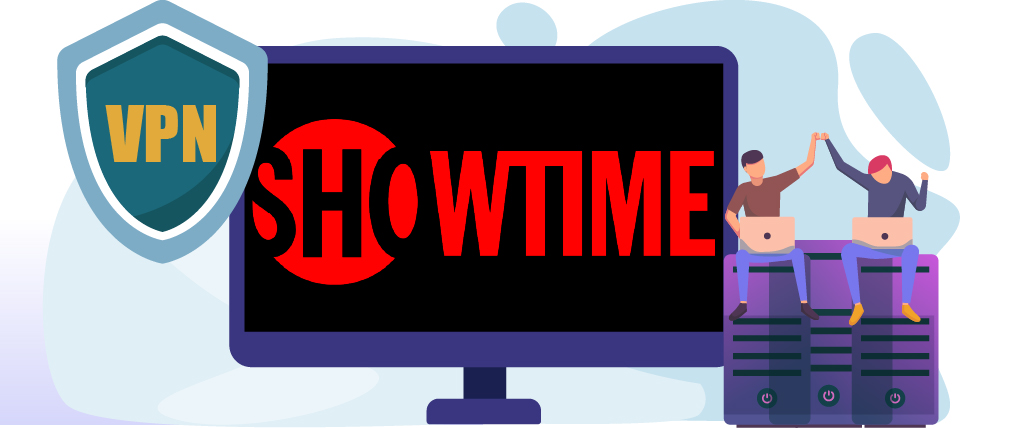 And there is but one VPN around that is good enough for the job: ExpressVPN!
And we're not just saying that either.
We actually test everything we suggest, so we know for a fact that ExpressVPN actually works, and works better than all of the free VPNs you are currently trying to crack the platform with. And this is what makes ExpressVPN our top pick for all your streaming pleasure:
ExpressVPN has one of the biggest American server parks out of any VPN provider.
Thanks to it, you will always have your own, personal server and American IP address to connect to whether you're in Nagercoil or Ludhiana.
This is hands down the fastest VPN provider around!
When it comes to speed, there is just no competing with ExpressVPN. And you are definitely going to need all the speed you can have when trying to stream Showtime from as far away as India.
ExpressVPN is as good at streaming unblocking as it is at online security and privacy!
This is actually our top choice for sports streaming unblocking. And if ExpressVPN can crack Formula 1 streams, it can crack anything!
We can get you a massive 49% discount on ExpressVPN. And if that's not enough, we can also add 3 months of ExpressVPN for free to your subscription. And who doesn't love free stuff?
Want to know more about ExpressVPN?
You can find everything you need in our complete review!
We take it that one is settled. On to the next one!
Getting Showtime in India
Getting the right VPN is the most crucial part of the job, but it's still part of the job.
And since all of this can become overwhelming when you just want to see what Dexter: New Blood is all about, here's a step-by-step:
01. First things first: you need to get ExpressVPN if you haven't yet!
02. Next, you need to subscribe to Showtime. Oh-oh, it only accepts American bank cards. What a bummer! But don't worry, we know how you can get one.
Head on over to US Unlocked and apply for your very own virtual US bank card. Wait for approval, then deposit however much you want.
Get your virtual US bank card today!
03. Once that is done, head over to Showtime. Connect to a US server with ExpressVPN before, though.
Subscribe using your virtual card credentials, and boom! You're all done.
04. Enjoy your content! Oh my gosh!
Be the first to get Showtime in India
Geoblocks, restrictions, censorship, movie and show rights – none of this should be able to keep you away from your favorite content!
Lucky for you, VPNs are made to break down those borders, and we know all the lifehacks you will ever need to get your hands on anything you could ever want to stream!
So get yourself ExpressVPN, get yourself a fancy and one-of-a-kind US Unlocked virtual bank card, sit down and enjoy. It's Showtime!