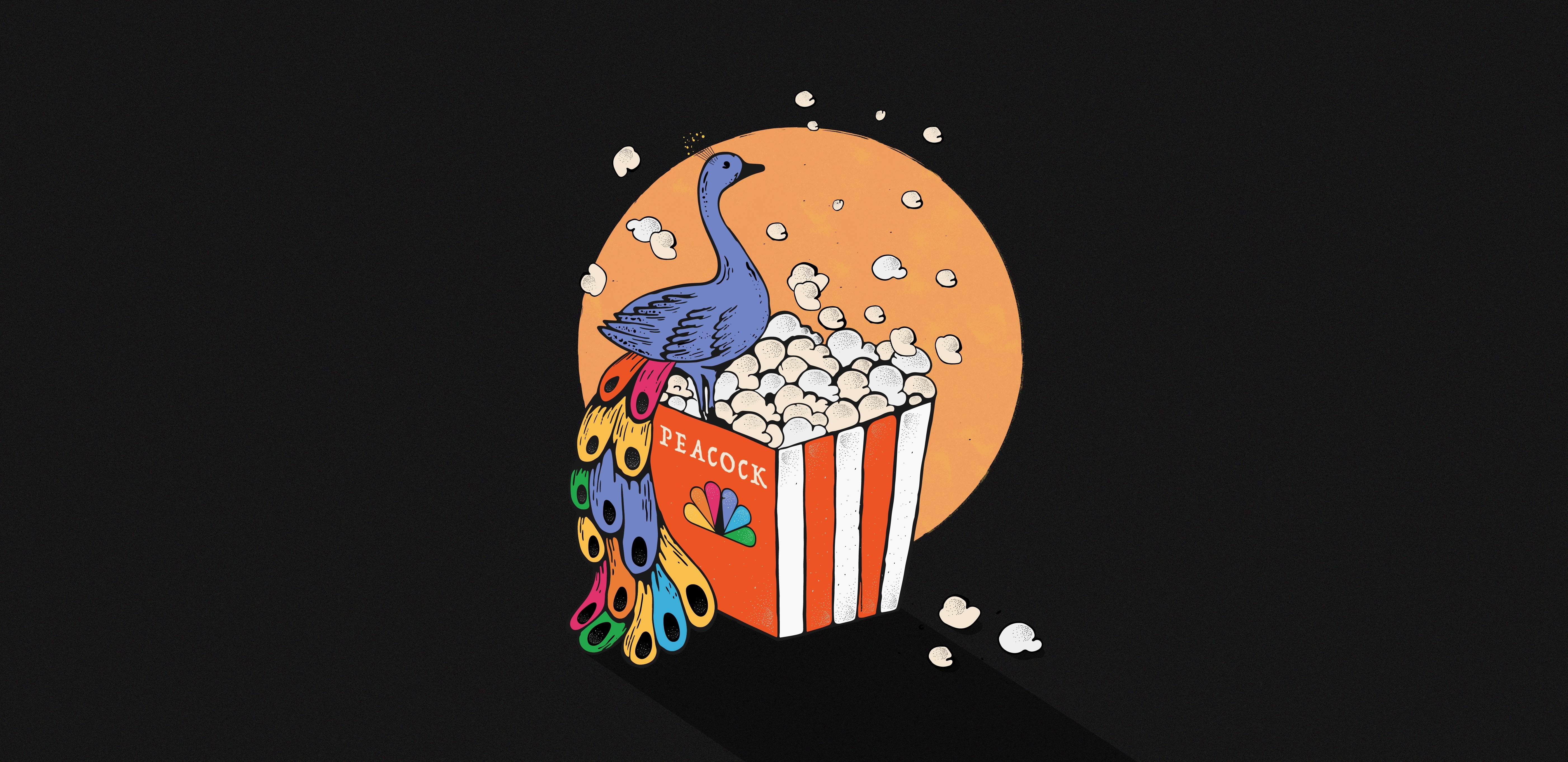 How to stream Peacock TV in India
If you are tired of the typical shows on mainstream streaming platforms and are looking for Morr, you should definitely give Peacock TV a go!
It isn't like Animal Planet, but rather a streaming platform by NBC that offers a lot of original and popular content. And when we say a lot, we truly mean a lot. But the best about the Peacock streaming platform isn't even the tidal wave of exclusive content you can find on the platform. The best thing about this streaming platform is that it's free!
Although the platform is ad-enabled, you will be able to access it for free! Furthermore, it allows you to watch your favorite movies in high quality — meaning you do not have to spend hours torrenting or hunting down illegal streams of terrible quality.
Sounds awesome, right?
However, there is one 'fowl' thing you have to get around, but we'll 'peck' at it in a bit [OMG, we are on fire with the bird puns!]
There's no time to waste! Let's get you streaming ASAP!

ExpressVPN: The best way to enjoy Peacock TV in India!
What's on Peacock TV?
The better question to ask would be: what's not on Peacock?
It's a dope streaming service that contains an ever-growing library of not just popular content but also some brilliant original content as well!
Don't think there's any life outside of Netflix or Disney+ Hotstar?! Well, check this out!
Movies
Birds of a feather have to stick together, and you can do so by sticking to your favorite genres! [We're not sure if that makes sense, but we're so invested in the bird puns now we can't stop!]
Peacock TV is owned by NBC, so you know it packs a punch when it comes to everything it can offer its users in terms of movies and films. From kids and comedies to drama, horror, and thrillers, you will be able to find every kind of movie here.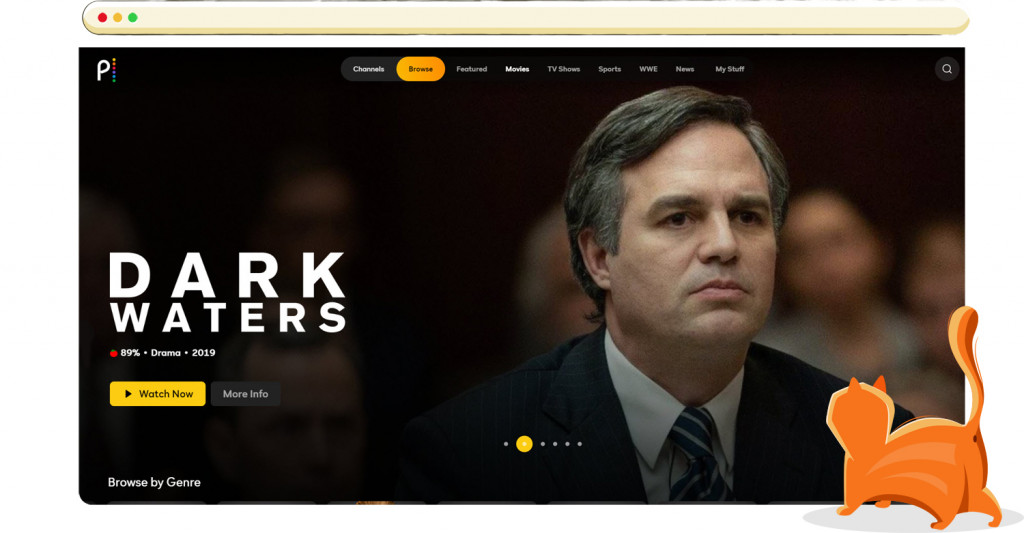 For one, the platform is home to movies that everyone should check out, like Dark Waters with Mark Ruffalo, American Gangster, Snatch, Sicario, and The Outfit, just to name a few.
The fun doesn't stop there, though, as Peacock has entire collections of movies from just about any genre. And those will have you streaming for days. Some of those collections include the Die Hard movies, the Resident Evil movies as well as the Saw movies, and, of course, the entire Twilight saga!
Suppose you would like to spread out and find something unique to watch. In that case, you can consider watching a Peacock original, Anthony. It is based on a true story about a black teenage boy, Anthony Walker, who was murdered at a park in Liverpool by two racist white men. This movie takes a fictitious route and shows us how Walker's life may have turned out if he had not been killed.
Some Peacock originals shed light on the violence against the Black community and the effects of racism. If you would like to educate yourself about what is happening and the impact of irreversible racist acts, this movie can act as the perfect starting point.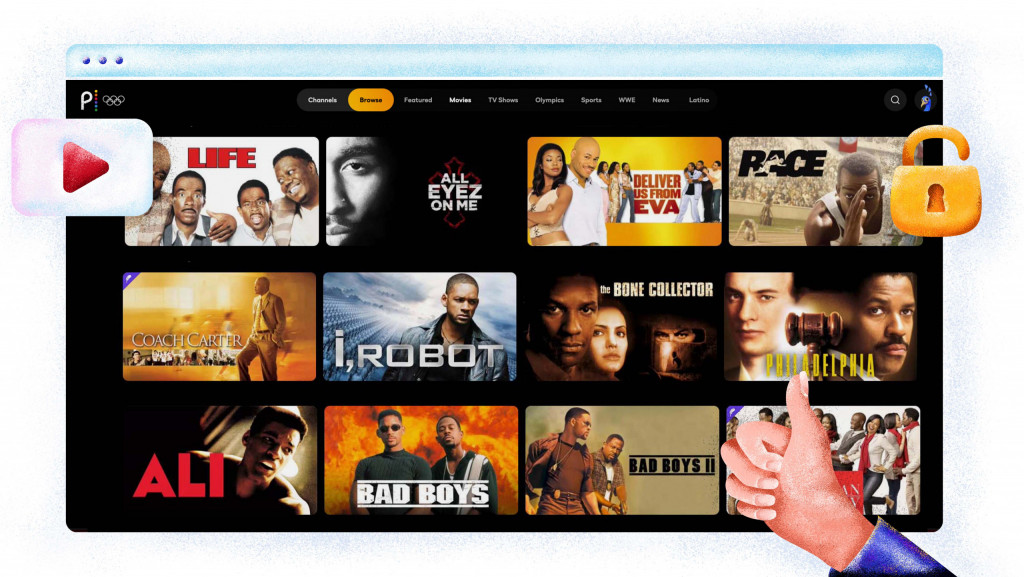 Shows
From game and talk shows to crime and reality TV, there is something for everyone. And we would expect nothing less from NBC – a studio that brought us some of our favorite shows and series we couldn't stay away from!
One of the most popular shows on Peacock TV is The Office, which needs no further introduction.
Another sitcom of equal fame available on the platform is Brooklyn Nine-Nine. So if you are ready to binge their series for the 100th time, then you can do it for free on Peacock TV.
Another favorite of ours is Parks and Rec – a feel-good show featuring some of the all-time best comedic cast including Chris Pratt, Amy Poehler, Adam Scott, and Nick Offerman.
However, we are on Peacock for their original content, and again, they do not disappoint.
Girls5Eva is a Peacock original about a girl group that was a one-hit-wonder in the 90s, sampled by a rapper. The members reunite to live their dreams of finding pop success – however, they are now aging parents who also have debt, kids, body aches, spouses, and jobs to juggle.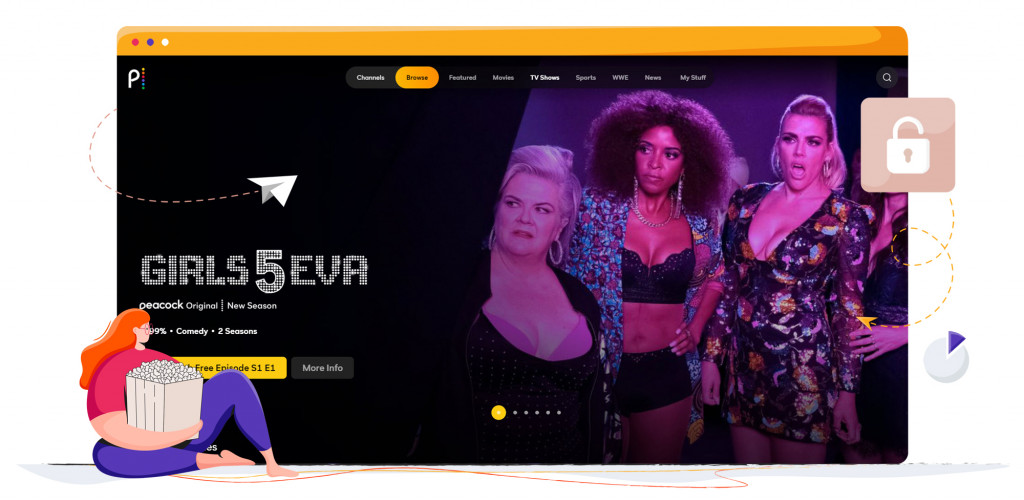 Live TV
It is extremely rare to have the option to watch TV on streaming platforms. However, because Peacock is an NBC property, you can find related programming on it.
So if you would like to quickly and seamlessly stream live shows, such as the Olympics, you can! You can also watch the Amber Ruffin Show, Dateline, and much, much more!
So basically, if there is any NBC show you would like to watch, you can, on PeacockTV.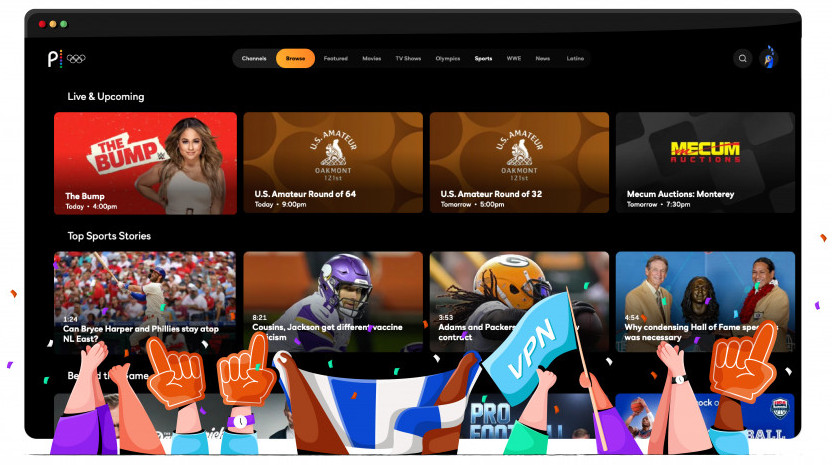 Sports
Peacock TV is also one of the few streaming platforms that features spots streaming. And this immediately puts it in a league of its own.
It might not offer as much as some of the dedicated sports streaming services, but it will definitely keep you entertained with the likes of the Premier League, Major League Baseball, INDYCAR, golf, cycling, motorsports, and so much more.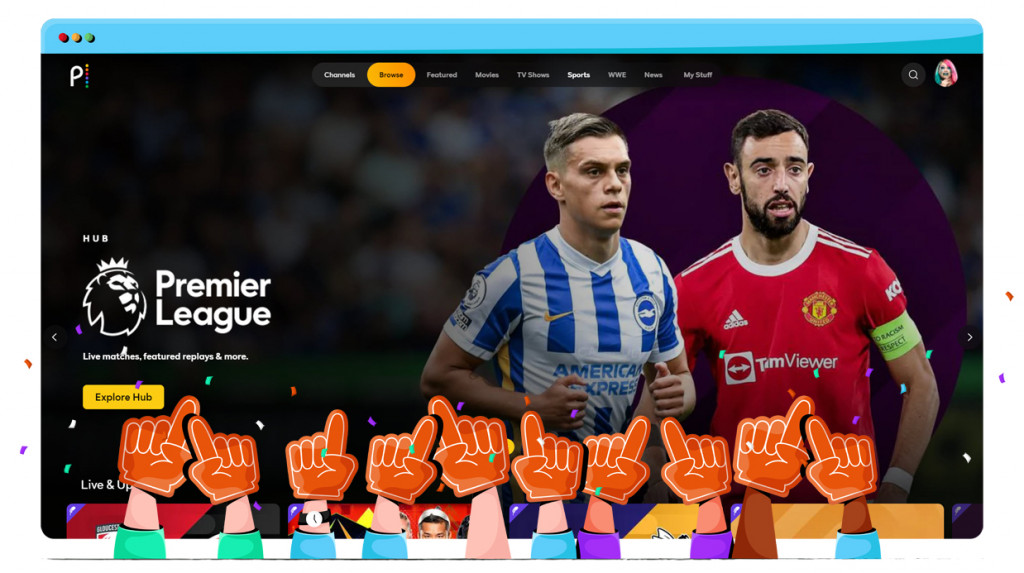 The biggest issue here is that most of the sports streams are only available with the Premium subscription. But it's definitely worth it!
How much does Peacock cost?
One of the coolest things about Peacock TV is that it is free. Well, mostly anyway. They do have specific content that requires a subscription.
For example, you won't need to pay for the first few Harry Potter films, but you will need to pay to watch how the franchise ends.
Also, you will be able to watch the first few seasons of The Office without having to pay, but the rest will cost you.
But that's not the only thing. Peacock can only be accessed by those living in the States.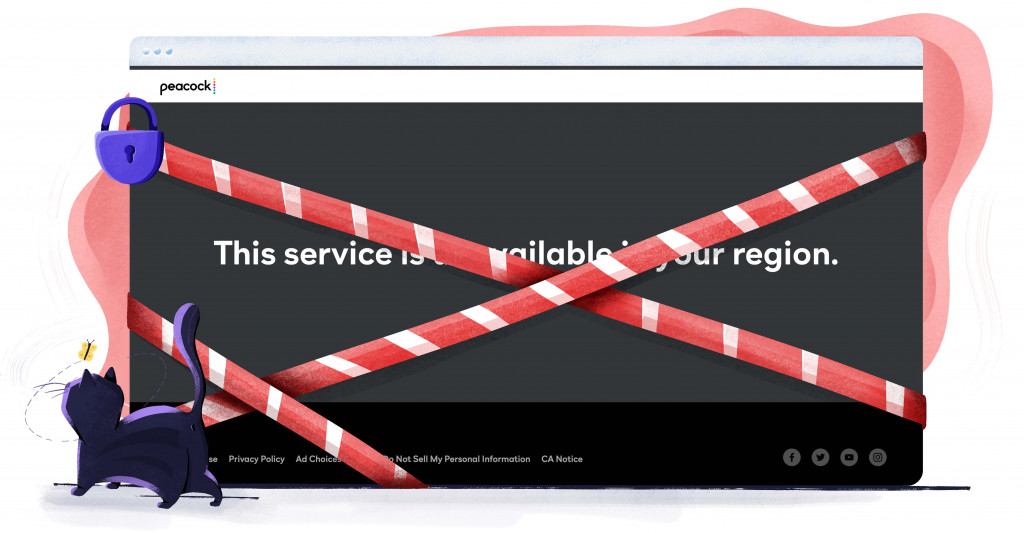 Oh no, whatever can we do?! (psssst. We know precisely what to do.)
Can you get Peacock in India?
Unfortunately, there is no Peacock TV in India, but that doesn't mean you still can't get it.
All that you need is a good VPN.

Need some brushing up on your VPN knowledge?
But, you should keep in mind that streaming services are becoming more and more aggressive and can sniff out VPNs a lot quicker, so you can't rely on any free VPN service you find on Google.
A good VPN, one that needs to be used to stream Peacock, has explicitly to have:
Servers in the US. The more, the better.
Servers that are particularly optimized for streaming.
Fast speeds.
Ability to bypass bans and unblock streaming services.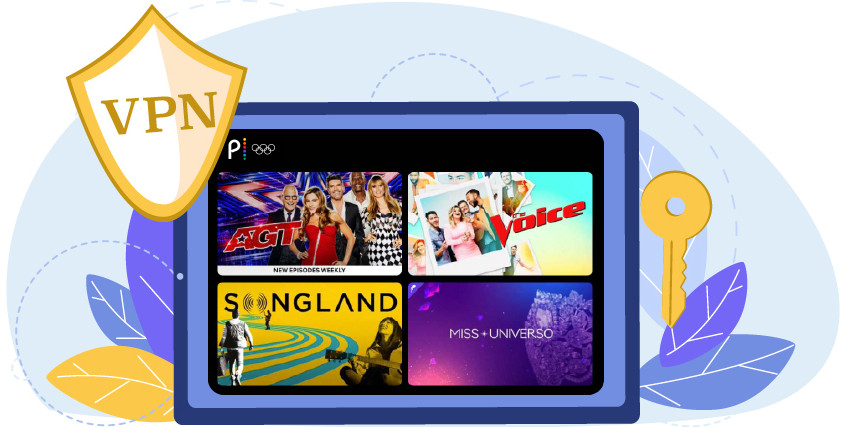 Sounds overwhelming?
Not to worry, we're here to help!
What is the best VPN to access Peacock?
Peacock TV has recently undergone a complete revamp and made accessing it using a VPN more challenging.
As a result, there are only a fair few VPN providers that can work on the platform. However, you do not have to stress finding the right one because we done all the testing for you. And, based on our tests, there is no VPN that will serve you better than ExpressVPN.
But, you might be wondering — why ExpressVPN in particular? Well, there are too many reasons to list, but we'll do out best:
ExpressVPN was made to perfect the VPN streaming experience, so it is the best VPN for the job.
This provider is ridiculously good when it comes ton unblocking streaming services.
ExpressVPN is the top recommended provider when it comes to unblocking sports streams that have some of the toughest blocks, and it works just as well with Peacock TV.
This is hands down the fastest VPN provider around.
And speed is definitely going to be a factor when trying to stream Peacock TV all the way from India!
Still need convincing?
We bet our ExpressVPN review will do the job!
What if I want Peacock Premium?
It is understandable; once you have tasted the sweet experience of Peacock, you only want more.
Well, Peacock happens only to accept US-issues payment methods. But we have a way around that as well!
All you have to do is get a virtual prepaid US bank card through US Unlocked.
You have to sign up, wait to get approved, load it up, and then sign up to either one of Peacock's premium subscription options using a merchant-specific card if you are into Peacock for the long haul.

Get your US virtual bank card today!
And, that's it, you're done!
Nothing left to do but the Peacock Dance!
You do not have to miss out on this precious streaming platform because of unnecessary geographical issues.
Get the Peacock TV app, and watch all the best content on the planet – alongside some never-before-seen originals – to your heart's content!
(Peacock battle cry ?)