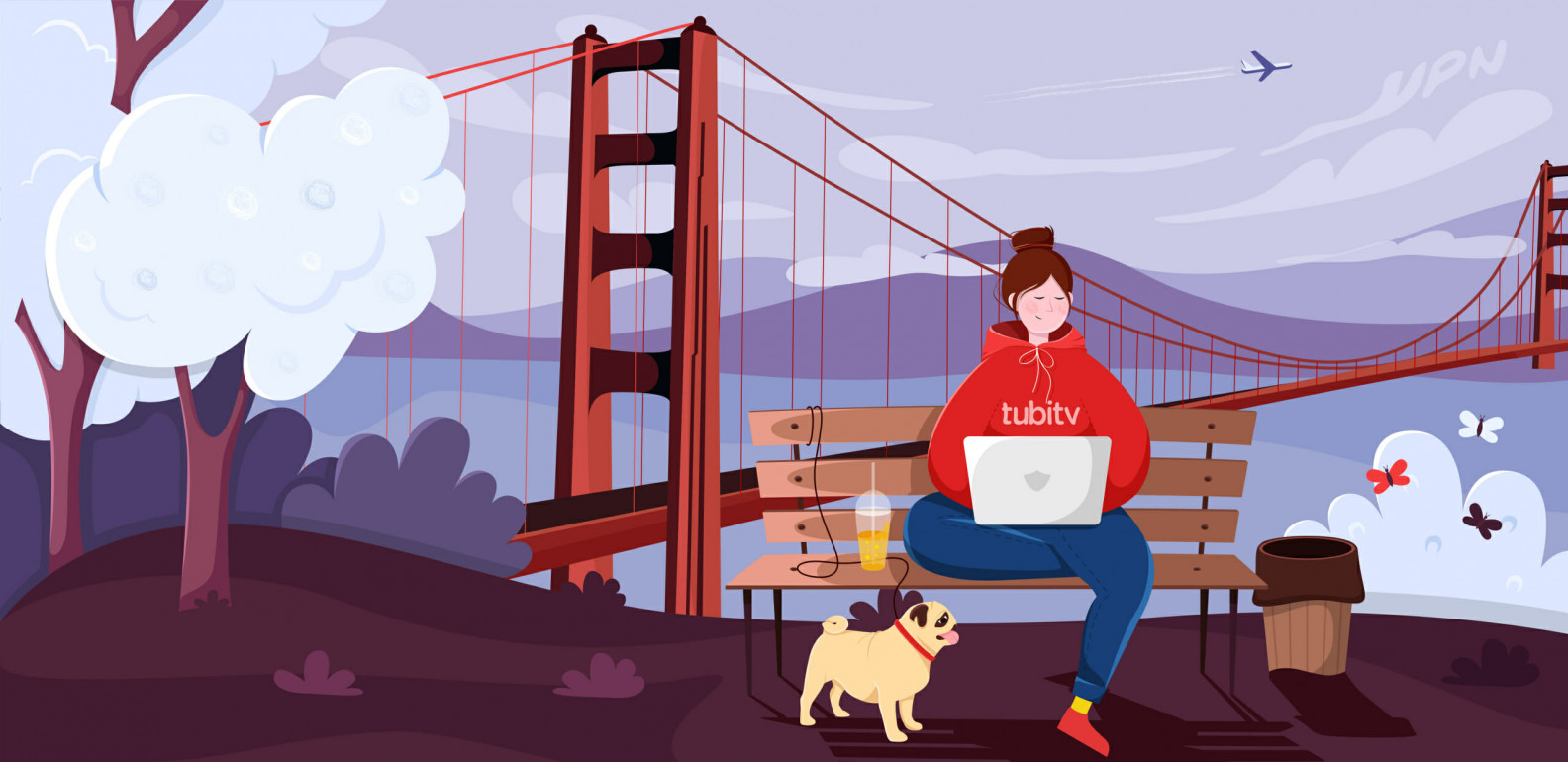 How To Watch Tubi TV In India?
Tubi TV isn't just another one in a long line of streaming platforms. Can you imagine all of your favorite streaming platforms rolled into one, and made free? Well, that's Tubi!
When we say free, we mean ad-supported, so it's sort of like watching YouTube, but with premium content! That means that those who want to watch their favorite movies in high quality and do not mind an occasional ad (after all, it's the perfect opportunity to grab an extra batch of popcorn) will find Tubi TV to their liking.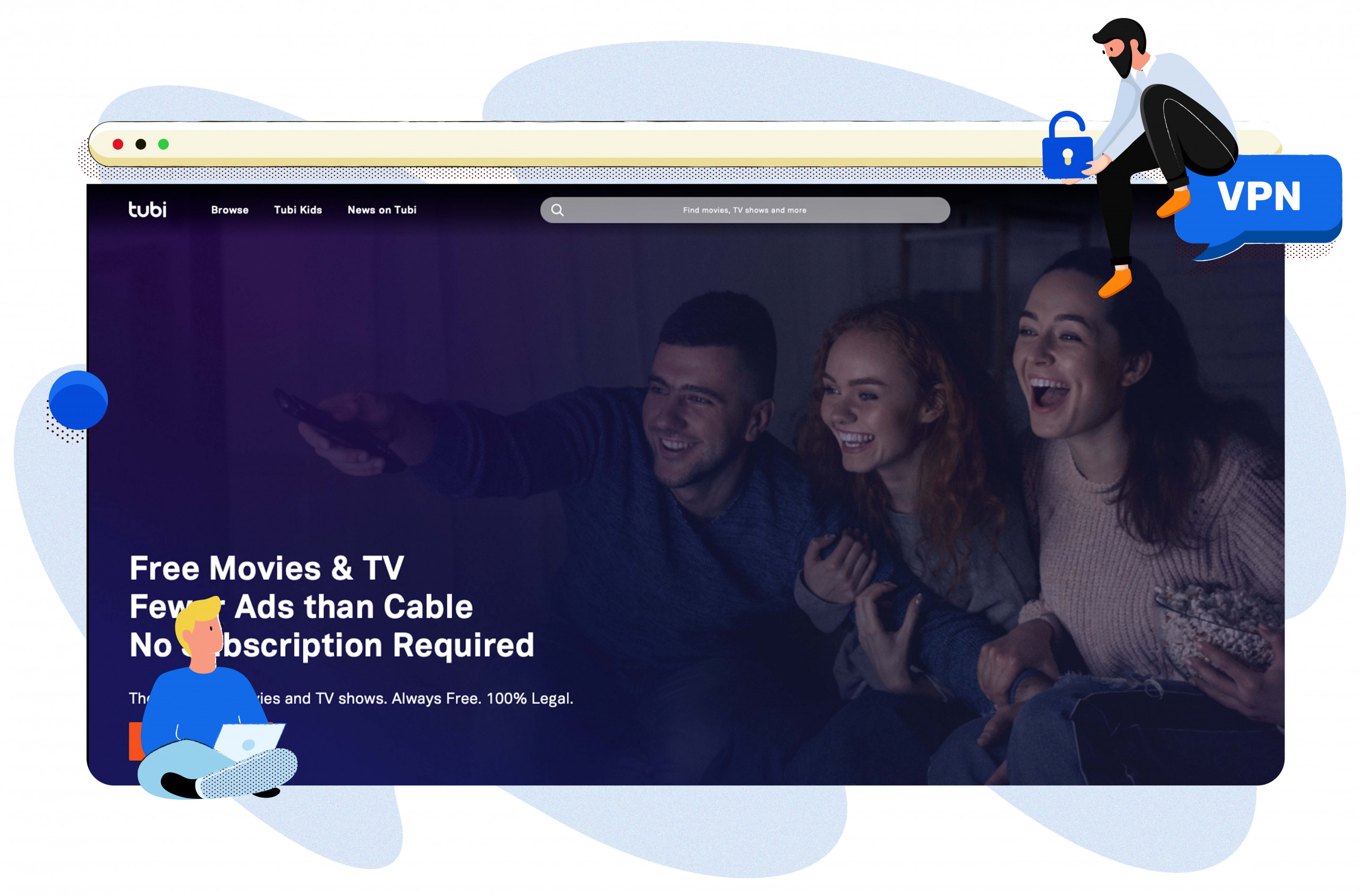 And as far as content options go, Tubi offers an insane library of movies, shows, anime, even kids shows for you to dig into.
But, as always with these streaming platforms, there is a catch.

We'll get to it. But first, let's check out what Tubi has to offer!
What Is Tubi TV And What's On It?
After spending what feels like decades, locked up during the pandemic, we've officially finished Netflix. Yes, finished it. We can probably recite every line from Money Heist.
So the hunt for exciting new content brought us to Tubi TV.
This platform isn't new. It was actually launched in 2014, and roughly 30 million people in the world are hooked on it.
By now Tubi TV boasts over 20,000 TV shows and movies and is available on pretty much any device.
Whether you love binging anime series like Attack on Titan or One Punch Man, or are a Harrison Ford fan and want to watch The Fugitive, you will be able to find whatever it is you are looking for on this awesome little platform.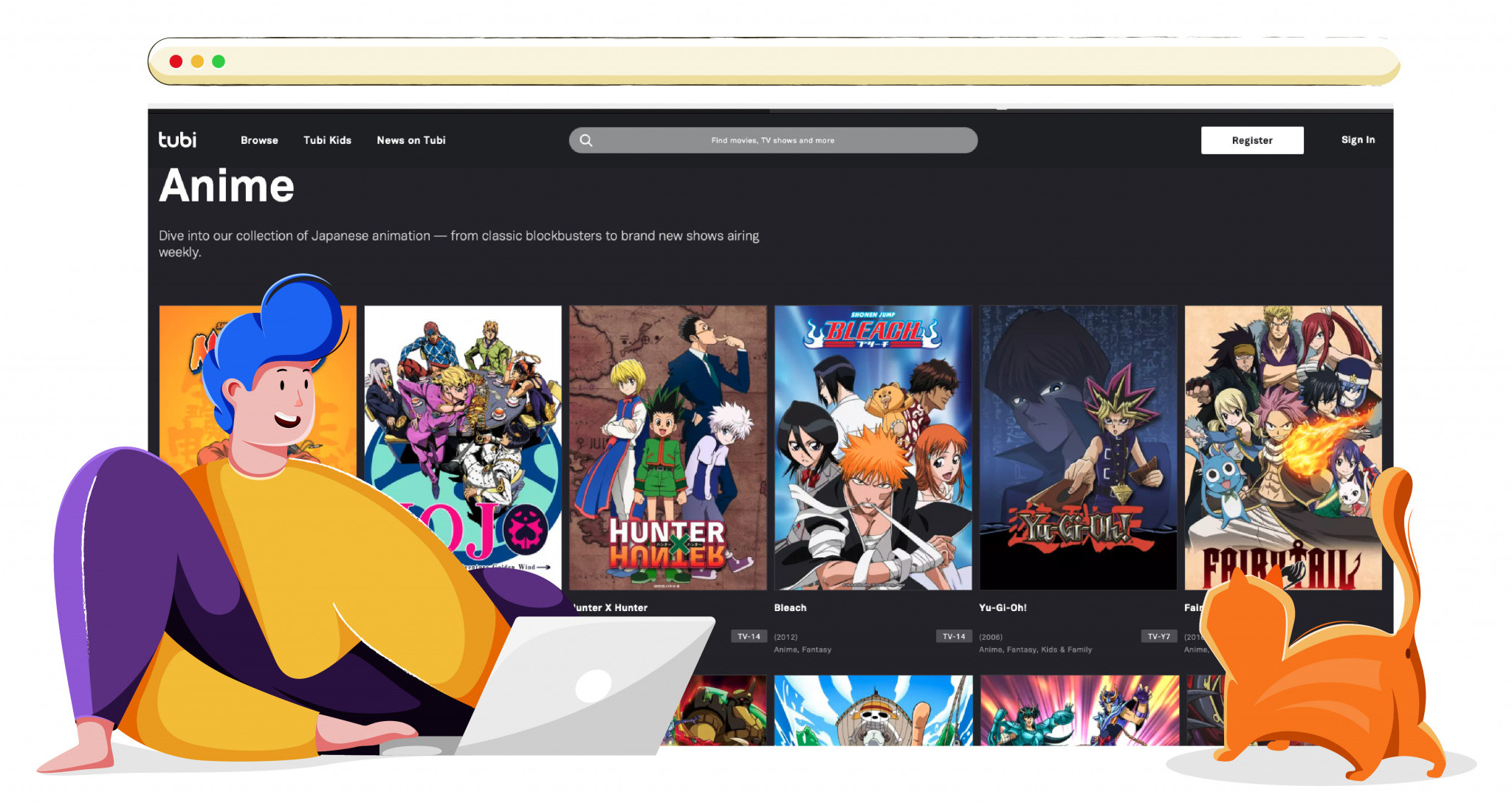 Not only that, Tubi TV has over THIRTY different genres, ranging from indie films to all kinds of action, drama, horror, sci-fi, martial arts, and so much more. Tubi TV has it all! From your hipster friends to your religious grandma, everyone will have something to watch.
But enough of hyping Tubi up. We're pretty sure you are already hooked. So let's go into specifics.
Movies
If you're looking for a family-friendly (but emotionally stimulating) movie to watch, you can find several in the Family section.
For example, Second Chances is about a grumpy horse, Ginger, bringing joy into the life of a dismayed little girl who has just lost her father in a car accident, that she was also a part of.
Or if you are looking for a horror movie to scar you for life instead, you could try watching The Taking of Deborah Logan. It is about an older woman who is battling Alzheimer's.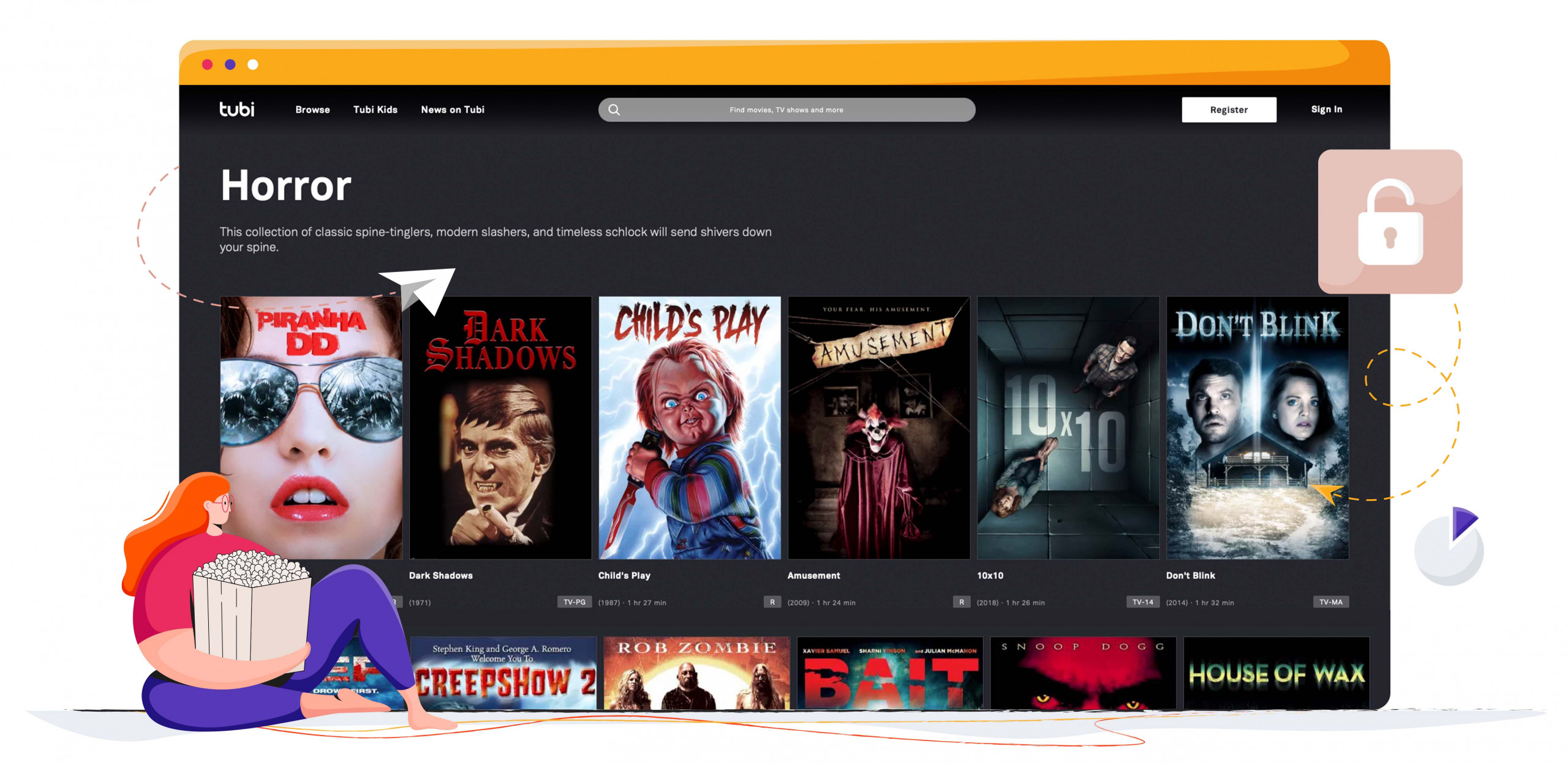 OK, those were not the most obvious picks, we'll give you that. But that's to show you how weird Tubi's catalogue actually gets.
In truth, Tubi TV is not one of those free streaming platforms that pick up all the rejects no other streaming platforms want, it actually has a bunch of awesome premium content.
If you're an action movie fan, you'll definitely enjoy what Tubi has to offer. With movies such as the Under Siege series starring Steven Seagal, i,Robot, Train to Busan, Tubi TV has every flavor of action you could ever want.
Not a fan of action and feeling emotional this evening? No problem! Tubi has drama for days, literally! Movies such as We Need To Talk About Kevin, Memento, The Awakening, Only God Forgives, Hard Candy will leave you shook.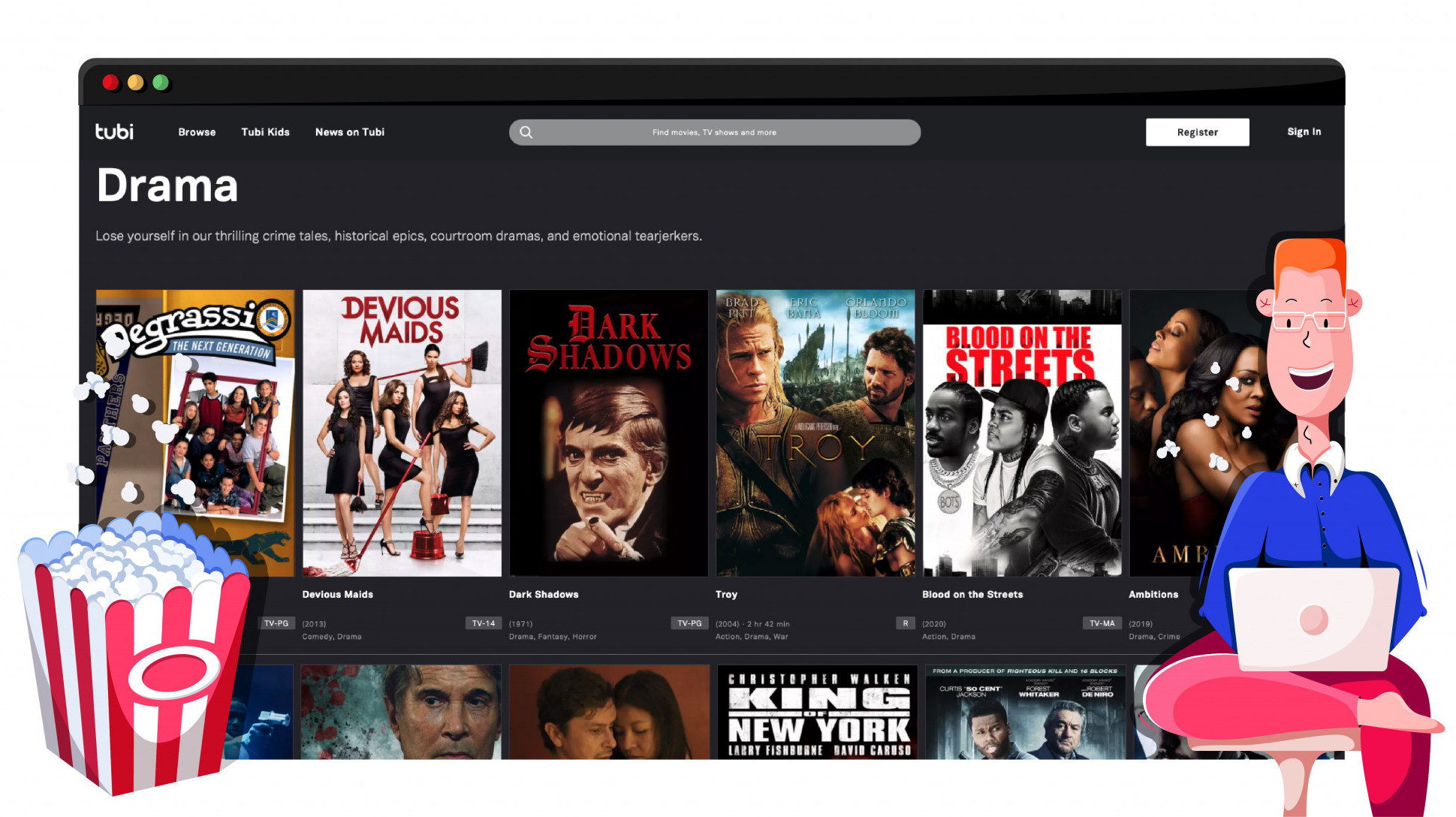 In for a laugh? Tubi's got you covered with the likes of the awesome Hunt For The Wilder People by Taika Waititi, Secondhand Lions, Bait, The Nanny Diaries, and a ton more movies that will leave you in stitches.
You get the picture. What we're trying to say, is that there is no shortage of movies on Tubi. So if like us, you managed to binge everything Netflix has to offer in the last few months, Tubi is definitely the next best thing.
Series
Movies are not enough to sell you? That's OK because films aren't the only thing this little free streaming platform has got to offer.
If you're the kind of person who lets a show consume their every waking minute, then you are in good hands.
For those who grew up reading the classics like Leo Tolstoy, there are shows like Anna Karenina: Vronsky's Story. It's a fresh take on the original novel and shows you how Anna Karenina falls for Count Alexey Vronsky.
K, that one is heavy.
If you would rather watch something a bit more lighthearted, you could watch The PJs. This is an animated comedy about a housing project superintendent handling modern-day related issues.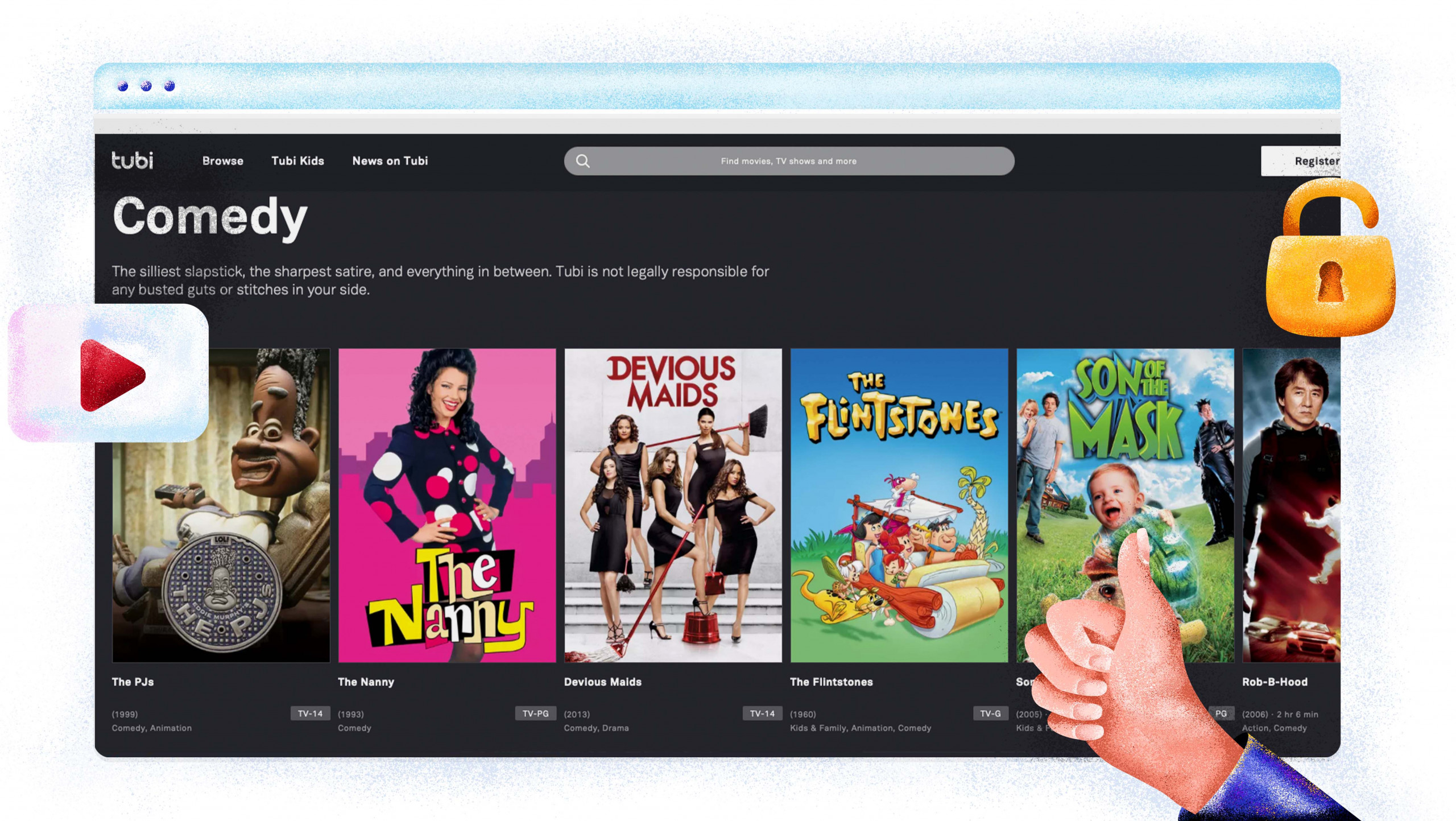 Fan of good old ever-screaming Gordon Ramsay? Tubi is the hub for pretty much all of his shows. Those include Hotel Hell, Kitchen Nightmares, Hell's Kitchen, and every other hotel and/or kitchen he yelled in.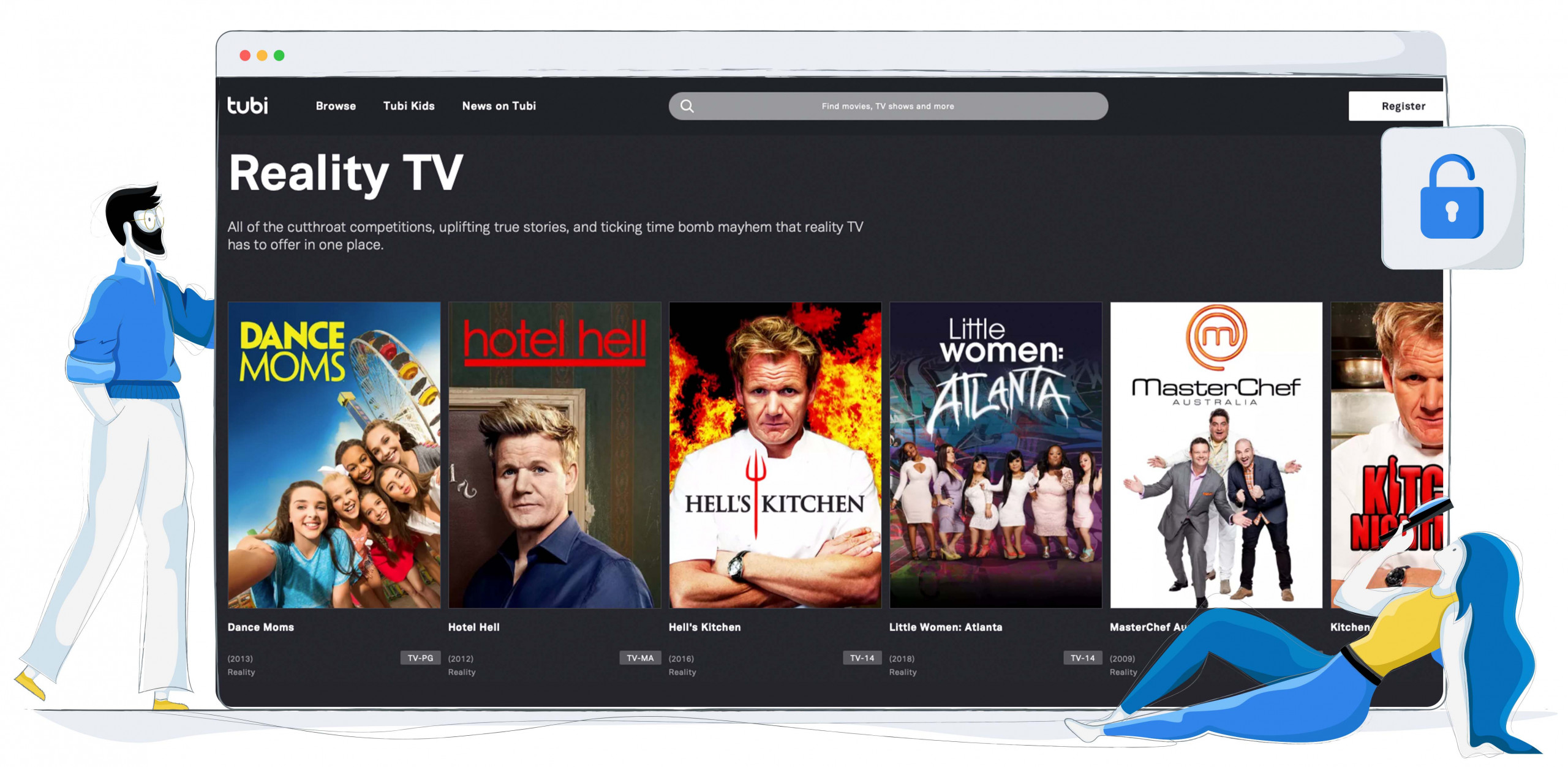 And there's a lot more where that came from. With series from every genre imaginable, Tubi TV will keep you binging for days on end!
Can You Get Tubi In India?
Sadly, after having enticed you with this too-good-to-be-true service, you should know that Tubi TV can only be accessed by residents of Canada, the U.S., Mexico, New Zealand, and Australia.
As for updates about whether it will launch in India and other countries: not likely, at least for now.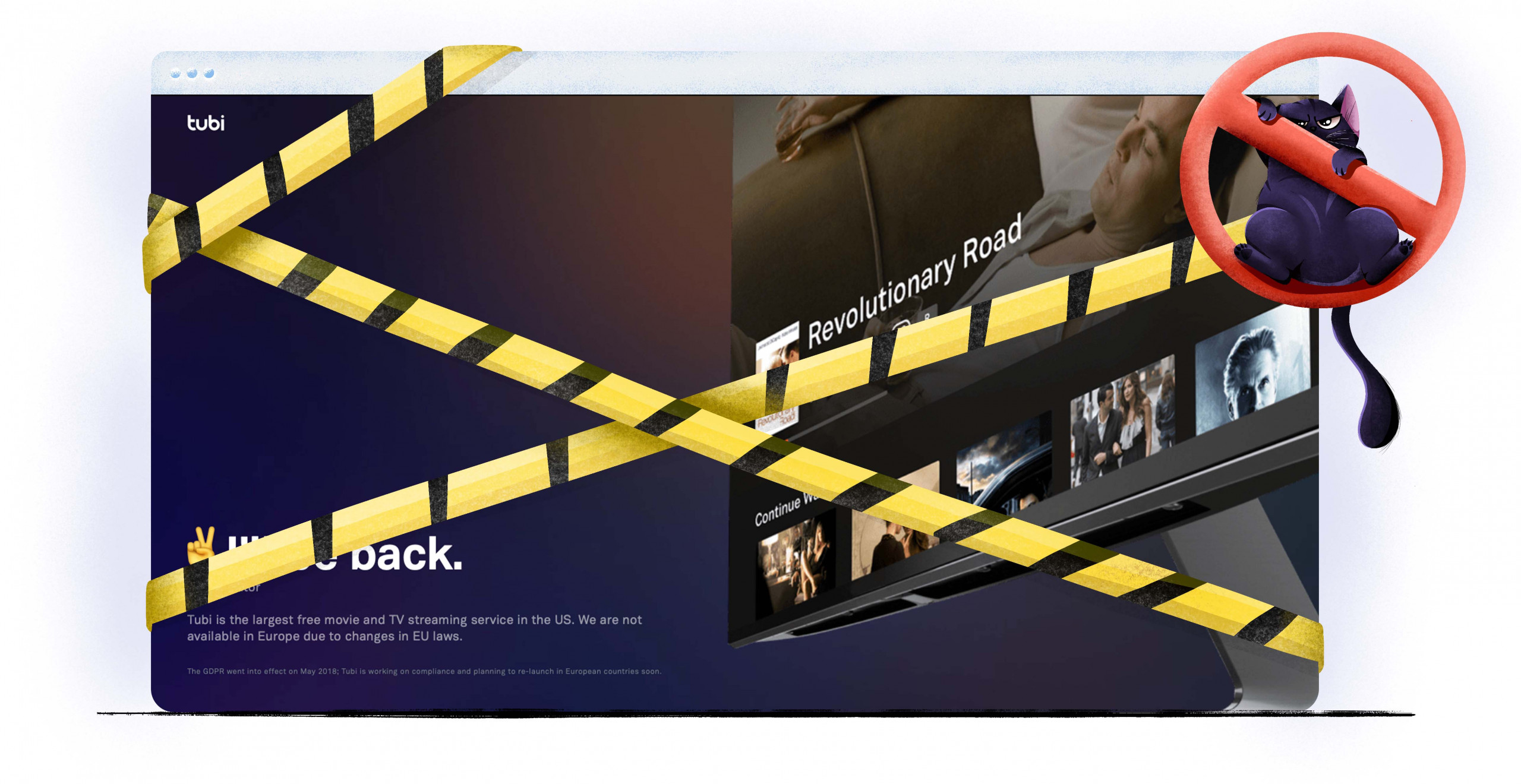 But don't worry, we have a solution for you that doesn't involve you flying out halfway across the world. We are pretty sure even Tubi won't justify the costs these days.
All you need is an internet connection and a VPN.


Hearing about a VPN for the first time?

We've all been there!
However, just about any VPN won't do. There's a bit more to this.
What Should You Look For In A VPN To Get Tubi In India?
There is a lot more to a VPN than just having servers in the country you need. To be able to unblock Tubi TV, any self-respecting, reputable VPN should have a specific set of features under its belt.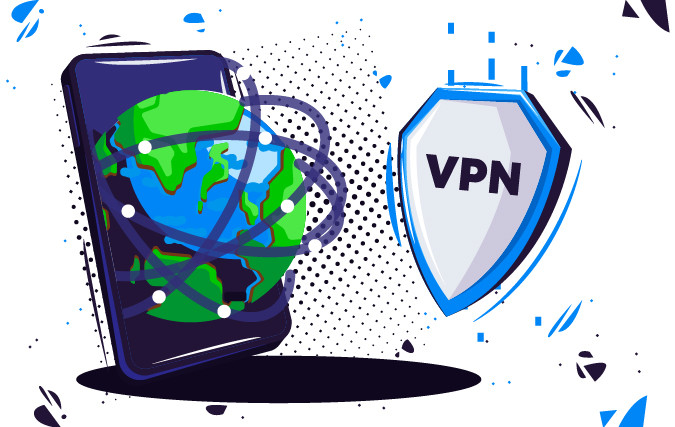 This basically means that the VPN you choose must at least have:
Set servers in Australia or the U.S
Steady speed
Specially optimized streaming capabilities
The ability to get past bans and successfully unblock streaming platforms
Unfortunately, a free, low-end VPN cannot offer anything close to these requirements.
We know what you're thinking: "but this free VPN has a server in the U.S., it should work just fine!"
Well, the highest probability is that that server was blocked years ago and still is. Even if it isn't, five minutes into attempting to stream with a free VPN, and you would probably have pulled all your hair out.
What Is The Best VPN To Access Tubi TV?
If you would like to know which VPN you should choose to watch Tubi TV in India, we have a suggestion for you.
After testing a wide range of VPNs to access Tubi, we have come to the scientific conclusion that you should subscribe to NordVPN.
And here are but a few reasons why we think that:
It is the perfect choice to stream any platform.
NordVPN happens to be the only VPN that allows both anonymity and high-quality streaming in one. It combines the best VPN and Smart DNS technology in a feature called 'SmartPlay'. Thanks to it, NordVPN can effortlessly unblock pretty much any streaming service.
As much as this sounds like a recorded advert, it's not! We actually love NordVPN for helping us access the world's content.
NordVPN is reliable and, best of all, fast!
With servers running at 10 Gbps, NordVPN allows you to stream any content from any platform along with millions of other users from all around the world.
NordVPN is also available on pretty much every device you can imagine.
Just don't try to stream on a calculator.
We can talk about NordVPN all day!
That's why we wrote a whole article on it!
Tubi Or Not Tubi: That Isn't Even A Question!
We just watched William Shakespeare: The Life And Times Of on Tubi, so you may have to excuse the puns.
However, if, like us, you too have grown tired of paying monthly subscriptions to watch the same shows over and over again, then you have a great little alternative that you can easily access, even if you are in India. Distance means nothing to true love, and we truly love Tubi. And so will you if you give this streaming platform a shot.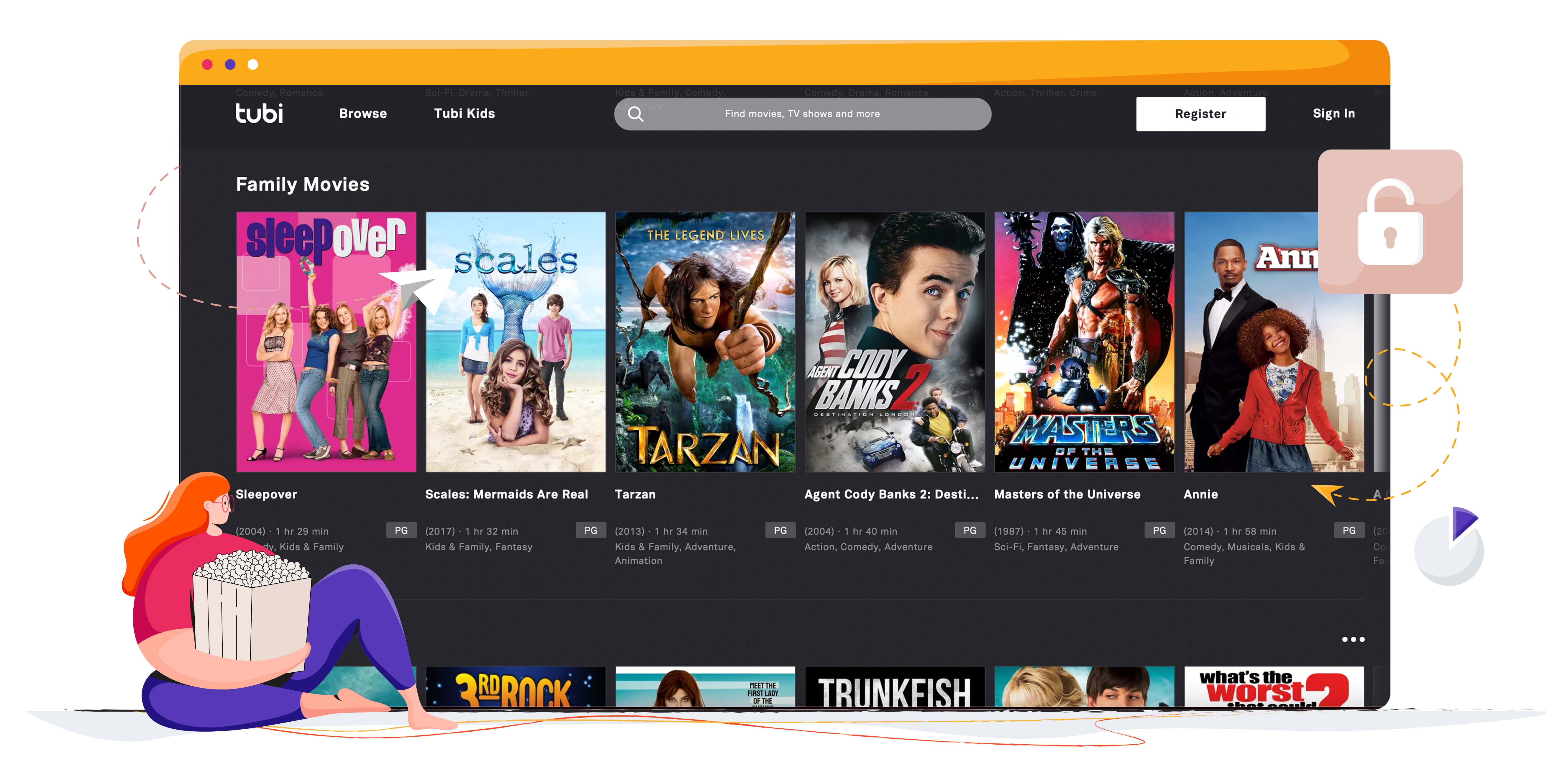 So sit back, relax, and let NordVPN take you into the world of Tubi. Just don't forget you have work in the morning!