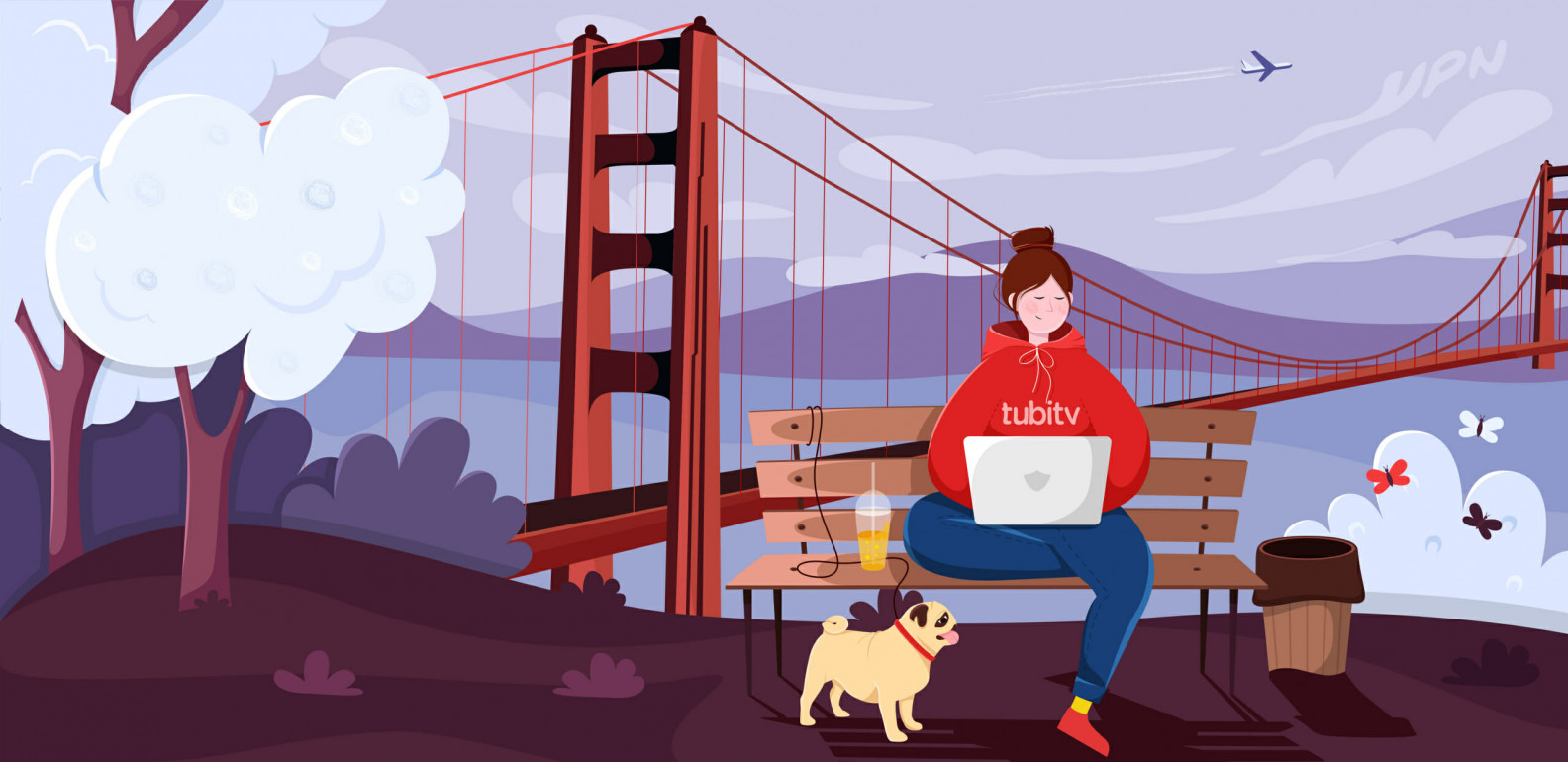 If you're a streaming enthusiast, chances are you've heard of Tubi. It is okay if you haven't, after all, that is precisely why we're here – to walk you through everything you need to know about Tubi TV.
Get ready to learn some cool tricks and tips you might have not been aware of.
Let's get started.

Access Tubi from anywhere with ExpressVPN!
What is Tubi?
Tubi is a free ad-supported streaming service that packs a huge library of on-demand movie and TV show content. This content is obtained from studios like Hollywood heavyweights Lionsgate, Paramount, and MGM as well as networks like A&E and Starz.
Tubi throws in ads & commercials into the content as a trade-off for its lack of monthly subscription fees.
What can we say, every service has to generate revenue, right?
These ads & commercials run before and during movies or TV shows (hey, it's just like regular TV but with Premium content that you get to pick and choose!).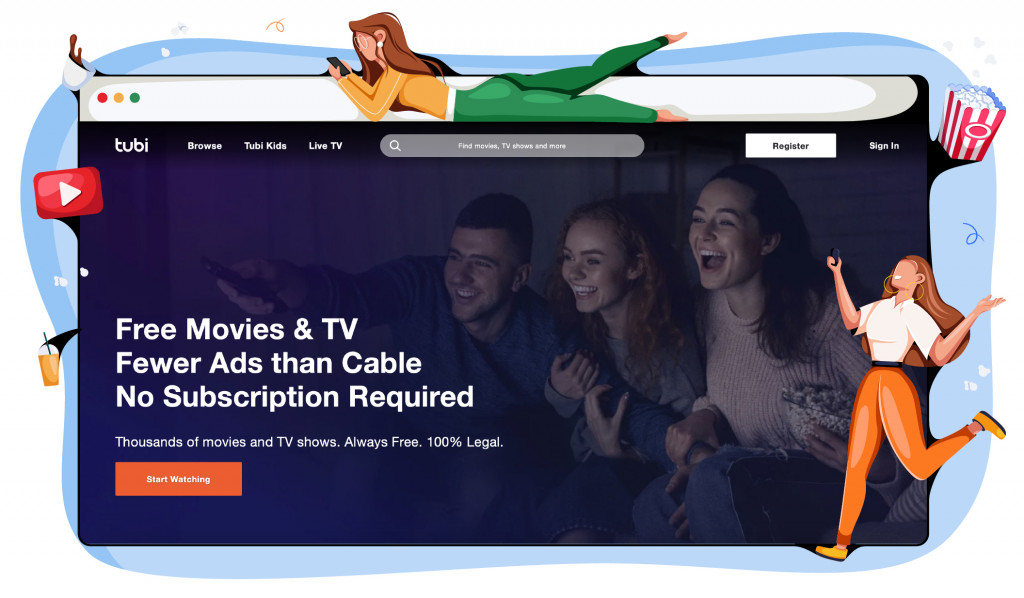 What's up Tubi?
We don't want to oversell it, but Tubi has one of the most extensive and awesome libraries out of all of the free streaming platforms.
You can enjoy movies ranging from classics such as The Terminator and Quentin Tarantino's Kill Bill 1 & 2 to new releases like Illuminate.
Tubi Movies
Tubi packs a serious punch when it comes to quality movies, with such unforgettable hits as the touching The Intouchables [pun intended], Christopher Nolan's mind-boggling Memento, the cult-classic Donnie Darko, the masterful reinvention of the found-footage genre District 9 and so much more.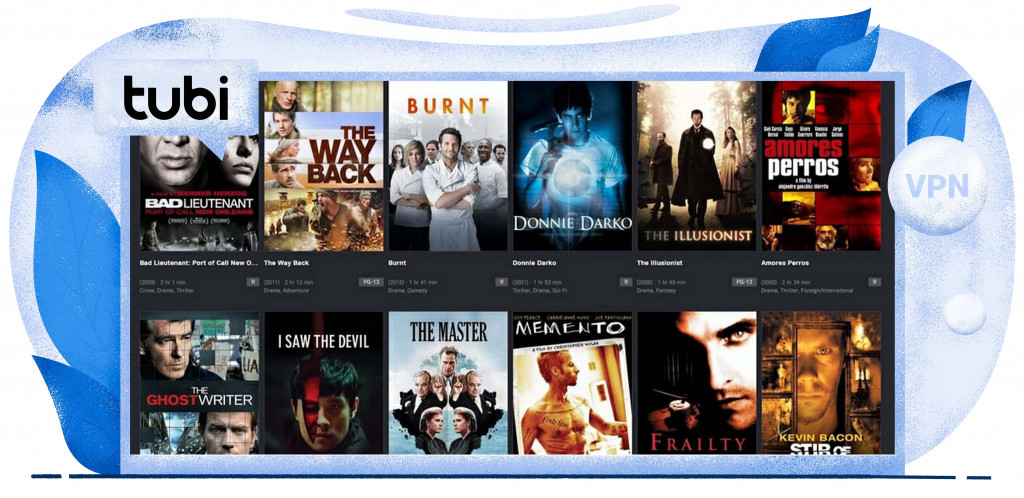 TV Shows
Unlike some streaming platforms that mostly focus on movies (looking at you, Crackle), Tubi gives a lot of love to its TV show lineup as well. Some of the best shows, that Tubi TV has to offer, include The IT Crowd, Seth MacFarlane's Cosmos, Teen Wolf, and 3rd Rock from the Sun among many others.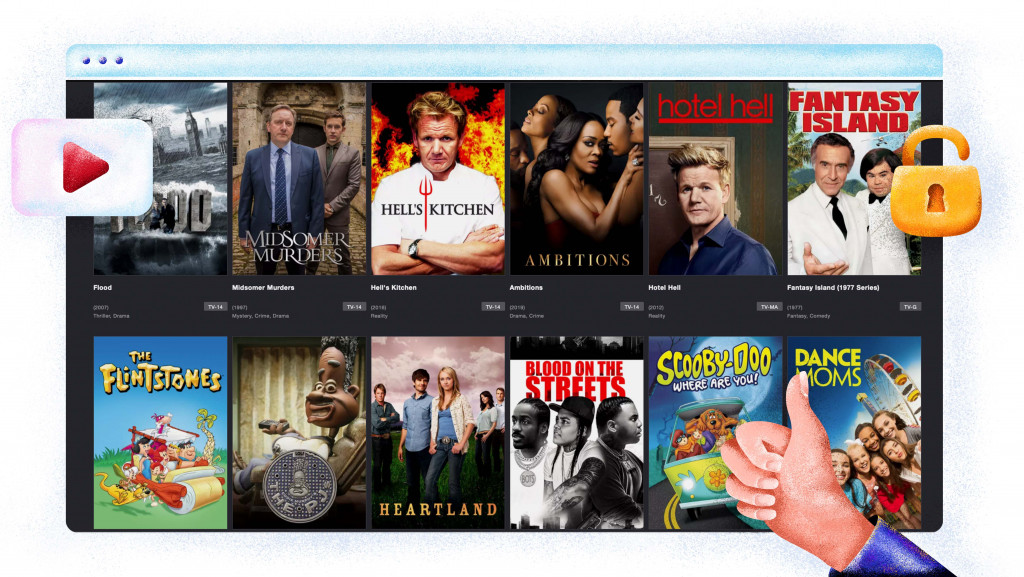 Tubi TV even has something for anime lovers, featuring Death Note, Cowboy Bebop, Attack on Titan, Naruto, and One-Punch Man among many other amazing shows. So if you want to get into the insane world of anime, Tubi is definitely the place to be right now.
Tubi Kids
Tubi TV has recently launched an additional streaming platform made especially for younger viewers called Tubi Kids.
With a dedicated channel for the youngest audience, a separate section for the insanely popular Lego movies, and a massive collection of shows, cartoons, anime, and movies for children of all ages, Tubi will surely keep the kids entertained. And thanks to Tubi Kids being a separate platform, you no longer have to worry that they will come across some of the scary adult stuff.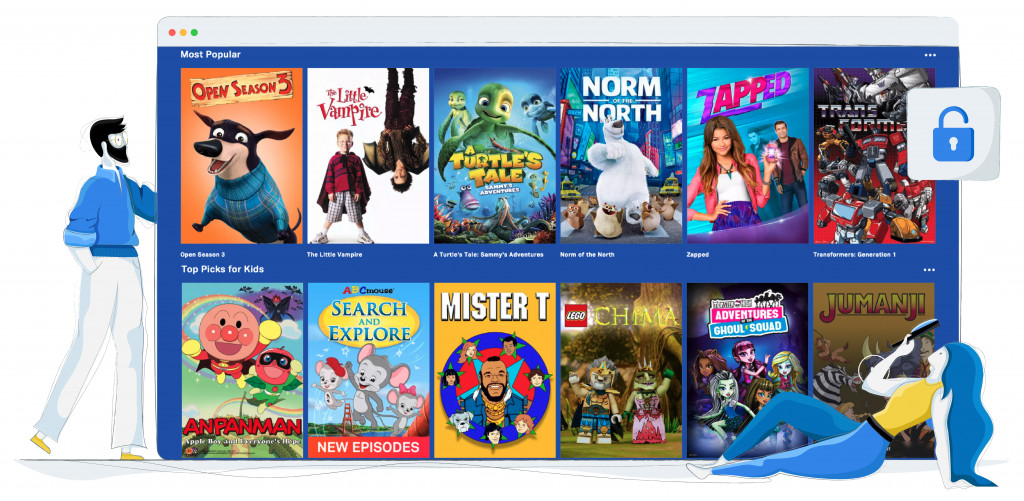 With all of this, the little-free-streaming-platform-that-could has something for the whole family!
Trending Now
Tubi's most popular section is useful when you need to find well-known movies other users are watching.
As of writing, the titles in this section were Rosemary's Baby, Police Story, and Precious Cargo. It's changing in real-time, so your fellow Tubi streamers will always give you an idea of what to watch if you're feeling particularly indecisive.
Account and supported devices
Great news: Tubi does not require its users to register an account to access the provided content. — How many streaming platforms can brag about that?!
You can go to the Tubi website or fire-up the Tubi app at any time and start streaming your favorite movies and shows immediately. No pesky logins, no misplaced passwords, no hassle, no nuisance.
However, for R-rated and other content designated for a mature audience, you will have to set up an account. But even so, an account is still completely free!
Using an account comes with these additional benefits:
You can queue up the titles you find interesting
You can resume watching content from where you left off
You'll get recommendations based on titles you've watched previously
In terms of supported devices, Tubi is pretty much everywhere. You can watch Tubi on Apple TV, Fire TV, Chromecast, Roku, Smart TVs, iPhones and iPads, Android phones/tablets, PlayStation 3 & 4, and Xbox One.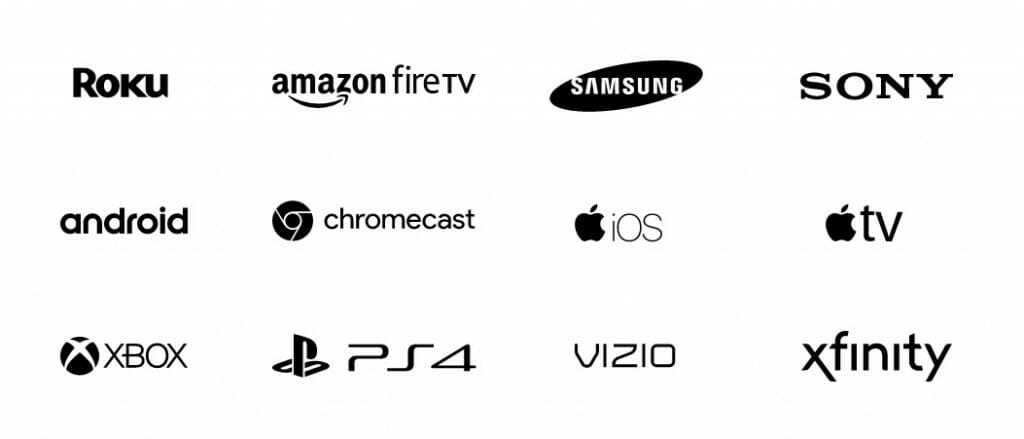 Depending on your device, you can also choose to use the website or its native applications.
Tubi or not Tubi?
While it is a great alternative to Netflix, it has the same caveat other streaming services have. It is not available everywhere.
The Tubi-sphere is only accessible to the chosen ones. In this case, it's those living in the US, Australia, Canada, or Mexico.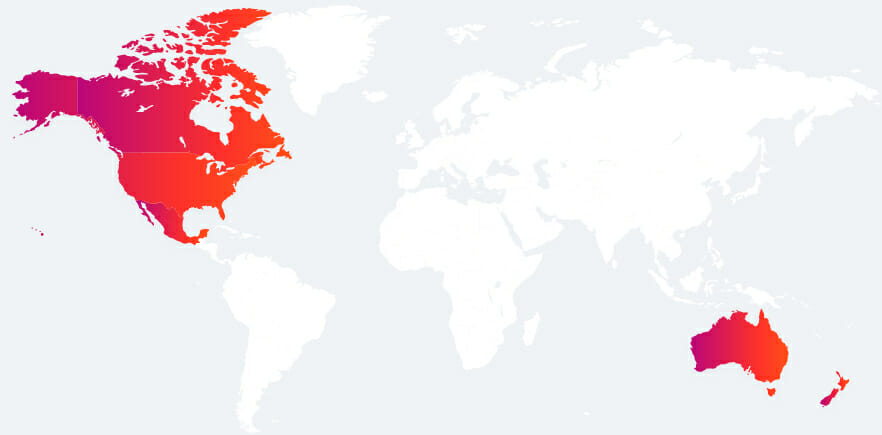 But even so, the content is greatly restricted in these regions except the US where you can get the full Tubi experience.
What's up with the tunnel vision, Tubi?
Due to the restrictions in the licensing deals & privacy regulations, Tubi's content isn't available in other regions of the world. This means that if you reside in or travel to these regions, you won't be able to access Tubi directly and enjoy the hundreds of hours of video content featured on the platform.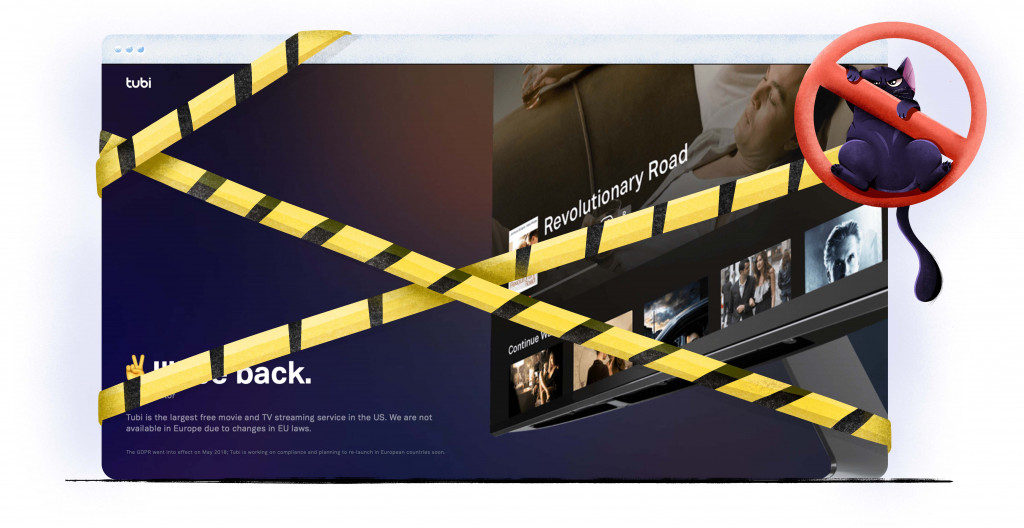 Does this mean you are going to have to give up on your Mr. Bean addiction? – Hell no!
Unblocking Tubi from anywhere is easy… if you use a VPN.

A VPN helps you access the complete Tubi content library if you live outside the U.S. or if you happen to be traveling and just can't make it through your trip without an episode of Forensic Files.
This handy application knocks down any and all of those nasty geographical restrictions and copyright mumbo-jumbo like they're nothing by assigning you a new IP address of your preferred location (in this case – the US).
It also encrypts your traffic so no one in that shady motel will be able to steal your password and find out that you secretly love Lexx.
Unblocking Tubi TV with a VPN
Using a VPN is easy. We mean, really, REALLY easy.
But just in case you're still not sure if you can handle having your own Virtual Private Network, here's a simple step-by-step on how to unblock Tubi with just a few clicks:
1. Visit your chosen VPN's website and register an account.
2. Select a plan and get a subscription. Don't worry, though, most VPNs come with a money-back guarantee option, so if it doesn't work out, you can always get a refund.
3. Download & install the VPN application compatible with the device you are using. You can alternatively install the VPN app on your router but that will take some tinkering and/or convincing the hotel concierge to give you access to their Wi-Fi [not recommended].
4. Launch the VPN application and log in to your account using your credentials.
5. From the server list, find the best server from those located in the US. The best server option is ideally one with the lowest load time and highest speeds.
6. Connect to this server and visit Tubi to start enjoying free content. If you downloaded and installed the VPN on your router, your whole internet connection will be rerouted through the server you've chosen.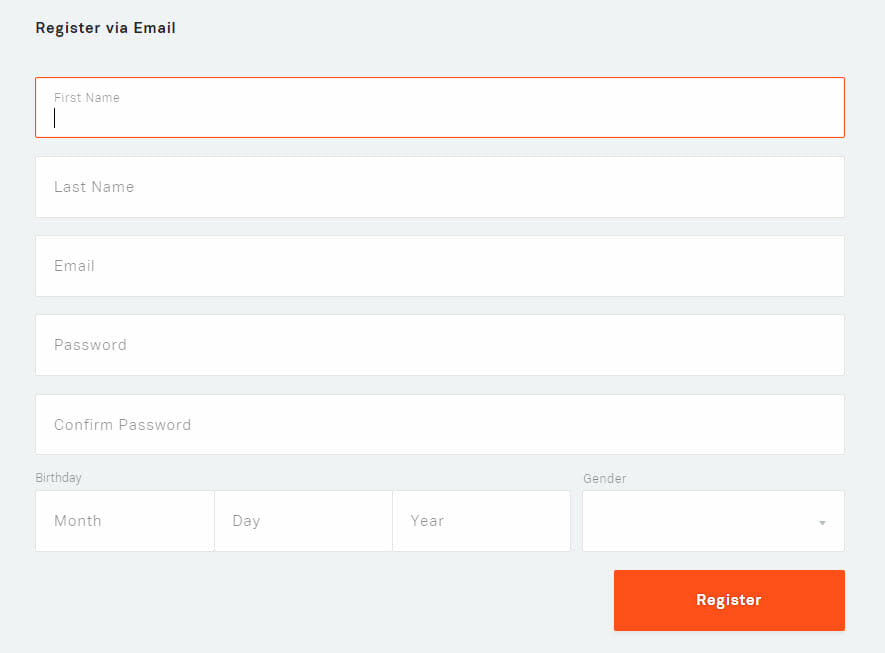 What is the best VPN to unblock Tubi?
There is definitely no shortage of VPN providers today – they are basically coming out of the woodwork. This is why choosing the perfect VPN is key to a smooth and seamless streaming experience.
You might be wondering — what are the qualities a VPN should have to let you access Tubi from outside the US? Well, we're glad you hypothetically asked, since we have the definitive answer!
If you are looking to get a VPN for streaming purposes, then your chosen provider should definitely have:
Very high speeds & guaranteed stability
Many server locations (and servers) in the US
Strong encryption
Client apps for different operating systems
The ability to unlock geo-blocked content
And anything extra is a cherry on top.
Based on these criteria, we can definitively say that there are 3 VPNs that blow all other competition out of the water. And that's ExpressVPN, NordVPN, and Surfshark.
ExpressVPN is the most appreciated VPN in the world and it is not hard to see why considering what it offers. It is one of the fastest VPNs around which makes it perfect for streaming movies and series in high-definition. And with an enormous selection of servers, ExpressVPN guarantees that you will have the smoothest binge-watching experience ever.

Stream Tubi in HD with the world's fastest VPN!
In addition to unbeatable speeds, ExpressVPN also features split tunneling that allows you to choose the apps you want to filter through the VPN connection. This allows you to stream Tubi as though you're back on your comfy couch and check out local restaurants at the same time.
Last, but definitely not least, it also has apps for the majority of the platforms and operating systems. The AES 256-bit encryption and zero logs policy warrant your anonymity & privacy.
ExpressVPN is a bit on the pricey side, but that is more than made up for by the world of content you get to unlock and experience in glorious HD.

ExpressVPN
The fastest VPN for streaming
NordVPN is a great alternative to ExpressVPN.
And it's no wonder NordVPN is considered to be one of the best VPNs for streaming. With its fleet of US servers and a SmartPlay feature that basically does all the unblocking for you, you'll be streaming Tubi and gorging yourself on popcorn in no time.

NordVPN features the 256-bit AES protocol for encryption, DNS leak protection, and adheres to a no-logs policy as well. NordVPN's apps are ridiculously easy to use no matter the operating system. So even if you don't consider yourself a tech-whizz, you will have no issue getting the hang of NordVPN.

NordVPN
The world's most trusted VPN provider
A relative newcomer to the VPN scene, Surfshark has all the features the big boys have for the low-low price of a pack of M&M's!

Surfshark also allows you to use an unlimited number of devices. So if you're set on watching Night of the Living Dead, but your rebellious offspring wants to give Ghost in the Shell a rewatch – that won't be an issue.

Surfshark
The most affordable premium VPN in the world!
Tubi it up!
Traveling abroad doesn't have to stop you from following up on your favorite TV shows. And neither should living abroad.
Get a VPN and enjoy that show you have been meaning to binge while on a trip to Prague.