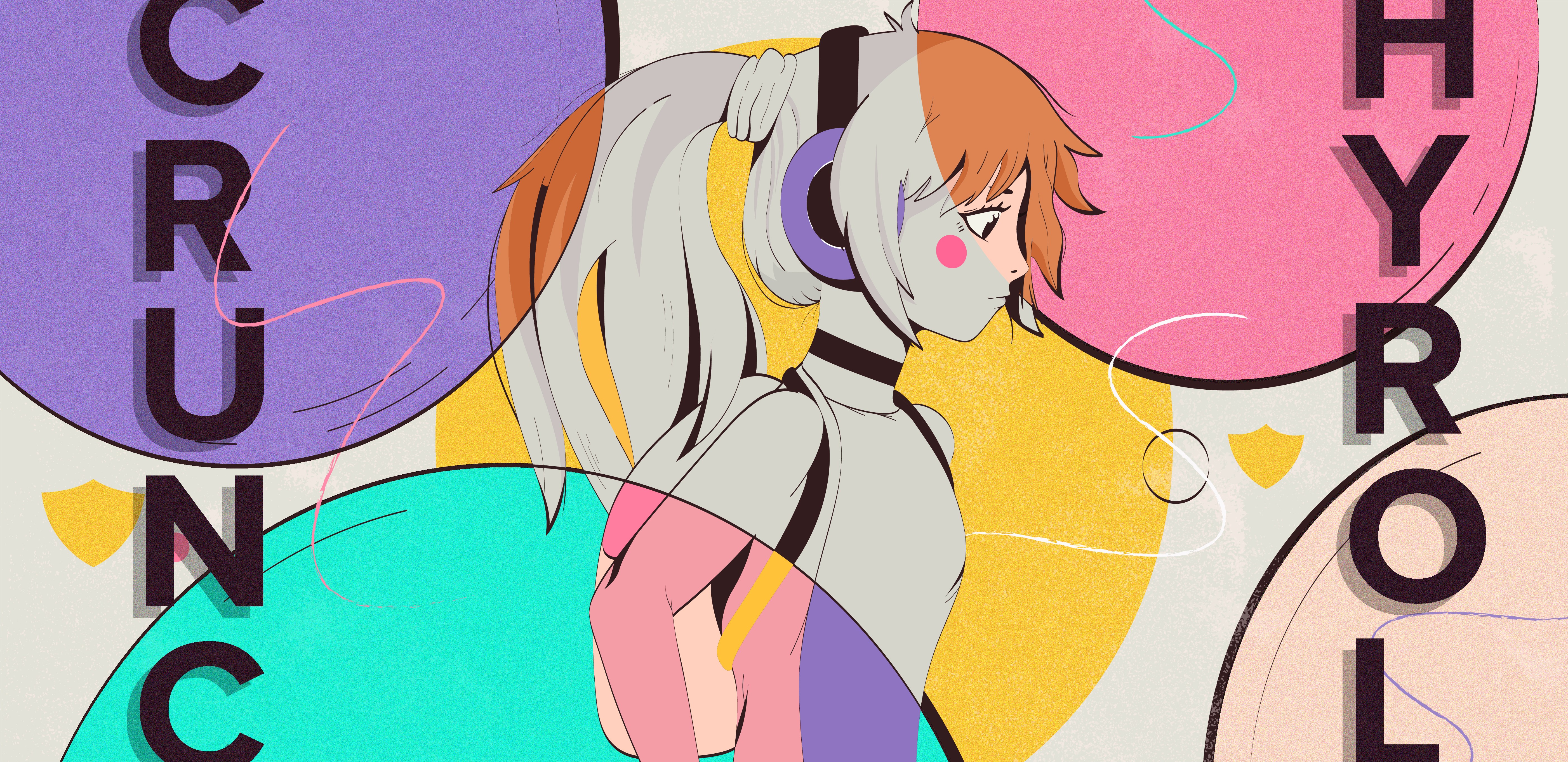 How To Unblock The Full Crunchyroll Library
Whether you are an Otaku, a Weeb, or just a casual Japanese cinephile, chances are, you have definitely heard of a little streaming platform called Crunchyroll.
Crunchyroll is the place to be if you are into everything anime and manga. It's the most colossal anime library in the world, it lets you catch all of the newest releases almost as soon as they come out, but best of all – it's free. And if you want more, it can give you more with different subscription tiers.
So if you are a true hardcore anime fan, this is as close to heaven as you are going to get.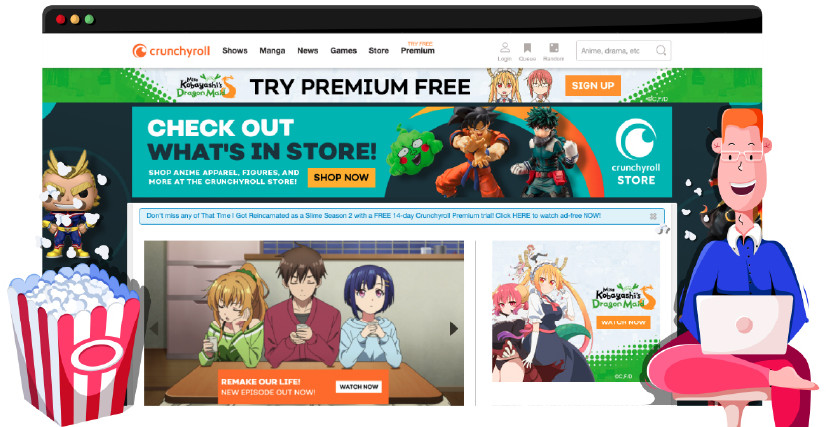 However, heaven does come with its own limitations and strict rules. And if you are like us, you may have noticed that the Indian library might be missing a season, or two, or hundreds…
That's right, just like Netflix, Amazon Prime Video, HBO, and all of the different streaming platforms out there, every Crunchyroll library is different, and some countries might have it better than others.
Do not lose hope yet, though. As you know, if there's a will, there's a way and we've got tons of it. So we definitely know how you can get your hands on the most sugoi Crunchyroll library.

Want to go straight for the best option? Get NordVPN and unblock any Crunchyroll library!
But first, let's get all the technicalities out of the way first.
Is Crunchyroll really free, and what do the subscription plans do?
First things first – let's tackle the question on everyone's mind: Is Crunchyroll free?
And the short answer would be: はい. Or, in other words: Yes!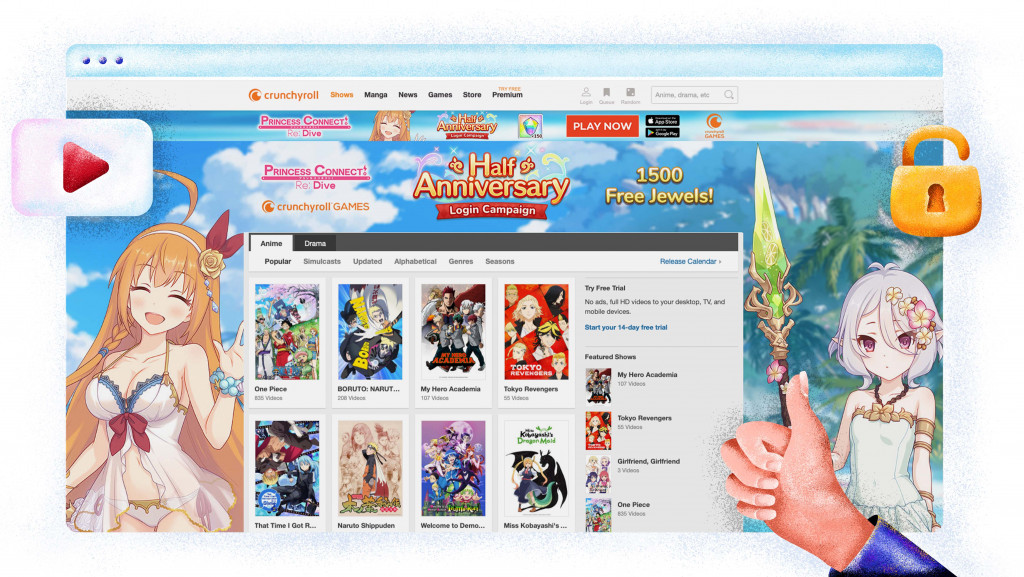 You can access and enjoy most of what Crunchyroll has to offer completely free.
However, when you are not putting in the money, you shouldn't expect seamless 4k streaming. Also, you will see ads pop up mid-stream, but because of YouTube, we're pretty used to that! Also, you will only be able to see new episodes a week after they have aired. So keep this in mind if you are impatient!
But, if you can't stand ads and can't wait for the newest releases of whatever's the hottest thing right now, you do have the option to get a premium Crunchyroll subscription. This way you'll so that you can watch your animes in peace, without ads, and in high quality.
There are three basic subscription plans Crunchyroll can hook you up with:
The Fan Premium Plan
This one lets you enjoy ad-free streaming; you get full access to their library as well. All of this for $7.99 a month.
The Mega Fan Plan
This plan allows you to get everything you do with the fan plan, but you also get the option of offline viewing, special discounts, and the ability to have four streams playing at once. This plan will set you back $9.99 a month.
The Ultimate Fan Plan
What comes after a fan and a mega-fan? The Ultimate Fan, of course! This plan allows you to get everything just mentioned, except you can have six streams running at once. And this is fancy speak for: You can share your account with six of your bestest friends.
But that's not all Ultimate Fans get. The plan will also get you a getting 'swag bag' delivered to you annually, access to exclusive merch, and even better discounts.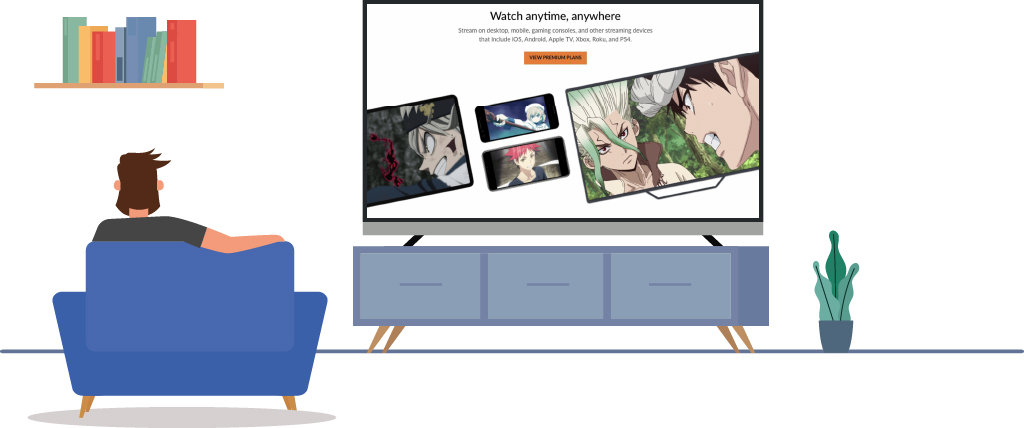 Is the Indian Crunchyroll library nerfed?
Even though Crunchyroll allows you to access many anime shows for free, the selection varies depending on the country you access it from.
This is mainly because of the licensing agreements, so the platforms cannot showcase anime shows if the license belongs to someone else.
And, unfortunately, the Crunchyroll library in India is one of the worst ones out there.
There are a few reasons for that. The platform did launch in India much later than the rest of the world, so all of the good stuff was already taken by other streaming platforms. Plus, the platform is probably not as interested in expanding in India, as it is in the US and Europe.
This is why you might be having problems accessing some of your favorite series, shows, and movies on the platform. For example, the Indian library will not let you watch all of the seasons of the awesome One Punch Man show, the ever-popular Dragon Ball Z, and so many other awesome series that you can't help but want to rewatch.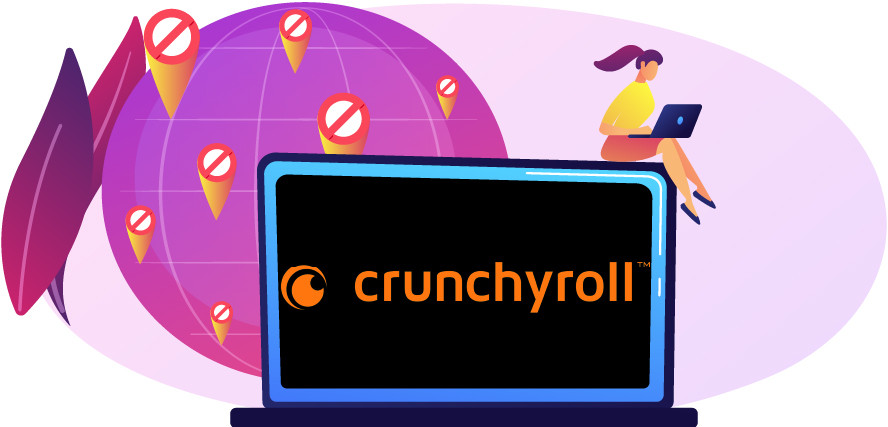 So, yes, it's completely fair to say that the Crunchyroll library in India is completely nerfed in the worst possible way.
And, no, paying for the higher tier plan will still not unblock everything the platform has got to offer. (And why would you pay for something others are getting free?!)
So who has the biggest anime library?
Even though the collection is different for each country, the most extensive Crunchyroll library is featured in none other than the US.
Therefore, you can find most of the latest and best animes on there. This is mainly because the demand for anime is more significant in the States than anywhere else, so Crunchyroll makes sure to have the best shows featured in the states.
How can you access the U.S. Crunchyroll library (or any library for that matter)
The answer to unblocking the best Crunchyroll catalogs is the very same one that gets you past all of the Internet restrictions and bans.
All you need is a handy-dandy VPN.
By using a VPN, you can change your location at the click of a button. Doing this helps you access streaming directories for every country in the world. This works for Crunchyroll just as well as it does for Netflix.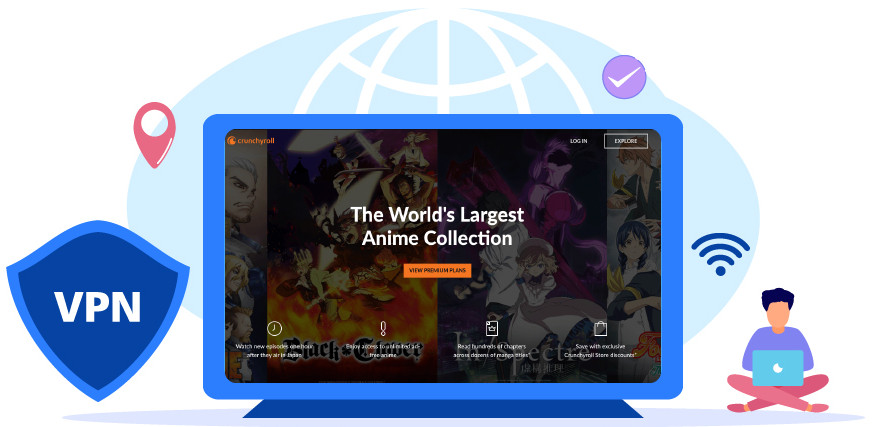 In concept, all you have to do is turn on your VPN, connect to the country of your choice, and start surfing and streaming the full and unrestricted Crunchyroll library.
However, this may sound very easy in concept, but in reality, not every VPN out there is actually capable of getting you there.
What are the VPNs to use with Crunchyroll?
While not every VPN is able to unblock different Crunchyroll catalogs, there are still quite a few to choose from. Crunchyroll isn't yet placed behind an impenetrable vault, as, say Hulu or HBO Max.
Still though, when choosing a VPN to use with Crunchyroll, you have to be smart. And here are a few things to watch out for:
A vast server network, so you get lots of options to connect to, and lots of libraries to check out.
The ability to actually unblock Crunchyroll. The anime streaming platform might now be as tough on VPN users, but it is taking steps to block them.
Great speeds, so you can stream anything, anywhere, on any device, without having the show freeze every two minutes.
You might be thinking, Well how the heck am I supposed to know which VPN is going to work, and which one will not?
Well, we've done the work for you and have picked out the ones that we know will not let you down.
The first Crunchyroll unblocker we will discuss is NordVPN. You must have heard of it because it happens to be one of the most popular, capable, and reliable VPN providers out there.
Moreover, at a minimal price, it offers quite a lot:
One of the largest selection of servers worldwide.
A SmartPlay feature that allows you to unblock content pretty much automatically.
Seamless bypassing of blocks.
Streaming optimized servers for all your streaming needs.
NordVPN
Find out more about the world's leading VPN!
Surfshark is relatively newer; however, it has quickly positioned itself among some top VPN providers.
This is because:
It is excellent, particularly for streaming purposes.
It's extremely fast.
Can unblock pretty much any streaming service out there, including the majority of Crunchyroll libraries.
Uses obfuscated servers so no one can detect you using a VPN.
Surfshark
Want to know what else this sea creature can do?
PureVPN is quickly becoming one of our favorite choices because they have gone through a complete revamp and have tripled their server network.
But that's not all they've done
10 Gbit servers will let you stream pretty much anything in any quality as you would out using a VPN.
The streaming-optimized servers are a great way to quickly choose something you know will work, without having to jump around servers.
It's also one of the cheaper VPN providers with a focus on the Asian market to provide us with the service we deserve.
PureVPN
Unblock every streaming site without breaking the bank!
Free VPNs
Just so we drive the point home, not all VPN providers are capable of unblocking Crunchyroll and its many diverse libraries.
And free VPNs you get on Google definitely won't be able to cut it. What they will get you, is probably some nice tracking malware.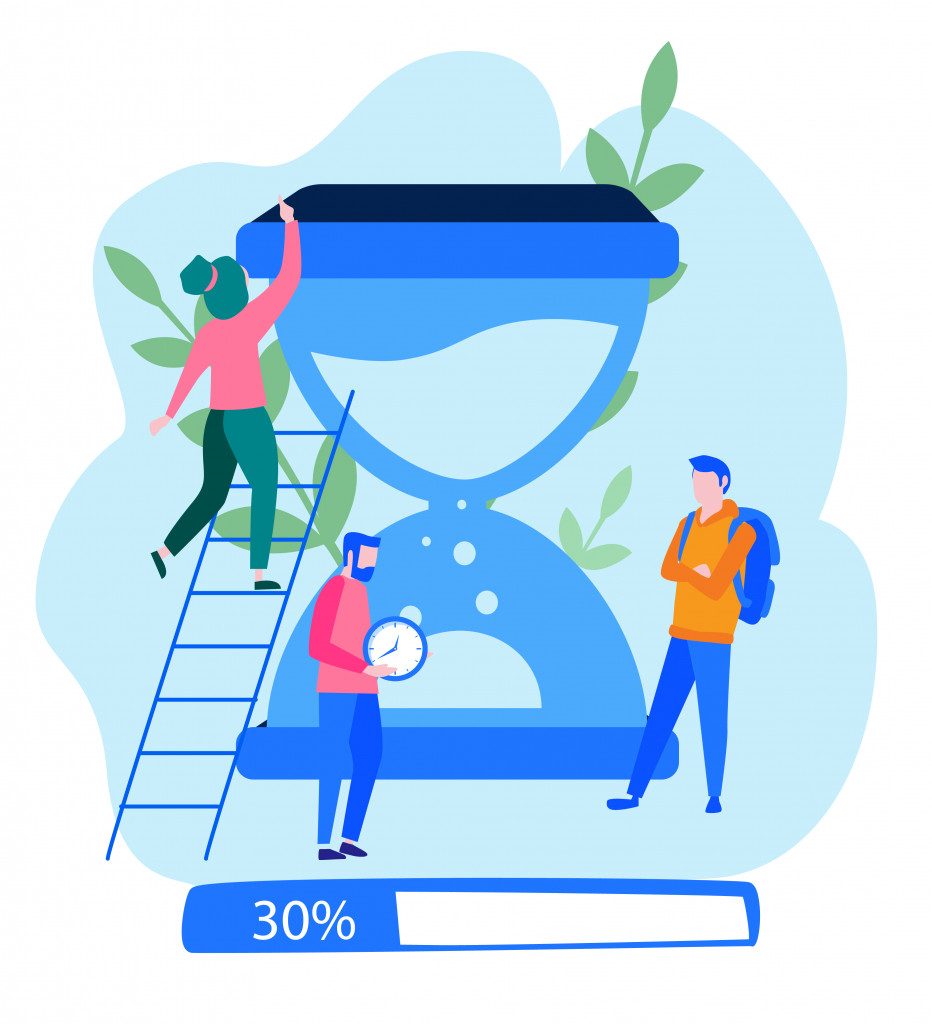 Keep on Rollin'!
Well, why are you still waiting here? Access the best anime library out there for free with the easy click of a button!
Sayonara!