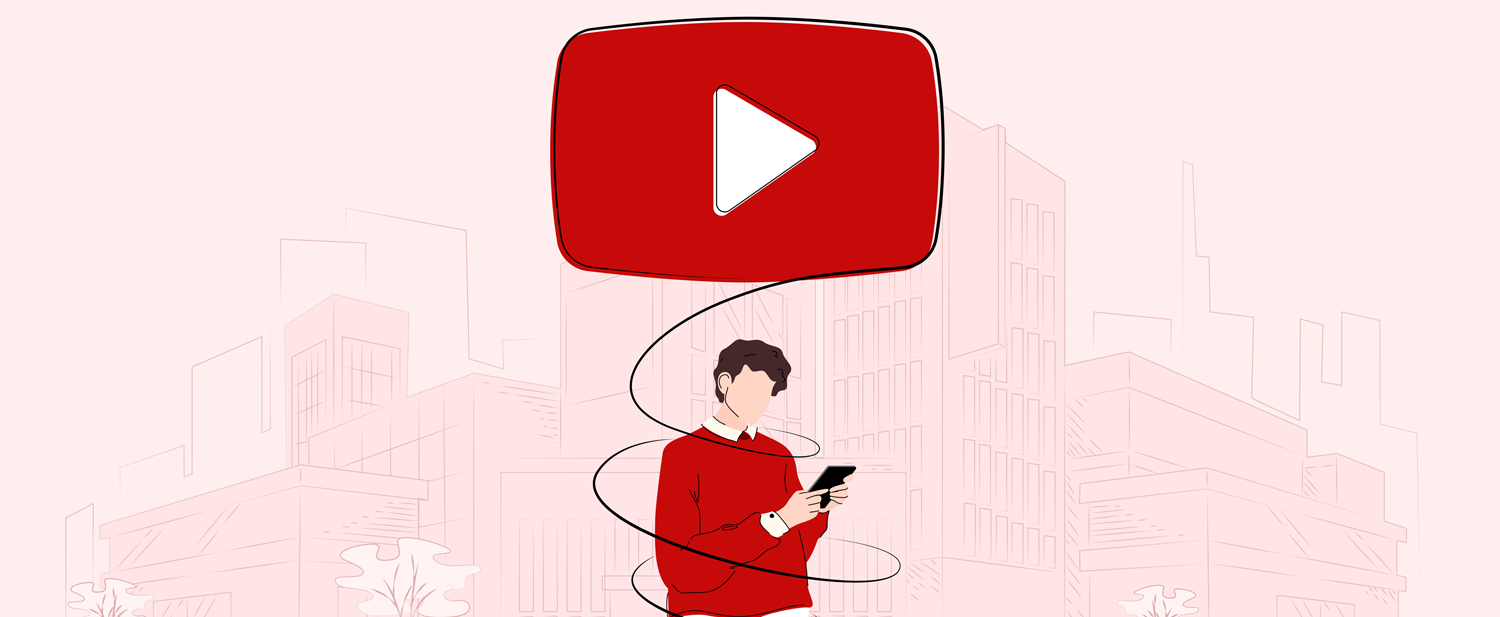 YouTube TV outside of the US? Broadcast yourself wherever!
You can't really spell 'American' without 'American TV'. And, boy, does America have TV! Some of the best shows, movies, series, live TV, sports, and, of course, news galore that most of the world is dying to watch – and all of this won't even scratch the surface of the world that is American TV! And YouTube TV is here to bring it to you in one massive streamable and binge-able package…
Wait, YouTube? Isn't that the place where bored people go to watch cat videos?
For the rest of the world, that might very well be the case. But these days YouTube is so much more than just 10-minute fail videos interrupted by Raid: Shadow Legends ads. And YouTube TV is a massive part of the package that's cutting the cord and making all of American TV streamable! As YouTube TV puts it: Broadcast Yourself!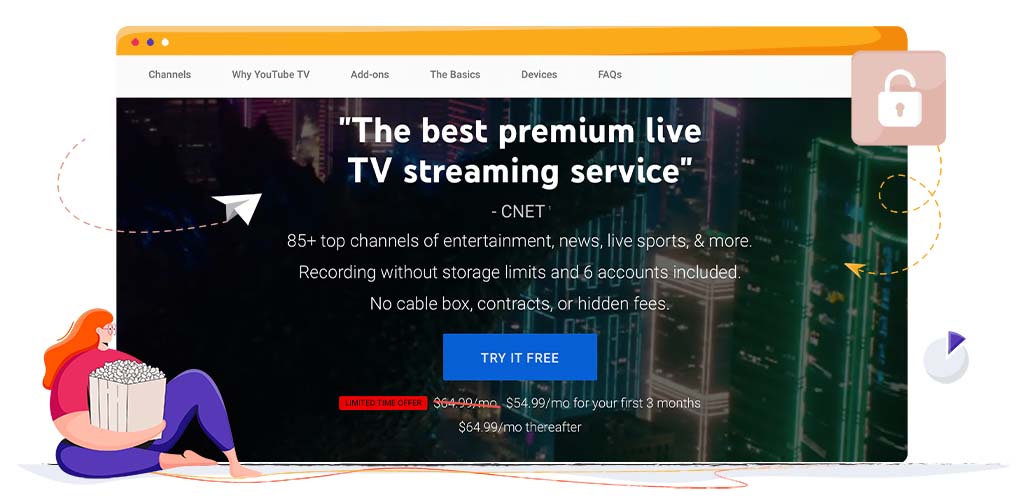 That's right! Forget cables and ugly satellite dishes. All you need these days is a trusty Internet connection and an unjustifiably large bucket of buttered popcorn. 
Despite stiff competition from alternatives like Netflix, The Disney Bundle, or Hulu's Live TV option YouTube TV has successfully established itself as a favorite for cord-cutters. Unsurprisingly so. This premium streaming platform from YouTube, itself a part of the Google family, offers tons of on-demand video content as well as live TV channels you won't be able to stream anywhere else.
So if you were ever wondering what's on American television, YouTube TV is THE place to see [wink] what it's all about!

Get ExpressVPN and stream YouTube TV wherever you are!
So what's on YouTube TV?
Honestly, the better question would be: What's not on YouTube TV?
If you've ever been interested in what American TV has to offer, then YouTube TV is precisely what you need. Who are we kidding? That's all of us!
The new and exclusive platform gives you access to a wide range of news, entertainment, and sports content on supported channels. And that's not even half of it! There are also a ton of exclusives, originals, add-ons, and easy access to pretty much any other US streaming platform.
Wait. We don't think we're doing YouTube TV justice by just listing things. So let's list some more things!
Channels
Simply put, YouTube TV has virtually every US channel you would ever want to watch. The streaming service is home to a lineup of more than 85 channels available to the US audience through which you can enjoy live TV.
We're talking big names like ABC, Cheddar, CNN, Animal Planet, Comedy Central, BBC, CBS, CNBC, Disney, and all things FOX. And this is us only getting to the letter 'F'…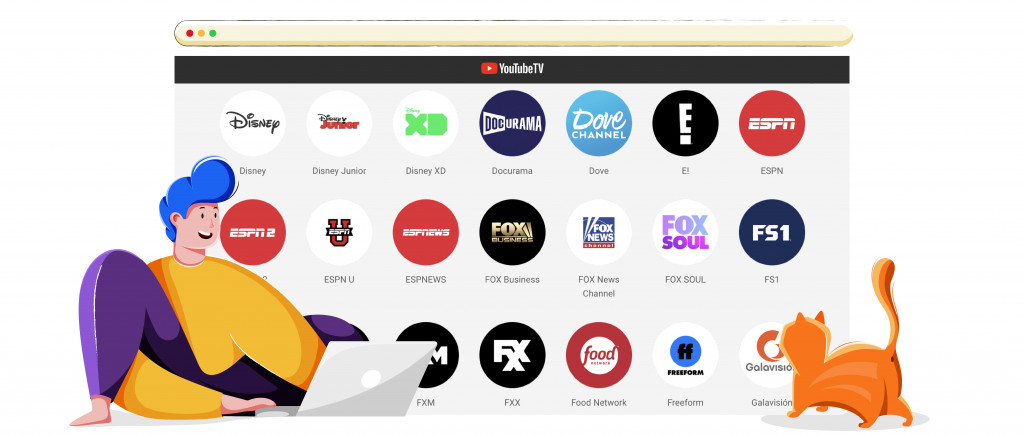 We can't exhaust the list. Trust us, we couldn't even if we tried. So just go along with us: YouTube TV is worth every single buck.
Heck, you don't even need a service guy to come over and run a cable to set you up. How much better can it get?
We'll tell you exactly how much better it can get!..
On-demand movies and shows
If you thought that channels were all of it, you were wrong. Oh, so wrong.
Imagine walking into the Library of Congress, but instead of constitutional and jurisprudence material, you get movies and TV shows. That's YouTube TV for you.
[This wasn't one of our better similes, but we're still going to own it]
It has all genres of movies and shows, from cinematic universe titles like Marvel and DC to franchises such as The Lord of The Rings and Mission Impossible.
But wait! There's more!
YouTube TV has some amazing binge-worthy material for your viewing pleasure. Some to get started with include Two and a Half Men, Young Sheldon, FBI, Grey's Anatomy, The Blacklist, Yellowstone, Friends, and The Big Bang Theory.
It even has animated shows such as Rick and Morty, Young Justice, Teen Titans Go! and many others available on Cartoon Network, HBO Max, and Adult Swim. There are also originals, like Instant Influencer, The Age of AI, and What The Fit.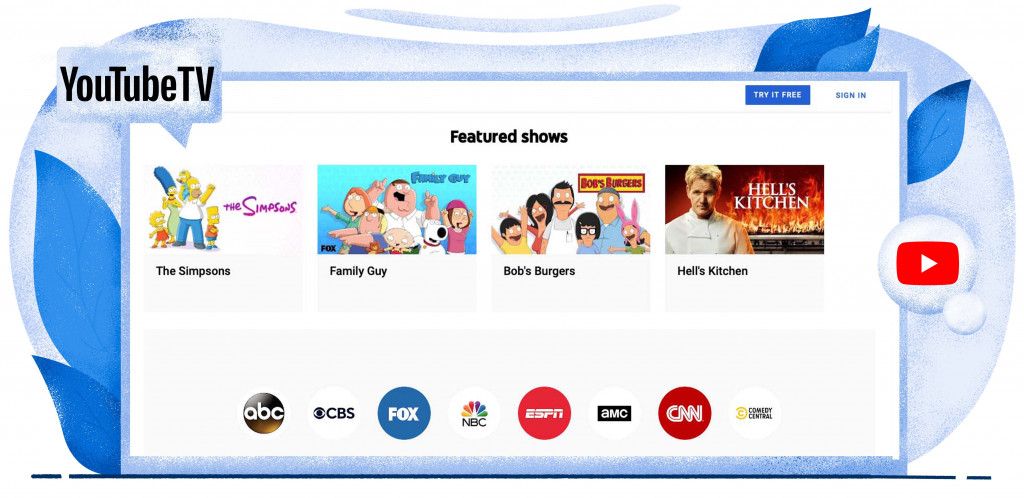 Sports
If you are a sports fan, you will equally feel at home.
This unending platform packs a bunch of sports programming, including the Olympics, Golf, UFC, boxing, volleyball, and some of the Formula 1 races.
But, as you may have guessed by now, this is far from everything YouTube TV can throw your way.
Sports networks like NFL, NBA, and MLB also give you the best of American Football, basketball, and baseball. And there's so much more you can get with the sports addons [oops, tipped our hand!]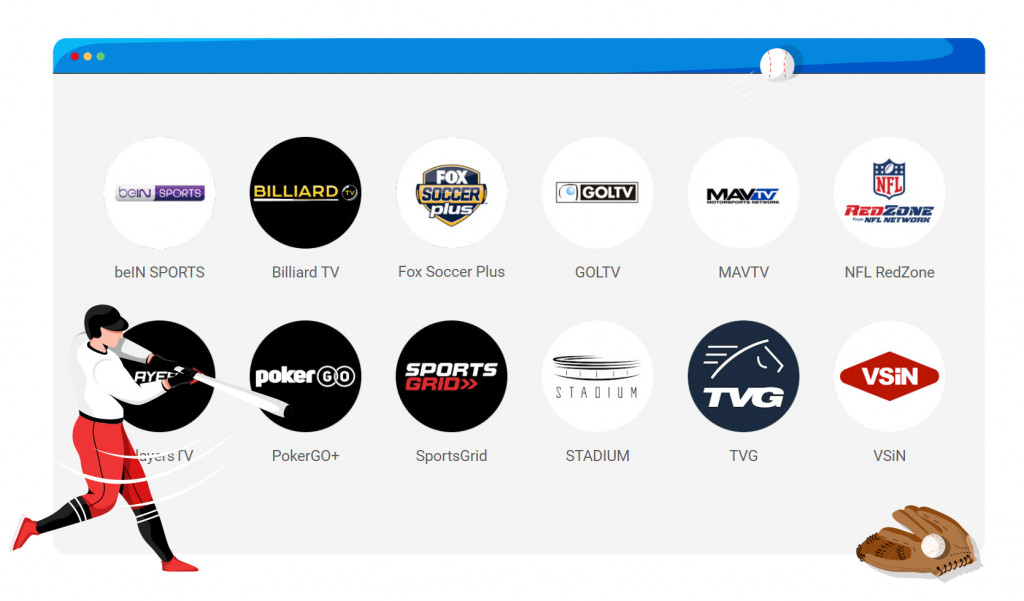 And if you think that's it, you are still wrong.
Add-ons
By now, you probably know all those streaming services that we keep writing about. Well, you can get nearly all of them in the form of YouTube TV add-ons.

First time here?
We'll catch you up on everything you need to know!
These add-ons cost between $2 to $40 per month and include but are not limited to the likes of HBO Max, MLB.TV, Showtime, Starz, Fox Nation, CONtv, and many, many, many more.
YouTube TV is basically the streaming service for streaming services.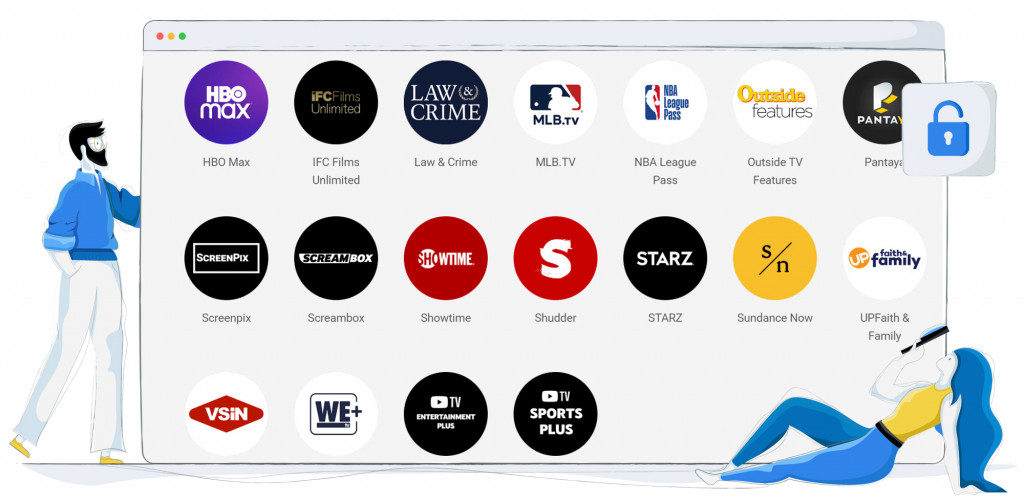 Sold. So how can you get YouTube TV?
Well, all of that depends on where you are.
YouTube TV, albeit peerless, is only available to those viewers that live in the US. Because, of course, it is! And it's not looking to expand its reach into international markets either, because streaming rights are difficult, and why would it?
So, like any other ol' US-based streaming service, YouTube TV geo-restricts its content with the most uninspired blocked screen you have ever seen: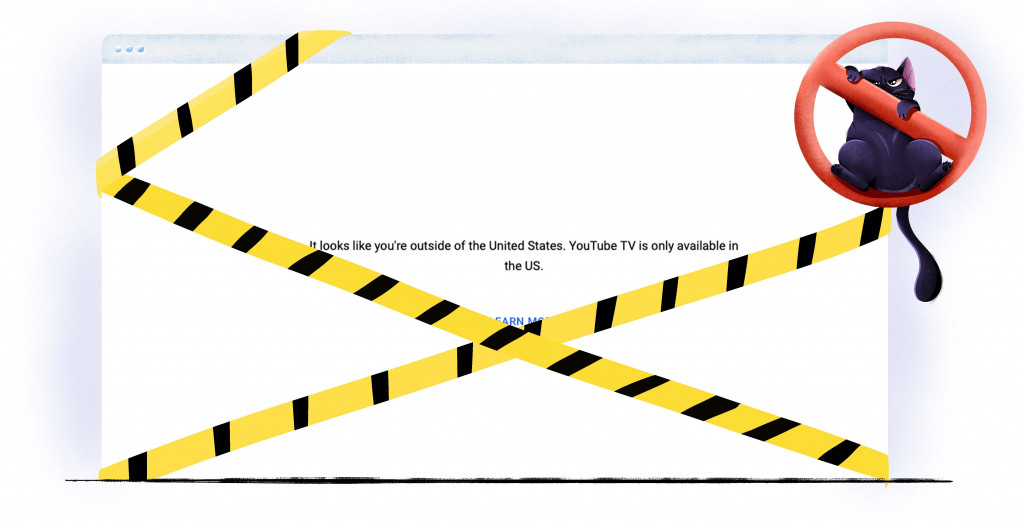 So if you live outside of the US – looking at this screen is pretty much the only YouTube TV you can hope on getting. Are we still blaming this on capitalism?
How can you get YouTube TV outside of the US?
Besides the unpleasant reminders to settle bills, there are only a few things that are as frustrating, such as getting a message in the lines of "This service is not available in your region". Yes, we know, we've been through this.
So. Content on YouTube TV is blocked outside the US. And that sucks for anyone who was hoping to get about a billion hours of pure American TV binge-watching, which is – as we have so firmly established – ALL OF US.
But while that may very well be true, you can easily change all of that as long as you have the right tools.
And by tools, we mean a good VPN!
And by VPN we mean a beast of amazing software that will be able to spoof your virtual location and make you and your device appear elsewhere. A VPN that knows how to effectively skirt geo-blocks and access everything YouTube TV has to offer.

Want to know what else VPNs can do?
We've got you covered with everything you need to know!
However, given the resources that YouTube TV has, you bet it will fight you, and just about any VPN provider will not be able to cut it. For the very least, a VPN you should trust with unblocking the treasure trove of American television that is YouTube TV should have the following figured out:
Have lots, lots and we do mean lots of reliable servers in the US.
Without them, you will never be able to get the blocked screen out of your face.
The ability to bypass any restrictions that the streaming services lay in your wake.
Streaming services are no shmucks. So these days, having a few servers and IPs in the US won't get you a glimpse of The Weather Channel, let alone YouTube TV.
So you are going to need a VPN that's both capable and smart enough to duke a streaming behemoth as big as YouTube.
Has the speed to handle all of your streaming needs.
News, sports, shows filmed in front of a live studio – none of these things tolerate any kind of delay. A second of lag might very well be the difference between hearing about another impeachment brewing, a touchdown, and an awesome joke that will never be the same now, mom.
Getting a VPN to stream YouTube TV probably means that you're not from the neighborhood. So you need a VPN that can keep up even halfway across the globe.
Check out our picks for the best VPN providers!
Finding the right VPN for any job is a task in it itself. When all of them claim they can do something, you know something is up.
So what do you do? Well, you leave the testing to us, of course!
And we have come through yet again. We have gone through every single VPN with a fine comb [and purchased a massive $150 YouTube TV bundle on accident ?] and we can confidently say, that the single best VPN for the job is: ExpressVPN!
Why ExpressVPN?
Cause it's red too, OK?!
No, we are definitely going to give you a bit more than that. There's a lot of thought that goes into choosing this or that VPN  before we recommend it for a particular task. And, frankly, we can't wait to list all of the reasons that went into choosing ExpressVPN over the competition!
First of all, the servers.
ExpressVPN has the most US locations out of any other VPN provider with literally hundreds of US-based servers, and what we could only assume are thousands of unique US IP addresses.
So right from the get-go, ExpressVPN is off to a great start.
There's also the awesome streaming unblocking capabilities rivaled only by no one.
While it is true that ExpressVPN took a detour into bleeding-edge online security options lately, it's a mistake to think it stopped doing streaming. Much like Dr.Dre, ExpressVPN is still very much running the game.
No other VPN does streaming unblocking quite like ExpressVPN. And you know it's got your back!
And then there are speeds.
You don't get a name like 'ExpressVPN' and expect people to be OK with lagging speeds. So you know ExpressVPN makes sure that its speeds stay far ahead of the competition.
And this is all that matters for all the streaming you could ever handle.
There's much more to ExpressVPN!
Want to know everything it's got to offer?
And unlike most other streaming services, YouTube TV won't have you jumping through hoops to hand over all of your hard-earned money. All you have to do to access the service is:
1. Subscribe to ExpressVPN.
2. Set up your connection.
3. Visit the YouTube TV site and subscribe!
If you are accessing the platform for the first time and looking to watch a specific show live, we recommend trying the process before the show actually airs. This will allow you to set up your account in time and not miss bits of your favorite shows.
Remember to keep your ExpressVPN connection on every time you log in, so YouTube won't catch up to you.
How much does YouTube TV cost?
The basic YouTube TV plan that features league networks and other entertainment channels like PBS, BET, Comedy Central, MTV, and Nickelodeon costs $64.99 per month. There is a 14-day trial and a limited offer that slashes off $10 each month for your first three payments.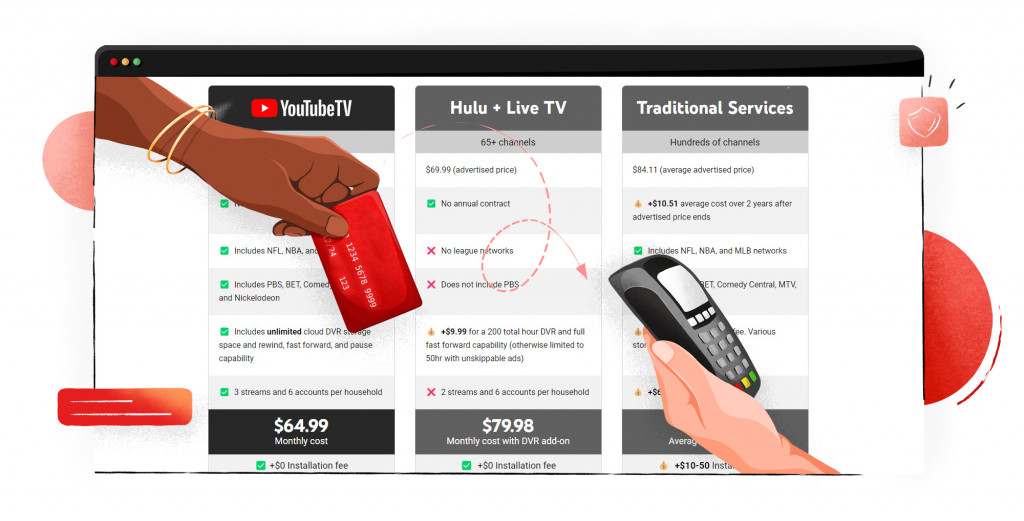 This plan supports a maximum of 3 streams and six household accounts.
However, you can unlock more channels and enjoy traditional services for an average additional subscription fee of $44.31 each month. Note that the content available to you on the platform depends on the server you connect to, as available programs sometimes vary by location.
Why are you still not streaming?
If you've ever been looking to catch the latest episode of anything half the world is streaming, some hot-off-the-presses news, a late-night show everyone keeps hyping up, or literally anything on the greatest TV ever… Well, now you can!
YouTube TV is bringing it all to the comfort of your couch and with the right tools, you can stream it anytime and anywhere.
Whether you are traveling, or whether TV is your only access to anything American – YouTube TV coupled with an amazing service such as ExpressVPN will turn you into a real American faster than a green card ever could!