Overview
CactusVPN may have a very small server park and fewer features than some of the other VPN providers, but what it excels at is streaming. The provider can unblock most US-based streaming services and does so with ease!
Ratings
Features
| | |
| --- | --- |
| Apps | Windows, macOS, Android, iOS, Chrome, Firefox |
| Price | ₹206.00 per/month |
| Payment methods | PayPal, Credit Card, Bitcoin, Alipay |
| Refund | 30 days |
| Protocols | OpenVPN TCP/UDP, PPTP, L2TP/IPSec, IKEv2/IPSec, SSTP, SoftEther, WireGuard |
| Log Policy | Limited logs |
| Simultaneous connections | 1 |
| Based In | Moldova |
| Jurisdiction | Moldova - Not a Fourteen Eyes Country AND Not an Enemy of the Internet. |
CactusVPN was initially created as a small business venture by three friends in Moldova in 2011.
Their goal was to provide people with accessible and reliable privacy, security, and overall freedom on the internet. But in just a few years CactusVPN has significantly grown, and today the service is used by thousands of people all over the world.
What makes this provider distinct from all the other big VPN names out there, is that it adopted a "family business" mentality to its service. The company does not hide its location, employees, or any information about itself. And we can't help but admire this kind of pursue of transparency from a VPN provider.
CactusVPN is beloved by many because it offers good value for its price, and has a lot to offer in its compact packaging.
But how good is CactusVPN really? And how does it compare to other big VPN providers?
Well, we're here to find all of that out!
Servers
CactusVPN has about 37 servers in 22 countries.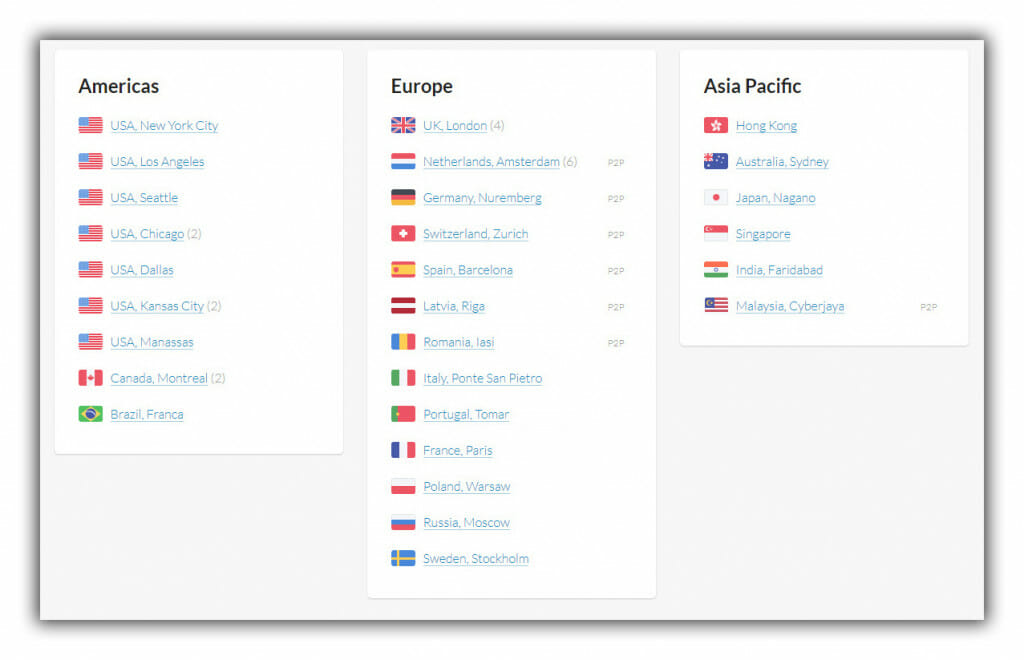 If we go by sheer numbers, this is certainly nothing to brag about. Some of the top and even low-tier VPN providers offer many times as many servers (NordVPN, for example, has 146 times more servers, and Private Internet Access – 658 times more!).
However important the size of the server network is, it's not just about that. A provider can have more servers than all the other VPNs combined, but it will do little to no good if the connection is slow, unstable, and can't access anything.
So how well do those CactusVPN servers actually function?
First of all, CactusVPN's server network is expansive enough to provide you with a smooth and liberating VPN experience.
The provider has all of the most important and popular locations covered. They have well-established servers in the US, UK, Canada, and quite a few European countries. They did not forget about us either – they even have a server in Faridabad.
The network mostly operates with 1 Gbps servers. This isn't as much as some of the other VPN providers (NordVPN and Surfshark have 10 Gbps servers, IPVanish – 32 Gbps). And with a network of this size, it might become an issue.
But, hey, up until a bit of time ago, most VPN providers didn't even see a need in upgrading their servers. And CactusVPN definitely provides you with enough speed and bandwidth for all your browsing and streaming needs.
Throughout our extensive testing, we did not run into any major issues with the provider's servers and can't hold this detail against them in terms of overall service and feel.
However, what CactusVPN does offer are two cool features: the VPN app allows you to sort the servers by speed to find the best one for you, as well as instantly connect to the closest and fastest server.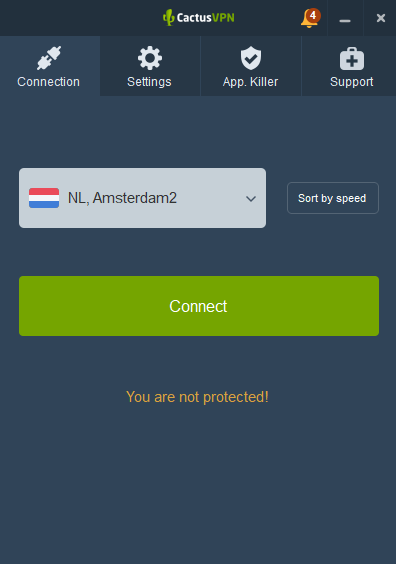 This makes using a VPN that much easier.
CactusVPN Speed Test
What CactusVPN lacks in numbers it makes up for with the quality of its servers.
All of the provider's servers are well-maintained, pretty fast, and reliable. So it's not a stretch to say they value quality over quantity?
When conducting our CactusVPN speed test, we got pretty decent results when connecting to European servers.
Ping was never higher than 11 ms, and we got consistent download and upload speeds.
Even when connected to one of the provider's US servers in Chicago, we still had decent download and upload speeds, even though ping was pretty high.




One thing to keep in mind though, pretty much every VPN provider will slow down your internet connection. And to make the negative impact as small as possible, you have to have a selection of servers nearby.
With CactusVPN's limited server network and very few servers in the Asia Pacific region, getting the best speeds in India might be tricky.
Though we did not encounter any game-breaking issues when doing our tests.
You also have the option to increase your internet speed by using the provider's Smart DNS service. However, Smart DNS has no encryption layers and is much more vulnerable to all kinds of leaks. So unless you only want to use the VPN for streaming, we don't recommend enabling this feature since it can compromise your online security and privacy.
Security
Server networks and speeds aside, the main reason VPNs were created was to provide everyone with reliable, accessible, and easy-to-use online security and privacy.
So how well does CactusVPN perform the most essential VPN tasks?
Right from its inception, CactusVPN was very open about its service policies and aimed to provide its customers with the best possible security and privacy features.
As of now, the service features:
End-to-End Encryption (mostly AES-256)
7 VPN Protocols
No Logs Policy
Kill Switch
Obfuscation
DNS leak protection
DNS queries using DNS-over-HTTPS
VPN Over ICMP & DNS
Shared static IP
We put the provider through all kinds of tests, and are pleased to say we did not encounter any leak threats or major security vulnerabilities.


Encryption and Protocols
CactusVPN uses strong, military-grade AES encryption.
Unlike most VPN providers that try and go for the strongest possible encryption, CactusVPN gives you the option to choose 128-bit, 192-bit, and 256-bit keys. This is a rather interesting option, however, we would not recommend using anything but 256-bit encryption. Other options might increase your internet speeds a bit, but they are much less reliable and much more hackable.
What sets CactusVPN apart is the number of protocols they support.
The provider gives you the freedom to choose any of these protocols to use: OpenVPN (TCP & UDP), WireGuard, SSTP, SoftEther, IKEv2, L2TP/IPSec, and PPTP.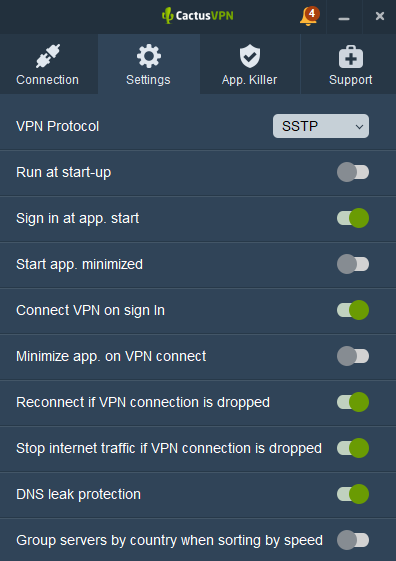 OpenVPN and IKEv2/IPSec are very secure protocols. However, they can slow down your connection speeds, as both are pretty heavy.
WireGuard and PPTP are the complete opposite – they offer excellent rates but at questionable privacy and security levels.
Most VPNs created custom solutions to address the privacy concerns regarding the WireGuard protocol. But CactusVPN only implemented the standard "erase IP logs" solution. Keep in mind that such a build is not perfect for preserving your online safety.
The SSTP is in some ways similar to OpenVPN. You can use it to bypass censored content and blocked websites. However, it is not an open-source protocol, so it's not as popular (since there is no way to independently audit it for potential vulnerabilities).
Finally, SoftEther is a relatively new protocol. It provides for stable and secure connections at surprisingly fast speeds.
Choose wisely and choose securely!
No Logs Policy
As mentioned before, CactusVPN is based in Moldova.
This is great news for the lovers of privacy and online freedoms since Moldova is not a Fourteen Eyes Country, therefore not "an enemy" of the Internet.
The provider claims to keep zero logs. They don't store your IP address, traffic logs, bandwidth usage data, and connection timestamps.
It means that law enforcement authorities and cybercriminals cannot assess your data. Even if the government request this information, CactusVPN will have nothing to give.
No Logs Policy is essential for preserving your privacy. That's why it's an expected quality of all top-rated VPN providers.
Kill Switch
A VPN Kill Switch adds an extra layer of security if you lose your connection to the VPN server. It automatically stops all Internet traffic, protecting your IP address and data.
There are two types of VPN kill switches, system– and application-level. And CactusVPN has both.
The system-level kill switch cuts your Internet connection entirely until you reestablish your connection to a VPN server. So, you can only choose to turn it on or off.
The app-level kill switch is more specific, as it allows you to choose which VPNs will get cut from the internet if the VPN connection suddenly stops. For instance, you can apply this kill switch to torrent clients, email, messaging applications, and whatever else needs an extra level of security.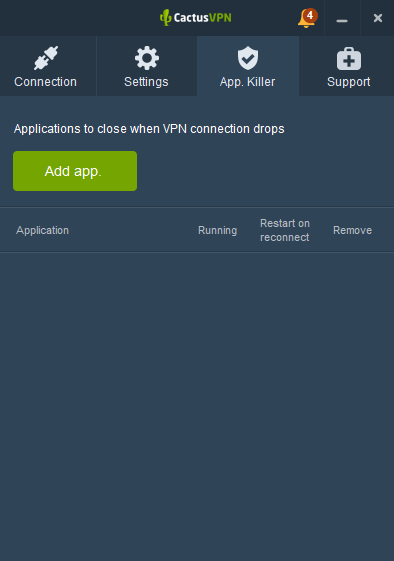 Obfsproxy
Obfsproxy adds an obfuscation layer to wrap and hide VPN data.
Simply put, it changes the way traffic flows between the VPN client and the server, and ultimately hides the fact that you are using a VPN.
This is a very useful feature very few other VPNs have cracked.
It allows you to bypass firewalls and VPN blocks imposed by streaming services, blocked websites, and local networks. Also, if anyone ever wants to access your online activities and see what you are doing online (your ISP, hackers, the government), they will never know you are using a VPN – your traffic will look like average traffic.
CactusVPN Apps
Right off the bat, in terms of usability CactusVPN offers a great application both for newcomers and experienced users.
It's nothing fancy, but it makes it all the easier for a first-time user to get a hang of the VPN. But if you want to go hardcore, the more advanced options are also there.
CactusVPN offers desktop and mobile apps, along with browser extensions. You can also set it up on your router, smart TV, or gaming consoles, such as PlayStation or Xbox.
The best thing is that there is no limit to the number of devices you can use with a single subscription. The problem is, that every device is going to have to connect to a different server.
Apps for Desktops
CactusVPN is compatible with Windows, macOS, and Linux, all of which are pretty straightforward.
The applications are pretty much the same, and offer the same options for every platform.
You can choose the preferred VPN encryption and protocol, switch server locations or add extra protection with Obfuscation or DNS leak protection.
Apps for Mobile
CactusVPN supports both iOS and Android mobile devices.
Both versions feature the Kill Switch and auto-reconnect options, along with DNS leak protection.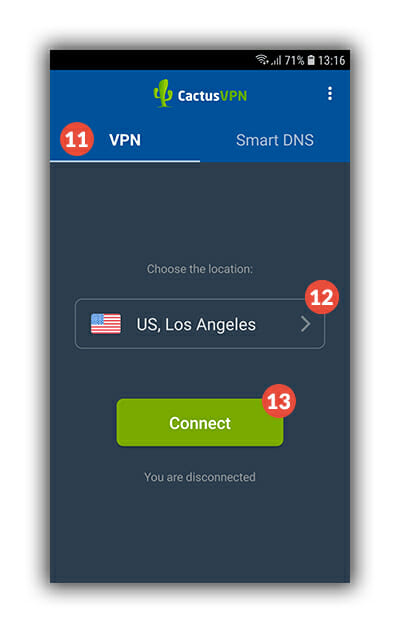 However, mobile applications only allow you to choose between WireGuard and IKEv2 protocols.
Browser Extensions
CactusVPN offers Chrome and Firefox extensions. And both are extremely easy and straightforward to use.
You can easily enable the proxy, as well as switch between server locations.
The browser extensions also offer unlimited bandwidth and speed, WebRTC leak protection, and easily configurable settings.
CactusVPN for streaming services
A few years ago, CactusVPN was the VPN for unblocking Netflix. It was one of the first VPNs to take advantage of a VPN's streaming unblocking capabilities and they were doing one helluva job to get people all over the world as much streaming pleasure as they can handle.
But with time streaming services have become much more aware of people using VPNs to bypass their rules and local restrictions, and have imposed their own blocks and firewalls.
Some of the VPNs adapted, others decided that this was a losing battle and focused on privacy (looking at you, ExpressVPN). And CactusVPN, well, it ended up somewhere in the middle.
On its website, CactusVPN claims to unblock over 340 websites, including Netflix, BBC iPlayer, BBC Sport, Amazon Prime Video, Disney Plus, ESPN, HBO Max, and so much more.
In reality, CactusVPN is still a pretty decent choice for unblocking US-based streaming services. Most of the free streaming platforms that have lower to none VPN protection don't stand a chance, and CactusVPN is still pretty good at unblocking Netflix.
However, that's about it. And with some of the bigger streaming services waging an all-out war on VPNs, and CactusVPN seemingly not taking steps to expand its server network and create new, more advanced, and modern solutions for streaming unblocking, this might change very soon.
Still, CactusVPN is pretty good when it comes to unblocking the US version of Netflix.
Gaming
Using a VPN for gaming can provide you with a bunch of benefits.
It can protect you from ISP bandwidth throttling, provide you access to more games that might be not available in your region, give you early access to some of the most anticipated games, help you skip IP bans, reduce ping time and lag, and even protect you from DDoS attacks.
But, for the most part, gamers and console fanatics use it to either buy cheaper games on different markets or use it for the same reason one would install a VPN on a PC or Smart TV – access streaming service and expand libraries.
However, CactusVPN might not be the perfect choice for this. Online gaming might require twitch reflexes, whereas CactusVPN can cause occasional lags. The situation gets worse if you choose a distant server, further slowing down your connection speeds.
On top of that, this is where CactusVPN's lack of servers really hinders the experience. You have very few servers to connect to, you can't always find the fastest one for gaming, and you can't really access better prices with a very limited number of locations.
Nonetheless, it's a decent choice, if you are looking to use a VPN to stream some extra content through your gaming console.
CactusVPN for torrenting
CactusVPN offers seven P2P-optimized servers in Germany, the Netherlands, Switzerland, Spain, Latvia, Romania, and Malaysia.
P2P-optimized servers are marked explicitly on the server's list so that you can easily find what you are looking for.
However, even given the limited server network, CactusVPN really doesn't offer much in terms of P2P connections.
We did not encounter any significant drops in speed and performance, however, if the closest server becomes overcrowded, you might be better off torrenting elsewhere.
Price
CactusVPN offers four price plans. And, as always, the longer commitments offer the best discounts:
Month-to-month plan: 520 rupees/month

Three-months plan: 416 rupees/month
Annual plan: 303 rupees/month
Two-year plan: 206 rupees/month

All plans come with a 30-day money-back guarantee.
Payment Methods
CactusVPN offers a great selection of payment methods:
PayPal
Visa
MasterCard
Discover
AmericanExpress
Bitcoin and Altcoins
Webmoney
Union Pay
Alipay
Przelewy24
Boleto Bancario
So, you can go for the standard payment methods or choose one that further protects your identity and online privacy.
Free Trial
CactusVPN offers a 3-Day Free Trial.
The best thing is that you don't have to give your payment information and you won't be "accidentally" charged if you forget to cancel the subscription.
So you can give CactusVPN a try with its full speed and without any bandwidth limitations, and make sure whether the service suit you.
CactusVPN's customer service
CactusVPN has great customer service.
You can use their online ticketing system and immediately get a response.
The team is super-friendly but, unfortunately, not so great in English. If that's not an issue, you're good to go.
You can also check out the Setup Tutorials, Learning Center, and FAQ on their website. All of them are especially useful and provide detailed guidance for each problem separately.
Taking customer support to the next level, the CactusVPN application has built-in customer support, so you can submit your ticket straight from the app, without having to furiously google the website.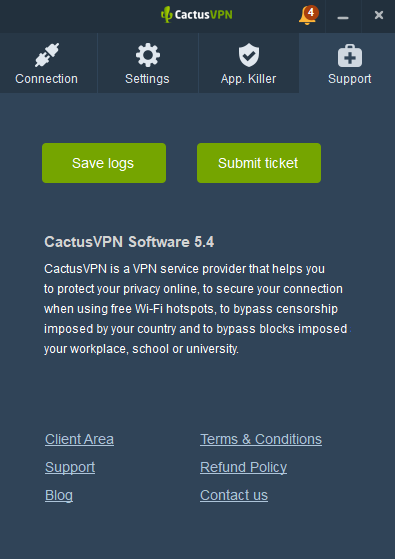 The bottom line
CactusVPN doesn't offer the largest server network. But even so, it has a decent offer in terms of speed, torrenting, unblocking streaming sites, and supporting apps.
It comes with all of the essential security features, including the Kill Switch, AES-256 encryption, and DNS-leak protection.
What makes this provider unique is its offer of seven available protocols and an unlimited number of devices from a single subscription.
Other advantages include the 30-day money-back guarantee, free trial, and superior customer service.
But even with all of these great and even unique features, the pricing is pretty steep for a VPN that has fewer features than most of the top providers.
But if you are one to root for the underdog – CactusVPN is as good as they come!