Overview
Use VPN only for US Netflix? Then CactusVPN is simply the best option for the best price. CactusVPN distinguishes itself from the competition by making a very specific offer. On the performance side we are also very pleased with CactusVPN.
Ratings
Features
| | |
| --- | --- |
| Apps | Windows, macOS, Android, iOS, Chrome, Firefox |
| Price | $2.77 per/month |
| Payment methods | PayPal, Credit Card, Cryptocurrencies, Alipay |
| Speed | 9 / 10 |
| Protocols | OpenVPN TCP/UDP, PPTP, L2TP/IPSec, IKEv2/IPSec, SSTP, SoftEther |
| Log Policy | Limited logs |
| Simultaneous connections | Unlimited devices |
| Based In | Moldova |
| Jurisdiction | Moldova - Not a Fourteen Eyes Country AND Not an Enemy of the Internet. |
CactusVPN is one of the more recent players on the market. But it offers a refreshing take on VPN services. They do things a bit differently at CactusVPN, adding a small but unique VPN service to the line-up of available VPN providers.
CactusVPN owns a small fleet of thirty-seven VPN-servers, located in 22 countries. Most are in the largest markets, like the USA, UK, Canada, the large European countries, Australia, and South-Korea. Please note the use of Bittorrent is only allowed on servers in the Netherlands and CactusVPN's home turf, Moldova.
This small fleet (in comparison to other VPN services) covers your browsing activities in prominent territories. But more important, they offer a service that is of the highest quality. Servers are without exception quick, reliable, and well secured. Internet speeds test just slightly lower than those of the quickest VPN-providers. But are high enough to allow steady streaming, browsing, and downloading.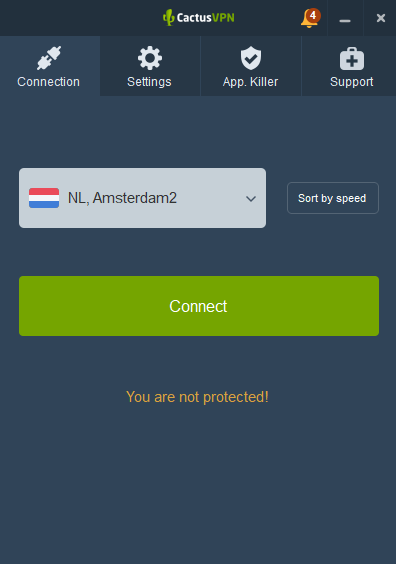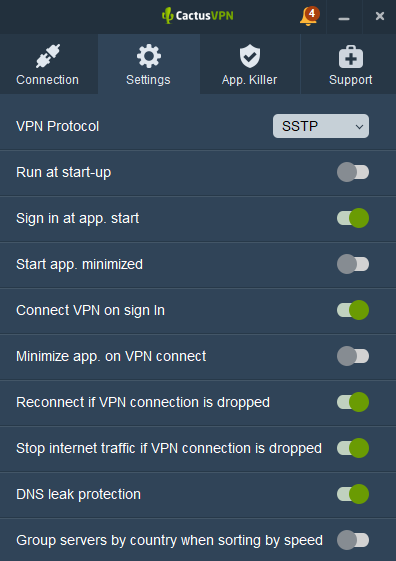 Geoblocking
CactusVPN supports streaming American Netflix, and UK's BBC iPlayer services, and that's putting it mildly. The company clearly made their support a key tenet in their strategy, which shows in their subscriptions. Specific servers are kept in reserve for circumventing geoblocks, spewing out new IP-addresses on demand, and around the clock.
This arrangement generally makes for some very smooth streaming.
There is one caveat though: this setup is prone to slowing down when traffic on those servers is high. Plus, of course, like any VPN, playing cand and mouse with geoblocking will only last as long as it lasts. Streaming services like Netflix constantly try to block new IP-addresses associated with VPNs.
CactusVPN App
The apps you use to connect to a VPN server are efficient and simple to use. Connecting to a standard server is easy as pie, and people aiming for more complicated setups will be satisfied as well. Dig a bit deeper into the apps, and you'll find options to switch encryption protocols, switch to a new server location, or engage (or disengage) extra protection against DNS-leaks.
Connecting your smartphone or tablet to a VPN server is a snap too. Each subscription gives you access to three separate VPN connections. Which should be more than enough for most users. The only (logical) restriction here is you can't use one of these connections for more than one device.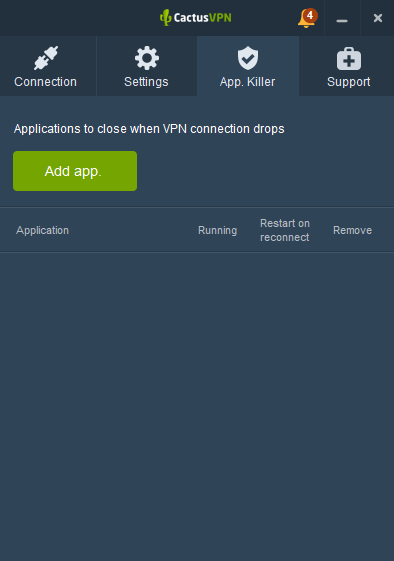 Speed
The relatively small size of CactusVPN's server network hardly registers in the up- and download speeds we clocked while testing the service. You can stream effortlessly within European and US borders, and even we detected little lag on our connections.
The lah was enough, however, to advise against using CactusVPN in full security mode for online gaming, especially when dealing with US servers.
Real speedfreaks will want to check the Smart-DNS service CactusVPN offers with some of its subscriptions (it also has a separate subscription for that option in particular), which changes your IP-address without the layers of encryption used in VPN. You basically use the Cactus server network without the protection, which of course makes you more vulnerable to leaks and such, but also increases your up- and download speeds considerably. Making Smart-DNS an interesting option for people who are looking for legal streaming services.



Costs
Like other VPN providers, CactusVPN offers cheaper prices for longer terms. The most popular plan is a 2-year subscription which costs $66.49 ($2.77 per month). It includes access to all servers (P2P are also available), Smart DNS, free proxy, unlimited speed, and bandwidth.


Privacy and security
Some VPN providers use complicated language to obscure the fact they keep logs of your Internet browsing, but CactusVPN is not one of them. The company is very clear about what they store (and don't store) about you. They keep no logs detailing Internet traffic, number of sessions, DNS server requests, timestamps of connections, et cetera. This is something every privacy-loving user will greatly appreciate. On the other hand, the company makes it very clear they will comply with government agencies' lawful requests for information.
You can find more info on testing your VPN connection in our dedicated article on this matter.

Netflix and Torrents
CactusVPN doesn't have many servers when compared to other providers, but it has them in places that matter. You're able to watch US Netflix through American servers, or stream BBC iPlayer programs through a UK one. Also local, smaller streaming servers usually have a server nearby.
Using Bittorrent is only allowed on Dutch and Moldovan VPN servers, which, in the case of The Netherlands, is slightly amusing because of recent changes in laws concerning downloading.
CactusVPN's clear log policies however make streaming a relatively safe option, and server connections and speeds perform admirably, in general. The company does however reserve the right to slightly squeeze your connection if other users experience speed drops due to your download activities.
Customer Support
CactusVPN has a ticket system online that helps you with most of your queries. These automated email forms usually direct you to tech assistance, providing quick answers to the basis questions. A live-chat is available during Moldovan office hours, which, of course, is great for people living in the Eastern European Timezone, and less so for others. The website also has a support page with FAQ's.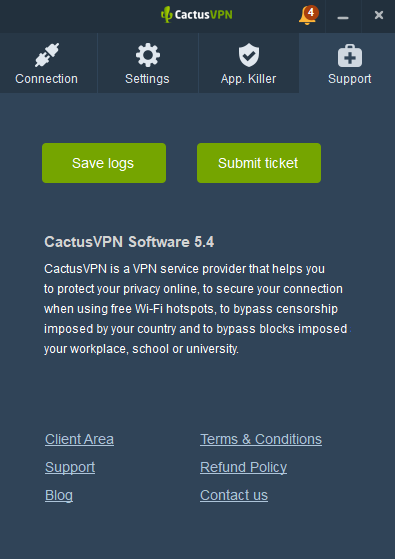 Conclusion
CactusVPN distinguishes itself from the competition by making a very unique offer. The provider allows you to pay for those servers and services that you actually use. Are you looking for a VPN to just stream American Netflix? Then CactusVPN is simply the best option for the best price.
However, this prickly little VPN does have a full subscription package.
Although CactusVPN's quality is good, the price is a bit steep, especially considering the number of available servers. Opt for a yearly subscription, and the price drops considerably, but still.
CactusVPN pleases us greatly on the performance side. Its security is tight, and the service doesn't log your activities. If you're looking for a VPN that provides a safe, anonymous browsing service with plenty of functionalities, CactusVPN is a very good option.
FAQ
Where is CactusVPN based?
CactusVPN is headquartered in Moldova (Eastern Europe).
How to install CactusVPN on Mac?
Even if you are not tech-savvy, CactusVPN for Mac is pretty straight-forward. It has a user-friendly interface that allows you to install it in a couple of minutes. If you still have questions, you can always follow setup tutorial by Cactus VPN.
Is CactusVPN really safe?
CactusVPN provides strict privacy policy and robust security features, including 256-bit AES encryption, Kill switch, and DNS leak protection.