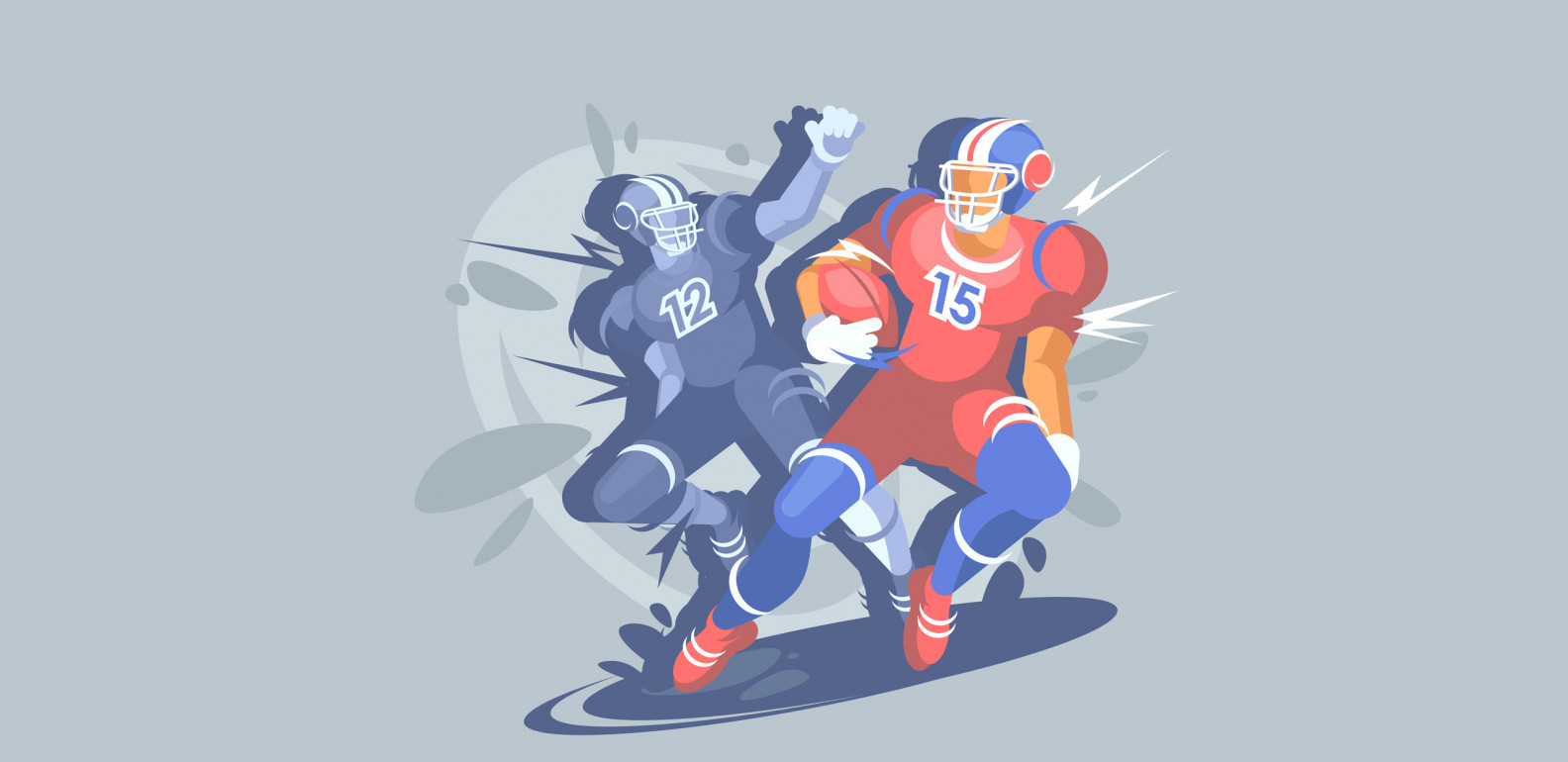 The Best Ways To Watch The 2021 NFL Season
'Tis the season to be excited! And no, we're not talking about Christmas just yet. The 2021 NFL season is finally here, and everyone is raring to go for another year!
The National Football League will finally start on the 9th of September 2021. However, the most exciting thing about this year is that teams will be playing for 17 weeks for the first time in all of NFL history!
The first teams to go head to head are the Dallas Cowboys and the Tampa Bay Buccaneers, the Super Bowl champs of 2021.
A prediction made by ESPN stated that the Kansas City Chiefs have a high chance of winning the Super Bowl for the second time in the last three years, only if their newly built offensive line works out as they are hoping it will. However, there are some unexpected predictions as well, such as the Seattle Seahawks leading the league, even though they were number seven last season (we don't see that happening)!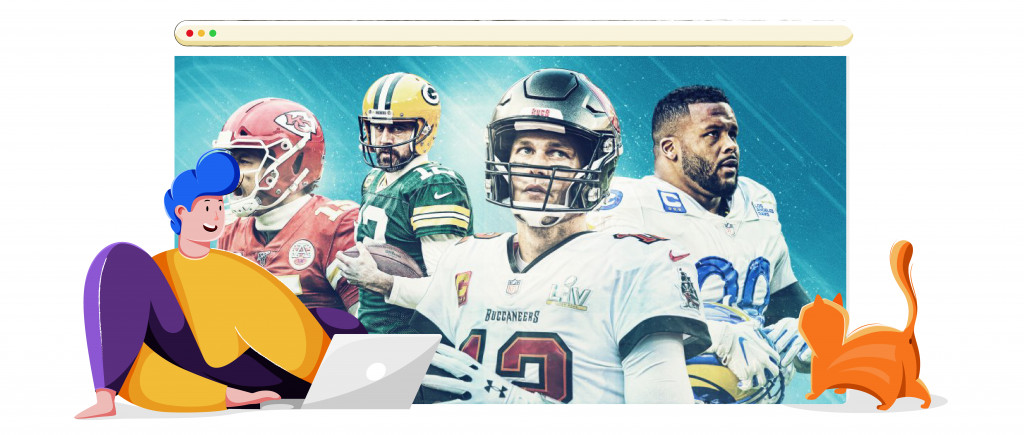 Despite the predictions, this is a season that has a lot to promise. However, don't get excited just yet, because it seems the further you get from the land of the free, the fewer NFL streaming options you have (or, at the very least, the more expensive they get). And, well, India is about as far from the US as possible.
But if, like us, you can't wait to get your hands on some good ol' brutal pigskin action, do not despair for there is hope yet! We have scoured the Internet to find the best ways you can catch most, if not all of the NFL games, and if not for free, then for as cheap as possible.
So hang on to your Peyton Manning plushy, because it's hut, hut, hike time!

No time to read? Get NordVPN and enjoy the big game!
Where can you watch the NFL?
So let's get the local options out of the way first.
Put simply, some countries have access to the channels that show the NFL games, and some don't. And lucky us, India is one of the countries that have a few options to catch at least some of the games.
These are not as free, cheap, (or as satisfying) as some of the options you get in the US. But if you're not up for venturing into unknown territory, they are definitely there for you:
FanCode
FanCode is an app that broadcasts live matches, scores, statistics, and more.
But, to get access to this ad-free, fantastic platform, you need to pay up. So, if that isn't something you are willing to do, it may not be for you. And we get it. Half the stuff on there is on Disney+ Hotstar anyway.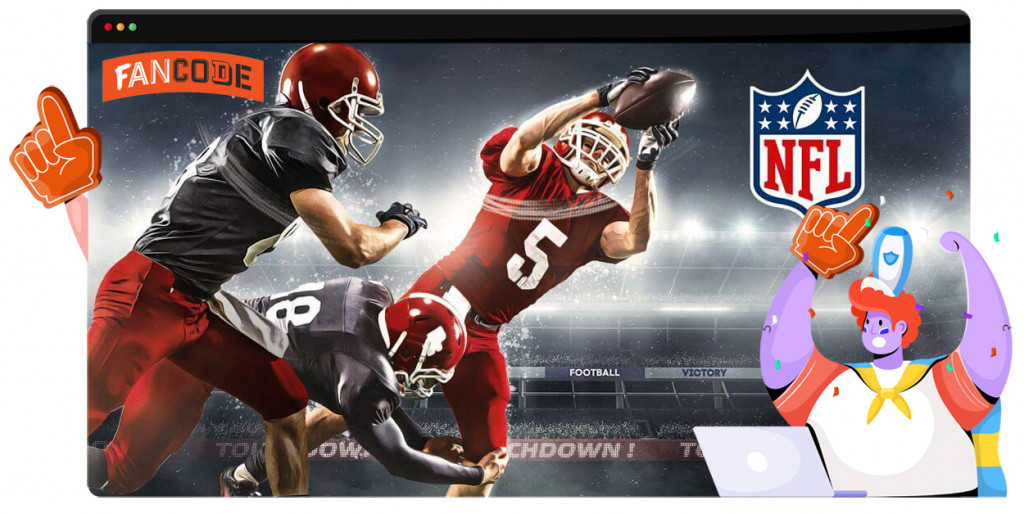 Sony Entertainment Television Network
Sony Entertainment Television Network does have the rights to broadcast the 2021 NFL Super Bowl.
However, they usually focus on European Football leagues more, meaning they only post some significant games. Thus, it isn't the most reliable option if you want to watch all the matches from start to finish.
NFL Game Pass
And then there's the NFL Game Pass – a streaming pass, strictly for NFL games.
But even though the NFL is quite exciting, it may not be the smartest idea to give all your money away to stream just one season with matches once a week, especially when you could find a free or relatively cheaper option instead.

So how can you watch the NFL for free (Or at least as cheap as possible)?
NFL broadcast rights seem to be better protected than Fort Knox. But, you know us, we always find a (safe) way around these things.
Hence, we have a few solutions that will allow you to enjoy either most, or even all the games for free, or at a better price than the locally available options. Now ain't that sweet?
So let's take a look at those in the running:
If you want to stream these thrilling games in high quality without paying the price for the Game Pass, Paramount Plus is probably the best option there is.
With it, you can access all the NFL games with any subscription plan that has the NFL on CBS option. Not bad for just $4.99.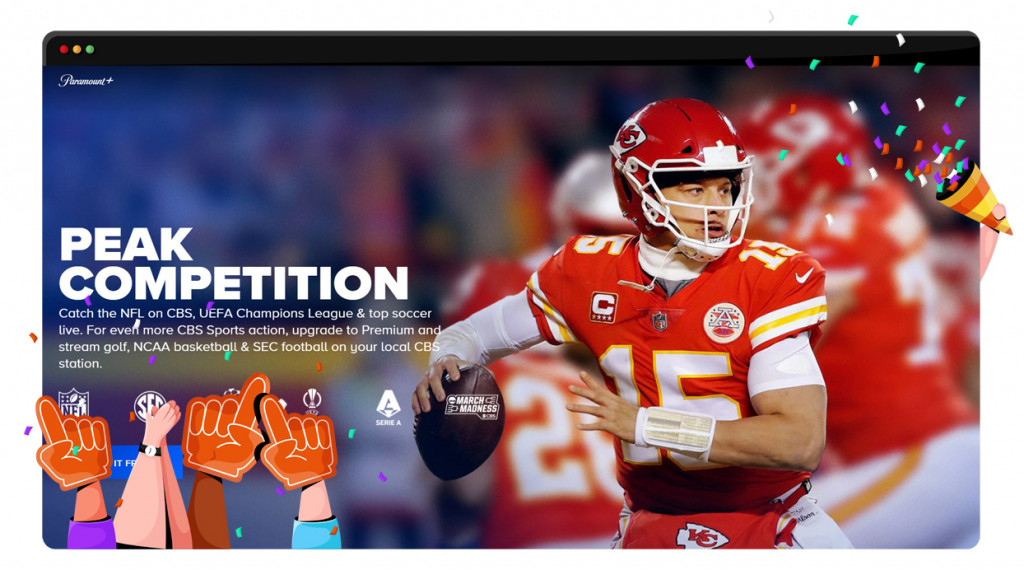 However, it should come as no surprise that this streaming option is only available in the US.
Fortunately, geographical restrictions and streaming blocks are nothing to us, since we're all about breaking them down. And here's how you can get your hands on some hot and steamy Paramount Plus NFL action:
1. First of all, you are going to need a way to bypass your local restrictions and access the platform. And for that reason, you simply cannot do without a decent VPN.
And no VPN unblocks streaming platforms quite like NordVPN!
Already, you are off to one heck of a season.
Eager to know why NordVPN is the best?
2. But nothing is ever easy, is it? You still have to pay for your Paramount Plus subscription somehow, and it only accepts US-issued payment methods.
Oh wait, that is also easy.
Head on over to US Unlocked and get yourself a fancy virtual American bank card.
Get your virtual US bank card today!
3. Now all that's left is to head on back to Paramount Plus with your newfound superpowers, subscribe to a streaming plan with the "NFL on CBS" option, and enjoy the games with a full month free of charge! Does it even get better?!
Our second offering is also a strong one: Sling TV.
It has every sports-related channel, including NBX, Fox, ESPN, and the coveted NFL Network. And, the best part is the price. For just ten bucks a month, you can stream to your heart's content.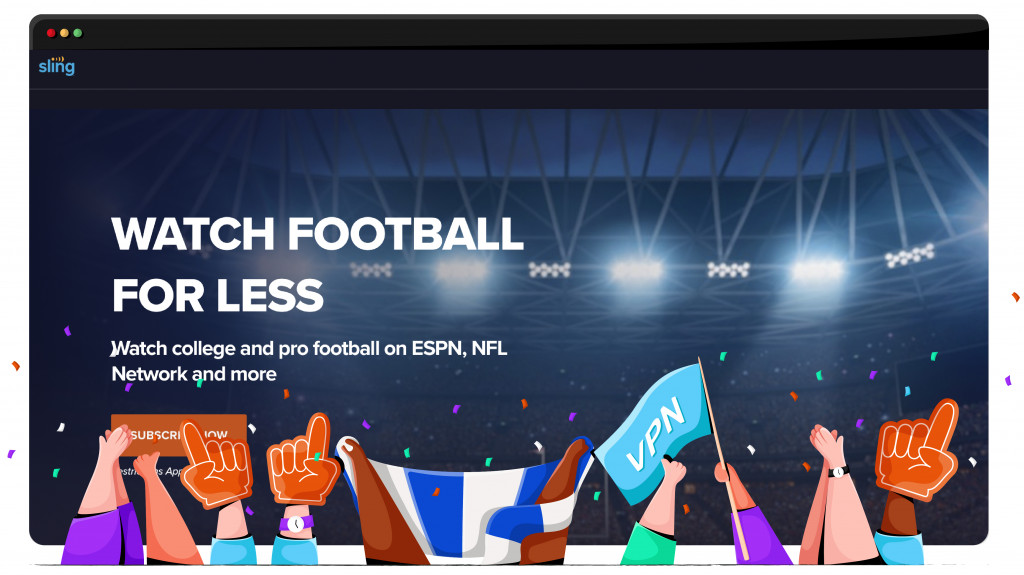 However, you'll be hit with the same issues when trying to access the platform as you would with Paramount Plus: it's only available in the States. But, as always, there is a solution for accessing this platform too! You will find that there is a recurring theme with our solutions:
Get NordVPN.
Apply for a virtual US bank card with US Unlocked.
Create a Sling Account.
Watch the NFL.
If both the previous options aren't good enough for you, we're definitely hurt, but we're not giving up.
ScreenVariety is a platform that allows you to watch most of the games and get the most amazing NFL streaming experience possible. Period. This is probably the greatest option after Locast was shut down, and it works as many wonders for the Indian fans as it does for the US ones.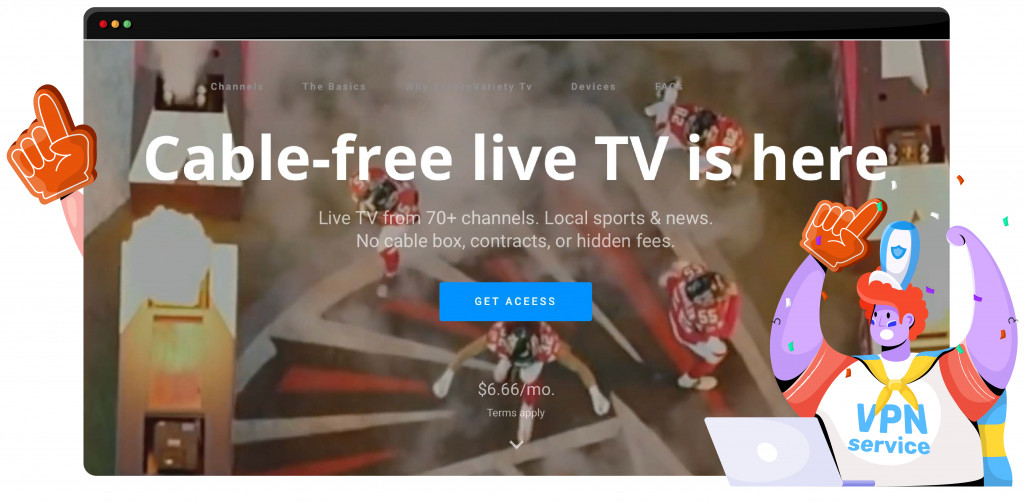 So, what exactly is ScreenVariety? It's live TV that doesn't require cable. Most importantly, it's where you can stream almost all the NFL matches.
The membership is just $6.66 per month, and one membership provides a six-screen limit. In addition, they allow you to access not just the NFL network but also FOX, NBC streams, ESPN, CBS, ABC, and more!
And as always, if you aren't privileged with an American zip code, you may face some trouble trying to access the platform. So, here's what you do:
Get NordVPN.
Go to US Unlocked, and apply for your virtual bank card.
Access ScreenVariety.
Watch the NFL (Or anything else, what an excellent investment!).
We have found, to our surprise, that the Germans are providing better NFL coverage than some of the American platforms.
Two of the German platforms – Ran and Prosieben Maxx – are broadcasting some regular games, some playoff games, and the Super Bowl. And they are doing it for FREE!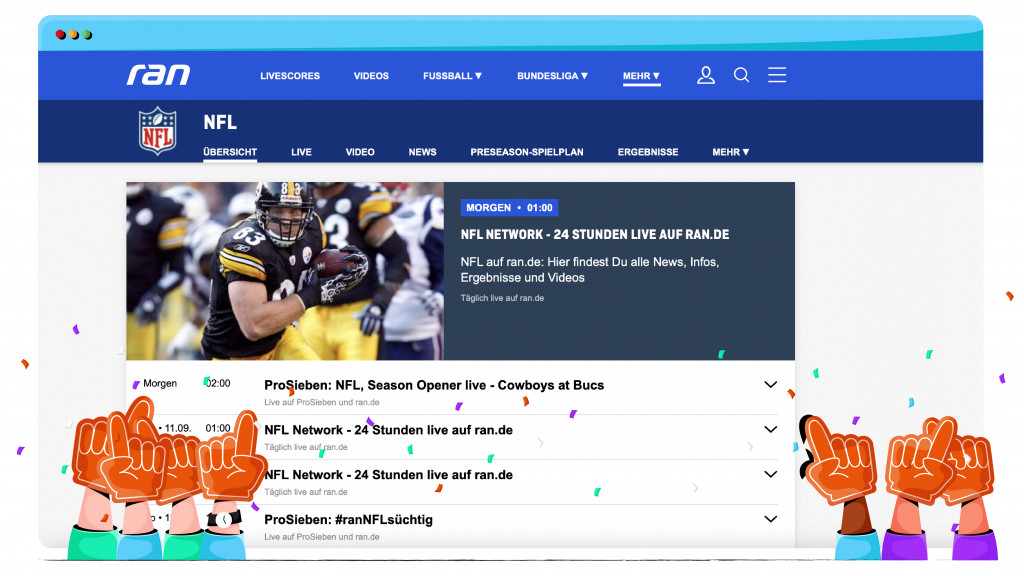 However, these broadcasts are exclusive to German residents. So unless you can travel all the way there, we will have to find another way to make you German.
And yes, before you ask, the same solution works just as well for accessing German streaming platforms, as it does for the US ones. So here goes:
Get NordVPN.
Connect to a server in Germany.
Keep the schnitzel warm and the beer cold. Do not, we repeat, do not confuse the two.
Just tune in and watch the games according to local (meaning, German) time.
Last year, Pluto TV partnered up with the NFL to launch their creatively named NFL Channel. And to our absolute delight, they have continued the same deal this year!
This is a great place to catch the best NFL moments in history and see all the most recent NFL highlights from the latest games. It is free, however, it's only available in the US.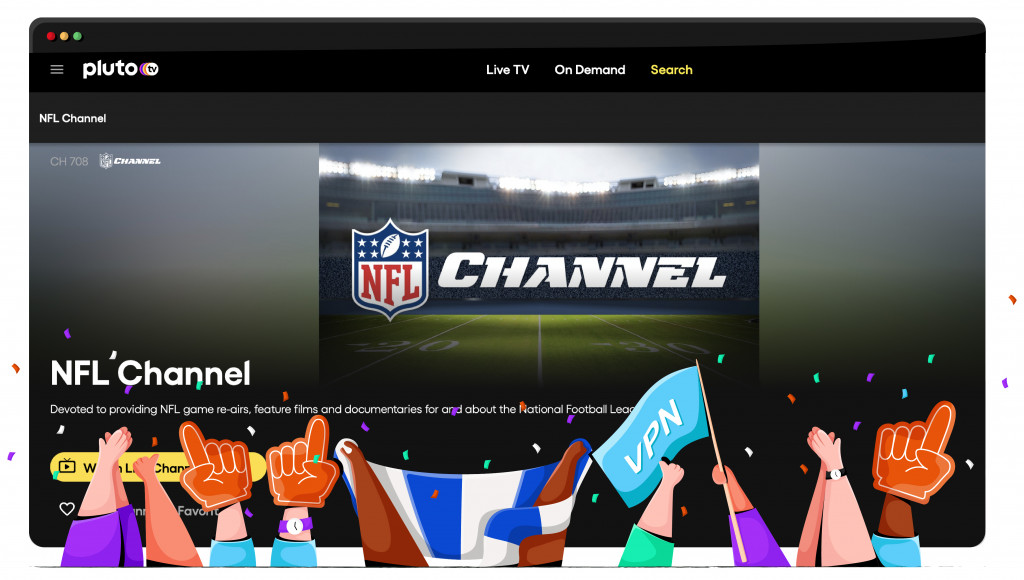 So here is what you do (and we are really getting tired of this!):
Download NordVPN.
Choose a server in the United States.
Access all the NFL-related content you need.
If you prefer watching just the highlights instead of each game, you should definitely check out BBC Two.
This year Britain's greatest sports streaming platform will be showing the Super Bowl and the best season highlights for absolutely no fee at all. Cause that is how the Brits roll.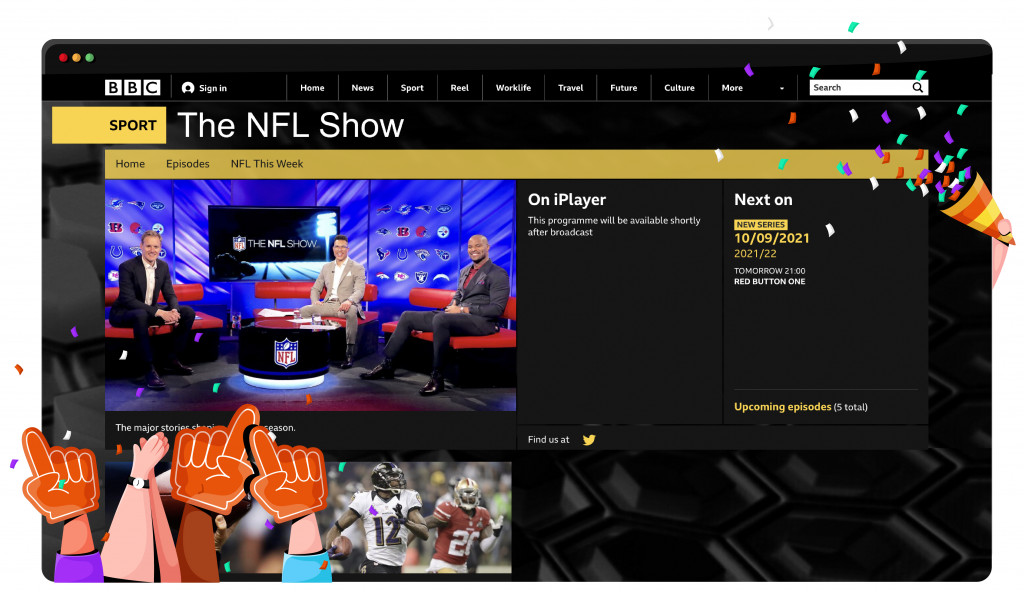 All you need, however, is a BBC iPlayer subscription. Unfortunately, BBC iPlayer is only available for those in Britain.
But lucky for you, we'll help you trick the platform into believing you are in Britain.
So, go ahead and follow the same solution as before:
Umm, you may be getting sick of reading this, but get NordVPN.
Connect to one of their many British servers.
Make an account on BBC iPlayer.
Care for some BBC iPlayer streaming?
Check out our guide to unblocking it from India
Now you can stay in the loop and watch the highlights.
So, is there a reason we're obsessing over NordVPN?
So, you might be wondering why we are only recommending NordVPN for your streaming missions.
And trust us, you have every right to be suspicious. However, it is our mission to give you the best streaming options and the best solutions for accessing them. And, well, simply put, there is no better option than NordVPN for unblocking NFL streams.
You see, the rights to streaming sports are a goldmine. And that mine strikes diamond when we're talking NFL. So the streaming platforms that managed to get their hands on the NFL rights are taking every possible step to keep those they don't want out.
So you need a powerhouse VPN with the streaming unblocking power that can stand up to blocks and restrictions the streaming platforms lay in your way.
And there's simply no better VPN for that than NordVPN!
Sure, you can use ExpressVPN or Surfshark to access the platforms, but NordVPN is the only one that will let you stream ALL of it, no matter where you are. NordVPN is also the only provider capable of coming up with immediate solutions even if streaming platforms figure out new ways to block you.
So, say it with us now:

Get NordVPN and enjoy all of the NFL anytime, anywhere
Enjoy the American Football League!
It may seem like a bit of a hassle to watch the NFL if you are not in the US. But, it is worth it if you are a true fan of American football.
So grab yourself an awesome NordVPN subscription. Pair that up with a US Unlocked virtual bank card and any of the streaming platforms we've found for you, and enjoy the game!