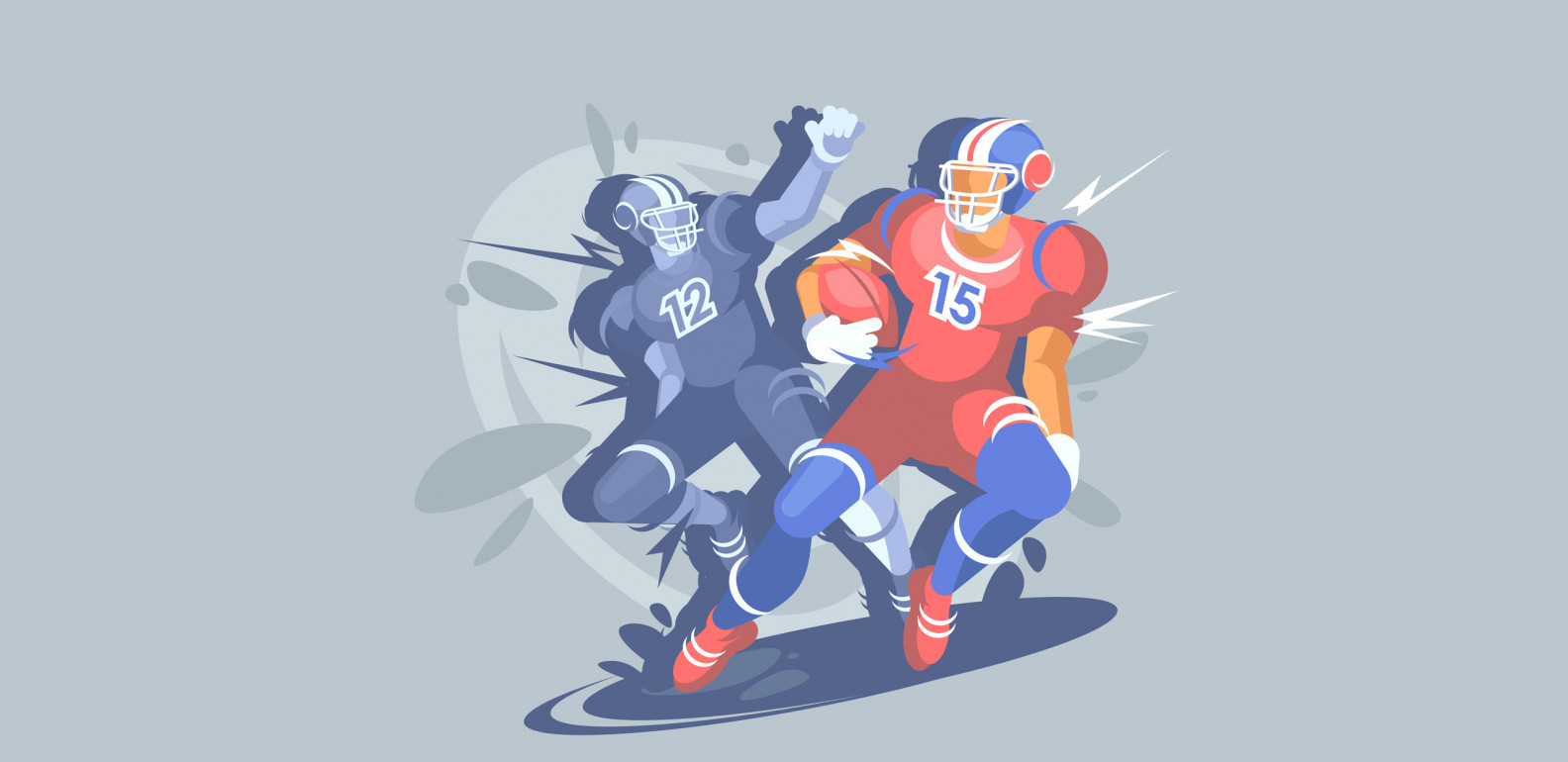 The NFL Is Back: Here Are The Best Way To Follow It
The NFL 2021 regular season is back! So it's time to say goodbye to all of the other sports we've been following top kill time. The real game is finally on!
But the NFL gearing up doesn't just mean pizza, hot wings, and beer. Every year it's the same thing: Before you get into a fight with Bob about how underrated the Broncos are, you first have to figure out how to watch the entire season, preferably, without having to sell your house. (Goddamit Bob!)
If you haven't already, you are definitely soon to go down a dark vortex of streamings services and Reddit links, finally uncovering that the sports streaming wars are all an elaborate Illuminati conspiracy. Because why else would they make it so complicated?!
Anyway, we've gone down the rabbit hole so you don't have to. And we have indeed found all of the ways you can catch if not all, then most of the 2021 NFL season if not free, then as cheap as possible.
Hut hut!
But first, we feel that we haven't hyped you up for the current season enough. So…

Don't miss the action with NordVPN!
What has been happening around the NFL?
For starters, teams have made several changes and we hope you were keen on the transfers despite the transfer market in European football making the headlines. In case you missed it, we'll only drop one not-so-new news. Former New England Pats quarterback Cam Newton is still a free agent.
That aside, the 17-game NFL season starts with a bang as the defending Super Bowl champions Tampa Bay Buccaneers play the Dallas Cowboys.
We'll also break down the rest of the season for you, real quick. It will be an 18-week, 272-game regular-season ending on Sunday, January 9, 2022.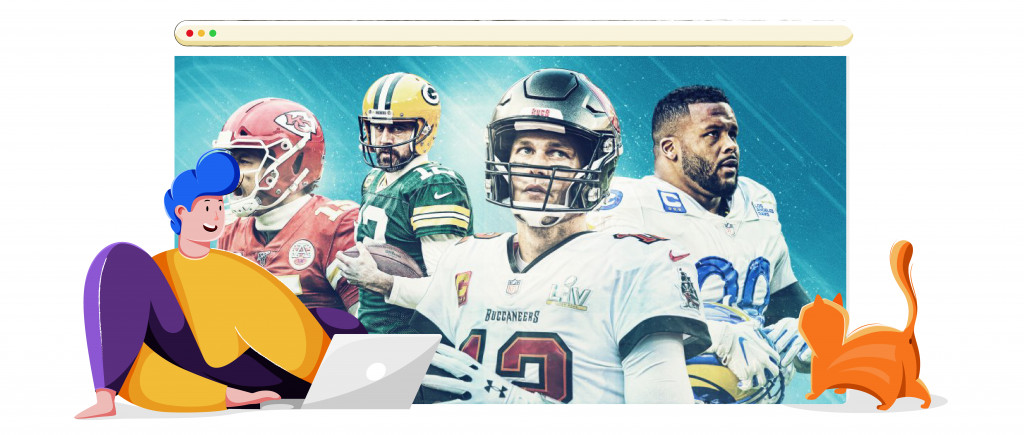 The Bucs are still the team to beat this season and Tom Brady is the man to watch out for. No offense, Kansas City Chiefs. Who knows, it could be time for Patrick Mahomes.
The Super Bowl LVI will be played about a month after the last week of action in California. It is usually played on the first Sunday of February, and this time it falls on the eve of Valentine's Day.
Did you hear the story on the Mannings – Peyton and Eli – saying they won't have a permanent host starring alongside as they host ten the "Monday Night Football" broadcasts?
Anyway back to the present, let's get to the part on how to watch this coming season.
Where can you watch the NFL games?
Streaming NFL games has and will probably always be a hassle.
Year after year the rights to broadcasting certain sports keep shifting, making it virtually impossible to follow and watch. And here you are – you have just taken out a subscription to some streaming service not six months ago and spent all this time convincing yourself it was totally worth it, and now you have to take out a new one (if you can find it first).
Lucky for you, we've got you covered.
In the US, a huge chunk of NFL games is often aired on cable television. Because of course, it is. Cable is definitely less than ideal for you if you are a cord-cutter (also, who gets cable anymore?!), and even if you're not, there's one thing that can ruins cable for all of us every year – blackouts.
And that makes the game that much harder to watch. Here you are, hoping you'll see some amazing plays, the pizza's bubbling cheese, and the beers are frosty, and then you hit that dreaded message for no apparent reason and are forced to watch Adam Sandler movies instead (and not the good ones).
But that's not even the worst of it. If you live outside of the States, it's like the NFL does not exist anymore (was probably all the confusion on what's actually called football).
OK, that's not completely true. You do actually have options to stream the games in some countries outside of the US, and some even have it better than the home of the most red-blooded sport.
So, before we get to how you can get the most out of your NFL streaming experience, it's probably best to cover what options you have to stream the NFL regularly.
Spain
In Spain, NFL fans can enjoy some of the season games on Movistar.
The premium sport-oriented TV channel will have Thursday Night Football, two Sunday afternoon games, Monday Night Football, and the majority of playoff games.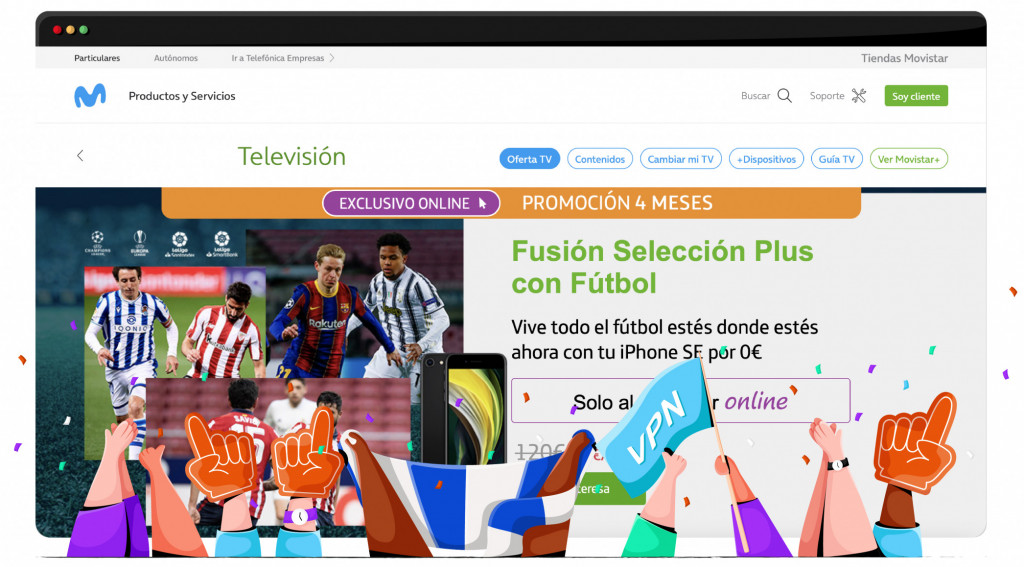 Hungary
The pay-television broadcaster Arena4 will be host to NFL games in Hungary.
The broadcaster has also secured exclusive rights to other sports leagues, including the Bundesliga.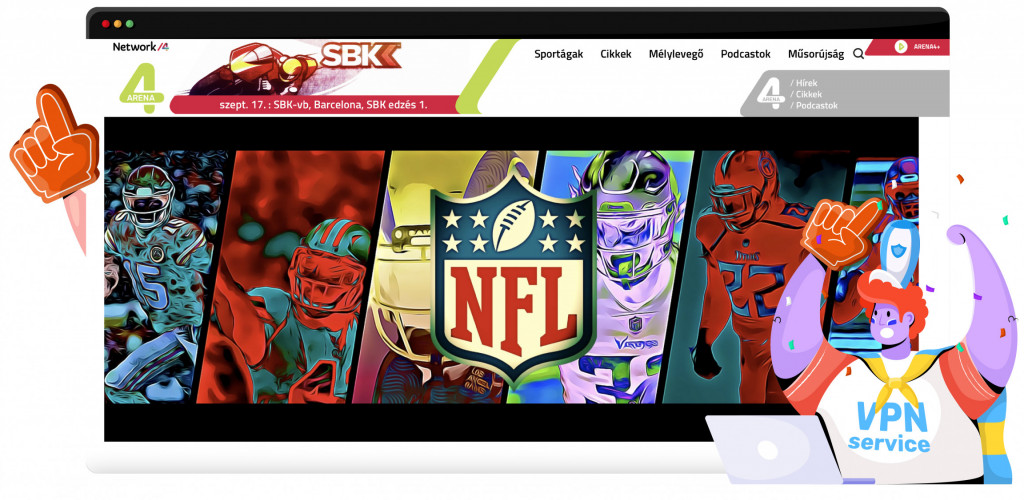 Italy
Italian NFL fans can watch the games on the over-the-top service DAZN which requires a subscription.
The video streaming service will broadcast two Sunday games, Monday Night Football, Thursday Night Football, and a couple of playoff games.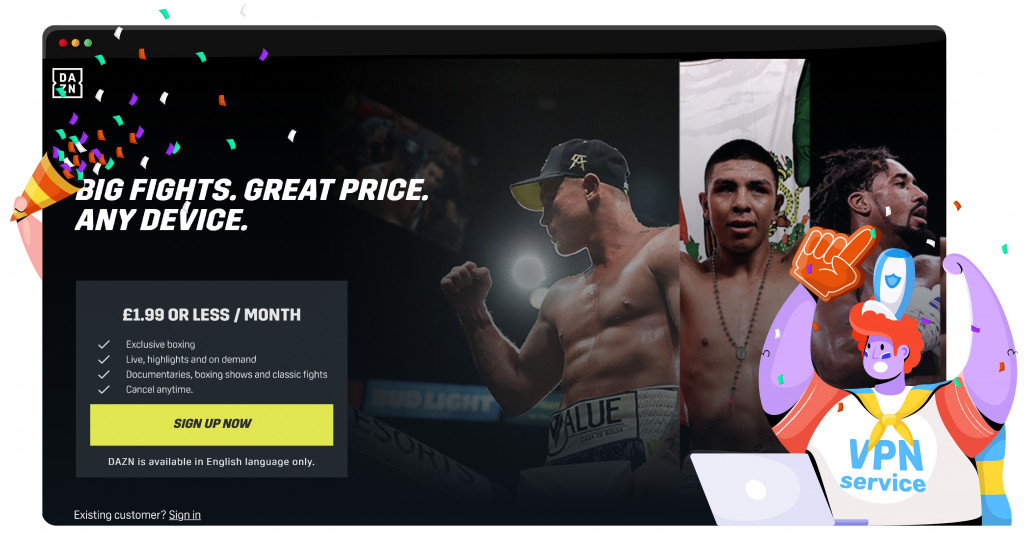 Germany
Ran and free-to-air channel ProSieben Maxx owned by ProSiebenSat.1 have the rights to some of the games in merry old Deutschland.
The two will air two regular games each Sunday and will also host some of the Playoffs as well as the Super Bowl.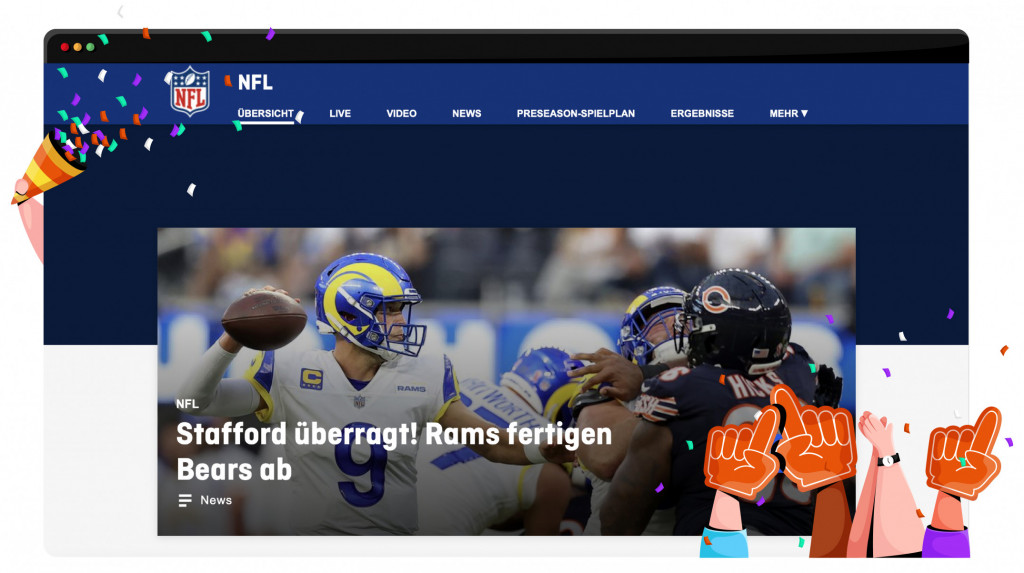 Netherlands
In the Netherlands, some of the season's games will be available on the premium TV sports channel ESPN.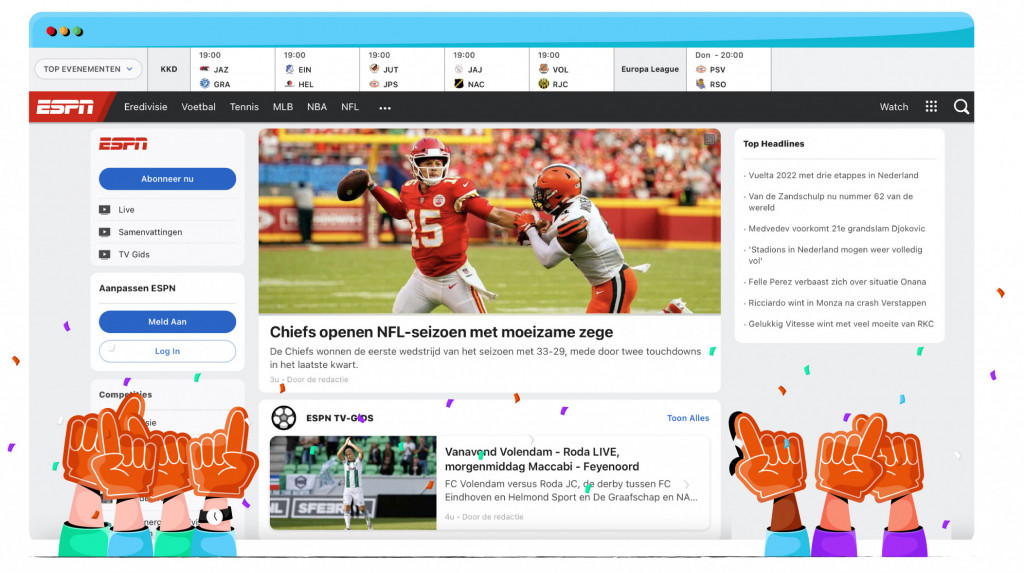 United States
US remains the biggest market for the NFL whose TV rights are the most expensive of any sports league in the country. The rights to the regular-season games, playoff games, and the Super Bowl are shared between four national networks and the NFL Network. The four are the cable channels ESPN, CBS, Fox, and NBC.
The NFL Network has most of the Thursday Night Football action, while Sunday afternoons are split between CBS (AFC games) and Fox (NFC games).
Sunday Night Football is on NBC and Monday Night Football on ESPN. The playoff games are also split among the networks.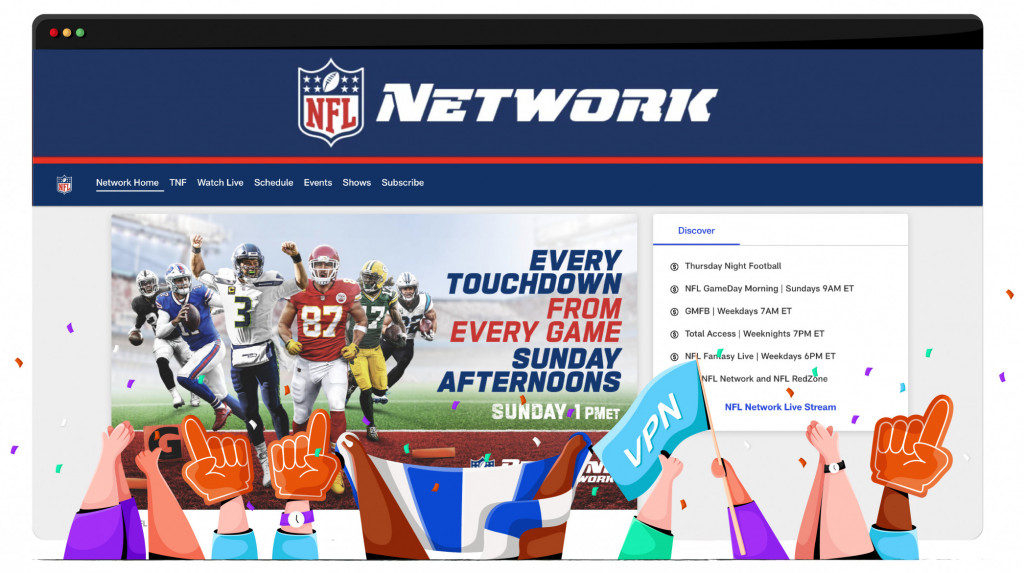 And then there are also blackouts, that prohibit the broadcast of a certain game in certain regions.
As you can see, none of that is confusing at all.
Beyond these, there is the NFL Game Pass option.
NFL Game Pass
The NFL Games Pass is the easiest way to watch the NFL games, but the convenience comes at a premium – a flat $100 per year.
The platform gives you access to all of the games after they've been played. Think you can keep yourself from finding out the scores or watching the highlights?
It comes with a seven-day free trial and allows up to five devices to stream simultaneously.
The platform also has other NFL content beyond the regular-season games, including preseason games and NFL Originals. There is an option for subscribers to watch condensed versions of games – three-hour games shortened to about 40 minutes by cutting off ads and breaks.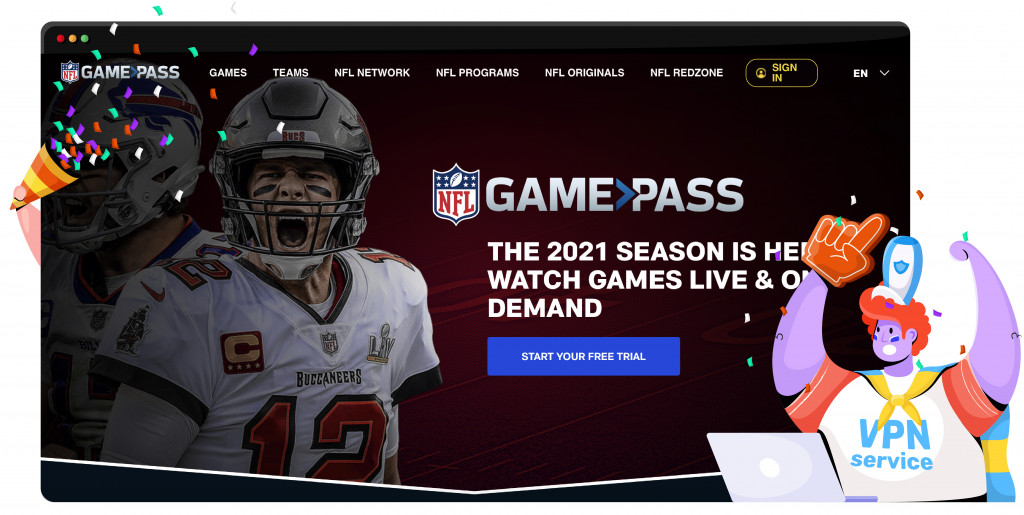 As awesome as that is, it might not be the investment you are looking for, especially for a weekend with friends. Besides, do you really want to put all that money into streaming only one sport each week?
And that's not to forget you are still going to have to deal with blackouts which means you can't stream everything no matter how badly you want to.
So how can you watch the NFL for free (or at least as cheap as possible?)
Even though the rights to NFL broadcasts seem to be more protected than Fort Knox, there are still ways to enjoy some or even all of the games for A. free or B. at a much better deal than the options you have locally.
So let's check them out.
Paramount+ is one of the best places to stream the games if you don't want to get the Game Pass subscription. You will be able to tune in to all of the local games, as long as they are covered in that particular region.
Here you'll get the Sunday afternoon NFL games with the $4.99/month Essential package that includes the CBS option.

The catch?
The service only offers limited NFL access since not every game is available in every region of the US. If you reside outside the US and are looking to tune in, you're even more out of luck, because Paramount+ is only available in the US.
But there is a fix for that, and that's NordVPN.

NordVPN
Find out everything about the world's leading VPN!
NordVPN will let you unblock the platform wherever you are and enjoy the game along with millions of fans in the new world.
Couple that with an awesome US Unlocked virtual bank card to pay for your subscription (since Paramount Plus only accepts US-issued payment methods), and you are all set.

Get your virtual American bank card today!
Sling TV is another good alternative as it carries every channel that has the games, including ESPN, Fox, NBC, and the NFL Network. Here you will be able to catch the NFL season games airing on these networks.
The service well typifies the "you get what you pay for". So you'll likely have to fork over more if you want, well, more.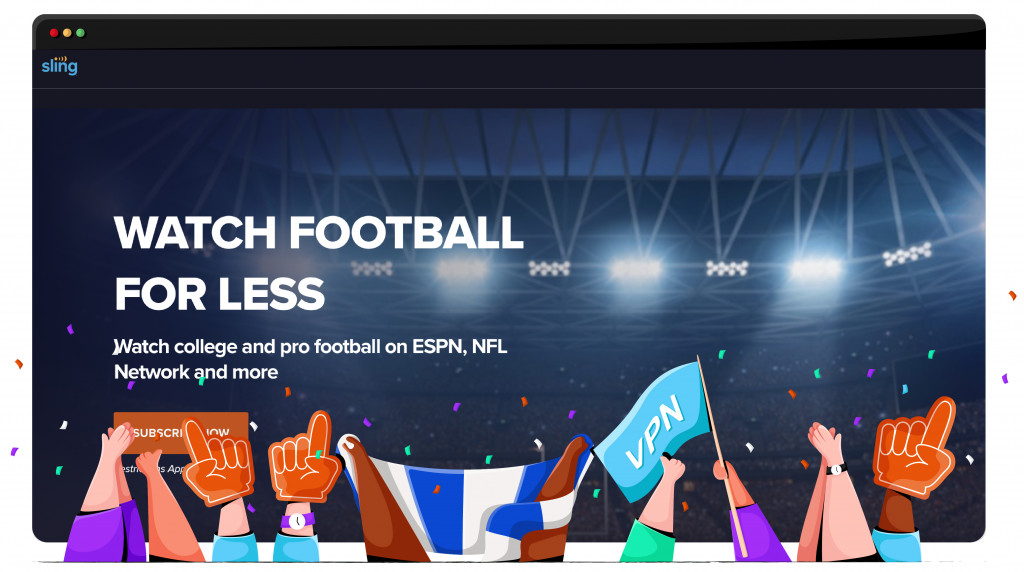 The problem is the same as with Paramount Plus: Sling TV is only available in the US and only accepts US payment methods.
Well, you know the drill by now.
All you need to catch the streaming awesomeness is a reliable VPN like NordVPN that will help you 'hack' into the platform from your location.
And US Unlocked will let you get a subscription wherever you may be, as long as there's decent Internet.
ScreenVariety is the go-to option for those looking to get the best possible NFL experience with most of the games covered.
This cable-free live TV is arguably the next best option after Locast, which was taken down following a recent court ruling against the non-profit TV streaming service.

Still, you might have trouble accessing the stream from outside of the US. In this case, you'll need a reliable VPN for sports streaming. And you already know it's NordVPN.
Pluto TV will be moving forward with the same deal they had with NFL Game Pass last season, and we can't thank them enough!
You can catch some of the best moments in NFL history here and even check out the highlights from the latest NFL games. All of that – completely free!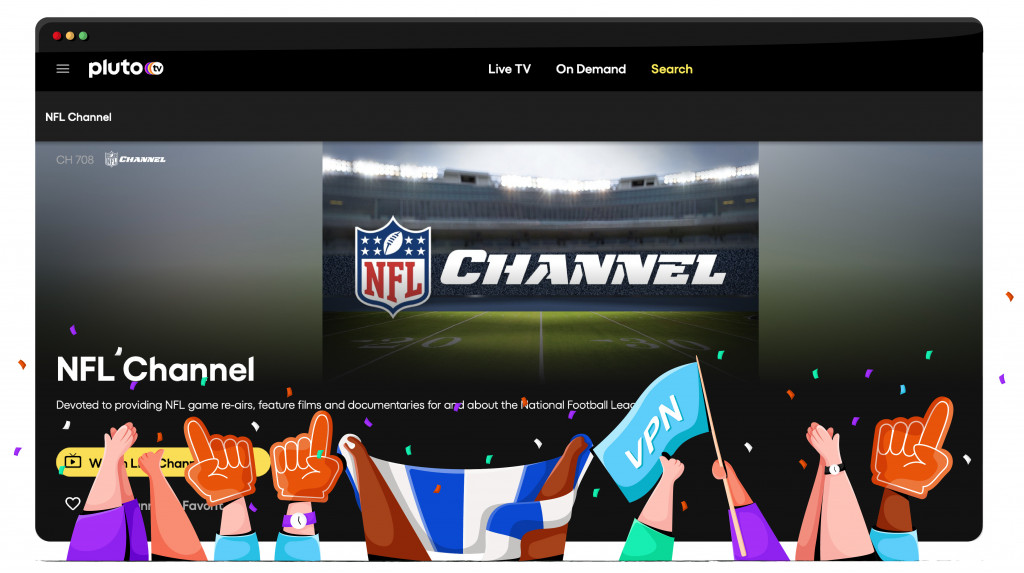 But even Pluto TV isn't without its complications. Even though the platform and the app might be available in lots of countries, the NFL Networks is not. So you are going to need a VPN to get around the regional blocks here as well.
As said before, the German channels Ran.de and Prosieben MAXX will be broadcasting some of the games, and the Super Bowl completely free of charge!
Sure, that's not all of the games, but Sunday games, some of the Playoffs, and the Super Bowl for free – that's pretty much as good as you can hope for. We're definitely satisfied, even if we do not understand one thing.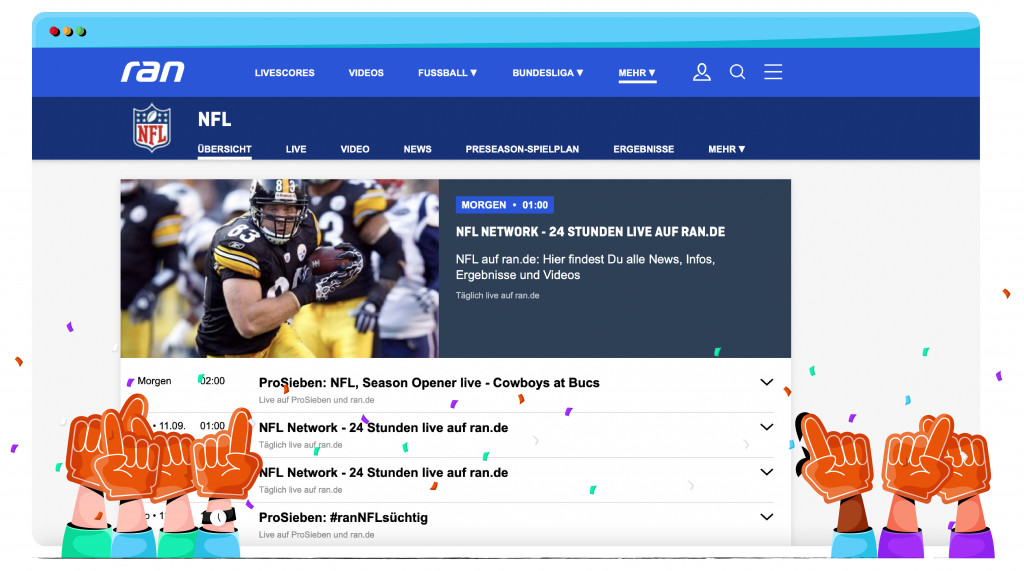 As you may have guessed, the German commentary isn't there for everyone to enjoy, and the broadcasts will be only available to the good people of Germany. But a VPN can help you fix that and enjoy some of the games you might otherwise miss.
Simply:
Get NordVPN.
Connect to a German server
Head over to one of the platforms
Enjoy the games!
If you're not in it to watch all of the games but can settle for pretty much just the highlights and the Super Bowl, you are in luck. This is precisely what you get on BBC Two, which is within your reach by getting a BBC iPlayer subscription.

What's the secret to an iPlayer subscription?
The only hitch down this route is BBC iPlayer is exclusively British, so much, so you have to prove it by making the perfect tea with milk and crumpets when signing up. Not really, though, but you will have to hoodwink the platform into believing you are in the Albion.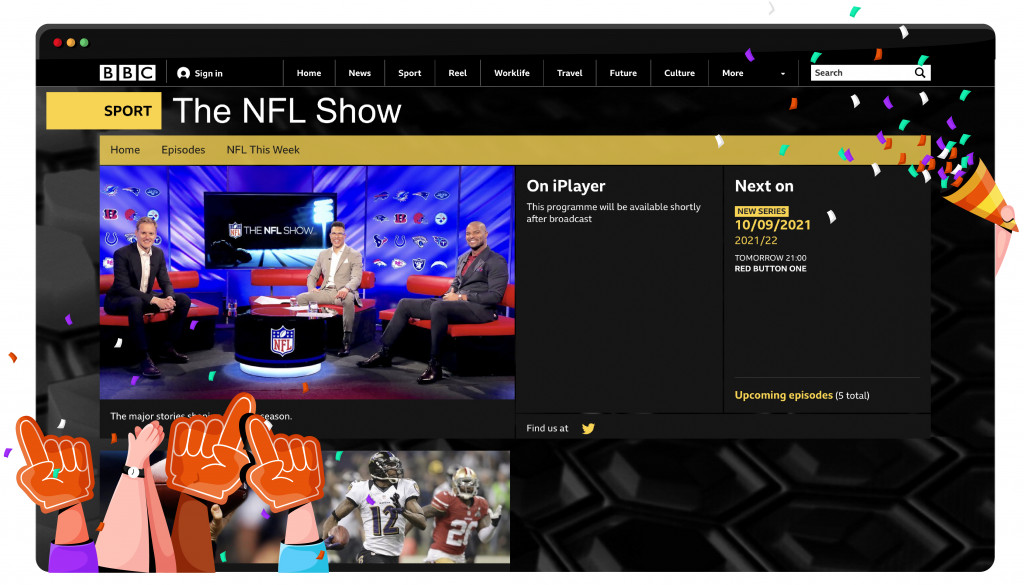 How – you ask? Well, with a VPN and you know there's no better one to outmaneuver streaming service like NordVPN.
 All the NFL you can handle… with the better VPN
So… elephant in the room. You might be wondering: Why are these guys pushing NordVPN so hard on me? It's like they are married to it.
Full disclosure: we are not (even though we'd secretly really want to be).
So why do we single out this provider specifically for everything NFL?
That's an easy one, actually. There are definitely other VPNs out there that could unblock most of the platforms just as well. Providers such as ExpressVPN and Surfshark, in particular, are great choices. And if you're not feeling NordVPN, you should definitely at least go for one of those.

Don't want to pay for NordVPN? Get Surfshark instead!
However. NFL broadcast rights are the Precious of any streaming provider. And if it means eating raw fish or falling down a volcano to keep them – that's totally a reasonable price to pay. So keeping VPN users out  – that's nothing.
Keeping up with sports streamers, especially the ones that are big enough to stream the NFL is no easy task. And they go to great lengths to block VPNs.
So, to get the most out of this season, you are going to need a VPN that is much a powerhouse in the world of streaming, as the streamings services themselves. And this doesn't just mean unblocking the most streaming services (if that were the case, we would totally go with Surfshark), but also being able to adapt to a landscape that can change on a dime.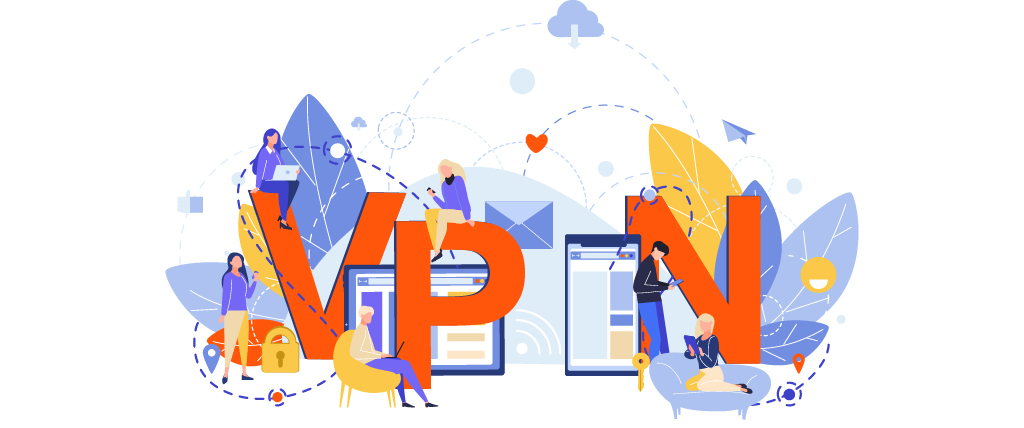 And, to put it simply, there is but one VPN provider that can actually do that, and that's NordVPN. No offense, PureVPN, and Cactus, we love you too, but for other reasons.
So, for fear of repeating ourselves (or, rather, thereof):
Get ready for plenty of NFL action
Despite new COVID variants developing faster than Aaron Rodgers can pick a pass, it seems like this is the season we get to enjoy the best the NFL has to offer.
All you need is to choose the platform(s) that suits you and get ready to celebrate the wins – or mourn the losses.