Overview
Trust.Zone might not have a lot of servers, features, or flashy apps when compared to other VPN providers, but it sticks to the basics, and what it does, it does well!
Ratings
Features
| | |
| --- | --- |
| Apps | Windows, macOS, Linux, Android, iOS, Chrome, Firefox |
| Price | ₹170.00 per/month |
| Payment methods | PayPal, Credit Card, Bitcoin, Alipay, iDeal, Amazon Pay, Google Pay |
| Protocols | OpenVPN TCP/UDP, L2TP/IPSec, IKEv2/IPSec, WireGuard |
| Log Policy | No logs |
| Simultaneous connections | 5 |
| Based In | Seychelles |
| Netflix | No |
| Torrenting | Yes |
| Streaming | No |
| Jurisdiction | Seychelles - Not a Fourteen Eyes Country AND Not an Enemy of the Internet. |
| Server Locations | 97 |
Trust.Zone is one of the original recipe VPN providers. It's one of the first commercial VPNs to grace the web, proposing personal security to anyone who happens to need it. And, unlike most of the old VPN providers, it hasn't fallen by the wayside, but is still around and doing just find today with little to no change.
So what makes Trust.Zone so impervious to time and cut-throat competition in the VPN world? And why do users still gravitate towards this little provider so many years after?
Well, that's exactly what we're here to find out!

Get the web's most resilient VPN today!
Trust.Zone: An introduction
Trust.Zone was founded way back in 2014, which makes it pretty old by VPN standards. The provider is based in Seychelles and has never changed its base of operations throughout the years of service.
The VPN is believed to be owned and operated by Trusted Solutions LLC. However, there is very little information on the web about this entity, what it does, and whether it has any other products under its belt.
Way back in the day, when the VPN was initially launched, it managed to make a splash in the industry that then had very few players. However, ever since then, the provider has seemingly stopped progressing, developing, or changing. The website, the apps, the featured, even the bugs seem to suggest that the development of the applications has come to a complete halt. All the while, new VPNs kept popping up, and the old providers (such as VyprVPN) kept trying to keep up with the times.
One would think that all of that would have left Trust.Zone in the dust. And yet, there are still thousands of users that Trust the Zone ? with everything they do online.
Trust.Zone servers
Trust.Zone is definitely not the biggest provider when it comes to the sheer number of servers.
Throughout the years the slightly fluctuating number of servers has rarely grown over 200 servers worldwide. Currently, the provider is operating 187 servers in multiple parts of the world.
However, Trust.Zone doesn't seem to be going for the most servers. And what it lacks in sheer server numbers it makes up for in location diversity. Trust.Zone has a server in 97 different locations (or what the provider calls 'zones'). Now, that still doesn't seem like a lot, and there are definitely VPN providers that have Trust.Zone bear, but this is probably the best server-to-location quotient we have ever seen.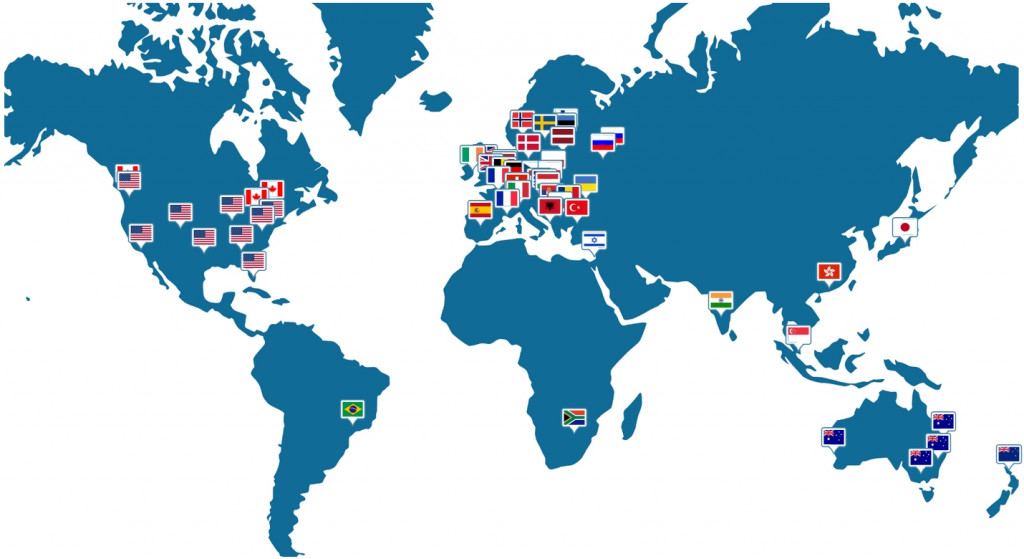 Most of the servers are based in Europe, with nearly every country getting its own designated server.
There are also a lot of servers to choose from when it comes to the US, Canada, and Australia.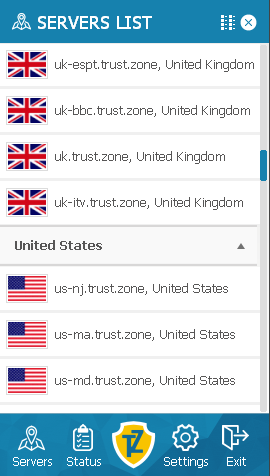 But that's not to say that trust.Zone doesn't venture outside of the familiar territory. With servers strategically placed all over the Asia-Pacific region, and even one in Africa.
So if the number of Trust.Zone servers is scaring you off, it shouldn't. There's definitely enough privacy and security to go around.
Trust.Zone speed test
Generally speaking, Trust.Zone does well when it comes to speed. Especially if you're someone with general browsing needs and not looking for anything that requires blazing-fast connections.
Speeds can be wonky and highly dependent on where you connect to and from. So if the server is nearby and the infrastructure is decent, the speed and ping will be quite enough. In other scenarios, you might experience slowed-down networks and some lag. And given Trust.Zone's general lack of servers, you might very well encounter some issues.
Still, though, our encounter with Trust.Zone went very smoothly, and we would love to share our experience in numbers.
So here's our control speed: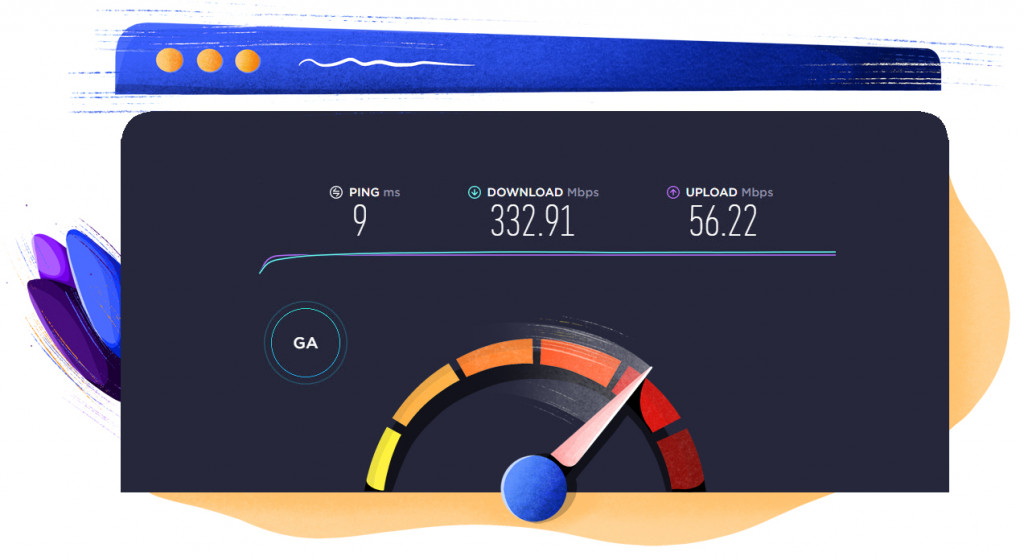 And here are the results we got when connected to the fastest server the app picked for us automatically: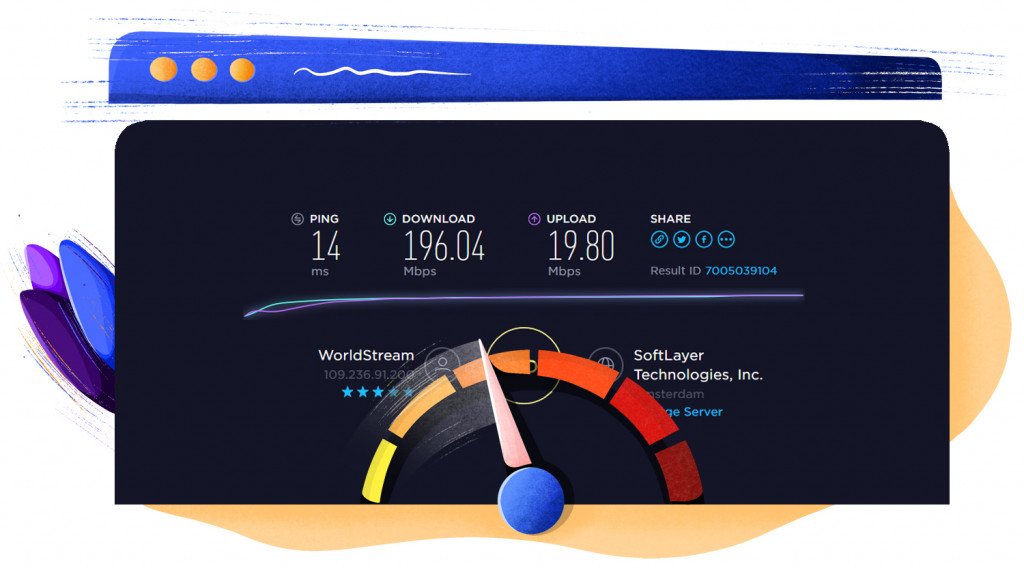 And here are the speeds we got when connected to a random server in Europe: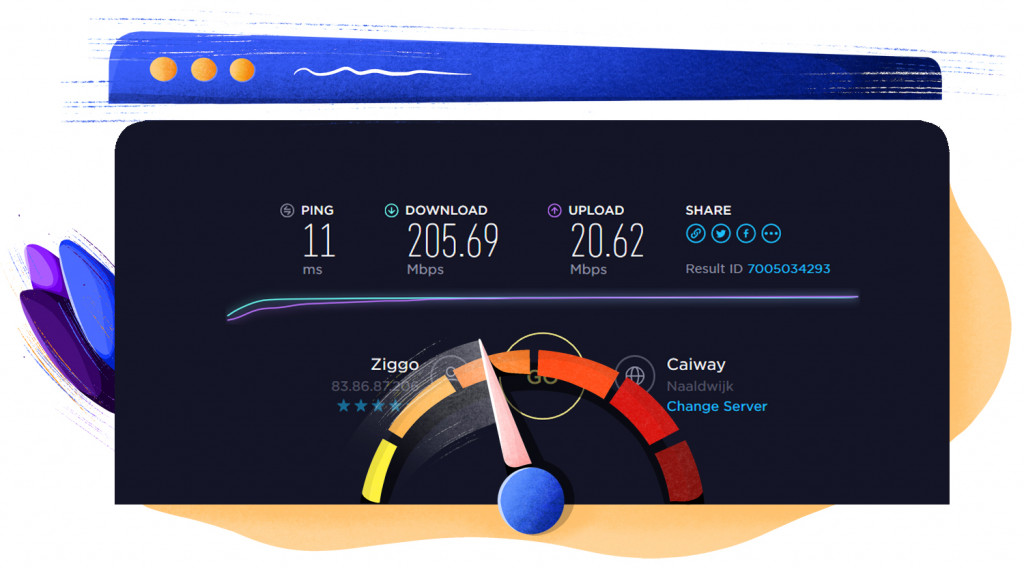 As you can see, this one gave us even better results than the fastest one.
Even the US servers managed to surprise us with their speed and efficiency: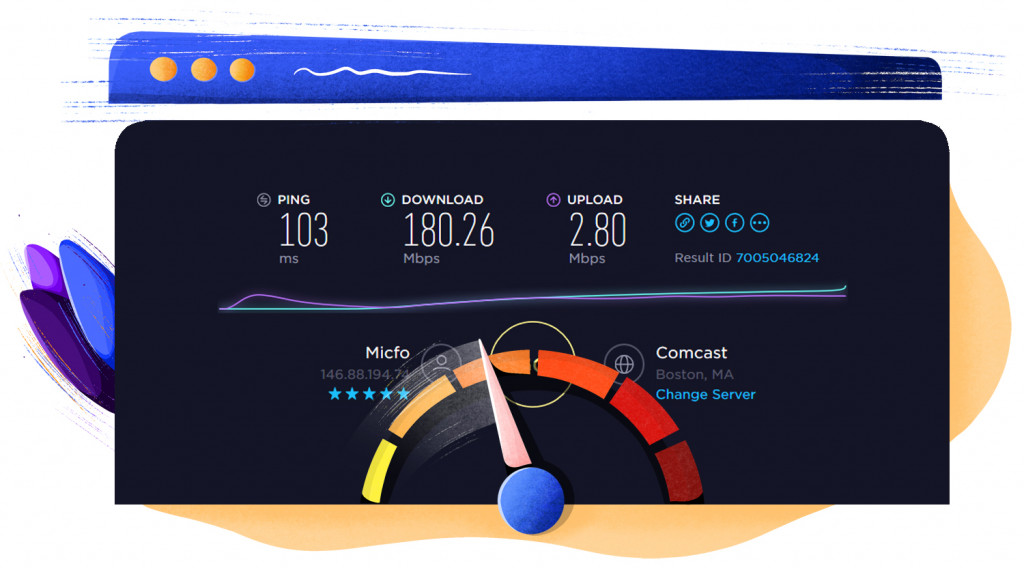 So as you can see, Trust.Zone is plenty when it comes to speeds, and it should be enough for all your regular internet needs.
Trust.Zone security and privacy features
VPNs are made for online security and privacy. So it's fair to ask: How well does Trust.Zone do in that regard?
Well, for the most part, Trust.Zone is fine in terms of security. It is very basic, but it also covers everything you need in terms of personal online protection.
We have put the VPN through all of the test we run, and have found 0 issues with connectivity, or leaks of any kind:


That said, let's dive into everything that makes Trust.Zone a security tool!
Encryption
Trust.Zone comes with impenetrable AES 256-bit encryption, like any good VPN.
With this level of military-grade encryption, you can rest assured your data will always be safe and sound.
Protocols
Recently, Trust.Zone has been expanding its roster of available VPN protocols.
The provider used to have but a few of them, and now it supports one of the biggest selection of connection protocols out of any VPN provider to date. Those include:
OpenVPN – one of the most secure and reliable VPN protocols, giving you the best online security and privacy.
IKEv2 – another highly secure and speedy VPN protocol, best suited for use with mobile devices thanks to its ability to re-establish a secure connection in case of network switch.
L2TP/IPSec – what used to be one of Trust.Zone's primary protocols. It's no longer considered secure, so we wouldn't advise using it and are not entirely sure while Trust.Zone still supports it.
SOCKS5 Proxy – not a VPN protocol, per se, but a great tool to have when you're into downloading.
WireGuard – the latest addition to Trust.Zone's fleet of protocols, added in 2021. This is considered to be the future of VPN protocols, thanks to its slim codebase, and blazing-fast speeds.
Now, this might seem impressive,  but issues come later. Unlike most VPN providers, whose apps just come with every protocol available a click away, you have to install all the protocols onto Trust.Zone manually, which can be complicated, and just inconenient.
Log policy
The fact that Trust.Zone is based in Seychelles allows for extra protection since the country is not part of any international surveillance alliance.
Furthermore, Trust.Zone prides itself on its zero-logs policy, and it collects some basic information like our email. Their website uses cookies as well as various tools for marketing purposes, but this is quite a standard for any business.
Kill Switch
Trust.Zone doesn't have much in terms of extra features, but what it does have works well.
The kill switch that every Trust.Zone app comes with is a great tool to add an extra layer of protection to your online activities. In case your internet connection drops due to unstable networks or protocols, the kill switch will immediately blocks all of your incoming and outgoing traffic, making sure non of your data is ever leaked.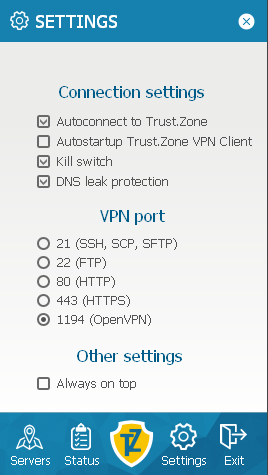 We've tested it, and it works just as well!
Warrant Canary
Trust.Zone was one of the first VPNs ever to introduce Warrant Canary to their services.
While not directly impacting your VPN experience, Warrant Canary aims to inform the public that it has not been secretly served with a government subpoena, and was not forced to log, collect and share user data.
Trust.Zone Apps
Trust.Zone has applications for all the major platforms including Windows, macOS, iOS, Android, and Linux. The provider also has browser extensions are available for Google Chrome and Mozilla Firefox.
And this is a very decent collection of devices for a smaller provider.
The number of devices you can use depends on your subscription and varies between 1 and 5.
Desktops apps
Trust.Zone has dedicated apps for Windows, macOS, and Linux.
The apps might be outdated in terms of their design, they do still provide the necessary functionality and get the job done.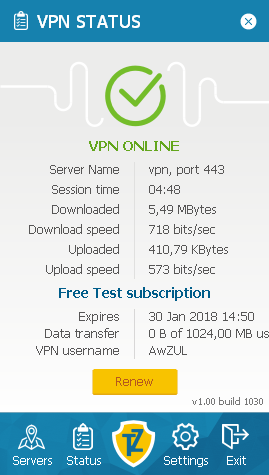 The VPN lets you easily choose the servers you want or need, and also gives you a bunch of settings and options that range from making the VPN connection on startup, so you always use a secure connection, to even choosing your ports manually. And this is enough freedom for both those who just picked up a VPN and the advanced users.
Mobile apps
Trust.Zone has apps for both Android and iOS.
The mobile apps also look blunt in design but then again, they do get the job done so we aren't really complaining.
There aren't really any additional features that come with this VPN for mobile devices, but the recent addition of the IKEv2 protocol is very much welcome here.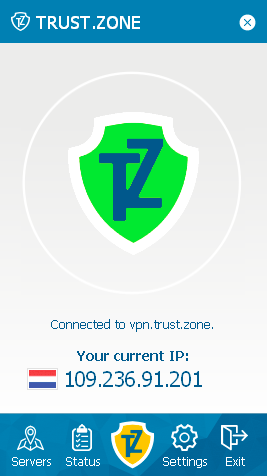 Browser Extensions
As noted earlier, Trust.Zone has extensions for both Chrome and Firefox which can be used with ease to access and surf the blocked websites securely.
The browser extensions don't have all the features of the actual apps, but they do come with WebRTC leak protections which is crucial when protecting your online identity.
Trust.Zone and streaming services
Over the years, VPNs have grown beyond their basics and can now be used for a massive variety of services we keep discovering every day.

Want to know everything a VPN can do?
Check out our complete guide!
One of them – definitely streaming.
But streaming is hard. Streaming platforms and services are privy to the antics of VPN providers and wage war on them with new and effective blacklists, blocks, and firewalls, so not every VPN can cut through geoblocking and get you the streaming you need.
So what about Trust.Zone?
We'll cut right to the chase. This particular provider isn't exactly built for breaking down barriers and unblocking streaming services
So, no, Trust.Zone can't unblock Netflix, nor can it tackle the streaming services with much tougher blocks, such as HBO Max, Showtime, Paramount+, or BBC iPlayer.
What it can do, is unblock some of the free streaming services. But then again, so can NordVPN, Surfshark, or ExpressVPN… along with most other platforms.

Free streaming? Is that real?
Sure! And we know the best of them!
So if it's streaming you're after, might as well for the best of the bunch!
Trust.Zone for gaming
Considering the so-so speeds and the server setup by Trust.Zone, it definitely isn't the right choice if you're looking for a  gaming VPN.
You can use it to add an extra layer of protection while accessing simple online games or gambling sites if that's your thing, but don't expect anything more than that.
Trust.Zone for torrenting
Finally, we have something that's going to convince you to maybe opt for Trust.Zone VPN. And that's torrenting.

Check out why you need a VPN for torrenting!
While most premium VPN providers are actively trying to move away from torrenting, and complying with lawsuits and requests to ban P2P traffic, Trust.Zone doesn't bend to the winds of lawsuits. The VPN is fully P2P-optimized and torrenting works like a charm.
So if torrenting is your thing, and you don't want to spend a lot, Trust.Zone is definitely a great choice!
Trust.Zone subscription plans and prices
Torrenting isn't the only thing where Trust.Zone excels. It's also a delight when it comes to pricing, being one of the most affordable Premium VPN  providers around!
It has four subscription plans for you to choose from:
A free trial version with a set of strict limitations.
1-month subscription for ₹750 with three simultaneous connections.
One-year subscription for ₹250 that supports 3 connections.
And finally, a 2-year deal that will cost you about ₹170 per month and support five whole connections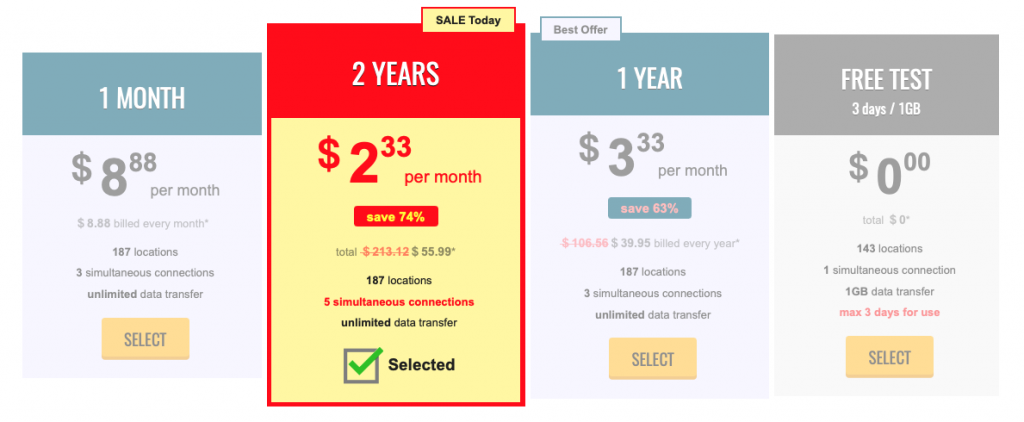 So if you're looking for just some anonymity, Trust.Zone is a very affordable choice.

Payment methods
Trust.Zone supports payment methods through a whole number of options. Those include:
Paypal
Credit Card
Bitcoin
and various Cryptocurrencies.
And actually, if you choose to pay by Bitcoin, you also get 10% off on all regular prices!
Free trial
And the fun doesn't stop there. One of the greatest things about Trust.Zone, is that it has a free trial!
The free version of the VPN lasts for three days and gives you 1 GB of data to test out the service on one device. So even though it is restrictive, you can't really complain cause it is free.
Trust.Zone customer support
How about customer support?
The Trust.Zone website has an FAQ section that covers most of the general queries. The questions are a bit basic and don't go too much into detail, which can be an issue given how complicated the app setup can get with this particular provider.
If you do have a question you can't find on their support website, you are going to have to hit them up through their contact form. They do take quite some time to get back to you but they do their best to resolve any issues that you might have.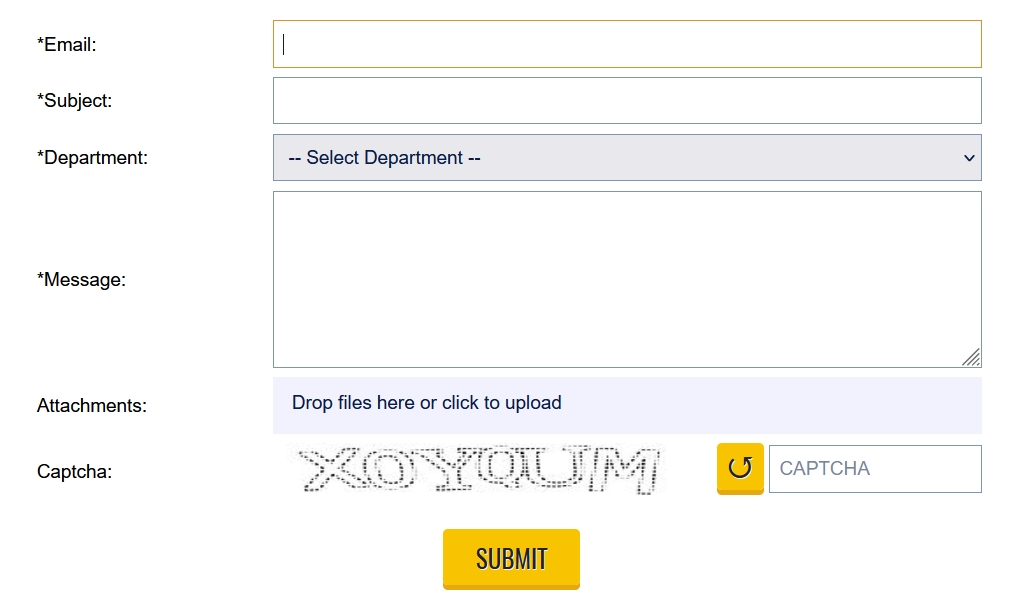 The bottom line
Trust.Zone is an interesting provider.
It might look outdated and way too 2014 on the surface, but it is actually a decent VPN provider. The speeds might not be super-fast, but they are surprisingly stable all across the board. There are a bunch of unique advanced features for those who like to tinker under the hood. And full P2P support is a great addition to any modern VPN.
There's also the added benefit of this being one of the more affordable premium providers with an actual free trial.
Sure, Trust.Zone might not be eligible for gaming or streaming, but if you are looking for some darn privacy and security when browsing, Trust.Zone has definitely got you covered.
The thing we're interested in is why after all these years Trust.Zone seemingly stopped growing and changing with the times. But this is a question we might never get answered.