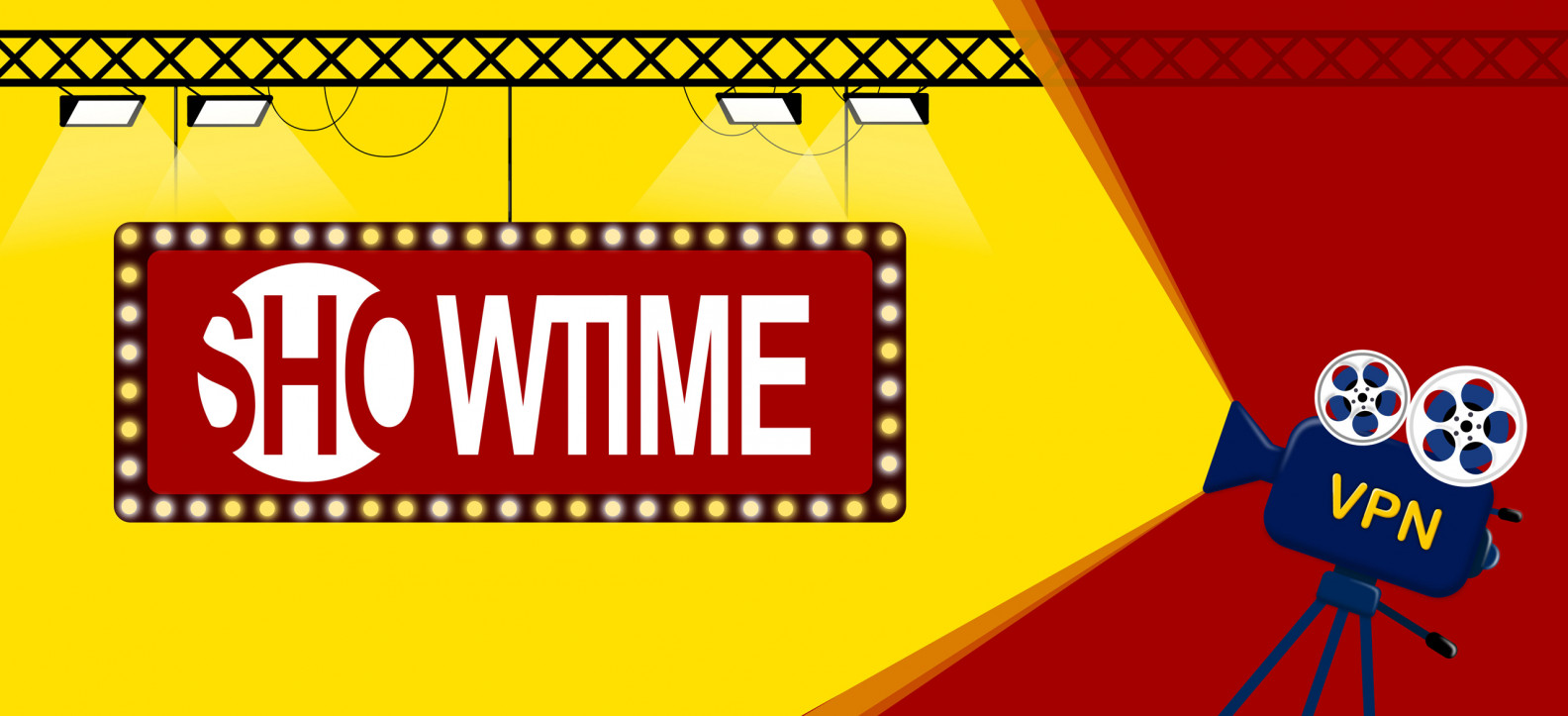 How to stream Showtime outside of the US
You know how some things are especially awesome when you're the only one who knows about them? Like that indie band you found and couldn't stop listening to. But then Bob had to catch a glimpse, and tell Kyle, and now everyone knows, and it's somehow not as good? Well, the same applies to streamings services. And Showtime is definitely one of those hidden gems you will not want to share with anyone after we tell you all about it.
So prepare to get your Smeagol on! Cause this is going to be your Precious.
We're all familiar with the likes of Netflix, Hulu, Prime Video. And frankly, what else is new? Even HBO Max is kind of old news even though it hasn't been out for that long. But there are way more streaming platforms out there (like you wouldn't believe), and those just might have a bit more to offer than every streaming platform that makes it into the lamestream-mainstream. And Showtime is definitely one of those gems that make you go: The logo seems familiar, but how come I have never seen this?
What started off as premium pay-TV widely acclaimed as the poor knock-off of HBO, Showtime has been ramping up for years, until it launched its own big-boy streaming platform in the good old year of 2015. Since then it has been knock-knock-knocking out of the park with all of the shows you've heard good things about, but couldn't find on Netflix.
Want to know why? Cause they're all on Showtime, duh!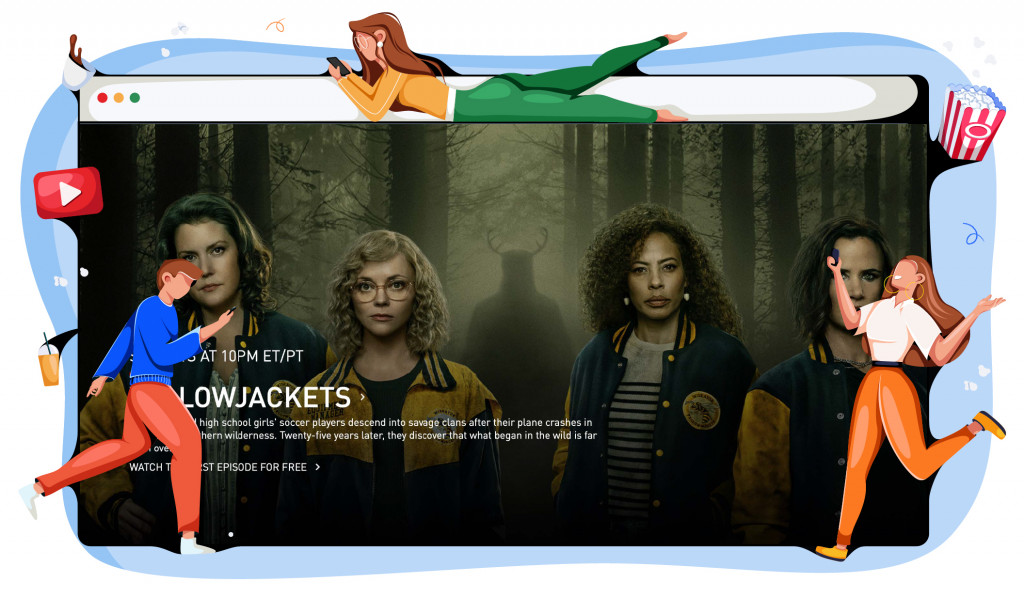 And as news of Showtime being the most awesome thing this side of cable spread, everybody wanted a piece of it. But that might not be as easy as just handing over all of your hard-earned cash.
So we're here to talk about all of that. What makes Showtime awesome? What does it have that no one else does? And most importantly, how can you get your grubby little hands on all of that?
What can we say here, really, but: It's Showtime!
Can't wait to start watching? Get yourself NordVPN and stream like a true American!
What's on Showtime?
You don't give yourself an awesome name like 'Showtime' unless you intend to become everyone's favorite place to costume content like it's buttered popcorn. And even though Showtime took its time to find its footing, it has become relentless ever since.
Showtime packs a wealth of great content, including movies, TV shows, documentaries, sports, and stand-up comedy. It's fair to say that Showtime has it all. But you already know that, or why else would you be reading this guide?
That said, here's but a taste of the awesomeness you can find on Showtime!
Movies
You know Showtime has to be packed with movies. And the streaming platform definitely delivers.
Showtime has got movies from virtually all eras and genres. The platform has some of the best classics like Full Metal Jacket, Indiana Jones & the Last Crusade, Raiders of the Lost Ark, Rear Window, and Se7en. If the latest releases are your taste, you likewise have plenty of options, including The Mauritanian and The One & Only Dick Gregory.
If you are thinking of switching things up to horror-action to wrap up your day [because frankly, Bob ruined it], you can turn to scary titles like Pitch Black, Sinister, Pyscho, and Hereditary.
Science-fiction fans will also feel right at home with Showtime with awesome stuff such as Moon, Ex Machina, Children of Men, Source Code, and many more.
The platform hasn't left out those who enjoy crime stories either. You can try selections like Catch Me If You Can, Guy Ritchie's crime release The Gentlemen, and American Gangster if that's your thing.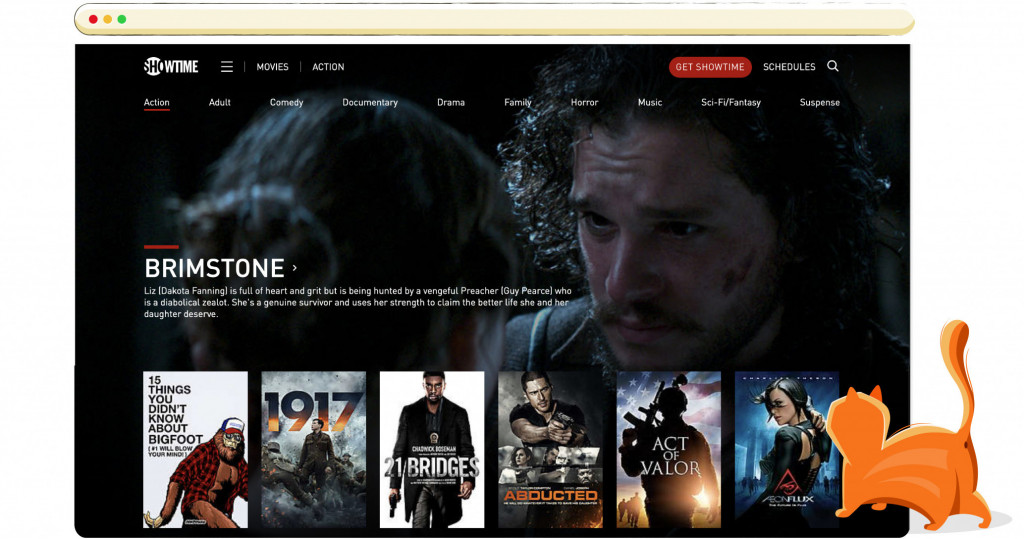 Feeling like you need some Western action, Showtime has still got you with titles like Quentin Tarantino's Django Unchained. And what a title that is, among so many others!
Fancy some drama or thrillers? There are several choices on the table, including Limitless, 13 Hours, Secret Soldier of Benghazi, The Master, Shooter, I-Tonya, and Dark Waters.
But if you're in the mood for some romance, Showtime isn't all about scary stuff, action, and cowboys. It's got you with the likes of Before Midnight, The Perks of Being a Wallflower, The Lobster, Vertigo, and plenty more.
And just in case you didn't get it already, we're going to spell it out for you: Showtime is absolutely loaded with premium movie content!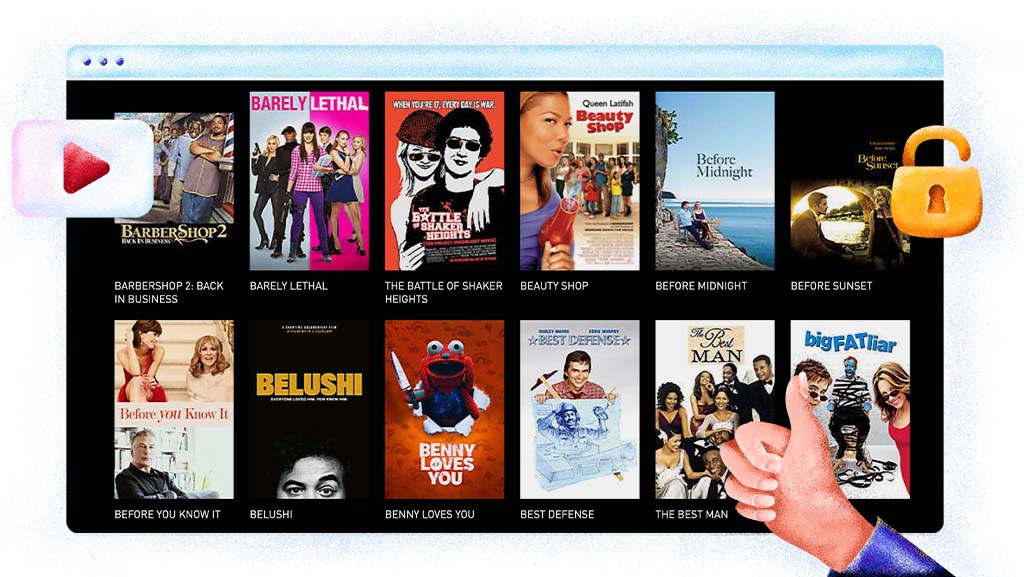 Shows
Movies are good and all, but what truly makes a streaming service pop, is stuff you can binge.
That's right. The shows. The exclusives. The stuff your friends won't shut up about and peer pressure into checking out.
Well, you're in luck! Showtime's TV show sector is equally loaded with awesome stuff that you just won't get anywhere else. We've got one for you: Dexter. And Dexter: New Blood. So we guess that's more than one word.
You got that right. Showtime is the one and only home to everyone's favorite psychopath. It's also the home to trying to fix that broken ending with the latest continuation of the series that started coming out in 2021.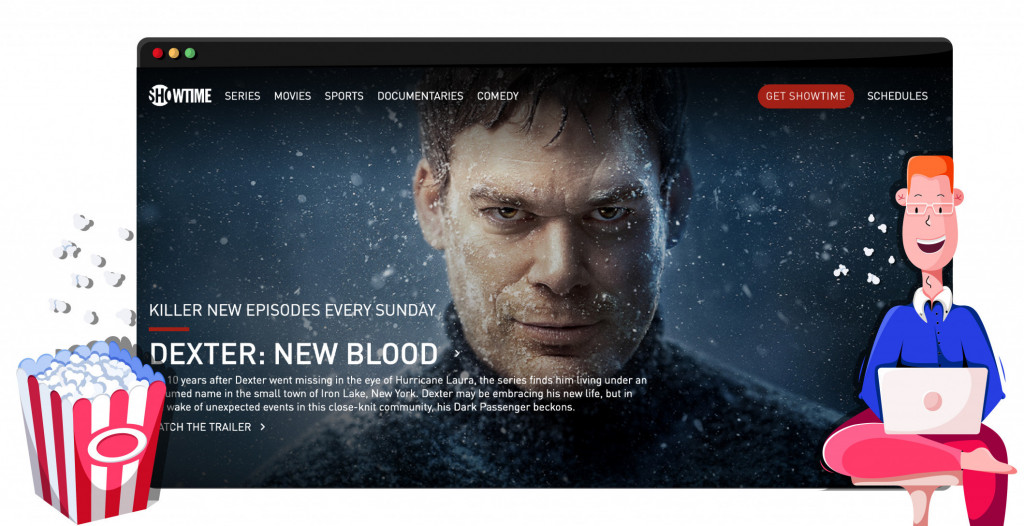 But if you think that's it, you are very much mistaken.
Showtime will also get you hooked on the likes of Billions, Homeland, Shameless, Weeds, Penny Dreadful, The Chi, Kidding with Jim Carrey, and so much more.
Other popular TV shows on the platform include Ray Donovan, The Tudors, Californication, The Affair, Your Honor, Back to Life, The L Word and The L Word: Generation Q, and The Borgias.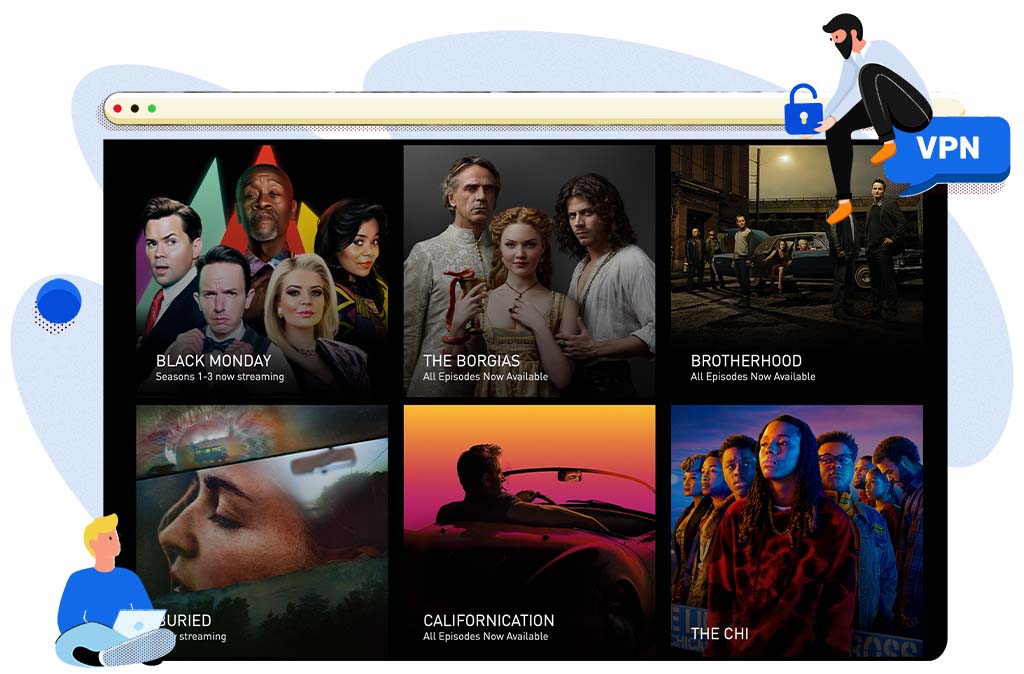 Documentaries
OK, so by now you're probably thinking: Showtime is probably just mindless popcorn flicks.
Well, that's not exactly true, since Showtime has got documentaries for days!
Sports fans, rejoice! For Showtime is home to an awesome three-part NBA documentary Shut up & Dribble.
Other highly rated documentaries include The Sound & Fury of Rick James, Amy Winehouse, The Dangerous Life of John McAfee, The Hector Camacho Story, and the upcoming Hip Hop 50 Launch Spot.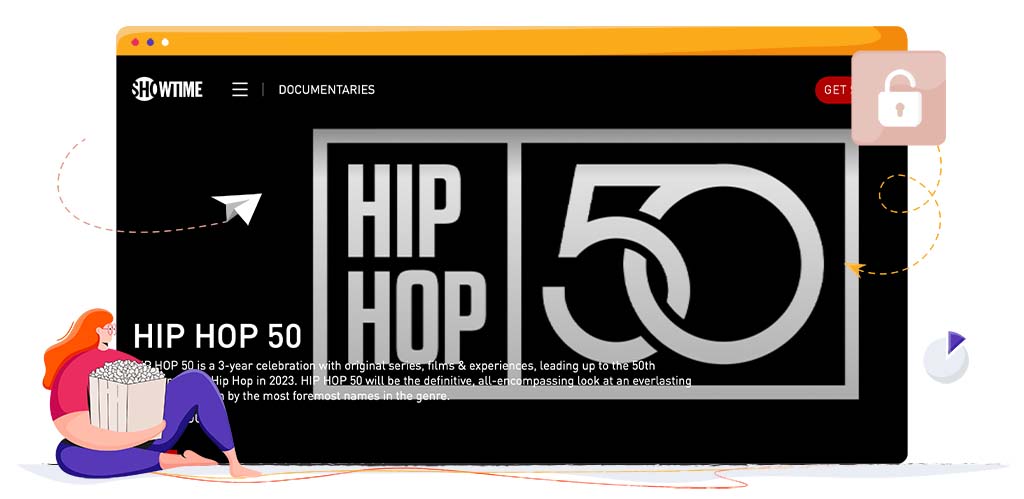 Sports
And if that's still not enough, Showtime is one of the few streaming platforms out there, that's not just about shows, movies, and documentaries. It's also about sports. And sports it has!
Showtime mostly focuses on boxing matches and Bellator MMA and is even home to some exclusive events, you either won't see anywhere else or will have to pay literal thousands for the actual ticket.
Some of the most exciting boxing matches of 2021 include Figueroa vs. Fulton in the bantamweight class, Benavidez vs. Uzcategui in the middleweight class. The Lima and Page II was a real treat, and so was another title fight between Anglickas vs. Nemkov which was one of the best MMA events in October 2021.
Showtime isn't afraid of going into "out there" sports territory either. It is that platform that's been hosting the YouTubers turned boxers Paul's brother fights. And regardless of what you may think about those, they have quite the turnout.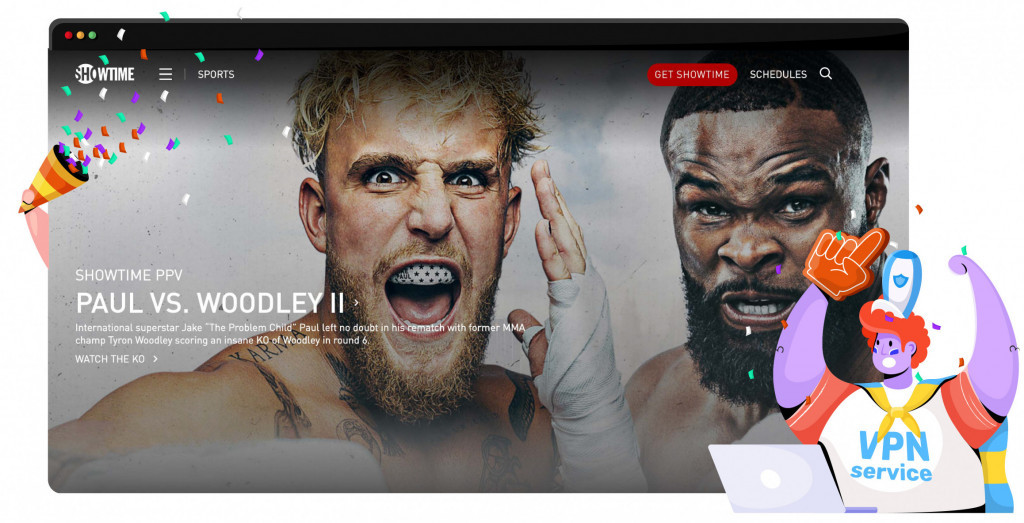 Stand up Talks
In need of a good laugh after having dealt with Bob all day? Showtime is still one of the best places to get one! Showtime is home to some of the best stand-up comedy the open mic has to offer.
Some of these are Celeste Barber's Challenge Accepted, Lavell Crawford's COVID special The Comedy Vaccine, and Stay At Home Son by Jesus Trejo.
Seriously, what more could you want?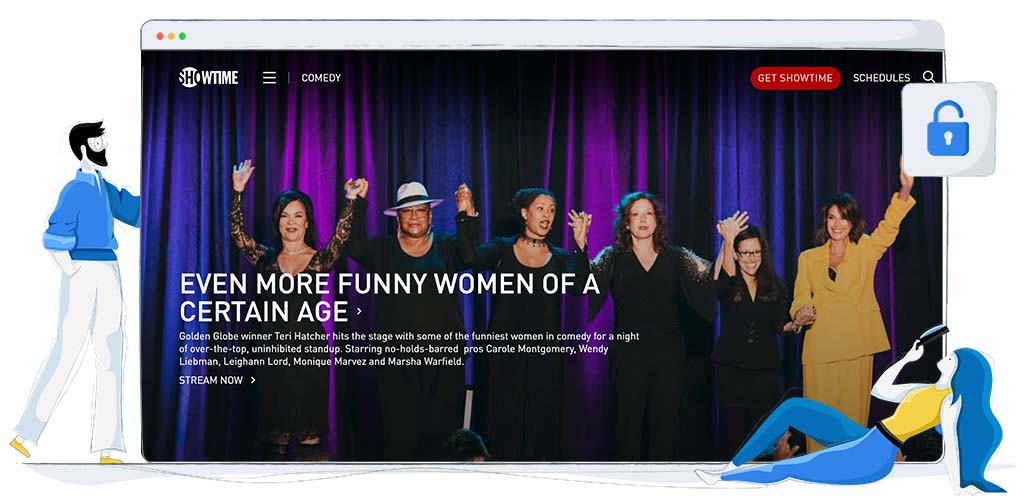 After hours content
Ah, so you're into that kind of content, are you? Well, Showtime is probably the only non-specific streaming service that can keep you nice and warm those gloomy winter evenings.
But seriously, Showtime is the only premium streaming platform that has dedicated adult content [and HBO doesn't count]. But don't take us the wrong way, there's some legitimately educational and entertaining stuff on there!
Polyamory will definitely change your views on none-monogamous relationships. Dark Net will tell you everything about what's going on on the dark web that you've been too afraid to check out yourself. And the documentary on the most exclusive club SNCTM will tell you all about how the 1% parties.
Now tell us that's still not enough for you?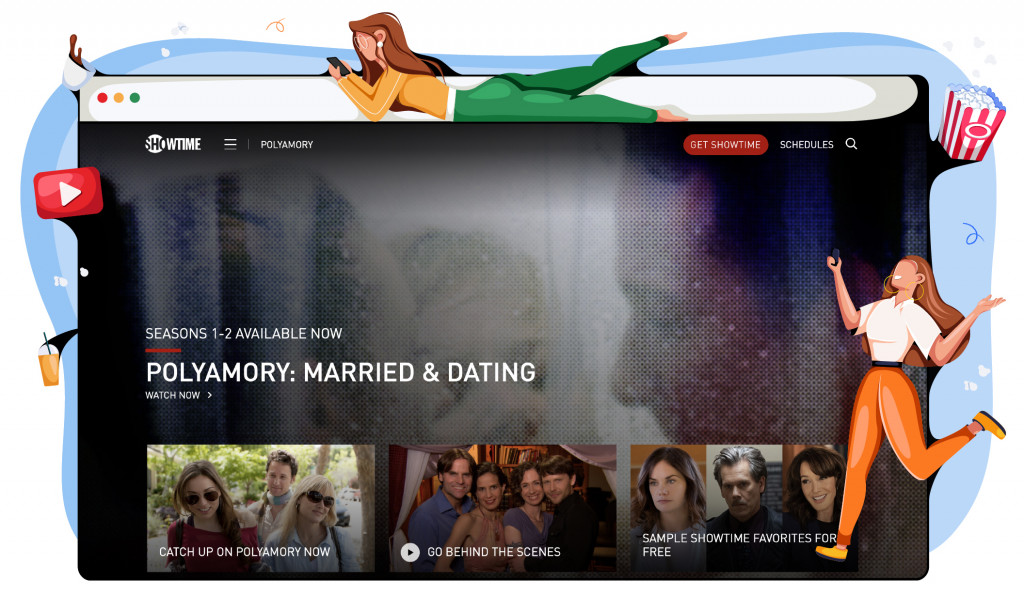 Is Showtime accessible outside of the US?
Now, after hearing all this, you're probably holding your credit card ready. But now comes the sad part.
Showtime's amazing programming is exclusively restricted to viewers living in the US, and sadly, it has no intent to further its reach. Even you're already a subscriber of Showtime, as soon as you cross the border, Showtime will no longer let you through to stream all of its saucy awesomeness.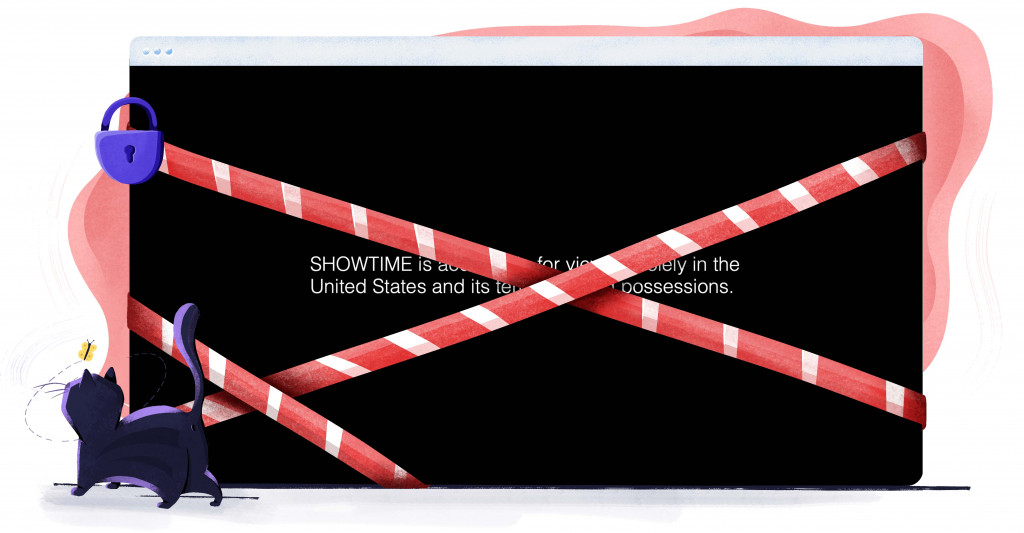 However, that does not mean that the content is inaccessible outside of the US right here and right now. All you need are the proper tools.
How can you get Showtime outside of the US right now?
Easy! If you're up for only a few minutes of tinkering.
To get to experience everything Showtime has to dish out (which is a lot, to say the least), you need to solve two issues.
First of all, you need to be able to access the platform altogether. Otherwise, you'll just be hit with a screen telling you you're in the wrong neighborhood.
Second, you are going to need to pat for the streaming service. And even that is a struggle since Showtime only accepts US-issued payment methods.
But if you've been reading and following us for a while, you probably know the workaround – a VPN.

Don't know which VPN to get?
Don't sweat it! We've picked out the best for you!
However, with Showtime we're talking about some of the toughest geo-blocks and restrictions in the streaming world.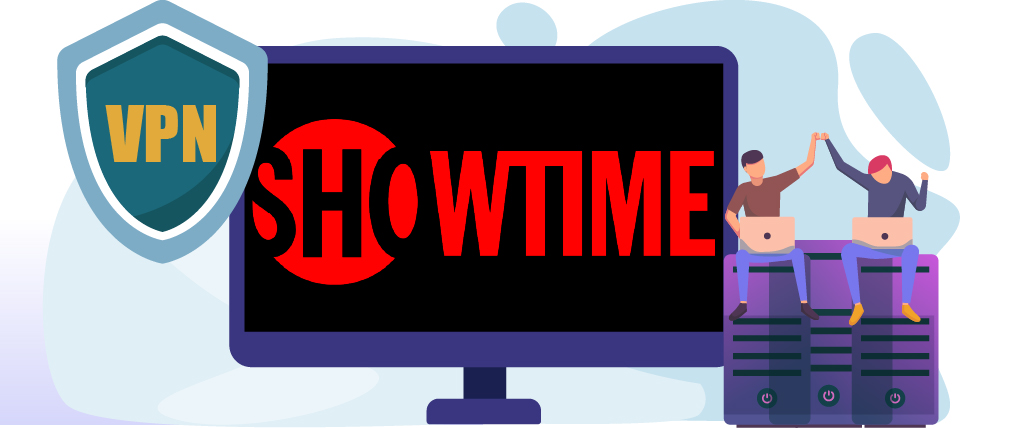 Choosing the right VPN for Showtime
When choosing a VPN for this mission, you have to go for the best unless you want to deal with constant buffering or get kicked out of the platform.
What you need is a premium VPN provider that has both the technology and power to get you streaming.
We've tested all of them, and even though there are a few providers that are capable to unblock the streaming platform, only one can keep it unblocked: NordVPN.
And we have facts to back up our claims:
It is the leading and our most trusted provider for a reason, and the reason is that NordVPN is, simply, the best VPN out there.
Two, it isn't just great for privacy reasons. It's one of the best VPNs for streaming purposes, thanks to its fast speeds.
NordVPN has the largest selection of servers in the United States out of all the VPN providers. This means you will always have a server to connect to, and you won't have to worry about lag, traffic, or even sharing it with anyone.
NordVPN's SmartPlay is also great for bypassing all of the advanced blocks and restrictions that streaming services, such as Showtime, lay in your wake.
As a bonus, it comes packed with other great extra features, so you will find a whole new side to the Internet.
Want to know even more about NordVPN?
We love a curious mind. That's what our review is for!
Getting Showtime outside of the US
Now, choosing the right VPN for Showtime is a crucial part of annoying the enjoying the platform. But if you've been reading carefully, you know there's another problem left to solve. And that's paying for the platform.
But we understand that you can't wait to binge that show you read about on Twitter. So here's a complete guide:
01. First of all, you have to get NordVPN.
There's no way around this, and we trust you have already done this, or else we'll stop talking to you.
02. Next, you need a way to pay for your new Showtime subscription, which costs $8.99/month. Now, we are not kidding when we say this is the best 9 bucks you'll spend on yourself this month… well, and the month after that. And if you're not sure, Showtime offers a free trial month, so you can make sure this is all you need in life.
Unfortunately, the service strictly accepts only US-based bank cards. Fortunately, we know exactly how you can get one.
03. Go to our friends at US Unlocked, create an account, patiently wait for it to be approved, and then load it with an appropriate amount – enough to cover the subscription.
Note that the lowest amount you can load to your account is $50.
Never heard of a virtual bank card before?
Good thing we know all about them!
04. Back to the VPN, connect to the best available US server. Head on to Showtime and create an account using your new virtual card credentials.
You've done it! You've got Showtime!
Get your virtual American bank card today!
Boom! You can now start browsing through the extensive catalog Showtime has to offer.
Get in because it is Showtime!
So there you have it! Who said you couldn't enjoy the awesomeness that Showtime has got to offer?
The platform being geo-blocked in your country should not be a problem if you have the proper tools. Get the Showtime subscription and explore everything you want on the platform using NordVPN and US Unlocked.
One more time with feeling now: IT'S SHOWTIME!