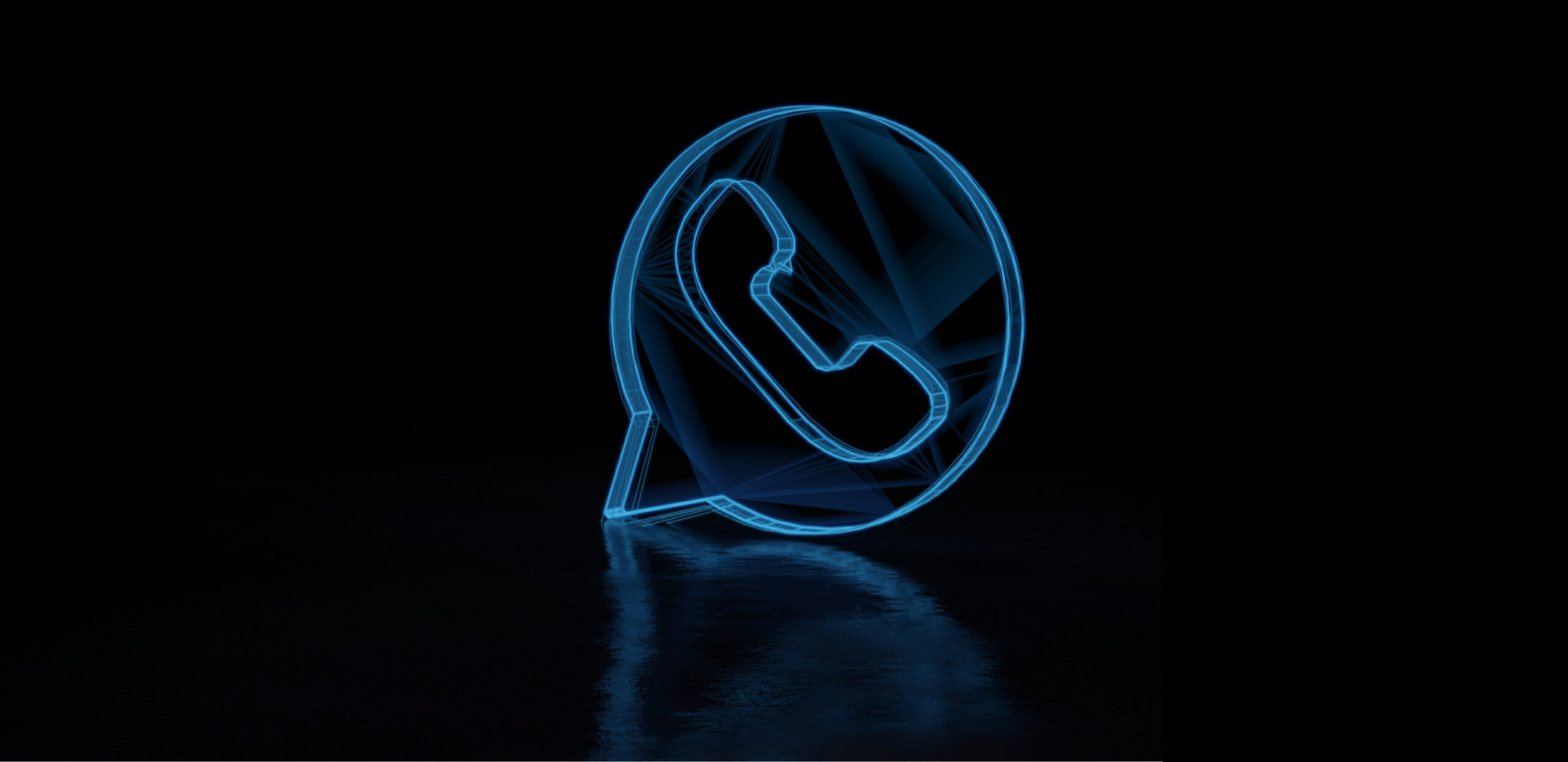 WhatsApp forces users to accept invasive privacy policy
In the summer of 2014, the giant social media company Facebook revealed its plans to buy WhatsApp. The deal was sealed two years later when Facebook officially became the owner of the widely used messaging platform. But it hasn't been a smooth road for either of them since then. 
Facebook, in itself, has had several instances of user data mismanagement. On several occasions, Facebook even faced legal actions to damper the giant's appetites.
Back then, WhatsApp came along with an optional one-off opportunity to opt-out of sharing user data. This was done specifically to distinguish WhatsApp's privacy policy from that of Facebook's.
However, recently the messaging app has forwarded a non-routine in-app notification to its users regarding its new terms and privacy policy. WhatsApp has given the users until the 8th of February to accept the new terms or lose their access to WhatsApp services. While many saw that as another routine update, that could not be further from the truth.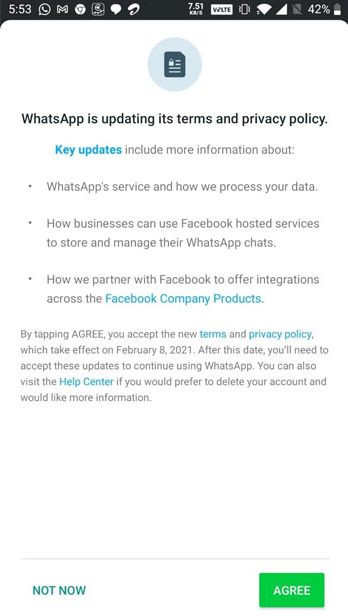 So what does WhatsApp's new Privacy Policy mean?
The new terms give Facebook more access and authority to manage user data. Not only that, but Facebook will now be eligible to share this data with its associate companies.
"We may use the information we receive from them, and they may use the information we share with them, to help operate, provide, improve, understand, customize, support, and market our Services and their offerings," WhatsApp stated.
In accepting these terms, users will provide legal access to Facebook to use their personal data. This includes phone numbers, other people's contacts, profile information, transactions with third party businesses, and routine data logs.
User to user conversations will reportedly remain end-to-end encrypted. However, this hardly matters when the biggest social media giant is able to collect and sell any information about you. All the while, the license to share it provides even higher financial value to the user data.
Case in point, data analytics can be used to study user trends and tailor ads and online services to a specific user. While that may seem like a nice perk, this comes at the price of personal privacy.
Despite the legal jargon that the updated terms are filled with, WhatsApp did not say how the new changes will affect the user.
One Internet uproar later, Whatsapp has released an FAQ segment, somewhat clarifying the update. It states the update will not allow WhatsApp or Facebook to see personal messages, listen to calls, or see the user's location. Instead, the update will focus on the user's communication with businesses.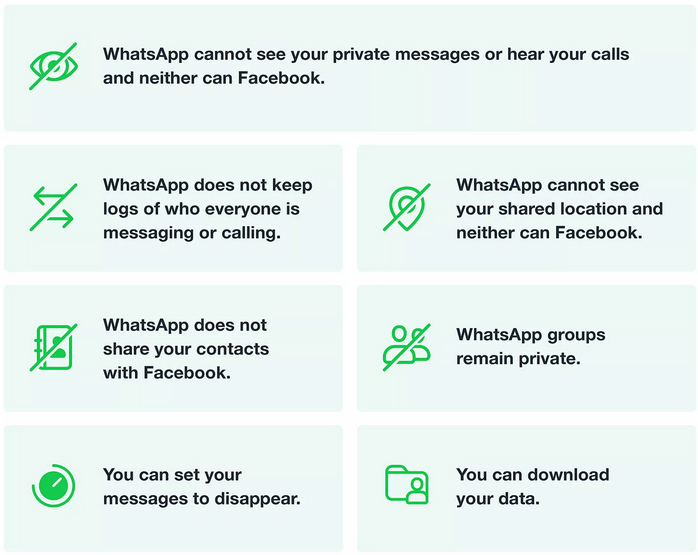 This might seem a bit more comforting, but the actual terms remain unclear. The platform's access to your and your contact's personal information remains a great cause for concern. So much so, even Elon Musk got involved and recommended users switch to more secure messaging platforms. While security experts, such as us, recommend you install a VPN if they insist on using your preferred apps.
While this might not seem like a big deal to many, the virtual landscape is changing. More and more people are becoming concerned with online privacy and how much governments and companies know about them.
And right now, the companies that actually respect our privacy just might become the next big thing. Because you shouldn't have to choose between privacy and comfort.
Update
After being berated by the Internet for weeks, WhatsApp rescheduled its privacy policy update. The update was initially scheduled to take effect on the 8th of February but was now pushed to the 15th of May.
The company states, that they've decided to postpone the update so that users would be able to better acquaint themselves with the new policies and accept them. However, WhatsApp did not clarify whether the update will remain 'take it, or leave it' (if we had to guess — yes, yes it will be).
They've also reassured the users, that neither WhatsApp nor Facebook will be able to access personal user information.
In the meantime, concerned app users are continuing their migration to more secure messaging apps. If you're concerned with online privacy as well, at least now you have time to say 'goodbye' to a once trusted app.