Overview
5 Euro VPN Review 5 Euro VPN understands what VPN users are looking for: reliability, privacy, speed, and good pricing. Great service, great price.
Ratings
Features
| | |
| --- | --- |
| Apps | Windows, macOS, Android, iOS |
| Price | $2.89 per/month |
| Payment methods | PayPal, Credit Card, Cryptocurrencies, iDeal |
| Speed | 9 / 10 |
| Protocols | OpenVPN TCP/UDP, L2TP/IPSec, IKEv2/IPSec |
| Log Policy | No logs |
| Simultaneous connections | Unlimited devices |
| Based In | Curaçao |
| Works in China | Yes |
| Jurisdiction | Curaçao - Not a Fourteen Eyes Country AND Not an Enemy of the Internet. |
5 Euro VPN understands what VPN users are looking for: reliability, privacy, speed, and good pricing. The service may be new to the VPN market, but the company behind it seems to have launched on the basis of a solid server setup. Covering every important region with surprisingly high Internet speeds. There's no discernable pinching of VPN data, there are no data limits, and customers can connect as many devices as they like. Which are exactly some of the more common annoyances in other services.
At the moment of writing, most servers operate in Europe, with Germany, the UK, France, and the Netherlands as the main hubs. Together with servers in North American, this allows for easy access to the most popular streaming services.
Asia and Oceania are represented as well, with servers located in Japan, Australia, and Singapore. We haven't been able to test them, but Western users should expect slightly lower speeds due to geographical distances.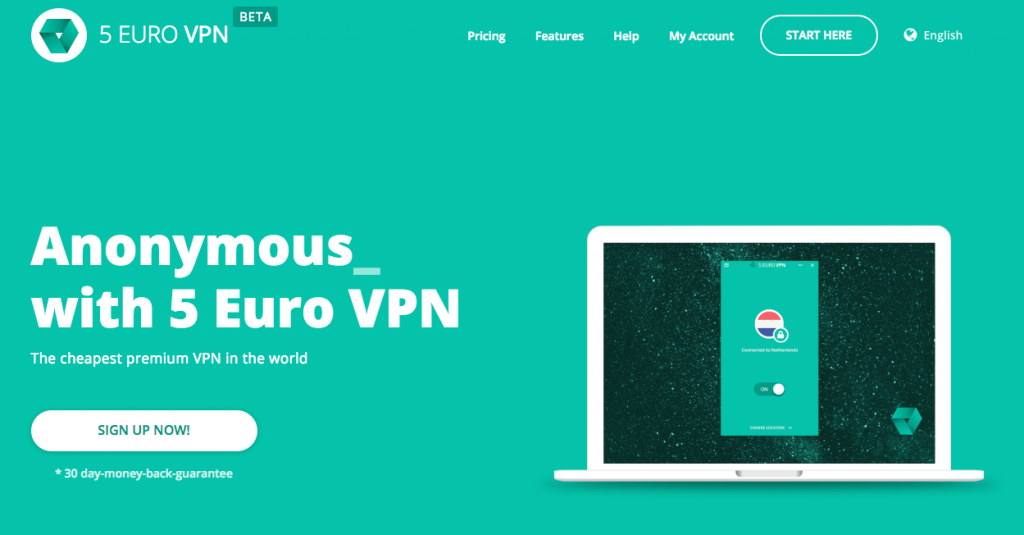 5 Euro VPN App
A VPN setup has to be quick and easy, especially for users new to the business. For them (as well as for the more experienced users) an app that preselects security options or servers is a big plus.
The 5 Euro VPN desktop app certainly has you covered: it excels in user-friendliness, has a pleasing, clear layout, and allows you to manage important functionalities with a few clicks or taps.
After a simple setup process, users enter their activation key and are all set for anonymous browsing. Important security protocols are active by default, so there's no need for tweaking if you don't feel like it. Of course, the app allows users to alter any setting through its options menu.
We were charmed to find settings that optimize your VPN for things like BitTorrent or streaming – choosing these options will automatically select the best server and setting for you.
Streaming content from regions that are not your own is very easy. European users who want to check the US library of Netflix (or one of the many other streaming services not on their local menu) don't even have to log into a US server. 5 Euro VPN's use of SmartDNS connects European servers to American services without a hassle and vice versa. This striking feature makes 5 Euro VPN unique amongst its peers, putting them ahead of other (slower or more complicated) services. Making it one of the best VPNs for Netflix.
A mobile app with the same features as the desktop version is on its way. Linux and Kodi versions are also scheduled for release after the iOS and VPN for Android apps go live.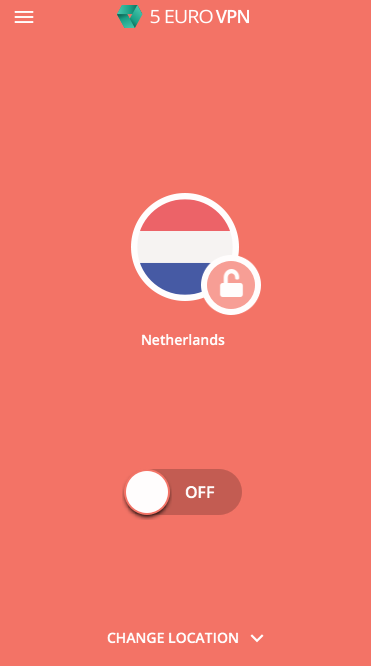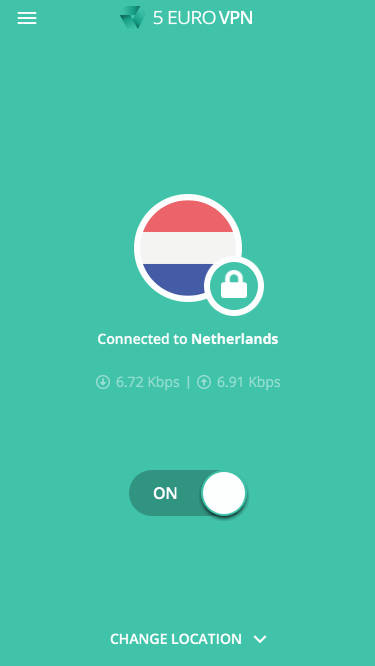 Geo-blocking
5 Euro VPN uses smart DNS to smoothly sail past geoblocking. As mentioned above, this is a unique approach, that sets 5 Euro VPN apart from most other VPN providers.
This unique feature allows easy access to any Netflix library in the world, as well as Hulu, HBO, Crackle, ABC, NBC, PBS. You'll need a working login to watch the content, but no other VPN provider offers such unprecedented access to so many streaming services, regardless of your whereabouts.
5 Euro VPN Speed Test
Average speeds for 5 Euro VPN's service are very good. While testing the VPN, we didn't encounter any heavy delays, which usually isn't the case when a service uses heavy encryption tools. There's no pinching involved, no matter how many devices you use at the same time, ensuring high speeds even when downloading through BitTorrent.
Other services tend to limit the number of devices you can connect, restrict the maximum speed or have data limits, but 5 Euro VPN doesn't, making it a fairly unique service in this price range. It's basically a premium VPN service for a budget price.
Geographical distances influence speeds, of course, but for most users, this isn't too big a factor. You have to be an IT expert to tell if your foreign Netflix show is buffering slower than it should.
In gaming, latency is a factor, and European gamers will experience lag if they play on American servers, and vice versa. What's important is that 5 Euro VPN offers a stable connection throughout. There's no pinching, no data limiting, which is surprising in a service that has no restrictions on the number of devices you can connect.
Speeds in Asia and Oceania are fairly good too. Especially considering the general quality of server parks in the region, and the distance data travels from one server to the next. Western users will use these servers mostly to do online shopping and flight booking, which doesn't require top speeds, so the problem is manageable.



5 Euro VPN price plans
Looking at the price to quality ratio, 5 Euro VPN offers an amazing deal.
5 Euro VPN offers unlimited access to VPN servers for a mere €5.00 per month. With that, the service does not limit the number of devices you can use with the VPN. This means your entire household can be safely browsing the web at the same time.
5 Euro VPN rewards users who opt for longer subscriptions with monthly pricing as low as €3.75 for one year, €2.99 for two, and a staggering €2.50 for a three-year subscription.
The offer also includes a 30-day money-back guarantee if you don't like the service after trying (which, let's face it, you definitely will).
In summary: any free VPN service (operating on deals with many caveats) will have a hard time competing with these prices. In this respect, 5 Euro VPN sits comfortably among the cheapest providers out there. But despite that, it offers a premium experience which rivals some of the best VPN brands. Low pricing and a lack of restrictions on devices offer a strong message to other providers as well. The service is promoted as 'the cheapest premium VPN in the world', a statement sure to drop some jaws among the competition.

Privacy and security
5 Euro VPN takes its privacy and security extremely seriously.
It runs OpenVPN (the strongest encryption available at the moment) as the default system, and supports a SOCKS5 proxy for those who want to check foreign services without lag. To some, this setup may seem pretty basic, but for a basic system, it's quite advanced, especially considering the pricing of the service!
If this still doesn't comfort you, the company's log policy will: 5 Euro VPN doesn't keep logs, doesn't register IP-addresses, logins, and the like. The same goes for their DNS server: it doesn't keep track of who's logged in and at what point, or how many sessions a user had. All of this goes a long way in securing your online privacy.
On top of all this, the app has a kill-switch feature, which ensures that no-one will your IP if the VPN connection suddenly drops.
Needless to say, users should always test if their VPN works properly, to avoid any leaks. To help you check your setup, we wrote a handy article about testing your VPN connection.

Torrents and Netflix
The use of Smart DNS makes avoiding geo-blocks a piece of cake, giving 5 Euro VPN users reliable access to streaming services worldwide.
Well, reliable to an extent, of course. In the cat-and-mouse between streaming services and VPN providers, odds are the Netflixes of this world will find new ways to reinstate their precious geoblocks one way or another, upping the ante for those who are in the trespassing business.
Apart from easily bypassing geographical restrictions, 5 Euro VPN offers users the ability to use their VPN for BitTorrent on their servers. And this is where the provider really shines. Downloads won't be pinched or in any other way delayed (plus you're able to hook as many devices as you want to your VPN, with no effect on download speeds, a unique feature for a premium VPN provider).
Customer support
As mentioned before, installing 5 Euro VPN's apps and services is a walk in the park. For those who still require assistance, there's a 24/7 customer support service on the website, and a list of FAQ's that gets regular updates.
The customer support team generally responds swiftly and seems to be well-briefed. 5 Euro VPN has clearly done its bit to make sure your service runs smoothly. Add this to the user-friendliness of the apps, and you have a service that won't leave you googling weird stuff about VPNs in the middle of the night.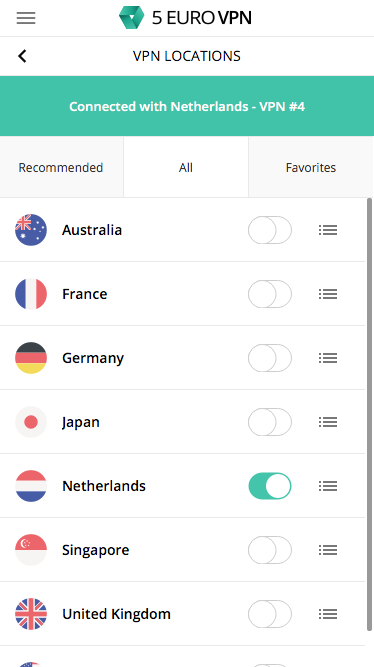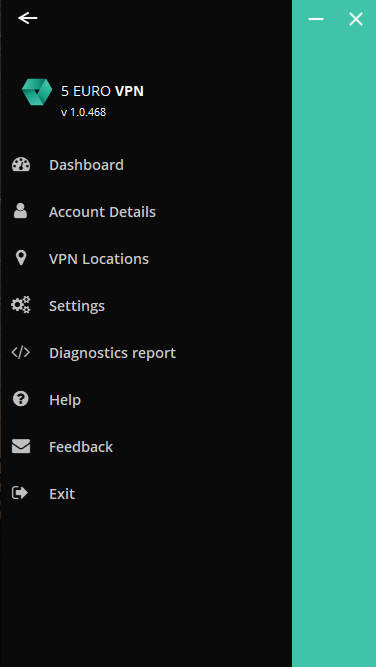 Conclusion
5 Euro VPN has an eye-catching price to quality ratio. The fees are really low for a premium service, which makes them an interesting option for anyone looking for a budget solution.
At the same time, the service scores high across all of our testing boards. Its usability and privacy settings are up to the highest standards, and the service stands out with a bunch of unique features. On top of that, the service doesn't limit data or impose any restrictions. Even the amount of devices you want to connect is entirely up to you.
Minor issues are the lack of a mobile app (at the moment of writing, a launch date is expected soon-ish), and the size of its server parc, which is relatively small compared to some of the VPN giants. However, 5 Euro VPN is well aware of this and is working hard on launching iOS and Android apps ASAP, as well as Linux and Kodi integrations. As soon as these materialize (and the server park is expanded), nothing stands in the way of success for 5 Euro VPN on this crowded market.
5 Euro VPN offers a balanced deal, that, we suspect, was born after carefully studying the competition for best practices.  The minimal price is exceptionally low for a premium service, which makes this provider stand out on its own. Users benefit from every important functionality in the book of safe and private Internet browsing, as well as a slew of unique and ever-expanding features.
We couldn't recommend 5 Euro VPN more!
FAQ
Can I use 5 Euro VPN on multiple devices?
5 Euro VPN allows you to connect an unlimited number of devices with any subscription.
How do I get my 5 Euro VPN money-back guarantee?
When, for some reason, you are not satisfied with 5 Euro VPN's service, you can get a refund. You are free to apply for it within 7 days after your purchase.
Does 5 Euro VPN log your data?
5 Euro VPN follows a zero-log policy. This means it doesn't record your data, activity logs, or sessions. 5 Euro VPN also doesn't register users' IP addresses and DNS requests.