Overview
PrivadoVPN aims to be the best free VPN. While the free version is generally the most trustworthy we've seen, the service suffers from a lack of advanced features, performance speeds, and app usability.
Ratings
Features
| | |
| --- | --- |
| Apps | Windows, macOS, Android, iOS |
| Price | $0.00 per/month |
| Payment methods | PayPal, Credit Card |
| Refund | 30 days |
| Protocols | OpenVPN TCP/UDP, IKEv2/IPSec, WireGuard |
| Log Policy | No logs |
| Simultaneous connections | 10 devices |
| Based In | Switzerland |
| Netflix | USA |
| Torrenting | Yes |
| Streaming | HBO Max, Hulu, Amazon Prime Video, BBC iPlayer, ITV HUB, Channel 4, Crackle, Tubi TV |
| Jurisdiction | Switzerland - Not a Fourteen Eyes Country AND Not an Enemy of the Internet. |
| Server Locations | 47 |
The VPN world is a vicious one. For years the market seems to have been dominated by a couple of big dogs [slowly being bought out by Kape Technologies] leaving seemingly no room for the little guy.
And yet, once in a full moon, there appears to be a new provider with a completely different take on what VPNs should and could be that finally threatens to disrupt the status quo. And one of the latest additions to the ever-growing VPN roster is PrivadoVPN.
PrivadoVPN seemingly came out of nowhere, but it did come prepared. Immediately launching across multiple platforms, delivering a stellar performance across the board, as well as launching an actual reliable free option, this young VPN is quickly becoming the talk of the town, proving that the place at the top might be taken, but there's more than one top to climb.
This may be your first time hearing about PrivadoVPN, but that's definitely going to change in the coming months. And we're here to get you all caught up.

Give this new VPN provider a spin today!
An Introduction
We are used to VPN providers coming and going. But PrivadoVPN still managed to surprise us by starting off with a service that takes most providers years to build.
Launched fairly recently in the second half of 2019, PrivadoVPN is based – as you can probably tell by the name – in Switzerland. Ah yes, if there's anything Switzerland is known for, it's cheese, the Alps, and Spanish.
Jokes aside though, we're not sure where the name came from, but Switzerland is a popular choice for a VPN base of operations. Privado shares its home with the likes of ProtonVPN, and VyprVPN just to name a few.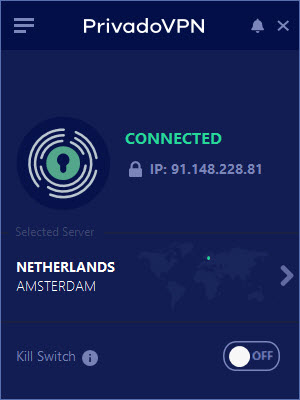 ---
Despite its relatively recent arrival to the VPN scene, PrivadoVPN does seem to be hiding something. It started off with a pretty impressive server network and pool of IP addresses, native app support that even some of the bigger providers that have been on the market for years can't figure out. And this makes us think that this isn't Privado's first rodeo.
We did find one interesting thing while putting Privado through all of our tests. The ISP that PrivadoVPN seems to be using seems to be Eweka Internet Service. For those not in the know, Eweka is one of the largest, if not the largest, Usenet providers still around and kicking.
Now, we didn't find anything definitive to say Eweka is the company behind PrivadoVPN. For all we know, they might simply be piggy-backing on their server network. But even if that's the case, there's no shame in a Usenet provider launching a VPN, and we have seen it happen with 5 Euro VPN, a VPN launched by 5 Euro Usenet, and VyprVPN, the VPN owned by Giganews. It makes sense if you think about it, the server network is already there, might as well use it for something other than just NZB files.

Speaking of Usenet
Ever wonder what the best providers our there are?
Eweka aside, we're here to do two things: test PriovadoVPN and rant about Internet privacy. And we're all out of rant [just kidding, we're never out of things to rant about].
PrivadoVPN's servers and locations
Most young VPNs are eager to start, and then try to build up their server network and IP pool, inevitably breaking down, stopping, and going 'Good enough'. But not PrivadoVPN.
It seems that this new provider had their servers figured out long before they started selling subscriptions. As of writing the review, PrivadoVPN hosts an undisclosed number of "hundreds of servers" in 47 countries and 60 cities around the world.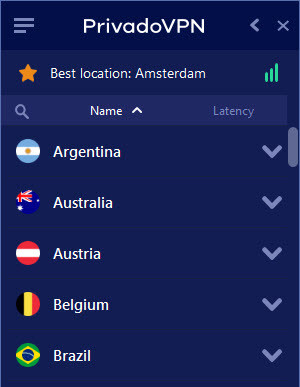 This is not a mind-blowing number, and we don't really know how many servers the provider has (the app didn't make it much clearer, but we will get to that), but it's still more than decent for a VPN that's just starting out.
Most of Privado's servers seem to be concentrated in the US and Europe. However, it's got nearly every country in Europe covered, meaning you will always have a server close by.
And that's not to say that PrivadoVPN doesn't have servers in other regions of the world. The VPN covers South America with connection options in Argentina and Brazil, as well as most of Asia with some well-plopped servers in some of the core countries including Israel, India, Indonesia, Japan, and Korea (the good one). Even Hong Kong and Taiwan made it into the roster.
But it's not just about the numbers.
PrivadoVPN is pretty adamant that all of the servers they use are actual, physical servers. If that's the case, that's pretty awesome for the little provider that could: actual physical servers are much less prone to vulnerabilities and attacks, and there's just something refreshing about there being actual servers in distant lands, working hard, swapping your IP address and not just another grim data center in Amsterdam shared by 15,000 other VPN providers.
Also, PrivadoVPN made sure that all the servers it has are stable, reliable, and of equal quality. So no matter where you are, no matter where you connect from, you will always have the best option available with PrivadoVPN.
PrivadoVPN speed test
Ah yes, the trial by fire that pretty much determines whether you will be interested in taking out a VPN subscription. We were excited to see how well would PrivadoVPN fare in this trial, and this turned out to be the first bump in the road with an otherwise surprisingly stellar provider.
We are used to VPNs slowing down your connection speed, since, well, encrypting traffic and using heavy connection protocol does not go unnoticed. But PrivadoVPN kind of overdid it.
But don't take our annoying rants about it, we are nothing if not descriptive. So, here's our control speed: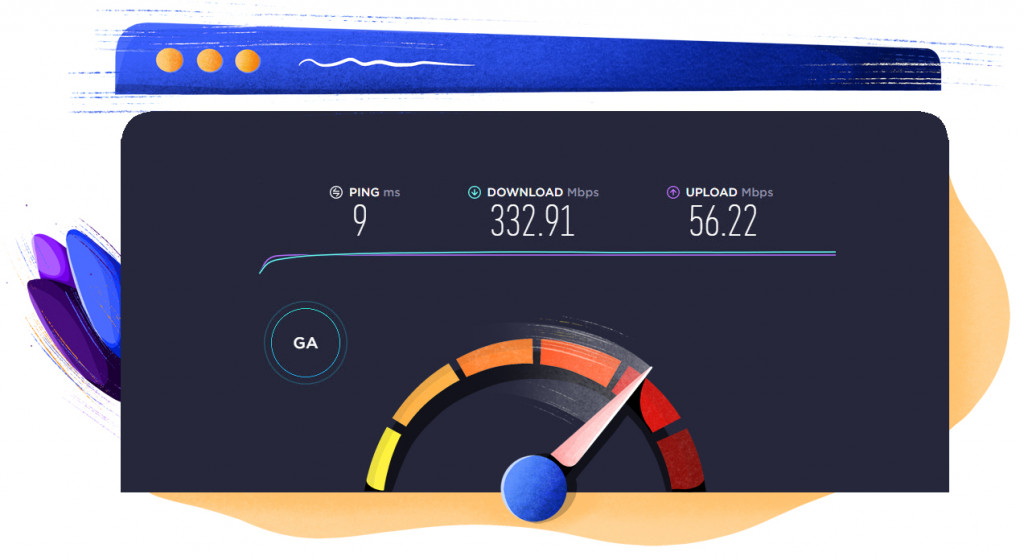 And here's the speed we got when connected to the closest and fastest server: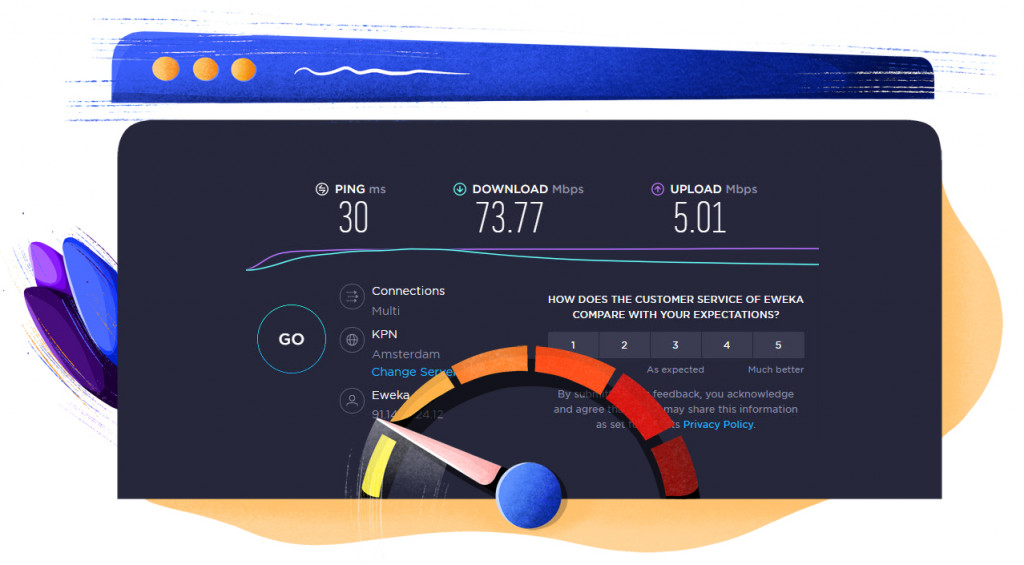 So that's already a 77% speed drop on downloads and a 91% (!!!) speed drop on uploads, with unforgivably high ping for the fastest server.
Well, if you can't say PrivadoVPN is speedy, at least you can argue it's stable since all the other places we've tried gave us pretty much the same results.
Here's what we got with the Frankfurt server (Germany):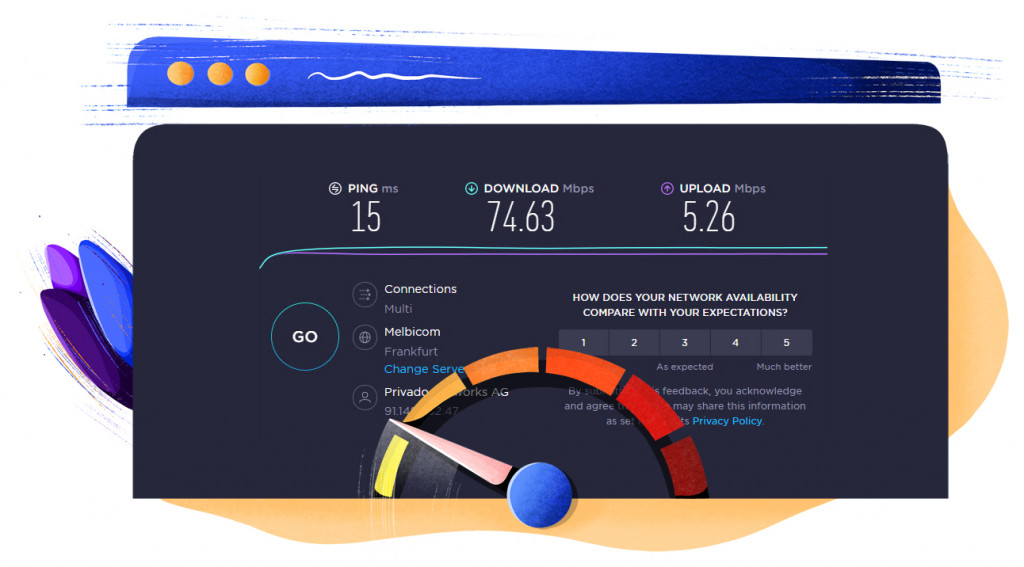 Nearly exactly the same.
And here's the US:

That's 78% of download speed loss. So we've tried another server and got an 81% speed loss: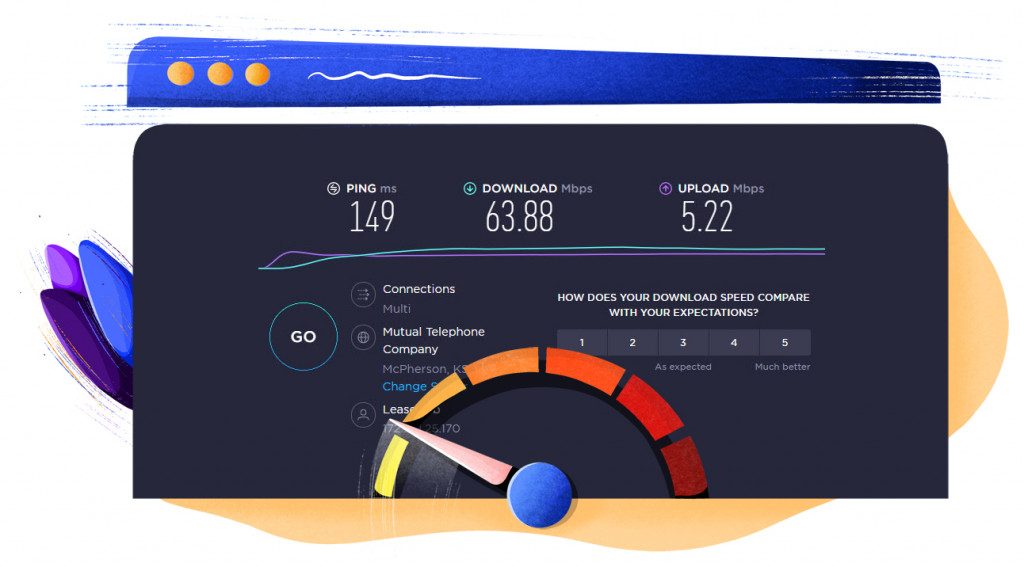 And here's us trying out Japan: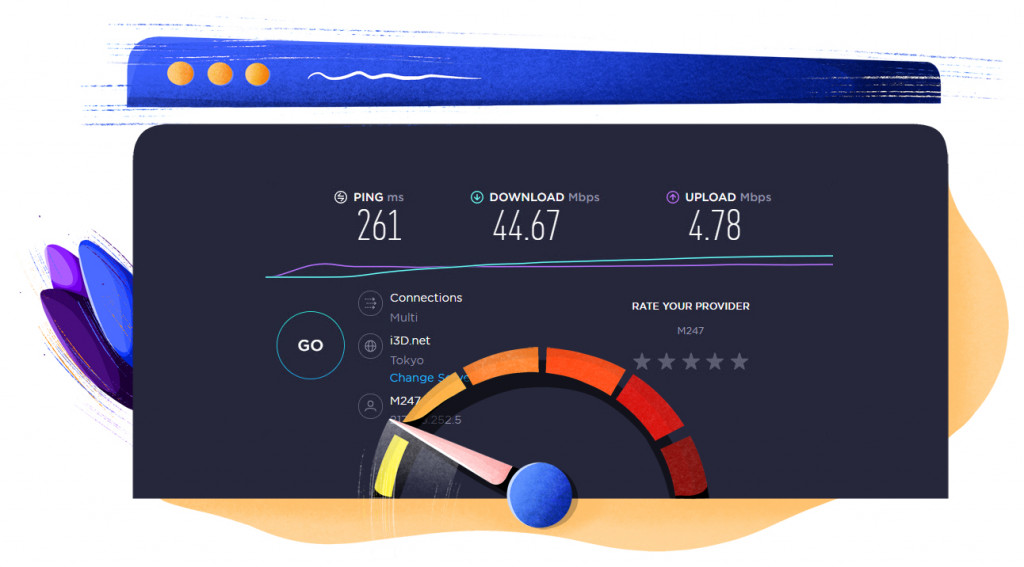 That's an 86% speed loss, with Korea doing even worse with a 91% speed loss: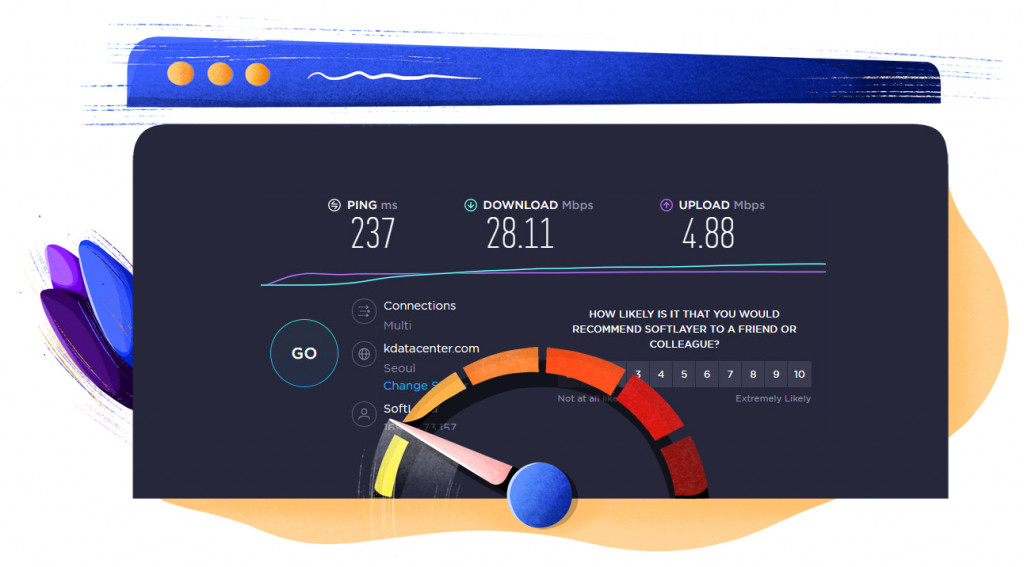 While the speed tests were a bit discouraging, if you don't venture outside of Europe and keep connecting to the closest possible server, PrivadoVPN should be good enough for all of your browsing, and even streaming needs.
Gaming and downloading through… this could be a bit of a struggle. But hey, you can still get pretty awesome download speeds if you choose to use Privado's SOCKS5 proxy, which can be a lifesaver in terms of speed.
While we were busy with the review, Privado VPN has also introduced the WireGuard protocol to their application, which is the fastest and lightest VPN connection protocol out there. And we have to say, it did wonders for their service. And while it still does not compare to some of the more mature VPN providers out there, it's nice to see the speed actually pick up: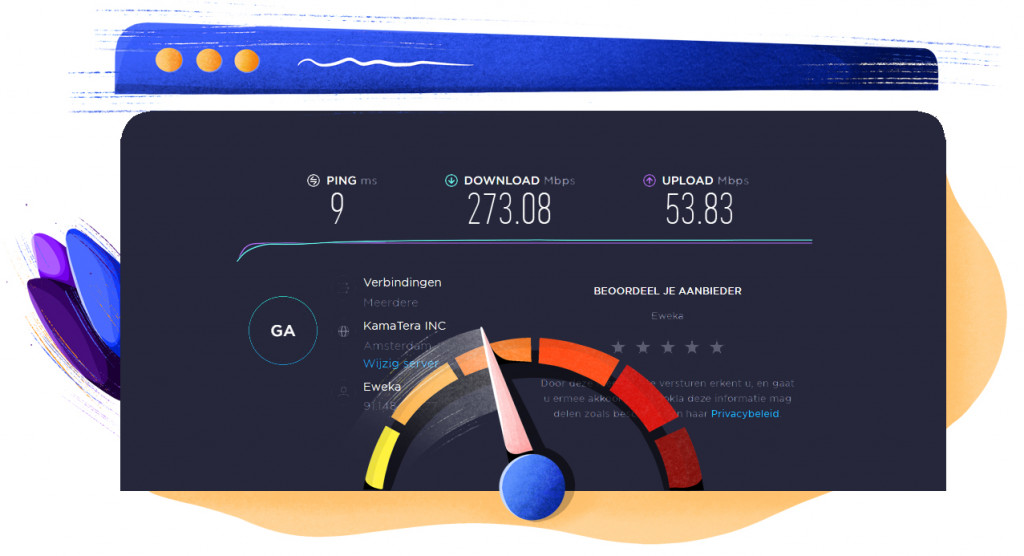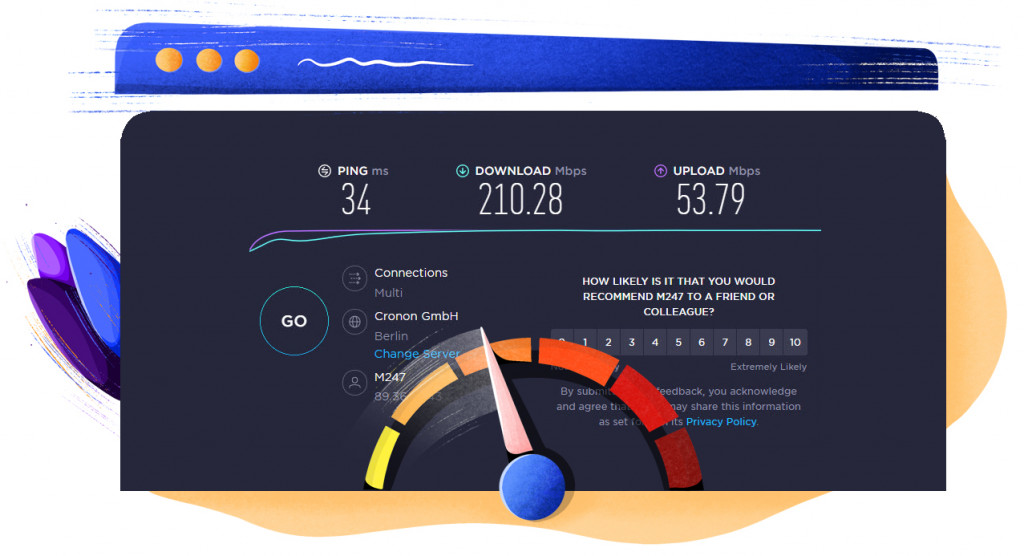 PrivadoVPN security and privacy features
So speed was a bit discouraging. But speed isn't everything.
If there's anything our VPN testing has taught us, if the VPN is doing too good in terms of speed, it might be skimping on some crucial security and privacy features, keeping your data exposed and vulnerable. And we're not about having any of that!
So… How good is PrivadoVPN when it comes to keeping your data safe and you all nice and hidden online?
Well, we've put the VPN through every conceivable leak test, and have Polaroid to share.
Here's PrivadoVPN passing all of the IP leak tests: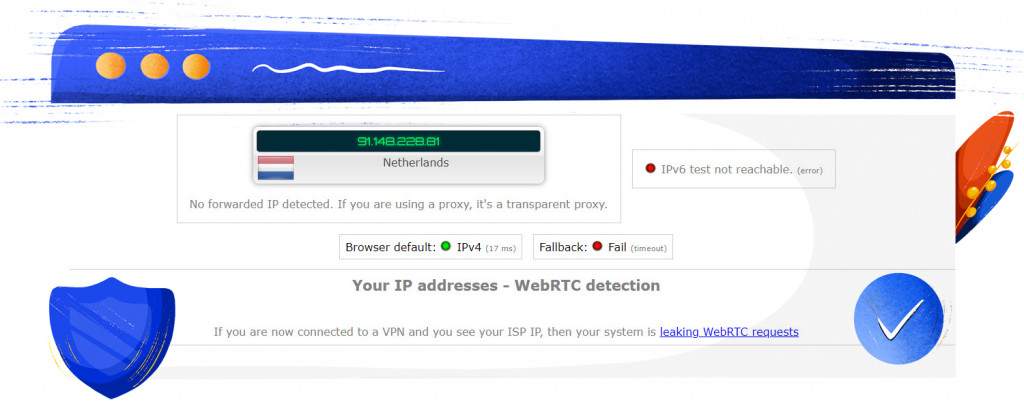 And here's it kicking DNS leaks ass: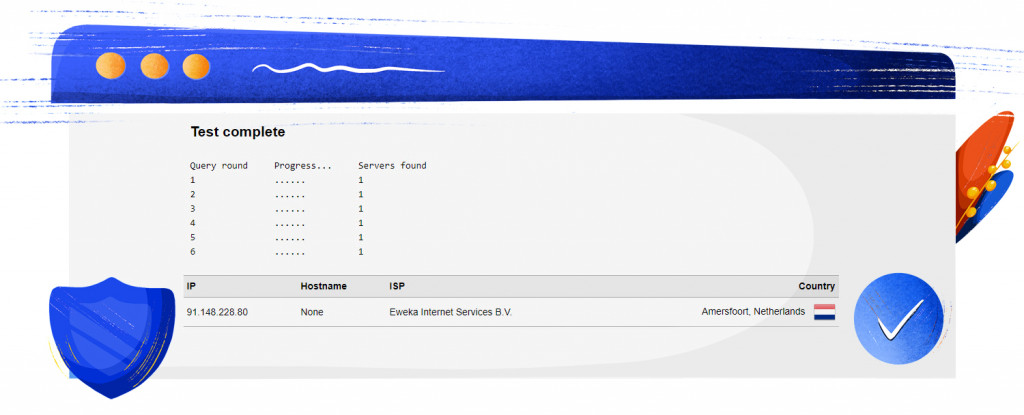 The only thing we didn't find is IPv6 support. And while we're sure [or, at least, we would hope so] that PrivadoVPN is working hard to add this feature to their so-far-so-good service, VPN providers should really start looking into this feature more.
---
At times, PrivadoVPN might be even too secure for its own good.
Once you subscribe to their service, you get an email that contains a unique Username and a secure Password. However, if you don't immediately write down, or change the password, good look restoring access to your app if you lose it. We couldn't find that option, so we ultimately had to create a new account.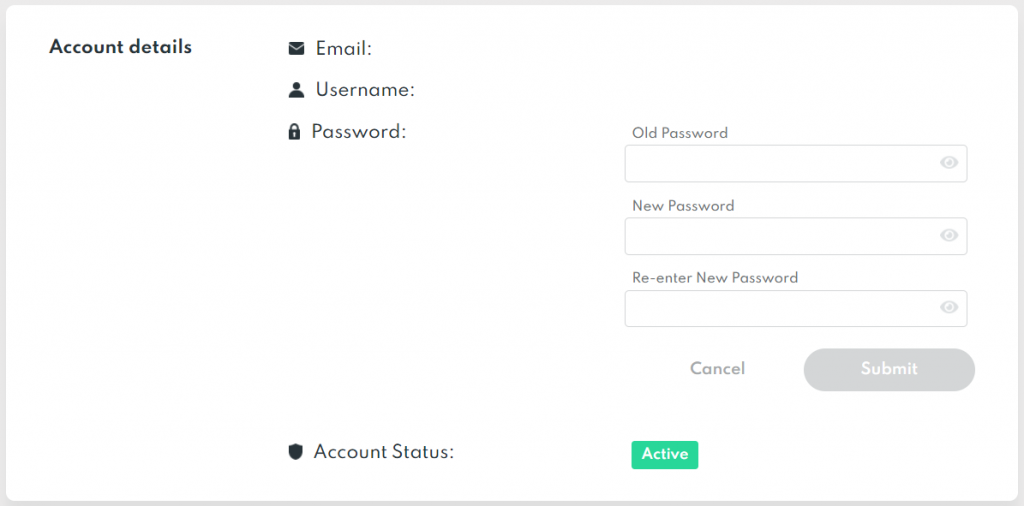 While we respect going nuts on privacy, this might be a little too nuts. Especially if you're 'in' into the VPN industry is a free app – you are bound to have a bunch of misplaced accounts.
However, we'll leave that to PrivadoVPN's support to figure out. We're sure they are having a field day.
Encryption
As one would expect, PrivadoVPN comes with top-of-the-line 256-AES end-to-end encryption. And good luck trying to break that.
There's not much to say about Privado's ability to encrypt your data. The VPN tunnel that surrounds your outgoing and incoming traffic is tight, impenetrable, and unhackable thanks to utilizing the best, military-grade features.
Good on you, Privado!
Protocols
OK, we've got encryption covered. What about the connection protocols?
Well, PrivadoVPN offers you three to play around with:
IKEv2 – the VPN protocol that's primarily built for speed and use with mobile devices. This connection protocol does not continuously check your data transfers as they are happening, but rather uses a public key to verify data transfers when the server receives a complete file.
It might not be as safe as some of the other VPN protocols, but boy is it fast, and very nifty when it comes to switching from WiFi to data internet when using mobile devices since it automatically reestablishes a secure connection.
OpenVPN – the gold standard for VPN protocols made for absolute security and privacy. This connection protocol checks every single byte of data to make sure it's correct and secure.
Despite its many valuable security features, this connection protocol is particularly slow [but hey, that's the price you pay when it comes to online safety].
WireGuard – the latest addition to the PrivadoVPN application, that gives it that much-needed boost in speed.
At the time of writing, the WireGuard protocol is still in beta testing with the application, and we did encounter some connectivity issues. But this is a protocol that's particularly hard to implement, so we are sure PrivadoVPN is working hard on ironing out the kinks as we speak.
Finally, there's the SOCKS5 proxy. This connection protocol is utilized by the provider to do one thing only – anonymize your P2P file transfers while keeping your connection as speedy as possible.
The only downside is that this connection protocol has to be set up manually.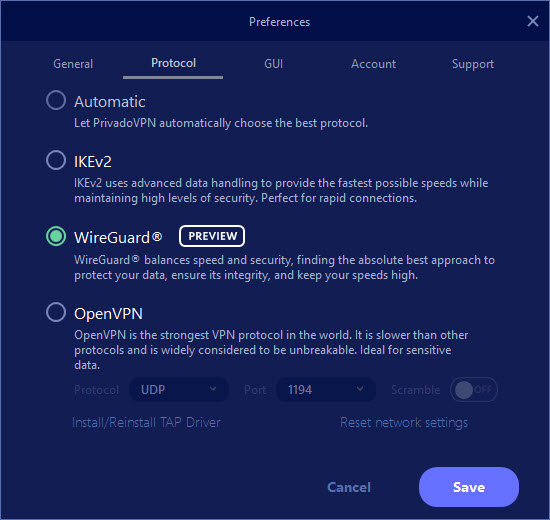 While the protocol selection is not as expansive as some of the other VPN providers, those are some solid choices. You always have the option to go for speed, or security, as well as a bunch of options for each of your devices.
Logging policy
The last few VPN providers we've tested really let us down when it came to privacy and logging policies [looking at you, Atlas VPN]. So we were kind of coming in biased when we've decided to take out another provider with a free VPN option for a spin. But PrivadoVPN left us pleasantly surprised.
First of all, PrivadoVPN prides itself on joining the pool of those very few free VPN providers with a real Zero-Logs policy. And it actually seems to check out.
Even the in-app crash reports seem to be anonymous as well as optional.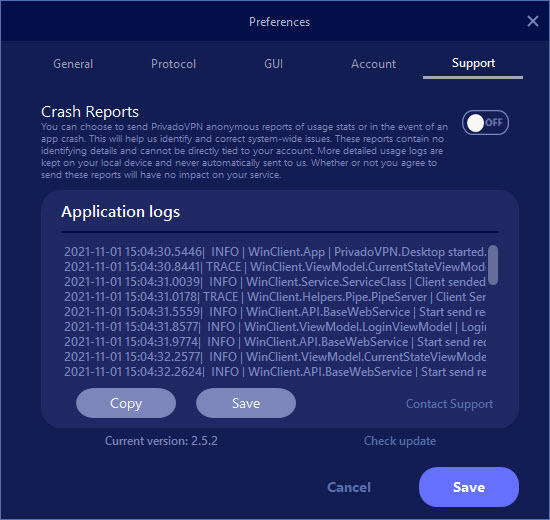 And just as a cherry on top, just like Surfshark, this VPN provider uses RAM-based storage that is incapable of retaining user data even if it tried.
Finally, PrivadoVPN being based in Switzerland is a pretty sweet solution thanks to the country's solid privacy and online freedom laws. And even though news about ProtonMail has left us a bit hesitant, nothing bad has happened to VPNs yet. So we are willing to give Privado a thumbs up here as well.
Is this it? Is this the free VPN you can trust that we've all been waiting for?
Well, this might very well be so. However, PrivadoVPN never went through an official audit, so we will hold off on our final judgment. But for what it's worth, PrivadoVPN is looking hella good.
Kill Switch
PrivadoVPN does not have a lot when it comes to special privacy features, but what it does have is a kill switch. And one that actually works without holding your Internet connection hostage.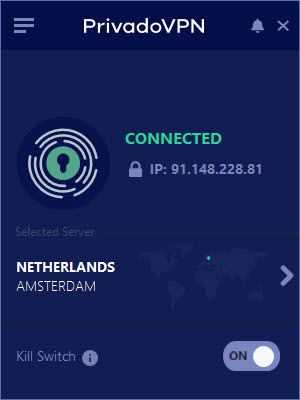 We've had a few bad run-ins with kill switches that would actively ruin our day [looking at you, Atlas VPN, oh and VyprVPN, you are not off the hook yet either], but this one seemed to be working just fine. It cuts your Internet connection in case your VPN ever stops working. And that's especially handy for:
making sure your personal data stays completely safe and protected at all times;
preventing data, IP, DNS, WebRTC, or any other kinds of leaks;
P2P-filesharing.
We couldn't complain. And that's all we basically do.
The kill switch option pairs particularly well with the Auto-Connect and Auto-Start options (which is the way this VPN is meant to be used). And even though the app would give us some trouble with all of this enabled (more on that later), this way you know no one will ever be able to steal any of your data.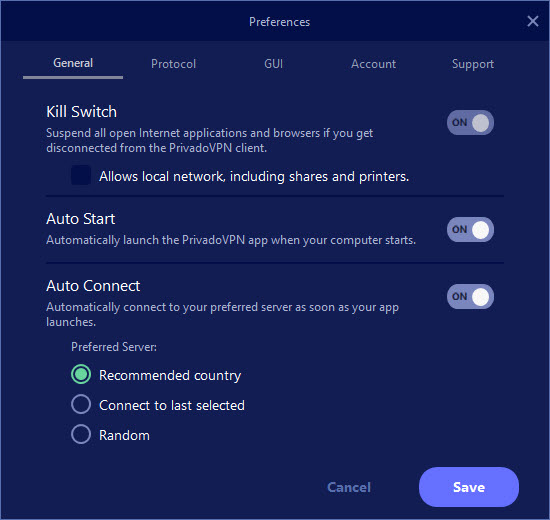 Just remember to keep the kill switch off if you're not using the VPN application, otherwise – no Internet for you.
---
As much as we'd hate to put PrivadoVPN down, that's about it when it comes to the provider's privacy and security features.
PrivadoVPN knows what it is and knows what it's here to do, and it doesn't have to come with a Vitamix. It's here to keep you safe and private online, and it does what it is meant to do well.
And that's it.
PrivadoVPN apps
This is where PrivadoVPN caught us off guard.
Usually, when the provider is just starting out, it's happy it has Android figured out and won't stop bragging to all of its friends about it. Maybe Windows.
But PrivadoVPN came to play and it came prepared. For a young provider, this VPN has an impressive roster of dedicated apps, including Android, Windows, macOS, iOS, Fire TV, and Android TV, with a native iPad app dropping any day now.
For a VPN that's been around for less than a year, this is more than impressive.
A single PrivadoVPN subscription can be used on 10 devices. While this isn't an unlimited number of devices, it's definitely a decent number of connections that should serve everything you have.
But what about the apps themselves?
Desktop Apps
PrivadoVPN has native apps for both Windows and macOS. The apps are pretty much the same across the two major OS'.
And here where things get a bit weird.
First of all, this is the first-ever VPN we've encountered that's docked to tray by default. This choice was so unusual to us, it gave us whiplash.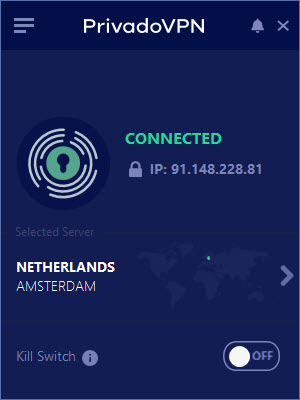 However, you do have the option to use it undocked like any other VPN application, but it does seem that this option was a bit of an afterthought.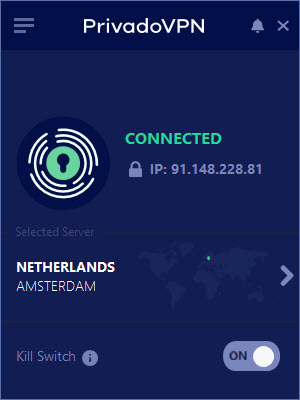 The desktop PrivadoVPN app is all about being compact and noninvasive. And while we respect the decision, it does come at a few disadvantages. The app window is way too small for comfort, which makes navigating servers a bit of a hassle with one tiny scroll being the difference between the United States and Malaysia.
We make it sound worse than it is, but we have to look at everything, OK?
It does, however, give you the option of sorting the servers by either name or latency, which does make the selection process a bit less tedious, but given the speeds we got, this didn't make much of a difference.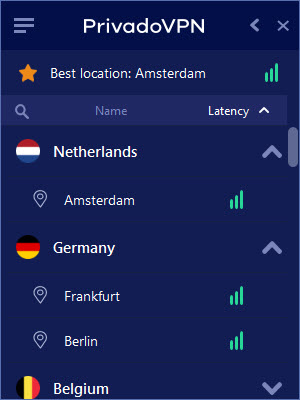 It doesn't help that the Preferences is a separate window. So if you want to tinker with the few connection options the app gives you, you are going to be jumping around, which isn't anything game-breaking, just could have had a bit more design thought put into it.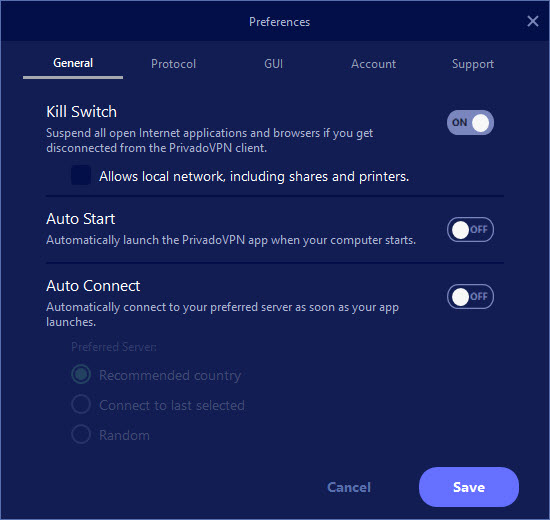 Speaking of design, a few other things we took gripe with were the connection times, which were a bit too slow.
The lack of feedback was also a bit of an issue. The app does look slick and modern, but it doesn't have that one button that you know you have to press to connect and disconnect. Sounds minor [and it is, don't get as wrong], but it does take a bit of frantic mouse movement for the first couple of times.
Finally, the server selection is also a bit wonky. You'd think that when you finally manage to land the scroll to the server you want and click it, the app would connect you to said server.
NO, says Privado.
You still have to click the 'Connect' somewhat of a button to get it working. And given the connection times, we found ourselves sitting for a couple of minutes and waiting on privacy a few times.
---
As with many of our stress tests, PrivadoVPN's features weren't without their flaws as well. With everything set to connect automatically and keep the VPN connection at all times, we did encounter the bug, where the VPN would just refuse to connect to anything, stuck in an infinite rotation loop.
But, as we usually say in these cases, you will probably never encounter this bug. But it's there, and we know about it.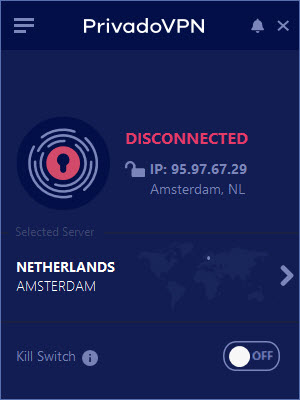 Mobile apps
The fact that the PrivadoVPN mobile application is pretty much exactly the same as the desktop one, but gave us much less trouble made us think that this was a mobile-first application. Most VPNs start off as mobile apps and then go on to discover there's a world of desktops to conquer.
Anyway, while the app is and works pretty much the same way as the desktop one, it feels much more at home on mobile. You don't have to be jumping around tabs or windows, the server list is much easier to navigate and find what you are looking for, and the finger gravitates towards what's meant to be a kool with a K connection button.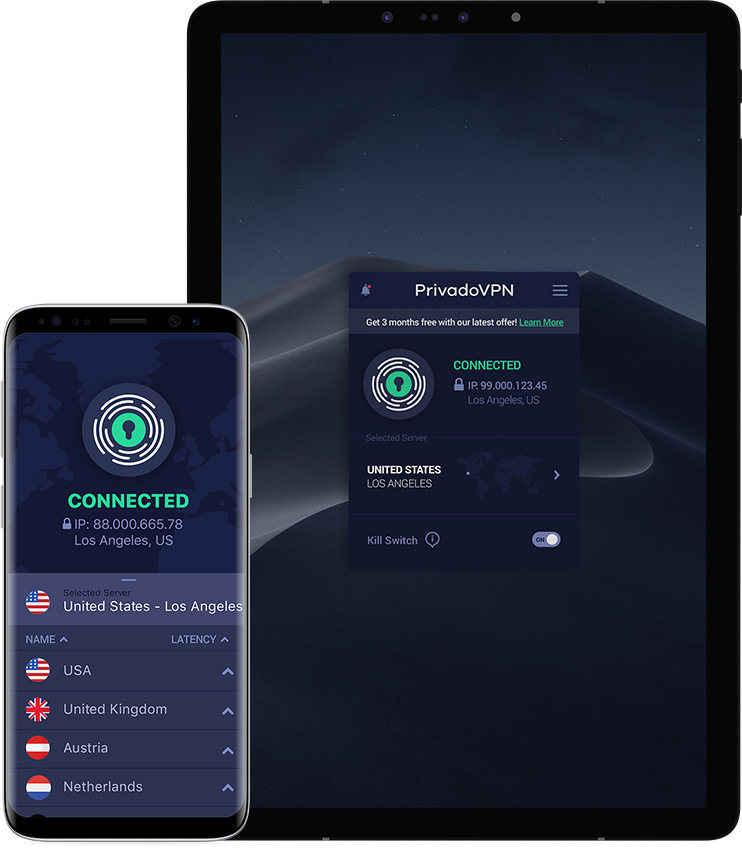 Now all that's left is applying the same logic to us mouse users, and we're golden, Privado.
PrivadoVPN and streaming services
OK, so most of the VPNs have encryption and protocols figured out by now. But streaming, which is one of the biggest reasons that VPNs made it into the mainstream, is still a struggle for most.
So, what about PrivadoVPN?
Well, it depends on what you are looking for, and how much of an appetite you have for streaming. If you are looking to unblock the many, many, many US- or UK-based streaming services, PrivadoVPN has your back for the most part.
However, if you are looking for something specific, you might run into a few problems here and there.
Well, we don't want to keep you guessing, so here are some of our many test findings.
Netflix
Ah yes, the ongoing struggle of any VPN provider.
We've tested PrivadoVPN profusely with Netflix, and it definitely has the potential to unblock the US library of Netflix. The biggest issue here is, however, speed – it seems that the provider has trouble handling everything that Netflix has to dish out, which is why we got stuck on the homepage of Netflix more than once. You might have to reload the page numerous times, but if Netflix US is all you're looking for, Privado has your back.

Looking for the best VPN to use with Netflix?
HBO Max
We did manage to get HBO Max to work with PrivadoVPN after numerous tries. So we are willing to chalk this up as a win. However, we did struggle with unblocking one of the most exclusive streaming platforms out there today at first.
If you want the best possible HBO Max streaming experience, you might be better off with some of the other VPN providers that have made streaming their own.

Want to enjoy HBO Max wherever you are?
Check out our list of best VPNs for that!
Hulu
Getting to Hulu with PrivadoVPN is a breeze, it's keeping Hulu where you might run into some troubles. After all, this is the streaming platform that's so paranoid about keeping everyone it doesn't want out, even US users are having trouble with it when traveling.
This is why the lack of a dedicated IP address feature with PrivadoVPN might hinder your Hulu streaming experience a bit.

Want to know how you can get and keep Hulu?
Disney Plus
PrivadoVPN managed to unblock the US version of the ever-popular Disney Plus streaming platform no problem. Streaming, however, well, it was pretty much the same experience as with the other platforms. It's just too slow!

Looking for the best VPN to catch Disney Plus?
We have a list for that as well!
Amazon Prime Video and IMDB TV
It took a few tries, but both Prime Video and their free streaming service IMDB TV that's only available in the US managed to work for us. Good job, Privado!

Want to have the perfect Prime Video experience?
Free streaming platforms
We're not going to lie, premium streaming services did give PrivadoVPN some trouble. But all of the free streaming platforms we've tested worked like a charm.
So if streaming is an added bonus to your VPN, you can always count on getting away with some Crackle, Tubi TV, or Crunchyroll streaming.

Check out all the free stuff PrivadoVPN can unblock!
BBC iPlayer, ITV HUB, and other British streaming services
We didn't expect much after the UK library of Netflix politely told us to bugger off, but surprise-surprise, both BBC iPlayer, ITV HUB, Channel 4, and all of the other British online streaming platforms worked like a charm in all of their exclusive splendor.

Looking to unblock BBC iPlayer and other British streaming services?
---
OK, streaming with PrivadoVPN is a bit of a mixed bag. It's confident it can do all of the US/UK and other streaming platforms and libraries until it can't. But based on our assessment, the issue is not the lack of IP addresses, servers (even though more would be very much appreciated) – it's speed. Privado simply isn't fast enough yet to handle everything streaming platforms have to offer, and that doesn't make for a particularly enjoyable streaming experience.
The recent introduction of WireGuard does help a ton in terms of speed. But it's also not the best protocol to use for streaming unblocking. And with stability still being an issue with a beta protocol, it only takes one bad connection drop to get banned from Hulu permanently.
We will say this, however: PrivadoVPN is absolutely committed to streaming. With streaming services cracking down on VPN providers left and right, PrivadoVPN always has a few new IPs to spare in order to have you connected. And while other VPNs are still recovering from the Netflix ban, PrivadoVPN didn't even flinch (assuming you don't mind reloading the page a bunch of times).
We have yet to see where they will go forward with this.
PrivadoVPN and gaming
So far, the only really big issue we've been having with PrivadoVPN is speed. And as you can imagine, this is kind of a deal-breaker when it comes to gaming, where twitch reflexes are key and lag determines whether you'll improve your KD, or bring shame to your family.
Even though PirvadoVPN definitely has the servers and features to handle gaming and gaming hacks, we'd recommend sticking with some of the more speedy providers if you are looking for better scores, and not snapping your controller in half.
WireGuard definitely helps improve speed and latency, but again, it's still in beta and can cause you a game if it drops.
Verdict: There are speedier VPNs out there if you are looking for one to game.

Want to know what those are?
Check out our awesome guide!
PrivadoVPN and torrenting
If our hunch is correct, and PrivadoVPN is indeed somehow connected to the famous Eweka Usenet, those guys should know all about downloading. And since it's Usenet we're talking about, those downloads should be lightning-fast.
However, by itself, PrivadoVPN is having trouble with downloading for the very same reason we've been giving it flack: Speed. You can't really advertise a service with downloads if the downloads take approximately an eternity and a half.
On the other hand, the guys back at Privado might know this since they did introduce the SOCKS5 proxy to their application. It has to be added manually, though, so it won't be seamless, but it will provide you with the anonymity and speed you need for P2P filesharing.
Another nice feature PrivadoVPN comes with for torrent enthusiasts, is that absolutely every server is P2P friendly, so you don't have to search for the right one with their tiny server list.
Even their free app version is P2P-friendly, which makes it one of the very few free providers that are accepting of the torrent lifestyle (as long as you can fit all of your downloads into 10 GB per month).
But what about Usenet? Well, you might be better off with the likes of 5 Euro VPN and VyprVPN – those guys are definitely built with Usenet in mind and advertise their services as Usenet-optimized.
PrivadoVPN subscription plans and prices
We finally got the good part.
So far, PrivadoVPN was a pretty OK provider, with nothing to make it stand out all that much from the crowd, but still, enough power to keep it in the race.
But here's where things get interesting: The prices.
PrivadoVPN might not be aiming to take down the biggest providers and call itself the Best VPN around, but it definitely wants to be the best Free VPN around!
That's right! One of the 3 subscription plans that PrivadoVPN offers, is free. And it comes with:
Servers in 12 cities;
10GB of monthly data;
And 1 device support.
The other plans are:
A 1-month subscription for $7.99.
And a 12-month subscription for $4.99/month.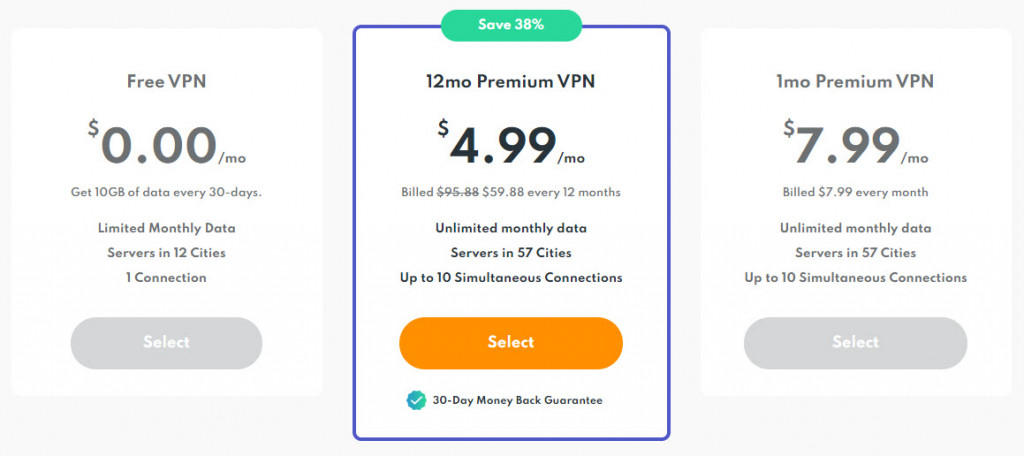 Now, we'll get to the juicy details of the free app in a bit, but apart from the free version, are the subscription plans worth it? Well, they are a bit too steep for our taste, and there are definitely VPN providers with better speeds, options, and overall performance for that price. But if PrivadoVPN keeps growing the way it has this past year, who knows where it will end up in a few months – this might be the cheapest you'll ever get it for.
PrivadoVPN free version
This is probably, what most of you have been looking for, and it was definitely worth those pages upon pages of review reading.
So, we all know how we feel about free VPNs, but is Privado's free version any good?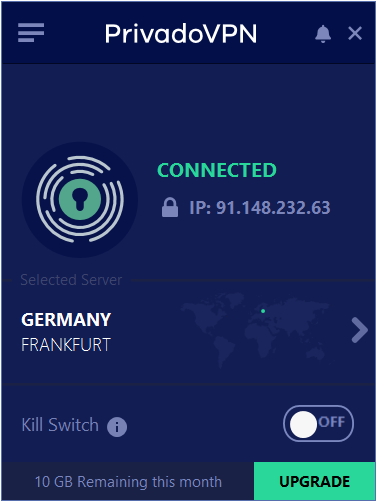 Yeah, it's pretty good for what it is, actually. And here's what the free version is:
Servers in 12 cities, including the likes of Switzerland, the US, Canada, the UK, the Netherlands, Argentina, Germany, and Mexico.
10 GB of data every month, which is plenty, if you are not looking for streaming or downloading.
All of the benefits that come with the regular app, including the no-logs policy, and all of the features.
P2P-support, which makes it, as the provider is dead-set on convincing you, the first-ever Premium free VPN with torrent support [there's a lot to unpack in that sentence].
But, maybe even more importantly here's what the free PrivadoVPN version doesn't come with:
It doesn't have the SOCKS5 proxy, so you are stuck with the abysmal connection speeds, even if you are looking to download with your extremely limited amount of data [CamRIP videos are heavier these days].
Streaming support, so you won't be able to unblock any streaming services at all.
And devices support – you are limited to one connection and one connection only. So choose your device wisely.
---
The free PrivadoVPN application got us more worked up than it should have.
If we thought the Premium version lacked feedback, there's even less of it here. Even though the app does tell you where your premium servers end and begin. It's very easy to skip the tiny line and stumble blindly through servers you can't access, getting the same error message, that's trying really hard to upsell you.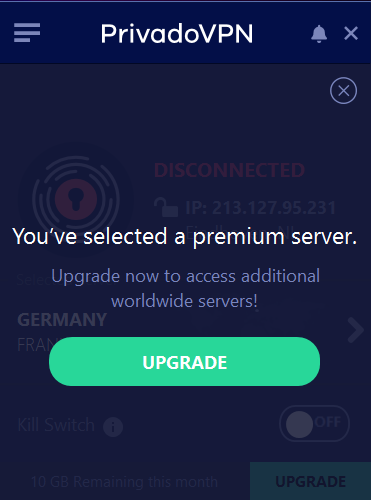 Even though P2P downloads are a possibility with the free app version, the lack of the SOCKS5 proxy is very much noticeable. The speeds the regular app provides you with will not make for a fun experience.
Regardless, on its own merit, PrivadoVPN is a decent free application. It won't come anywhere close to what the Premium providers can offer, but it gives you nearly everything the Premium can with a decent spread of servers and a pretty secure service.
If you are looking for a VPN that will simply keep you safe online – this is more than enough.
For anything other than this – get the Premium version! It comes with a 30-day money-back guarantee, so you might as well go for the best option the provider has to offer.
Payment options
Suppose you decide to go for a Premium PrivadoVPN subscription. What payment methods do you have then?
Well, not a lot.
PrivadoVPN supports:
All of the popular credit cards.
Paypal.

That's it. Told you, not a lot at all but it will get the job done.
PrivadoVPN customer support
Premium VPN providers usually launch free versions trying to tell you they really care about the user. So, how good is their user support then?
Well, first of all, as pretty much any decent VPN provider, PrivadoVPN has 3 different support options:
24/7 live chat;
Email support;
And a support website.
We're not going to delve too deep into it, but with a VPN service that might be tough to get the hand of immediately, good support is crucial, so it's worth looking into. So…
Support website
The PrivadoVPN support website is… there.
Look, the VPN is young and the landscape is constantly shifting. So maybe PrivadoVPN is still looking for their voice, or simply not looking to have a 1000+ page support website.
The support page has setup guides, which are especially helpful if you never had to set up a SOCKS5 proxy. Other than that, it's very basic installation guides and FAQs.


24/7 Live Chat
We have seen our fair share of the weirdest support chats out there. And PrivadoVPN doesn't take the prize of either being the most helpful, or the most awkward one.
It's there, but it's not there to offer you help, or solve your problems. At least, not yet.
We've contacted their support multiple times, but they always took too long to answer, and the support was more of a formality, rather than actual help. Look, we're not hating on Privado, but if your support answer starts with "You most likely have to…" then you are doing support wrong. Yeah, thanks a bunch, Keathon, if that's your real name.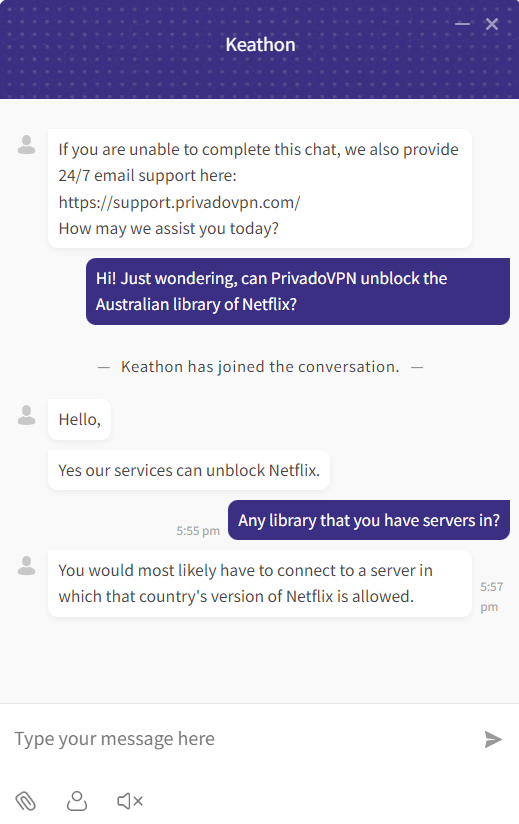 But if you need some instant basic help, or someone to just hold you while you wait for Netflix to load – it's there for you.
Email support
Now we're talking! This is probably the best support option you get with PrivadoVPN.
It takes them about 24 hours to answer, but at least you get the A-team on your issue. So we would definitely recommend going with this one if you ever need to know how many times you have to reload the pages to get HBO Max to work.
The bottom line
OK, so what do we have?
On the one hand, PrivadoVPN has all the basic features you have come to expect from modern VPNs, a lot of system support, and constantly updated IP addresses to make sure you can access the streaming services you need.
On the other hand, you have pretty discouraging speeds when compared to the industry average, an awkward app, so-so support, and an absolute lack of advanced features for a pretty ambitious price.
Generally, PrivadoVPN would end up somewhere in the lower middle of our list of VPN providers. However, there is one thing that helps push it over the edge – and that's their free option. There's something magical about seeing the industry change after all these years, and free VPNs finally becoming something completely other than a despicable business practice. And PrivadoVPN is (seemingly) one of the good guys.
Is that worth the price of their premium subscriptions? Maybe that's still a little too steep. Is it still admirable and worth giving this provider all of the support we can – absolutely!