Overview
Goose VPN is pretty fast and easy to use. The interface is prompt and minimalistic. Despite short list of countries, Goose VPN servers are present in all regions which are good for streaming and torrenting.
Ratings
Goose VPN has more than 97 servers spread out over 31 countries worldwide. It is enough to cover the most popular locations for a VPN.
Most servers are based in Europe and the United States. Outside the Netherlands, UK, and US, the provider usually has just a few servers, which is a bit of a shame, but is still enough to get the job done.
Some servers are marked for P2P or streaming use, which is really nice to see.
Goose VPN Speed Test
Don't worry about connection speed issues if you decide to use Goose VPN.
Our download and transfer speed tests showed very satisfactory results when checking the PC connection. The speed when connecting mobile devices did not change much.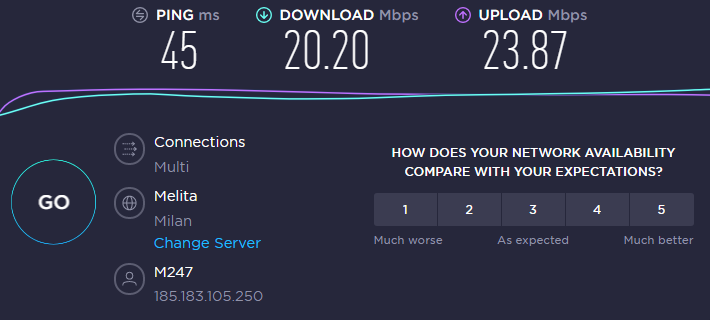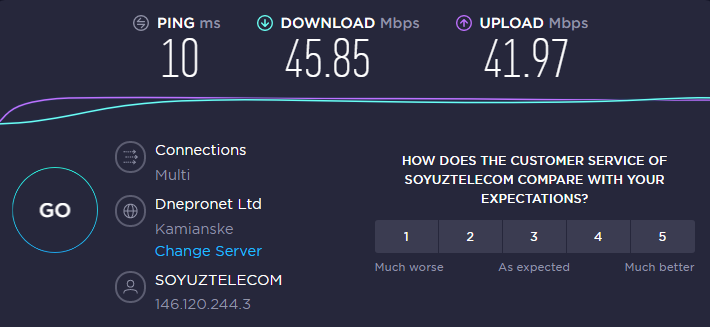 At the same time, download speeds, for example, via a UK server gave us a very acceptable 46-54 Mbps on a 75 Mbps line, or 30 Mbps when downloading from India.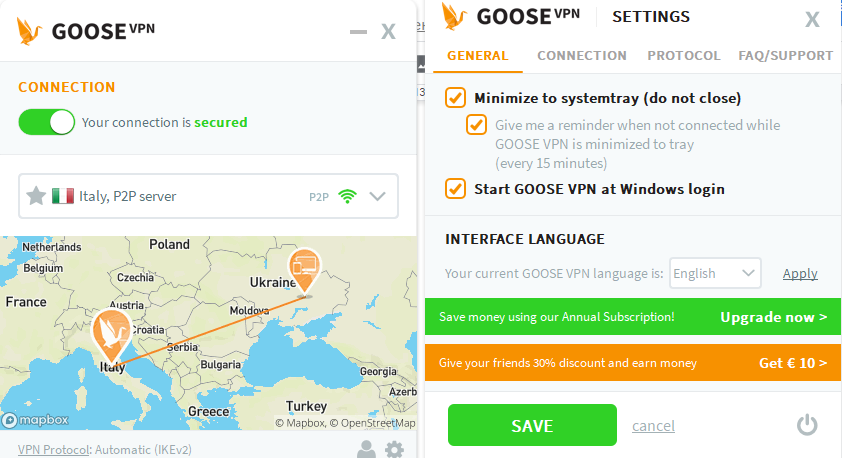 Streaming service support
Netflix
Goose VPN is excellent at unblocking blocked sites and streaming platforms like Netflix – the process takes a split second, streaming takes place at a good speed and without delays. This is what GooseVPN can be proud of.

Want to get everything Netflix has to offer?
Hulu
The ability of Goose VPN to bypass the geographic blockage of Hulu is beyond doubt. Enjoy watching your favorite movies and shows without limits!

BBC iPlayer
Goose VPN does a good job of bypassing the blocking of the UK streaming service. The process may take some time, but the viewing proceeds without a drop in the connection speed or lags when showing.

Want to get the greatest British streaming service?
Goose VPN for Gaming
With Goose VPN, you do not have to be stressed about data traffic limitations. No matter the plan you choose, it comes with awesome speeds and unlimited bandwidth.
In addition, Goose VPN supports unlimited devices, so you will be able to share the same account with your family or friends. In most cases, you won't experience any drops in the middle of the game and the VPN does not slow down the process.
Privacy and Security
Goose VPN is a great IP hider! It uses such protocols to protect your address and data:
OpenVPN
L2TP / IPSec
PPTP
IKEv2
All seem to be working as intended and secure your connection properly. We did not find any obvious leaks in our testing. Configuring RSA-2048 connection and NPP 256-bit encryption provides ultra-protection for your Internet activity.
Goose VPN does not store user DNS lookup data, session data, servers used, or IP addresses to log into a VPN account. This provider does not cache, collect, or store user activity logs on the Internet. The only data that the provider collects during a session is deleted as soon as you close the VPN app.
All Goose VPN servers are protected from Linux simplification, firewalls, anti-spam, anti-virus, and anti-DDOS attacks. Goose VPN has official P2P servers, which is good news because so many modern providers either do not advertise such servers or actively prohibit such activity on their network.
Goose VPN subscription plans and prices
The Goose VPN Pro subscription costs $12.99. At this price point, Goose VPN easily outperforms premium providers like ExpressVPN or NordVPN. One of the main advantages of Goose VPN: a subscription gives you the ability to connect to an unlimited number of devices through one account, while there are no restrictions on data transfer.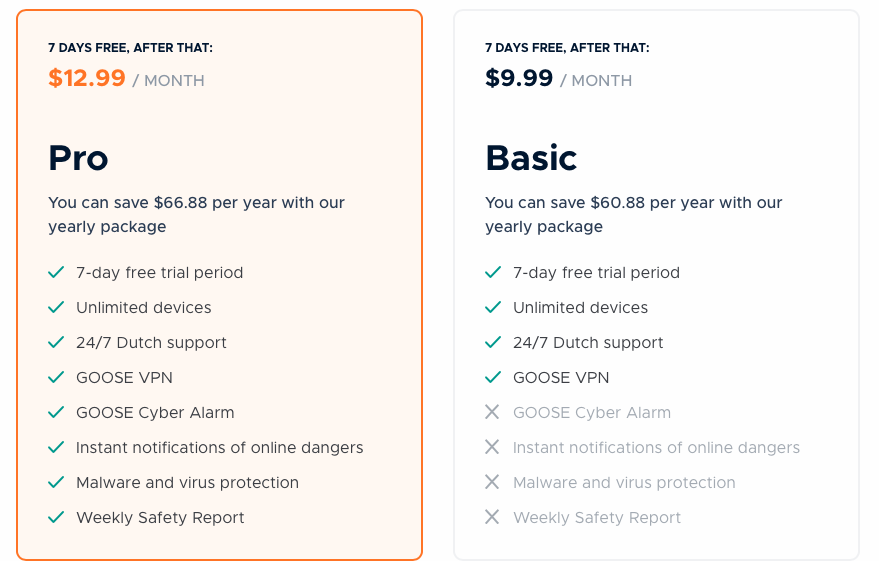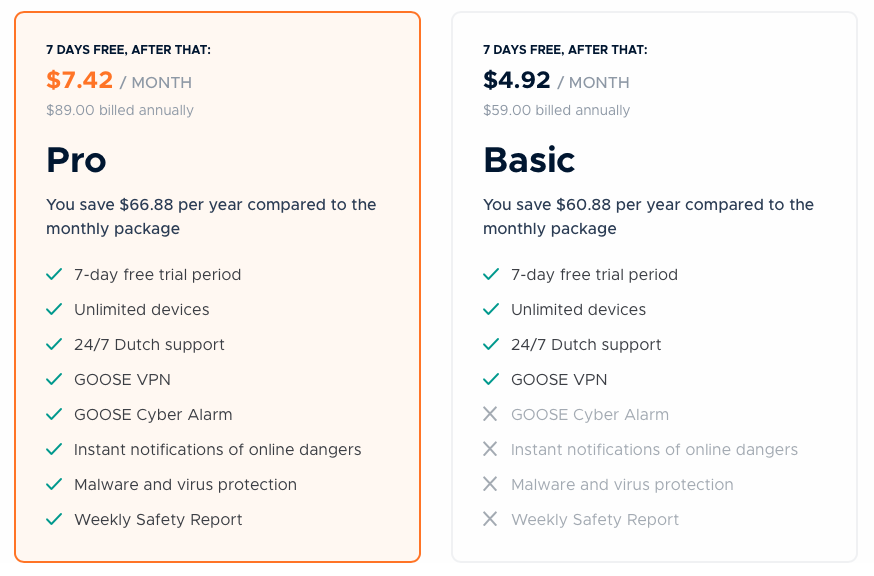 The Basic Goose VPN subscription will bring the price down to $9.99 per month. If you want to opt for a yearly subscription, the Pro package will cost you $7.42 per month, and the Basic package $4.92.
If you are unsure about your plans for using Goose VPN, you can use a "free" trial month. The provider offers a 30-day period, during which you can cancel the service at any timeand get your money back.
Usability
Setting up Goose VPN is easy and straightforward. Most of the steps are self-explanatory and you should be online within a few mouse clicks. On the first startup, the app chooses to use a "smart server list". This should automatically guide you to the best performing servers.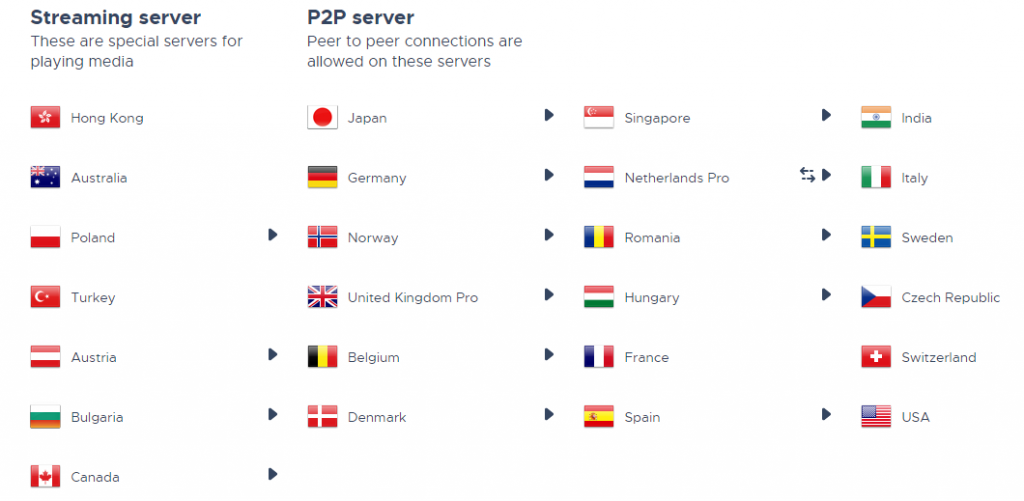 Switching between VPN servers reliably works, and the app clearly explains all the available features. More advanced users who want to make use of advanced settings may want to opt to use OpenVPN protocol. There is a decently detailed guide available on the Goose VPN website for setting this up.
Overall, the Goose VPN application is easy to use and clearly does what you expect of it. The interface is prompt and minimalistic, it is quite difficult to "get lost". Despite short list of countries, Goose VPN servers are present in all regions which are good for streaming and torrenting. As a bonus, certain servers perform relatively satisfying speed to satisfy binge-watchers and gamers.[/vc_column_text][/vc_column][/vc_row]
FAQ
Is it possible to use Goose VPN on home routers?
Yes, of course, if your router supports VPN connections. At the moment, many routers support the work of the protocols through which access to the VPN service is provided. For details on connection, refer to the router documentation.
Can I use Goose VPN for torrenting?
Goose VPN is a decent choice for Peer-2-Peer use. It is present in countries that offer well-performing servers that are quite friendly to BitTorrent. We did not find any leaks when testing some torrents and the connection did not appear to be pinched.
I have an antivirus and firewall running. Will I be able to use Goose VPN?
Yes of course. As a rule, you should not change any settings in your computer's security software.
Does Goose VPN have good customer support?
Goose VPN's technical support is ready to answer any question you might have. The answers are not only quick but also comprehensive. This kind of technical support is exactly what both beginners and advanced users need.
Does Goose VPN connection overload your computer?
Having a VPN connection will not affect the performance of your computer in any way. You will be able to work through Goose VPN both on a modern PC and on a PC that is several years old.