Overview
BlufVPN is a young VPN provider that has a lot of potential but currently falls short due to slow speeds, lack of features, and certain features not fully working yet.
Ratings
Features
| | |
| --- | --- |
| Apps | Windows, macOS, Android, Chrome, Firefox, Edge |
| Price | $2.00 per/month |
| Payment methods | Credit Card |
| Refund | 30 days |
| Protocols | OpenVPN TCP/UDP, IKEv2/IPSec |
| Log Policy | Limited logs |
| Simultaneous connections | 5 devices |
| Based In | Estonia |
| Netflix | USA |
| Torrenting | Yes |
| Streaming | Hulu, Amazon Prime Video, BBC iPlayer, ITV HUB, Crackle, Tubi TV |
| Works in China | No |
| Jurisdiction | Estonia - Not a Fourteen Eyes Country AND Not an Enemy of the Internet. |
| Server Locations | 50 |
These days there's no shortage of VPN providers. Good and bad, pricy and free, security- or entertainment-focused. You point your finger in the general direction of an app store, and you will definitely hit a VPN that claims to be the best.
So, naturally, when a new VPN appears on the scenes, you can't help but wonder what it brings to the table to set it apart from such an abundance of competition. And that's exactly what happened when a VPN we have never heard of by the name of BlufVPN knocked on our door and asked to be reviewed.
So let's find out if this young and stylish provider is any good, or is it Bluffing (c'mon, how could we not ??!).

Give BlufVPN a try yourself!
BlufVPN: An Introduction
BlufVPN is, as it is custom to say, a relative newcomer to the VPN scene.
Launched in 2020, this shiny new VPN comes from Estonia. Not a common place for a VPN's base of operation, and definitely not a common country to find a VPN registered in. But, hey, we're all for broadening our cybersecurity horizons.
The VPN even has an actual address! But, honestly, it looks like a private house.
BlufVPN set off into the VPN world with a plucky attitude, a cool website, and just the Windows and Android apps. Nevertheless, in the span of just over two years, it managed to grow pretty fast, launching applications and browser extensions left and right, expanding, and gaining over 500,000 downloads. Given that this is a premium VPN with no free option, this is quite an achievement.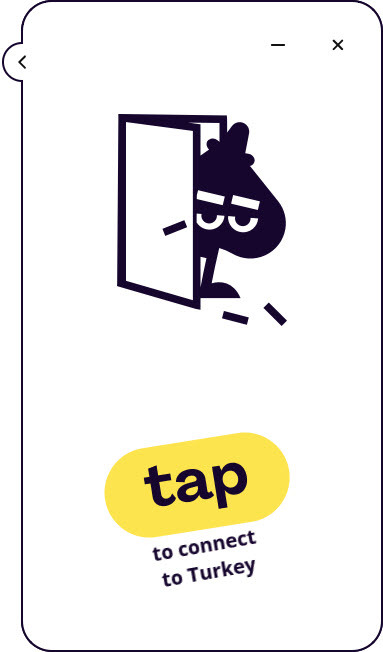 So, naturally, we wanted to find out what makes this VPN tick.
Edasi! (that's Estonian for "Onward!")
BlufVPN servers
Servers are a good place to start getting to know this young but clearly ambitious VPN provider.
In the short time that this VPN has been around, it managed to establish a pretty diverse network of over 500 servers in about 50 countries. Now, this isn't comparable to NordVPN, ExpessVPN, or the literal tens of thousands of PIA servers, but it's a start and a pretty good one!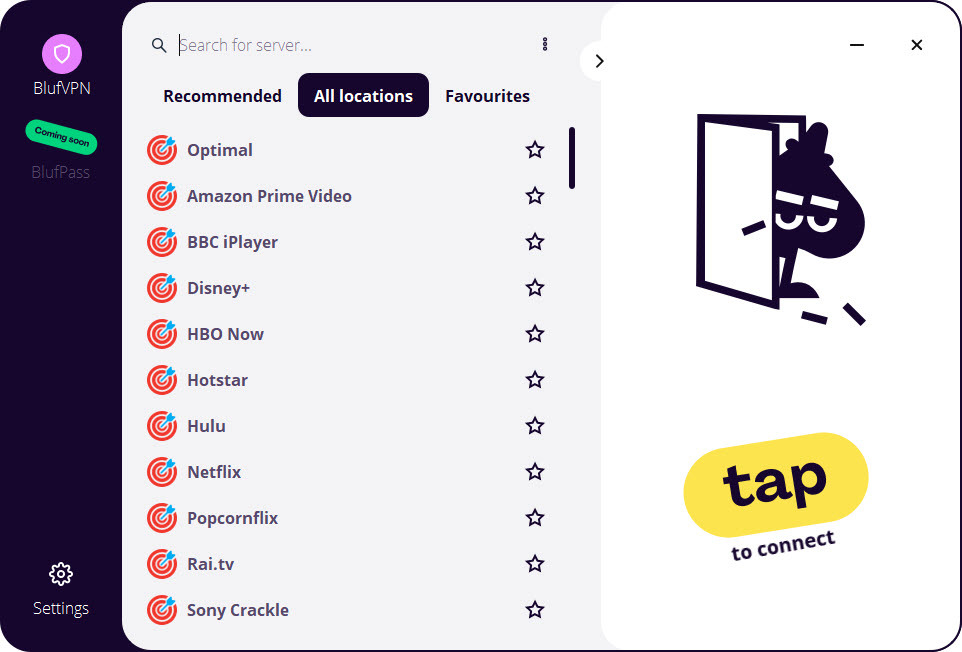 The majority of these servers are located in Europe, actually covering the continent pretty well with its web of online security. From Norway to Greece, from Iceland to even Belarus where VPNs are having a tough time, the provider seems to have a server in every country.
That's not to say that the rest of the world goes BlufVPNless.
The provider has a few servers in the US, Canada, Brazil, Chile, Costa Rica, and Mexico across the Atlantic. It also hits all of the necessary places in Asia and Africa, including Japan, Vietnam, Australia, Singapore, Turkey, and India.
While the spread is decent, try as it might, it still can't compare to the likes of the bigger VPN providers. That's obvious. Although, if it was all about the numbers, we'd give first place to Private Internet Access and go home. What actually matters is how well those servers perform.
BlufVPN speed test
Ah, the speed test. The trial by… well… speed for any VPN provider.
Every once in a while these younger and smaller VPN providers can surprise us. They have fewer users and their servers are less crowded, and because of that, they often give you better speeds and better overall performance. Would BlufVPN be able to pull off something like this?
To give you a point of reference, here's our control speed: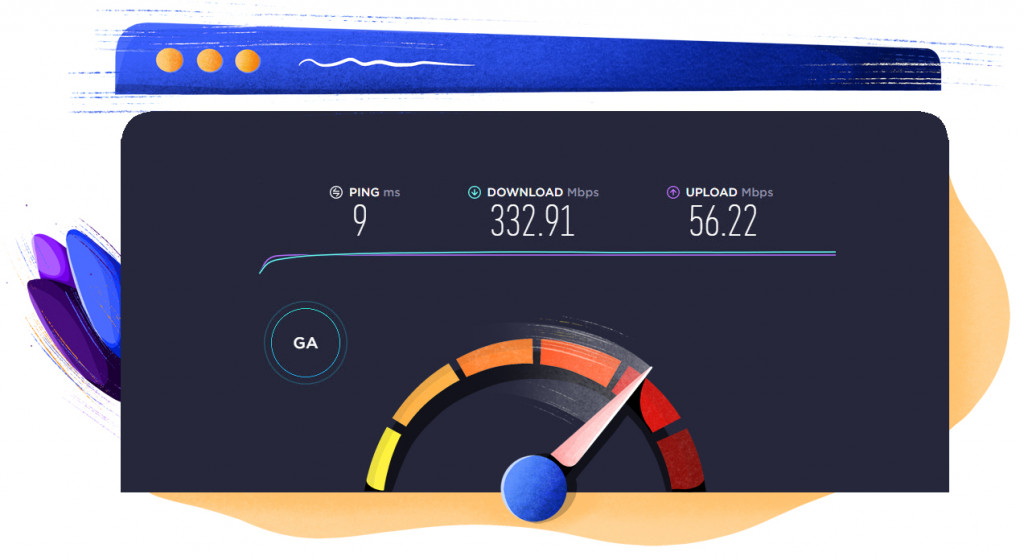 So first and foremost, we had to try out the fastest and closest server, and these are the speeds we got: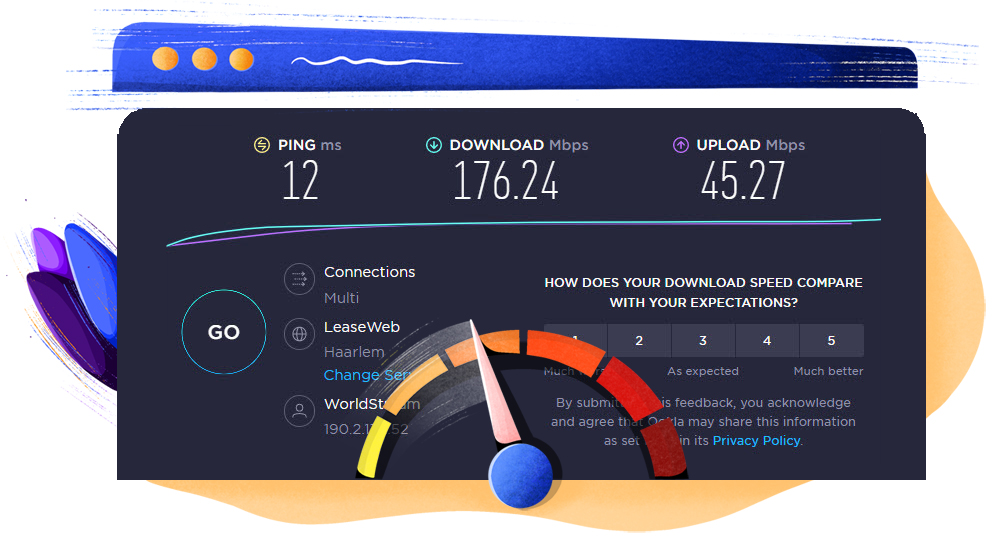 So immediately that's a 47% drop in download speeds and about a 19% loss in uploads. Not the worst we've seen, but definitely not a great start. Sadly, the rest of the testing didn't really go much smoother.
Next up was a Belgian server, which gave us a 57% loss in download speed, but faired better in upload performance: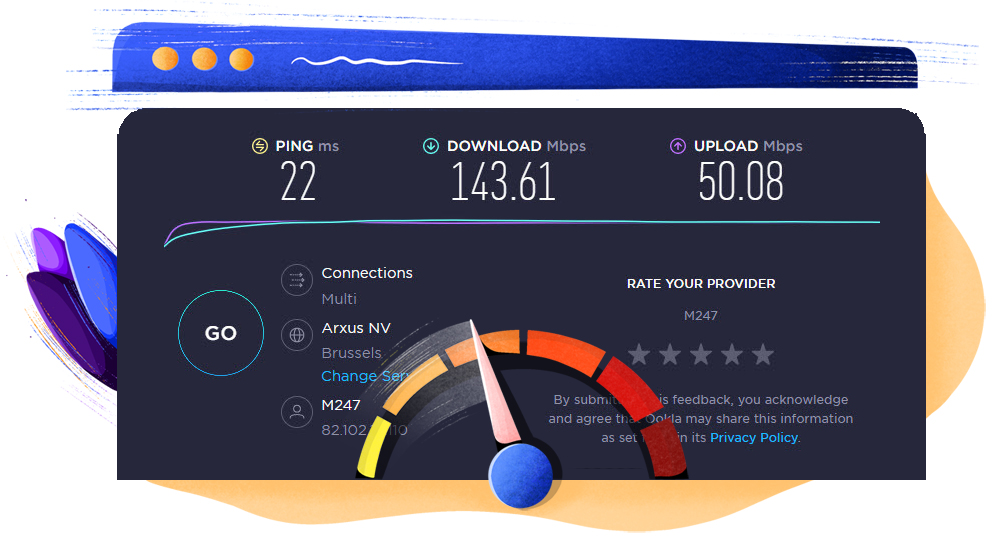 The worst out of all the European servers, however, was the German one, which gave us pretty sad results: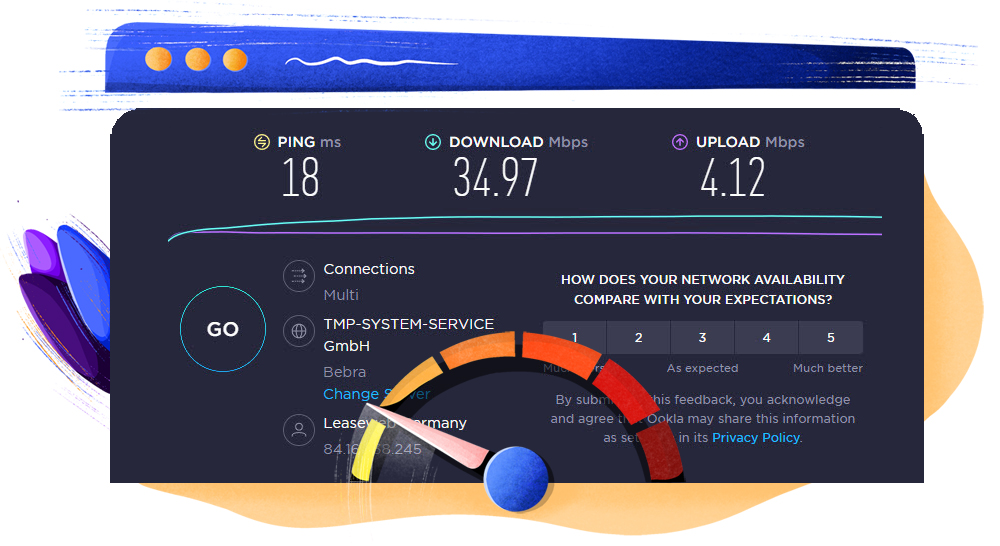 That's about 90% lost in both uploads and downloads.
Naturally, we had to test the VPN in its home country of Estonia, but the VPN had trouble figuring out where it is, so we found ourselves in Honduras. The speeds that 'Baltic Honduras' supplied us with were decent though: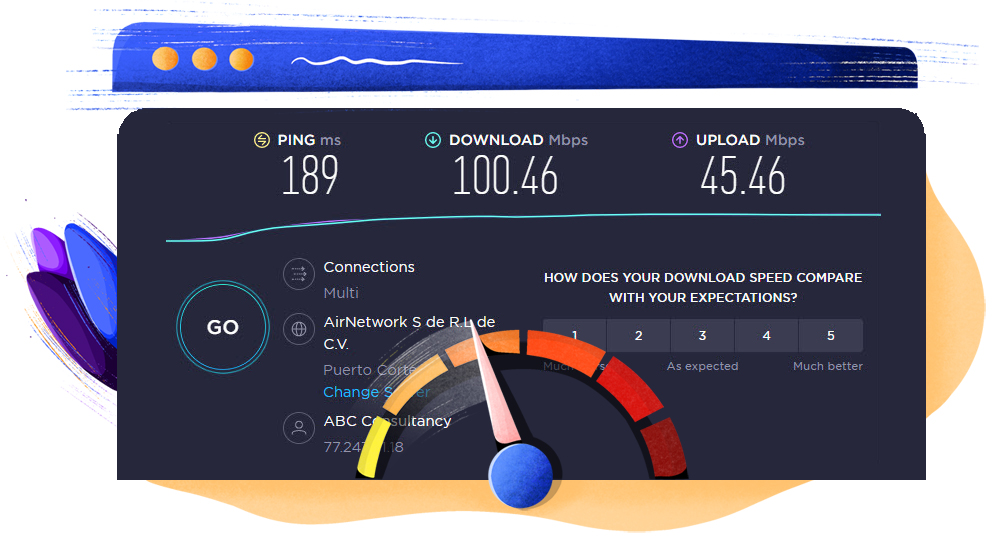 Next, we took the VPN to the US, to see how its speeds would fair there. And the results were about as all over the place as we expected.
For example, the speeds were pretty decent in Seattle, giving us a 67% drop in download performance and about a 27% loss of speed in uploads which is actually pretty OK: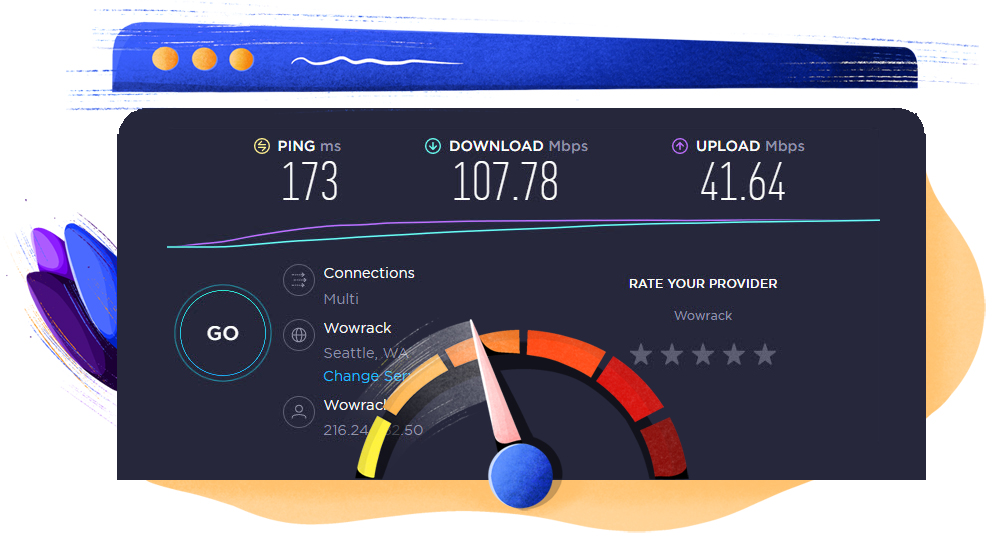 However, the next stop on our list, the Dallas server immediately dropped our speed by 80%: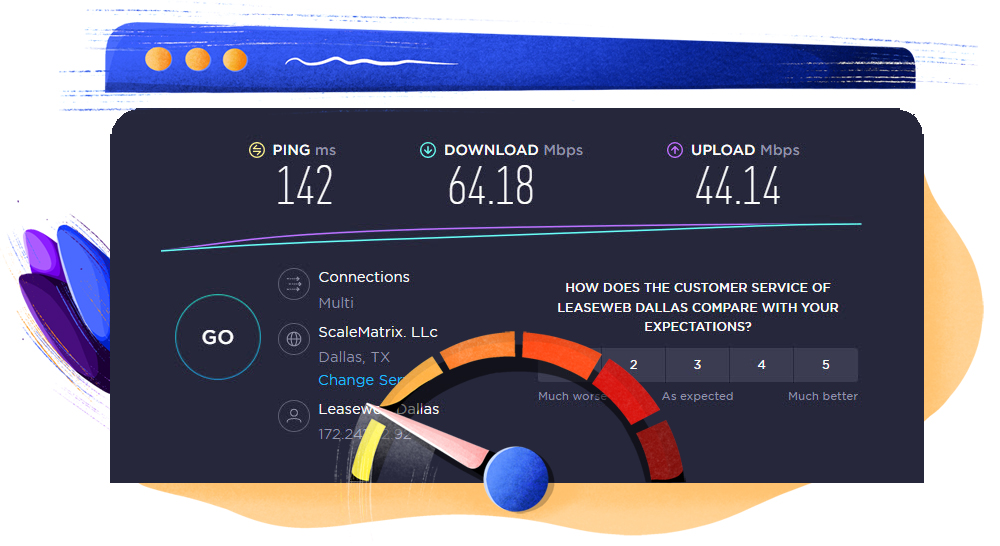 Finally, the Virginia connection performed worst of all, resulting in an almost 95% drop in download and upload speeds (and it also thought we were in Rotterdam for whatever reason):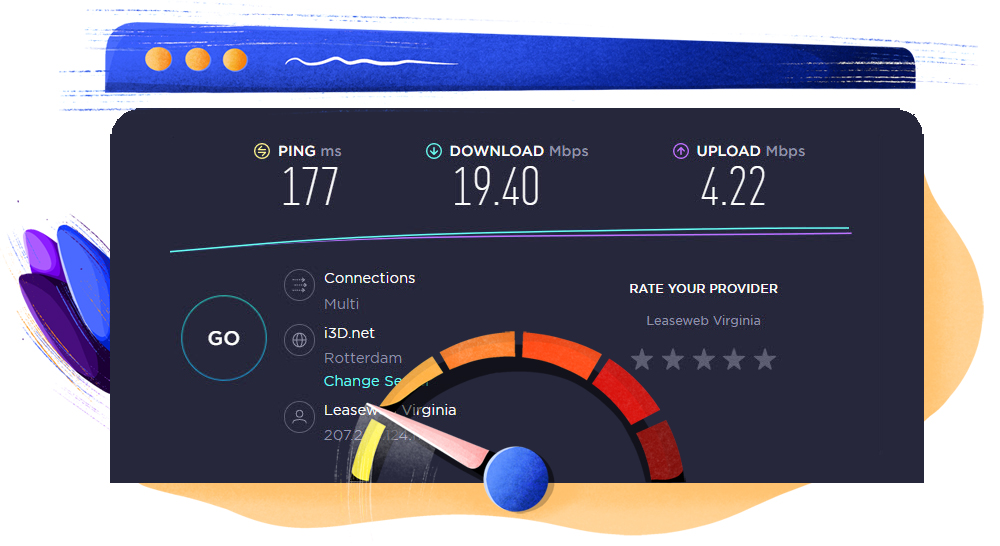 The last stop on the list was Vietnam, and, as you would expect, it didn't perform much better, nearly stopping our connection dead in its tracks: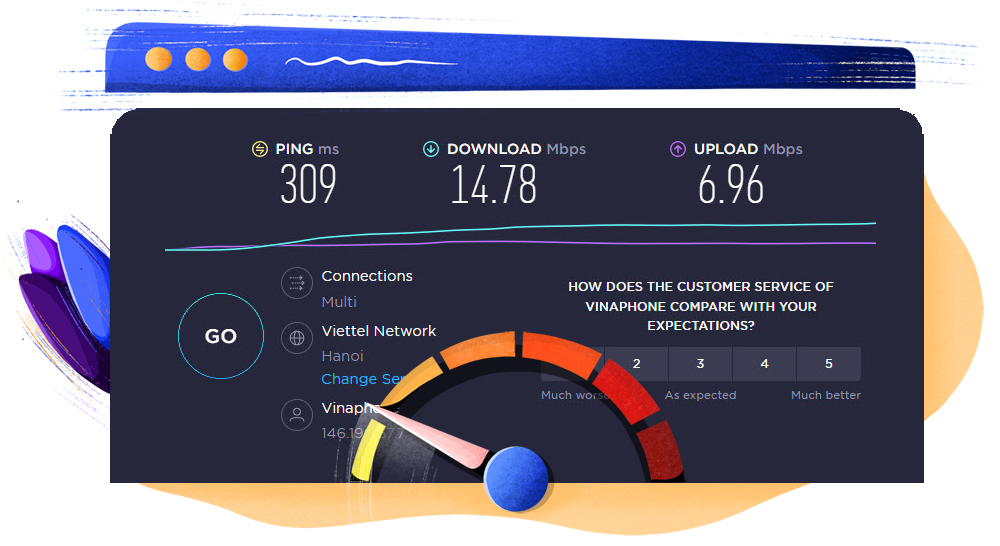 As much as we'd love to stick up for the little guy, we have to be honest. When it comes to speed, BlufVPN has a lot to work on. And if you're already a BlufVPN user, we'd definitely not recommend connecting to anything that's outside of your home country. The closer your connection, the more chances it will be a tolerable one (this is true for all VPNs, but this is some next-level stuff).
One last thing. BlufVPN does feature an in-app speed test that is supposed to help you choose the best-performing servers. However, it doesn't do much other than show you the ping of all the servers. While helpful, when speed is this much of an issue, even the lowest ping won't make much of a difference.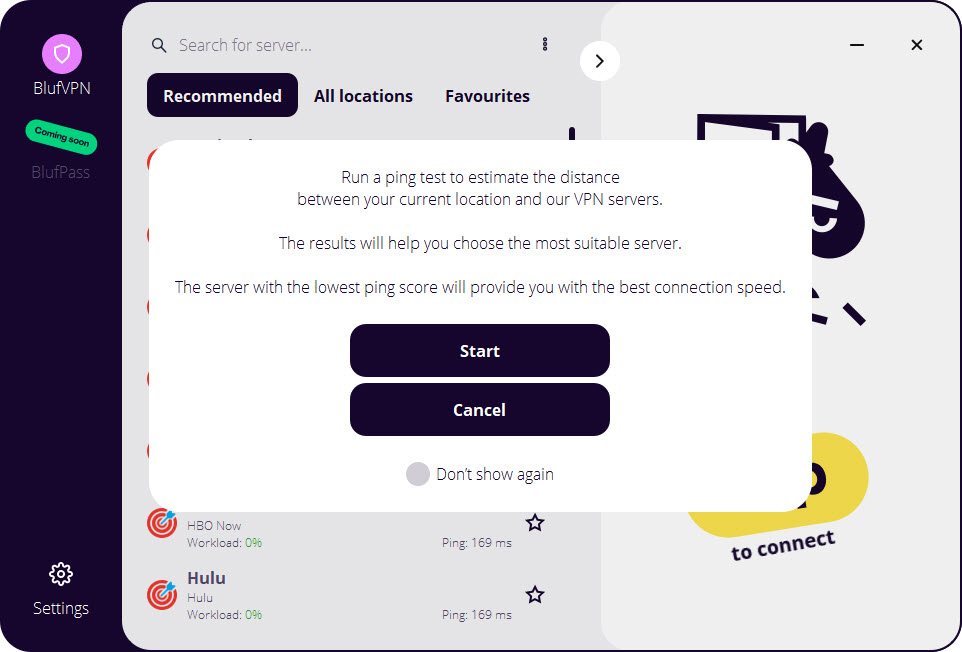 BlufVPN security and privacy features
OK, so speed might not be one of BlufVPNs strongest suits. While it is crucial for a smooth VPN performance, there's a bit more that goes into making a VPN great. So how well does the little provider perform in the key features of any VPN: security and privacy?
Well, first and foremost, BlufVPN seems to have all the basics on lock and key.
Try as we might, we didn't encounter any IP leaks:

DNS leaks:


Or any other kind of online security and privacy vulnerabilities, no matter what we threw at the provider:


So, given the results, we wanted to look closer at how BlufVPN achieved something some providers still can't figure out (looking at you, PureVPN).

Wondering what we're talking about?
Check out our full PureVPN review and find out!
---
Sidenote.
During our tests, we did notice that a lot of the software we use identifies BlufVPN's network as that of VPN Unlimited – a service that, among others, belongs to KeepSolid.
We can't really say that these are one and the same, even though KeepSolid is known to run multiple VPNs, but the find is interesting. It might mean that BlufVPN is piggybacking on VPN Unlimited's network which some VPNs are known to do.

The VPN world is full of conspiracy...
Check out who stands behind the most popular VPN providers
Encryption
BlufVPN comes with the industry-standard 256-Bit encryption, which, honestly, any VPN should come with at this point.
This level of encryption is quite solid and means virtually no one will ever get their hands on any data you send or receive online.
Protocols
The VPN connection protocols that BlufVPN offers are… interesting to say the least.
First of all, but a few months ago when we were first testing the app, it didn't even have a protocol selection list. But today this little VPN features some of the most popular protocols as well as protocols we have never seen before (whether that's a good or a bad thing). These include:
OpenVPN – the gold standard of the VPN world, that still provides stability, quality, and overall versatility, that no other protocol can completely outmatch.
IKEv2 – a great addition to the little provider, especially when used on mobile devices thanks to the protocol's unique ability to automatically re-establish a secure connection if it ever drops during a network switch or due to connectivity issues.
Wise TCP/UDP – this is a weird one. This isn't a VPN protocol that's out there, nor is the Wise protocol explained by BlufVPN themselves. It might seem like something new entirely, but, in fact, this is just OpenVPN running on port 443 with a bunch of extra stuff sprinkled in to make it less detectable. Cool feature, but definitely not a new protocol.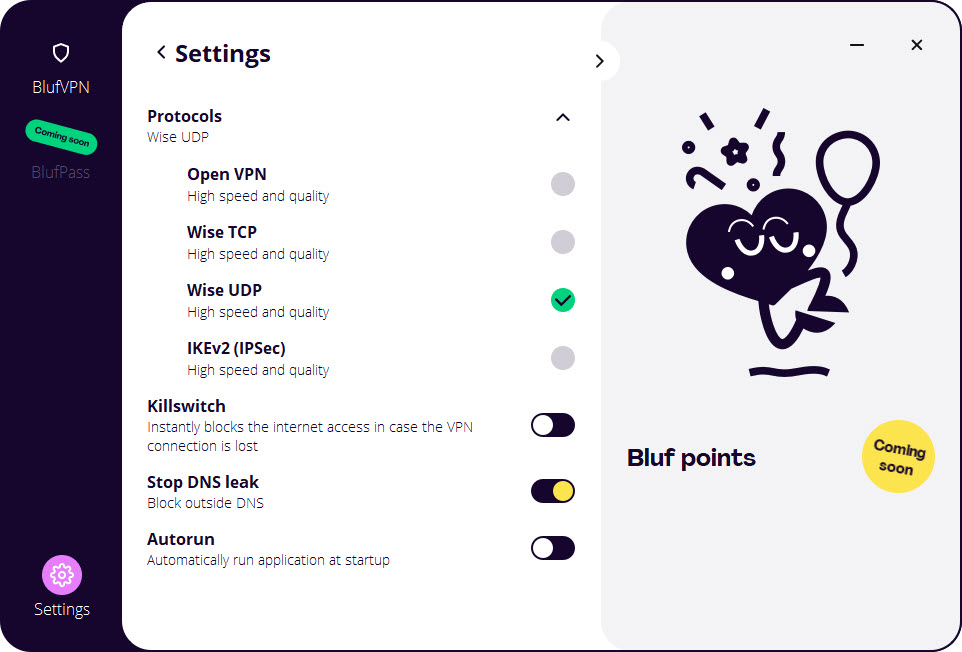 BlufVPN also tells you that it uses WireGuard. The website doesn't just tell you that, it sells WireGuard like the new coming of CyberChrist. However, try as we might, we haven't found the protocol on any of the provider's apps.
Logs policy
Much like any other VPN, Bluf claims to have a zero logs tolerance, and not see, collect, or store anything.
This sounds great and all, but all VPNs tell you that. However, is that really the case?
In fact, once you take a close look at the provider's Privacy Policy, you will quickly find that they actually see and collect a whole bunch of information you might not want to share.
Aside from the data that you hand over willingly in order to subscribe to the service (email address, payment information, etc.) the provider also collects your:
IP address
Browser type and operating system
Device name, code, manufacturer, and language
Time zone, connection type, WiFi network name
Country
The total amount of web traffic for each session and session dates
Number of your devices using the Services
Data on website/app usage, including version used, activation date, and updates installed
As well as an unspecified amount of data collected from other sources
Now, this changes things a bit, doesn't it? Can a VPN truly call itself a no-log VPN when it collects and sees this much? We think we need stricter definitions here, Bluf!
True, the provider does state that this data is only stored and seen during your VPN connection and is immediately deleted once the connection is terminated. However, first of all, who's to say it is, in fact, erased? But most importantly – this is still a massive amount of data!
As much as we'd like to play the semantics game, we can't really give BlufVPN a pass on this one. "No logs" simply means no logs.
Kill Switch
BlufVPN also comes with a kill switch, and it works fairly well. It's not elaborate and doesn't allow for any customization, it's definitely no Hide.me. BlufVPN keeps it as simple as kill switches get: when enabled, the kill switch cuts all Internet connections when the VPN is off and reestablishes the connection once the VPN is on. Simple.
This is a great, and simple feature to have when you don't want a single bit of your information to go unencrypted. And it works especially well with the 'Autorun' function that enables a VPN connection as soon as you launch your device. This way you don't have to waste your time doing it manually in order to start using the Internet.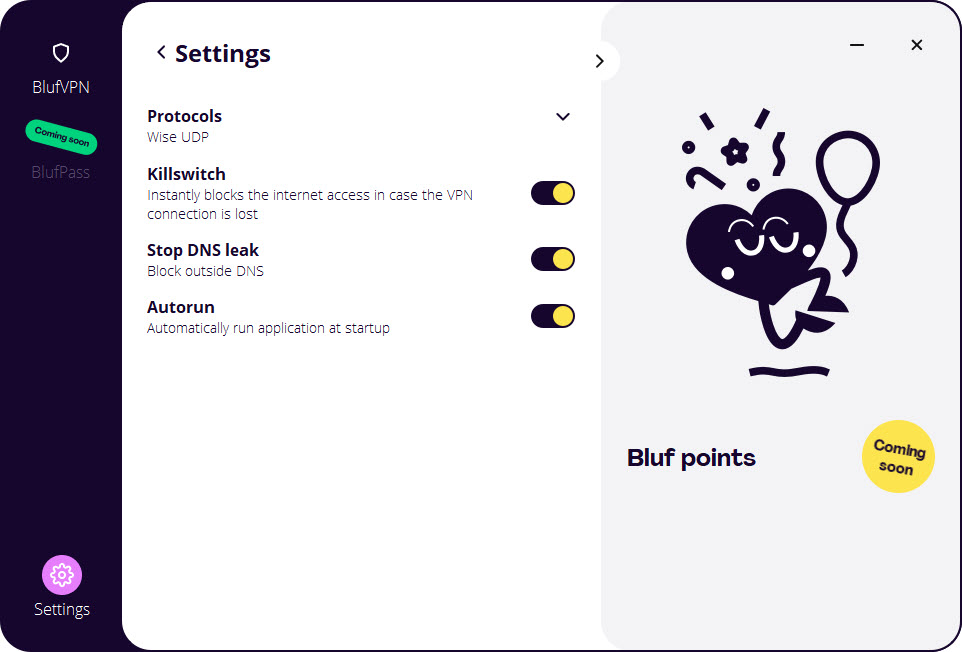 Stop DNS leaks
The last feature BlufVPN has to offer is the poorly named 'Stop DNS leaks'.
This feature basically blocks any outside DNS connections, ensuring your personal information, IP addresses, and DNS servers won't get leaked and can't be subsequently traced back to you.
A nifty feature for those who want to ensure their online privacy.
Strange, though, that this feature isn't enabled by default.
---
As much as we'd love to add more, this is it for BlufVPN's online security and privacy features.
And if we had to draw conclusions based on the provider's security measures alone, we'd say it's simple. Although sometimes simple is all you need. BlufVPN doesn't try to wow you with a bunch of additional features, it doesn't throw everything in the kitchen sink at you. Currently, it's focused on the security and privacy basics. And those basics work pretty well.
Be that as it may, it's not all security and anonymity.
Some questionable decisions, a bit of a misleading marketing campaign that advertises features the provider doesn't currently have, and especially the logs policy can leave those who look deep enough with a bit of a bad taste in their mouths.
Maybe focusing on the basics is the way to go, ey BlufVPN?
BlufVPN apps
OK, so we know all about BlufVPN's security and privacy features now. But how many devices can it protect with those features? And how easy is it to use?
Well, it's a bit of a work-in-progress really.
First of all, we have to give major props to BlufVPN for their consistent work on the app. When we started on the review, the only apps the provider featured were Windows and Android. And at the time of writing, they've also added apps for macOS, as well as browser extensions for Edge and Chrome.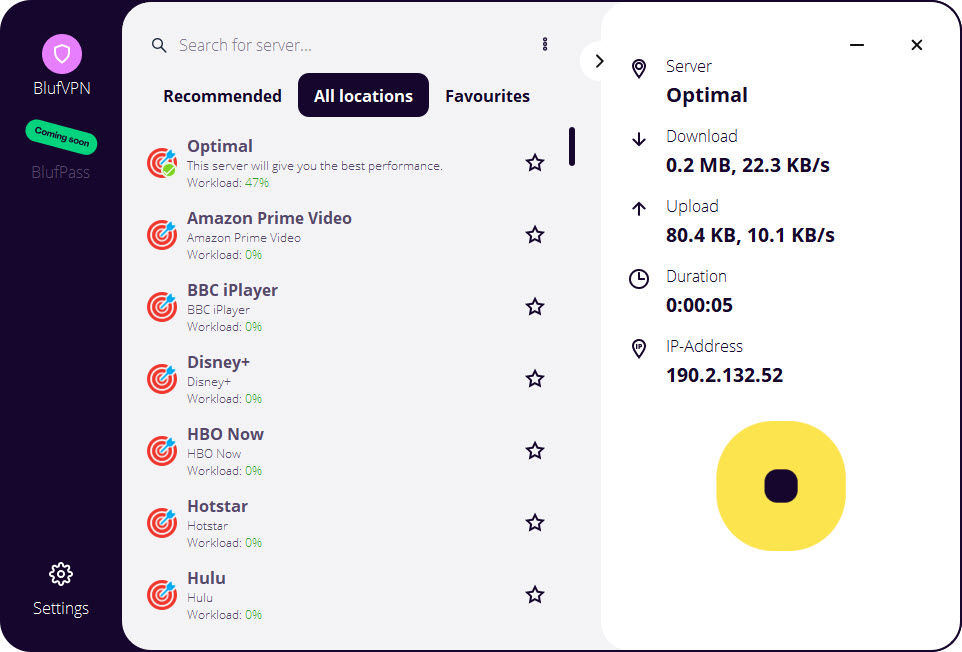 A single BlufVPN subscription can be used on up to five devices (as much as ExpressVPN. Pretty ballsy, Bluf!).
Now, whether the apps are usable or not, that's a whole other question.
Desktop apps
As said, BlufVPN has apps for two major operating systems: Windows and macOS.
The latter is still very much a work in progress, and since Windows was the provider's first app and we do want to give BlufVPN the best shot ever, we're going to be mainly sticking to that one.
First of all, the app is going for a pretty cool look (as is the website). It's got a full, and compact view, giving you plenty of options on how much of the VPN you want to see.
The compact view allows you to instantly connect to the closest VPN server, as well as gives you a bunch of useful information, such as the duration of your connection, the downloads and uploads, and the VPN's IP.
The full view of the apps gives you the server list, as well as allows you to switch between All, Recommended, and Favorite servers that you can add manually. You can also access the advanced app settings (or lack thereof) from here.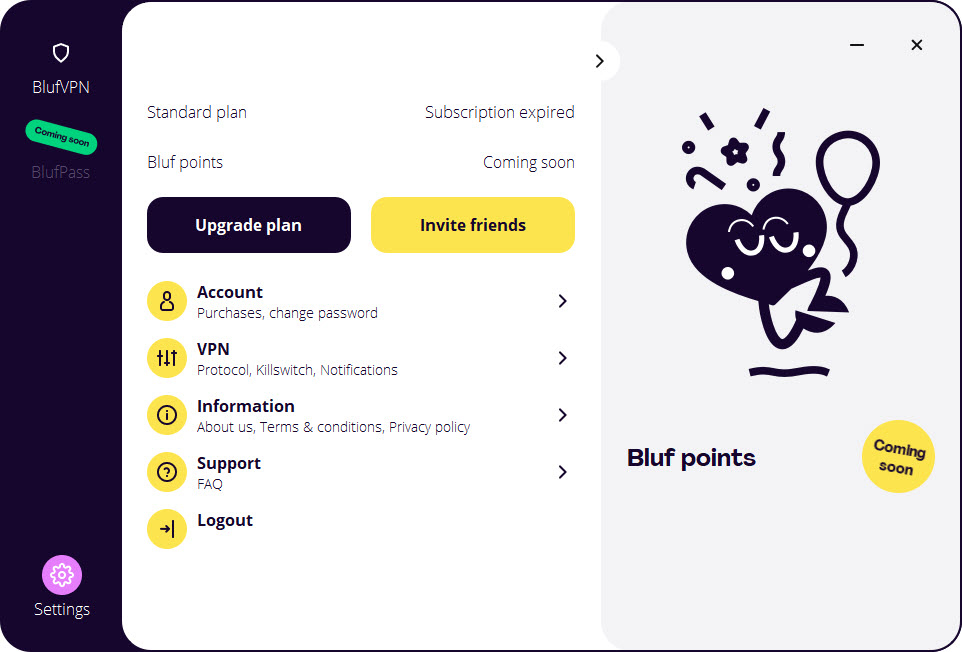 As cool as the concept is, in execution, the app isn't always great. Most notably, it suffers from horrendously long connection times, a lack of features that are not always easily accessible, and a pretty cumbersome server list that doesn't exactly achieve what it set out to.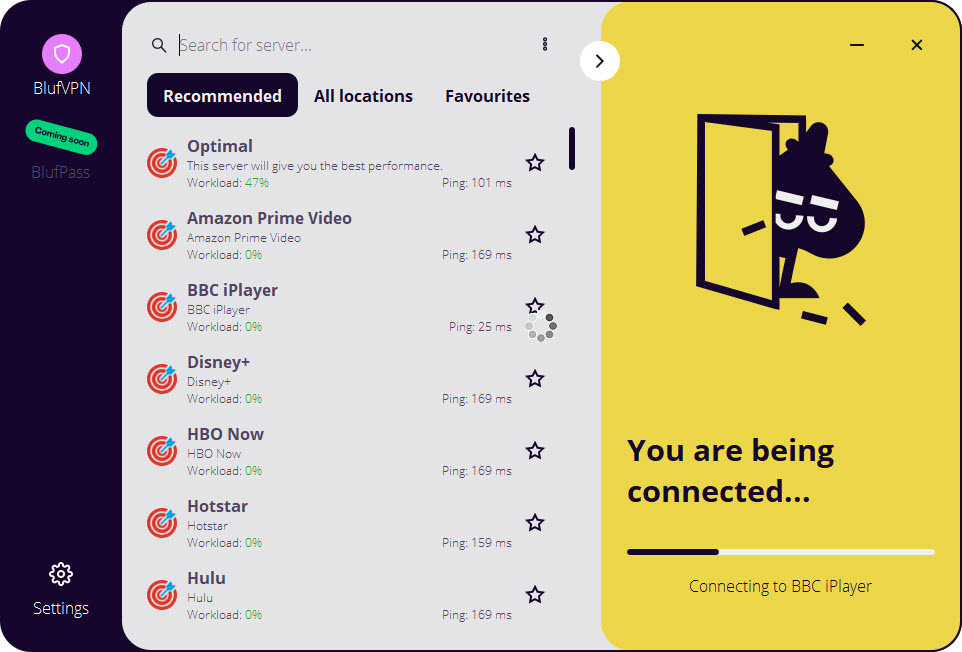 The lack of user feedback is also a bit of an issue. While the design is cool, it doesn't feel like you're pressing buttons, more like clicking images, which doesn't feel great.
Still, with a few tweaks, BlufVPN can really set itself apart as something truly unique and stylish.
Mobile app
BlufVPN currently has only the Android VPN app under its belt.
The Android app looks pretty much exactly the same as the Windows app, but being constricted to a touch screen helps it work that much better. The app is truly made for fingers first and mice second.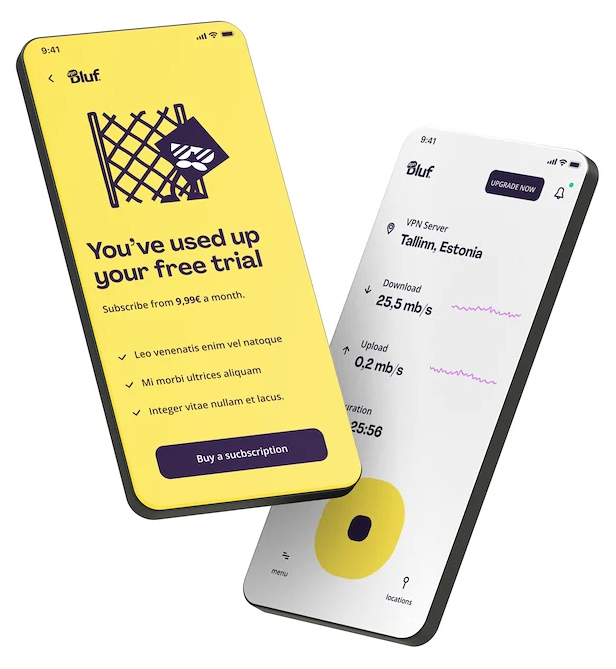 Other than that, there's not much to add.
It's definitely easier to navigate the Android version of the app both on phones and tablets, but the app itself still suffers from the same issues of slow connection times and lackluster speeds.
The recent addition of IKEv2 is definitely a welcome step toward making the apps perform that much better on mobile. Here's hoping BlufVPN will keep it up!
Browser Extensions
BlufVPN has extensions for Chrome, Edge, and Firefox… oh, wait, never mind, Firefox is still coming soon.
We'd really love to say something nice here, but no matter how hard we tried, we could get the extensions to start on any of the browsers.
Too bad.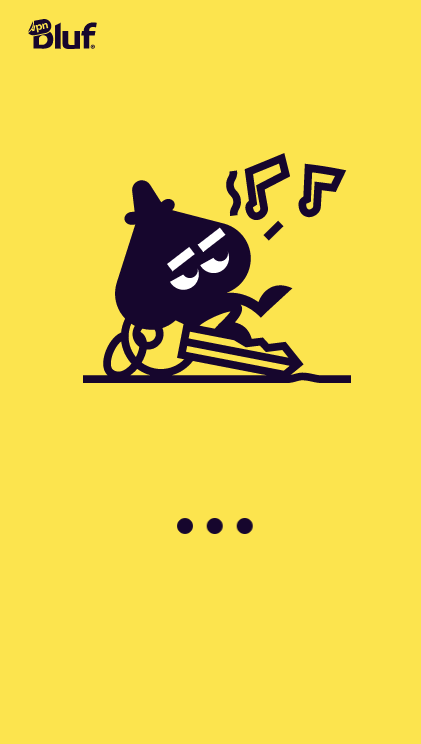 BlufVPN and streaming services
What's the toughest part about any VPN? Figuring out what streaming services they work with! Well, not with BlufVPN, for it gives you every single streaming service in the form of optimized servers.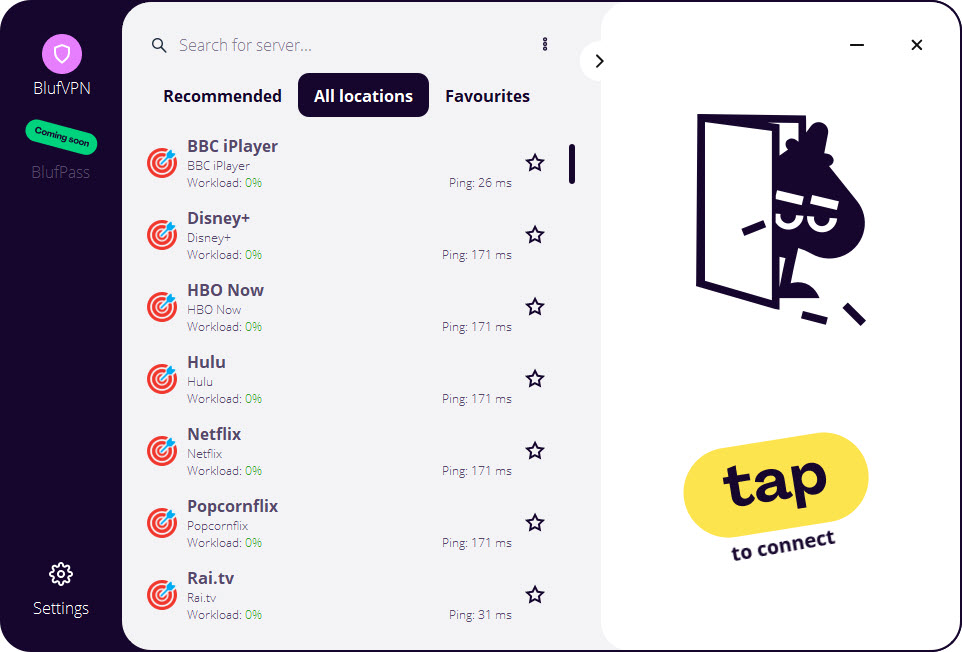 Despite the idea being kind of cool in concept, negating the guesswork, and immediately giving you the service you want, the execution falls a bit short here as well.
The streaming services listed in the app seem kind of random. It looks like the provider is figuring out what its own VPN works with by blindly stumbling upon streaming services and adding them to the list. And some of the platforms are downright confusing. HBO Now? Correct us if we're wrong, but we don't think that's a thing anymore. Hotstar? Well, which one – the Indian, on the US one? Wait, Rai.tv? Why is it the only Italian streaming channel on there? Several servers simply called 'Streaming' or 'Movies & TV,' what do they do? So many questions and no answers to give you, we're sorry.
OK, but, jokes aside, we've tested the app, and here's what we found BlufVPN to actually work with:
Netflix
First of all, the most important streaming question any VPN has to answer.
BlufVPN does manage to unblock Netflix US, even though it does take a whole bunch of tries.

Looking for a VPN for Netflix?
Check out our completel guide!
BBC iPlayer
Even though the VPN is mainly focused on American streaming, it did surprise us by working with BBC iPlayer, as well as ITV for that matter.

Want to watch BBC iPlayer?
Find out how to get it wherever you are!
Hulu
Hulu's a tough one to crack. On top of that, cracking it isn't the biggest issue, it's not being banned from the streaming service that is.
Despite being able to give you access to Hulu, BlufVPN might give you trouble with the popular platform due to a lack of a dedicated IP option.

Want to know more about unblocking Hulu?
Check out our complete guide to streaming Hulu
Free streaming services
For whatever reason, BlufVPN dedicated entire servers to the likes of Popcornflix and Sony Crackle. Cool, Bluf, but you can do better than that! You actually work with most free streaming services we've tested, except for the tougher ones, like Free Sling TV.

Free streaming platforms?! What are those?
Check out or list of the best free streaming services!
While BlufVPN definitely has streaming unblocking potential and desperately wants to be a tool for that, sadly the same can't be said about the actual streaming. Due to its rather slow connecting speeds, BlufVPN will load content slowly and occasionally freeze up which, of course, isn't ideal.
So, as sad as we are to say it, this might not be the best VPN choice for streaming.
BlufVPN and gaming
If you've been reading carefully, you know that the major issue with BlufVPN is its speed. And speed is all that matters when it comes to picking the right gaming VPN.
It also doesn't help that the provider doesn't have any apps for consoles or routers, so you can only use the VPN on a PC.
Plus, the server network is not diverse enough to take advantage of price discrimination or get games early.
So if you're a gamer and are looking for the perfect VPN, there are better providers out there to help you out. Sorry, Bluf!

Searching for the perfect gaming VPN, are you?
Find out what to look for in one and which ones are the best!
BlufVPN and torrenting
Even though BlufVPN doesn't advertise torrenting, all of its servers are P2p-optimized and allow downloads.
That's great!
What's not great is the speed. BlufVPN drops Internet speeds so much, that downloading becomes nearly impossible. So we'd not recommend using it for some good old torrenting.
BlufVPN subscription plans and prices
So how much does all of this cost?
Well, as you may have guessed, BlufVPN has three subscription plans (yeah, it and every other VPN). And despite BlufVPN being young, just starting off, and hitting snags on the road, its subscription plans and prices are pretty spicy:
First of all, there's the 1-month subscription that's $9.99 and is more than what most VPNs ask for.
Second, BlufVPN's 1-year subscription is $3.49 per month which is still a lot.
And, finally, a 3-year subscription gets you an 80% discount and is worth $2 a month, which lessens the blow but is still more than some of the premium providers out there.

The VPN doesn't have a free version or a trial option, but it does have a 30-day money-back guarantee, so you can try it out risk-free.
Payment methods
BlufVPN's payment methods are as confusing as a lot of other things about the provider. Actually, it often feels like the provider updates the information on its websites before it implements any of the changes in its app.
While the website goes to great lengths to convince you you can pay for the service in all kinds of ways, you only really get one option to pay for the app: credit or debit cards. That's it.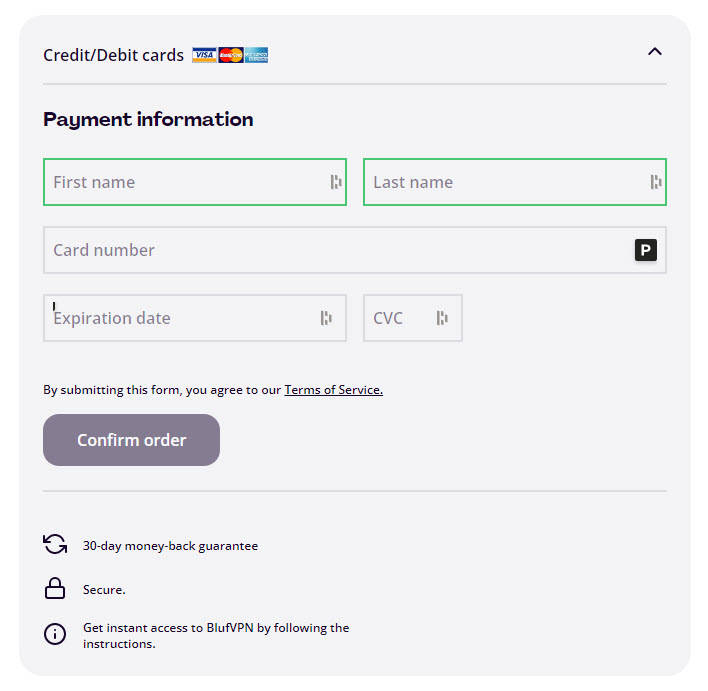 BlufVPN's customer support
Finally, we've arrived at customer support. And with these many issues, the provider should have great support options.
Well, again, the website says it's got you. But does it?
The website has an FAQ section, which covers the basics, such as Billing, Subscriptions, and the actual Basics, but doesn't really go in-depth with anything. The website itself, however, has all kinds of blog content, ranging from VPN-related posts to gems such as "What is the Internet?" and 2022 Horoscope predictions (!!!). Honestly, more VPNs should be giving us cybersecurity-themed horoscopes.
And then there are the three active support options:
Online form
Live chat
and E-mail
We've tried all three and they don't really merit their own segments.
The online form just didn't work – it would simply refuse to send.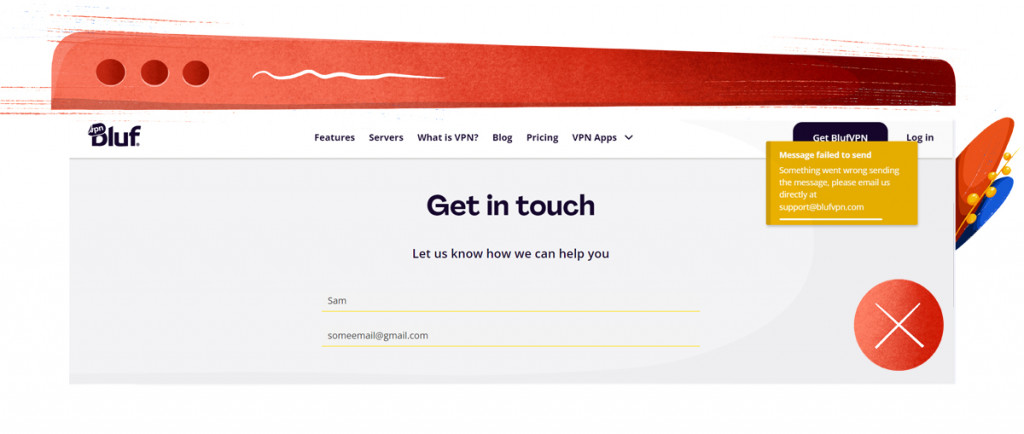 On top of that, we couldn't get in touch with anyone through the live chat option (which is basically Facebook Messenger, so you have to have an account). This might be because of the time difference as BlufVPN's live support only works during certain hours.
The only support that worked for us was the email. We got a response within 24 hours and it was kind, friendly, helpful, and thorough. Just sad it didn't come with a Taro reading ?
The bottom line
Being young is tough. Especially when everyone else is ten years older and out to get you. And it must be tough for BlufVPN to find its footing in the cut-throat industry that is the VPN world.
This young provider is clearly just starting off and is eager to make a splash, make deals, and launch all of the apps, and next thing we know it will be calling out Kape on its shenanigans. Sadly, that's still a ways away.
Currently, the few apps that BlufVPN has under its belt have some undeniable issues. And this limits our ability to recommend their service outside of very specific things.
That said, this can be more than enough for some users looking for an independent VPN provider they can trust their traffic with. BlufVPN has most of the important basics down, and that's a great start, all things considered. More so than some of the providers that spend years tinkering and still leak your IP address or ruin your day with a bad Kill Switch configuration.
So we can definitely see potential if BlufVPN sticks to those basics and simultaneously irons out the issues. We're not talking about global domination. Far from it for now. But given enough time, care and effort, BlufVPN does have the potential of becoming a good, affordable, and seemingly independent VPN provider for your basic security, privacy, and light streaming needs. And for many, that's enough.
In conclusion, all we can do now is wish BlufVPN the best of luck. The little Estonian provider has a long and difficult road ahead, but we're all for seeing a more diverse VPN industry. So we will be keeping an eye on you, BlufVPN!