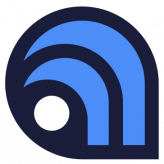 Overview
Atlas VPN might be new to the VPN scene, but a solid VPN service and a great free version do leave a good impression. However, the provider still has a long way to go if he wants to make it to the big leagues.
Ratings
Features
| | |
| --- | --- |
| Apps | Windows, macOS, Android, iOS |
| Price | $1.64 per/month |
| Payment methods | PayPal, Credit Card, Google Pay |
| Refund | 30 days |
| Protocols | IKEv2/IPSec, WireGuard |
| Log Policy | Limited logs |
| Simultaneous connections | Unlimited devices |
| Based In | United States |
| Netflix | No |
| Torrenting | Yes |
| Streaming | BBC iPlayer |
| Jurisdiction | United States - Five Eyes (United States, United Kingdom, Australia, Canada, and New Zealand) |
| Server Locations | 40 |
These days there seem to be too many VPNs than we care to count [and we do that for a living]. And, honestly, who would bother – it really does feel that there's one born every minute, while two others die.
But while some VPNs appear only to go silently into the night (or wherever VPNs go after they die), some stick around long enough to catch our eye.
One of those new, fresh, and very promising brands is a little young provider called Atlas VPN.

No time to read?
Get Atlas VPN right now!
An Introduction
Atlas VPN was probably the very first VPN to be launched in the second decade of the 21st century. So it already has that going for it.
Launched in January 2020, Atlas VPN was first released as an Android app (because of course, it was). According to legend, the original app was created in under 12 weeks, which definitely merits a reward of some sort.
In the span of just one year, this humble app turned into a full-fledged VPN provider. And currently, Atlas VPN has been expanding like crazy, rolling out new features month after month, and winding up to take on some of the fiercest competition.
---
As a true VPN should, Atlas comes complete with its own mystery about the people behind it and its actual base of operation.
On paper, Atlas VPN is registered in Delaware, USA. However, the people behind the provider are shrouded in secrecy. All of the names associated with Atlas VPN have no real presence online, but most other VPN review websites have picked them up, so the legend tracked.
What's better for a VPN, than having been made by seemingly anonymous people? [We see you having fun over there, Atlas]
However, a VPN being registered somewhere doesn't really mean it's based there. Most of the time that's absolutely not the case.
We did some digging and have a pretty solid assumption that Atlas VPN is actually based in Lithuania.
The company behind Atlas VPN seems to be the very same incubator/accelerator called Tesonet, which was initially behind NordVPN and Surfshark. In October 2021, Atlas VPN was actually acquired by Nord Security (the parent company of NordVPN) and has joined the Nord family of VPNs, which includes NordVPN and Surfshark.
So we've decided to take Atlas VPN out for a spin and see if this Atlas will indeed shrug.
Atlas VPN's servers and locations
Let's start where any good VPN review starts: with the servers and their locations.
So far, this provider does not have too many servers. With a fleet of about 700 servers in 27 countries, Atlas VPN has yet to grow to compete with some of the larger VPN providers.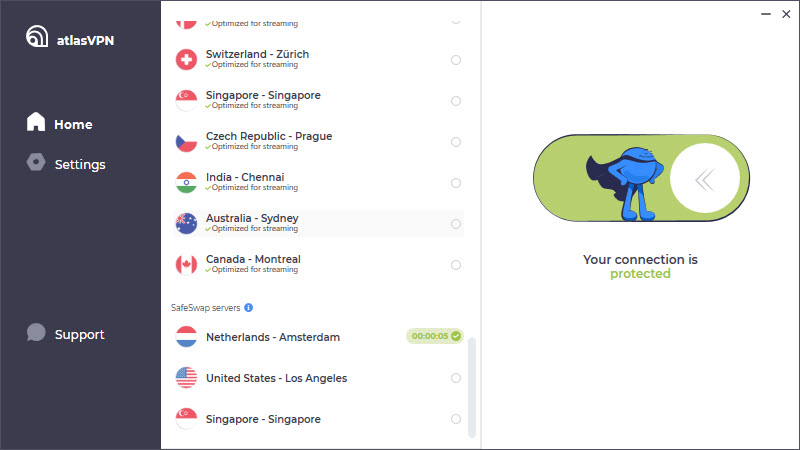 But size isn't everything.
First of all, Atlas' server network keeps growing by the day. In July 2021 the provider introduced three new servers in Finland, Estonia, and Latvia. And while you're googling where that is, we're just trying to say that Atlas VPN is actually actively working on expanding its server network, while others are struggling to keep their existing network afloat and operational.
Also, while other VPNs brag about numbers, Atlas VPN took the time to make sure all of the servers in each of its locations are safe, stable, fast, and reliable. So no connection drops and speed that isn't good for anything. And yes, that goes for the free ones as well.
When you tap the proverbial "Connect" button, the app automatically chooses the best server based on distance, speed, and latency, making sure that you always get the best experience. This also shows that a lot of thought went into providing you with the best possible experience.
Atlas VPN speed test
Given Atlas VPN's server network, as well as it having a free version (and you all know how we feel about free VPNs), we were not expecting much when testing this provider's speeds. But we have to be honest. Atlas VPN blew us away!
Pretty much every location we connected to gave us incredible speeds.
Given the expanse of the provider's network, it's not hard to test every server, but other than a few snags, Atlas performed admirably.
But don't take our word for it. Check out the results of our speed test done in a vacuum.
Here's our control speed, so you have a point of reference: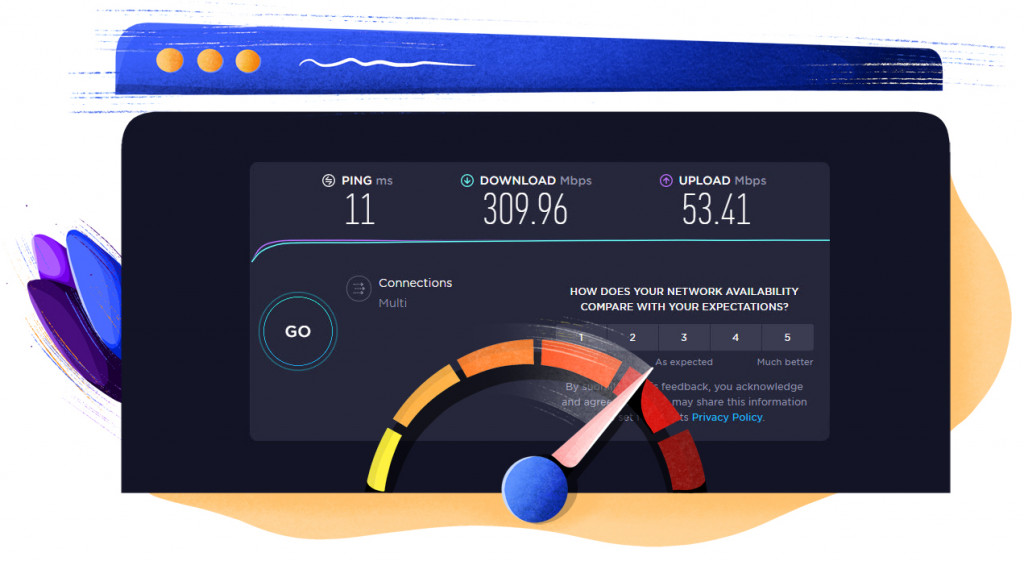 And here's the result you get once connected to the fastest server: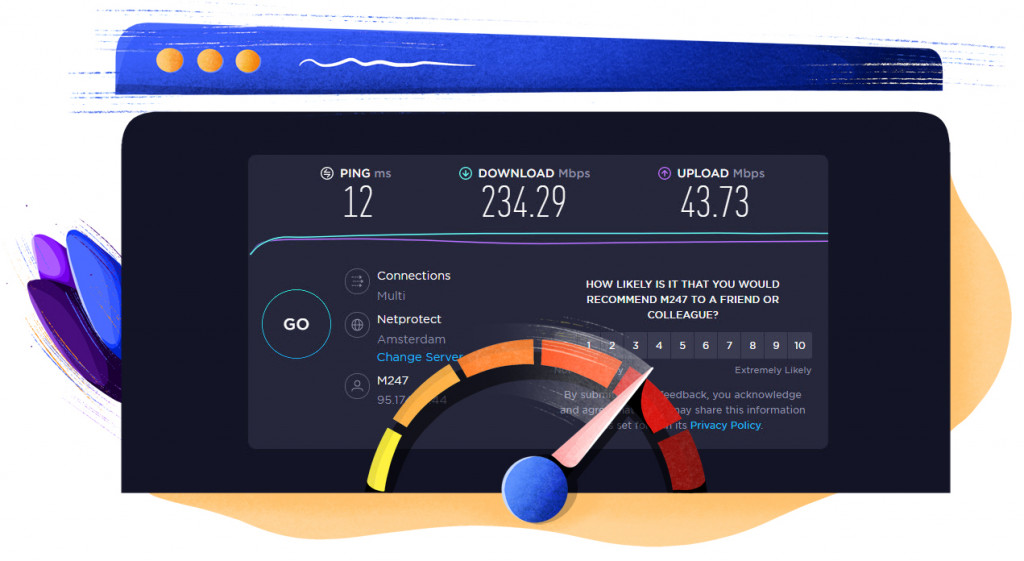 So a minimal ping increase, which could have been a fluke, a 24% decrease in download speed, and an 18% decrease in upload speed.
So far, so good, right? For the fastest server, this might even be considered a pretty big drop. But every other server we connected to didn't hit our internet speed that much harder.
Here's what we got when connected to a UK server: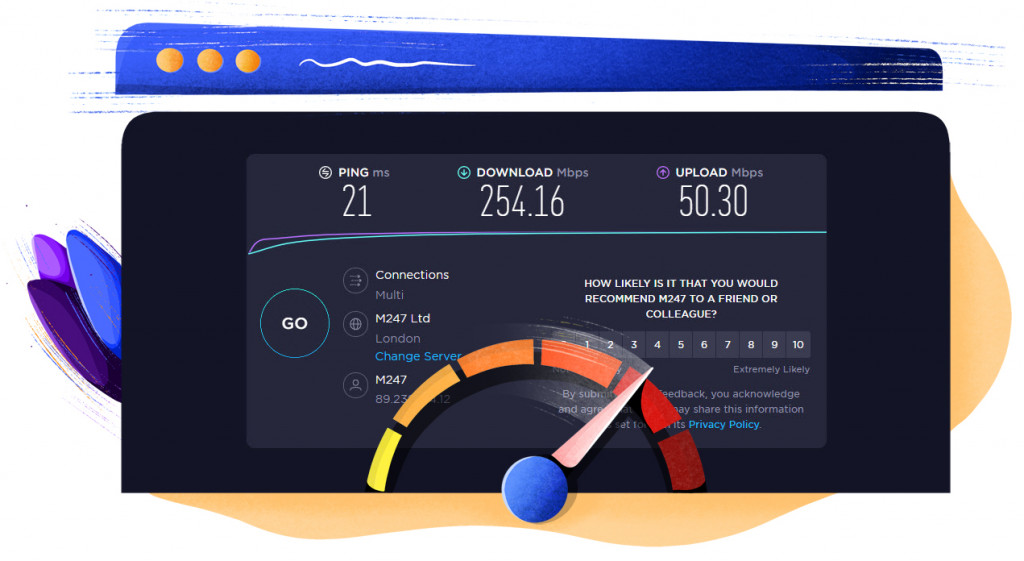 So a measly 18% loss of download speed and a 5% loss of upload speed. Better than the fastest server!
The US server performed admirably as well: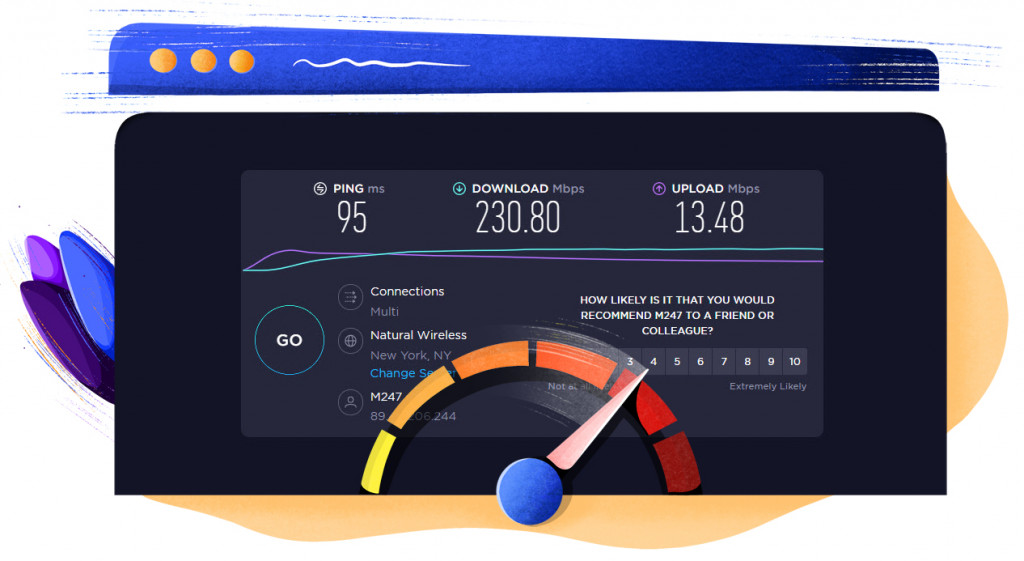 While the ping did increase significantly (which is to be expected), the drop in download speeds was just ~25%.
Even the Australian server didn't do half bad with just a 49% drop in speed: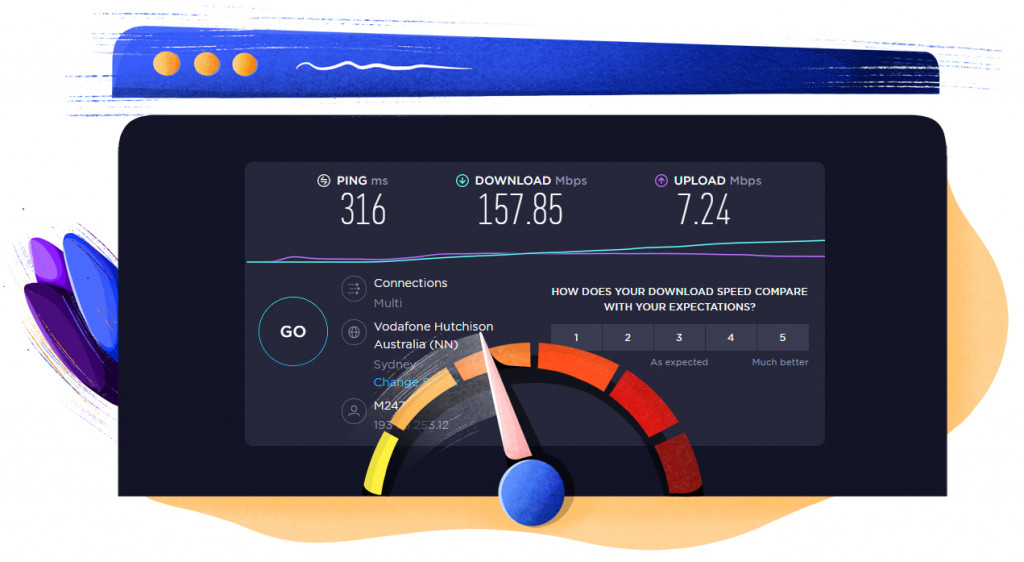 And it's pretty much the same result we got when connected to Japan: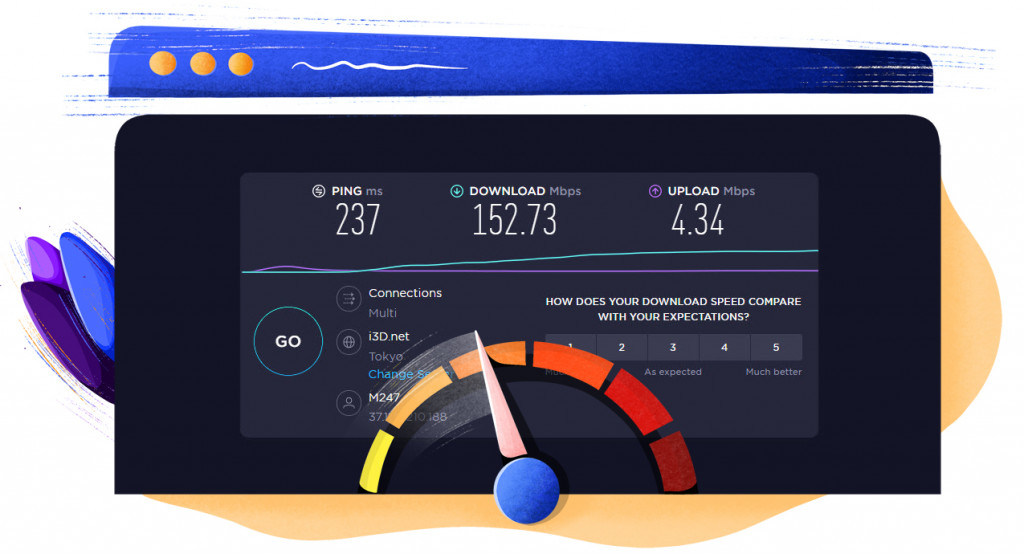 The only server that gave us a fight was the Hong Kong one: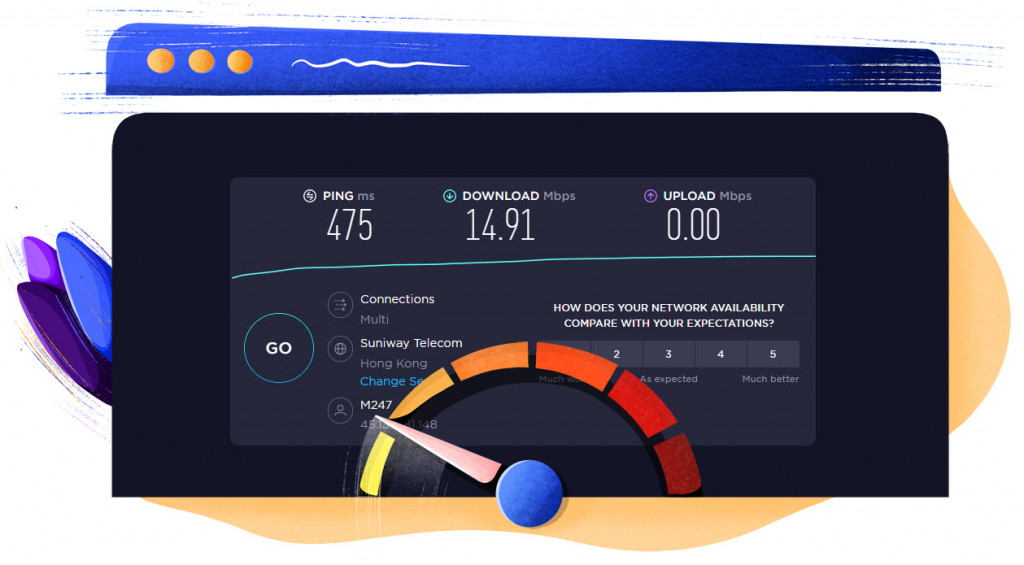 But this was probably a one-off because a server was overcrowded or the local infrastructure was being cranky. The very next day the same server performed as well as the rest.
Anyway, you get the picture.
In terms of speed, this tiny and young provider performs better than it has any right to. And that's awesome!
Atlas VPN security and privacy features
Regardless of what you're planning to use your VPN for, its real purpose is online anonymity, and security.
So it goes without saying that we put Atlas VPN through the cyber security grinder. After all, you don't get a name like Atlas and expect not to be trialed by fire.
Honestly, we didn't expect much, but we came out shook.
The VPN passed every possible security test we put it through and surprised us with features even some of the bigger providers don't have.
Atlas VPN passed pretty much every test we threw at it, including IP, DNS, and WebRTC leaks. It even comes with advanced IPv6 leak protection, which even some of the biggest names in the VPN world don't bother with.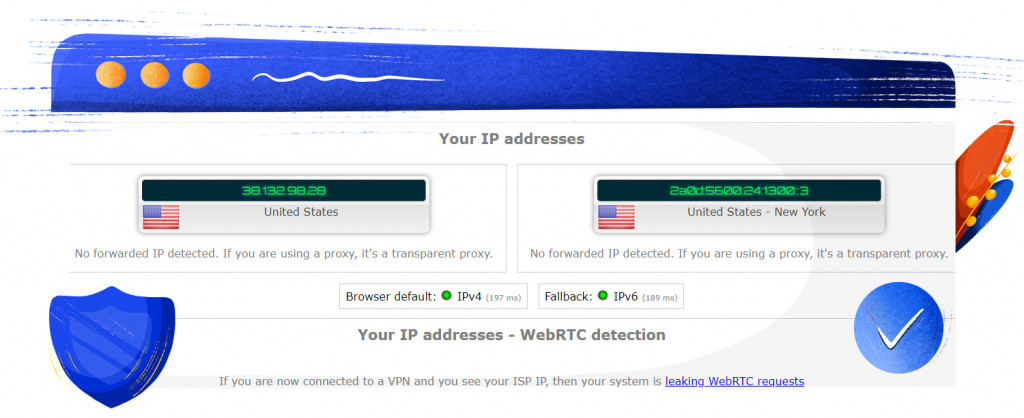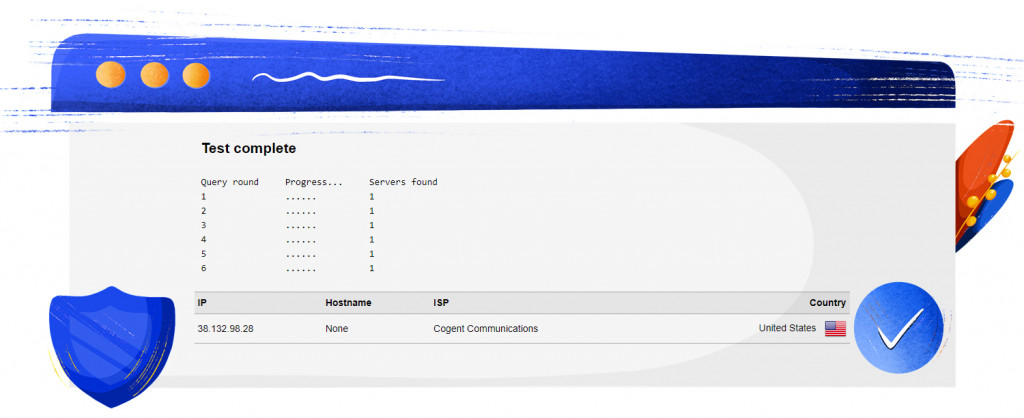 Impressed yet? We sure are!
So let's take a look at what makes Atlas VPN tik so good.
Encryption
As any self-respecting modern VPN provider, Atlas VPN comes with the best-to-date AES-256 encryption.
Tough, solid, and virtually unhackable, the level of encryption that Altas provides you with will definitely keep all of your online data, traffic, and personal information safe.
And for that perfect extra push, Atlas VPN also throws SHA-384 and PFS (Perfect Forward Secrecy) into the mix, to make sure your connection is extra safe.
✅ Check
On top of that, Atlas VPN has its own private DNS servers, which guarantees not just another level of protection from the outside world, but also easier access to blocked platforms and websites.
✅✅ Check. Check.
Protocols
Everything was going smoothly until we hit connection protocols.
Atlas VPN was a mobile app first, and it definitely shows. While we were writing the review, all of Atlas VPN's apps only featured the IKEv2/IPsec protocol.
The protocol is solid (and is particularly handy when it comes to mobile devices for that seamless switch between networks without losing the VPN connection), fast and secure. But the provider is missing some of the more modern options that other providers have had for years, such as OpenVPN.
Still though, out of all the other protocols Atlas could have had, we're glad they went with a safe option.
---
However, just as we were writing this, Atlas VPN broke in with an update. And low and behold, they've added WireGuard to the mix.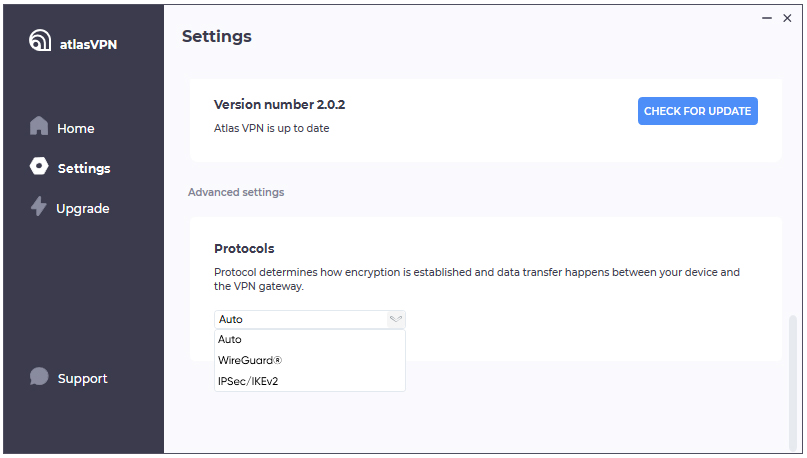 The protocol seems stable and fast. However, Atlas VPN said nothing about fixing WireGuard's inherent privacy concerns.
We can neither confirm nor deny that Atlas did indeed find a way of fixing the protocol vulnerability. But, usually, VPNs are pretty proud of it and scream it from all of the rooftops. So Atlas not addressing the issue at all does seem a bit suspicious.
Logging Policy
This is where things get a bit dicey.
Of course, just like any VPN would, Atlas says it follows a strict no-logging policy.
However, if you look closely at their Privacy Policy, you'll easily find there's a bunch of stuff they do collect and log. By their own admission, Atlas VPN logs:
Device types, models, and brands;
OS versions;
Device IDs;
Language used;
Time zone;
GPS.
That's… a lot.
The Privacy Policy states that all of this information is collected to improve software operation, but this does not reflect well on any modern VPN provider that wants to make it into the big leagues.
Also, Atlas VPN is based in the United States. And, again, Atlas' Privacy Policy does clearly state that they do comply with local laws and will disclose all the information they have if approached by the authorities. And it seems that they have a lot of information to share.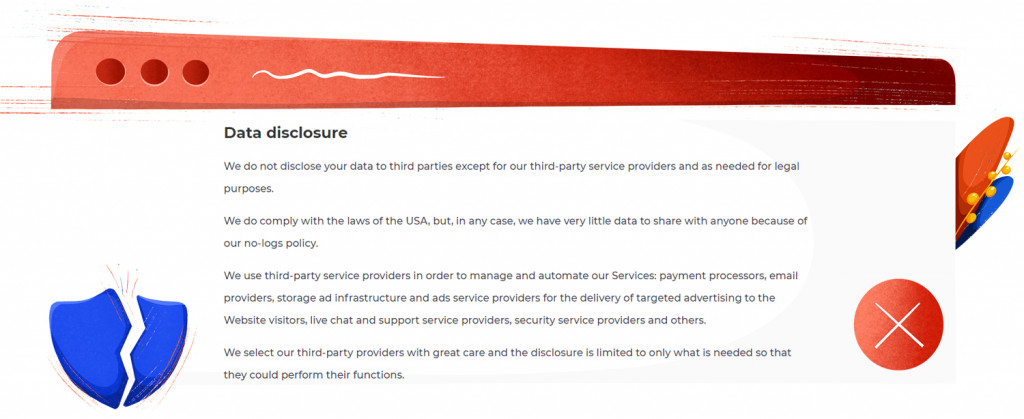 Also also, if a VPN is willing to share any kind of information with the authorities, no matter how little, that's already too much.
Isn't the point of a VPN leaving NO trace on the Internet?
Tisk-tisk, Atlas VPN…
But hey, at least they admit it.
Kill Switch
Atlas VPN doesn't have a lot when it comes to extra features, but it does have a kill switch.
It works just as well as you would expect. If the VPN connection becomes unstable, the kill switch will block all of the traffic coming to and from your device, preventing IP, DNS, and any other leaks.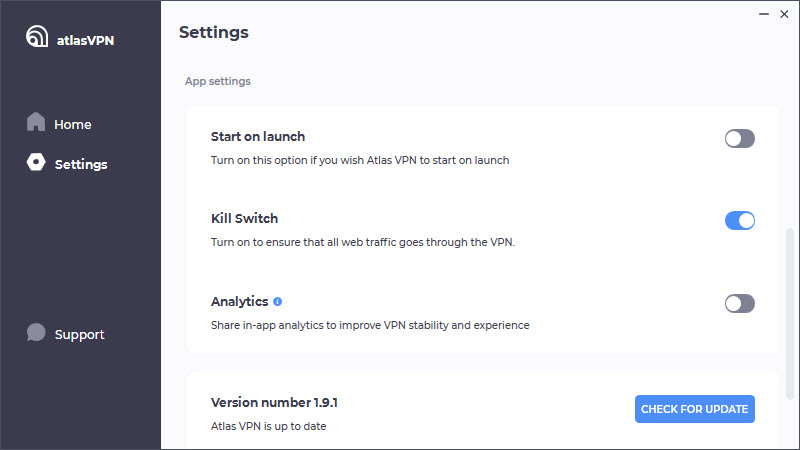 It's pretty standard (so no madness, like VyprVPN), and works as well as one would expect.

VyprVPN
Want to know what makes its kill switch unique?
Great to have when your privacy protocol is IKEv2/IPsec.
---
This is a late addition to the review.
In all honesty, we were going to give Atlas VPN flying colors, but then, something happened.
We had the VPN on for a while, testing features, and seeing how well the kill switch works. And at some moment, our Internet dropped and the kill switch, of course, did its job and blocked all traffic.
However, after that, the app would not let us connect to any sort of WiFi or Ethernet at all.
What's worse, once there is no internet connection, the app does not allow you to change any settings. So there we were in an endless loop: the kill switch remained on, effectively killing our Internet connection, and the app would not let us connect to a VPN server for the kill switch to stop cutting our Internet ?
We spent literal hours tinkering with configurations, cables, and even hardware before we finally found a hidden config and managed to literally turn it off and on again. That helped.
If you are an inexperienced user, you might have more trouble with this bug than several cybersecurity experts.
So we're deducting major points for that, Atlas VPN.
Well, at least it kept us safe, right? We mean, if there is no Internet, there's no data to be stolen.
Ugh. Happy thoughts…
SafeSwap
Atlas VPN might not have a lot of extra features, but it does offer something pretty darn unique.
The provider has recently introduced a cool little feature called SafeSwap. The VPN servers that support this feature have a pool of different IP addresses and keep swapping your IP address with a new one, to give you some next-level privacy and anonymity.
That's a pretty unique feature we have never seen with any other provider and it's pretty efficient when it comes to maintaining perfect privacy without sacrificing speed.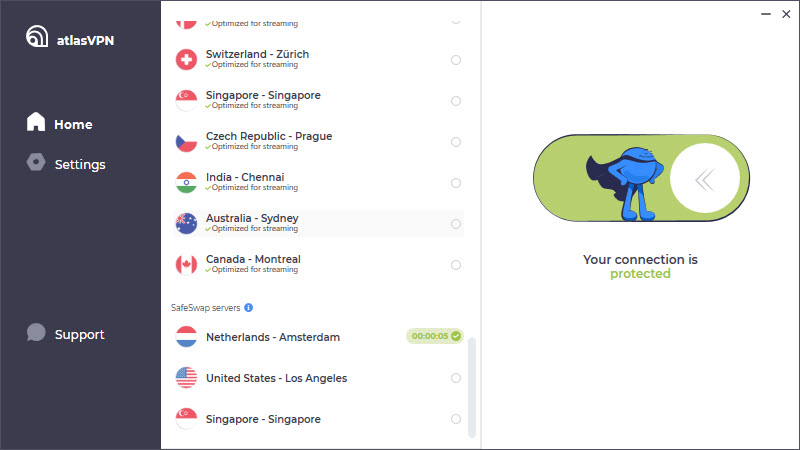 So far, Atlas VPN has three servers that support this option:
the Netherlands
the United States
and Singapore
We took it out for a spin, and noticed barely any drop in our connection speed: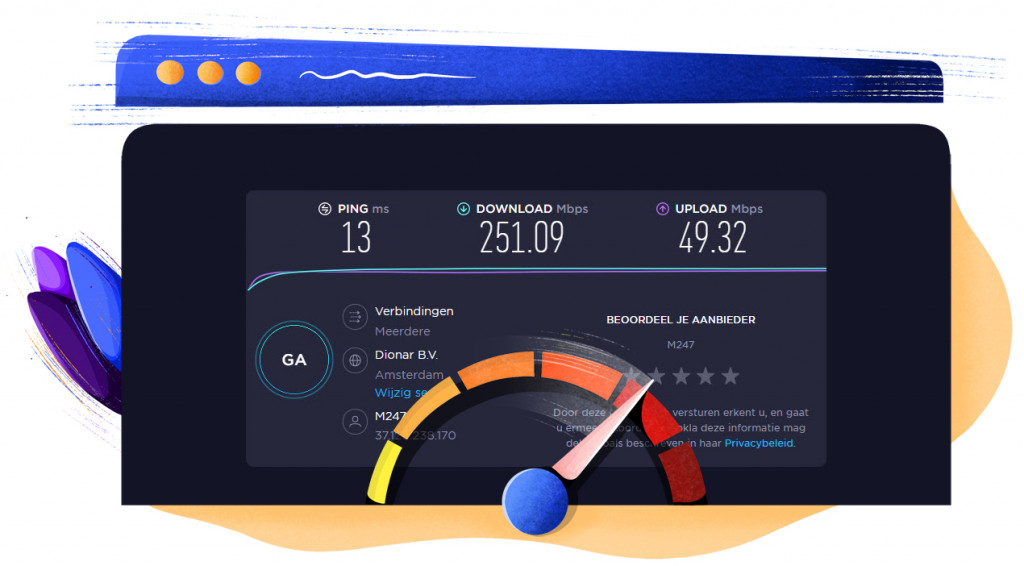 Pretty great, guys.
Tracker Blocker
Another additional feature Atlas VPN has to show off is their Tracker Blocker (that's a mouthful).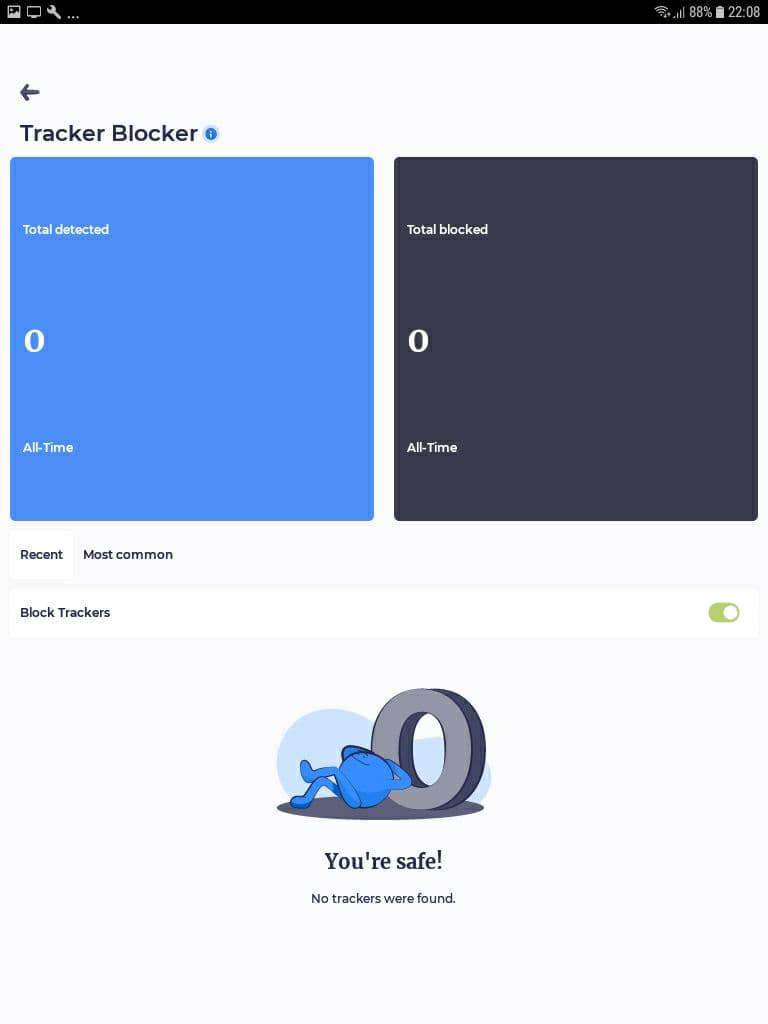 This feature does exactly what its name implies:
Blocks ads you might come across online.
Stops third-party trackers.
Can help you improve your web speed and overall browsing experience.
Helps avoid some types of malware.
It also gives you insights into all kinds of helpful information, such as:
List of all trackers detected on your device.
Details on all of the trackers including which apps install them, their hostnames, the first time of detection, etc.
Recent and common trackers.
You can also toggle the option on and off whenever and for whichever app you want.
The only issue is that the Tracker Blocker is only available for Android and iOS devices.
Data Breach Monitor
Finally, Atlas VPN has been on a roll in 2021 and introduced their signature Data Breach Monitor.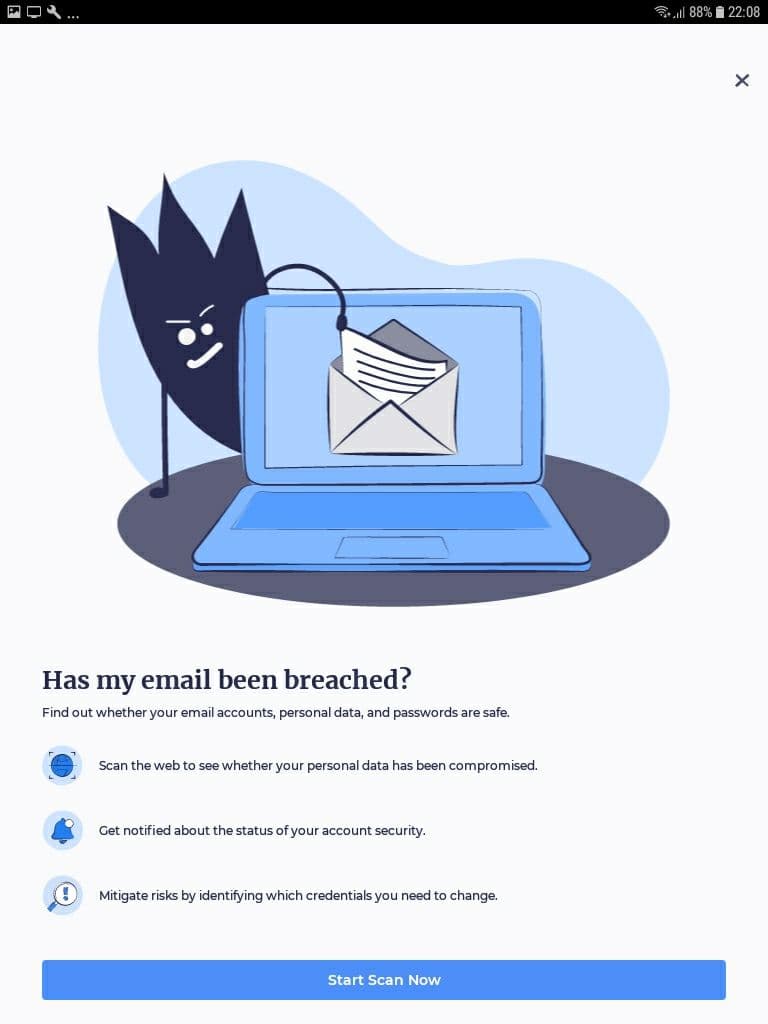 This is a handy addition if you're worried about your online credentials and personal information being leaked by services and platforms you are subscribed to.
Data Breach Monitor scans the entire Internet for leaked databases and informs you if you have been affected by any of them.
All you have to do is put the email address you want protected and in a few moments, it will tell you whether your personal information has been found in any leaked or compromised databases.
However, just like the Tracker Blocker, the Data Breach Monitor is only available on Android and iOS devices.
---
That's about everything Atlas VPN has to offer in terms of security and privacy.
To recap: Solid encryption, a cool SafeSwap feature, and a few nifty extra options for mobile platforms.
On the other hand: the choice of protocols is lacking, the logging policy is suspicious, and the overenthusiastic kill switch can completely ruin your day.
What we take out of this deep-dive, is that despite its few shortcomings, and some really cool features, Atlas VPN is definitely a mobile-first provider. And the apps support this claim.
Speaking of which.
Atlas VPN apps
Atlas VPN might be rolling out new features like mad, but it's still pretty young in its lifecycle. And this means that it does not yet have all the platforms covered – just the base ones.
So Atlas VPN does not have any browser extensions, router, Smart TV, or gaming console support.
So this is a VPN for mobile and desktop users.
What we did like about Atlas VPN, is that one subscription is available on an unlimited number of devices. This means that even with just one subscription (even if it's a free one), you can have all of your devices covered.
So let's get into the thick of it.
Desktop apps
Atlas VPN has apps for Windows and macOS.
The apps look pretty slick, but it does take up a bit more space than it needs, and the font might be too small to read sometimes.
Right off the bat, the app gives you all of the servers you can connect to (in no particular order which is kind of weird, but ok), as well as the option to connect to the fastest server immediately (by the way, the connection time is pretty fast).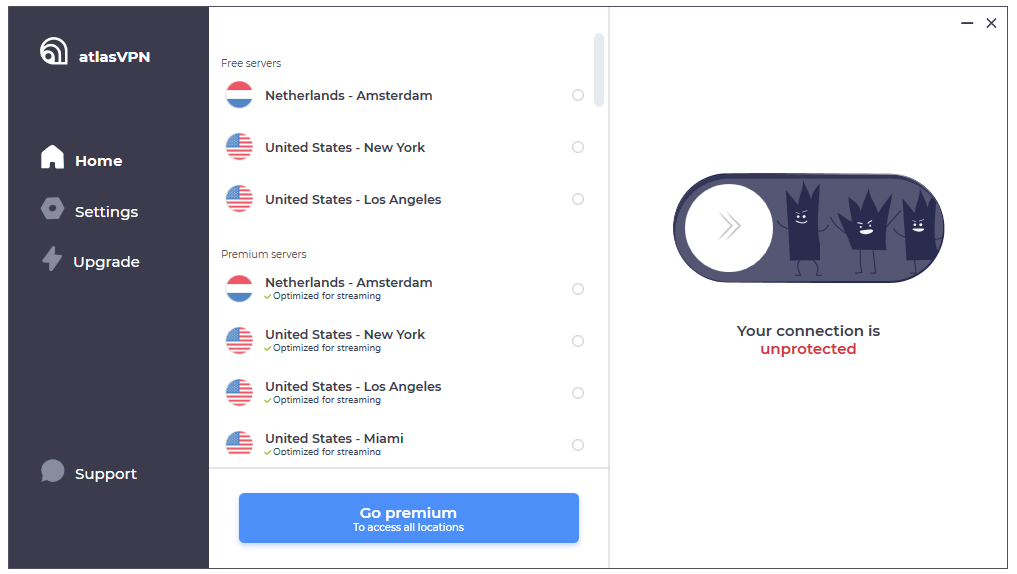 If you are looking for some advanced options… well, you probably won't find any, but you do have the options to:
Start the application on launch.
Enable or disable the kill switch [we're still traumatized]
Share or not share in-app analytics [really not doing Atlas VPN any favors that options]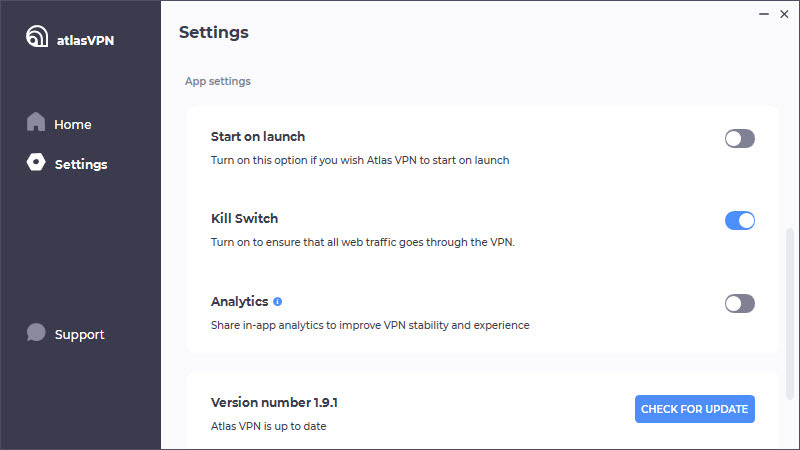 You also have the Support options, but those are mainly just links to their support website, privacy policy, and the like.
And that's pretty much it for the desktop apps.
Mobile apps
Once you get a taste of Atlas' mobile VPN application, you immediately get the feeling that you are dealing with a much more mature provider. Especially if you go by the Android app, but the iOS one isn't that far behind either.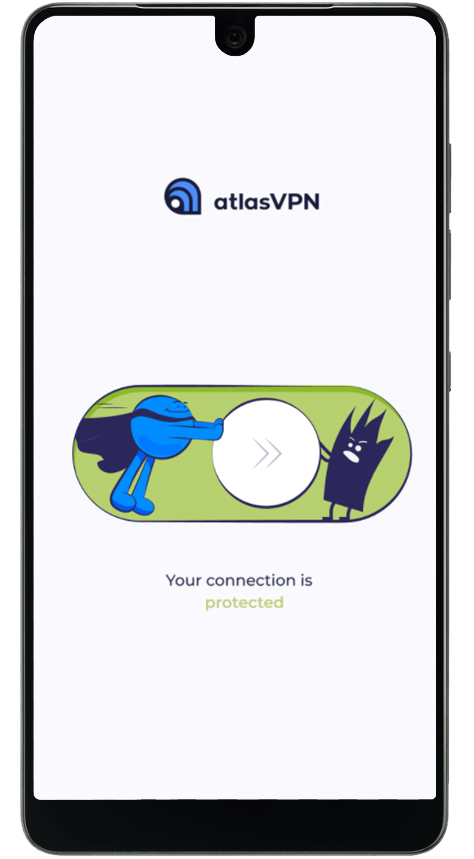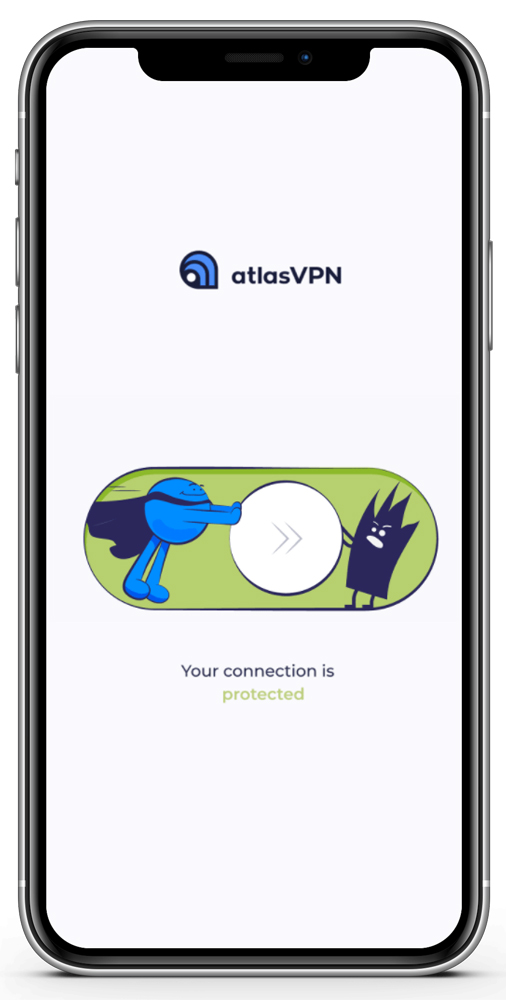 Apart from everything that makes Atlas VPN great, there's simply a lot more to play with on mobile.
The features and protocols Atlas VPN offers simply make more sense on mobile devices. IKEv2 is definitely the preferred choice here since the app will automatically establish a secure connection when you switch from WiFi to data.
The Tracker Blocker and Data Breach Monitor are both available only on mobile (both Android and iOS), which gives you more opportunities to stay safe and secure online, as well as block a few ads to save on some much-needed data.
We'd say Atlas is all about staying mobile, and the desktop apps are just there to keep you safe on any device.
Atlas VPN and streaming services
Usually, the new VPNs on the market try and cover all of the security features before moving on to cracking streaming services. But not Atlas VPN.
It seems that straight out of the gate Atlas VPN wanted to have it all – both security and streaming [except for a working kill switch].
The Premium version of the Atlas VPN app comes with all servers optimized and ready for streaming (except for the SafeSwap ones, which makes sense – the last thing you want when hoping to get some streaming in, is constantly switching IPs, making streaming platforms nervous).
We should mention that even though Atlas VPN did impress us with its ability to unblock streamings services, we're mostly talking about US-based streaming platforms and their libraries. When it comes to local platforms, even some that aren't known for their tough anti-VPN policies, Atlas VPN might stumble and fall a bit short.
That said, let's get specific.
Netflix
Full disclosure, this review was supposed to go up much earlier than it did. And at first, this segment praised Atlas VPN as one of the best VPNs for unblocking Netflix. We were actually surprised at how well this little provider managed to unblock pretty much any country's library it had servers in.
But then the infamous Netflix VPNpocalypse happened and Atlas VPN completely lost this awesome ace in the hole.
We've waited for weeks for Atlas to fix the issue and get back to its Netflix unblocking awesomeness, but at the time of writing the little provider still hasn't found a way to get past Netflix's blocks.

Find out which VPNs still work with Netflix
HBO Max
Atlas VPN might have it bad with Netflix [but who doesn't these days, honestly], but we were surprised that this provider actually managed to unblock one of the hottest streaming platforms around.
Want to catch all of the latest WB releases streaming on HBO Max? Now you can now do that at a bargain price!

Find out how to unblock HBO Max wherever you are!
Hulu
So what about Hulu?
Atlas VPN can unblock it so you can catch all of the award-winning shows.
Just make sure that you are not using the SafeSwap feature – Hulu hates IP changes as it is, which is why the lack of dedicated or static IP options is sorely missed with this provider.

Check out everything about unblocking Hulu
Amazon Prime Video
Amazon Prime Video has been ramping up its anti-VPN security lately. However, if you are only interested in getting access to the American version of the streaming platform, Atlas VPN has got you covered.

Disney Plus
Even though Disney Plus is hard to crack, Atlas VPN manages to get through for you to enjoy all of the Marvel, Pixar, and… well, Disney madness.
However, as with all of the other streaming platforms, we're talking about the original recipe 'Merican Disney Plus platform. So if you have one closer to you, or are looking to get access to your own country's Disney streaming platform from abroad, you might be better off looking elsewhere.

Don't have Disney Plus yet?
Free streaming platforms
It goes without saying that if Atlas can crack some of the bigger and tougher streaming platforms, you should have no problem accessing the free streamers for you to enjoy.
Heck, even the free version will work, as long as you can manage the load times.

Check out everything you can get with Atlas!
BBC iPlayer
Atlas VPN might have most of the American streaming services figured out, but the UK-based ones are still putting up a fight. This includes BBC iPlayer as well as ITV Hub which isn't really known for having tough blocks.

Can't unblock BBC iPlayer, guv?
---
So, it's safe to say that Atlas VPN is pretty good when it comes to unblocking US-based streaming platforms (which is pretty darn amazing considering the price point). But everything else might be an uphill struggle. For now.
Atlas VPN for gaming
As a mobile-first VPN, you can imagine that this VPN is best suited to play… well, on mobile.
It works fairly well with most mobile games, as long as you keep the latency down, which means connecting to nearby servers.
With PC gaming Atlas VPN works pretty much just as fine, even though our experience was muffled by slightly higher latency, slower gaming speeds, and a few other issues that cost us the game [can we get a refund on our ruined KD, Atlas?].
Also, if you're going for something specific, like unblocking the game that is only available in certain regions, or, I don't know, accessing easy lobbies in Call of Duty: Warzone, Atlas VPN just might not have the servers for it.
There are much faster VPNs out there if you are looking to game. As well as those that have console and router support.
However, all of that said, if you are all about mobile gaming, especially on Android devices, few VPNs actually do it better [and probably none of the other free VPNs].
Atlas VPN for torrenting
Plain and simple, Atlas VPN is a great choice for torrenting.
Not only are all of the provider's servers optimized for torrenting and completely P2P-friendly. The three servers that you get with the VPN's free version are also extremely accepting of the torrenting lifestyle.
Of course, you won't get the speed that you would with the premium version of the app, but hey, free is free. And there are actually very few proper free VPN apps with torrent support [that also somehow don't make the download speeds a nightmare].
If that's your thing, and you don't want to pay for the extra [or anything at all for that matter], Atlas VPN is definitely one of the best options out there.

Why do you need a VPN for torrenting again?
Atlas VPN subscription plans and prices
Even though Atlas VPN is a new and relatively small VPN provider, it definitely has some ambition when it comes to its price plan.
But even so, this is one of the more budget VPN providers out there. And given the service you'll get, you definitely get your money's worth.
So, surprise-surprise, Atlas VPN has got three different subscription plans, and they keep getting better:
A month's subscription will cost you $10.99, which is probably one of the steepest monthly prices we have ever seen [it's called 'upselling', Atlas, not making the user terrified]
However, a 1-year subscription will only cost you $3.29 per month and save 70% on the monthly price.
Finally, there's the two-year subscription plan, which is definitely the option you should go for since it's only $1.64 a month, saving you 81% on your monthly subscription price.

But while most VPNs would be done here, Atlas VPN has one more trick up its sleeve – a free version! And this merits a segment of its own.
Free version
We have a feeling that straight from the get-go Atlas VPN kind of had the feeling that it probably would not be able to measure up to the likes of NordVPN or ExpressVPN. This is why, unlike most other VPN providers, it didn't call itself the 'Best VPN', but rather, the 'Best Free VPN'. And now that there are more and more providers gunning for the title, Atlas VPN really did have a head start on the competition.
As a free VPN service Atlas has a lot to offer.
First of all, with the free version you get access to three of the provider's servers, which are the Dutch, and two American servers [the selection of free servers keep switching, so you never know what you'll get with the update].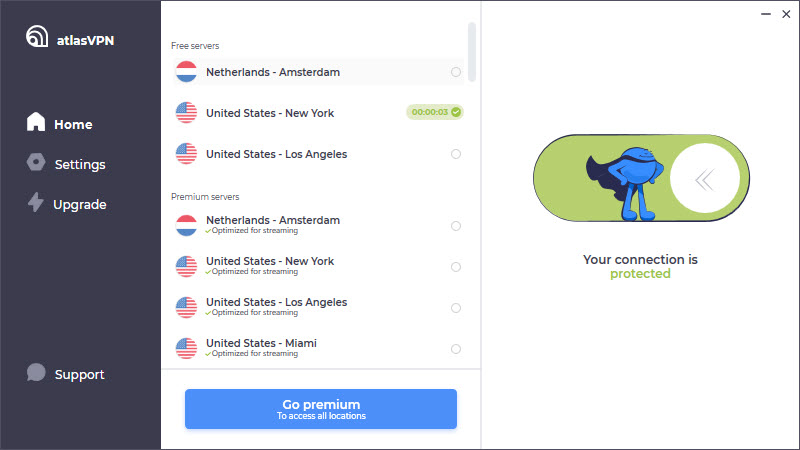 While this is a pretty decent selection of servers, anything between these two is going to have to deal with all of the latency. Unless you sign up for the premium account, of course. [We see what you're doing, Atlas]
But even so, we have to agree that apart from some of the security and privacy risks that the free version shares with the premium, Atlas VPN is about as good as free VPNs get. At least in terms of performance. The speeds are great, and definitely enough for some light streaming and downloading.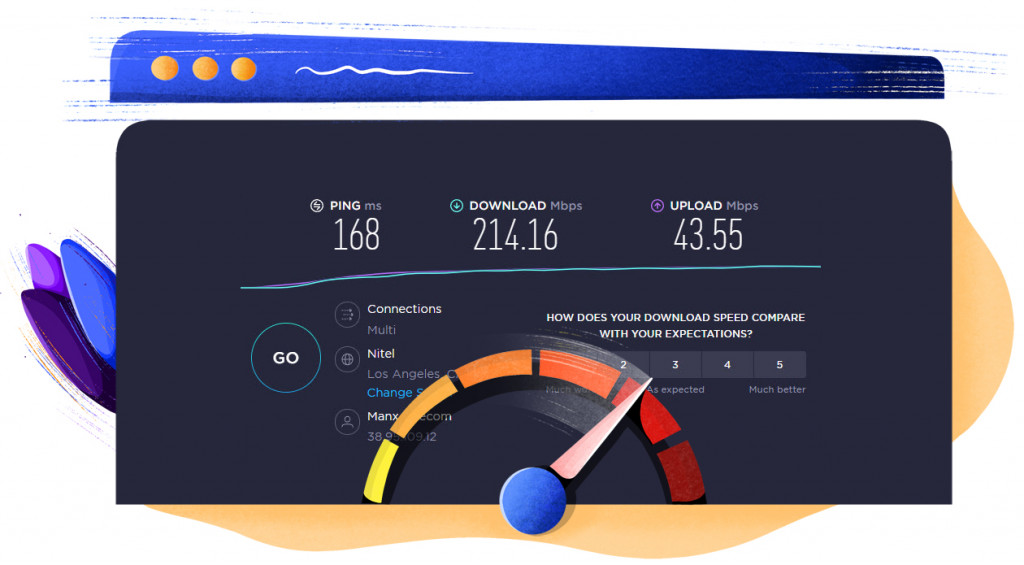 Speaking of downloading, Atlas VPN is one of a handful of providers whose free version has P2P support. So you can keep torrenting safely!
The only things the free version doesn't have on Premium are the extra security features [which is a given] and streaming. None of the three servers you get with the free version are optimized for streaming, which means it can't unblock most streaming platforms. But if you could have it all, why would anyone go for a paid subscription, right?
So if you are not into extended features and better performance, this is definitely a VPN worth checking out, if you don't mind sacrificing a bit of your online security.
---
But if you would still prefer to go with the premium version (which we do recommend), Atlas VPN also comes with a 30-day money-back guarantee.
Atlas VPN's customer service
With the VPN landscape constantly changing and Atlas VPN being a young and very ambitious provider, it's safe to assume Atlas VPN has to deal with a lot of user questions. When is Netflix going to start working? What's wrong with Netflix? Netflix not working, where's my six-year overdue refund?
You get the picture.
So any VPN provider should be able to handle all of their user queries fast, and efficiently. So, can Atlas VPN handle the massive influx of Netflix-related questions that made the bigger providers switch to bots?
Support Website
The trend of all VPN providers is starting their own support websites, covering all kinds of topics, issues, troubleshooting, and guides, so managers won't have to deal with the same question fifteen thousand times a day.
And Atlas VPN is no stranger to this concept.
The provider does have a support website, that has some of the basics covered.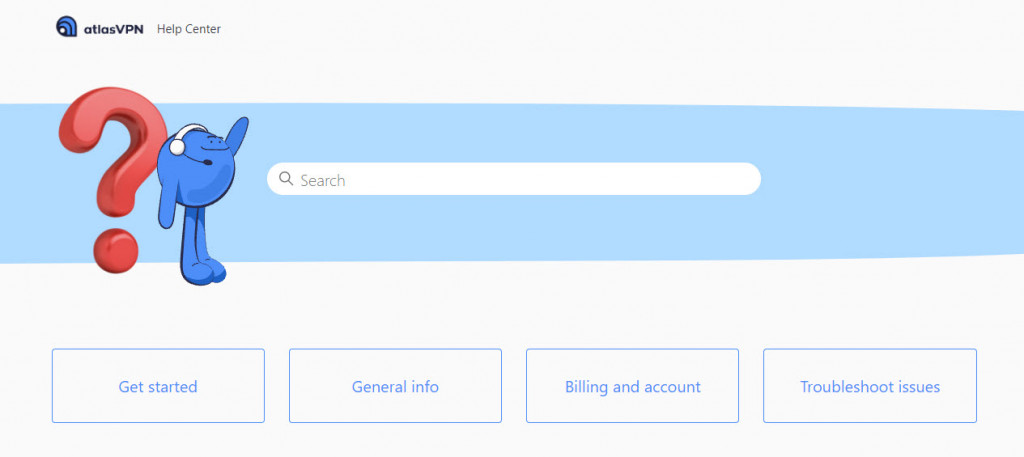 Either the website is young, or Atlas decided to take a much more different approach to filling it up with content, but it's pretty barren on relevant guides at the moment.
If you're looking for some basic information on VPN use, this website can help you out, but, honestly, so would we. If you are looking for some specific information and/or help, best to contact actual support.
The good thing is that you can actually get to the support website directly through the app.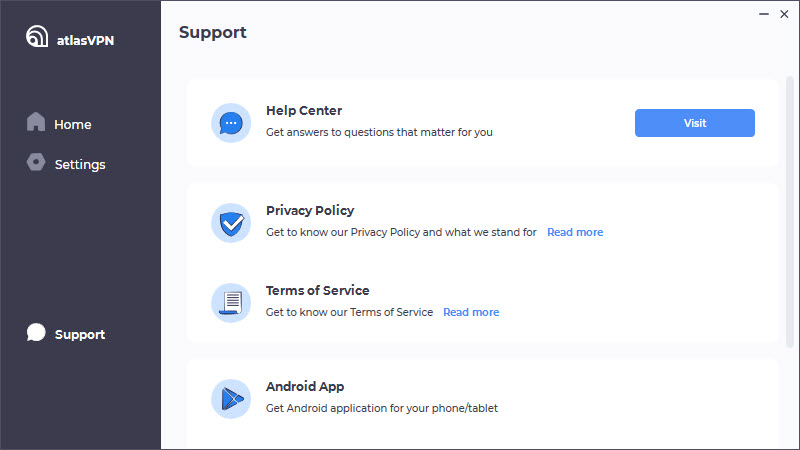 Live support
Sadly, Atlas VPN doesn't have live chat that lets you get immediate help. However, you can reach out to the team behind Atlas via email.
And, of course, we did.
It took us about 12 hours to get a response, but it was very detailed, thorough, and helpful.
So if your Atlas VPN kill switch disables all of your Internets, the support is definitely there for you (so long as you can figure out how to send an email with no Internet present).
---
It's a shame that Atlas VPN does not have some immediate support options. But quality matters much more than speed, and we have definitely seen some providers that might be fast to talk, but are also kind of useless when it comes to lending a helping hand.
The bottom line
So far, our Atlas VPN review has been a bit of a mixed bag.
On the one hand, for a young and small provider, Atlas VPN really knows how to surprise the user. Going in, we did not expect Atlas to perform as well as it did. The speed, the stellar streaming unblocking capabilities, some awesome and exclusive security features truly make this provider worthwhile.
On the other hand, a suspicious logging policy, a few majorly buggy features (even though we're sure they will be fixed by the time this review goes up), work-in-progress apps, a lack of platform support, and a very obvious lean towards Android devices, definitely leave something to be desired.
And finally, there's the unlimited free VPN version.
Even though the functionality of the free app is somewhat limited, and the privacy concerns are still there doing free VPNs no favors, we can't but commend a decent provider with a free version for the people.
---
Overall, we'd say that Atlas VPN is a great little VPN provider for those who prefer Android devices.
With security, privacy, streaming, downloading, and even gaming covered, in full honesty, this is a good option. Really. High marks all around, Atlas, just fix what's broken and look into why logging policy before it bites you back.
It might not be quite as good as some of the biggest fishes in the sea, but Atlas VPN is pretty good for what it is trying to be, and it is not trying to be anything it's not.
And we respect that.