Overview
PureVPN has been active for quite some time now and several features are absolutely interesting, like the possibility to buy extra features on top of your subscription. PureVPN most of all seems to be a pretty good choice for companies.
Ratings
Features
| | |
| --- | --- |
| Works With | Windows, Mac OS X, Linux, Android, iOS iPhone-iPad, Chrome plugin, Firefox plugin |
| Price | $1.99 per/month |
| Payment methods | PayPal, Credit Card, Bitcoin, Alipay |
| Speed | 7 / 10 |
| Protocols | OpenVPN, PPTP, L2TP/IPSec, IKEv2, SSTP |
| Log Policy | Limited logs |
| Simultaneous connections | 1 |
| Based In | Hong Kong SAR China |
| Jurisdiction | Hong Kong SAR China - Not a Fourteen Eyes Country AND Not an Enemy of the Internet. |
PureVPN has been operating as a VPN provider for quite a few years now, which makes it easy to understand why their service extends to so many countries: 140+.
PureVPN has recently updated its server park as well, increasing it more than three times (!) to a fleet of over 6500 servers worldwide. This welcome update has made PureVPN one of the most diverse and huge VPN providers, putting it back on the map among the best of the best. And this enormous expansion didn't only target the popular locations in Europe and the US, PureVPN has one of the largest selections of servers in Asia and Africa, offering choices none of the other providers do.
PureVPN: The setup
After starting the setup, PureVPN gives you five options to choose from (Stream, Internet Freedom, Security/Privacy, File Sharing, and Remote/Dedi IP).
Interestingly, this leads to different Internet speeds. Upload/download speeds in Security/Privacy mode are much lower than when using Stream mode.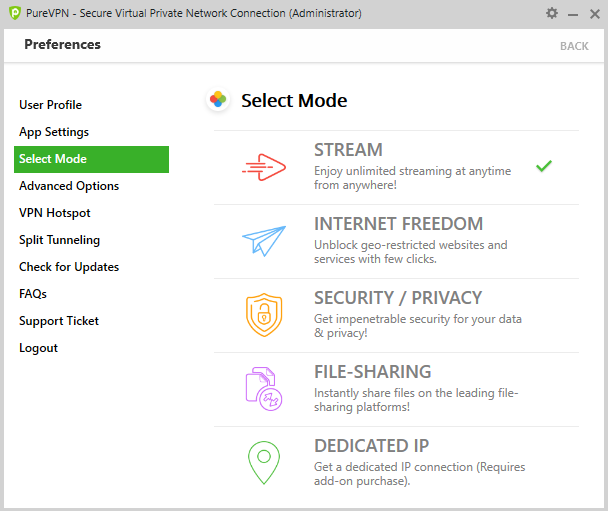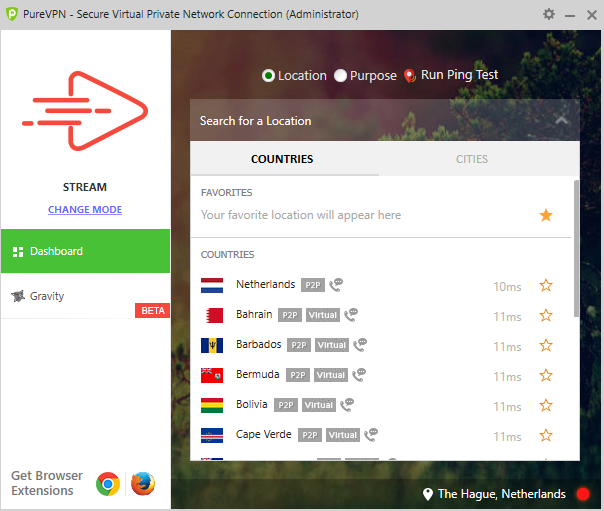 PureVPN apps
PureVPN offers apps with all major operating systems (Windows, iOS, OS X, Android, Linux). Unfortunately, using these apps can be confusing at times. An app starts by offering the five options we described before but fails to detail what sets them apart. This makes interacting with the app more complicated than necessary.
We sorely miss options to fast-connect to specific servers. And we're wondering why the option "Security/Privacy" runs at much lower speeds than we observe with other VPN services and companies. This seems a bit off: we'd expect the setting that offers the best privacy to be the default.
Installing the VPN on a PC or laptop is relatively easy. After the first menu, the app has a range of options to help you tune the service to your liking.
One of the features of note is the so-called "split-tunneling", allowing you to choose which programs run through the VPN and which ones don't. This makes it possible to play online video games without lag (VPN use causes a slight delay in Internet speeds) while still using VPN for other software.
Another nice feature is the option to transform your computer or laptop into a VPN-hotspot. This enables you to use a secure VPN-connection on your tablets or smartphone, without having to install extra apps on these devices.
PureVPN apps for Android and iPhone offer pretty much the same experience. Apps you use here are similar to those used on Windows, offering the same features available on desktops. There are, however, notable differences between the Android and iPhone apps. The Android app is prone to crashing, leaving users (temporarily) exposed. Also, connectivity on Android as a whole seems a bit slower and less stable than those we checked on iOS devices.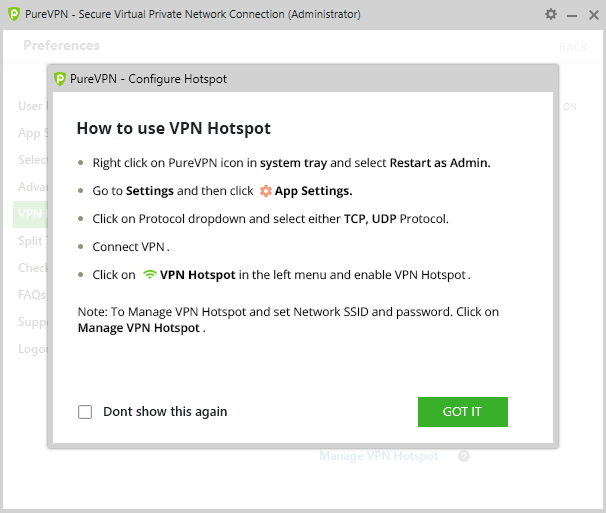 Geographical restrictions
The possibility to bypass geo-blocking is the main reason people use a VPN, but PureVPN can hardly be called an expert in this field. Most IP addresses associated with PureVPN are blocked by big streaming parties like the BBC or Netflix. This makes it near-impossible to circumvent the geo-blocks on those services.
Connecting to American Netflix or BBC iPlayer (UK) from an offshore account didn't work as expected, even after changing servers a couple of times.
Accessing smaller, more local streaming services works better, probably because these services are less active when it comes to blacklisting IPs. Still, VPN users are well-advised this situation won't last forever.
In recent months PureVPN has started taking steps to make their service more streaming-friendly and we have seen noticeable improvement across the board. Here's hoping they will continue the trend and crack the streaming code in the nearest future.
PureVPN Speed Test
PureVPN's upload and download speeds are wide and far apart. And the experience you'll be having depends on which features you want to use.
Also, locality factors in: connections within Europe, for instance, are relatively stable and fast, while connecting to servers in Australia and Asia suffer from lesser infrastructure. In those cases, it may help hand-choosing a server that does the lifting for you.
The app's selection menu could be more helpful in pinpointing why your internet slows down. Only after playing around with the settings for a bit, it became clear security settings are the main contributor. This is strange, seeing how people use VPNs for security reasons in the first place.



Price Plans
PureVPN services aren't that expensive when compared to other providers.
A 1-year plan with PureVPN will cost you $2.99 per month.
Other than this little marketing scheme, PureVPN offers two other subscription plans:
A single-month subscription will set you back $6.65.
A two-year subscription is the most affordable option for $1.99 per month.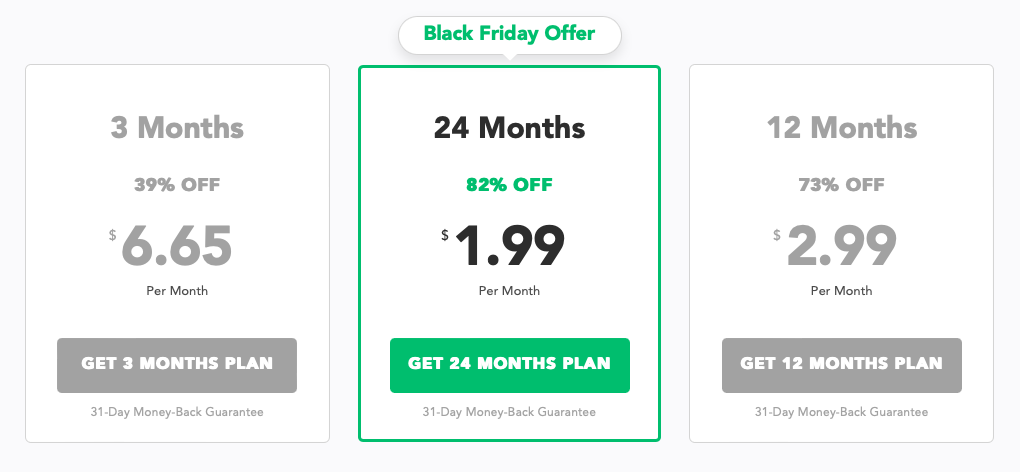 Extra options are available and provide much-added value, like a NAT-firewall or a set IP-address (with optional DDoS protection), or extra security options for companies.
PureVPN advertises a money-back guarantee, yet restrictions apply. Your right to reimbursement expires when you pay in cryptocurrency, for instance. Other users can ask for a refund within seven days of purchase, but only when they have used less than 3GB and logged in less than one hundred times in that period.
On the plus side, PureVPN offers an interesting company subscription plan, which includes multiple accounts. This allows all of the employees to securely log into the company network!
Privacy and security
Anonymous surfing, for most users, is the main reason to look at VPN.
PureVPN supports the most important encryption methods and protocols. Unfortunately, our research showed a couple of details that are cause for concern, like the DNS-leak we talked about prior.
Apart from this, we stumbled across PureVPN's claim to not store logs about their clients' surfing behavior. Upon further investigation, it became clear the company does store session logs that enable PureVPN to check out when you're logged in, for which period of time, and how much data you used. This data can be used to trace you. In one extreme case, the session logs were even shared with the authorities. SO if you are looking for privacy… maybe look somewhere else.
You can find more info on testing your VPN connection in our dedicated article on this matter.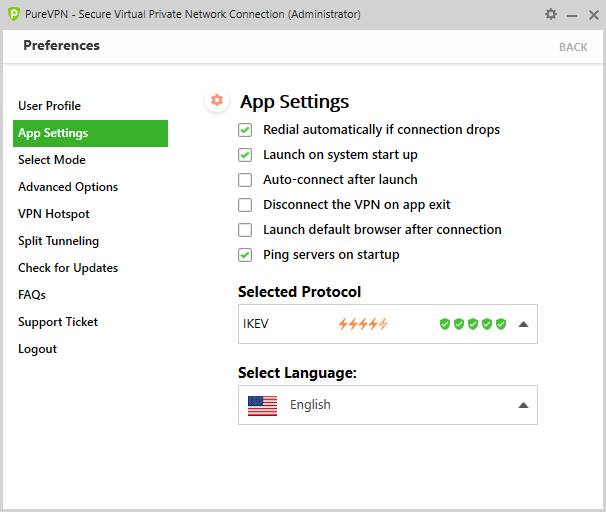 Netflix and torrents
PureVPN advertises the possibility to circumvent geo-blocking. But at the same time, it can be hard to find a working VPN-server to do exactly that.
We checked if we could reach the popular American Netflix and British BBC iPlayer services through VPN, but it took a very long time before we found a connection that didn't seem hampered by the blocking efforts of said parties.
Other things such as downloading through BitTorrent is handled much better. Not every PureVPN server supported this option, but at least the possibility exists. Downloading was easy, especially if you manage to find a server with the fastest download speeds.
Customer support
Customer support has a 24/7 chat service. The service works fine, as far as we could tell, with quick answers to our queries. The wonderful people at PureVPN were helpful, but the style of communication and the language they use takes some getting used to. But, hey, we don't hold this against them and it is evident that they are researching your questions in real-time.
An extensive list of FAQs is available too, just as online forms to search for answers to your questions. PureVPN also provides a separate section for Chinese users, who have to take extra steps to secure their Internet use.
Do the cons outweigh the cons with PureVPN?
PureVPN has been active for quite some time now, but has yet to meet the standard set by the best VPN providers. Several features are very interesting, like the possibility to buy extra features on top of your subscription. Others will make experienced VPN users raise an eyebrow or two: a DNS leak in the recent past and PureVPN's policy concerning session logs leave room for improvement.
On the plus side, PureVPN seems to be a pretty good choice for companies, to have employees securely log into their company's network from places around the world.
And the recent expansion of PureVPN's server park left us wanting more. If the provider can continue this streak and simultaneously iron out the bugs, it may very well crack the Top 5 of our best VPN choices in the coming months.
PureVPN is based in Hong Kong, however, which makes it relevant to stay up to date on changes in Chinese policy on Internet use. China has been busy outlawing VPN servers, which is expected to cause trouble for companies like PureVPN.