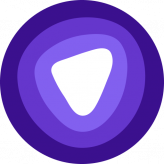 Overview
PureVPN is one of the oldest VPNs around that went through a number of changes over the years. While the provider has all of the VPN basics covered, some of the service's issues keep raising privacy and security concerns, and limit the app in its usability.
Ratings
Features
| | |
| --- | --- |
| Apps | Windows, macOS, Linux, Android, iOS, Chrome, Firefox |
| Price | $1.99 per/month |
| Payment methods | PayPal, Credit Card |
| Refund | 31 days |
| Speed | 7 / 10 |
| Protocols | OpenVPN TCP/UDP, PPTP, L2TP/IPSec, IKEv2/IPSec, SSTP |
| Log Policy | Limited logs |
| Simultaneous connections | 10 devices |
| Based In | British Virgin Islands |
| Netflix | No |
| Torrenting | Yes |
| Streaming | HBO Max, Hulu, Amazon Prime Video, BBC iPlayer, ITV HUB, Channel 4, Crackle, Tubi TV |
| Works in China | No |
| Jurisdiction | British Virgin Islands - Not a Fourteen Eyes Country AND Not an Enemy of the Internet. |
| Server Locations | 95 |
You might think that the VPN industry is young, but, in fact, some of the providers have been around for over a decade now. And one of the OG VPN providers still alive and kicking today is PureVPN.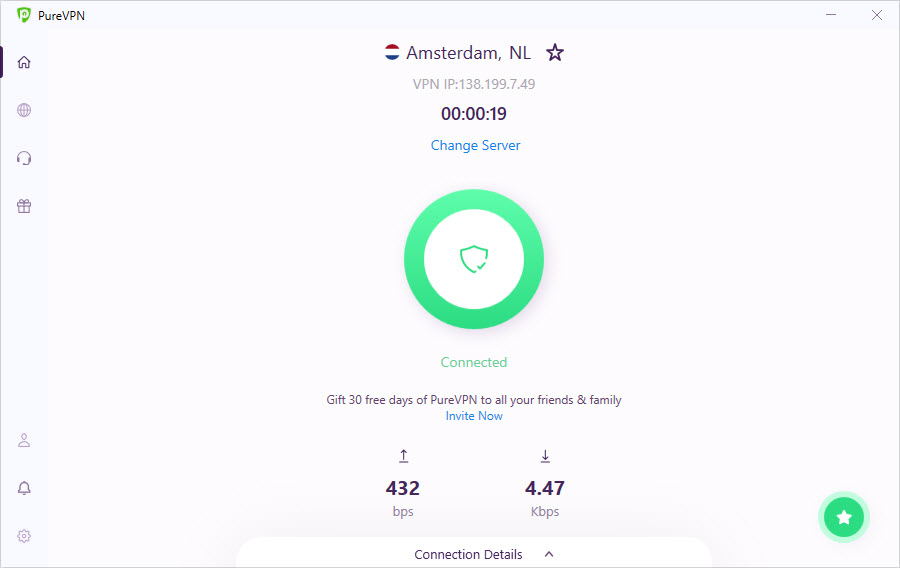 Throughout the years PureVPN has gone through a lot trying to become one of those providers that made it into the big leagues. Controversies, ups, and downs, tops and bottoms of various lists to end up where it stands now.
But where exactly does PureVPN stand today? Well, that's what we're here to find out! As well as give you the definitive answer of whether PureVPN is worth your trust and hard-earned money. Because we care!

Don't feel like reading?
Give PureVPN a try today!
PureVPN: An introduction
Let's start at the beginning. But PureVPN had so many clean slates, that even this might be a tad complicated.
Legend has it that PureVPN was launched in 2007 by a couple of friends by the name of Uzair and Aaqib. The software was initially their student pet project, but they quickly saw the potential of a personal VPN on a very small market and decided to commercialize it. In the coming 4 years, PureVPN released native applications for all major platforms and continued developing sophisticated VPN technology. Today it has expanded into a VPN that looks to topple the competition with a massive fleet of servers, and over 3 million users worldwide.
PureVPN was initially based in Hong Kong. However, over the years it has gotten a lot of criticism for its pick of location, including some from us. Being based in a Chinese region – however special it might be – still raises a lot of privacy concerns. Our guess is that PureVPN took that to heart and in 2021 it has relocated its base to the British Virgin Islands. So now it's sharing this new home with a few other VPN providers, most notably ExpressVPN.
But things might not be that simple.
Whatever the offshore a VPN is registered in, it's usually based somewhere else. And in the case of PureVPN, it is and always has been based in Pakistan. We'll get to our reservations about this, but that's still not the end of it.
Our research shows that PureVPN is linked to numerous other companies. And we warn you: this is a rabbit hole. So even though we don't usually do that, we've decided this deserves a segment of its own. So you can get a clear picture (or, at the very least, as full as we could make it out) of what this provider is.
Oomph. Here goes.
PureVPN and related entities
If you've been reading PureVPN reviews all day [which, of course, you have], you may have noticed some of them decide to dig a bit deeper and mention a company called GZ Systems Limited.
Well, that one isn't that big a secret actually. At least anymore. The PureVPN app details list GZ Systems as the owner of the software. Not only that but GZ Systems is credited as the author of the PureVPN Wikipedia page.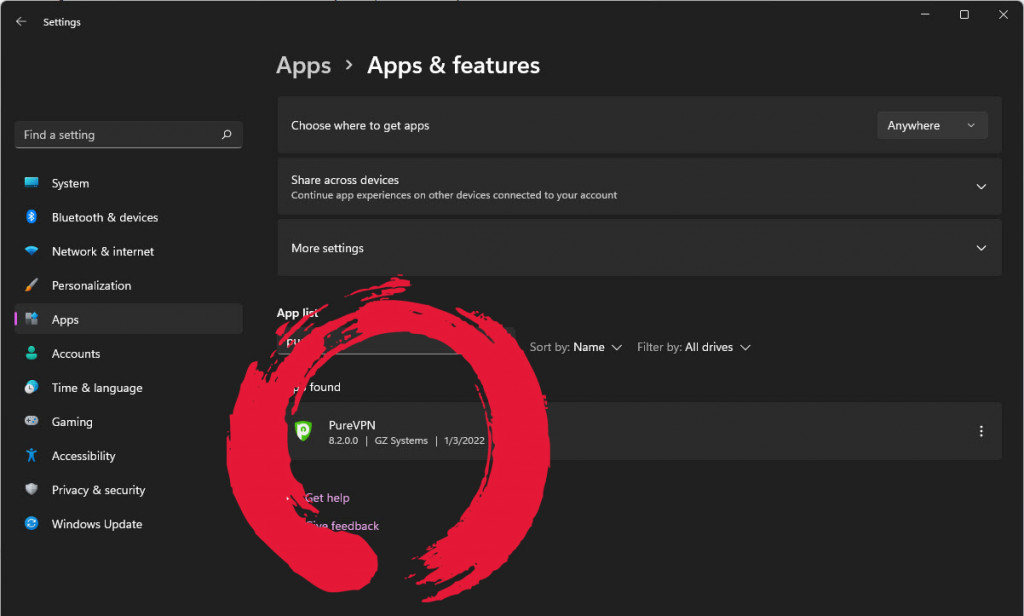 But what exactly GZ Systems Ltd. is, remains a bit of a mystery. The company doesn't seem to have that big a presence on the web. Scamalytics does list it as an ISP that mainly specializes in running anonymizing VPN servers that could be connected to fraudulent traffic.
On top of that, this mysterious-but-not-really company seems to be the owner of another VPN provider called Ivacy. This led many to link the two together, calling out Ivacy to be the white-label version of PureVPN.

Want to know what Ivacy is all about?
We've reviewed them as well!
And yet, this is still just the tip of the iceberg.
One of PuredVPN's co-founders is Uzair Gadit – that very same graduate that turned his student passion project into a VPN used by millions. He is credited as the co-founder of the company called Disrupt. This is one of those companies whose website tells you nothing about what it actually does, except for 'revolutionizing the business'. What it supposedly does is help tech companies scale up and grow.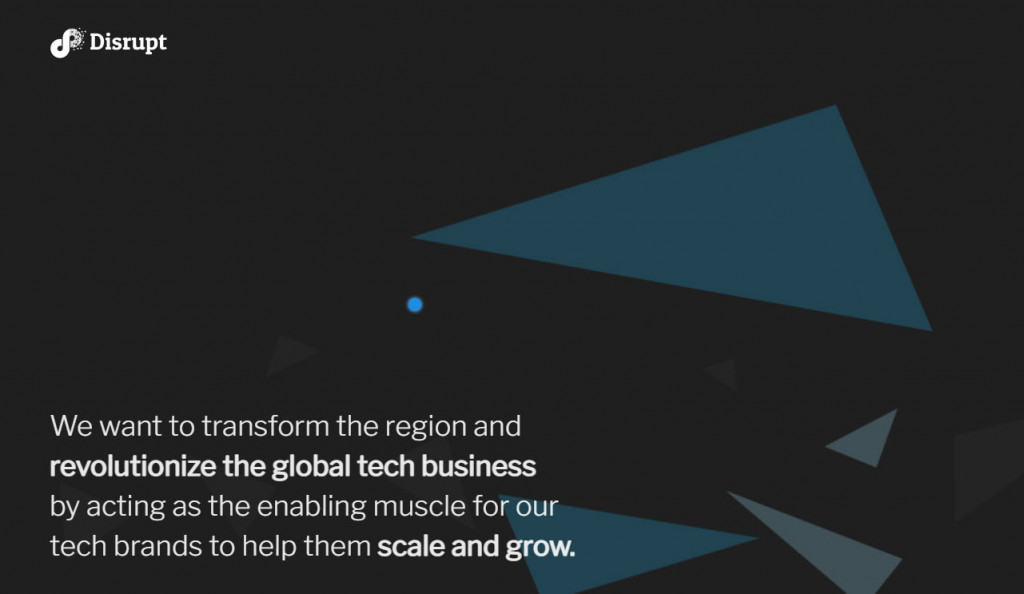 But what it does give you, is the list of other companies it worked on. And those include:
PureVPN and Secure.com, which is a company that's also promoting PureVPN and Atom – a cybersecurity suite with a rather vague list of features.
Cloudways – a managed cloud hosting platform for businesses.
Savyour – an online cashback platform for Pakistan.
Mandiexpress – a food delivery service in Pakistan.
Zignaly – a crypto-trading and investment platform.
And much more…
Disrupt basically has its hands in pretty much anything. VPNs, online security, cloud storage, cryptos, retail, media – you name it. And that would be just one of those companies, but the peculiar thing is that a lot of the same people are associated with each of the companies listed.
Uzair Gadit is credited as the CEO of PureVPN and co-founder of Disrupt is also the CEO of Secure, which owns Atom. His friend Aaqib Gadit, who is the second student who created PureVPN, is listed as the co-founder of Cloudways. And so on, and so forth. Everything seems to be connected.
At this point, we were already feeling like the guy from the Beautiful Mind, but even that's not the end of it.
All of this searching led us to a company called Gaditek, which is said to be a Disrupt.com company. And that one is essentially a massive IT company in Karachi, Pakistan that works on all of the projects listed on Disrupt, as far as we can tell.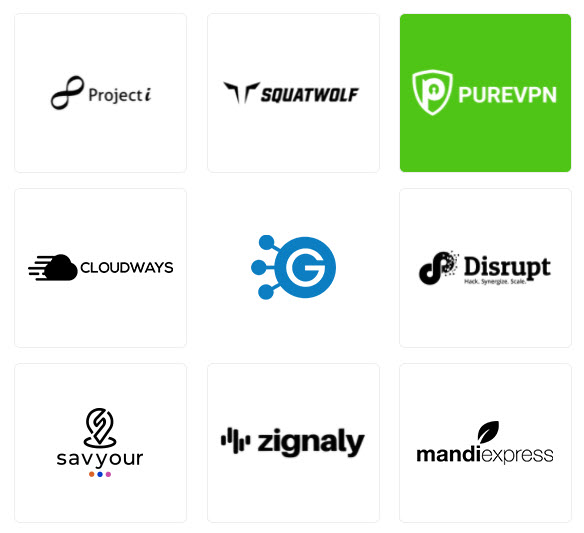 So why have we gone through the trouble to derail this review into something completely not VPN-related?
Well, to show off our impressive Sherlock Holmes skills, of course. But, actually, we prefer our VPNs to operate with at least some level of transparency. And even though VPNs are elusive creatures, PureVPN is taking the shell game a little too literally.
Make of this what you will. Ultimately, everything we've mentioned so far shouldn't even meddle with your VPN experience. Or would it? Well, it's about darn time we actually find out!
PureVPN servers and locations
PureVPN has had a rollercoaster of a time setting up its fleet of VPN servers.
Initially, the provider started off with just a handful of 16 servers in a couple of locations. But in 2021 the server fleet of PureVPN really blew up and has become the biggest one out of any VPN provider. This didn't last though. PureVPN had to scale down its server network in the coming months and settle on hosting 6500+ servers in 78 countries.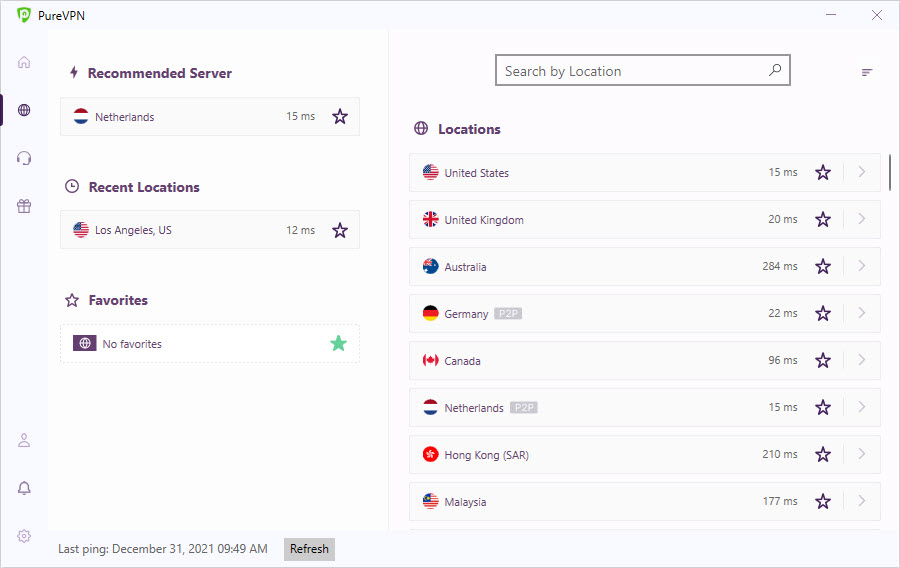 The numbers do seem impressive, but that's what they are – numbers. You don't ever get to see all of the 115 advertised servers in South America. All you do see are six locations (most of them virtual).
There's also a bit of false advertising with PureVPN.
The locations that the provider's website promises you and what you actually get can be a bit different. For example, the website says it covers three locations in Canada and the UK, but the app only gives you two for each. Go figure. We could give Pure the benefit of the doubt here, lots of VPN providers keep switching locations and servers on the fly. But this seems to be quite deliberate – it just feels nicer to show the user more locations before he actually buys.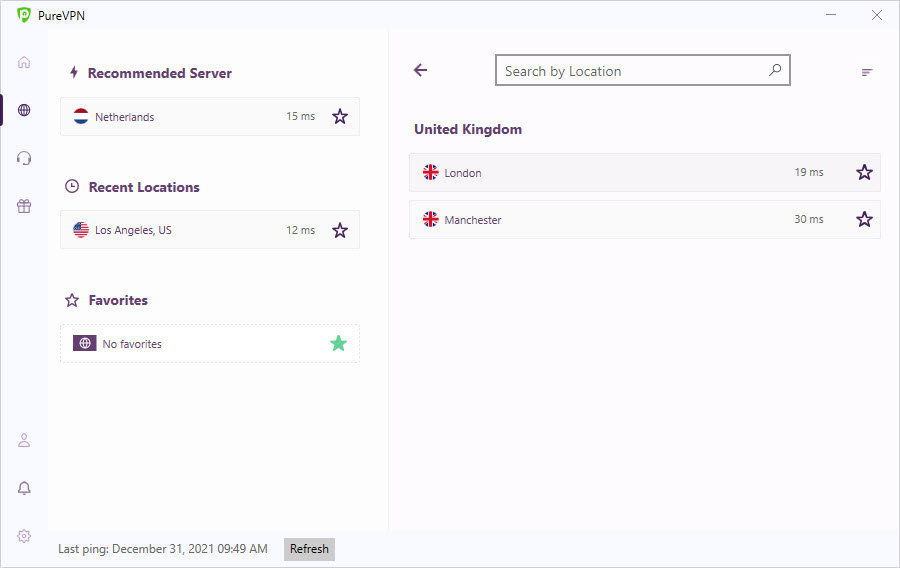 The location diversity, on the other hand, is one we have not seen for a long time.
Most of PureVPN's server locations are concentrated in Europe, but that covers pretty much every country, immediately showing where the provider's priorities are at.
But that's not to say that America isn't covered by the provider as well. PureVPN has 13 locations covered in the US alone.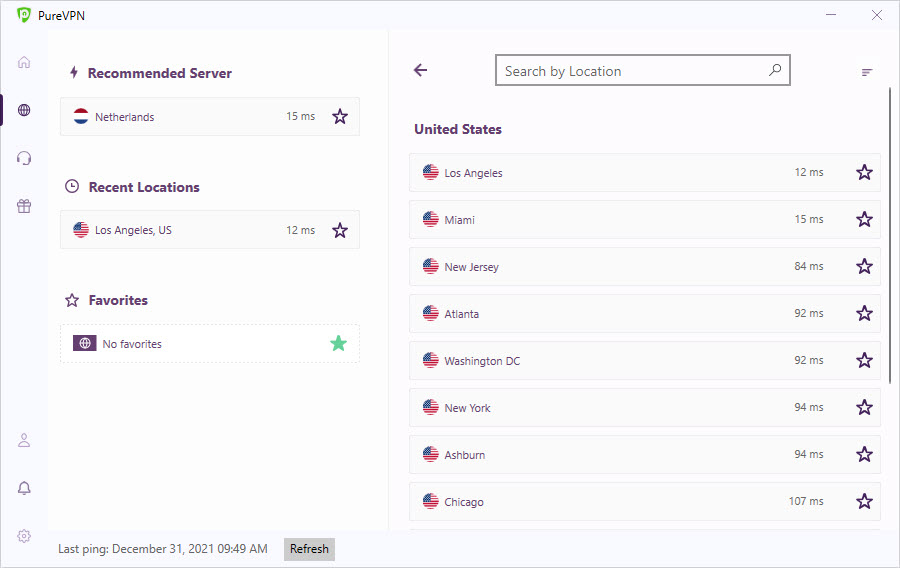 And now add to those all the other South and Central American countries every other VPN provider seems to forget exist, including Bermuda, the Cayman Islands, Barbados, Puerto Rico, Costa Rica, and so on.
But the really impressive thing about PureVPN is the coverage they have in Asia that we don't think any other provider has. And we're not just talking about India, Korea, and Singapore – those are a given. We mean locations such as the UAE, Bahrain, Oman, Bangladesh, Afghanistan, Vietnam, and many more (an advertised 560 servers in total). This is what makes PureVPN a really enticing VPN option for Asia – something not really any other provider can brag about.
And, of course, there are some options to cover Australia and Africa as well.
---
While PureVPN maintains a pretty good balance of servers all over the world, we do see a curious trend of this provider gravitating towards locations that most other VPN providers tend to ignore.
It is our firm belief that everyone in the world deserves and needs access to equal online protection. And the continent of Asia is usually very much underrepresented by VPNs. Well, not anymore! There is a VPN that's out to give the region what it needs, and its name is PureVPN!
PureVPN speed test
Regardless of it scaling down, or growing, PureVPN's servers list is still impressive and even unique. The same, unfortunately, cannot be said about PureVPN's speed. Or can it? We're confused…
PureVPN's connection speeds are all over the place. While generally favorable, they can also stop your connection dead in its track at the drop of a hat.
At times PureVPN's speeds can be better than any other provider's, especially after the provider made WireGuard its default protocol. Other times you might assume those servers are still using dial-up. And there seems to be no rhyme or reason as to why some servers perform well, while others put the speed down more than the kill switch.
The provider does brag that it has updated all of its servers to 20 GB ones. But that doesn't come across as obvious when we were doing the testing.
Jokes aside. Let's get into the numbers.
This is our vacuum control Internet speed we're going to be using for further calculations: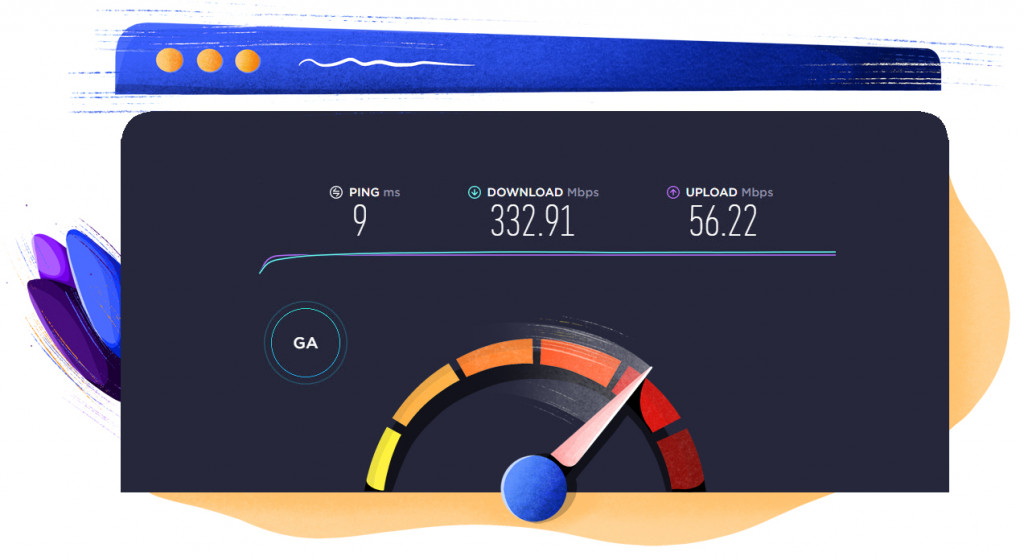 And here's what we got once connected to the server that the app PureVPN chose for us as the best one: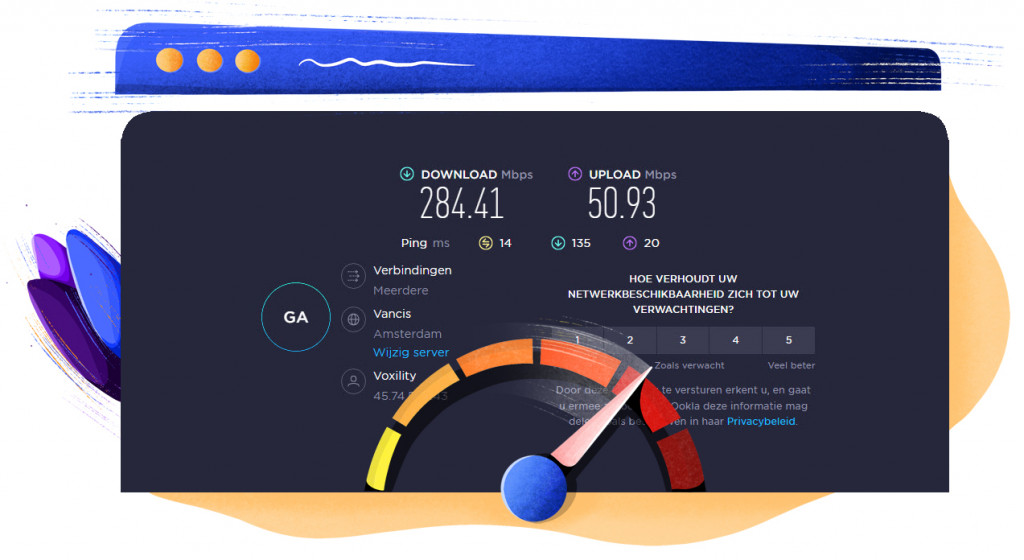 Right off the bat, that's a 14.5% drop in download speeds. But just a 9.4% drop in upload speeds. Which is a pretty strong start if you ask us.
So we went server surfing through Europe, and the first stop was Germany: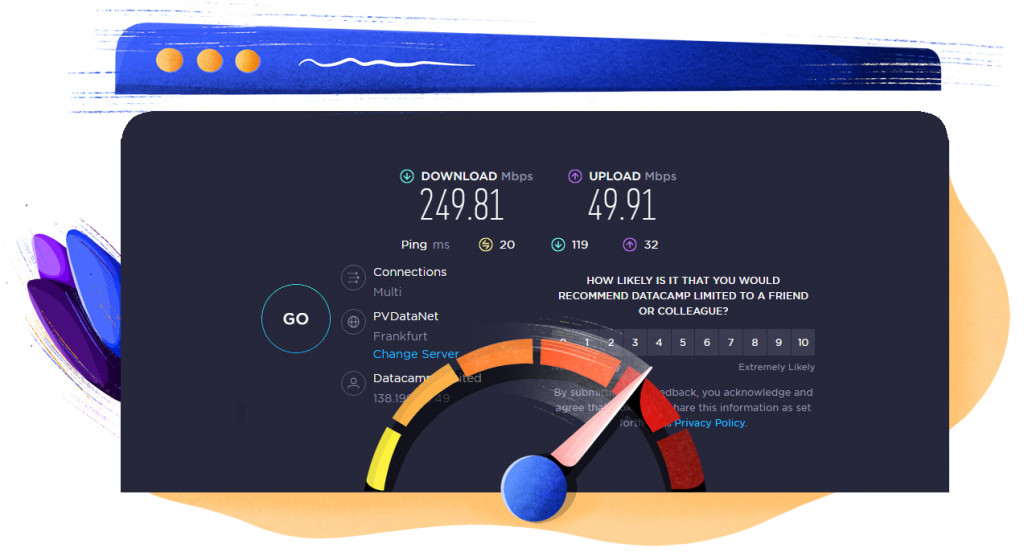 That's -24% on download speeds, and -11% on upload speeds. Which is also not bad at all.
But Luxembourg was even more surprising with just a 16% drop in download speeds:

While we moved further, the speeds were pretty stable and remained quite high. Check out the Estonian server, for example, which thought – for whatever reason – that we are in fact in Finland. It dropped our download speeds by just 20% and uploads by 8%:

We also tested both of the UK servers that the VPN gives you: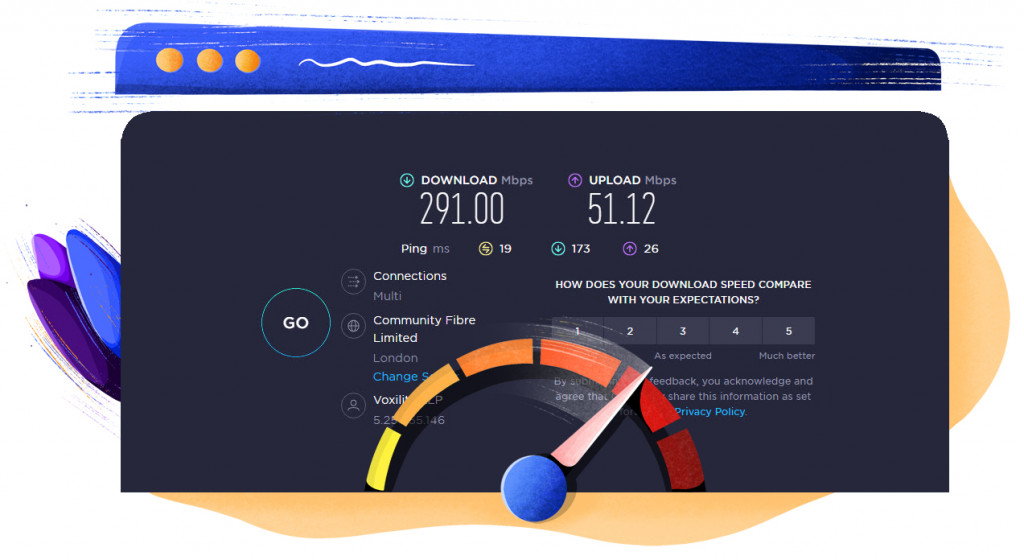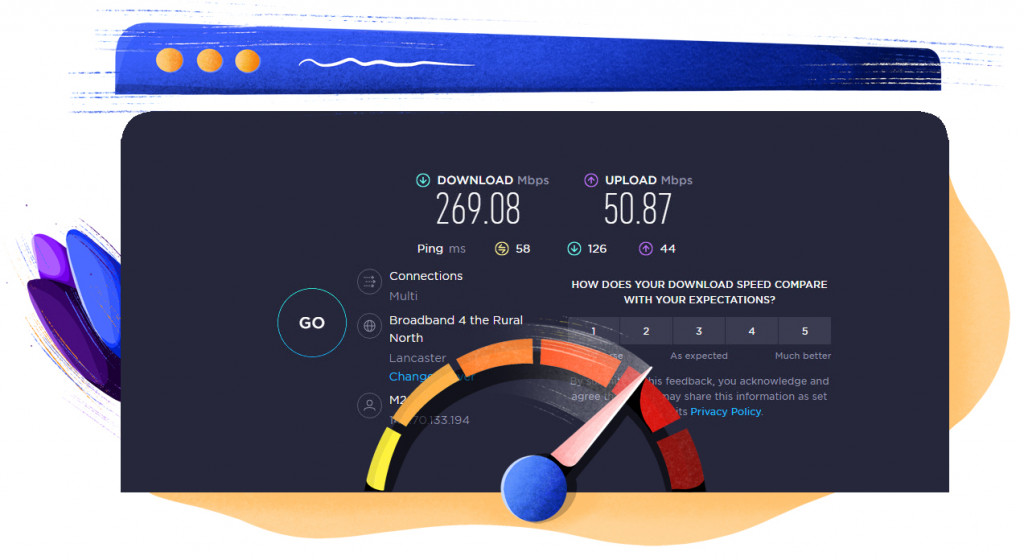 The download speed drop was quite a range from 12 to 19 percent, while the upload speeds remained nearly untouched and surprisingly consistent. This is actually really great results for UK servers which are often overcrowded with most VPN providers.
But with so many users looking to get an American IP, what about the servers in the US? Well, we have to say, we were pretty pleased with them actually, and we think that's where all of PureVPN's effort went: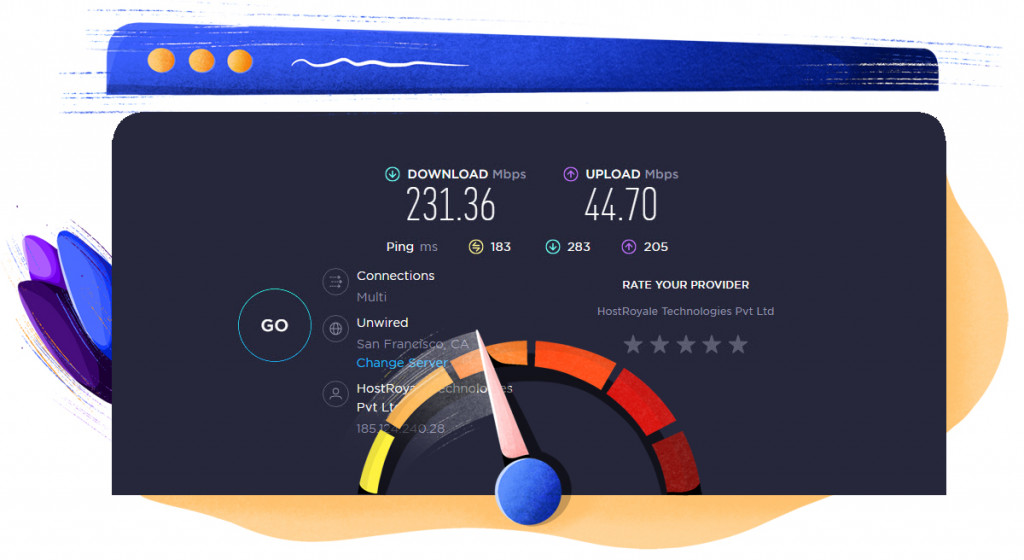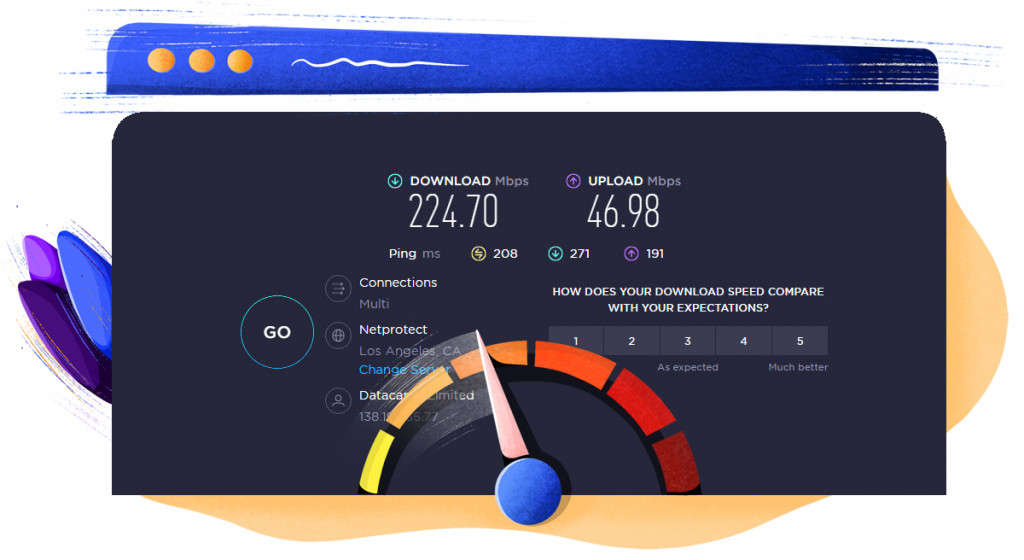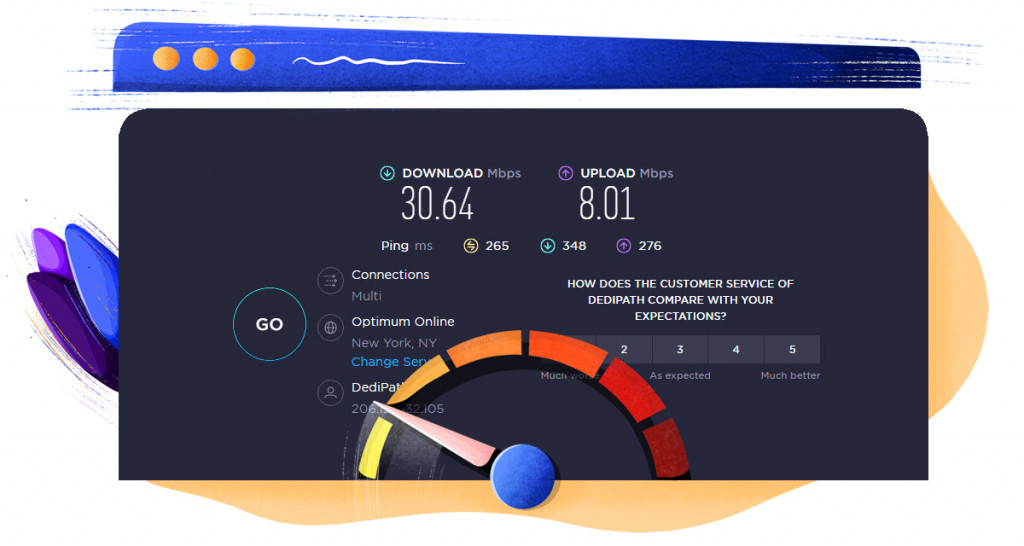 While the ping was significant, the download speeds wavered from a 30%, to a 32%, to an abysmal 90% drop. So, as we have said, pretty much all over the place. The previous tests we have done about a year ago have given us the same results, with some of the servers performing pretty well, and others elbow-dropping your connection deeper than the Marianas trench.
Take Canada, for example. It gave us pretty great results with an 18% drop in download speeds and a 12% loss in uploads: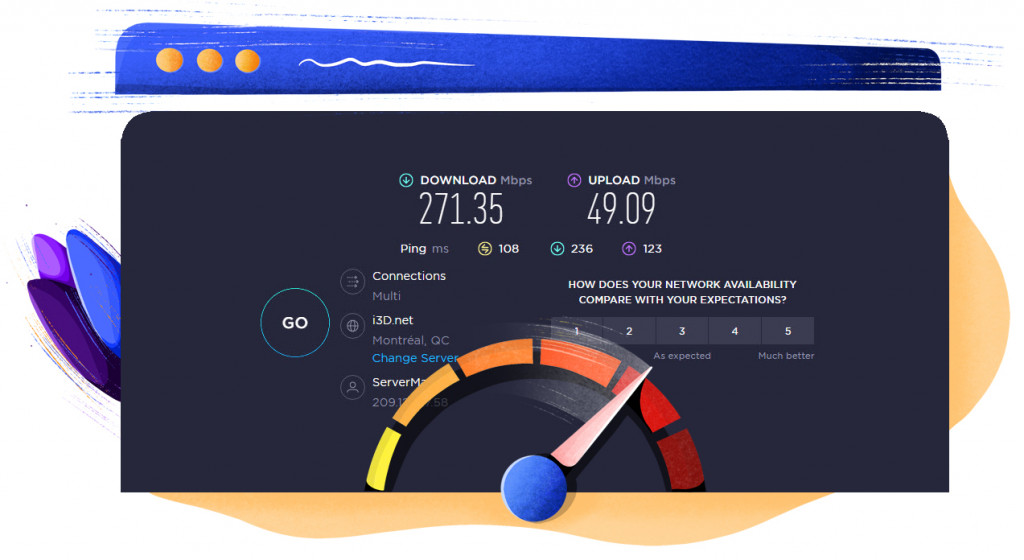 So what about the much-talked-about Asian and Asia-Pacific regions?
Well. Australian connections are pretty OK, considering the distance and how badly the same test went for us last time:

And while one could argue that is very far, other providers do manage to do it correctly.
However, the Indonesian server, as did most of the Asia-based servers, stopped our internet connection dead. We have actually never seen anything like this: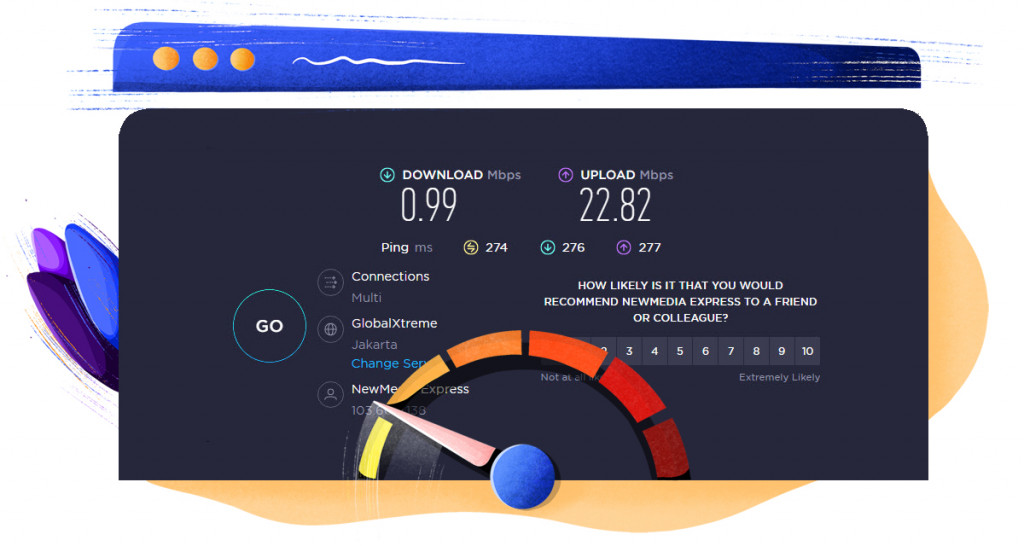 Tokyo, on the other hand, surprised us with speeds to rival the US connection: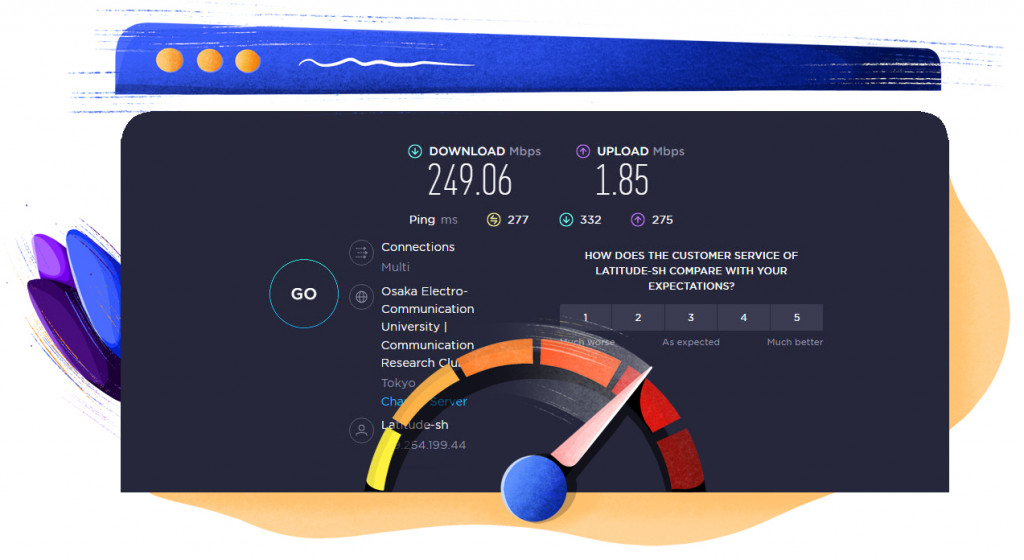 ---
So what's the verdict on PureVPN's speeds? Well, they have generally improved over the years, but they still remain a bit of a toss-up.
PureVPN's connection speeds can be wildly inconsistent. While the general speed drop is usually lower than most other VPN providers, PureVPN's speed can be all over the place. There might be servers in the other part of the world that are somehow doing a better job than the industry average, and there are those that may as well just give up.
We guess we could put it this way: When PureVPN's speeds are good, they are really good, when they are bad, they get really bad.
A lot of the recent speed improvements from PureVPN come off the back of the provider making Wireguard its default protocol. Which helps a bunch, but comes with its own perils that we are yet to touch on.
PureVPN security and privacy features
So speeds might not be an obvious win, but that's what you get with nearly any VPN – you sacrifice speed in order to get that much-needed security and privacy boost online.
So how well does PureVPN handle the thing that VPNs were made for?
Well, PureVPN is one of the more controversial VPN providers, to say the least. There have definitely been both ups and downs. And as much as we would love for bygones to be bygones, this isn't the area where we can let things slide.
The history of sharing user information with authorities
One of the appeals of using a VPN is that no one will ever be able to track you and find out who you are. Not even the government. And while there are multiple ethical complications that come with this statement, we're going to leave all of that to the philosophers and just judge software on software merit.
And with VPNs the rule is simple: No one should ever be able to track you down if you are using a VPN.
Far from everyone complies with these rules, and we have seen the mightiest of providers taken down and losing all street cred by slipping up once (HMA, ProtonMail, DoubleVPN just to name a few). And, well, there is no easy way of saying this, but PureVPN isn't without its history either. But you probably know the story by now.
In 2017 PureVPN assisted the FBI in tracking down an alleged cyberstalker. The provider logged the user's data and shared it with the authorities, allowing them to track his multiple emails to the same IP address consequently leading to an arrest.
Morals aside, it is our strong belief that VPN providers know exactly what they are getting into. You don't go into the business thinking that you can play both sides – you pick one. And we hold every provider to the same standard regardless of the statute of limitations.
---
Still. This happened years ago, and PureVPN has very much changed since then and has definitely taken steps to make amends. Changing its logging policy, going through multiple audits, joining and launching online privacy initiatives, creating a one-of-a-kind security breach defense system and transparency procedures, and so on.
So let's at least try and move past the juvenile misdemeanors and see what PureVPN grew up into.
Security policies today
These days PureVPN is pulling out every trick and every flex in the VPN handbook to convince you that this is the most trusted, reliable, and overall best VPN on the market. And we have to say, some of those initiatives are pretty unique.
Most recently, PureVPN has put a massive procedure in place to ensure hardware, software, and end-point-user security. All of this – to make sure your data is as safe as it would be stored in a vault. This includes temporary admin access to both the provider's hardware and software, numerous authentication steps, whitelisting access IPs, employee training in cyber security, and constant penetration tests.
Basically, PureVPN makes sure to keep nearly everyone without proper clearance out of their servers, out of their hardware and software, and is constantly testing its systems for vulnerabilities.


But that's not all.
After the whole 'we give out our users' IP addresses' debacle, PureVPN is taking all the steps to make sure (or at the very least convince you) that they are not making that mistake ever again. Since 2017, PureVPN has undergone two separate audits by Altius IT and KPMG, confirming their no-logging policy (to be clear: confirming the no-logs policy that PureVPN has in place).
Not only that, but PureVPN has gone one step beyond and has become the first and only VPN on the entire market with an always-on no-log audit. Through an agreement they've made with KPMG, PureVPN can be audited at any random time to make sure that the provider is staying true to its no-logs policy. And they have already passed two of those inspections.
Finally, in 2021 PureVPN joined the i2Coalition and its VPN Trust Initiative to promote the best practices in the VPN industry.
---
So PureVPN definitely talks a big game. And it all sounds very impressive and great. But in the VPN world, something that might sound very much impressive could be just that – semantics. So is PureVPN being that boyfriend that's trying really hard to make you believe he's changed or does it actually mean everything it's saying?
Well, that's what we're going to find out!
We put the basic app through every possible leak and security test, and on the surface, everything seems to be working fine.
No IP leaks: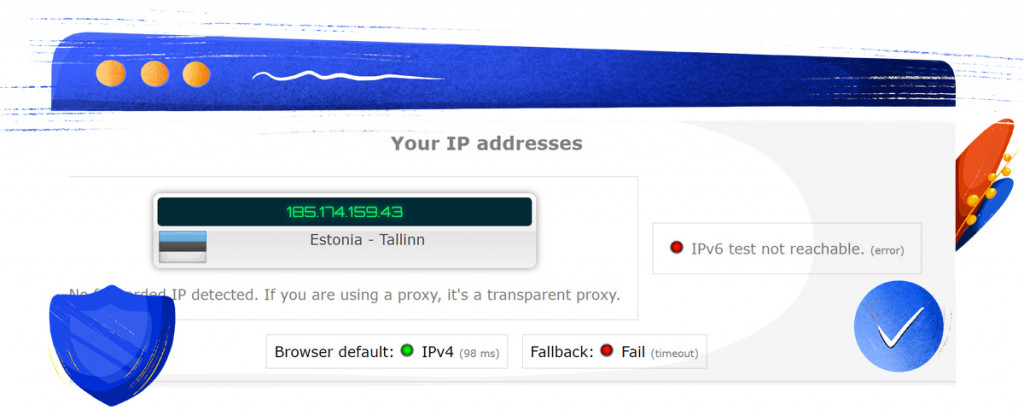 DNS leaks: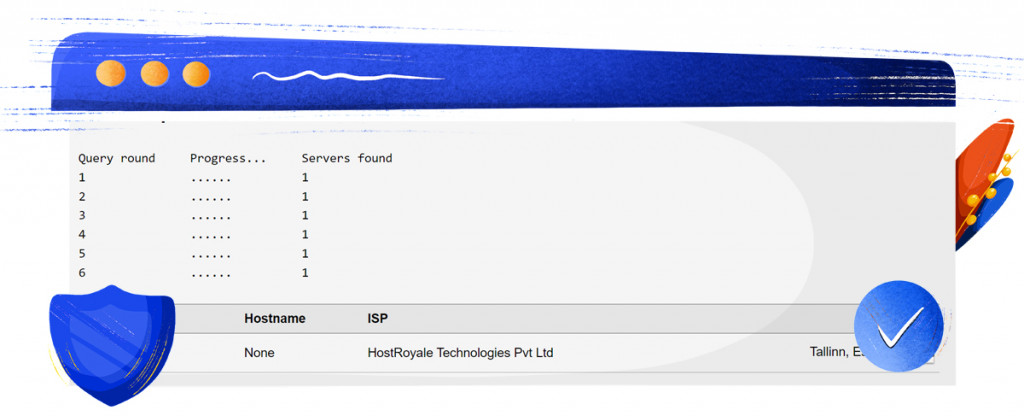 Or WebRTC leaks [courtesy of the awesome browser extensions]: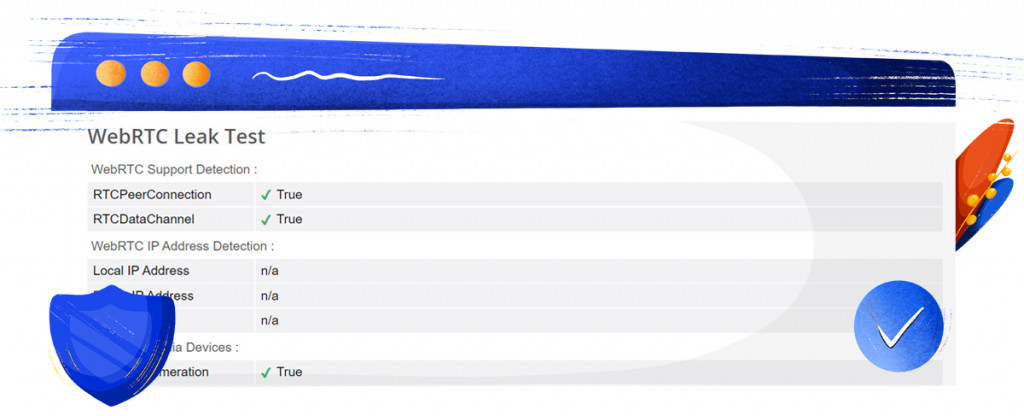 But what if we decide to dig a bit deeper?
Encryption
As any good little VPN, Pure comes with top-of-the-line AES-256-Bit encryption.
And there is really nothing more to say about that. It is unhackable, so you know your data will be safe even if someone will be able to get a hold of it.
Protocols
There is a running theme with PureVPN. The provider's website says that the product has much more going for it than it actually does. And it's most obvious when it comes to VPN protocols.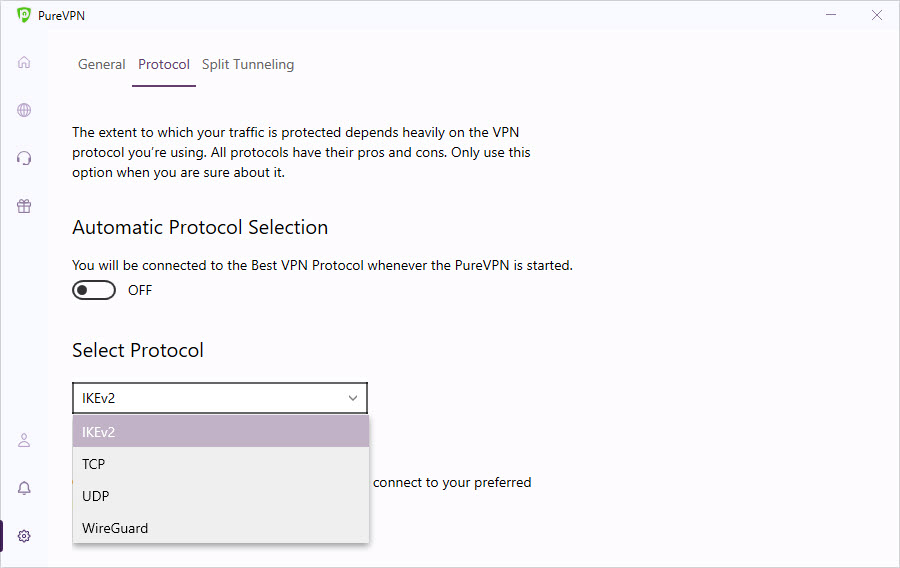 The website will tell you that PureVPN has all kinds of protocols available on every single server. But in actuality, PureVPN only supports three:
IKEv2 – the default choice for PureVPN and a must-have for any VPN provider thanks to its ability to re-establish a secure connection in case of a network switch or connection drop. This feature makes the protocol perfect to use with mobile devices.
While IKEv2 is a necessity, this protocol is easily blockable because it uses a single port and it isn't as strong as some of the other protocols. This probably doesn't make it the best option to have on default.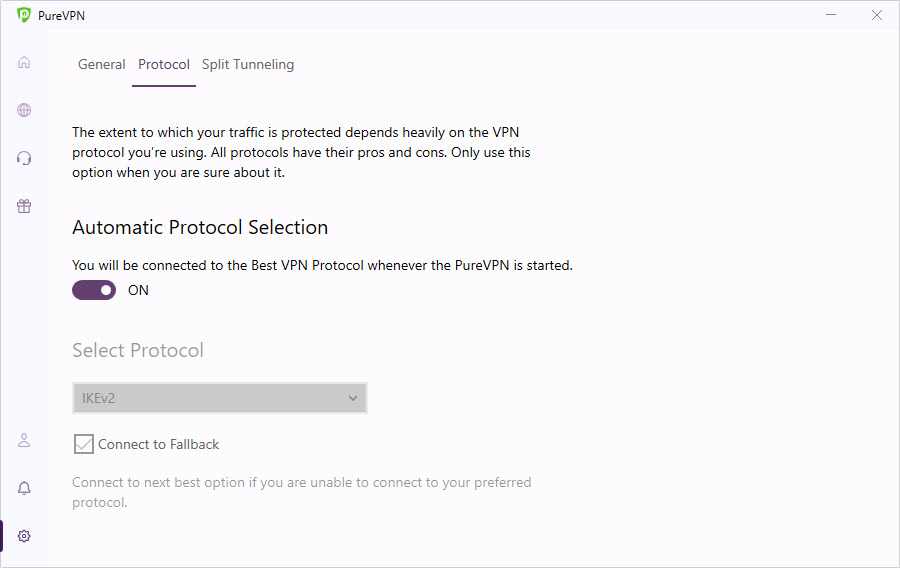 OpenVPN – the app supports both TCP and UDP of OpenVPN, which gives you some of the best security, anonymity, and online safety that the modern VPN world can offer.
You are going to have to choose between the two manually, which does require you to have some technical knowledge.
WireGuard – the most recent VPN protocol that every VPN provider is racing to implement.
It is very fresh though with the PureVPN service, and it doesn't seem that the paint is all that dry yet, because we've been having lots of issues when testing it out.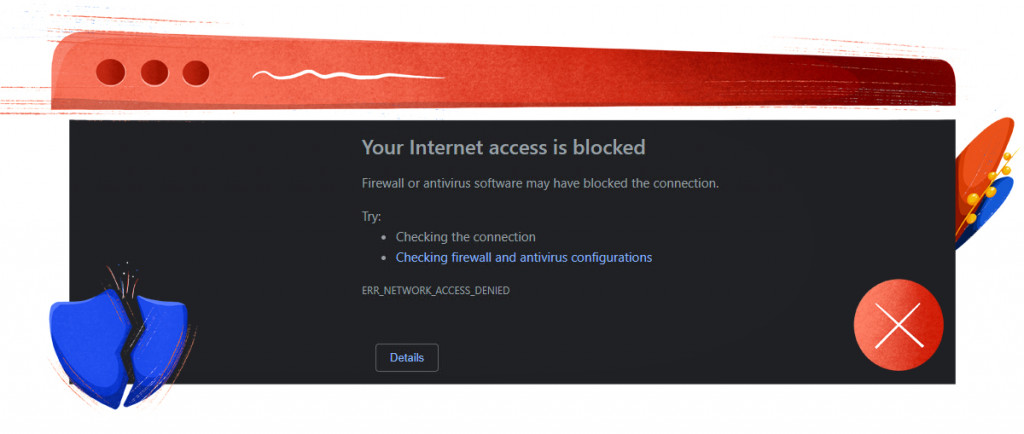 The VPN protocol selection that PureVPN offers is decent and competent. It's definitely enough to meet all your needs in concept, but it's nothing to write home about (and it's definitely no Hide.me).

Check ouit what makes Hide.me one of our favorite VPNs!
The most disturbing part of this, however, is the fact that PureVPN's website gives you completely different information in regard to what you are going to get. And while not many users will go over every protocol with a fine comb, we have and think that's a bit false advertising-ish.
Going the 'Default protocol' route is also a bit too old-school. And not in a good way. That's nowhere as comprehensive, as, say, 5 Euro VPN's intelligent automatic protocol selection feature.

Never heard of 5 Euro VPN before?
We've got you covered!
So keep at it, PureVPN. And, oh, update your website!
Logging policy
So, the fun stuff. Did PureVPN learn anything from that time it massively screwed the pooch and handed over user information to the authorities?
Well, based on everything PureVPN tells you it does, you'd think that everything is squeaky clean. So did we. But something still didn't sit right with us. And then it hit us – it's all about the semantics.
See, the audits that PureVPN went and is constantly going through, they don't actually tell you whether their app is completely air-tight, or whether they actually keep no logs. What the audits are doing is making sure that they keep true to their own logging policy. What this basically means is that the only thing the audit is supposed to do is make sure that the provider isn't collecting more information than is stated in the privacy policy. And that one can say the provider collects anything but your pet's name!
And that's where the GDPR comes into play with its requirements on company transparency about everything any website or service collects about the user. Something PureVPN is very happy about complying with.
So, with all of these puzzle pieces in place, we can just read a very long document, and find out everything PureVPN actually knows about us.
That's what we did. But we didn't find much, and the things we found were not that drastic. So while we are impressed with our detective skills, the only things that PureVPN knows about you are:
The day you use the service;
Which location you connect to using PureVPN;
Your ISP;
The duration of any VPN connection;
The number of connections you use with a PureVPN account.
While this isn't anything criminal, and not something that can seemingly identify you, these are still logs, if limited.
So we're going to try this semantics game PureVPN seems to be playing: Even though these are very minor logs that can be omitted, these are still logs. So be careful what you call yourself.
Kill switch
With the basics out of the way, what extras does a VPN (that's in its second decade) offer?
Well, a Kill switch, for one. That is if you can get it to work properly.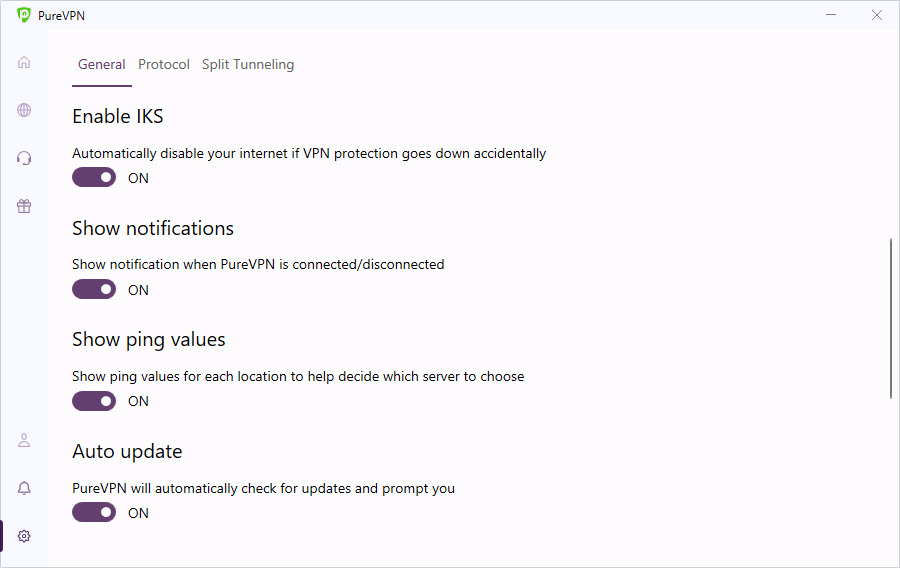 First of all, the PureVPN app comes with the kill switch enabled as default. As does the 'Launch on startup' option (but not connect). This means that as soon as you turn on your device, the kill switch will automatically cut your connection. This might sound fun in concept, but without the 'Auto-connect' feature available this is a well of frustration waiting to happen when you're in a hurry, or just forget you have a needy VPN.
What's worse, the PureVPN kill switch can be the cause of you leaking your personal information.
As a test, we tried connecting to another VPN when PureVPN was enabled. This is a test we run with every provider. We succeeded, and PureVPN's kill switch cut our connection just like it was supposed to. But after we turned the other VPN off, we got our Internet back immediately, before PureVPN decided to re-establish a secure connection (which is something it was really struggling with). So when we checked our IP, we got our real one, which means that PureVPN was leaking our personal information.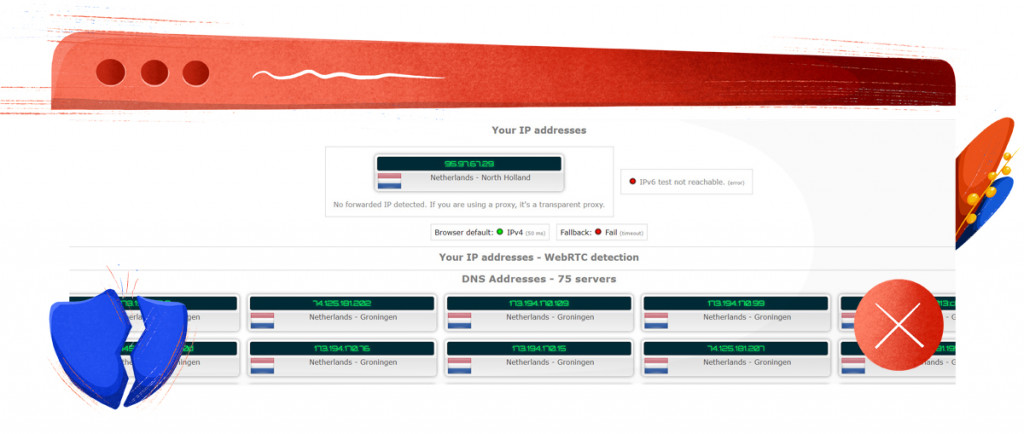 The verdict: If you're in it for privacy reasons, probably steer away from PureVPN's kill switch.
UPDATE
We have recently gone back and retested a lot of PureVPN's services and are happy to say that the IP leak issue due to the faulty kill switch has been seemingly resolved.
However, new ones appeared in their stead. This leads us to:
Split tunneling
And then there's split tunneling available for Android and Windows.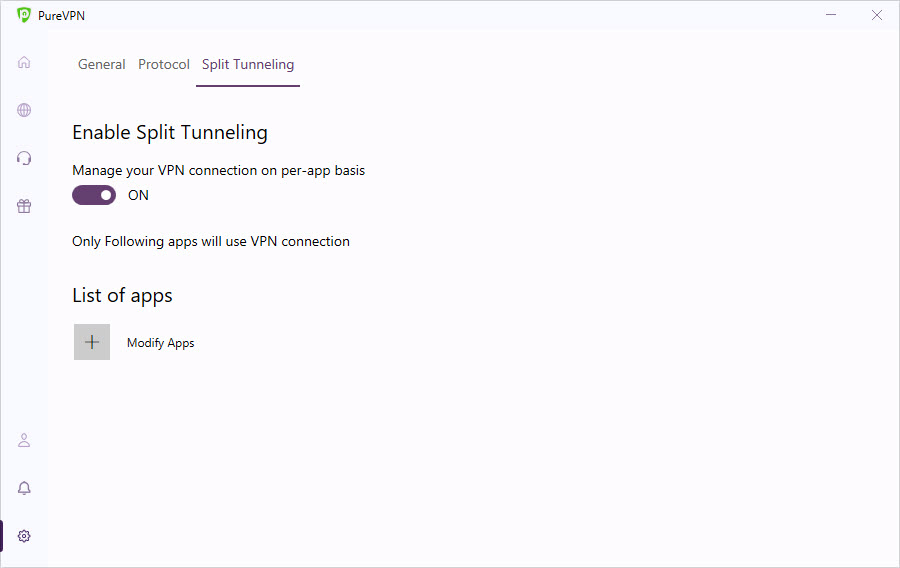 The feature allows you to choose the apps that will only use the VPN connection, while others will be using your regular connection.
The app immediately allows you to add all of your browsers and channel their traffic through a secure VPN connection. But anything else you want to keep safe and private, you are going to have to add manually by going through all of your files. Which is cumbersome and doesn't really work.

PureVPN's split tunneling feature was off to a rocky start. When we first tested it, it just wouldn't work and whichever apps were supposed to be using the VPN connection simply had no internet.
This has been fixed and the Split tunneling feature seems to be working as advertised. However, instead of not working the feature has become a source of another major vulnerability – it leaks your DNS requests:

We discovered this issue when running PureVPN through a new set of tests that the provider itself requested. However, the issue seems to be still present with the provider's app and could be a huge privacy vulnerability.
While not uncommon with split tunneling VPNs, most high-profile providers, which PureVPN is clearly trying to be, have been able to solve this issue using numerous techniques. So you should have done better, PureVPN!
Add-ons
There are also a few add-ons that PureVPN offers to those who are looking for something more than just the VPN basics.
Those don't come with a regular subscription, and you do have to pay extra for them. We've decided to not go too in-depth with everything they can do. Still, though, we thought we'd run them down.
So, for something extra, you can pimp out your PureVPN with:
Dedicated IP from 1 of 7 different locations.
Port Forwarding.
A combo deal of a dedicated IP and Port Forwarding.
DDoS protection.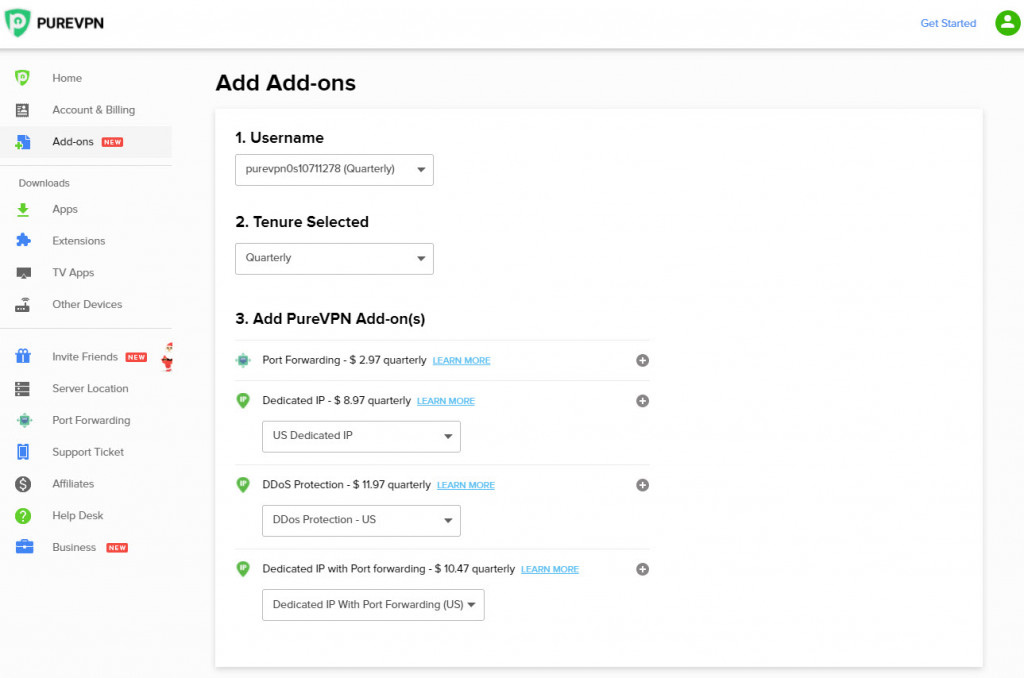 Those options are quite different, but you can pick and choose them however you like.
---
And that's about it for everything PureVPN has to offer on top of the regular VPN service. And, honestly, that's not much, especially for a provider that's been around since 2007. But, then again, if they are really working on everything we've mentioned at the beginning, it comes as no surprise that they can't get everything done to completion.
So what do we think about PureVPN in regards to everything?
On the surface, PureVPN has all the primordial makings of a good, maybe even a great VPN provider. As long as you don't look too close or dig too deep. As soon as the situation is a bit more complicated than simply hitting 'Connect' stuff starts to go wrong, stuff that every self-respecting VPN provider should have figured out by now.
And you might very well never come across any of these flaws, but we know they are there and they can cost you your online privacy and security.
On top of that, the lack of extra and advanced features is pretty disappointing for a VPN this old. And while VPNs are not obligated to come with a Vitamix, providers that are much younger, such as Surfshark, are rolling out much more impressive solutions month after month. So PureVPN just might be falling behind.
PureVPN apps
So the things we've seen so far didn't really blow us out of our chairs. So maybe the apps will. What about them?
First of all, PureVPN has a very impressive selection of dedicated apps. It seemingly has one for everything that can connect to the Internet, including all the major OS' (Windows, Mac, Linux), all major mobile devices (Android, iOS), Smart TVs (Firestick, Android TV, Roku, Apple TV, etc.), browsers (Chrome, Firefox, Edge), routers, and even apps for specific software, such as Kodi, which is not something a lot of providers have.
Pretty impressive, right?
It is. But in some cases, the provider doesn't actually have a native app for a particular platform, it just tells you to install the VPN on your router. But if that's the case, you might as well say you have a dedicated VPN app for a smart fridge.
PureVPN supports 10 simultaneous connections, which is pretty generous and is definitely enough to cover you on every device, and every browser you could ever want to use.
However nice all of this sounds, there is nothing quite like a hands-on experience. And that's exactly what we're here to do for you.
Desktop apps
PureVPN has apps for Windows, macOS, and a beta app for Linux.
Windows is very clearly the primary, and the most worked-on VPN app for PureVPN, since the Mac one has less functionality, and the Linux one is aggressively beta and is very limited in its capabilities. So we decided to stick with the Windows one for the majority of our testing.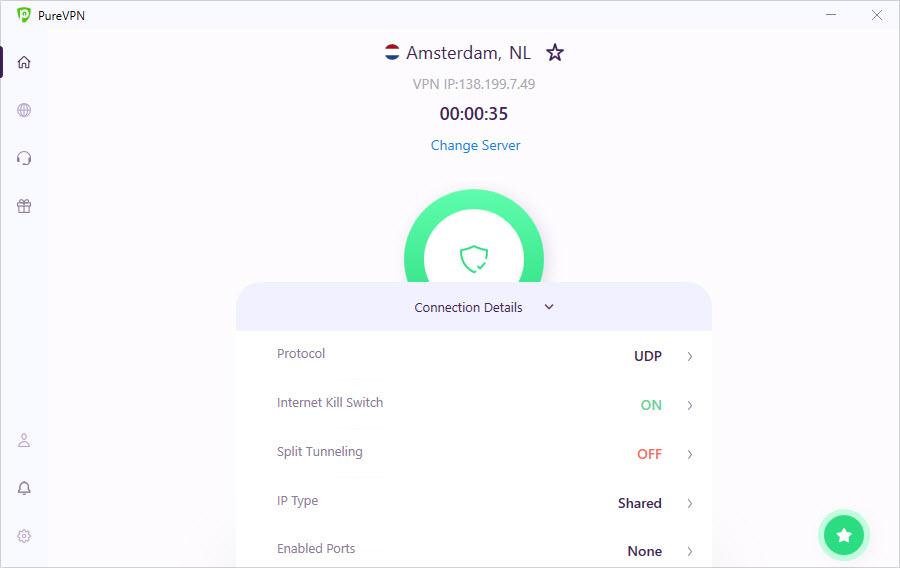 Over the years, the PureVPN app has gone through a number of redesigns and drastic changes. And we believe that the current one is actually the look it should stick to.
The app has a very Windows 10 look to it, that feels native and intuitive. The layout is very clear. And if everything you are looking for is online protection, there's a big button in the middle of the app that lets you immediately connect to the closest and fastest server.
If you are looking for something specific, there's always a tab with all of the servers you can access with an extremely blink-and-you-will-miss-it sensitive scroll, which makes it very difficult to find the place you want to connect to. Luckily, you can sort the servers by name, popularity, or ping, which helps a ton.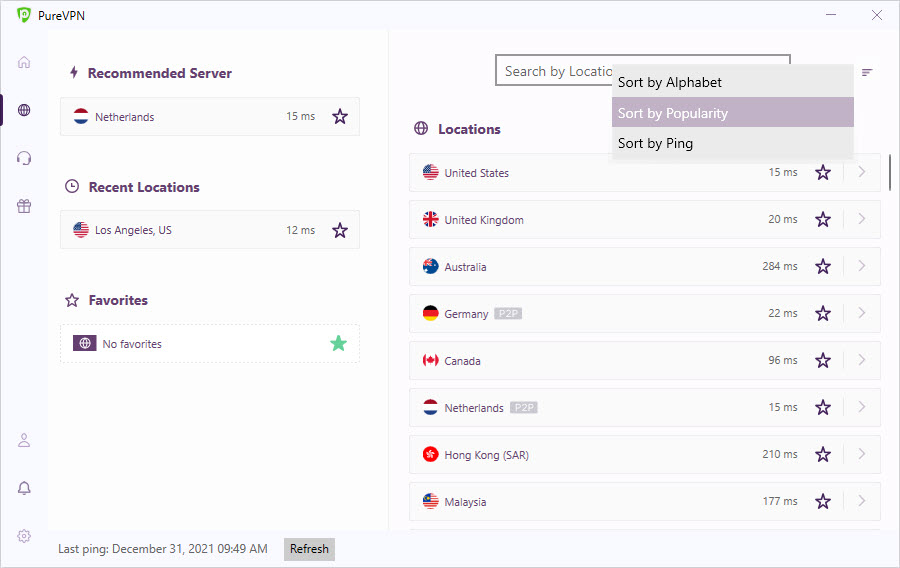 And then there's also the advanced settings, which don't offer all that much. Pretty extensive in-app support where you can go through FAQs, open your very own ticket or go directly to live chat support.
And, finally, there are also incentive programs that can earn you free months and other neat perks.
All-in-all, this is definitely the strongest side to PureVPN we've seen and the hands-down best version of the app thus far.
If there's one thing we didn't like, is the app constantly spamming you with questions about the quality of your connection and ratings. Maybe put that thing on a two-day timer, guys?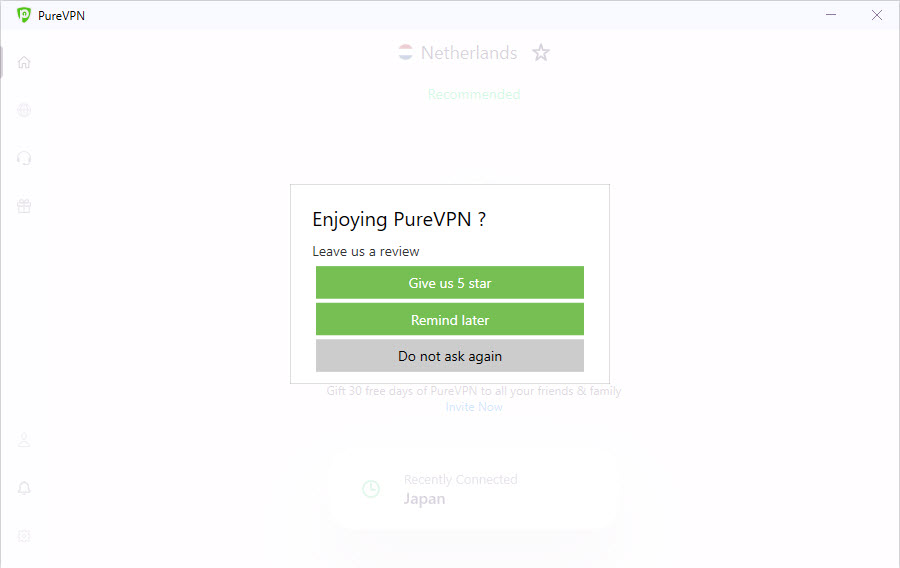 Mobile apps
The mobile apps are not that far off when it comes to usability either.
This isn't just a shameless port from one platform to another, as we've seen with VyprVPN and some of the other providers, actual thought went into designing and optimizing the Android and iOS versions of the PureVPN app.
The Android version is where the provider truly shines.
While the speeds are still slower and laggier than some of the other VPN providers, the default IKEv2 protocol is very much welcome here, the connection is much more stable, and split tunneling actually works!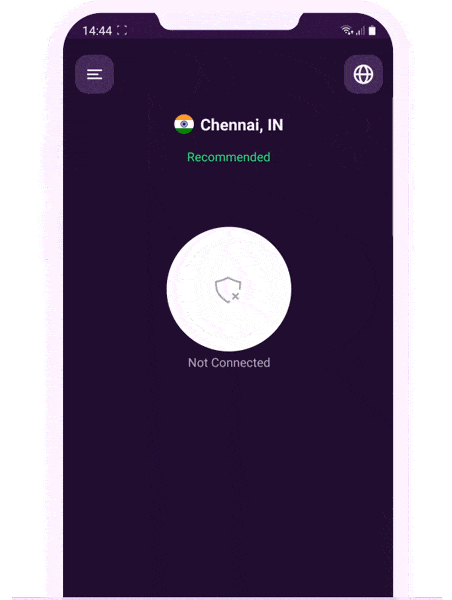 They support P2P on Android, and how many VPN providers care to do that?
Browser extensions
Surprising as it may be, we think PureVPN's browser extensions stand in a league of their own. And not just in regards to PureVPN itself, but any VPN provider in general.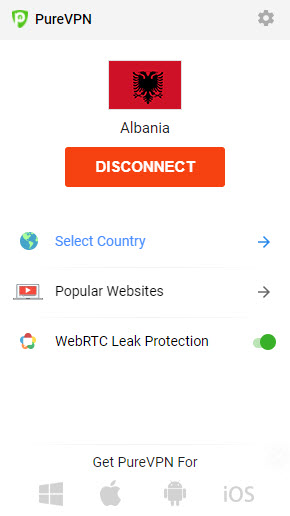 PureVP has extensions for Chrome, Firefox, and a beta for Edge, making it one of the very few providers that have a plugin for that browser (the others being Hide.me, and ExpressVPN). But what sets them aside is the absolutely unique features that none of the actual apps have, and the service that is vastly superior to them in certain ways.
First of all, there are the basics.
Browser extensions only encrypt browser traffic and have additional features, such as WebRTC leak protection which works like a charm.
The extensions also give you access to about 30 locations, which is much less than the actual apps, but for browser extensions – that's more than enough to cover any of your needs.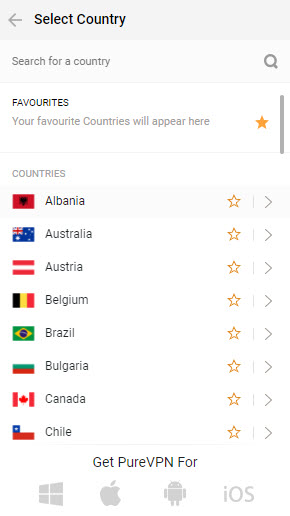 However, the really unique feature of the extensions is the 'Popular Websites' segment.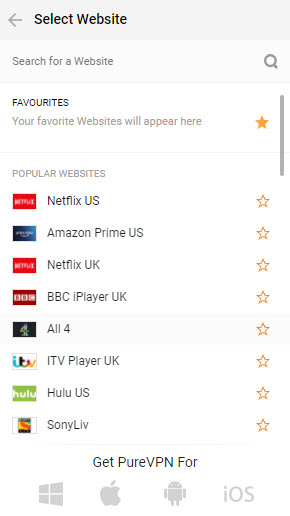 This requires us to jump a bit ahead, but in our testing PureVPN struggled with unblocking websites, especially streaming, trading, and entertainment platforms. Browser extensions, on the other hand, seemed to be designed specifically to tackle that.
The extensive list of websites and platforms sends you directly to anything you might want to unblock, and it works 95% of the time! HBO Max, Hulu, American Amazon Prime Video, the Kraken trading platform, and so much more – you get immediate access to most of them.
Sometimes the featured websites featured on there don't make a whole lot of sense – the platforms aren't usually blocked anywhere, so there's nothing preventing access to them. And that goes double if you live in the United States since most of the platforms and websites featured are US-based. So you might as well treat them as bookmarks.
But if you live outside of the States – this is pretty much your personal access to anything you want to access.
Out only gripe – the speeds with the plugins are pretty discouraging but tolerable.
PureVPN  and streaming services
As with everything, the PureVPN website will gladly tell you it can unblock anything. Netflix, HBO Max, Showtime, Fort Knox – you name it, it definitely, definitely can do it!
The reality of it, however, might be just a tad bit different. Especially with the streaming landscape constantly battling VPNs and all of their unblocking shenanigans.
But that's why we do the testing for you. So let's see what PureVPN can actually unblock.
Netflix
Sadly, PureVPN has not yet recovered from the epic Netflix VPN ban, and can't unblock any Netflix library.
These days, even accessing the platform is difficult, but even if you manage to get Netflix to let you through its rainbow gates, all you'll get is Netflix exclusives.

Looking for VPNs that still work with Netflix?
We've done the testing for you!
HBO Max
Now we're conflicted.
The app itself had no luck unblocking the most exclusive streaming platform to date, but you know what did? The browser extensions! But this gives us pause since browser extensions can easily be shut down. So proceed with caution.

Need a VPN that works with HBO Max?
Showtime
Sadly, PureVPN does not unblock Showtime at all, not even the browser plugins.
What you can do is request PureVPN to unblock the streaming site through the browser plugin and hope they listen.

Looking to get Showtime?
Checkout everything you need for that!
Peacock TV
It was a bit of a wait, but PureVPN's browser plugins actually got us through and we managed to stream Peacock in all of its The Office glory.
The app, on the other hand, just couldn't handle the big bright bird.

Looking to stream something on Peacock?
Prime Video and IMDb TV
PureVPN managed to unblock both of the Amazon-owned platforms.
As is the case with streaming, the extensions worked best. But the app handled itself well too.

Need to know more about unblocking Prime Video?
Check out our complete guide!
Free streaming platforms
Most of the free streaming platforms, such as Crackle, Tubi TV, Popcornflix, and the like, work with the regular PureVPN app.
So even if you are not about browser plugins, you know PureVPN will not leave you without some streaming.

Want to know what free platforms are there?
We've got a complete list for you!
UK streamings services
Much like everything else, the PureVPN app itself is having trouble with the UK streaming services as well. But there are awesome browser extensions that are always ready to come to your rescue and unblock anything you may want to stream from merry old England.
Be it BBC iPlayer, ITV HUB, Channel 4 or something even more out there, like UKTV – the browser extensions can handle it (for the most part).

Looking for a step-by-step guide to BBC iPlayer?
Indian streaming services
PureVPN is probably one of the few VPN providers that actually focuses on unblocking streaming services based in India. Which we, personally, very much appreciate, since we write about them a lot, and yet very few VPNs can actually get them to work.
MX Player, SonyLiv, VOOT, Hotstar (even though it did give us a lot of trouble), and eventually the awesome PureVPN browser extension could unblock it all. And that's something we can't say about most other VPN providers out there.

Want to know how you can unblock Hotstar?
Find out everything you need in our guide!
This is exactly why we always advertise PureVPN as one of the best VPN providers for India and the Asia Pacific region. It just is!
Foreign streaming services
When it comes to streaming services outside of English-speaking countries things get a little bit dicey.
PureVPN will definitely talk your ear off about how it can unblock virtually anything. But in reality, the app can't access pretty much anything. Even the extensions work with just a handful of platforms, most notably the German streaming platform ProSieben.
Kodi
One notable positive we can't, but mention is PureVPN's dedicated Kodi app.
This might not be the only VPN provider with one, but this is definitely the best one. So if you are looking to expand your Kodi catalog and not get some nasty malware, trust us, this is the best VPN app for the job.

Kodi and VPNs
Everything you need to know!
---
As you can see, streaming with PureVPN could have been a bit touch and go, if it weren't for one thing – the awesome browser extensions.
You always take them for granted and consider them a bonus to the full-bodied VPN app, but PureVPN shows you what they can actually do through their weird sort of voodoo magic. So you know, that if the streaming platform made it on the browser app, you will be able to stream it!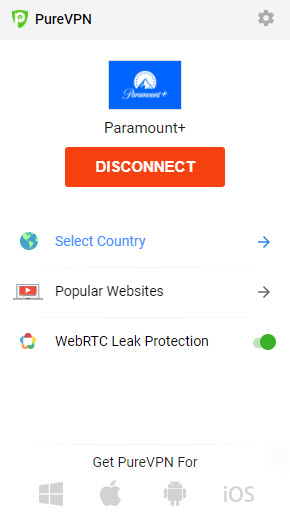 The downside to all of this?
Well, even the browser extensions, awesome as they are, can only unblock those streaming services they feature. Anything outside of the list you get is a coin toss and one you will probably lose. So consider yourself warned.
PureVPN and gaming
With the speeds being a bit touch and go, you would think that PureVPN would not be a great fit for gamers. But to our surprise, as long as you can find a decent server nearby, this is definitely one of the aspects where PureVPN shines.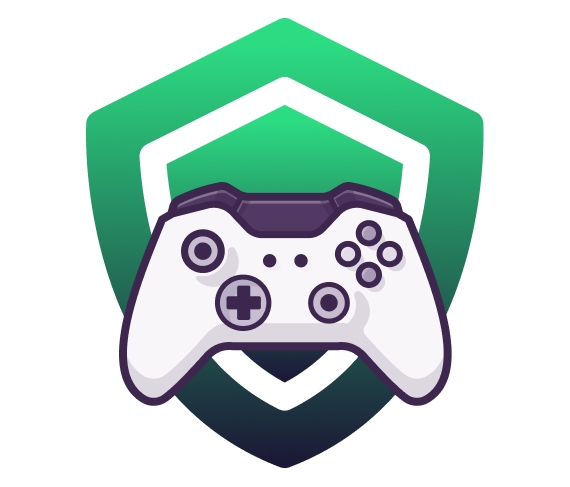 Pretty stable, reliable, and rather seamless, PureVPN did not cause us any trouble at all when it came to gaming.
But the casual gamer is probably not PureVPN's target gaming audience. With highly specific add-ons, such as DDoS protection, this VPN  is pretty much a perfect triple-A service for competitive gamers.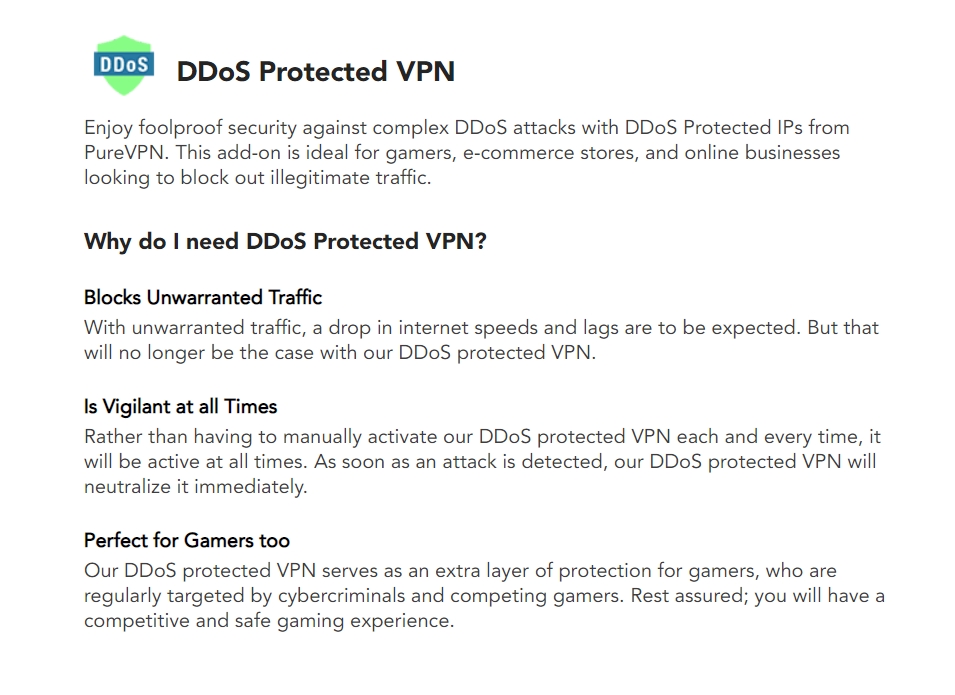 Oh, and by the way, the huge selection of Asian servers comes into special play here as well. This is where you can get games particularly cheap, which makes it every gamer's dream.
In short: PrueVPN does an unexpectedly great job when it comes to everything gaming, and is one of the better VPNs for competitive players. Game on!
PureVPN and torrenting
PureVPN is pro-torrenting and it's not afraid to show it. And this is where the service shines yet again.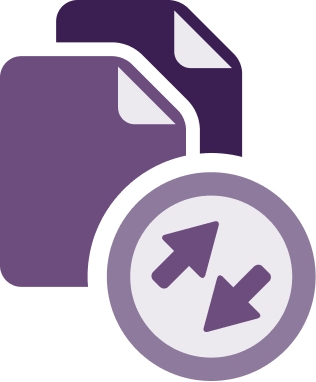 While not all of the provider's servers are torrent-friendly, all of the servers that are designated for file sharing have a special 'P2P' icon, which makes it very easy to pick the one that will work best for you.
The speeds are stable across any P2P client and downloading went pretty smoothly. No hiccups whatsoever. As long as you can handle the speed drop, which is a small price to pay considering the consequences these days.
The only thing to remember is that you probably should keep in mind the issues PureVPN has with its kill switch, which could lead to a pretty nasty leak, exposing your P2P activities.
Find out why you need a VPN with BitTorrent!
PureVPN subscription plans and prices
This is where things get interesting.
Like most VPN providers, PureVPN has 3 subscription tiers:
The one-month subscription can rival the likes of the priciest providers and is $10.95.
An annual subscription gives you a 73% discount and is just $3.24 a month.
And the best 2-year plan is just $1.99 a month, which is 82% off their monthly plan.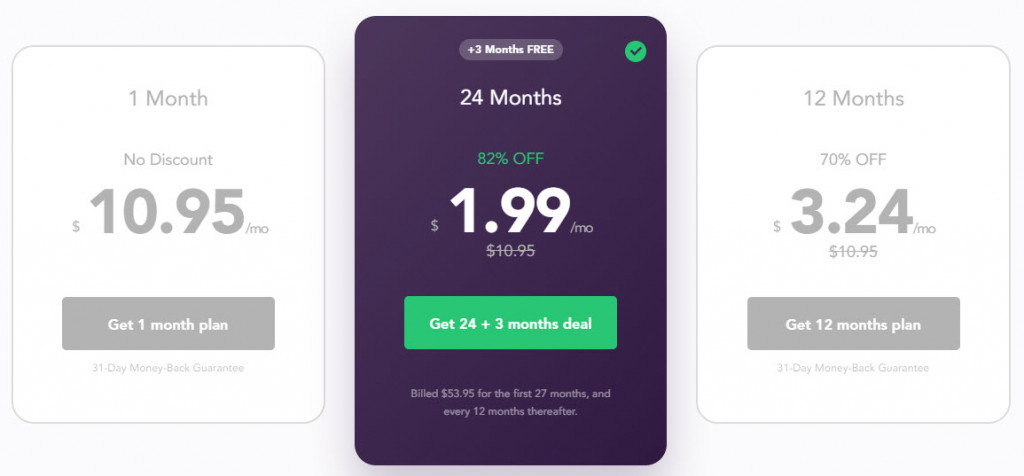 But that's not all PureVPN has.
Once in a while, on special occasions (which in VPN-world are just about always) the provider will have a massive 5-year deal going. The price for it keeps changing, but it's usually around $1.50 a month.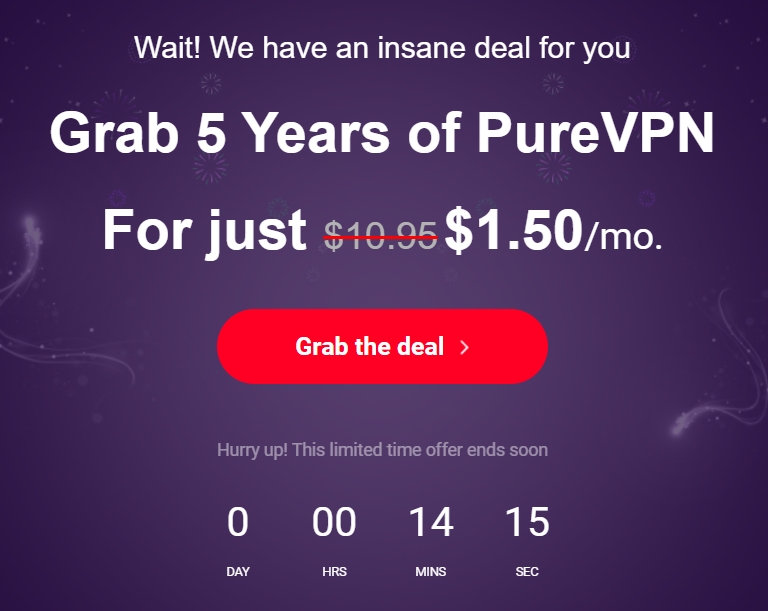 So if you have ever been looking for a VPN that will last, this is the one after HMA canceled their lifetime deal.
Finally, PureVPN always has some kind of deal going that you can take advantage of. It's right there in the app. Those range from free monthly accounts you can give away, to earning free months through getting your friends hooked on the app.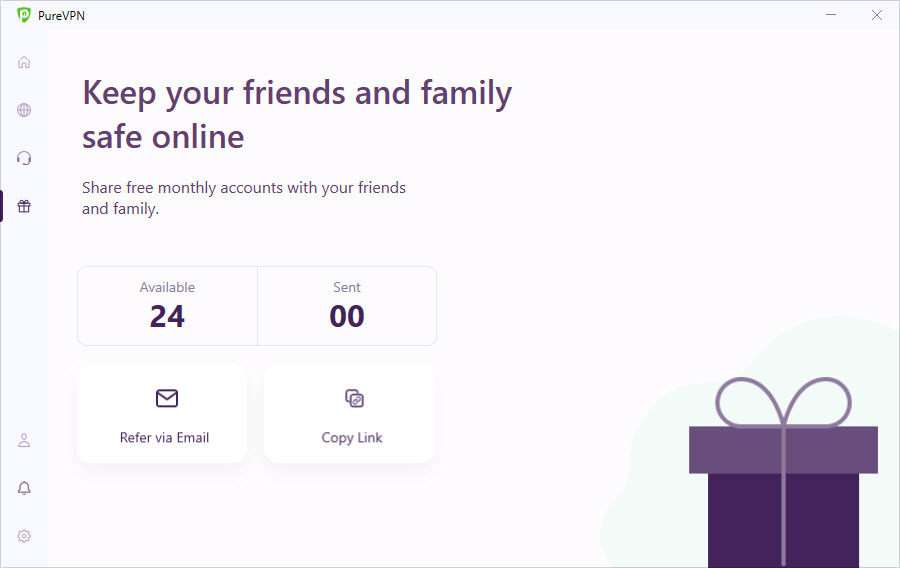 Payment methods
Despite PureVPN being entangled with pretty much every other business including cryptocurrencies, it surprisingly has very few payment options. And those are:
All the major and popular credit cards
PayPal

That's not much. And not really good for those places in the world that don't really use either.
PureVPN's customer support
And finally, there's customer support. When all else fails (and you can't get split tunneling to work), you need to get help firsthand.
PureVPN definitely tries to cram as many support options as possible. And these include:
In-app FAQs
Support website
Live chat
Tickets
So you don't waste your time, trying to figure the apps out, here's a short rundown of what they can and can't do for you.
FAQs
In-app FAQs are fairly unique and we have never seen this option with any other provider.
While the FAQs themselves aren't anything special, it is helpful to get immediate help. We just don't know how to take it: Does this mean the app is so faulty it needed to come with FAQs? We kid.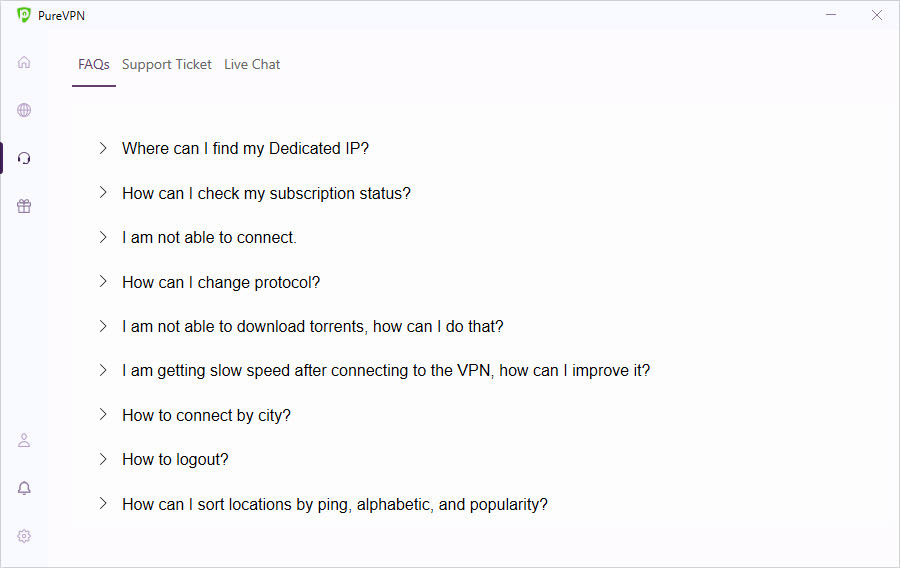 Support website
The PureVPN support website looks impressive and gives you the initial idea that you'll find everything you need on there. But in reality, it's pretty basic and doesn't go in-depth like, say, IPVanish.
You get extended FAQs here, but not that much about how to get the split tunneling feature working [we're still confused and we won't stop talking about it].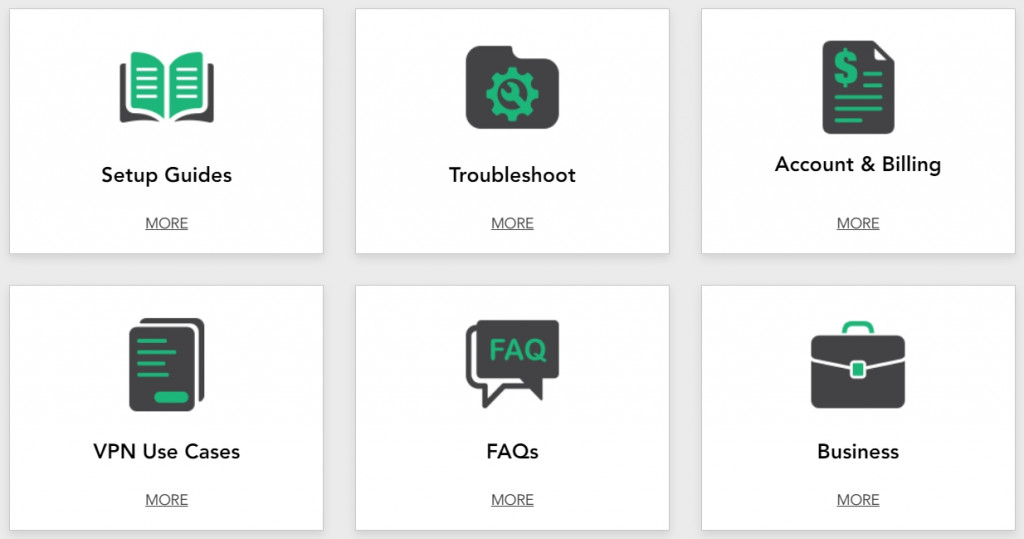 Live chat
Even though these days PureVPN's live chat is a massive improvement on what we've seen about a year ago, when you could barely get and decipher a reply, it's still disappointing.
The live chat gives off the impression that its only purpose is to be there – like a badge every premium VPN is supposed to have.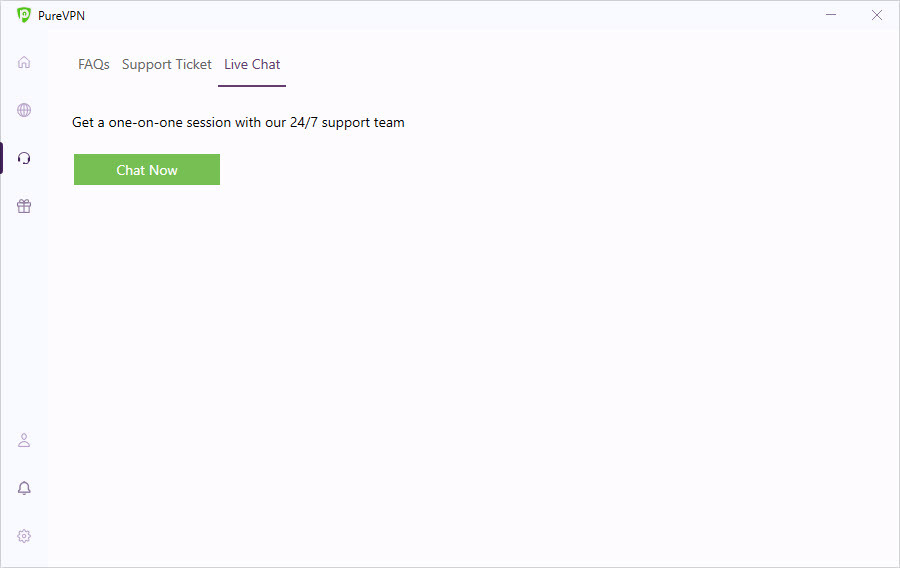 The waiting times are very long to the point you forget you sent a question. The replies are not really helpful and give you the generic 'Have you tried switching it off and on again?'. And then they just open a ticket on your behalf.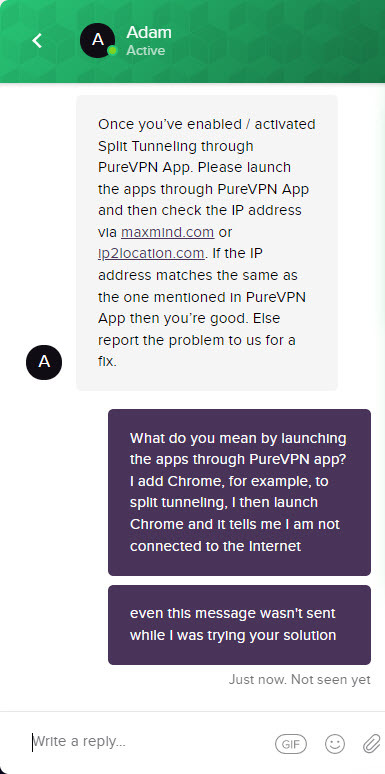 Speaking of which…
Tickets
PureVPN's ticketing system is fairly unique to the world of commercial VPNs. But don't get too excited – this is pretty much a fancy way to call email support.
There are several ways you can open your very own PureVPN ticket:
Through the app itself.
Through the website.
Live chat will do it for you.
If it's some generic question, like a VPN feature not working, you will get an email reply from PureVPN within a day. What will follow is a lengthy back-and-forth, which will ultimately help if you can stick it out to the end.
If you have a suggestion or some kind of specific suggestion you can open up a ticket as well. But, as is the case with lots of software providers, you will get a reassuring email about this being their top priority from now and until completion, and you will never hear from them again.
In short: Really cool in concept, but so far – not in execution.
---
So overall, when it comes to customer support, PureVPN seems to be going for quantity rather than quality. A lot of support options seem to be there for the checklist. And if you really need something done, you are going to have to invest time.
But to be completely fair, they are getting better at it.
The bottom line
PureVPN is a difficult provider.
It has all the makings to be a good VPN, one of the best, actually. But it seems to faceplant just before the finish line in nearly every aspect.
The server selection seems promising until you realize you don't get access to everything advertised.
The speeds seem ok until you hit a server that slows your connection down to a standstill.
The VPN basics seem to all be there until they start leaking your IP and DNS addresses.
There are lots of support options until you realize it takes approximately an eternity to get the solution.
But it's not all bad and infuriating.
The browser extensions are available for nearly every browser imaginable and they work like a charm, doing everything even the apps can't. This really blew us away.
Even though not all of PureVPN's servers are P2P friendly, filesharing is still fast, safe and reliable.
Gaming is surprisingly awesome, especially if you are aspiring to be a competitive gamer and consider the add-ons that PureVPN has to offer.
What's also important to remember is that over the years PureVPN has gone through massive changes. And we're not just talking about the app color. Features, protocols, and even its base of operations. And it seems that the provider isn't really stopping yet.
While we were working on our updated review, one thing kept popping into our heads: It seems like PureVPN is more concerned with convincing the user of what it wants to be, rather than actually being it. They try really hard to make you believe they have all of the servers, all of the protocols, and all of the features, but eventually, you don't see any of that. And that's probably the most disappointing thing about the provider.
Look, PureVPN, it's OK to not have some of the features others have. Just play to your strengths.
On the other hand, PureVPN definitely shows no signs of stopping. And this being one of the most affordable premium providers in the world, if you decide to get it, you might very well be getting the next NordVPN or ExpressVPN at a bargain.
In the end, much like almost any other VPN provider, PureVPN is great at some things, while others are a bit of work in progress. As long as the things the provider is good at align well with what you need a VPN for, we say: Go for it!