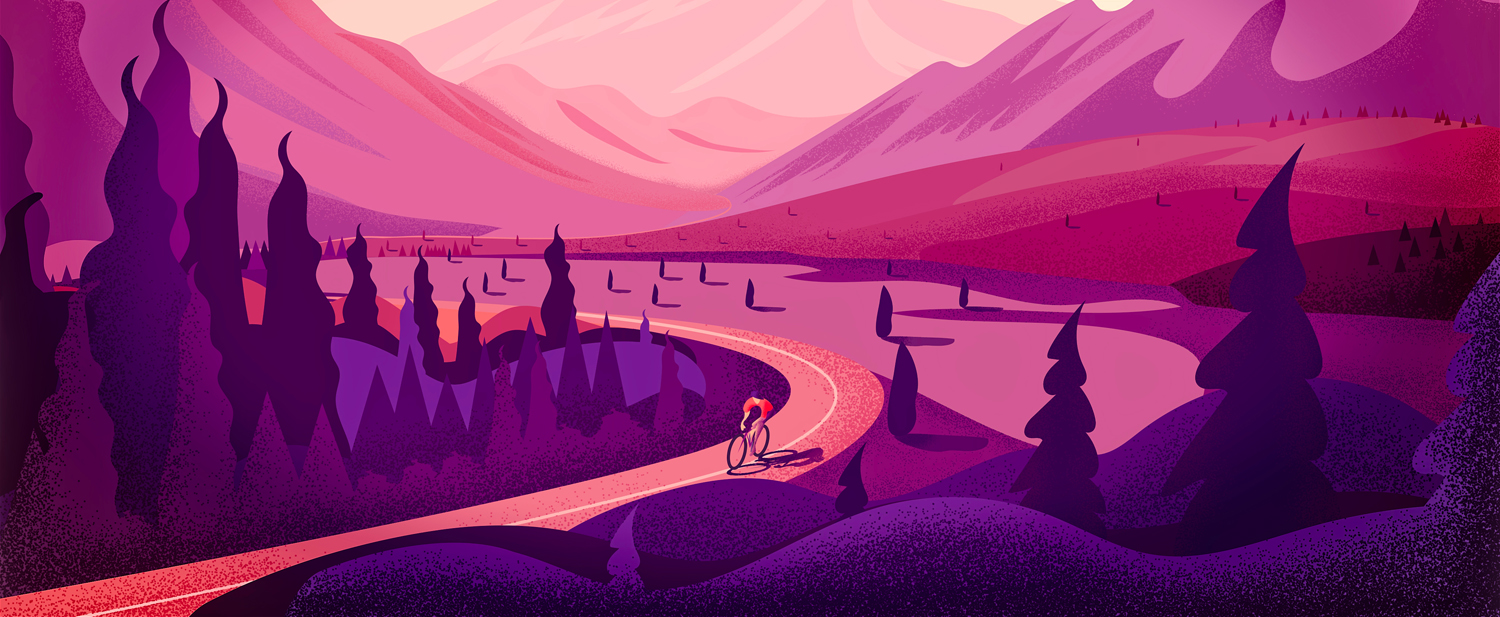 This is how you watch the 2023 Giro d'Italia live and for free
The bike season is finally here! So put on your helmet, get on your exercise bike, and turn it to face the biggest TV screen you have, because it's time for the 106th edition of the Giro d'Italia! One of the biggest cycling events of the year is already gathering a crowd, and you definitely can't miss it!
The 2023 Giro d'Italia will start on Saturday, May 6th with a time trial in the Abruzzo, and some of the most beautiful cycling mountain stages at Lago Laceno and the Gran Sasso to follow the same week. And if that doesn't set the stage for exciting competition, then maybe the line-up of riders will. This Giro d'Italia we'll be treated to two-wheel battles between modern-day cycling legends such as Remco Evenepoel, Geraint Thomas, Thymen Arensman, Primož Roglič, and  Aleksandr Vlasov among others.
Naturally, no cycling fan is going to want to miss this. The question is, how do you get to watch it without breaking the bank?!

Watch the entire Giro d'Italia live and for free with ExpressVPN!
Where can you watch the 2023 Giro d'Italia?
This might be a needlessly complicated question, but it all depends on where you are. Because in every country the rights to the Giro d'Italia broadcast are with different broadcasters.
For example, in the US, this year's competition can be seen exclusively on the beIN streaming platform. While most of Europe can only watch the Giro on Eurosport.
The safest bet for any place on the planet is GCN+ (Global Cycling Network) which is a streaming platform devoted exclusively to cycling. So if you're a die-hard cycling fan, this is the place to be. As for the rest of us, it just might be a bit too expensive for some casual cycling streaming pleasure.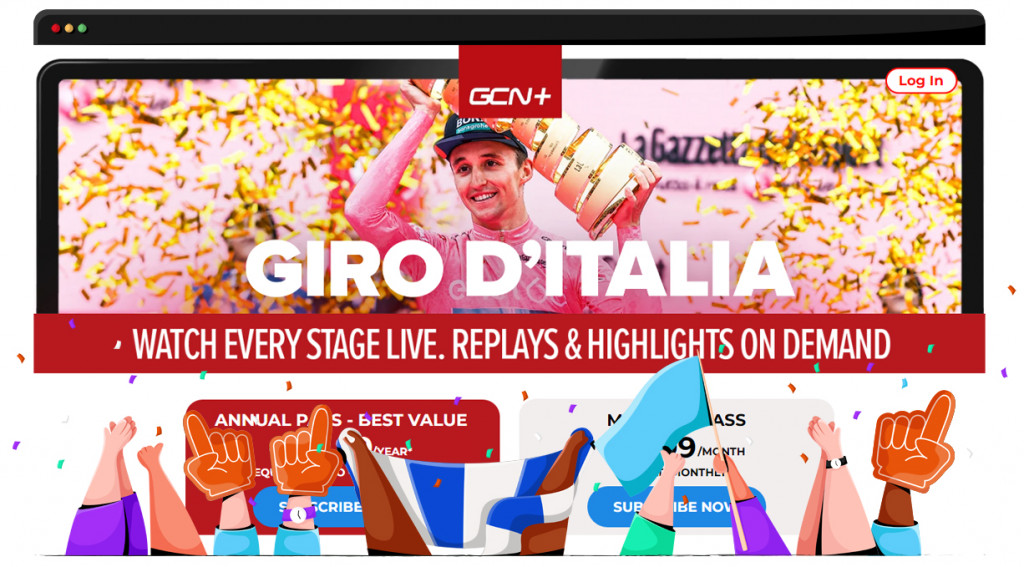 But what if there was a way to watch the entire Giro d'Italia not just live, but also completely free of charge? Well, it just so happens, that we might know a way!
How can you follow Giro d'Italia 2023 for free?
Most countries have to have something absurd, like an expensive streaming subscription, or satellite to watch this year's Giro d'Italia. But others get to enjoy the entire competition live and completely free!
The problem? Well, it's just that access to all of these streams is restricted to but one country. And all the rest are kept out with some infuriating geoblocks. Fortunately, geoblocks, Internet restrictions, and streaming platform unavailability are not a thing for anyone who has ExpressVPN!
ExpressVPN is the tool you need to access. watch, and enjoy anything it is you want online. And it didn't make it to the top of our VPN list 'just because'. ExpressVPN provides the best VPN service out of any VPN provider, and it does so by having:
The most diverse server network out of any VPN provider, that gives you instant access to anything online.
Full streaming optimization, that allows you to access streams and platforms no other VPN would even know about.
The easiest-to-use app, that makes all of the streaming you could ever want but one click away.
A generous money-back guarantee, so if it doesn't work for you, or if the Giro doesn't meet your expectations, you're not risking anything.
Want to know more about ExpressVPN?
Check out our complete ExpressVPN review!
Already got it? Great! Onto the streaming options!
Every way to watch the 2023 Giro d'Italia live and for free
As usual, we have scoured the Internet to find every conceivable way to watch this year's Giro d'Italia. So, without further ado, here goes!
SBS
First stop – Australia, where every cycling fan can watch the entire Giro d'Italia live and for free on the local SBS on Demand streaming platform!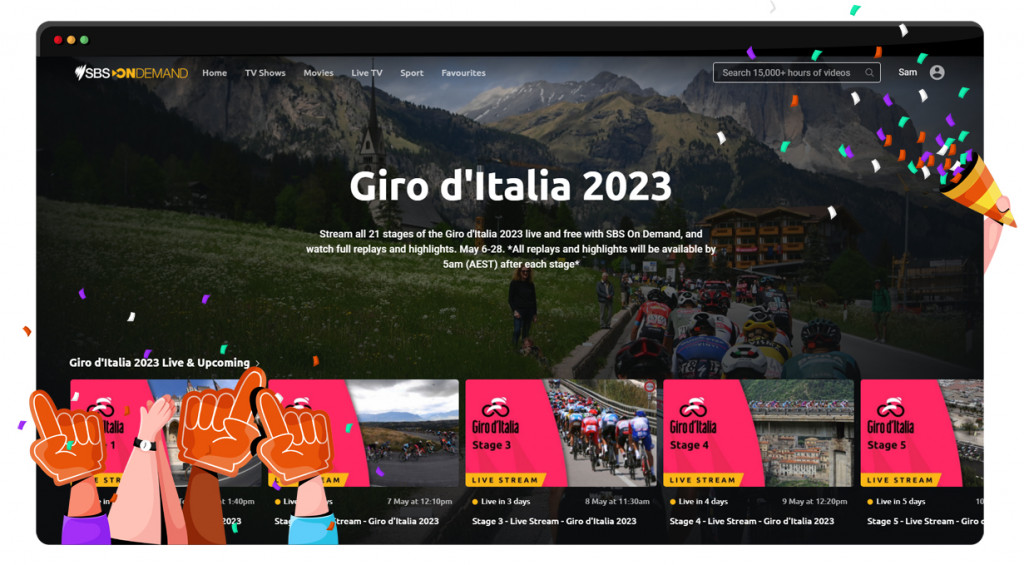 Want to join in and watch the competition too? Great! Because this is all it takes:
Start by getting an ExpressVPN subscription and installing the app on your device.
Next, launch the app and connect to a server in Australia.
Head over to the SBS on Demand online streaming platform and apply for a free account. It takes seconds to set up and doesn't require any particular information.
Now… enjoy!
VTM
Few countries in the world are as much of a cycling fan as Belgium. So, of course, they get to watch the Giro live and for free on their local VTM streaming platform.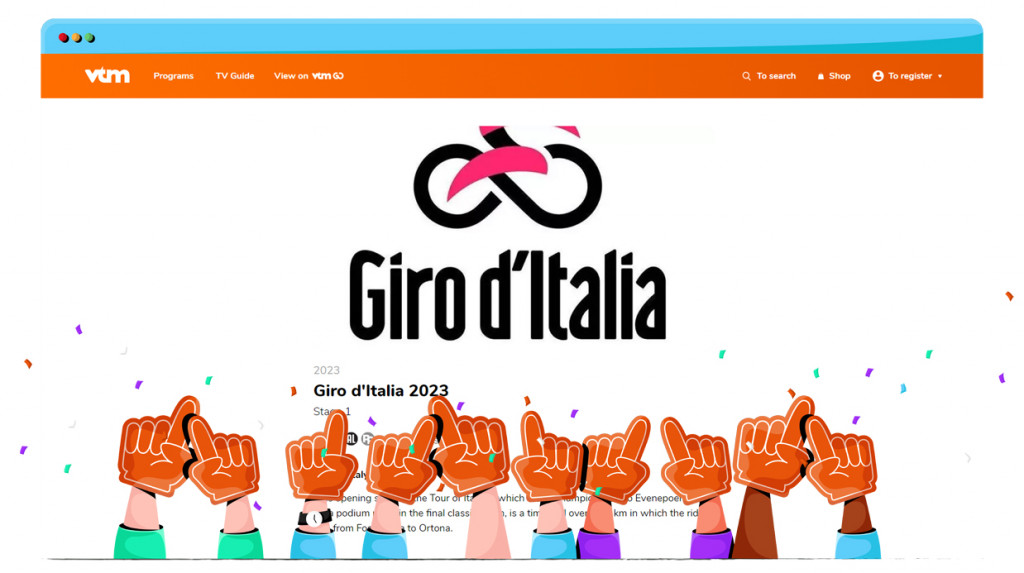 To get access, this is all you have to do:
First, get an ExpressVPN subscription as no other provider works with Belgian streaming.
Next, launch the app and connect to a server in Belgium.
Head over to the VTM online streaming platform and make a free account.
Enjoy the entire Giro completely free!
RSI
Don't feel like making an extra account and don't mind a bit of Italian? Then RSI which comes from Italy is exactly what you need!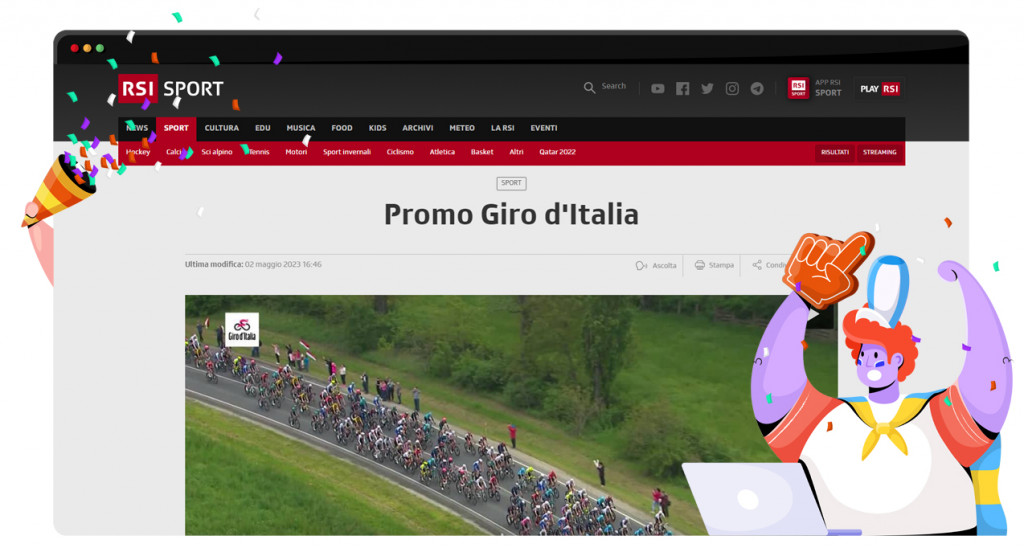 This is all it takes to watch the cycling races on the platform:
Get an ExpressVPN subscription, install, and launch the app on your device.
Connect to a server in Switzerland.
Head over to the RSI streaming platform and enjoy!
RAI
Finally, if you want to watch the Giro in its original setting and language, you have to check out RAI Play, which comes from Italy.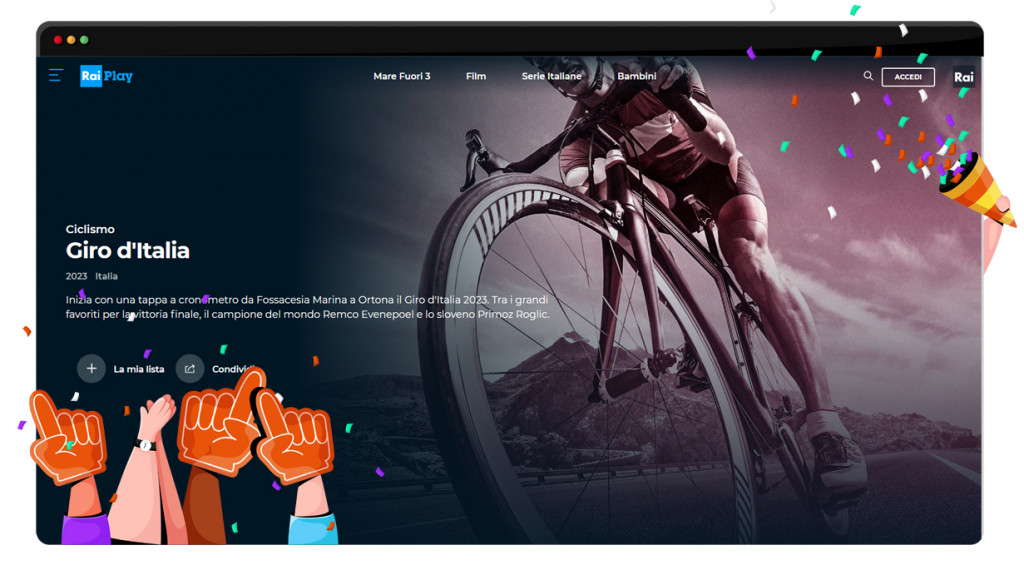 Getting to watch the stream with the help of ExpressVPN is as easy as it gets. All it takes is:
Getting ExpressVPN and installing it on your device.
Connecting to a server in Italy.
Heading over to the RAI Play streaming platform and enjoying the races live!
Cheer on the riders!
Watching the Giro d'Italia doesn't have to be expensive, in fact: it can even be done for free if you know where to look. All you need are the right tools and know where to look.
So get your game on and find out who takes the podium in Rome yourself with ExpressVPN!