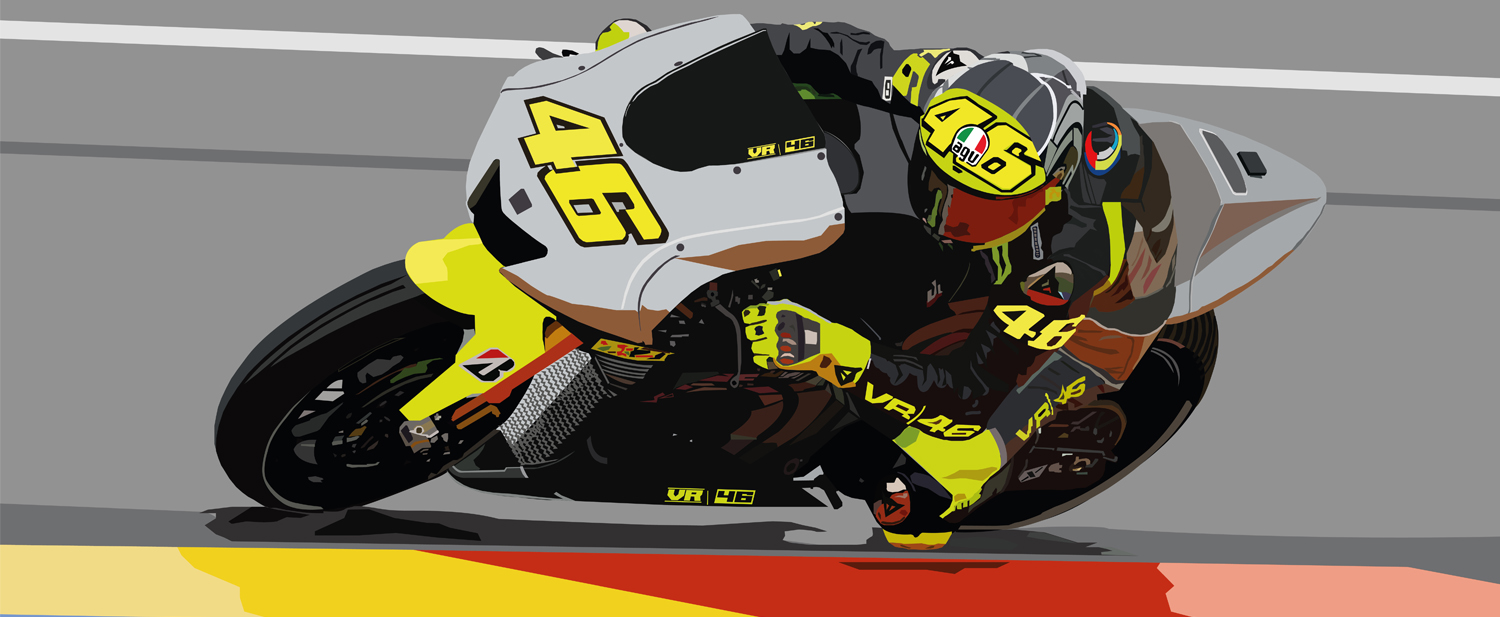 How to watch the 2023 MotoGP Championship live and for free
If you were already hyped about the return of the 2023 Formula 1 season, things are about to get even more exciting! Circle the 26th of March in your calendars. Because this date marks the return of MotoGP for yet another octane-infused 2023 season. And if last season was anything to go by, this one is going to be one of the most exciting yet! So, naturally, you can't afford to miss it. The question is: What are the best ways to watch it live and, preferably, for free? And know everything about it!

Watch MotoGP live and for free with ExpressVPN!
Everything you need to know about MotoGP 2023
Before we get started on ways to follow this season's MotoGP races, we should catch you up on everything that's new with this year's championship. And since quite a lot of team, rider, and rule changes have taken place since we've been here last, there is quite a lot to get through.
So strap in… or, rather, prepare for road rash!
Team and constructor changes
First of all, and probably most devastating to all fans, Suzuki will not feature as one of the constructors for this year's MotoGP. Last year the company decided to allocate its resources elsewhere to ensure Suzuki's growth, health, and potential in years to come, so, sadly, the fans will have to go without one of the most iconic MotoGP constructors.
In other team changes, RNF racing is switching to Aprilia after spending a season with Yamaha. And Tech3 KTM Factory Racing is rebranding as GasGas Factory Racing Tech3, which doesn't really make it easier to pronounce. Gas Gas will be using rebranded bikes, while Tech3 will continue to operate the team.
Rider Changes
This season will see a lot of MotoGP rider changes.
First of all, the 2023 MotoGP season will see the departure of Remy Gardner who is going off to participate in the Superbike World Championship and who will be replaced by Augusto Fernandéz – the 2022 Moto2 World Riders' Champion. Darryn Binder is also leaving MotoGP to debut in Moto2.
Other than that, the season won't see a lot of departures or new faces, but there are a lot of team changes.
First of all, last MotoGP's champion Álex Rins is moving to LCR Honda after a triumphant season at the now-absent Suzuki, replacing Álex Márquez.
Álex Márquez will, in turn, move to Gresini Racing MotoGP, replacing Enea Bastianini, who will move to Ducati replacing Jack Miller. In his own turn, Jack Miller will be moving on to Red Bull KTM Factory Racing.
Pol Espargaró is moving to the newly rebranded GasGas Factory Racing from Honda and will be replaced by Joan Mir at the latter after having left Suzuki.
Finally, Raúl Fernández will move to RNF Aprilia from Tech3 KTM Factory Racing.
And that about covers all the complicated team moves that occurred this MotoGP season.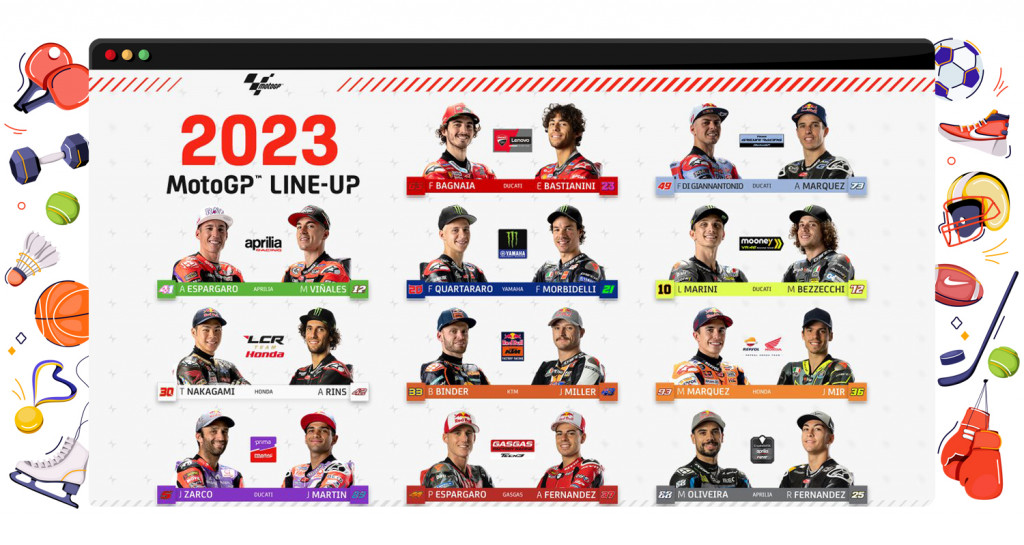 Rule changes
The one major change to the 2023 MotoGP season is the introduction of sprint races to all of the Grand Prix. However exciting, these will not impact the results of the Grand Prix races themselves and will have their own statistics. So a bit more excitement for the race weekends.
As for the rest, minimum tire pressure rules will be made obligatory, and any device that allows altering the bike's height while it's moving will now be banned.
The 2023 MotoGP calendar
This is the 2023 MotoGP calendar as it stands at the time of writing:
| | | |
| --- | --- | --- |
| Date | Grand Prix | Circuit |
| 26 March | Grande Prémio de Portugal | Algarve International Circuit, Portimão |
| 2 April | Gran Premio Michelin de la República Argentina | Autódromo Termas de Río Hondo, Termas de Río Hondo |
| 16 April | Red Bull Grand Prix of the Americas | Circuit of the Americas, Austin |
| 30 April | Gran Premio de España | Circuito de Jerez – Ángel Nieto, Jerez de la Frontera |
| 14 May | Shark Grand Prix de France | Circuit Bugatti, Le Mans |
| 11 June | Gran Premio d'Italia Oakley | Autodromo Internazionale del Mugello, Scarperia e San Piero |
| 18 June | Liqui Moly Motorrad Grand Prix Deutschland | Sachsenring, Hohenstein-Ernstthal |
| 25 June | Motul TT Assen | TT Circuit Assen, Assen |
| 9 July | Grand Prix of Kazakhstan | Sokol International Racetrack, Almaty |
| 6 August | Monster Energy British Grand Prix | Silverstone Circuit, Silverstone |
| 20 August | CryptoData Motorrad Grand Prix von Österreich | Red Bull Ring, Spielberg |
| 3 September | Gran Premi Monster Energy de Catalunya | Circuit de Barcelona-Catalunya, Montmeló |
| 10 September | Gran Premio di San Marino e della Riviera di Rimini | Misano World Circuit Marco Simoncelli, Misano Adriatico |
| 24 September | Grand Prix of India | Buddh International Circuit, Greater Noida |
| 1 October | Motul Grand Prix of Japan | Mobility Resort Motegi, Motegi |
| 15 October | Pertamina Grand Prix of Indonesia | Mandalika International Street Circuit, Central Lombok |
| 22 October | Aminoca Brands Australian Motorcycle Grand Prix | Phillip Island Grand Prix Circuit, Phillip Island |
| 29 October | OR Thailand Grand Prix | Chang International Circuit, Buriram |
| 12 November | Petronas Grand Prix of Malaysia | Sepang International Circuit, Sepang |
| 19 November | Grand Prix of Qatar | Losail International Circuit, Lusail |
| 26 November          | Gran Premio Motul de la Comunitat Valenciana | Circuit Ricardo Tormo, Valencia |
How to watch MotoGP in 2023
There have been quite a few changes since last season in terms of broadcasting rights. But one thing remains unchanged: Your options to watch MotoGP depend exclusively on where you live.
Take the US, for example. The only option to watch the entire 2023 championship is on NBC with some races broadcast on CNBC. But not only does this mean no streaming options, but all of the other races except for the GPs in the Americas will also be shown delayed. So no live streaming to be seen here.

Pretty much the same goes for the UK, where only the German and British GPs will be viewable for free on ITV, and all the other ones are only accessible through BT Sport.
Australians will have to subscribe to Fox Sports or settle for the Australian GP being streamable for free on Network 10.
And Canada's only option is REV TV and no free races at all.
You get the picture. Pretty much everywhere in the world, the entire MotoGP is blocked by an absurd streaming paywall, cable, or some other caveat that will prevent you from fully enjoying the 2023 Championship.
But what if this wasn't the case? What if there was a much better way to watch the entire MotoGP live and for free?
A better way to watch MotoGP
While most of the world requires you to have some kind of expensive streaming subscription or cable in order to enjoy at least some of the races, some places get to enjoy the entire 2023 MotoGP Championship completely free!
But what if you could join them? What if it only took one click of a button to change your virtual location, bypass the geoblocks that prevent you from enjoying the races, and get instant access to the 2023 MotoGP season to its fullest? Well, you just might with the help of ExpressVPN!
And this is what ExpressVPN does for MotoGP fans that no other VPN provider can:
ExpressVPN has a huge collection of diverse servers all over the world, meaning you can connect to any place you desire.
Not only that, but most, if not all of ExpressVPN's speedy servers are perfectly optimized for streaming, giving you easy access to anything and everything you want to watch.
Carrying the champion title of the "Fastest VPN around", ExpressVPN will let you stream anything without a hitch no matter how far away you are.
And if you get lost along the way, ExpressVPN has great support and a very generous 30-day money-back guarantee policy, that will always make it worth your while.
Want to know more?
Check out our brand new ExpressVPN review!
Now that you are equipped with the right tools, onto streaming!
Every way to watch MotoGP 2023 live and for free from anywhere
Now that you have everything you need, time to find out every way you can stream this exciting season of MotoGP completely free. So let's go!
ServusTV
Any fan of Formula 1 already knows the name of this amazing broadcaster. And how could they now, if ServusTV streams Formula 1 live and for free for all of Austria to watch?!
But little does everybody know that this little streaming platform also covers MotoGP in its entirety (as well as a whole bunch of other motorsports). And it's not just Austria that got lucky this year either. You can also watch MotoGP on the very same ServusTV in Germany.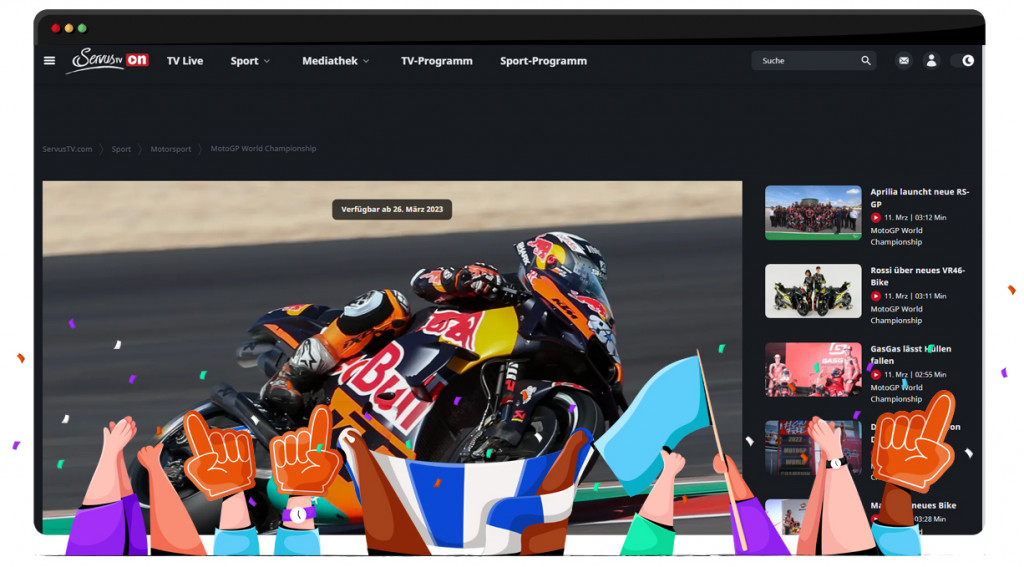 With the right tools, getting your hands on the amazing broadcast that is MotoGP on ServusTV is no big deal. Here's what you do:
First of all, get an ExpressVPN subscription, download, and install the app on your device.
Next, launch the app and connect to a server in Austria or Germany from the server list.
Finally, launch the ServusTV website and enjoy the race! That is all there is to it!
RTL Play
Much like the Austrian ServusTV, the Luxembourg RTL will also be broadcasting both Formula 1 and MotoGP live and completely free in their entirety through the local RTL Play streaming platform.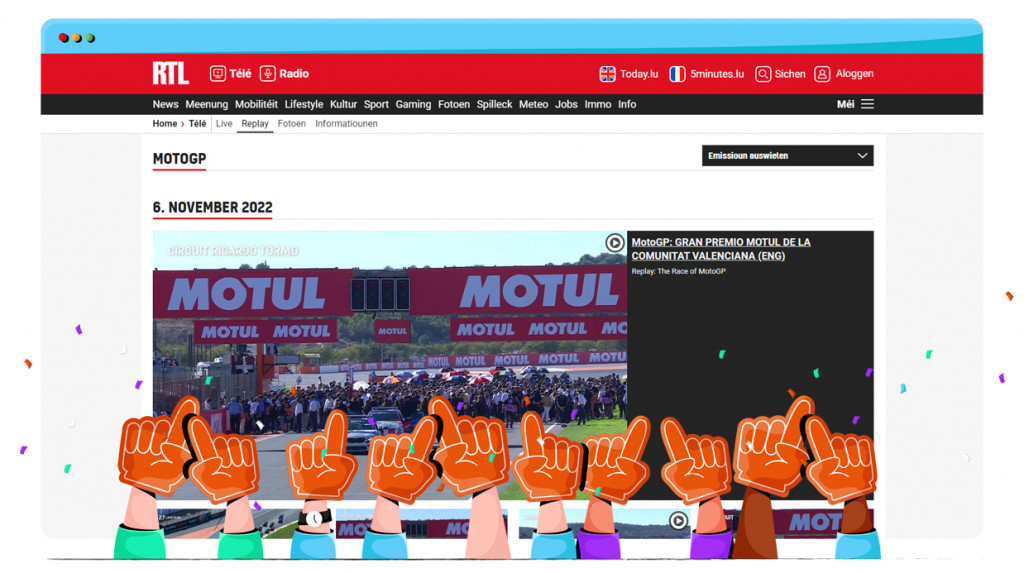 Getting your hands on the RTL Play streaming platform is just about as easy as ServusTV, granted if you have the right tools. So here's what you do:
First, get an ExpressVPN subscription and install the app on your device. Good luck finding another VPN provider with servers in the tiny country, because you won't!
Next, launch the app and connect to the provider's server location in Luxembourg.
Finally, head over to the RTL Play online streaming platform and enjoy the races!
SRG SSR (RSI, RTS, SRF)
Switzerland also didn't leave its motorsports fans hanging and is streaming the entire championship in three different languages no less. The races can be seen on SRF (German), RTS (French), and RSI (Italian), but only in Switzerland.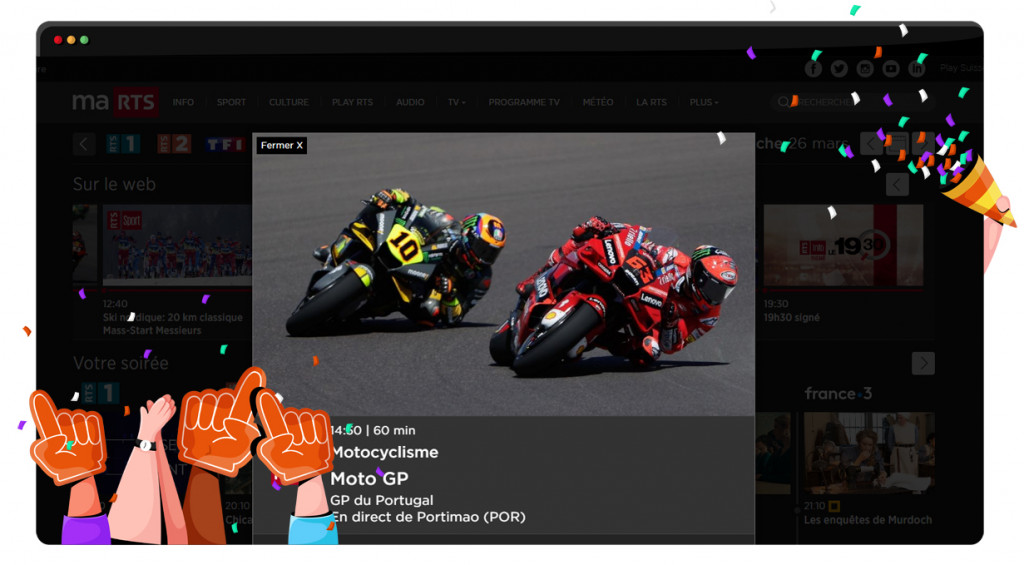 This is how you get to watch the 2023 MotoGP season on Swiss TV:
First, you guessed it, get ExpressVPN. No other VPN provider is equipped to unblock Swiss streaming services.
Then, launch the app and connect to one of the provider's server locations in Switzerland.
RTBF
Then there's the MotoGP streaming option in Belgium with its amazing online streaming platform RTBF, which will be broadcasting the entire season in stunning French.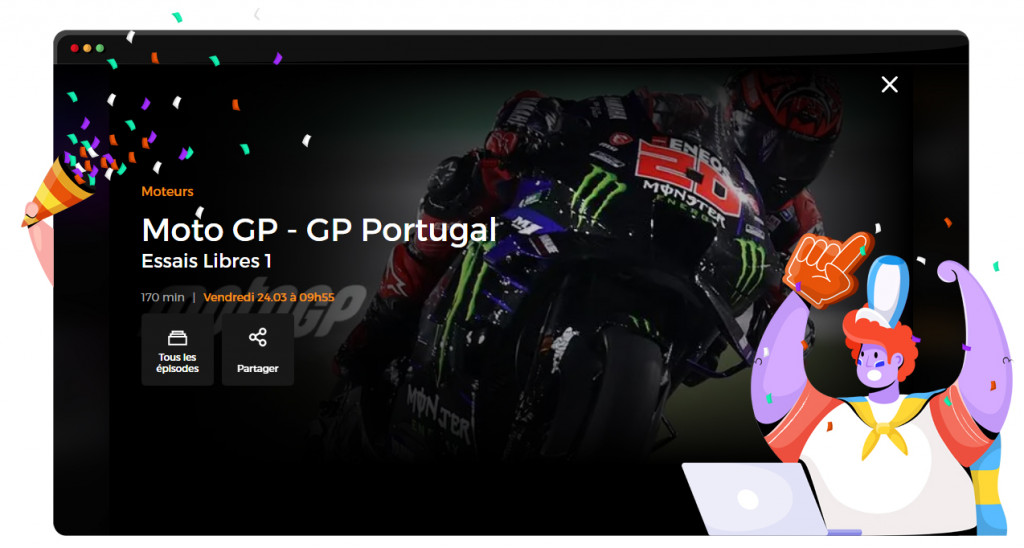 Getting your hands on this streaming platform might be a tad trickier than the rest, but hey, with the right tools, nothing is impossible. So:
Start by getting ExpressVPN, of course. No other VPN will help you get your hands on some Belgian streaming.
Next, launch the app and connect to a server in Belgium.
Head over to the RTBF Auvio online streaming platform and apply for a free account.
To make one, you are going to have to provide the platform with a Belgian postcode, such as 5550, 1502, 5030, 1367, 6534, 4347.
That's it!
TV8
Finally, if you're not invested in watching the entire season and only want to settle for the main races, there's the Italian online streaming platform TV8, which will be airing the American, Spanish, German, San Marino, and Aragon races live and completely free.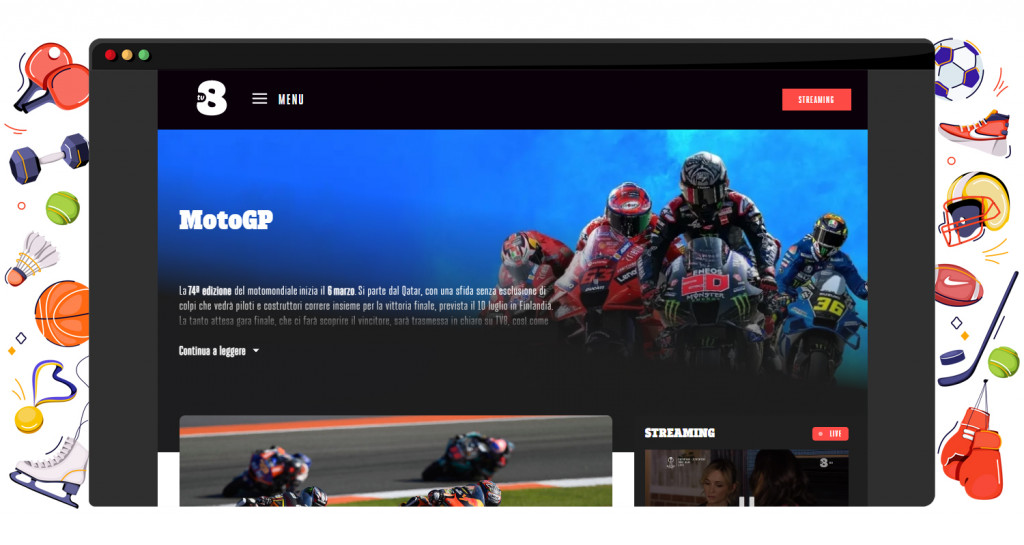 Interested? Well, all you have to do to tune in is this:
Start by getting an ExpressVPN subscription.
Next, start the ExpressVPN app and connect to one of the provider's server locations in Italy from the server list.
Head over to TV8 and enjoy some of the most exciting races for free!
Don't settle for less when you can have all of MotoGP!
Streaming and cable subscriptions are getting more expensive by the day. And we can't go without them because they hold some of our most anticipated programming hostages. Until now…
With the help of the right VPN, you can travel the world virtually and get as much content as you could ever want completely free! So grab yourself a fancy new ExpressVPN subscription and find out what truly unlimited MotoGP streaming feels like!