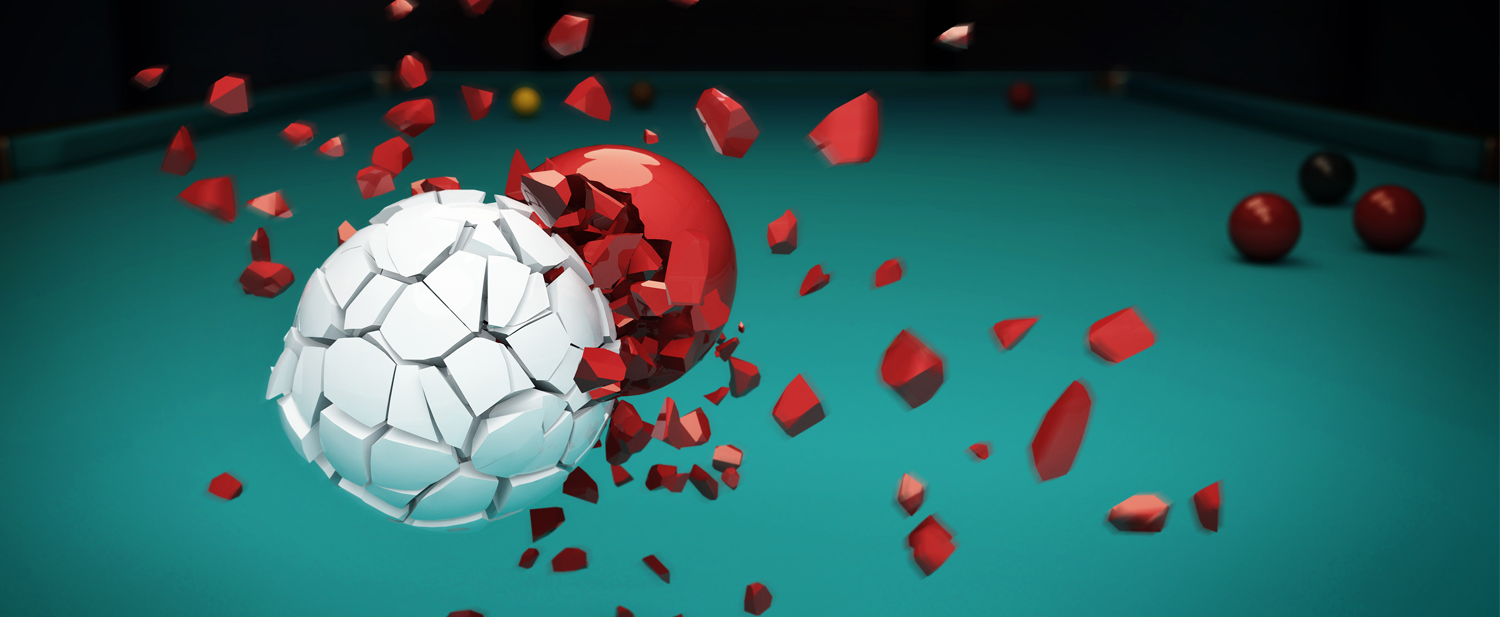 Watch the 2023 World Snooker Championship live and for free!
Some might try and convince you that spring is the time for love. But we beg to differ. From where we stand, spring is the best time to enjoy some sports! The proof is in the pudding. Formula 1 and MotoGP are already revving their high-octane engines, the various football leagues are in their most exciting parts of the season, cycling is picking up, as well as pretty much every other sport. However, it's the truly initiated that know which sophisticated event to look forward to this spring. And that is, of course, the 2023 World Snooker Championship!
So we're going to walk you through everything you can expect at the most important Snooker event of the year, and, most importantly, tell you all about how you can watch it live, and maybe even free ?

Watch the Snooker World Championship live and for free with ExpressVPN!
The 2023 World Snooker Championship: Everything you need to know
The 2023 Snooker Championship (2023 Cazoo World Snooker Championship) marks the 55th successive year that the event has been held in its modern format. And, as per tradition, it will be hosted at the Crucible Theatre in Sheffield.
Currently, all eyes are on the reigning champion Ronnie O'Sullivan and his arch nemesis Stephen Hendry. Both of them have already won the Championship 7 times, with O'Sullivan clutching his latest 2022 win from another snooker heavyweight Judd Trump.
That is not to say, however, that the 2023 Championship is missing new talent. There's a total of 32 players that are going to compete for the title, so there's bound to be plenty of snooker excitement to be found for those looking for it.
This time around, the prize fund for 1st place is a whopping £500,000. The Championship will begin on the 15th of April and will run until the 1st of May.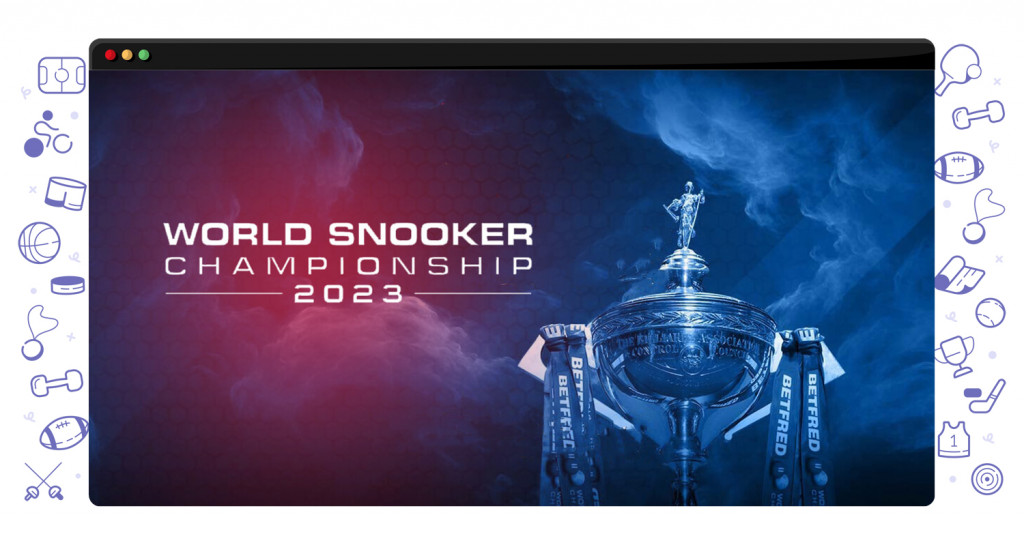 Where can you watch the 2023 World Snooker Championship?
Now that you know what you have to look forward to, the obvious question is: Where can you watch it?
Well, the answer to this one depends on where you are. But we'll stop the chain of depressing throughs right there. Unlike most of the other sports, there are but two platforms where you can stream the Championship live. If you live in Europe, that's Eurosport – the only streaming service that will be broadcasting the event. If you live elsewhere, then your only option is Matchroom Live.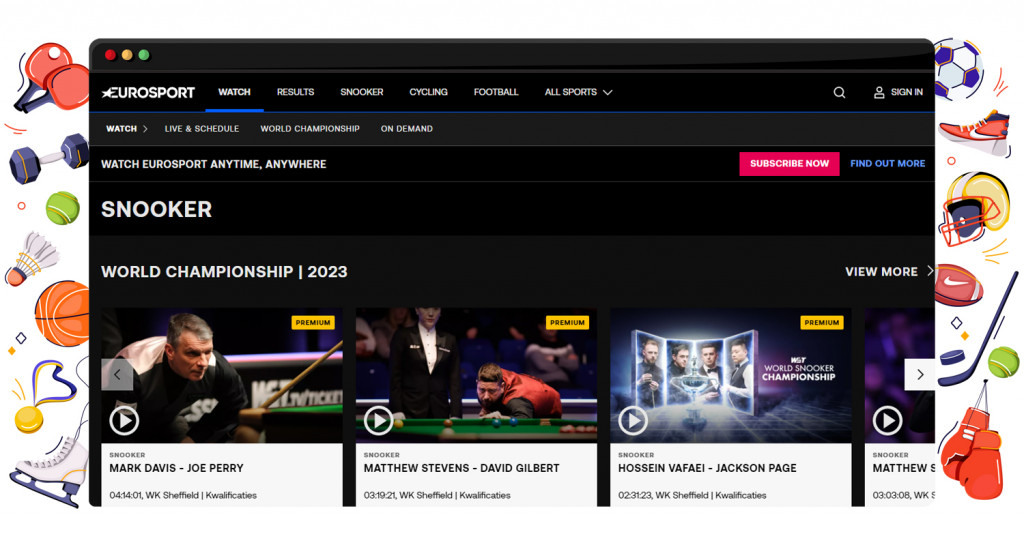 The obvious problem with both of the options is that they are paid streaming platforms. And don't you have enough of those already? We certainly think so.
But what if there was a way to watch the 2023 World Snooker Championship live and for free? Of wait, there is one! And we know how!

On the hunt for better sports streaming platforms?
We found the best ones for you!
Where can you watch the 2023 World Snooker Championship for free and what do you need for that?
The entire world might have to pay for its World Snooker Championship viewing pleasure, but there's one place that gets to enjoy it free of charge every single year. And that is, of course, the biggest snooker fan of them all – the United Kingdom!
That's right, folks, the entire country gets to enjoy the Snooker World Championship live and completely free on BBC Two via the country's very own streaming platform – BBC iPlayer.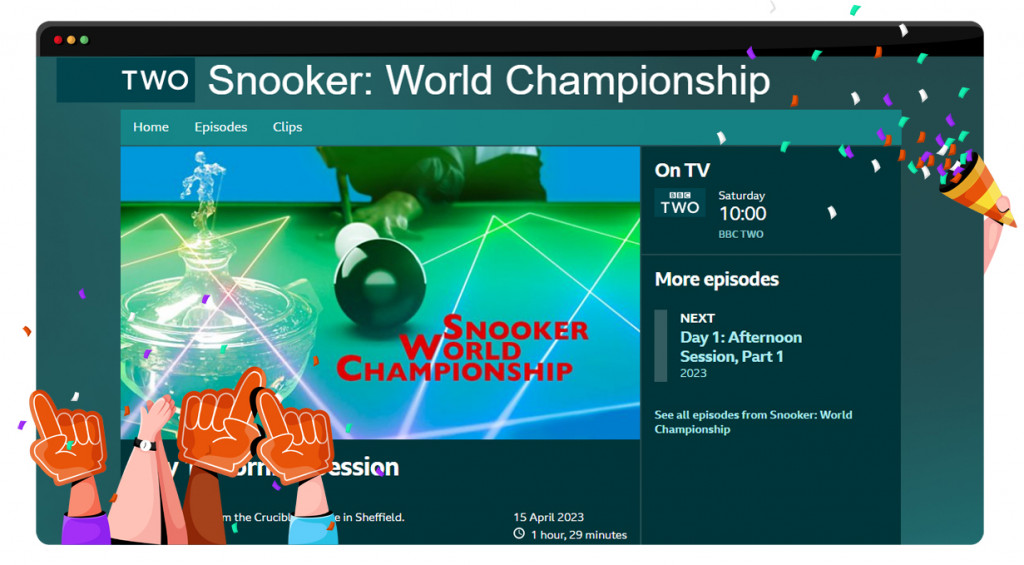 But as is the case with pretty much any sports broadcast, there is a catch. BBC iPlayer is a streaming platform that is exclusive to the UK. What this means, is that anyone and everyone who is outside of the country won't be able to access the streaming platform.
Fortunately, all is not lost, as everything you need to fix this great injustice is ExpressVPN!
ExpressVPN is a Virtual Private Network that is able to change your virtual location by relaying your Internet connection through one of its own servers giving you instant access to anything you might want online. However, ExpressVPN is superior to just about every other VPN on the market, because it:
Has the most diverse network of strong servers all over the world. Many of them are UK-based, which is perfect for accessing BBC iPlayer and many other of Britain's exclusive streaming platforms.
Does as much for streaming as it does foes security. By being able to unblock virtually any streaming platform, ExpressVPN brings you as much streaming and as many sports broadcasts as you can watch.
 Is very fast, making both streaming unblocking and streaming itself as seamless as it should be.
Want to know more?
Check out our complete ExpressVPN review!
Getting BBC iPlayer from anywhere in 4 easy steps
Cracking streaming services might seem overwhelming, but take it from the people that do it for a living – with the right tools, there's nothing to it. And just to make sure you don't get lost along the way, here's a guide that covers everything you need to know:
1. First of all, get an ExpressVPN subscription and install the app on your device. You won't make it to the finals without it ?
2. Now that you have it, launch the ExpressVPN app and connect to one of its powerful United Kingdom-based servers from the server list.
3. Now, head over to the BBC iPlayer streaming platform and apply for a free account. To make one, you are going to have to provide the platform with a local postcode, and just so you don't have to do anything extra, you can grab one of these: SN15 3YU, WF90 8AA, SW3 3NT, TR5 ONZ.
4. If prompted about having a TV license, click that you have one. This is just another formality.
And that's it! You can now enjoy everything that the amazing BBC iPlayer streaming platform has to offer, including the Snooker Championship.
Will it be Ronnie O'Sullivan or Stephen Hendry?
We're kidding, of course. There's plenty of talent in this year's World Championship to be worthy of the cup. But the ongoing O'Sullivan/Hendry snooker rivalry is legendary-tier at this point, so it's hard not to anticipate them battling for the title once again.
And, fortunately, with the help of ExpressVPN, this year you won't have to pay to watch it!