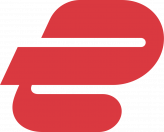 Overview
The impression we get from ExpressVPN is: this is top notch. ExpressVPN scores high marks with us, and may even be one of the best services around today.
Ratings
Features
| | |
| --- | --- |
| Apps | Windows, macOS, Linux, Android, iOS, Chrome, Firefox |
| Price | $6.67 per/month |
| Payment methods | PayPal, Credit Card, Cryptocurrencies |
| Speed | 8.5 / 10 |
| Protocols | OpenVPN, PPTP, L2TP/IPSec, IKEv2/IPSec |
| Log Policy | No logs |
| Simultaneous connections | 5 devices |
| Based In | British Virgin Islands |
| Jurisdiction | British Virgin Islands - Additional partners (Israel, Singapore, South Korea, Japan, and all British Overseas Territories) |
A VPN-provider's strength is best measured by its ability to offer servers to customers in countries where they want to check out content. ExpressVPN is one of the frontrunners on this account. It currently operates over 3 000 servers at 160+ locations in 94 countries.
Both the geographical spread of the service, and also the sheer amount of server capacity add to the service of this provider.
Up- and download speeds are amongst the highest we found with any VPN provider, and there always seems to be a server close to where you want to browse. Unsurprisingly, the majority of servers sit in the US (aiding non-Americans in their US Netflix binging). But ExpressVPN also offers an impressive range of servers in more exotic locations in South America, Asia, and also Africa.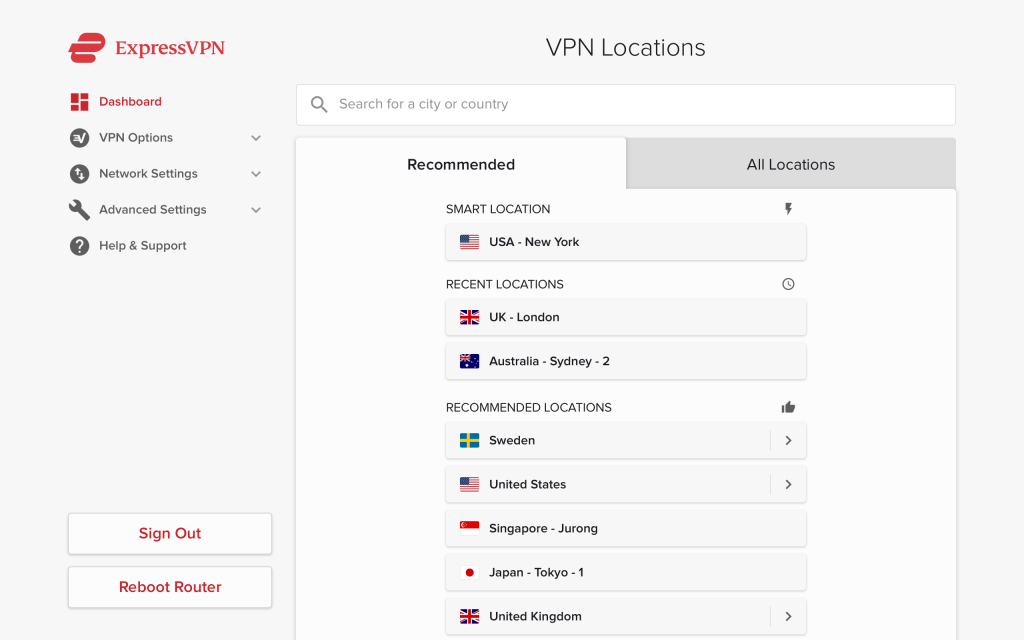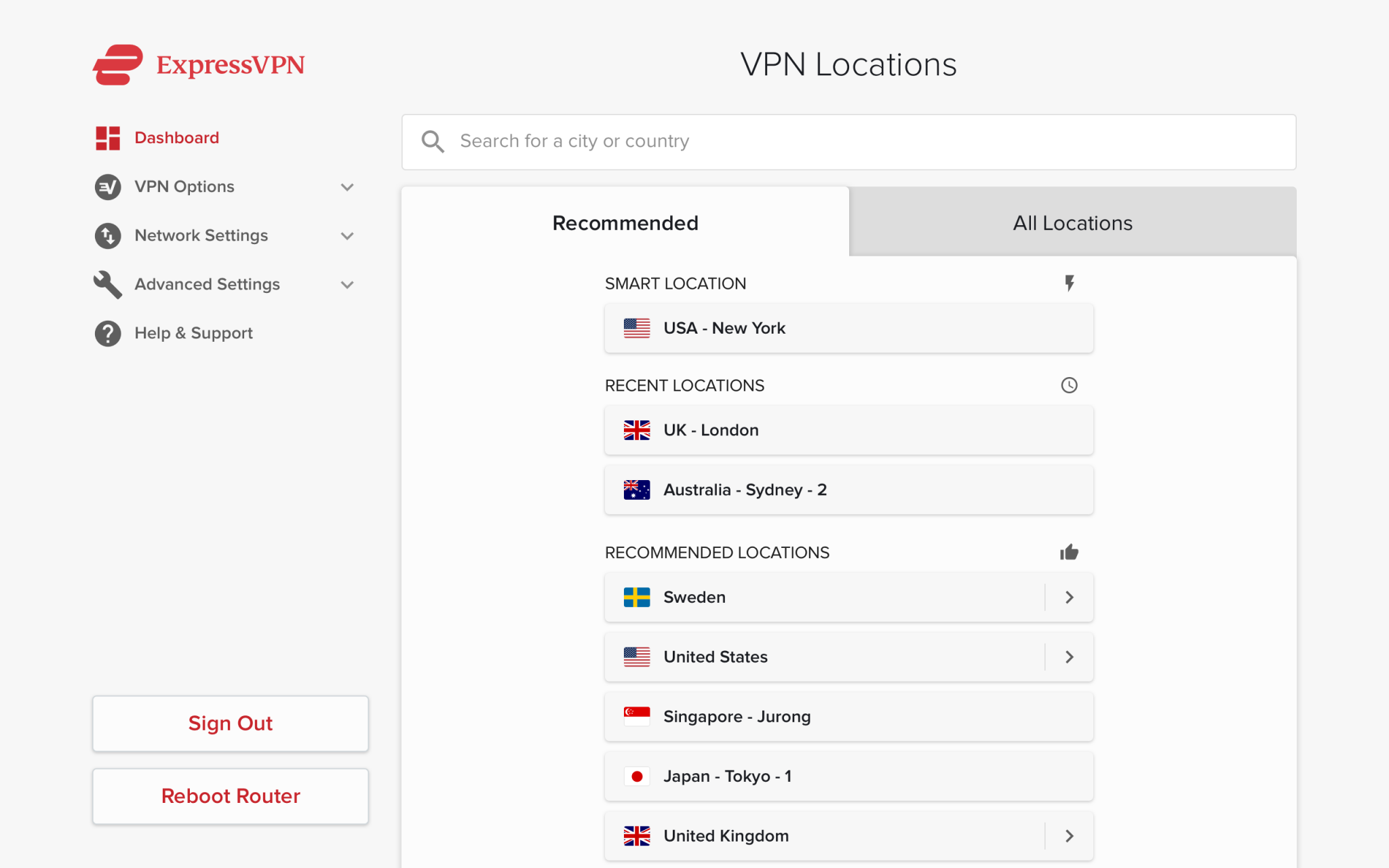 ExpressVPN App
ExpressVPN has apps for all of the most popular operating systems.
The provider has software available for Windows, Mac, iOS, Android, and even Linux, and each app immediately impresses by being easy to use. Start the app, and ExpressVPN connects your device to the nearest VPN server – you're good in mere seconds.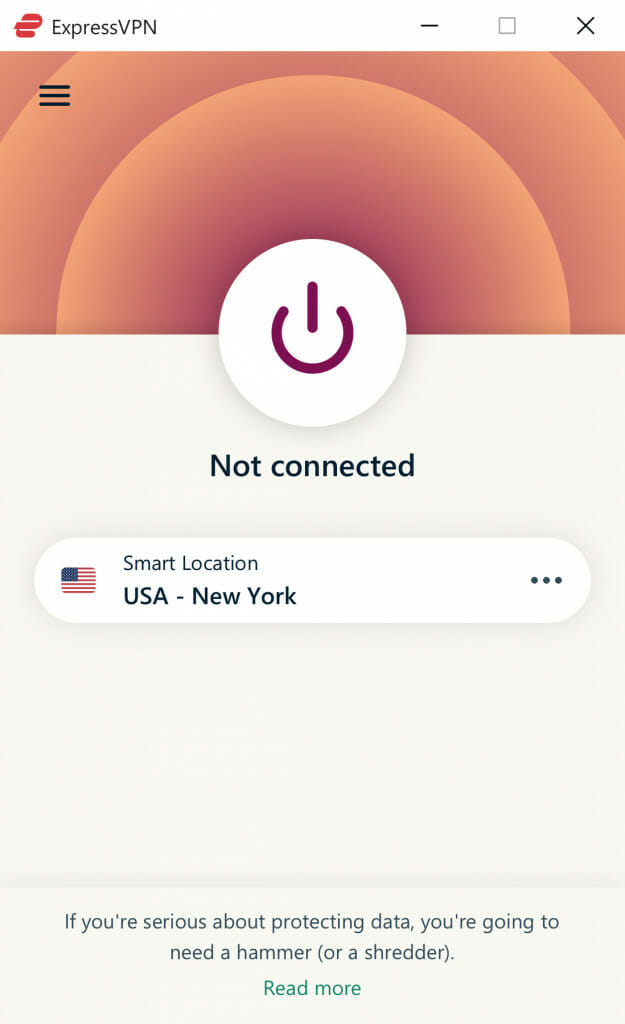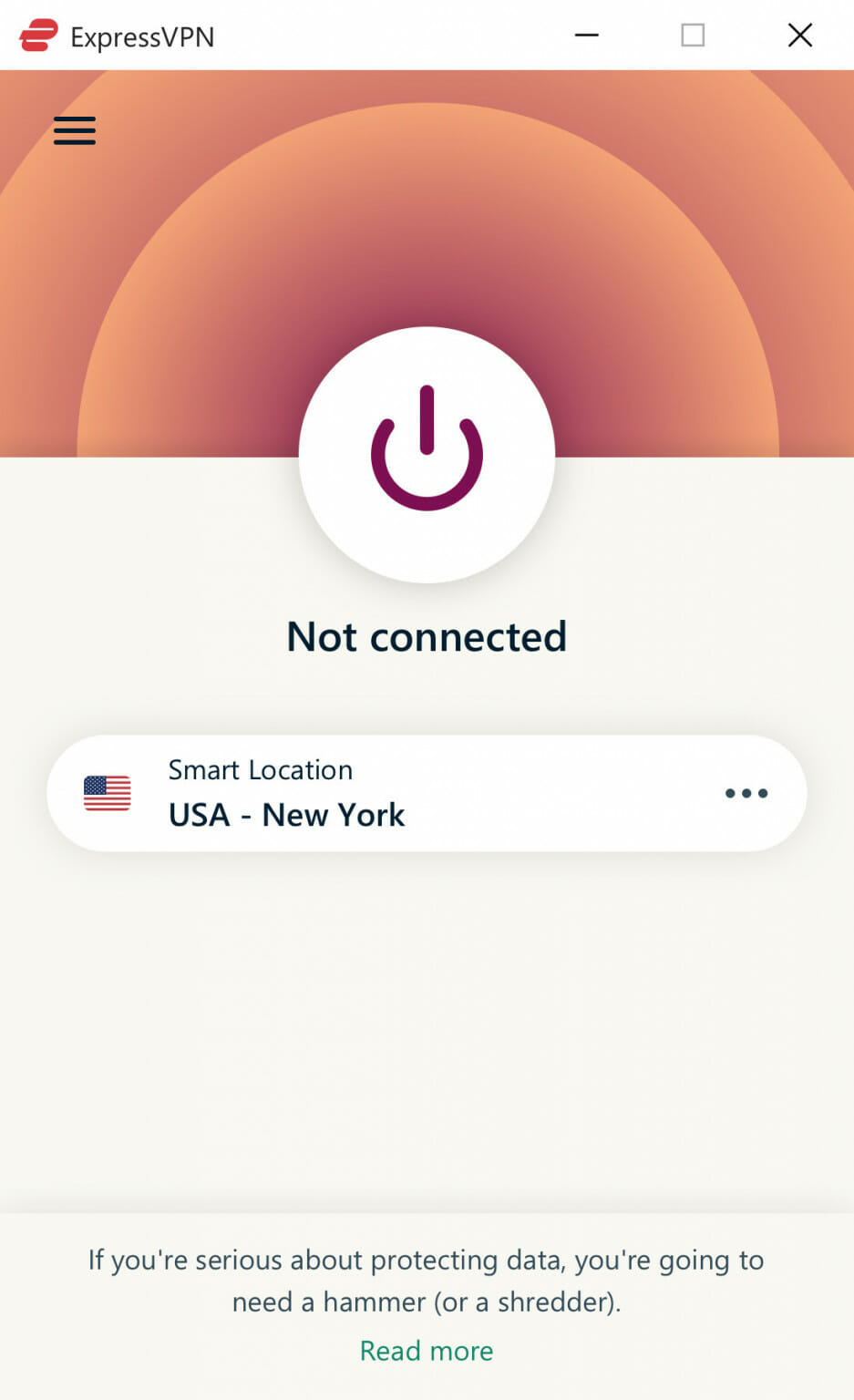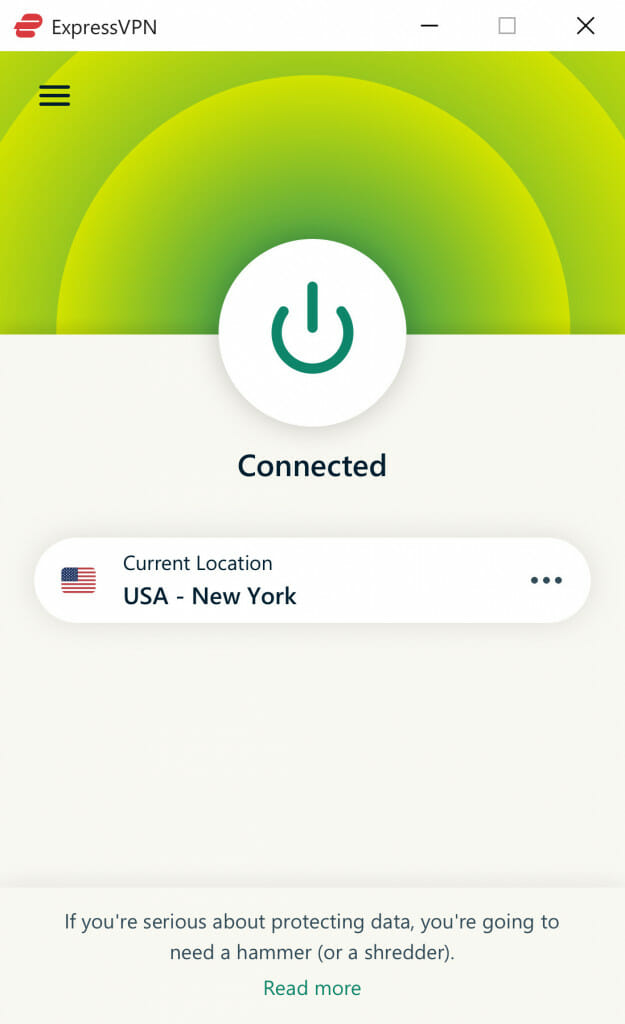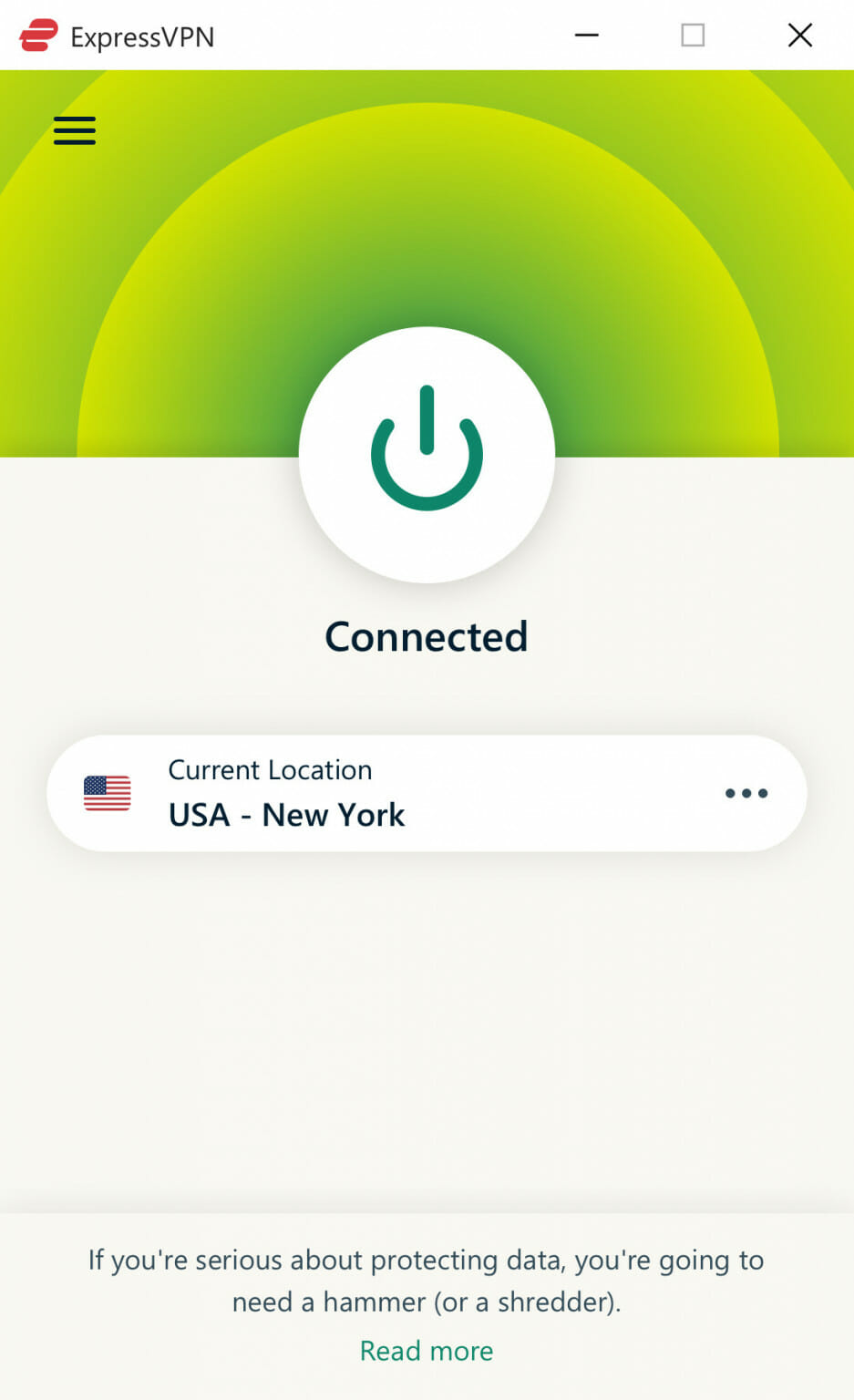 Want another server in a different location? Simply check out the list of servers, and connect to one in a location of choice.
The specs of a specific server won't be shown initially. But once connected, another click will have the app run a speed test for you – a function many users will appreciate.
Geoblocking
Want to use VPN to check US Netflix? ExpressVPN seems almost tailor-made for this purpose, from their giganormous server network to giving active support in circumventing geoblocks. Whenever a streaming site blocks one of ExpressVPN's IP-addresses from accessing their service, new ones pop up instantly. VPN users won't even know this happens. But it happens all the time, keeping the service up and running despite the best blocking efforts of big streaming parties like US Netflix or BBC iPlayer.
ExpressVPN Speed Test
As noted above, ExpressVPN offers the possibility to do speed tests in its apps for any of their servers. The company advertises its commitment to bringing you the best speeds, and we couldn't find fault with that statement. We ran speed tests both through our desktop setup, and through their app, one right after the other, and clocked a neglectable loss of 2 mb/s for downloads when ExpressVPN was engaged, and 1 mb/s for uploads. All the while every server we checked appeared to be super stable.



ExpressVPN subscription plans
All good things come at a cost, and ExpressVPN is no exception. Their service is one of the more expensive amongst VPN providers and doesn't have a free trial period. There is, however, a 30-day money-back guarantee – you'll pay a fee for one month's access, which will be refunded if the service doesn't live up to your expectations.
Costs are very clear. A one-month full-service package will set you back $12.95, but the price drops with longer subscriptions. Options vary from one month to six months ($9.99/month), to a one-year subscription, which drops the monthly fee to $8.32.
However, thanks to our special deal, you can get a year-long ExpressVPN for just $6.67/month and even get 3 months completely free!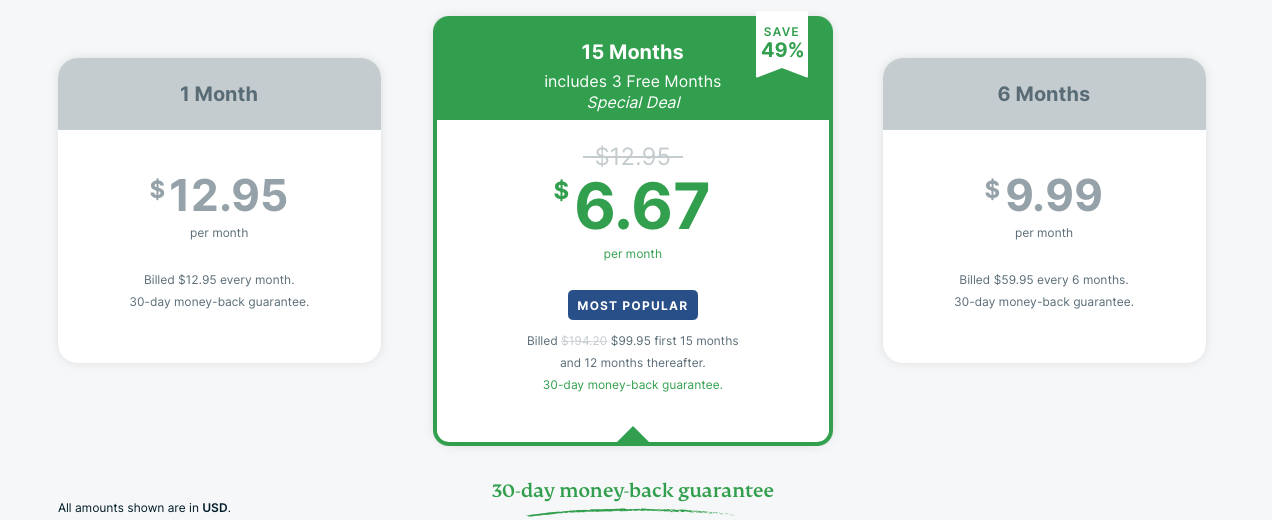 Privacy and security
How privately and anonymously you operate on a VPN can be a matter of interpretation. But ExpressVPN has you covered whichever way you look at the issue.
ExpressVPN's apps encrypt your online traffic through much-valued encryption protocols OpenVPN, PPTP en L2TP/IPSec, with OpenVPN as the default.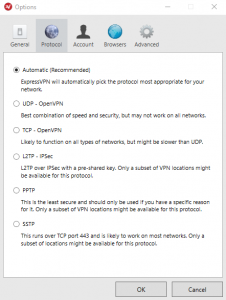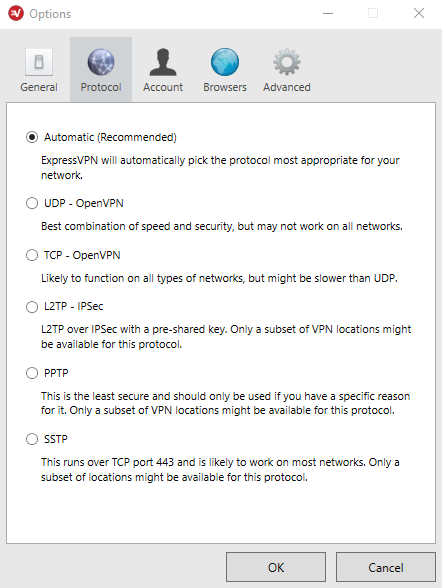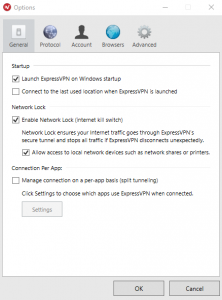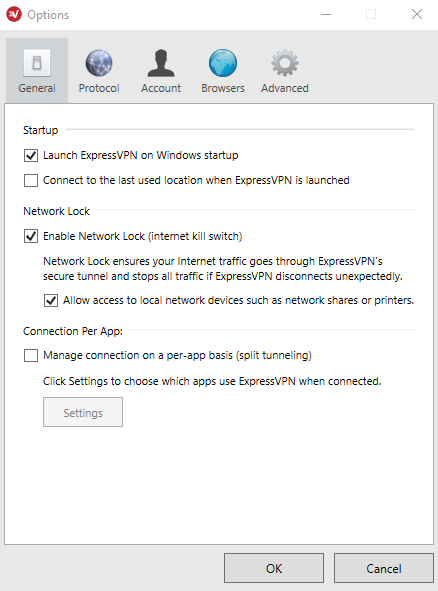 ExpressVPN has the same careful and responsible approach to their log policy. They will simply don't log any data about you, your surfing habits, or what you downloaded from where, and even refrain from using so-called connection logs that register when a user logs on or off.
Another good feature is the use of zero-knowledge DNS. DNS is a technology used to translate computer names to IP-addresses, and vice versa, playing a key role in transferring data through the Internet. Use ExpressVPN, and your DNS is hidden from anyone trying to find your identity.
Last but not least, ExpressVPN's Windows and Mac apps have the extra feature of a lock killswitch, killing the Internet connection the moment your device loses connection to the VPN-server. This will bring your up- and downloads to a full stop, but won't leave your device open to any visits from unwanted parties.
You can find more info on testing your VPN connection in our dedicated article on this matter.

Torrents and Netflix
ExpressVPN has a proactive stance on downloading torrents and accessing geo-blocked video-content worldwide.
As stated before, ExpressVPN replaces their VPN IP-addresses faster than US Netflix can block them, ensuring quick access to platforms like Netflix's US library or BBC iPlayer. It goes without saying this is good news for film buffs worldwide. US Netflix has more movies and series and gets them earlier than other territories.
Apart from help with bypassing geo-blocks, ExpressVPN encourages using BitTorrent on their servers. Combine this with the company's no-log policy and its own DNS service, and you have something close to downloading heaven.
Customer support
No modern internet company can go without proper customer service, something ExpressVPN has really taken to heart.
Their customer service is well-organized and accessible, but we were even more impressed by their support pages. You'll find a treasure trove of very good tutorials and FAQ-lists, detailing possible problems in a language everyone with a grasp of basic English will understand.
To be honest, ExpressVPN's support page is probably the best we've seen among providers.
Besides an online ticketing system, ExpressVPN also offers a 24/7 service through their helpdesk-chat. This is a live service: its operators are quick to answer your queries, are technically apt, friendly, and generally very much on the ball, which is much more than we (have come to) expect from a chat function.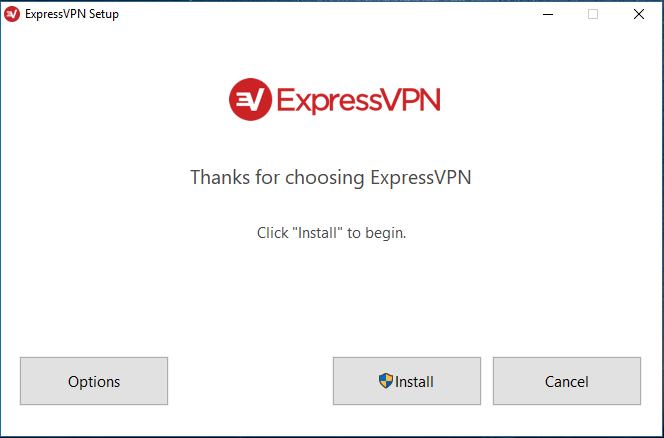 So is ExpressVPN all it's cracked up to be?
The most important question you want to ask a VPN service is about the level of safety it provides. The impression we get from ExpressVPN is: it is top-notch. The provider supports the current generation of encryption protocols and checks all the boxes when it comes to security in general. There is no log keeping, circumventing geo-blocks is actively endorsed, as is the use of BitTorrent.
The second big thing for VPN services is speed. ExpressVPN scores high marks with us, and may even be one of the fastest services around today.
This level of security and speed comes at a price, of course: ExpressVPN is a more expensive service, but well-worth your investment if you're dead serious about your online anonymity, privacy, security, and download speeds.
FAQ
How to use ExpressVPN in China?
There are no specific requirements to connect to a VPN in China – just choose any server outside the country. However, the ExpressVPN website is blocked in China at the moment. That`s why you should register and install the service before you visit the country:
Sign up for an ExpressVPN account.
Open the app.
Verify that the IPv6 leak protection and DNS options are checked.
Connect to a non-Chinese server and start web-surfing! It is recommended to use nearby servers (i.e. Hong Kong or Japan) for higher speeds.
How to watch Netflix with ExpressVPN?
You should follow the next steps:
Download ExpressVPN on your device.

Log into your ExpressVPN account.

Choose the U.S.

VPN server location.

Sign into your

Netflix account.
How to install Express VPN on Kodi? 
There are a few various approaches to how you can use ExpressVPN for Kodi.
ExpressVPN app set up:
Download the ExpressVPN application on your device.
Enter your user login credentials.
Select the VPN server you need.
Check the ExpressVPN app is running in the background.
Open Kodi.
ExpressVPN via VPN Manager:
Download the Zomboided repository zip files.
Open Kodi application.
Select Add-ons.
Click on the box icon in the top left corner.

Click "Install" from the zip file.

Choose the downloaded zip file and open it.

After that, select "Install from the repository".

Finally,

when you install VPN Manager for OpenVPN,  you should go to the program add-ons section and select settings.