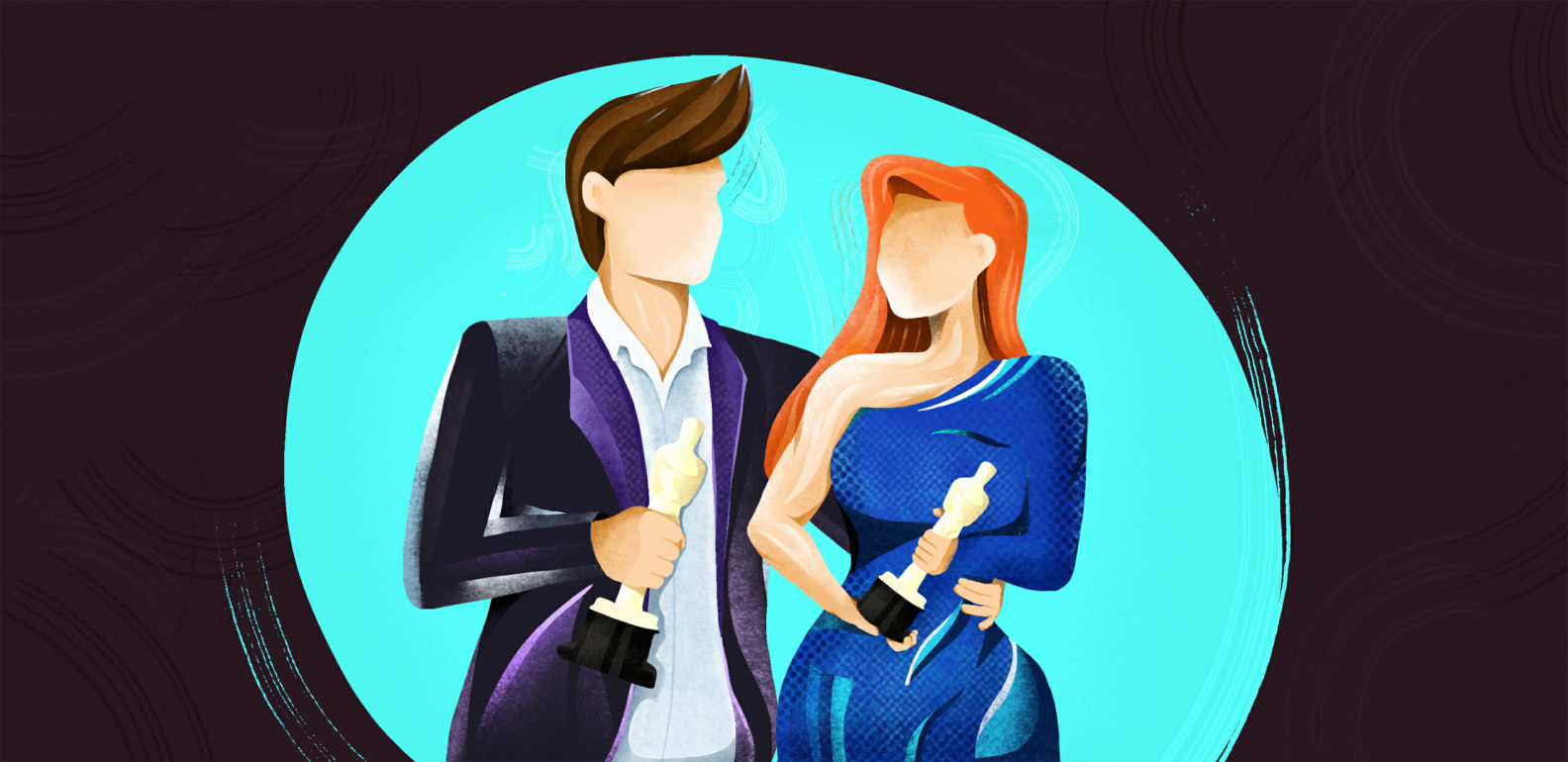 How to watch the 2023 Oscars live and for free
Safe to say, 2022 was a tough year. But it also gave us some darn good movies with some darn good performances. Finally, cinephiles and moviegoers agree that this year was a good one for both those who like some thought-provoking social drama and those who prefer some mindblowing action with next-level visuals. And now, it's time to choose the best of the best – it's time for the 2023 95th Academy Awards ceremony. It's time for the Oscars!

Watch the 2023 Oscars live and for free anywhere!
What are the Oscars 2023 nominees?
If you are dying to watch the Oscars, then you probably already know who all the nominees are. But we are so excited about it, that we can't help but share. However, we'll stick to the main ones so as not to drag this out too long.
Best Actor
This time around, we have some great Actor in Leading Role nominees. And these are:
Austin Butler (Elvis)
Colin Farrell (Banshees of Inisherin)
Brendan Fraser (The Whale)
Paul Mescal (After Sun)
Bill Nighy (Living)
Some of those names are long overdue for an Academy Award, so whoever gets it, we all win!
Best Actress
That's not to say that the list of best actresses is lacking in immense talent. This year we get to see one of these great actresses take the statuette home:
Cate Blanchett (Tár)
Ana de Armas (Blonde)
Andrea Riseborough (To Leslie)
Michelle Williams (The Fabelmans)
Michelle Yeoh (Everything Everywhere All at Once).
Best Picture
And, finally, there's the award that everyone is looking forward to. That is, of course, the Best Picture award. And this year the nominees are about as diverse and as excellent as anyone could hope to expect:
All Quiet on the Western Front
Avatar: The Way of Water
The Banshees of Inisherin
Elvis
Everything Everywhere All at Once
The Fabelmans
TÁR
Top Gun: Maverick
Triangle of Sadness
Women Talking
So anyone who's seen at least one movie last year has a favorite to root for. And, naturally, you can't go without watching Tom Cruise's action, or James Cameron's long-awaited Avatar sequel to go up against Spielberg's intimate family tale, or Ruben Östlund's thoughtful social commentary.
One thing's for sure. It's going to be a blast!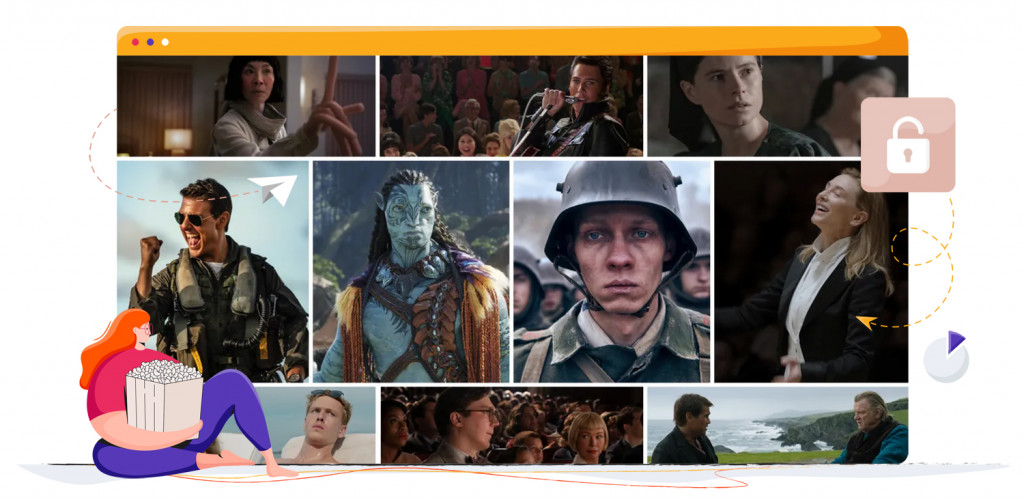 Where can you watch the 2023 Oscars?
While cinephiles all over the world are dying to watch the Oscars every single year, streaming the event isn't an easy thing to do. It is better than it was a few years ago, but it's still far from a seamless experience. And it all depends on where you currently are.
In the US, as usual, the rights to broadcasting the Oscars belong exclusively to ABC. So watching the event requires you to either have cable, or one of those cord-cutting streaming services (namely, AT&T TV Now, Hulu, or Youtube TV).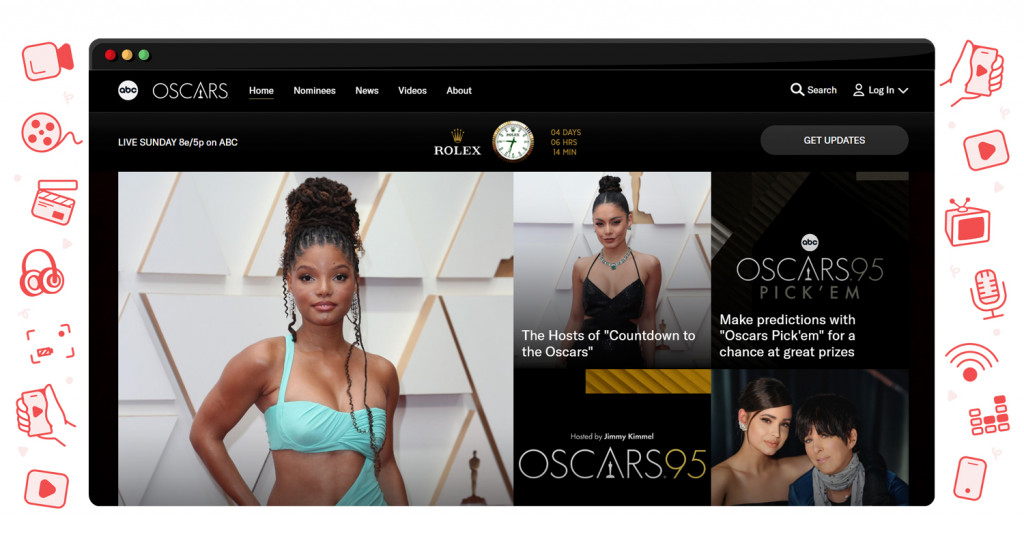 But it's not like other places around the world can watch the Ceremony by just switching on the TV.
For example, in Canada, you can only catch the Oscars on CTV. And in the UK, the Oscars are only watchable on Sky, same as in Italy and Ireland. And in most other countries, even if the ceremony is broadcast at all, you usually have to take out an expensive subscription to something you may have never even heard of.
You get the picture. But that might not be the end of things.
The one thing you need to watch the 2023 Oscars for free
You might not be able to flip the switch and watch the Oscars, but there are a bunch of places around the world that can actually do just that.
But don't get upset yet, because a reliable VPN is all you need to enjoy all the cinephile privileges everyone else can. With one, you can alter your virtual location, connect to basically anywhere in the world, and watch the Academy Awards for free, wherever they might be.
The only thing is, those places can get unique and not every VPN is streaming-capable. But we know the one that will never let you down – ExpressVPN!
And here's what ExpressVPN has, that no one else does:
It has the most diverse server network out of any VPN provider. Meaning no stream is off-limits.
ExpressVPN is perfectly optimized for streaming and can crack any streaming platform anywhere. Heck, you just might be able to watch all the nominees on Netflix if you play your cards rights.
It's also insanely fast, so you won't miss a second of Will Smith losing it ?
Want to know more?
Check out our star VPN review!
Now then. Shall we find out how to stream the 2023 Oscars for free?
Every way to watch the 2023 Oscars ceremony live and for free
This year the options to watch the Oscars are much more plentiful than last. So let's get to it!
7Plus
If English is your language of choice (well, the Academy Awards are held in English, so you might not have a choice in the matter, actually), then the best place to watch the ceremony live and for free is Australia. The entire country will be streaming the show completely free on their 7Plus free online streaming platform!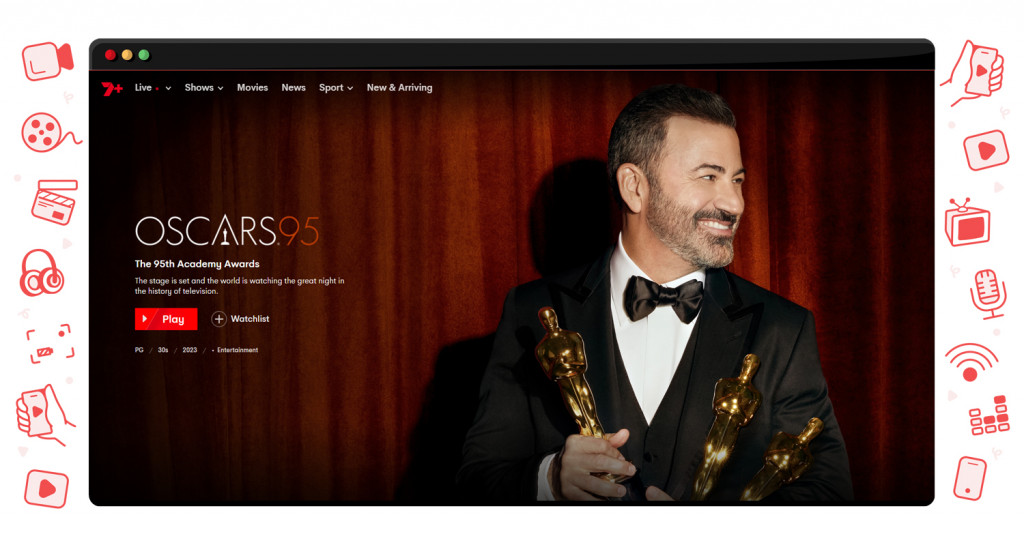 Jealous? Don't be! Because all you need to do to tune in is:
Get an ExpressVPN subscription. You can cancel it in 30 days, and that's 29 free days extra on top of watching the Oscars.
Then, install the app on your device, launch it, and connect to a server in Australia.
Head over to 7Plus, create a new free account, and enjoy!
ORF
Australian streaming not doing it for you? How about Austria then?
On March 12th (well, 13th local time) the country will be glued to the screen, watching the 95th Academy Awards on the ORF channel – the channel that every Formula 1 fan is quite familiar with.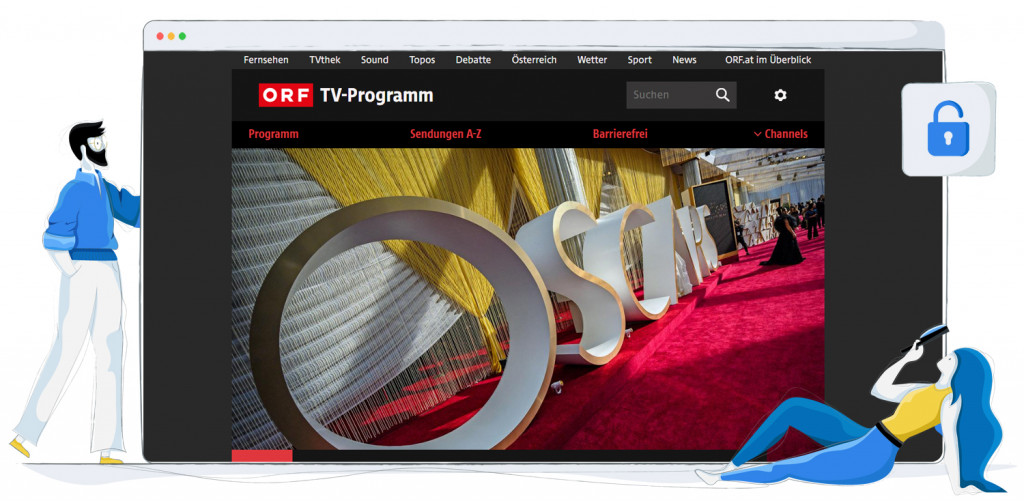 Watching anything on ORF is easy, as long as you have ExpressVPN by your side. So here's what you do:
First, get an ExpressVPN subscription, of course.
Then, start the app up and connect to one of the provider's server locations in Austria.
Head over to ORF, and enjoy the live stream!
ProSieben
Watching the Oscars is its own tradition in Germany. So, of course, they will be streaming the 95th ceremony live and for on their local ProSieben online streaming platform.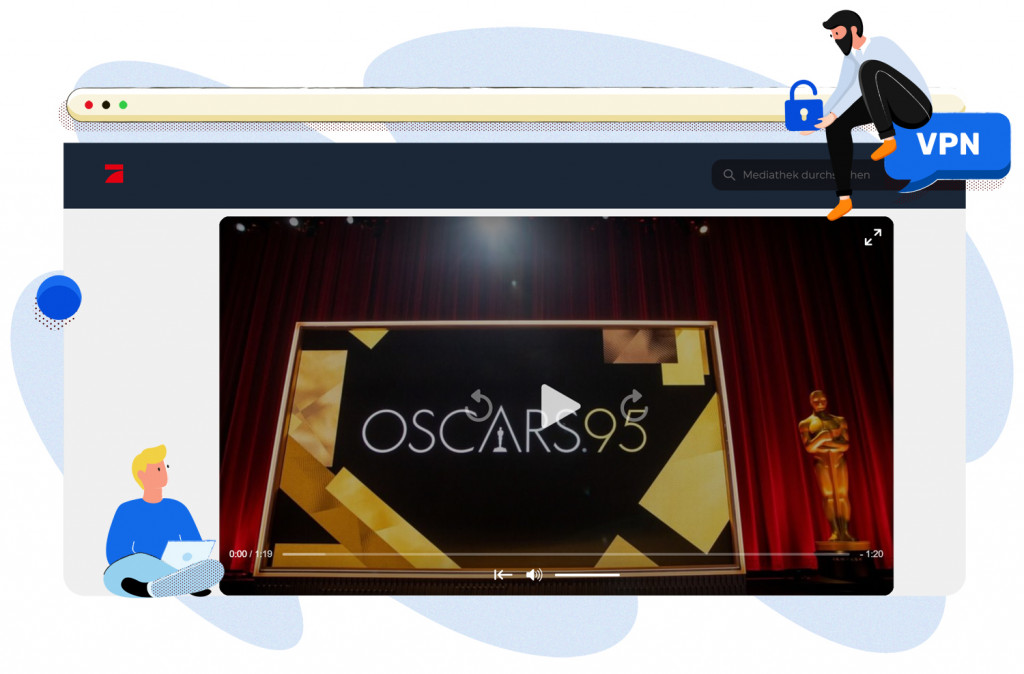 Getting your hands on the Oscars is easy. Here's how:
Start by getting an ExpressVPN subscription, of course. No other VPN is optimized for streaming in Germany.
Head over to the ProSieben online streaming platform and quickly make a free account.
That's it, enjoy!
Is there going to be drama this year?
You might not be one of those people who know all the directors by name, are constantly late for work on the count of watching movies all night, and start violent fights over who the best actor is, but the Oscars are such a huge staple of our culture that you simply can't miss them. Plus, it's infinitely entertaining to see what kind of drama will come out of it this year. Will everyone get offended? Will they mix up the envelopes? And, of course, will Will Smith have another meltdown?
Well, it's about time to find out. With Jimmy Kimmel leading the show, and some damn good movies competing with each other, this, THIS one is the one you HAVE TO watch!