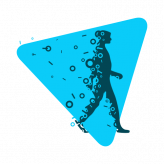 Overview
One-of-a-kind VPN provider, packed with exclusive features, nearly unlimited customizability, as well as some of the best security, privacy, and streaming features. However, this might not be a VPN equally accessible to everyone.
Ratings
Features
| | |
| --- | --- |
| Apps | Windows, macOS, Linux, Android, iOS, Chrome, Firefox |
| Price | $0.00 per/month |
| Payment methods | PayPal, Credit Card, Cryptocurrencies, Amazon Pay |
| Refund | 30 days |
| Protocols | OpenVPN TCP/UDP, IKEv2/IPSec, SSTP, SoftEther, WireGuard |
| Log Policy | No logs |
| Simultaneous connections | 10 devices |
| Based In | Malaysia |
| Netflix | USA, UK, Australia, Germany, France, Canada, Italy, Japan, Turkey |
| Torrenting | Yes |
| Streaming | HBO Max, Hulu, Showtime, Amazon Prime Video, Paramount+, BBC iPlayer, ITV HUB, Crackle, Tubi TV, YouTube TV, Crunchyroll |
| Works in China | Yes |
| Jurisdiction | Malaysia - Not a Fourteen Eyes Country AND Not an Enemy of the Internet. |
| Server Locations | 75 |
Free VPNs get a bad wrap. Oftentimes it is well-earned, with free VPNs doing everything they were supposed to safeguard you from. But, luckily, this is changing. More and more providers are seeing the value in giving everyone the means to online privacy in an increasingly unprivate world.
And one of the VPNs that was always at the tip of the spear of this movement, was Hide.me.
So we're here to take this VPN provider out for a spin, and see whether it's really worth the trust and what it can actually do.
We don't get you overhyped, but 'Spoiler Alert': This is our longest review to date.
Hide.me: An Introduction
Hide.me VPN isn't just a provider that came up with a clever way to combine its name, its website, and its purpose in a cheeky way. This is one of the VPNs that's been there from the very beginning, giving everyone the means to online privacy and security before they even knew how badly they needed them. And long before the industry was worth billions.
Hide.me was launched way back in 2012. The VPN is owned by eVenture Ltd., the company that seems to only have this VPN under its belt.
Hide.me VPN originated and is based in Malaysia. However, the company itself seems to have expanded over the years. It has recently opened an office in Zagreb, Croatia, which manages all the backend software development, as well as other European countries.
Since its humble beginnings, the application has amassed over 20 million users worldwide, and it's not stopping anytime soon. Constantly growing in servers, features, as well as offering one of the most advanced VPN experiences we have ever seen Hide.me has made a name for itself as a VPN for the truly geeky. And it's sticking with it.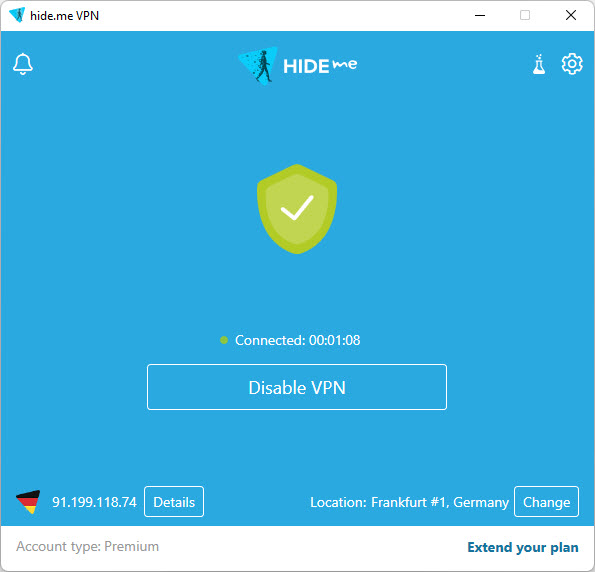 So without further ado, let's get into everything that makes Hide.me VPN good, bad, and unique. There is so much to talk about!
Hide.me servers and locations
The number of servers and server locations seems to be a good place to start. This is what determines whether you will get good VPN coverage and speeds, as well as be able to access content from all over the world.
Years ago Hide.me VPN started with a very modest server park that couldn't compare with any of the other VPN providers. Years later this VPN has grown into over 2000 servers in 75 locations all over the world.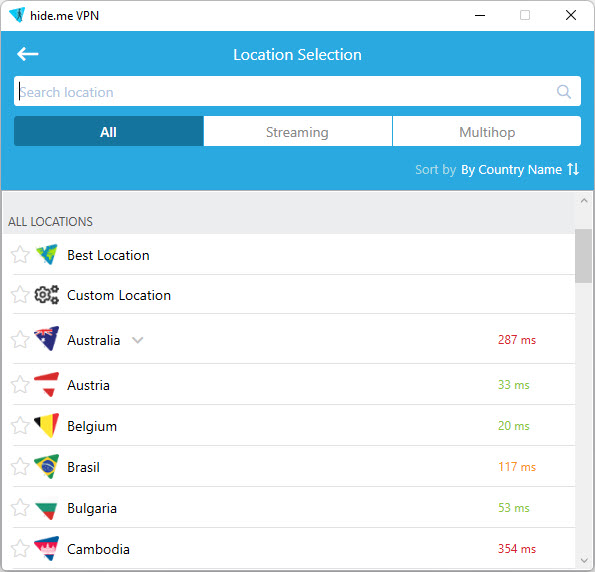 Most of the Hide.me servers are placed in Europe. This is also probably the best palace to use this VPN, since whichever country you inhabit, there's probably server around the corner.
The US and the rest of the Americas are a bit starved for servers, on the other hand. There are about 9 in the US itself and just one in Canada and Brazil. That's it. Not really enough to get everything covered, and a bit of a weird solution, as everyone is trying to get their hands on some US streaming.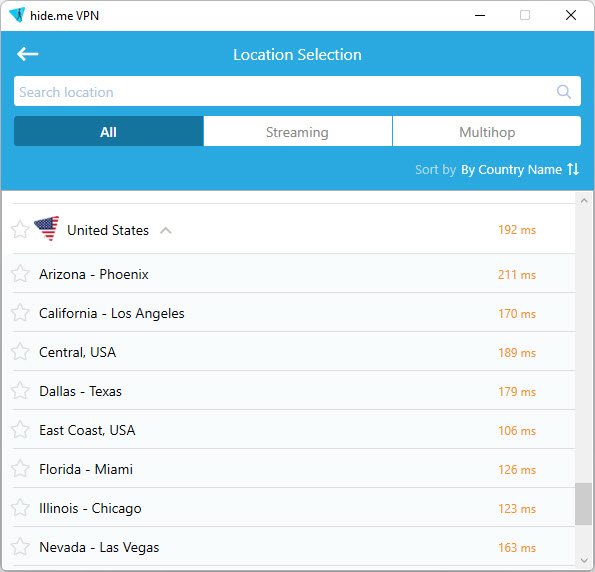 On the other hand, Hide.me VPN is doing surprisingly well in the Asia Pacific region. The number of locations covered is truly impressive and gives regions, usually underrepresented in VPN coverage. Lots of servers in Australia, as well as more exotic locations, such as Vietnam, Cambodia, Indonesia, and so on.
They even managed to pull off a server in the UAE. How many VPNs can say they have one?
Anyway, servers with Hide.me are a bit of a mixed bag. If you live in Europe you are definitely covered. In the US – you are probably good as long as you don't venture off far North-West. You'll be surprisingly well-off if you are in Australia, and somewhat alright in Asia. Everything else, though, not so much.

Hide.me speed test
When dealing with VPNs that have a free version of some sort, speed is usually the determining factor of whether a VPN is good enough, or not good at all.
And with Hide.me, well, everything depends on where you connect to and where from. While it can pull off some definitely impressive speeds across Europe, it can also fall far behind the competition when you are looking for something exotic or foreign.
But don't just take our word for it. We've spent the night running every conceivable test on every conceivable server, comparing results, and drawing conclusions, all to give you a nice little visual representation of what this VPN can do.
So, here's our Internet control speed: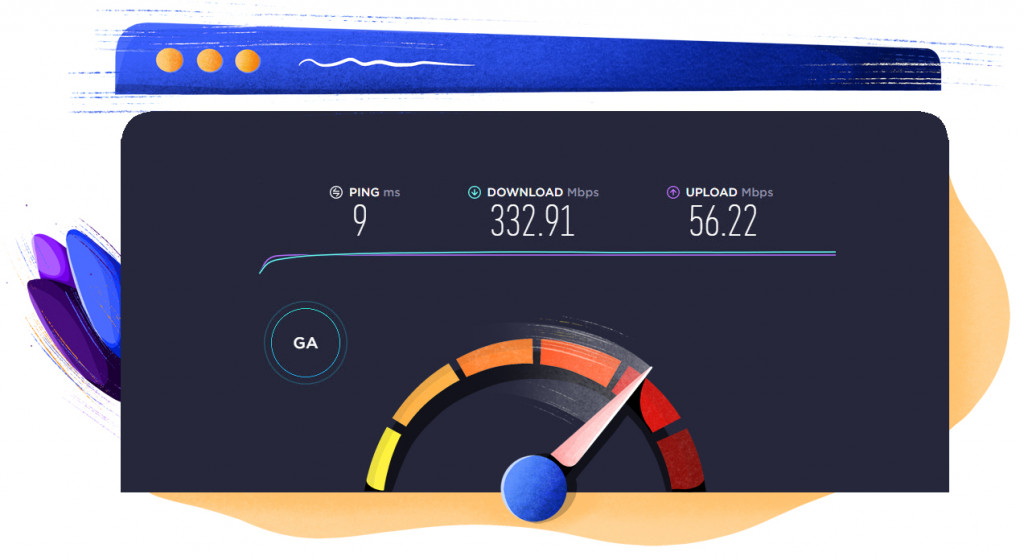 And here's what we got with the best location Hide.me chose for us: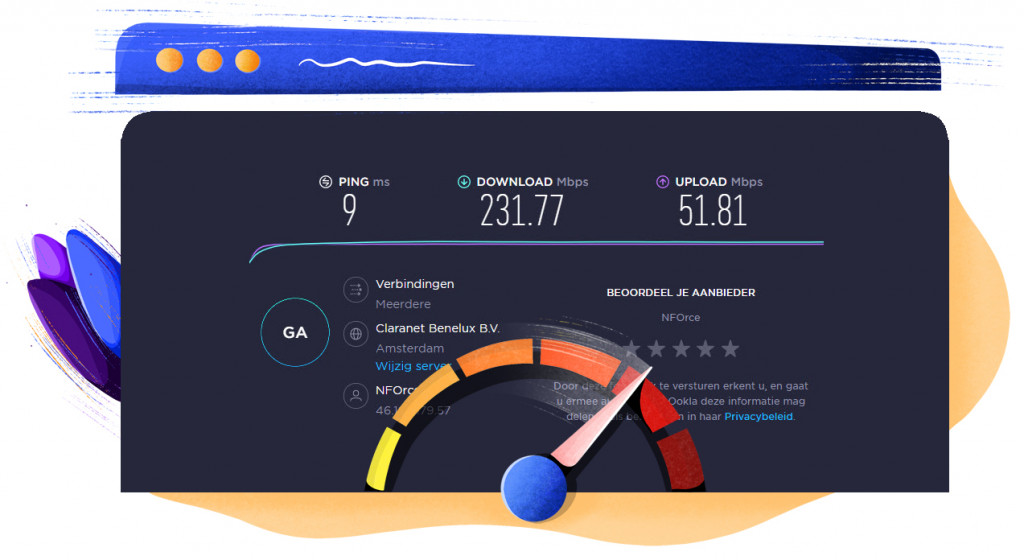 So the ping stayed the same, and the download speed dropped by only ~30%, while the upload speed only suffered a 7% speed loss. All-in-all, we'd say it's pretty impressive!
So we've decided to dig deeper. And here are the results we've got while connected to an Austrian server: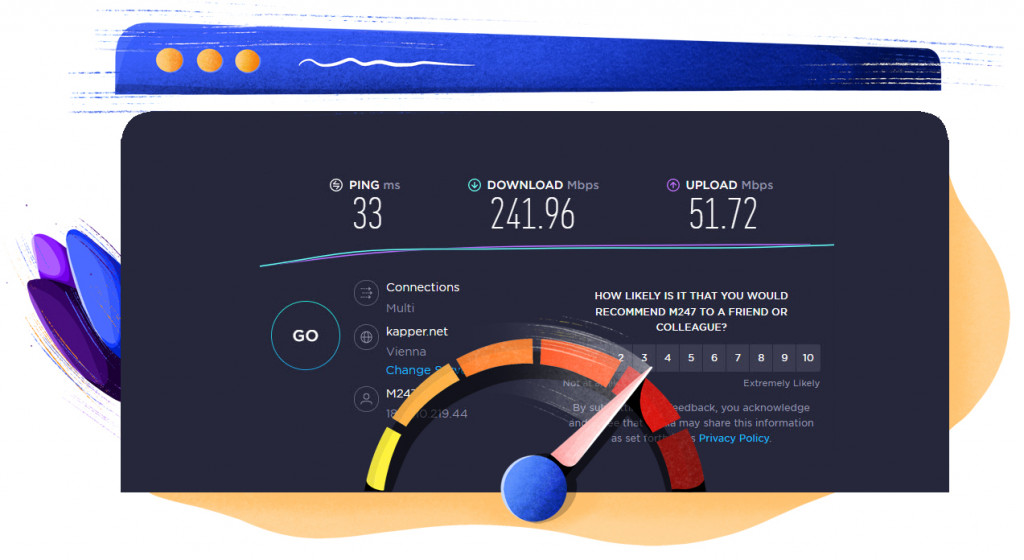 Ok, so the ping immediately spiked, and the download speed somehow got even better with just a 27% drop. The upload speed remained pretty much the same.
So there might be some tweaking to be done with choosing the best server and not just basing it on the nearest location or the lowest ping. What this means, is that if speed is a factor to you (which of course it is), you might be better off checking a few nearby servers manually, and not just taking whatever Hide.me gives you.
So we went further through Europe. And this is Hungary: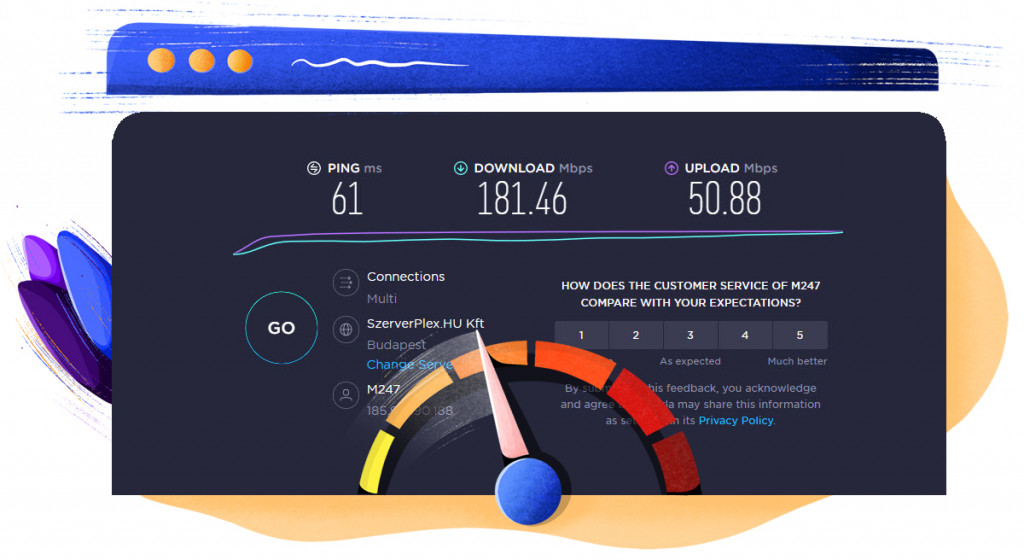 The ping doubles yet again, and the download speeds drop 45%, while the upload speed still remains pretty much the same. This is might be a little bit above our thumbs-up threshold of -37%, but still very much respectable.
What we did not expect, is for the speeds in the UK to drop this dramatically: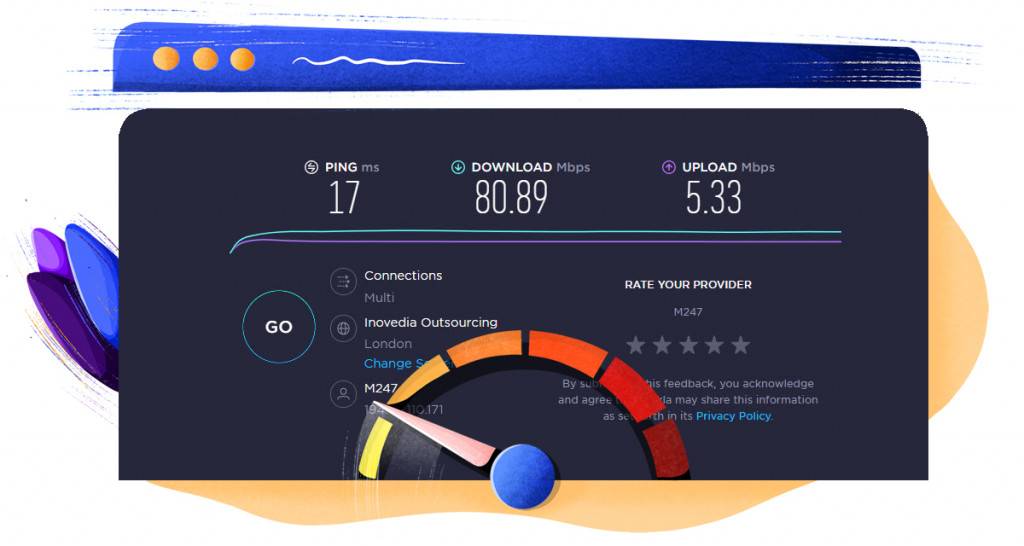 That's a 75% drop in download and a 90% drop in upload speeds. That's dramatic.
Ok, Europe covered. How well did the few US servers do?
Surprisingly, pretty much the same as the UK servers: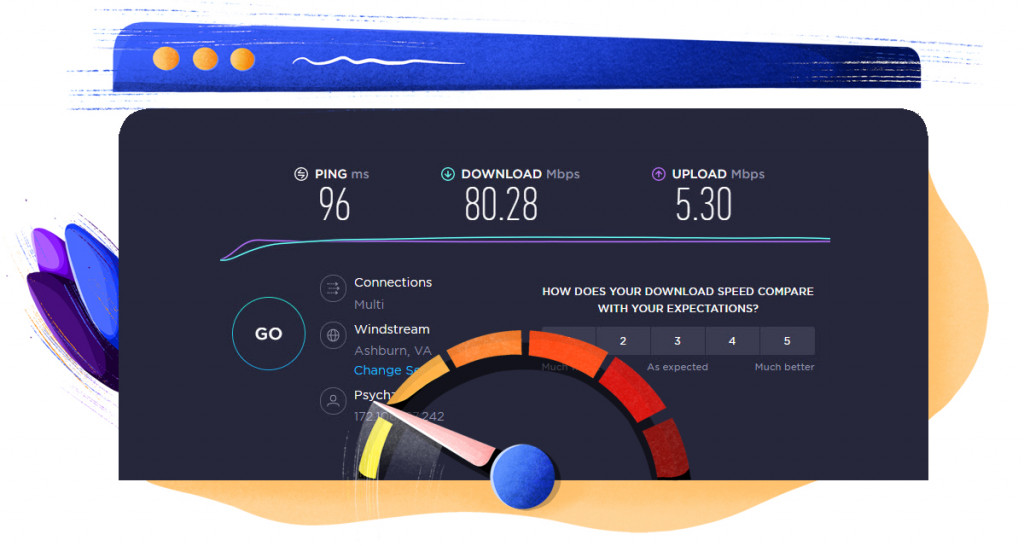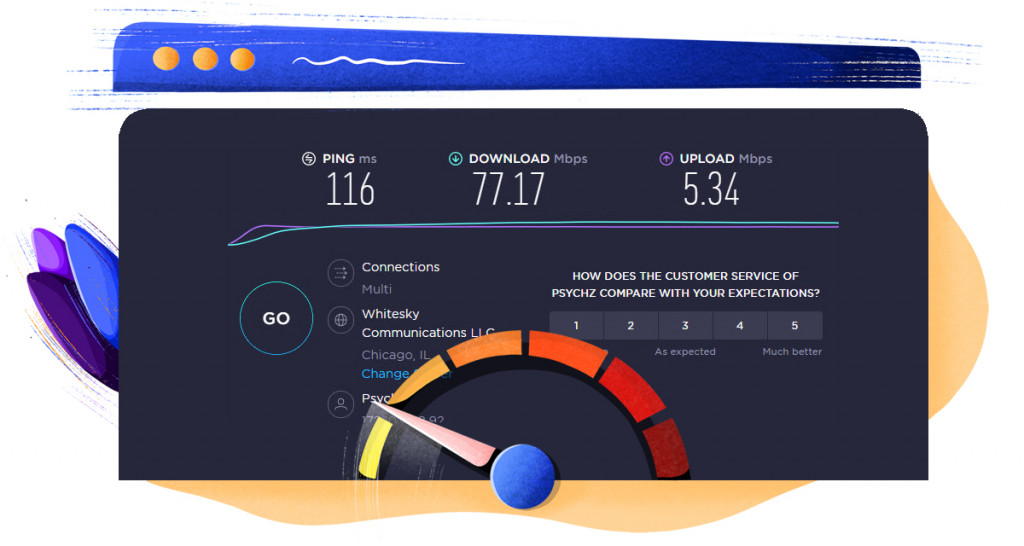 So that's a 75%-76% download speed drop. And that is pretty significant if you are looking to stream something from the good ol' US of A. And upload speeds, well, those nearly came to a standstill.
We also took the singular Canadian server out for a spin, and we have to say, it did dramatically better, with just a 51% drop in download speeds, and the same 90% drop in uploads: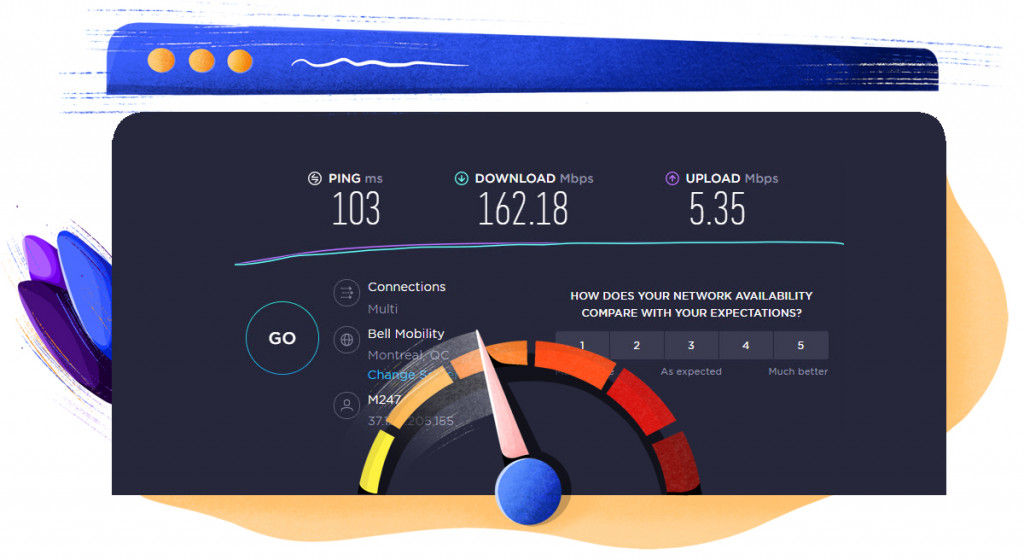 We wanted to be extra thorough, so we also visited the Land Down Under for a quick test: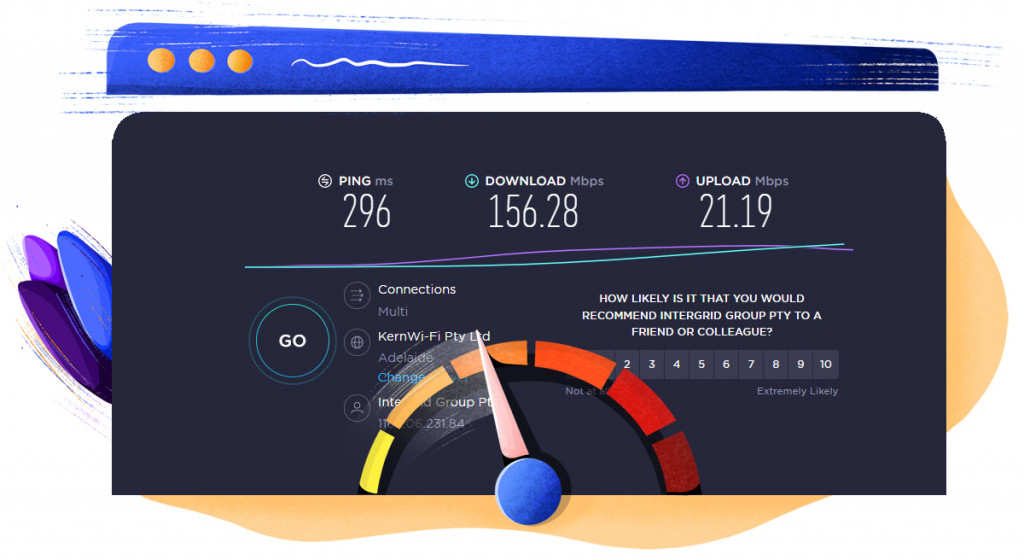 The lowest-latency server gave us a 53% download speed drop and a 62% drop in upload speeds. This is pretty admirable, especially when you compare it to the results we got in the US and given that Australia is about as far away as one can get.
And the Indian server didn't do half-bad either, which is a statement we'd definitely like to start saying more when it comes to VPN providers: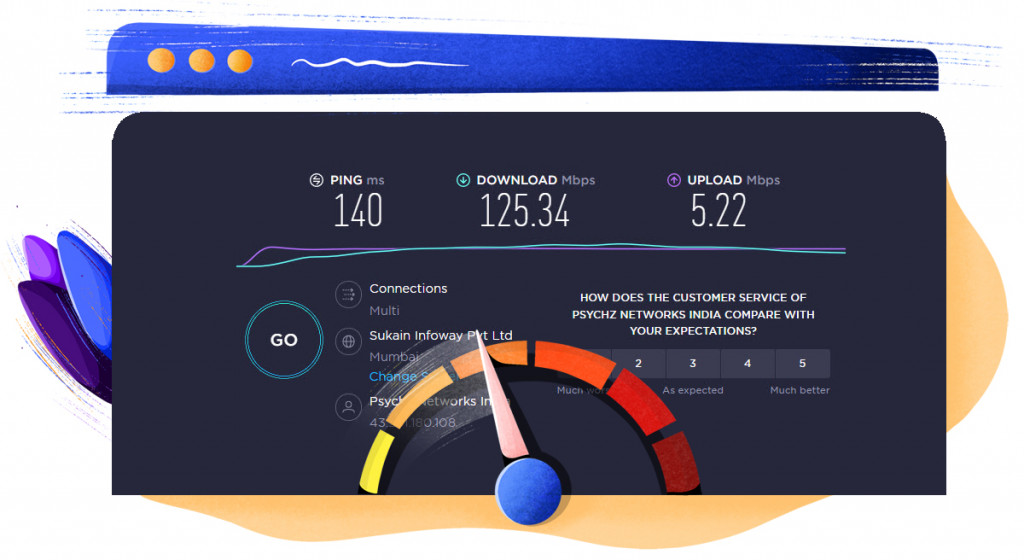 So, anyway, are the speeds any good?
Well, as you can probably see, it's a bit hard to tell. We're not exactly sure what's going weird with Hide.me. Might be the Smart DNS setup, might be the virtual server configuration, might be our bad luck with choosing the worst possible time when everyone's streaming the latest 'And just like that…' episode. But the Internet speeds that Hide.me provides you with can vary drastically, and you won't always know what you're getting.
The latency for every server that the app gives you in the server list does help a bit, as do the recommended servers that randomly offer you something in Japan, but there's still a bit of guesswork involved if you are looking for something specific.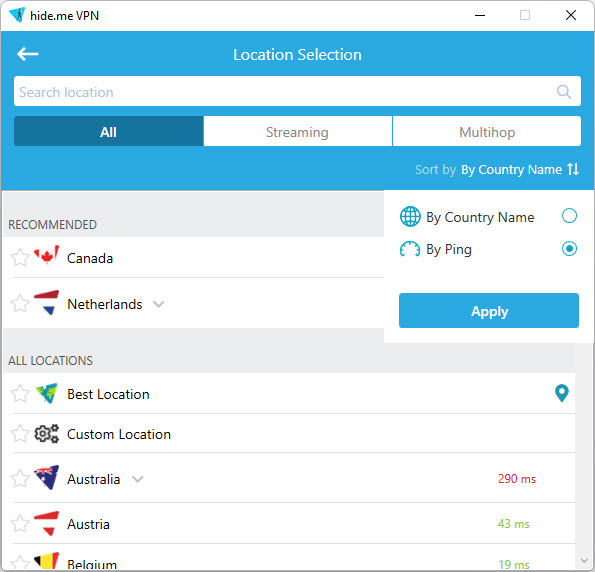 The good news? That's almost the only thing we're taking umbrage with when it comes to this little provider.
Hide.me security and privacy features
Well, we made it to the good parts.
Honestly, we don't usually expect much when we're faced with the task of reviewing free VPNs. Some of them are all right (like the recently reviewed PrivadoVPN and Atlas VPN), others… well, we know how we feel about the majority of them.
But everything Hide.me came strapped with blew us away! We haven't seen these many features with some of the most advanced and pricey providers, let alone a VPN with a free option. But Hide.me definitely has junk in the trunk enough to fill a garage sale and then some!
We're getting ahead of ourselves.
Hide.me VPN passed every single security and leak test we found online. At some point, we think we were doing this out of spite, and yet, Hide.me managed to withstand all of them with absolutely every configuration we tried.
Wanna see?
No IP leaks or WebRTC leaks: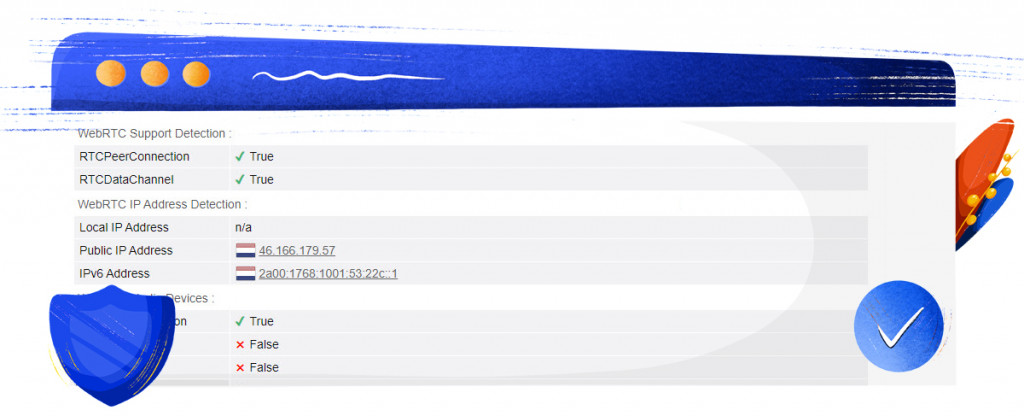 No DNS leaks: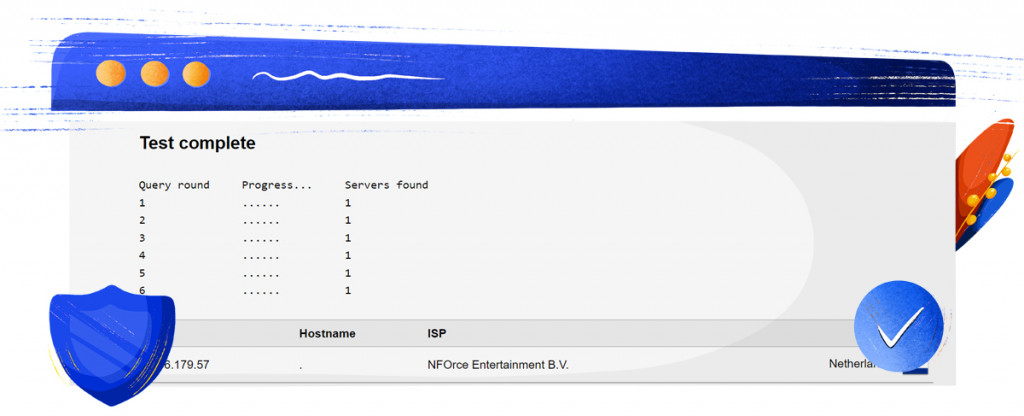 And even native IPv6 support: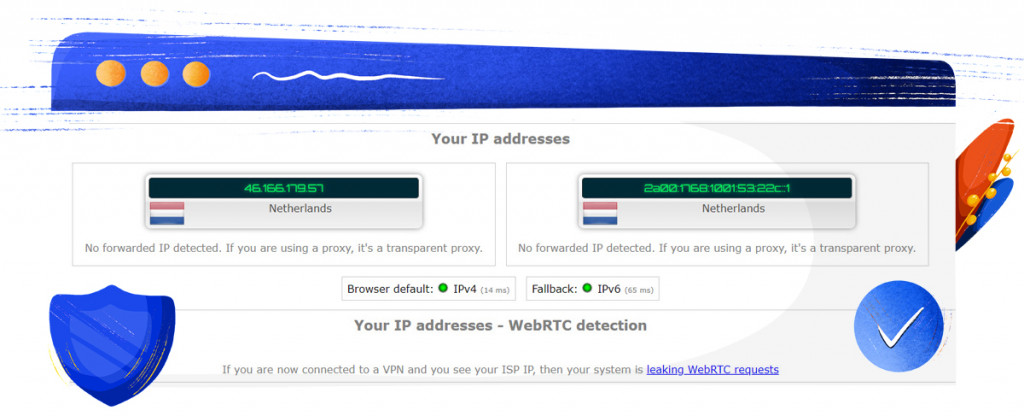 How does it do that? Well, by having every nerdy feature under the sun. So get comfy, there's SO much to get through.
Encryption
Just like any good VPN provider, Hide.me supports the latest in encryption technology.
With encryption up to 256-Bit, which is a standard trusted by governments and the military. So you know all your messages and My Little Pony fanfiction will be in good hands.
What Hide.me does differently is it has the option to take the encryption down a notch to AES-128 encryption with the IKEv2 protocol. While this gives you a bit more internet speed (which might be useful with Hide.me's speed issues), it significantly lowers your online protection.
128-Bit encryption is breakable, but, to be honest unless you're on the FBI's radar, no one's going to bother.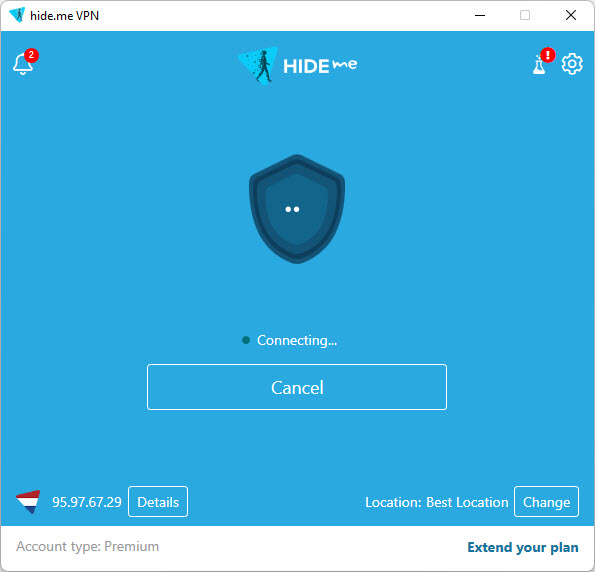 Protocols
Now we're talking!
Hide.me probably has the largest, and some of the most diverse connection protocols we have ever seen with any provider. With a total of 5 VPN protocols, the app gives you the option to use pretty much any VPN protocol that is considered at least somewhat secure.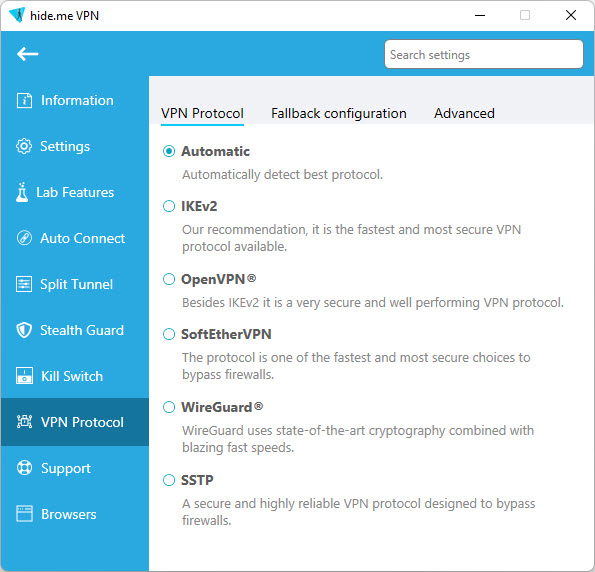 Is this overkill? – Oh, definitely!
But is it still awesome? – Yep! This is pretty much a security nerd's paradise!
So here's what you get with Hide.me and their insane protocol roster:
IKEv2 – This is the default choice for the Hide.me app, and we're pretty sure this is what you get whenever you use the VPN with default settings.
Great for mobile devices thanks to its innate ability to reestablish a secure connection in case of a network loss or switch, this might not be the best protocol for your security, but it's still a must-have.
OpenVPN – the gold standard of VPN technology, this protocol isn't Hide.me's favorite, but it's definitely up there on the list.
Fully customizable to be used with UDP and TCP, this protocol is extremely secure and available on every supported platform. It does, however, slow down your VPN connection significantly.
Softether – this is the first-ever VPN app we've seen with SoftEther compatibility. And this is a great option to have with a free version that does not give you access to WireGuard.
This unique protocol combines several tunneling methods to give you the best speeds, and versatility of use, while not compromising your online security. It is heavy, though, and the VPN takes longer to establish a secure connection. But it does have a bunch of advanced options for you to play around with.
Due to its limited compatibility, the protocol is only available for macOS, Windows, and  Linux.
WireGuard – the latest addition to the Hide.me roster, WireGuard is a must-have for any VPN that wants to make it into the big leagues.
Fast, and light, this is considered to be the future of VPN technology, and it is available with Hide.me,  but you only get it with the premium version.
SSTP – probably the weirdest of the bunch, Hide.me also features the SSTP protocol from Microsoft.
While this is a very out-there choice and the provider is just flexing at this point, this is a useful option for bypassing certain network limitations such as ISP throttling and network firewalls (since the protocol is an HTTP session, it appears as normal traffic).
However, its build, complicated implementation, as well as it being limited to the TCP port mean it will underperform most other protocols in nearly every aspect. And it's also only available on macOS, Windows, and Linux.
What's also worth a mention, is that Hide.me is one of the few VPNs that lets you tinker with the advanced protocol settings. You get to choose the ports, protocols, number of connections, and various modes you prefer to use with it. Just make sure you know what you're doing before you do it.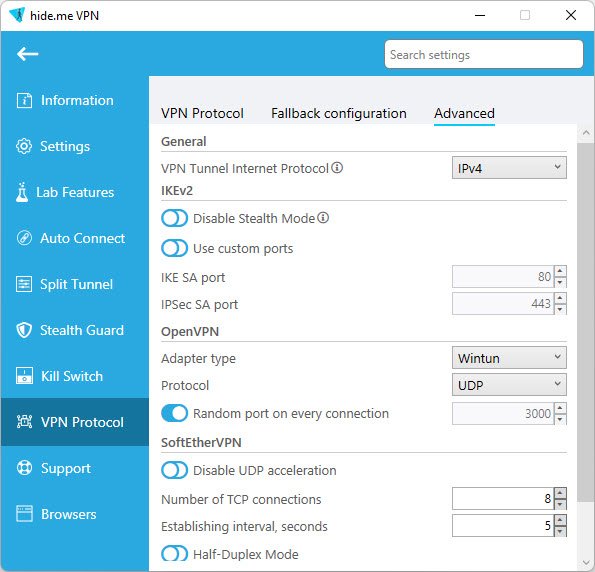 This definitely has a 'How much can we fit into one box' geeky vibe to it. And we definitely appreciate it!
Fallback protocol
A nifty option is being able to set up fallback protocols within the app.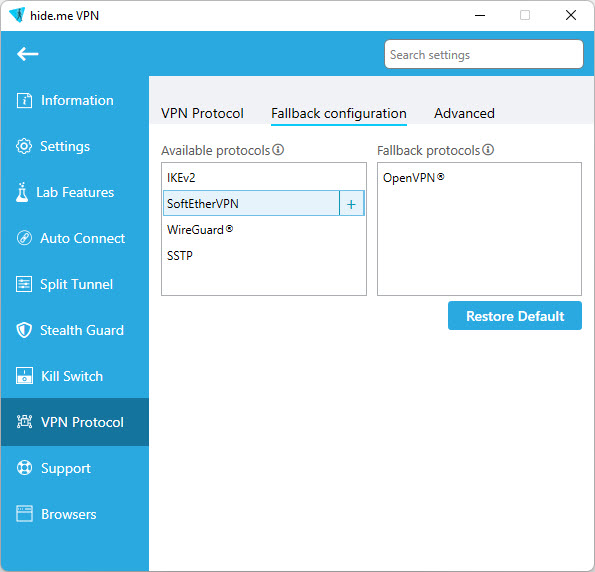 VPN protocols are a fussy bunch. They can be unstable due to network issues, or they can straight up refuse to connect from time to time because of a bad update, conflicting configs… dark matter interference. Nobody knows.
To prevent that, or, at the very least, make sure you still always get a secure connection, Hide.me gives you the awesome options of choosing fallback protocols. So if one fails, there will be another one to pick up the slack without you having to go and switch them manually.
Pretty awesome! As long as you don't forget to set everything up manually.
Logging policy
When talking about logging policies, free VPNs rarely end up on the list of the good guys. But Hide.me is definitely there to redefine the landscape.
First of all, by its own admission, Hide.me VPN is a strictly no-logs VPN provider. This is great, but they all say that, don't they?
Well, it gets better.
Hide.me was also one of the first, if not the first VPN to go through an independent security audit. It was officially certified as a no-log VPN in 2015 by DefenseCode LTD. And even though the provider has not undergone any independent audits since then, that's still one heck of an endorsement.

As though that was not enough, Hide.me is also part of the VPN Trust Initiative by i2Coalition that was created to define and promote the best practices in the industry and make sure VPNs have the best interests of the users in mind.
And if that's still somehow not enough, Hide.me also publishes an annual transparency report, that documents every action filed against the provider and its users, why was the motion filed, where it came from, how they handled it, and how everything got resolved.
Phew!
From the service and software perspective, though, the VPN app does register some of the data like the connection logs, as well as the amount of data used to update the free VPN limits. However, to make sure this data stays private, Hide.me uses randomly generated IPs.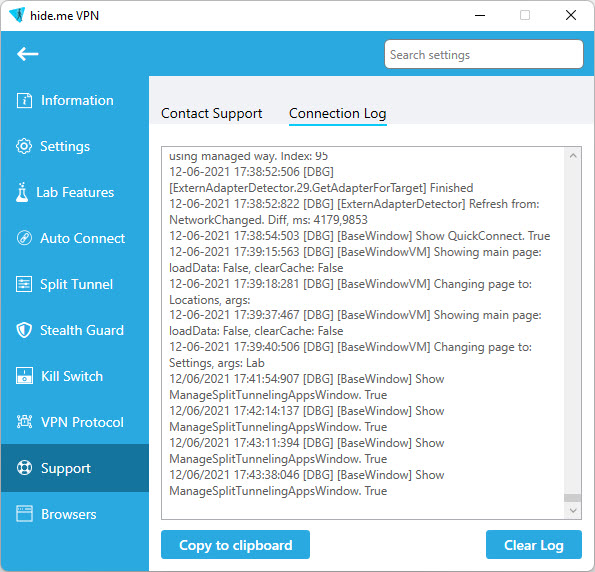 All of the information this VPN has is being transferred with a layer of encryption and is stored on fully encrypted servers that get wiped from any and all of your information every once in a while. Even the email you use to subscribe to the VPN is kept encrypted.
Now if that's not trustworthy, we don't know what is.
Kill Switch
Pretty much every VPN we've tested comes with a Kill switch. And so does Hide.me. However, these guys take it to a whole other level.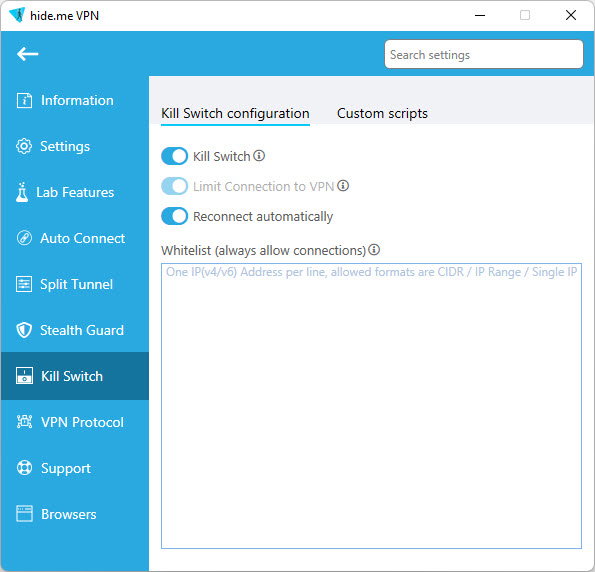 First of all, Hide.me has a kill switch that just works. No breaking your connection in half to the point where you have to go and relaunch core configs manually (yes, we're talking about you, Atlas VPN), no cutting your connection any chance it gets (that's you, VyprVPN).
Hide.me's kill switch features does exactly what it's intended to do:
If the VPN connection drops, it blocks all incoming and outgoing traffic until a safe connection is restored.
It keeps you safe and secure at all times.
It prevents any kind of leaks until you re-establish a secure connection.
But as you have probably come to expect by now, Hide.me manages to take even something as basic and as straightforward as a kill switch feature up to eleven, with some add-ons:
It gives you the option to control local network connectivity while connected to a VPN (basically meaning being, or not being able to connect to your printer while using a VPN).
Automatic reconnect feature, which makes the app automatically re-establish a secure VPN connection, and we couldn't think of a reason to ever switch this option off.
A whitelist option, which allows you to manually add trusted IPs, IP ranges, and CIDR notations that will exclude Kill Switch actions when you're on a trusted network.
And finally, it has a mind-blowing option to add your own custom script that will execute upon kill switch events – when the kill switch is triggered, or after the VPN re-establishes the connections. Now, that option comes with a safety warning, and we were too cricket to try it, so proceed at your own risk.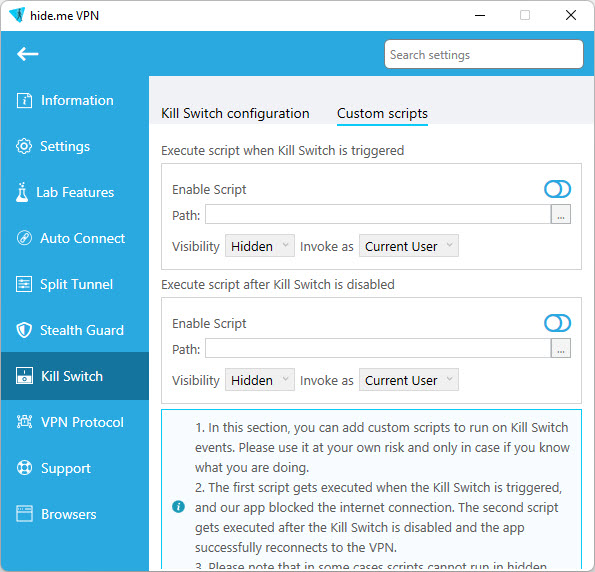 Stealth Guard
A kill switch not secure enough for you? Well, in that case, Hide.me came up with Stealth Guard.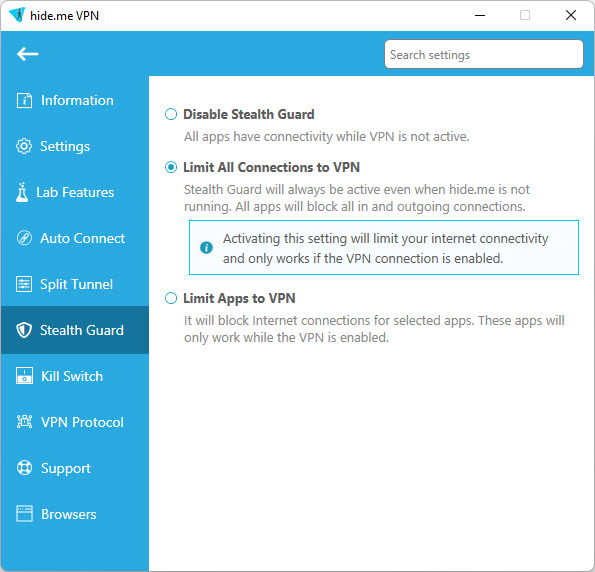 Stealth Guard is basically a kill switch on steroids (or what VyprVPN calls a regular kill switch).
This fairly unique feature gives you the options to:
Block any traffic to and from your device while the VPN is disabled.
Block the connection of manually specified apps to only work with a secure VPN connection.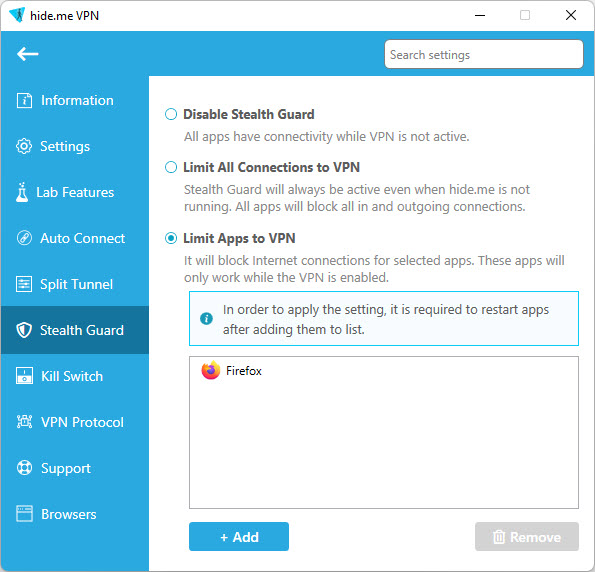 This is the feature for absolute security nuts who don't want a bit of traffic escaping their device without being encrypted. It basically guarantees that without a secure VPN connection, your Internet will not work either in its entirety or for select apps you don't want anyone to know about.
Pair this with the kill switch, and rest assured that you will never misplace your IP address.
Split tunneling
The second step in Hide.me's advanced features is split tunneling. A fairly easy concept that most providers either don't have or just can't get right.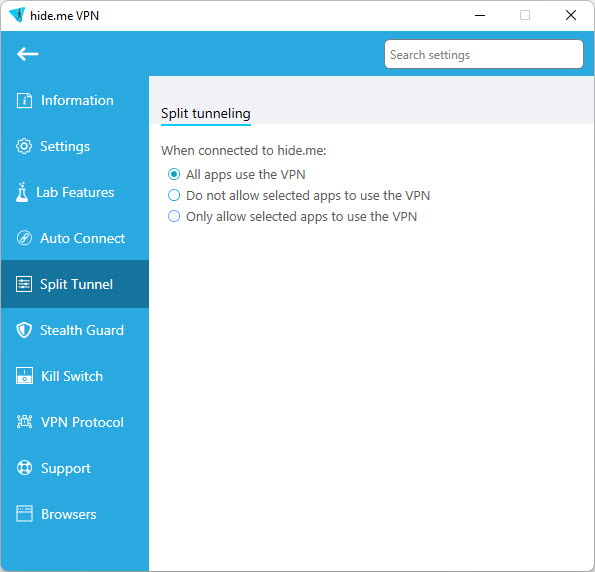 While the split tunneling feature is nothing as complicated and as mindblowing as the kill switch and some other of the provider's features, it does give you a few options to play around with. You can choose:
All apps to use a secure VPN connection;
Which apps bypass the VPN connection, and use your regular Internet connection;
For which apps it is absolutely mandatory to use a VPN tunnel, while the rest of your traffic goes through the regular connection.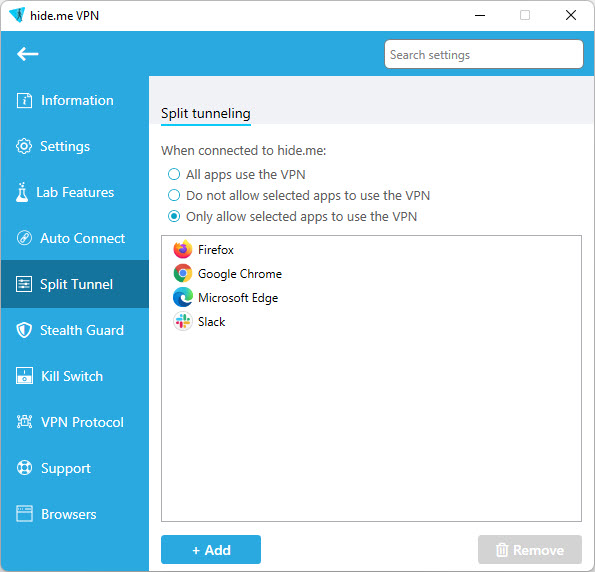 Might seem basic, but it's a split tunneling feature, so what would you expect? This is actually more than plenty.
The feature is only available on Windows, macOS, and Android devices.
Multihop
Hide.me is one of the few providers with a Multihop option (the others being NordVPN and Surfshark).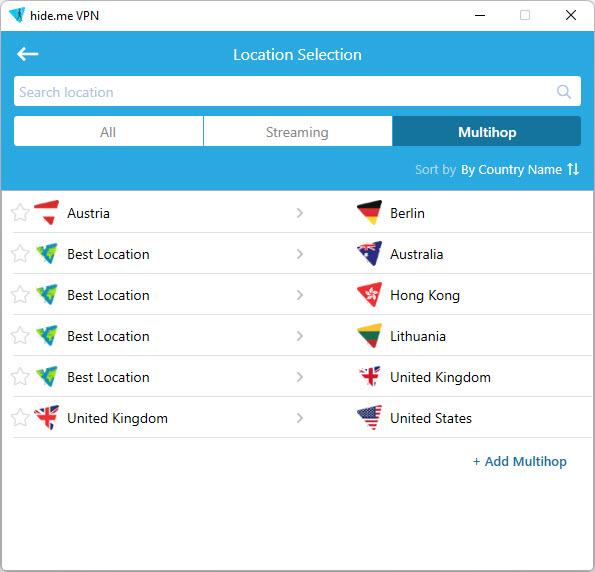 This feature relays your connection through not one, but two VPN servers. And each time it swaps your public IP address and encrypts your traffic, leaving no chance for anyone to trace it.
This feature is absolute overkill when it comes to online security, but it's still handy when:
You need to make sure you leave no trace online.
Since your connection is relayed twice, the second VPN server will have even less than no information about your original IP, location, etc. So even if someone manages to somehow get a hold of your secure connection (which would also require a small miracle), he will only be able to trace it back to the first server, but never to you.
You want to keep your data extra safe.
Since your data get encrypted on two separate occasions, it becomes even harder to crack, so you know all of your information will be safe.
Want to know all about Double VPNs?
Hide.me VPN's Multihop feature might lack some of the options, that, say the Double VPN feature from NordVPN (the automatic mix of two protocols, for one), but it definitely makes up for it in unrivaled customizability.
While other VPNs give you pre-defined double VPN options, Hide.me lets you choose which servers you want to use in your multihop connection. That's right! You can choose any relay server, and any exit server, and play around with it as much as you want.
Connect to Illinois through Melbourne for all Hide.me cares!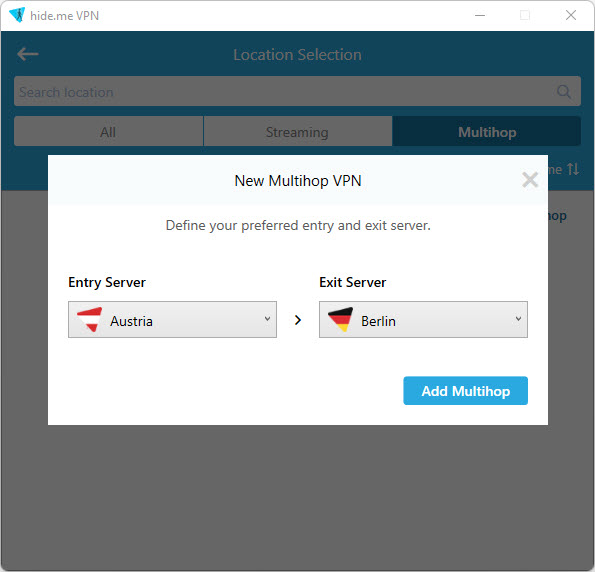 The only drawback of such customizability – the sacrifice of speed. And that really shows: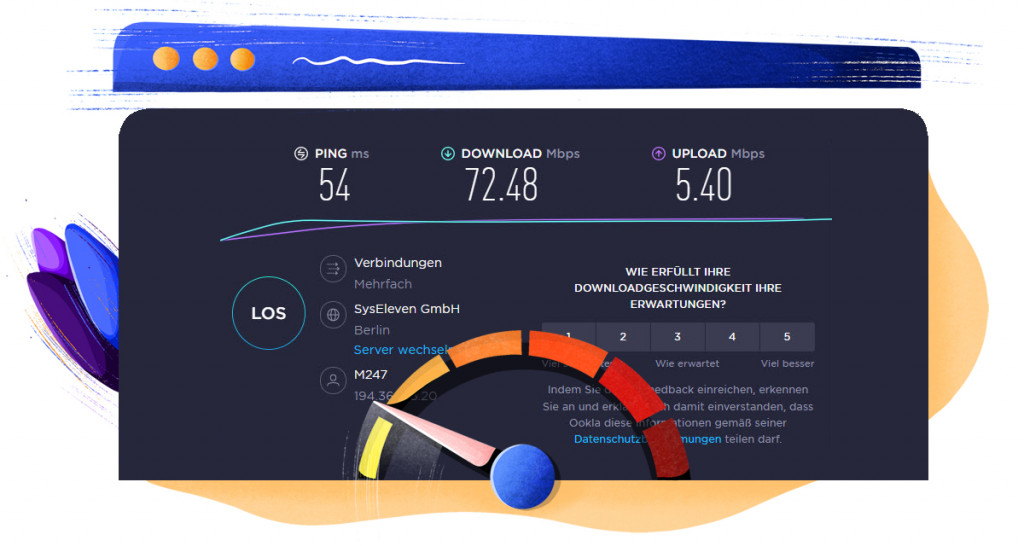 Still, though, we have not seen this flexibility with any other providers, and it definitely accounts for something. Even if it's just being a crazy gimmick.
Lab features
Now if you had a look at everything Hide.me has to offer and somehow thought: 'You know what, I don't think that's enough'. Well, you're in luck, since the premium Hide.me app also has a special segment called 'Lab Features' which is basically a hub for everything the provider is working on at this moment.
Currently, there are two features in beta that Hide.me is testing. And those are:
Hide.me Bolt
We believe that the Hide.me Bolt feature was created to address the speed inconsistencies with this provider, as well as the general drop of Internet speeds that VPNs cause. This feature is meant to accelerate the speed of your Internet when connected through a VPN and make your experience that much smoother.
Bolt channels all of your VPN traffic through TCP, while avoiding UDP to increase Internet speeds. It also gives you the option to enable custom Bolt DNS, to further speed up your connection.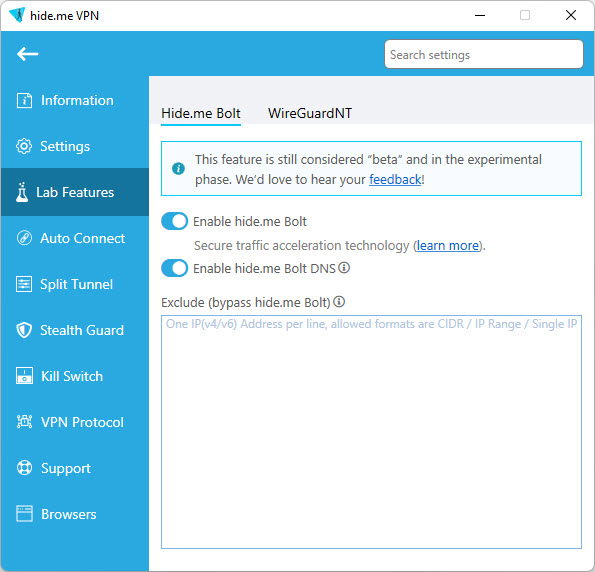 All the benefits from using this feature, as the provider himself put it, are theoretical. But that didn't stop us from taking the feature out for a spin with the fastest server the app offered us, and after a while, we managed to get the Internet speed nearly up to our regular Internet speeds: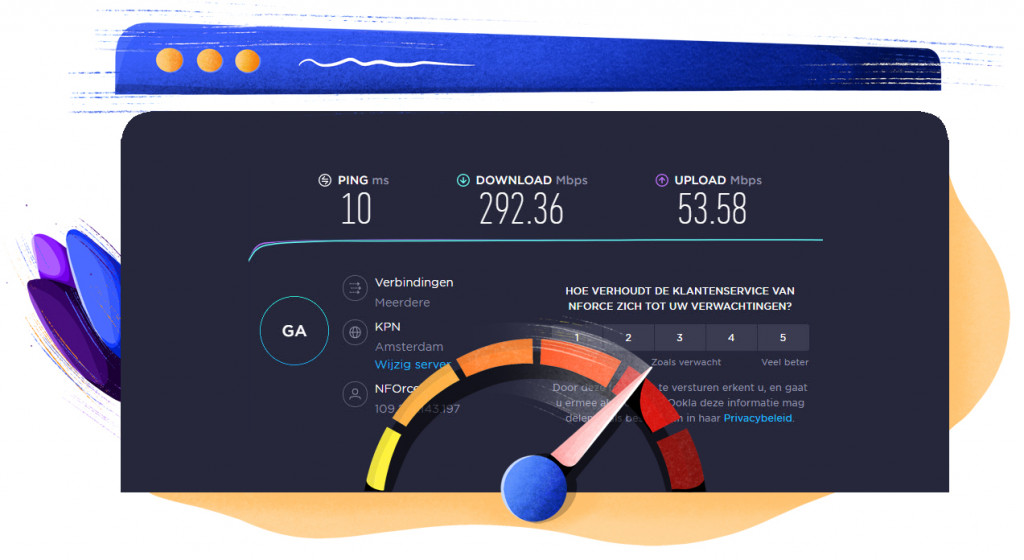 The feature is experimental and very much in beta, so our Internet connection was acting up and not showing up as active.
The Bolt feature is only available on Windows.
WireGuardNT
And, finally, there's WireGuardNT – another signature beta feature of Hide.me.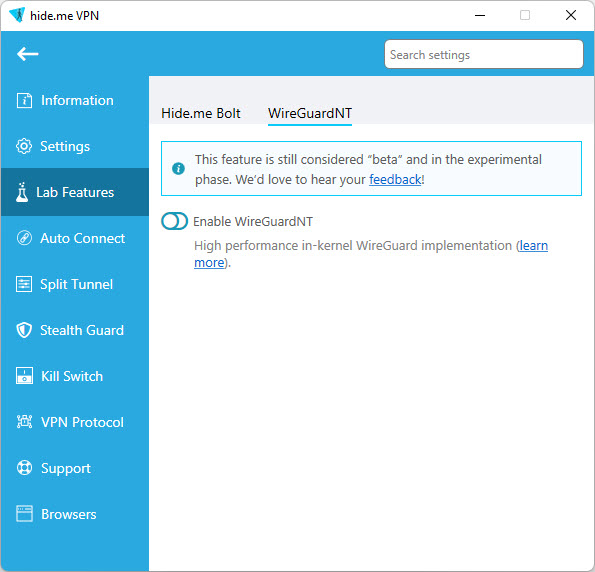 What this beta feature is trying to achieve is to make the WireGuard protocol run in the kernel, and not in the user space as it usually does. This might be all technical gibberish to some, but what the feature is trying to do is push WireGuard to its limit and achieve the absolute perfect and fastest implementation of the protocol.
This is ballsy, so, of course, we thought about trying this feature out. And here's the performance results we got when connected to the same closest sever as we did with the Bolt feature: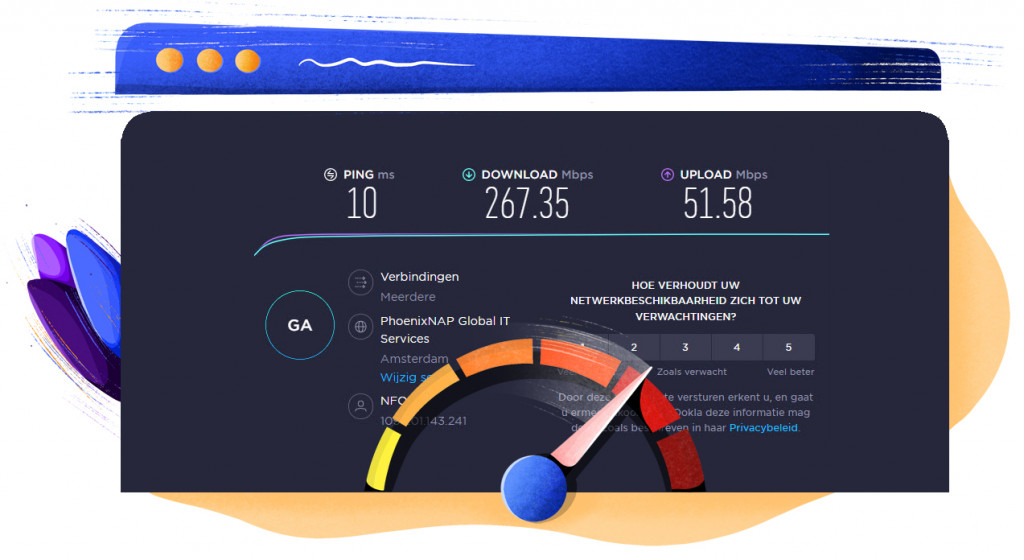 So it's pretty close but not as good as Hide.me Bolt… for now.
Still, though, this may very well be the next step in WireGuard evolution when taken to its absolute extreme. So we're excited to see where Hide.me takes this feature once they work out all the kinks.
Oh, and by the way, here's what happens if you combine both Bolt and WireGuardNT: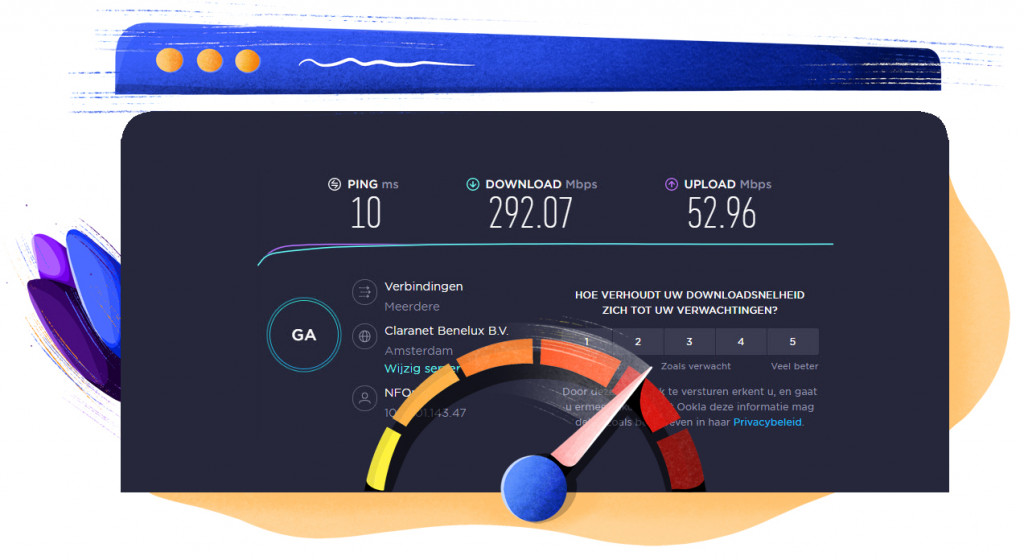 So that's just a 12% drop in download speeds compared to our regular Internet speed. This might very well be the best performance speed that VPNs are capable of these days.
---
The massive amount of options and features creates an almost endless selection of combinations. This creates multiple ways you can customize your VPN app to your own personal needs down to running your own personal scripts of certain events (WHAAAT?!).
This is one of the key features that makes Hide.me stand out and become a VPN in a league of its own. It also makes it absolutely obvious how committed Hide.me with providing you with the online security that very few providers are capable of delivering.
However…
And don't start flinging rocks just yet. Hear us out!
The multitude of unique and exclusive features, different possibilities of their combinations, which lead to your very own, personalized VPN experience sounds awesome. Especially to us nerds. But the more we tested the VPN the more we thought: But what about the average user?
This sounds a bit like having too much of a good thing, and this very well might not be the case. But imagine if you will a user, who's never dealt with a VPN before and just wants an app that does a job. And then you throw custom scripts in their sweaty face and make them want the VPN to come with an instruction manual. Does that really make for an improved VPN experience?
For some – definitely. For others – not so much.
What we're saying shouldn't take away from the Hide.me experience. Far from it. We still enjoyed the heck out of everything the app let us do. What we're trying to say, that much like IPVanish and some of the other VPN applications out there, this might be a VPN for the advanced.
And that's not to say that everything about Hide.me is sunshine and butterflies.
A few days into testing the VPN we have finally realized that none of the messaging apps we have on our desktops are working – we could neither send nor receive messages or calls. While that was definitely caused by the Hide.me VPN app, it may very well have not been their fault. There might be a feature that we forgot to disable/enable, and that's entirely on us. But with so many options, and features, and settings, after a few minutes of searching, we just couldn't be bothered and turned the VPN off.
See what we mean? We test VPNs for a living, and we gave up.
What we're saying, Hide.me, is building upon your incredible, one-of-a-kind features is great. But a simplified version of the app for us common folk could help you broaden your reach.
Hide.me apps
So one thing is certain: Hide.me is packed to the absolute brim with exclusive and advanced features that will leave your head spinning.
Now, this will make you fall into one of two categories – you either absolutely love it, or you have no idea what's going on? Why is everything so complicated? You just want to go home.
For a provider to make all of these features usable and accessible, it should come with a stellar app that'll help the user get the hang of everything the app throws at him, rather than run away screaming.
So how good are Hide.me's apps exactly? 
Well, for starters, a single Premium Hide.me account supports 10 simultaneous connections. Which is pretty generous. We'd say that your single Hide.me subscription is definitely enough to cover all of the devices you have and then some. Probably enough for a household of two.
And if you need more, then you're either testing VPNs, or you have a serious problem and we need to talk about it.
To make use of all those ten connections, Hide.me has pretty extensive platform support. The provider had dedicated apps for Windows, macOS, Android, iOS, and Linux devices, Amazon Fire TV, and routers (and they actually make a quick buck by referencing the Amazon routers they have support for on their app page. Hey, don't hate the player, hate the game.). On top of that, they also have browser extensions for Chrome, Firefox, and Edge (making this the second VPN with an extension for this browser, the other one being ExpressVPN).
So that's all ten devices covered. Done, done, and done. ✅✅✅
The apps are also available in a total of 18 different languages. And while it is a bit too obvious to the point where the letters don't fit the interface, we still appreciate the gesture.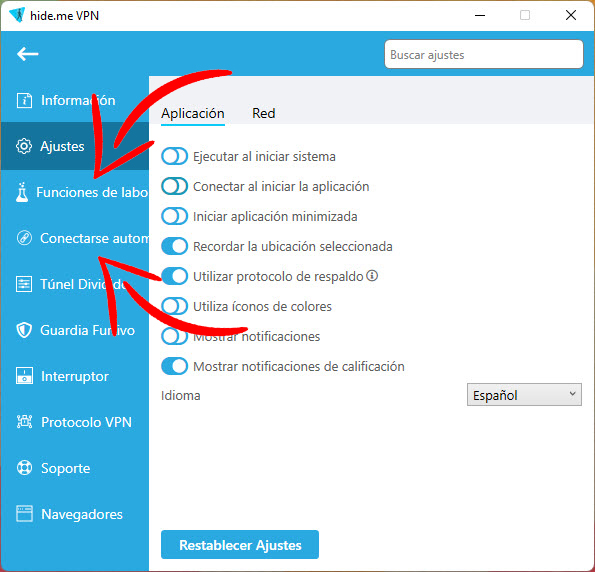 Now then, let's get into how good the apps actually are.
Desktop apps
As mentioned, Hide.me has apps for Windows, macOS, and Linux, which cover all the major operating systems. So that's good.
The apps look, feel and function pretty much exactly the same, except for some of the features not being available on every single platform (for example, Split tunneling is not available on Linux). But if we start listing every feature that's different on every platform, we're going to be here all day.
So how are the VPN apps in terms of usability?
Well, they were not made by the faint of heart, we'll tell you that much! There is going to be a lot of clicking involved.
If you're just looking for a VPN to keep you safe online, and the less thinking you have to do the better, then there's the usual big 'Enable VPN' button there for your convenience. All you have to do is punch it and feel safe.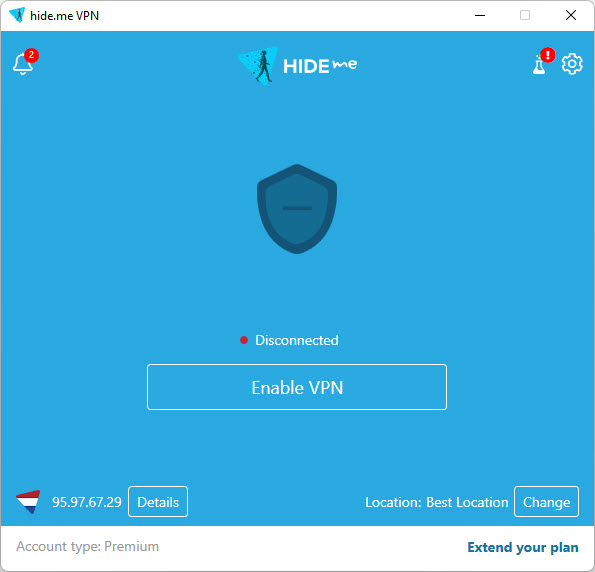 However, if you want something more from the app, you are going to have to do a lot of clicking, searching, and going 'Whaaaaat?'
The home screen of the desktop app is already packed with at least 5 buttons, all of which do different things, and it's not always obvious. If you want your VPN to connect to a specific location, you are going to have to find the 'Change' button, and scroll through a massive list of servers.
We're not going to hate on the Hide.me app for a few extra clicks and us wanting to have the user interface be a bit clearer. However, things can get really scary really fast once you make the decision to venture into the settings menu…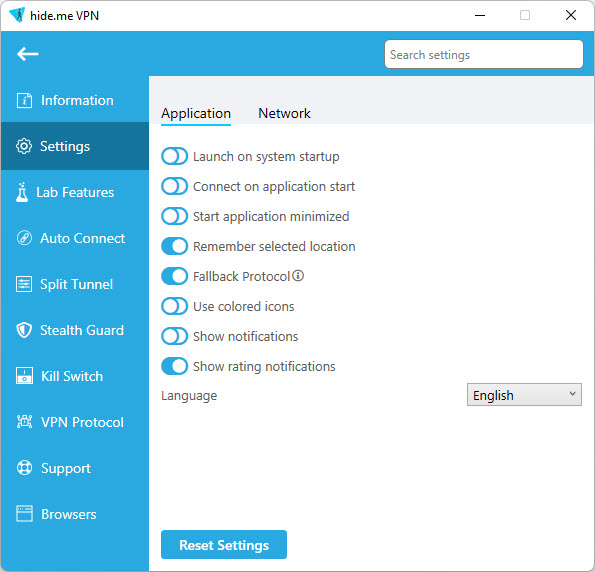 It is very clear that Hide.me is a VPN made for those that have gone through a whole bunch of rodeos, and who know exactly what they are doing. And this isn't anything bad, it just means that Hide.me is targeting a very specific demographic, and it is seemingly willing to stick to it. And that's great.
However, the insane amount of complicated settings that can take you to another plane of existence can quickly become overwhelming to an inexperienced VPN user. You might just want to stream some extra Netflix content or give yourself a privacy boost, and writing your own custom scripts hasn't been a part of the plan this morning. Then again, playing around with some of the provider's settings can make some apps unresponsive, and it might take you some time to figure out what's wrong.
So tread lightly.
But hey, at least there's a big button to reset the settings. That should come in handy if you're the curious type!
Mobile apps
OK, the desktop apps are a tad too complicated. What about mobile?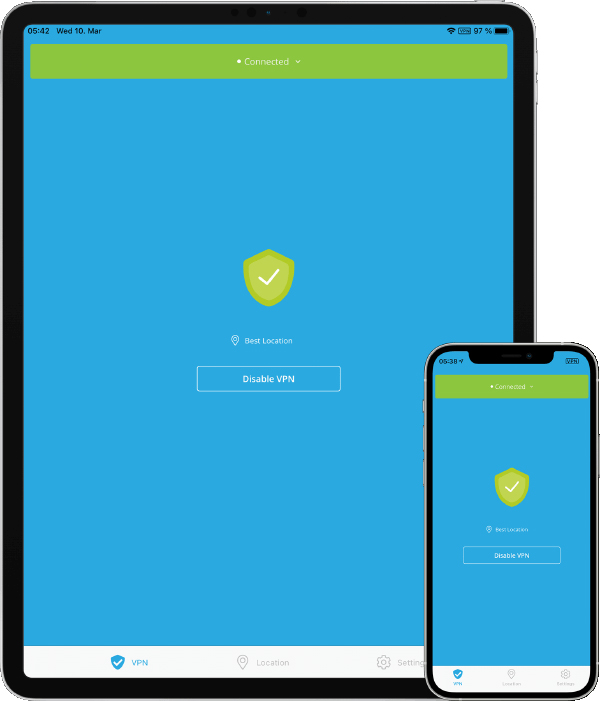 Well, surprisingly, they seem to be suffering from the exact opposite. It seems that the devs at eVenture realized that they won't be able to fit all of the features on the mobile apps, so they decided to just go with the bare minimum. They have also stripped down the functionality of the mobile apps, especially with the free version, which chooses all the settings and connection preferences for you.
This, however, has begun to change.
As of recently, the mobile apps started supporting OpenVPN, IKEv2, and WireGuard protocols, got a kill switch, split tunneling (only for Android devices). The latest addition to the mobile app functionality was the Multihop feature, which is also a great way to bring your data Internet to a halt.
The free version, however, is still limited in functionality. It does not allow you to choose the servers manually and simply connects you to the closest one. The free desktop version, however, gives you full control over where you connect to.
Lots of users have also reported the mobile app constantly logging them out, and being weird with upgrades and account handling. Personally, we did not have that issue with the mobile app, but we'll save our frustration for the browser extensions.
Anyway, the biggest gripe we have with the Hide.me apps is still the user interface.
Even though the mobile apps are stripped down to their basics, they are still pretty difficult to navigate and customize to your personal preference. This is probably the one time that we enjoyed the desktop VPN app better.
Browser extensions
Hide.me has browser extensions for Chrome, Firefox, and Edge browsers. And these are the weakest of the bunch.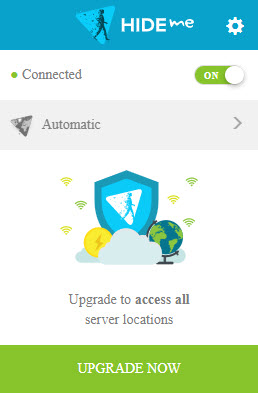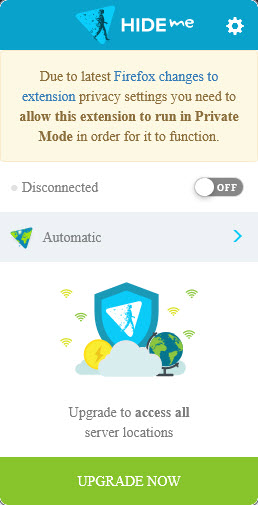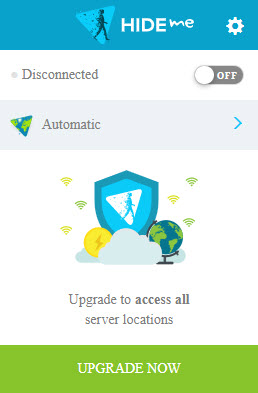 It's difficult to call the Chrome and Firefox apps actual VPN extensions. Even the extensions themselves call themselves proxies. But whatever you decide to call them, they kept breaking our connection, conflicting with other extensions, and generally acting up like the most spoiled children.
The settings are basically non-existent here.
The extensions give you fewer servers to connect to, and just two features: WebRTC leak protection and SOCKS. Both are nice, but there are so many things that you can do with app extensions, it's kind of a shame that Hide.me doesn't take advantage of that.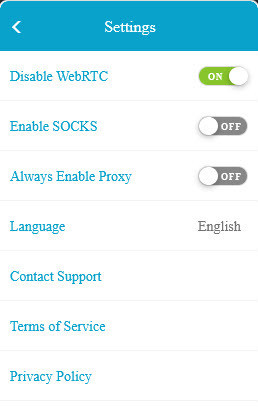 But, perhaps, the most annoying problem with the browser extensions is the same one so many users had with the provider's apps: It's incredibly difficult to switch from a free to a premium version even if you have one.
There's just no option to log in or switch to the premium version, so you're basically stuck with the app constantly screaming at you to upgrade. But even if you do, that doesn't stop the extensions from killing your connection half the time.
---
So the Hide.me apps are a bit of a trip from "everything AND the kitchen sink" to the absolute bare minimum. While we didn't outright hate any of the provider's apps – there are definitely much worse ones out there – they do feel a bit of work-in-progress still.
The most interesting thing about the Hide.me apps we found was how distinctly different they are. And the ideal Hide.me app would probably be some kind of unholy mixture of the three.
However, all of the apps are very much serviceable, and the most important thing about them is – they get the job done like few others.
Hide.me and streaming services
You'd think that a VPN that made a name for itself as being all about security for everyone wouldn't be as good at streaming unblocking.
On the contraire! Hide.me can do streaming too. Boy can it!
What we really like about this provider is that it doesn't tell you it can do something if it can't. The Hide.me app has a dedicated 'Streaming' server list, which contains all of the locations that the VPN can crack. Those include Australia, Canada, France, Germany, Italy, Japan, Turkey, the UK, and the US.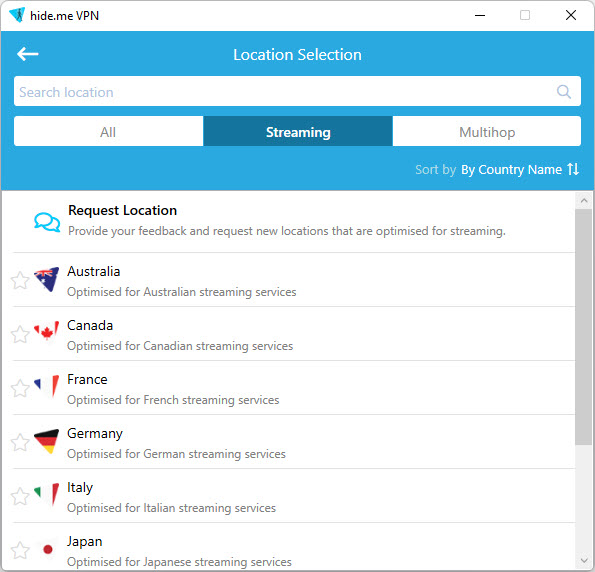 So you immediately know what you're getting into. And you immediately know whether this VPN will work for you if what you're looking for is streaming.
The only downside? Much like most of Hide.me's advanced options, streaming is only supported with the paid premium version of the application.
Now then, how well does Hide.me work with some of our favorite streaming services?
Netflix
We have to be honest, it's been a while since we've seen a VPN work as smoothly with Netflix as Hide.me. With even the bigger providers dropping the ball of Netflix unblocking from time to time, Hide.me is still at the top of its game, unblocking nearly every library it has servers in.
Don't believe us? We've just managed to watch Spider-man: Homecoming on the British Netflix library. And how long has it been since you got to watch Marvel movies on Netflix?!

Want to know what a VPN gets you on Netflix?
Check out our extensive guide!
Disney Plus
Speaking of Marvel movies… Disney Plus unblocking went pretty well too and we could immediately enjoy Spider-man: Homecoming (among other Spider-man-related properties) exactly where it was supposed to be.
Not only that, but we could also get access to all of the foreign Disney+ platforms. So if you're looking to access your favorite magic-infused streaming platform while traveling, this is one of the few VPNs that can get the job done!

Find out what makes a good VPN for Disney Plus
HBO Max
HBO Max generally has some of the toughest blocks. Even some of the bigger providers are having trouble unblocking the streaming platform from time to time.
And yet, and yet Hide.me cuts through them like they are nothing. So enjoy all the exclusivity that comes with HBO, courtesy of Hide.me!

Want to know how to access HBO Max anywhere?
We've got you covered with one of our best guides!
Hulu
As with all American streaming services, Hide.me managed to unblock Hulu with zero issues.
Just remember to have a payment method handy if you are looking to get the platform from outside of the US.

Want to know all the intricacies of Hulu access?
Funny, we have an awesome guide for that as well!
Showtime
Showtime just might be gaining ground on HBO these days, which, coincidentally, makes it a perfect time to unblock the streaming platform.
And Hide.me breaks through all of Showtime's restrictions… well… like it's showtime!

Can't seem to get Showtime outside of the US?
We have a step-by-step guide you can follow!
Paramount+
Paramount+ is one of the latest additions to the streaming scene. And we don't know whether it hasn't figured out VPN blocks, or Hide.me is just too good at cracking American streaming.
Hide.me lets you stream everything that the joint effort of Paramount Pictures and CBS has to offer, with as much TV, movies, and sports as you can handle!

Check out everything you need to know about accessing Paramount+!
You get it, right? Everything in the US works absolutely fine. Prime Video, Crackle, Tubi, any and all of the free streaming platforms available in the US, even fuboTV. You name it. Hide.me will handle it.
But contrary to popular beliefs, there are streaming platforms outside of the US. So how well do those work?
BBC iPlayer

, Channel 4,

ITV HUB

and other British streaming platforms

Even though some of Hide.me users have reported having problems accessing some of the most popular British streaming platforms, we have not been hit with the same issue. Don't believe us, we have just watched Spider-man: Far From Home on BBC iPlayer.


Want to know what you can see on BBC iPlayer?

Check out our guide on everything BBC!

The British streaming services were a lot slower than the American ones, though. And while it wasn't anything game-breaking, the guys at Hide.me might want to tinker with their Smart DNS configurations there.
Other foreign streaming services
So what about non-English streaming platforms. Would those work for once with a VPN provider?
Well, here is where things get a little bit wonky and it really depends on what you're trying to unblock. We couldn't get any of the German streams, platforms, or Netflix to work, since the app was sending us to the UK. The same goes for Canadian streaming – we just couldn't get the streaming platforms unblocked (Netflix worked like a charm though!).
Japanese Netflix wouldn't let us through, though we eventually managed to get it working, and immediately watched all of the Spider-Man movies Japan seems to be hoarding. The same goes for Italian streaming [it working, not the Spider-Man movies].
We're sure you get it by this point.
Checking whether a specific streaming platform works with Hide.me quickly becomes a task in itself. So if we were to see whether every Turkish streaming service works, we would be here all day.
Broad strokes? Chances are – the streaming platforms in countries that Hide.me promises to be able to unblock have a good chance of working. However, even though the VPN works better than 90% of other providers when it comes to streaming, it's still not a guarantee. But at this point, no VPN provider can guarantee anything when it comes to streaming.
Hide.me and gaming
Security, privacy, and streaming are good and all, but VPNs can do gaming as well. Lowering latency, bandwidth throttling prevention, accessing games that are not available in your neck of the woods – and all that good jazz.
So how well does Hide.me work with your shooters, RPGs, and whatnot?
Pretty good, actually!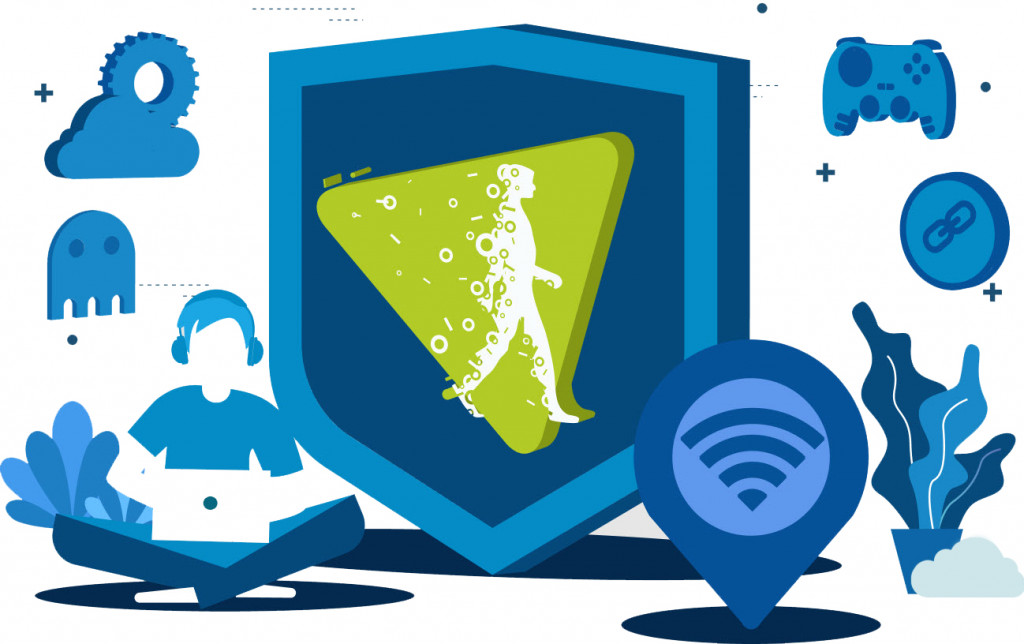 Now, lowering latency is probably not the best reason to get Hide.me. It does struggle with speed at times, and VPNs are generally not the best tool for that particular motor mission. However, everything else works pretty well.
Thanks to its large number of servers (particularly in Europe), there's always one around the corner to keep the ping and the speed drop to a minimum, and we didn't encounter it affecting our game experience in any negative way (especially when you have all the extra security features disabled).
And the pretty extensive server network in the Asia Pacific also ensures that you will always get your hands on the best possible prices.
So good on you, Hide.me! Game on!
Hide.me and torrenting
So far – awesome stuff.
What about torrenting? Hide.me isn't going to faceplant in view of the finish line, right? Right!
Hide.me is as accepting of the torrenting and downloading lifestyle as a VPN can be. And when most big VPN providers are scared of mentioning it at this point, Hide.me straight-up tells you it has no problems with you downloading to your heart's contempt.

Check out all the reasons you need a VPN for torrenting!
Hide.me actually stands out from most VPN providers when it comes to torrenting. Here's but a few things that make it especially efficient when it comes to downloading:
First of all, ALL of Hide.me's servers are torrent-friendly.
This means you are not bound by the restrictions of the providers and are free to choose the closest and fastest server for all of your torrenting and downloading needs.
The provider's stellar security features make sure that no one will ever be able to see what you're downloading. Or even the fact that you have been downloading altogether.
Remember Stealth Guard – that weird Kill Switch turned to eleven? Well, here's where it comes into play.
Stealth Guard allows you to tie your torrent app to your VPN connection and make absolutely sure that if you're not running a VPN, there is absolutely no way your torrent client (or any other downloading software) is.
So it's a pirate's life for you!
Oh, and by the way, even the free version of the Hide.me app supports torrenting, which is pretty awesome for a free VPN. We mean, it will cut your download speeds five times, and you won't be able to download that much with a shoe-string budget of 10 GB. But still!
Hide.me subscription plans and prices
Ok then. So far, the service that Hide.me hit us with was pretty amazing and we were surprised that it doesn't have as many users as this provider definitely deserves. Perhaps the subscriptions plans and prices will be able to shed some light on the matter at hand.
Well, the price tag for Hide.me is pretty steep. And it still has better deals than some of the other premium VPN providers with a free version, such as the recently reviewed PrivadoVPN. And with everything that the provider's premium version hooks you up with and given how well everything works, we'd say it's definitely worth it!
Unlike most other VPNs out there, Hide.me has 4 whole different subscription plans:
A 1-month subscription that's $9.95.
A 1-year plan that will set you back $6.66 per month.
The 2-year subscription that will be just $3.84 a month, making it the best plan all around.
A free version, which will cost you nothing but will come with its own limitations.
Now, if you have heard about Hide.me, it's probably because of their free version. And that's a free VPN that we've trusted for years (which doesn't happen to us often, given our history with free VPNs). So it makes sense to look into this plan separately.
Hide.me free version
Trustworthy free VPNs are as rare as a leprechaun riding a unicorn through a double rainbow. So when we find one you know it comes with all of the limitations.
And, of course, so does Hide.me. The question is: Do those limitations make the free version of the VPN less usable than the premium?
Another good question is: Is the free version of the VPN still one you can trust?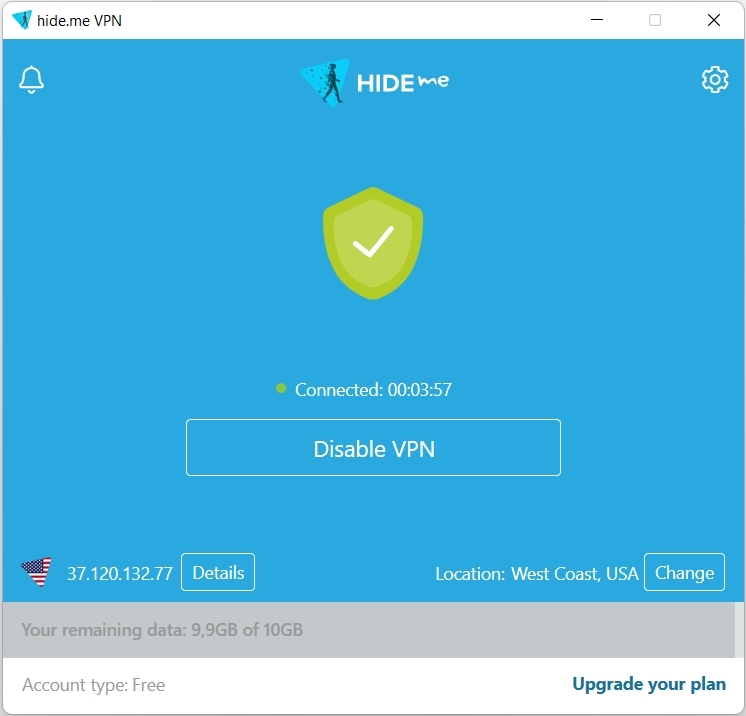 Well, the second one is easy: Absolutely! Hide.me is fully committed to providing everyone with the online security, privacy, and safety we deserve. Which is something we really admire.
But what about the limitations? Well, there are a few. So here's what you'll be confined to:
Data limit of just 10 GB per month (as opposed to the unlimited data you get with the premium).
Only five locations available (which are: Canada, Germany, the Netherlands, and a couple of servers in the United States).
Only one connection support (as opposed to the ten devices you can use with the paid version).
No dynamic port forwarding option.
No multihop option.
Streaming unblocking is not supported.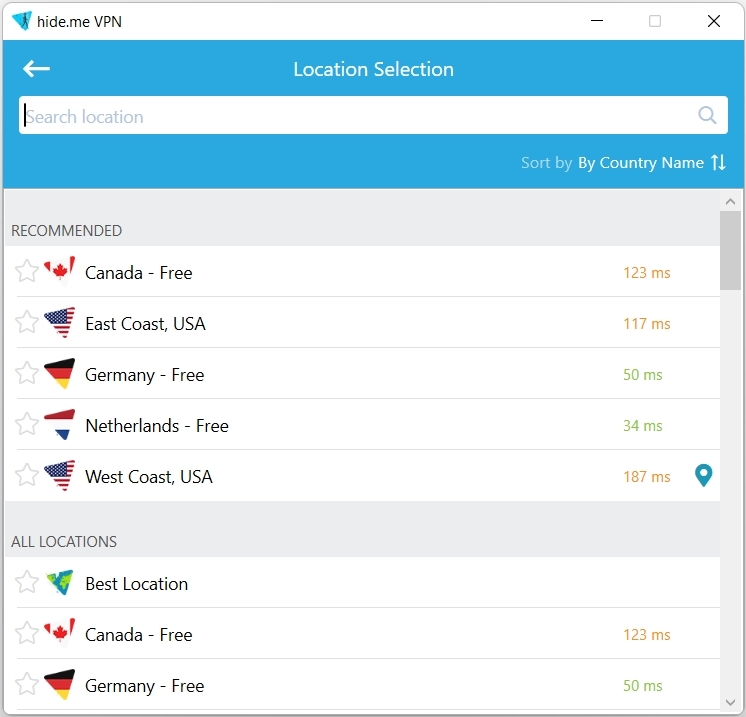 Depending on what you are looking for in a VPN, the free VPN restrictions can be either limiting or very limiting.
The biggest thing here is the 10 GB data limit per month, which would probably not be enough for someone who uses the internet extensively [don't we all?] and wants to stay protected at all times. However, if all you need is to stay protected on public Wi-Fi, or use the VPN for some secure banking or browsing from your phone, the amount Hide.me lends you should be enough.
All that said, we can't say that the restrictions Hide.me has on their free VPN app are unfair. And even those seem to have come out from a lot of testing given that in previous years the provider had a much tighter monthly data allowance.
So the question on everyone's mind is: Is the premium worth upgrading to? In our eyes, this is not worth the debate: Definitely!
But if you're still in doubt, the VPN also comes with a 30-day money-back guarantee. So you are not risking anything if you give it a try to see all of Hide.me's awesomeness firsthand.
Payment options
So let's say we managed to talk you into trying Hide.me premium. How would you pay for one?
Well, Hide.me supports quite a few payment options, which include:
All the major and popular credit cards.
PayPal.
SEPA.
Amazon Pay.
Bitcoin and other cryptocurrencies.
While some payment options are sorely missed here (Debit cards, iDeal, Adyen, etc.), limiting the app's popularity in countries that don't trust Visa as much, that's still plenty of options to get a much-needed VPN subscription.
Hide.me's customer support
VPNs are constantly threading the needle with everything they are capable of doing. Streaming services come up with new IP address black lists, local networks implement new levels of firewalls and blocks. And for that reason, VPNs should be able to not only combat these new restrictions but also walk you through them. And this means good customer support.
This is especially true for Hide.me, since the provider is packed with features so exclusive, you can't really Google them.
So how good is Hide.me's customer support?
Well, they have two support options:
A support website, that will leave all the searching for answers up to you.
Email support that is masquerading as live chat.
Both merit a tiny review of their own.
Support website
Hide.me has a very extensive support website. So much so, it gets overwhelming the first time you visit it.
FAQs, knowledge bases, setup guides, support topics, the option to submit your very own support ticket, even talking to the Hide.me community to find quick and custom solutions to any and all of your queries with the help of like-minded Hide.me fans. Hidemes? Hidemeites? No, that's a reach.
This is a lot, and this is enough. However, it does feel that it requires you to be absolutely into this. For someone who's just looking to login into the same premium account from different devices, this can quickly become way too much. But the information is definitely there.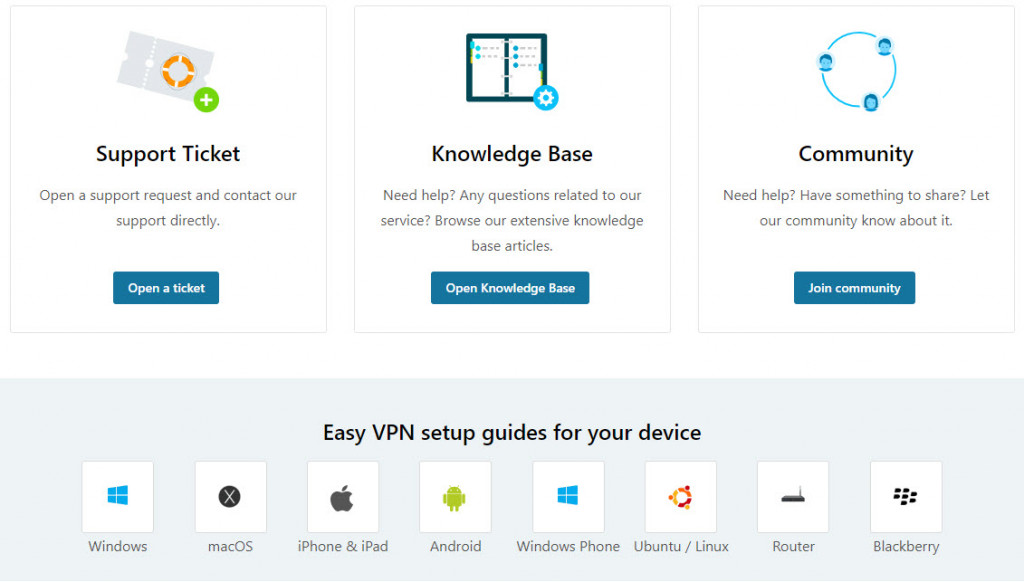 24/7 Live Chat
Hide.me does have a live chat option, but we wouldn't go as far as to call it 24/7.
On multiple occasions the chat would switch to a submission form for email support, and, well, that's yet to come.
Anyway, the live chat option is there and is pretty fast, but the help you get usually links you to articles and guides that are already in the knowledge base. While a personal touch would be very much appreciated, we can't really blame them. When you have a support website that covers everything but the meaning of life, you might as well use it.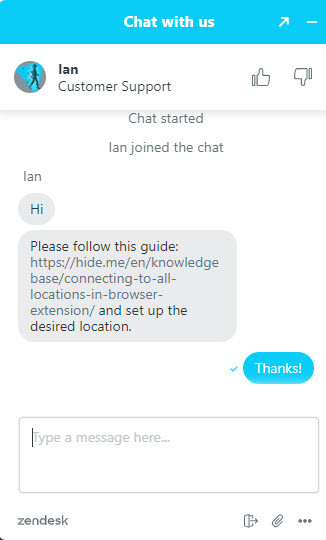 Email support
And then there's support over email.
So you probably want to know how good this one is? That's the thing: We have no idea! They have never answered our questions!
This might be because they are overwhelmed with requests, it might be that we haven't waited long enough (at the time of writing it's been 48 hours), it might be that our questions were lame and they expect the FAQ section on their support website to handle all of this. Either way, we're still waiting.
The bottom line
Hide.me is an extremely interesting VPN provider. One you do not come across often. And it's definitely not one that exists for the faint of heart.
Hide.me stands out as one of the best VPN providers that put online security, privacy, and innovation above all else. And when you go down the rabbit hole that is Hide.me, it seems that they just might be in it for the sake of seeing how far they can take the technology.
And while that's amazing on its own in the world where providers launch their VPNs before they're actually working, Hide.me takes this one step further. They make this level of personal security available to everyone with their stellar, powerful, and trustworthy free VPN option.
With this, and everything else it has, this provider definitely stands out from everyone else.
While most providers are looking at what the other guy is doing and copy-pasting it, and others are busy pumping out new software to become all-around online security suites, Hide.me doesn't seem to care. Hide.me fully committed to the fascinating world of VPNs.
On the other hand, while this kind of commitment to VPNs and everything they can do is extremely admirable, and this is the kind of mindset that pushed the industry forward, oftentimes Hide.me feels like somebody's passion project, that truly doesn't really care about what anybody thinks.
Lots of features that the VPN app heaves your way seems to be developed by privacy nuts for privacy nuts. So picking this app on the fly for some extra privacy just because it has a free version might backfire really quick. Your grandpa toying around with the customs scripts feature upon kill switch events is a power outage waiting to happen.
No. We firmly believe that Hide.me was created for those who are into this kinky cybersecurity stuff. And something tells us that Hide.me both knows that and is ok with this. And so are we.
In short. If you're crazy about all things VPN – Hide.me is probably the perfect VPN for you.
However, if all your looking for is some online safety and the occasional Japanese Netflix binger at a push of a button, there are providers out there that won't give you a panic attack.

Interested?
Find your own perfect VPN provider!
But if you think we're bashing Hide.me VPN. Stop. We're absolutely not!
Hide.me is about as bleeding edge as VPNs get.
But think of it this way: Hide.me is like that experimental car that runs on fusion. If that's your thing – go for it. It's an amazing piece of technology that might very well change the world. However, if what you're looking for is getting kids to soccer practice on time, you might want to look for something with cup holders.
What is Hide.me?
Hide.me is a premium VPN (Virtual Private Network) provider available on every major OS and Browser. It also has a trusted free VPN option with limited accessibility and monthly data.
Where is Hide.me based?
Hide.me VPN is based in Malaysia, with multiple offices being opened all over the world in recent years.
When was Hide.me launched?
Hide.me was launched in 2012 and is owned by Venture Ltd.
What type of encryption does Hide.me use?
Hide.me VPN supports encryption up to 256-Bit and utilizes a wide variety of the most trusted VPN protocols available today.
How to get Hide.me for free?
Hide.me VPN has a free version you can get from the provider's official website. It is limited in monthly traffic, features and only supports one connection.
How to use Hide.me with torrents?
All of Hide.me VPN's servers are torrents friendly. All you have to do to start torrenting is connect to the Hide.me nearest server, launch your torrent client and start your downloads.
Some of the Hide.me features, such as the Kill Switch and Stealth Guard pair particularly well with torrenting, allowing your torrent client to only work when you have a secure VPN connection established, making sure your IP and personal information will never be leaked.
When uTorrent starts Hide.me stops connection
This issue is most likely associated with some of Hide.me's advanced features.
In the app's settings make sure that the torrent client you are using is not blocked by either the Kill Switch or Stealth Guard.