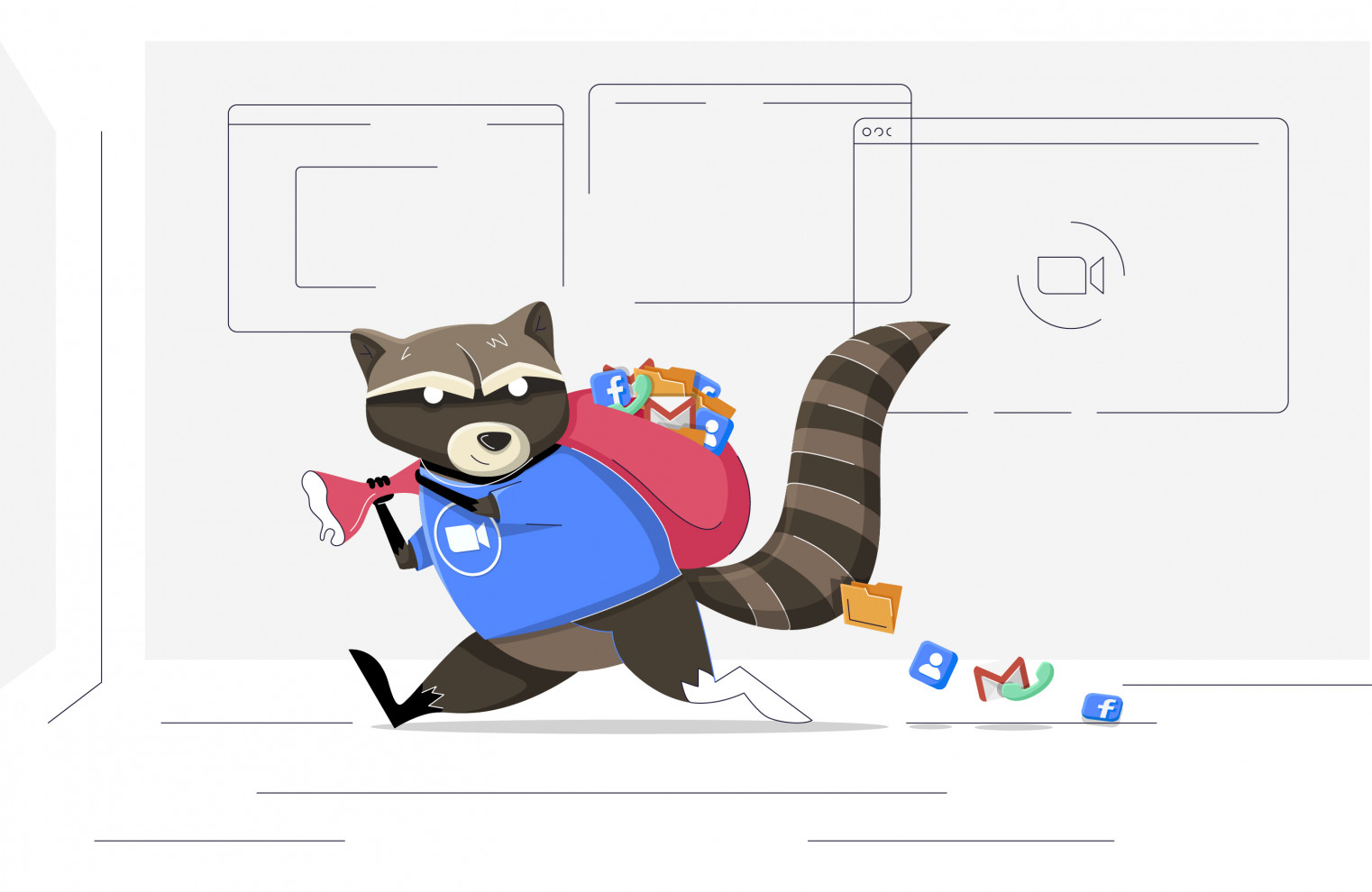 Communication in a coronavirus world: Zoom and online security
Online safety is one of the most critical factors to consider when operating on the Internet. Although there is no network that is resistant to attacks, a strong and effective network security framework is important for the protection of data. During the quarantine period, plenty of companies requiring their staff to work from home. A Videoconferencing app is an essential condition for remote work. But how safe is it? A number of Zoom users have risen significantly in use in the past couple of weeks. Zoom has become the main social platform for millions of users seeking to communicate with friends, relatives, classmates, and colleagues. In a word, it's good for anyone who wants quite a face-to-face contact, though only virtually, while practicing social distancing during the latest coronavirus pandemic.
Why is everyone using Zoom?
There are numerous factors Zoom has taken off and there are no other platforms that would cope with the task. Zoom is easy to set up, easy to use, and allows up to 100 people to enter a meeting for free. There's no wonder that Zoom is an effective online video meeting tool that lets people stay sociable during these extraordinary times. We could even say, that a new era of Zoom started during the coronavirus quarantine. It includes virtual schools for children, work meetings with remote coworkers, or improvised events with friends and relatives, and so on. However, the system was created as an enterprise technology tool, not a social media platform. As such, the organization was not intended to regulate user activity as other social media platforms might. How you can learn from Zoom's blog, the platform was built originally for business customers. The service offers advanced communication tools for any small company seeking to become a corporation in the future.
See also: Best VPN for your online privacy.
The main Zoom issues today
In general, the issues of Zoom fall into three different seals:
faulty privacy policy;
defective security protocols;
inadequate user settings.
Zoom privacy data collection includes a long list of information about you, such as user name, physical address, email address, phone number, job information, Facebook profile information, device or phone model, IP address, and any other details you generate or upload. And it uses all of these data for profit, against your interests.
Zoom's encryption is far from satisfactory. Firstly, the company says that it provides end-to-end encryption, but it does not. It only provides connection encryption, which means that everything is unencrypted on the servers of the organization.
The ease of use of Zoom makes it possible for troublemakers to "bomb" Zoom meetings, and for hackers to insert viruses into a Zoom system.
On Zoom, there is a default option that allows any meeting member to share their screen without permission from the host case. Everyone who has a connection to a public meeting can enter. Zoom links are shared in Facebook Groups and Discord groups, and can easily be found on Twitter and public event channels.
Zoom is a security and privacy disaster, but it has so far managed to escape public scrutiny because it was fairly obscure. It's all coming out now since it's in the spotlight.
See also: FaceApp, safe or not?
Several Zoom privacy tips
You are probably interested in how to secure your Zoom meeting? Within a few simple steps, you can significantly increase privacy and protection:
Firstly, set up a Zoom waiting room for the participants.
Lockdown the meeting until everyone has joined.
Do not publicly share on social media meetings.
You should also not share pictures of your Zoom sessions. When you take a picture of your Zoom conference, someone who sees this image will be able to see the associated meeting ID. It can then be used by uninvited people to try to join the meeting.
Disable other options, including the ability screen-sharing for nonhosts, and also the remote control function.
Finally, disable all file transferring, annotations, and the autosave feature for chats.
Nowadays, companies of all sizes and in all sectors are seeking to preserve business continuity with a totally remote, work-from-home staff. Social distancing and remote work have resulted in the fast growth of collaboration platforms, and weaknesses and security problems have been found. Zoom immediately arose as a solution for meetings during the quarantine era. Whether its virtual schools for children, work meetings with remote coworkers, or improvised events with friends and relatives, millions of people have taken to Zoom. A lot of information came about Zoom sharing personal data with Facebook, and end-to-end encryption did not protect users. A variety of bugs has also been found in the Zoom code itself. Zoom has been very attentive in its efforts to fix and resolve these problems but you can also protect yourself during a conversation by using some tips which were mentioned above.  If you are eager to find out more about privacy on the web nowadays, you can also read our article about anonymous browsing.
VPNs that work with zoom
Security, speed, and ease of use are the main criteria that make a good VPN for Zoom. Find out more about basic VPN potions in the article What Is a VPN?
ExpressVPN
ExpressVPN ensures that your online communications on the Zoom are private. It is the ultimate no-log VPN provider that guarantees none of your data is collected.                                 
ExpressVPN
Reliable VPN for Zoom`s online conferences
CyberGhost
This awesome VPN combines an extremely easy-to-use and master interface with top-notch security.To secure your connection online via Cyberghost VPN automatic Kill switch 
CyberGhost
The safest way to use Zoom