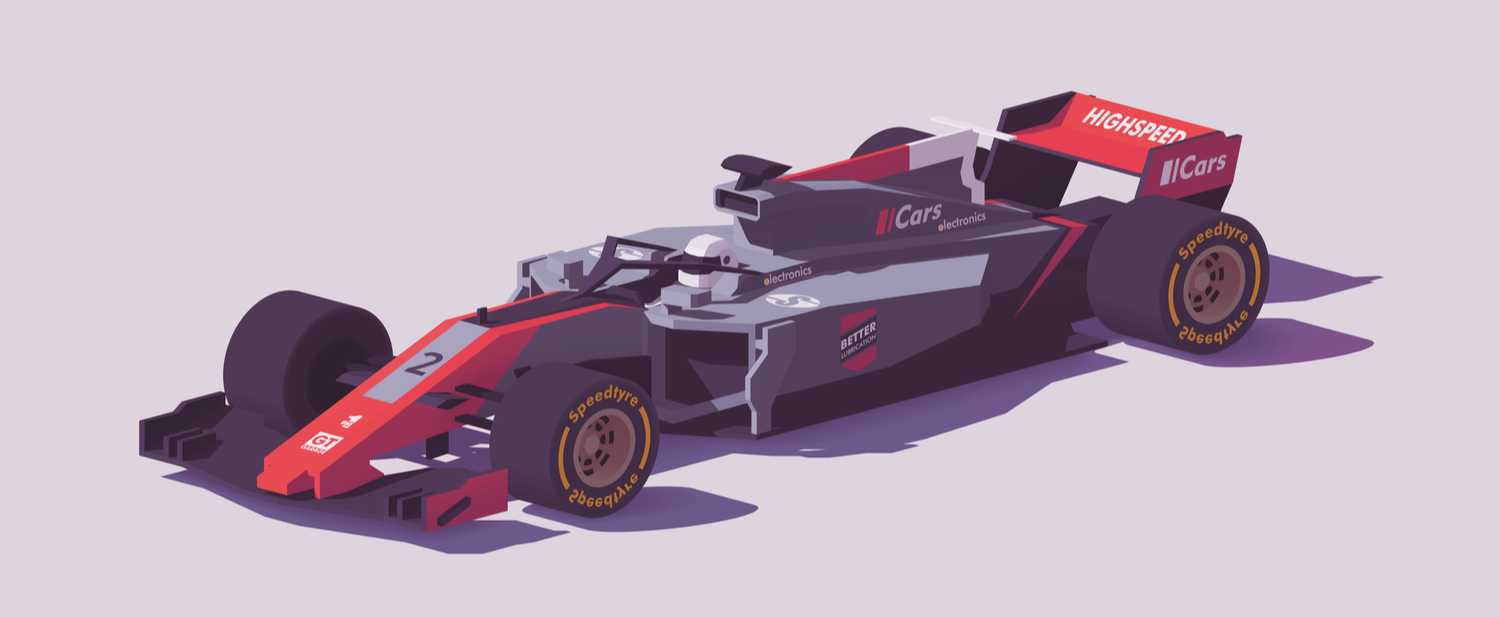 Watch the 2022 Formula 1 Bahrain race for free!
Yes! Formula 1 is finally back for its 2022 season, and it's kicking off Sunday the 20th or March with an ever-exciting Bahrain race.
So who is it going to be this year? Hamilton or Verstappen? Can Ferrari finally be a contender for the title for once? Well, all you have to do to find that is tune in!
And that's where things start getting bumpy. Because figuring out where to stream the F1 races, and not going broke while doing it is the real struggle here. Luckily, you have us, and we have all the answers and all the tools!

Can't miss a single race?
Get ExpressVPN and enjoy the action!
Where can you stream the Bahrain race in 2022?
Every year the rights to F1 streams keep shifting. So if you think you know where to stream the races… well, you might as well chuck all of that knowledge out the window.
In the US, the rights to broadcast both the Bahrain race and the entire season of Formula 1 went to ESPN and ESPN Deportes. But not ESPN+ for some reason,  so that was money well spent.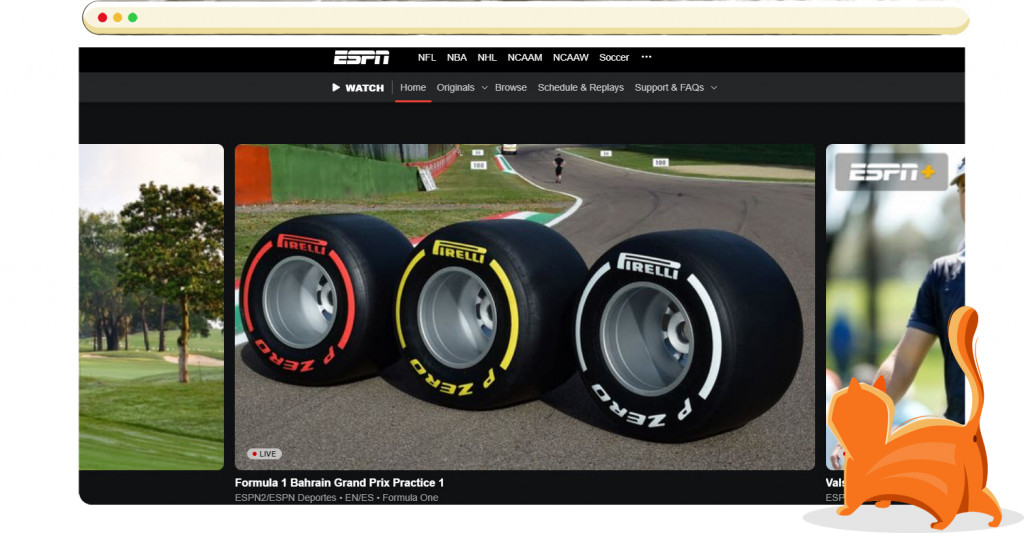 Canada will be streaming the races on a whole bunch of channels and streaming platforms, including RDS, RDS 2, TSN, and Nuovo. As many options as there are, all of them are either paid streaming or require you to have paid cable. So no flipping the TV on and calling it a day.
The same goes for Australia, where only the Australian GP will be free to broadcast, and the rest of the races will be available on Foxtel and Kayo.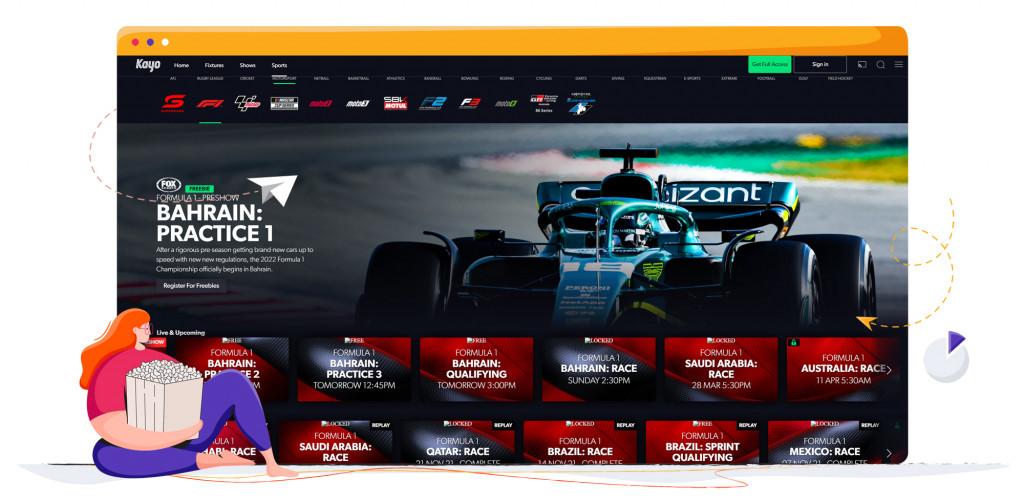 And then there's, of course, the F1 TV option. But if you can afford that, you might as well buy yourself an F1 car and join the competition yourself!
You get the picture! This setup extends to pretty much every other country in the world.
Except for a lucky few!
Is there a way to stream the race for free?
You hear it right! There is a handful of places in the world that actually broadcast some or even all of the Formula 1 races for free. And Bahrain is definitely one of them!
The problem? Most of those places know exactly how lucky they got, so you know they do everything in their power to keep those who aren't supposed to see the racers out with some of the toughest geoblocks in the industry.

Check out how geoblocks affect you!
And how you can beat them!
Do not despair just yet, though, because we have the prefect solution for every bump in the road!
And that's ExpressVPN. Your personal ticket to Bahrain, and any other Formula 1 race for that matter.
Why ExpressVPN?! Because it comes with all of this:
ExpressVPN is the VPN that lets you have it all. Be it security or streaming, you know it's got your back!
So wherever the streams may be, you can bet your last dollar ExpressVPN can access it.
This provider might not have the most servers but it definitely has the most diverse server network that no other VPN can compete with.
So no matter where the free streams may be, you know there's a server right around the corner!
When it comes to sports streaming, speed is key, or else you just might be lapped by the stream.
With a name like 'ExpressVPN', you know speed is a priority. So wherever you connect to and from, streaming sports live and in perfect resolution will not be an issue with this one!
Want more reasons to get ExpressVPN?
We've got more reasons to get ExpressVPN for you!
Now that that's out of the way, it's about time to find out where you can stream the darn race!
Two ways you can stream the Bahrain F1 race for free in 2022
As we've said, there are fewer and fewer options to stream the Formula 1 races every year. But if there are any, you bet we'll find 'em!
So, here are your totally free, totally working (if you have ExpressVPN), tried and tested streaming options for this year's opening race in Bahrain!
ORF 1
Just like last year, Austria has it better than most when it comes to making F1 available to everyone. And that probably has something to do with some of the channels being owned by Red Bull.
Anyway, this year is no different! And the honor of streaming the first race of the 2022 season goes to ORF 1!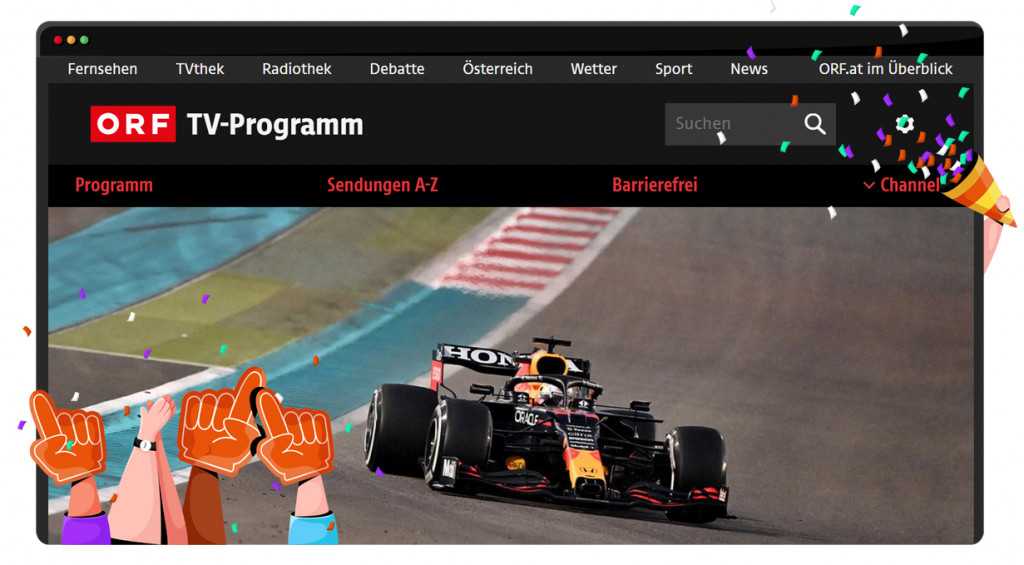 And you don't even have to do that much to enjoy the streams. All you need to do is:
Get ExpressVPN.
Connect to one of its awesome Austrian servers.
Head on over to the ORF 1 live stream.
Start your engines!
RTBF
Belgium is the second-best option on our list!
Why second? No reason, it's just that the website might be more difficult to navigate. Other than that, RTBF is broadcasting the Bahrain race as free, and as live as ORF!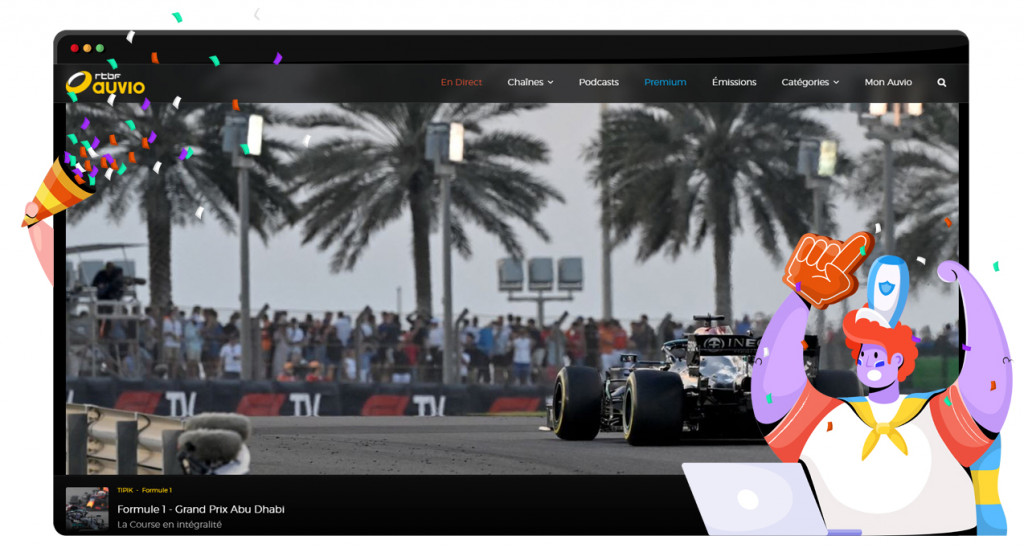 To tune in, all you have to do is:
Get ExpressVPN (there is no getting away from this).
Connect to ExpressVPN's Belgian server.
Head on over to the RTBF website.
Navigate to the live stream (note, that every race will have its own link, so it will take some navigating the website).
Don't mention it!
Start your engines!
Ah, we've missed this! The excitement, the drama, the honorable competition between some of the fastest machines ever designed.
And with us and ExpressVPN by your side, you don't even have to go broke in order to enjoy the flying sparks and revving engines!
So… who is it going to be this year? Max or Hamilton?