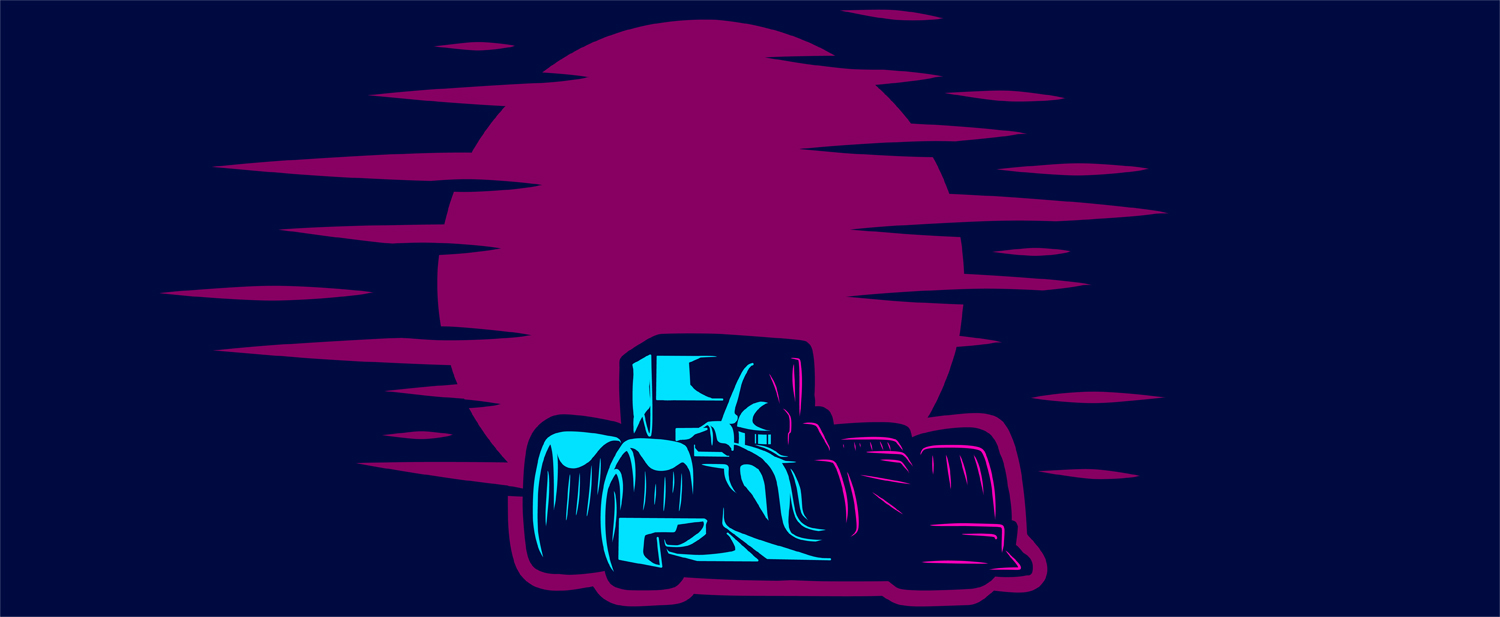 How to stream the 2022 F1 Belgian GP live and free
Feels like it's been ages since we got some Formula 1. But now, the summer break is finally over, and on the 28th of August, the 2022 F1 season will finally rev up its engines again, starting with the Belgian GP on the famous Spa Circuit.
The last Grand Prix was the race in Hungary which ended with a glorious victory by Dutchman Max Verstappen after a somewhat discouraging qualifying race. The Mercedes team also seems to have pulled themselves together, taking both the 2nd (L. Hamilton) and the 3rd (G. Russel) places on the podium. Not that it makes any kind of a difference this late in the season, but it's great to see they still have some fight in them.
The talk of the town, however, was and still is Ferrari. And not in a good way. It's not like the team has been making good strategy calls before, but they really dropped the ball in Hungary. Not anything new for Ferrari, to be honest. But we really feel for Leclerc who finished 6th after giving it his all the entire year. Sainz Jr. did manage to finish 4th, but, ultimately, it was still disappointing.
So what did the teams learn during the short break? Were they able to devise a new strategy to give the second half of the season their all and tip the scales in their favor? Or has everyone given up and will just watch Verstappen win it? Well, you know the answer: You have to tune in to find out!

ExpressVPN: The sponsor of free Formula 1 streaming!
Is there a way to stream the 2022 Belgian GP for free?
The teams may have very well come out of the summer break with new strategies, but the streaming scene hasn't changed.
For most, Formula 1 live broadcasts are locked behind expensive cable subscriptions or streaming providers. For example, in most European countries Viaplay is holding the F1 streams hostage. And it's not even that good!
In the States, the only option to watch Formula 1 is ESPN. The same goes for the UK, where the only way to stream the live races is through a hefty Sky Sports subscription. And Australia has Kayo, what else?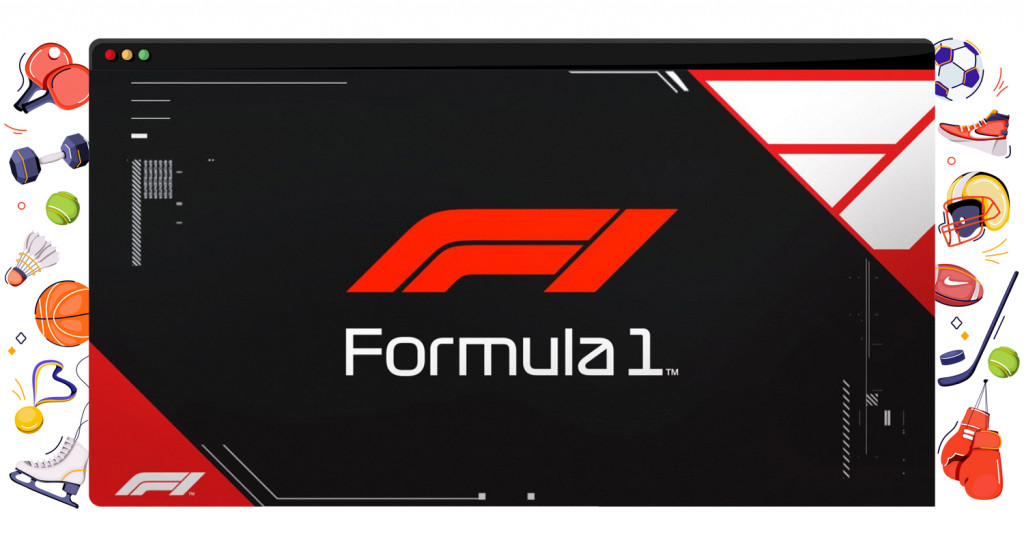 Wherever you are, it's obvious you are dealing with the same issues.
As hardcore Formula 1 fans ourselves, we get it! And believe it or not, not every country is like that. Some places don't just make a single race, but entire racing seasons free to watch for their local public. And all you need to enjoy them too is the right key. And the key you're looking for in this case is ExpressVPN!
Here's what ExpressVPN has in store to help you with your Formula 1 addiction:
First of all, ExpressVPN has incredibly powerful and speedy servers all over the world. This gives you easy access to any place that you want to stream from.
Lately, VPNs have been dropping the streaming ball. But not ExpressVPN.
This is the go-to streaming unblocking VPN for professionals. So you know it will work for you!
Sports streams have some of the toughest blocks, and ExpressVPN cracks them as though they're nothing.
Finally, when it comes to streaming sports, speed is key. And ExpressVPN is the fastest VPN around!
Find our more about ExpressVPN
Check out our massive review
Now that you have the tools, time to get to the streaming options!
The 3 ways you can stream the 2022 Belgian GP for free!
Some places treat their Formula 1 fans much, much better than others. All you have to do is know where they are and how to access them.
We have found 3 ways that will let you enjoy all of the GP from Belgium completely free! Now isn't that great?
ServusTV
Two channels share the rights to Formula 1 streams in Austria: ServusTV, and ORF 1. Every other race they switch who's streaming the upcoming race, and on the 28th of August, it's ServusTV's turn to shine!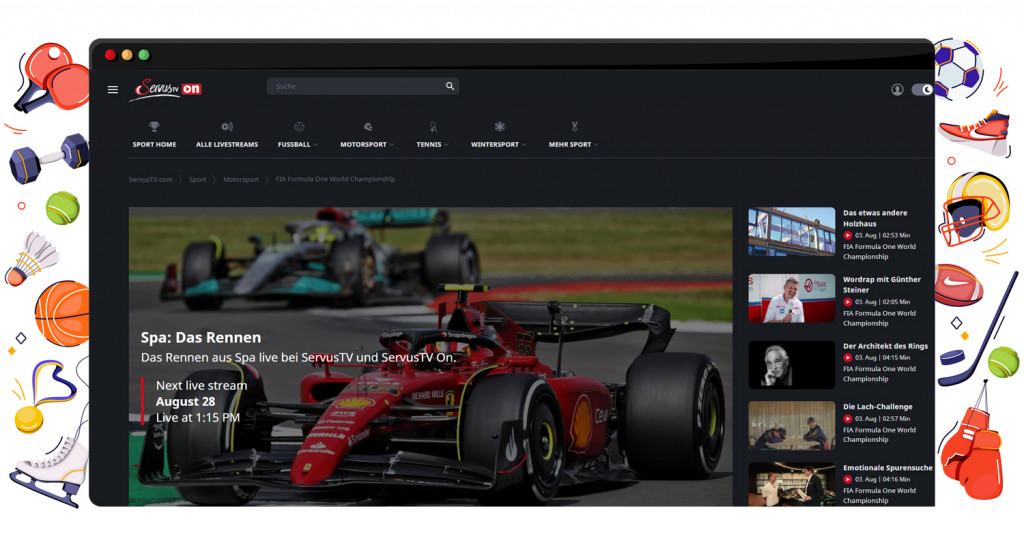 Finding a VPN with working servers in Austria, let alone ones that are optimized for streaming, is no easy task. But hey, if you follow our advice, you have already found one!
So here's how you get to enjoy the race:
Get ExpressVPN!
Connect to a server in Austria.
Enjoy! That's actually it – no need to make an account, register, or send selfies with a passport in hand. Formula 1 in its purest form! Truly the best way to enjoy the sport!
RTL Play
One German-ish-speaking country not cutting it for you? We've got more!
Luxemburg will also be streaming the entire 2022 Formula 1 season (Belgian GP included) completely free on its RTL Play streaming platform.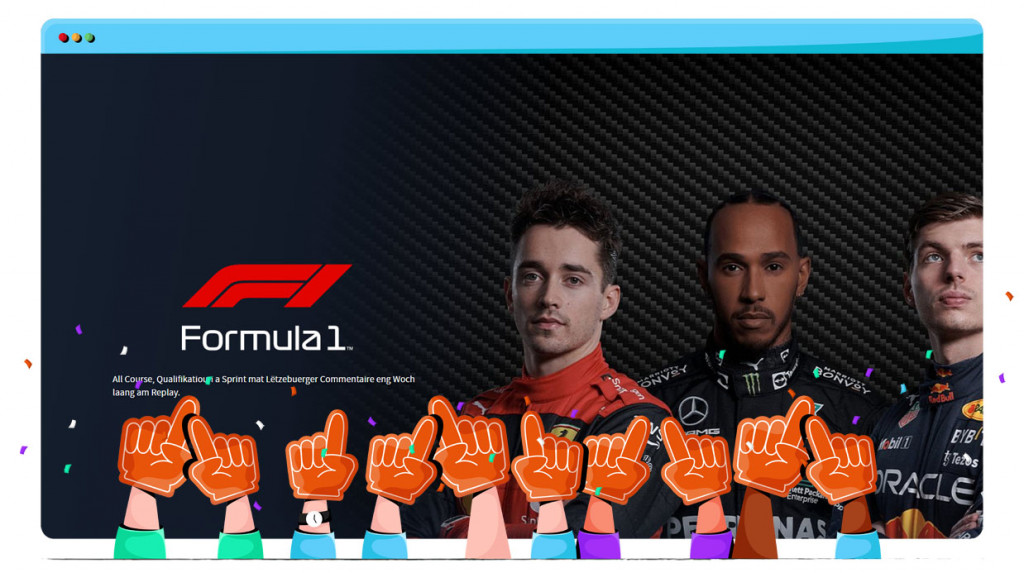 Finding a VPN with servers in the tiny country is like hunting unicorns – difficult, pointless, you'll still come up empty, and you kind of look dumb doing it.
Lucky for you, ExpressVPN just might be the only VPN that not just has servers in the country, but is actually capable of unblocking its streams!
So, here's what you need:
You guessed it, first of all, you need to take out an ExpressVPN subscription.
Next, connect to the provider's server in Luxemburg.
Finally, head on over to the RTL Play streaming platform, find an RTL Zwee live stream, and enjoy the race once the time comes!
RTBF
Last but by far not least is the host of the current GP: Belgium. And, of course, it will be streaming the race live and free for all the locals to enjoy!
The platform in question is RTBF, which actually has been streaming the entire season both live and free all year.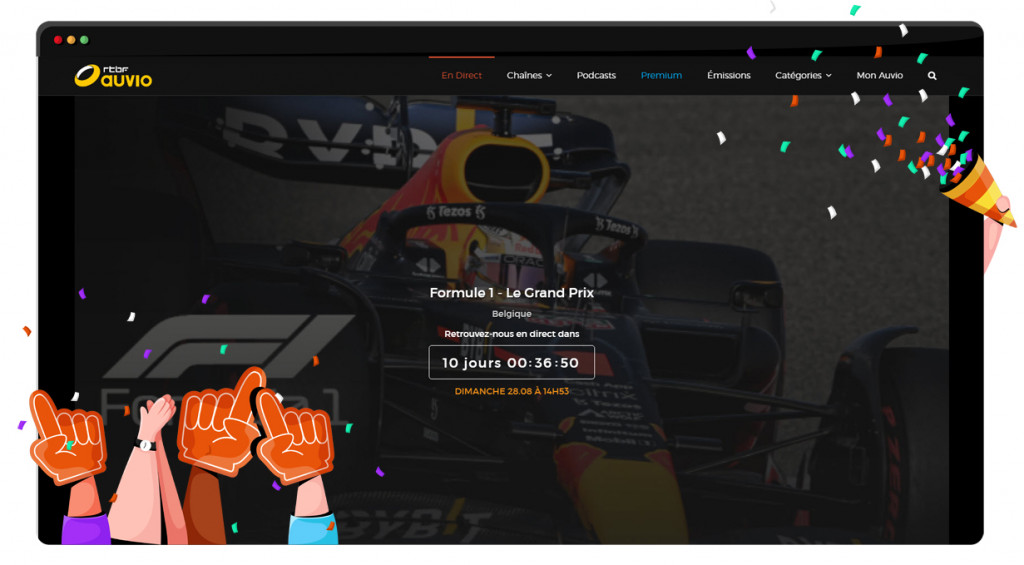 This platform is a bit tougher to crack but if French is your language of choice, this is the place to be!
And here's how you get to enjoy it:
Take out an ExpressVPN subsription, duh!
Now, connect to a server in Belgium and head over to the RTBF Auvio online streaming platform.
The platform does require you to have an account, but it's a free one. In order to complete your registrations, you are going to have to provide a Belgian postcode. This information, however, is never checked, and you can easily google one. Or, wait, here you go: 1040.
And that is it. All that's left is enjoying the races in fabulous French commentary.
It's back, baby!
And not a moment too soon. Not having to watch a race every weekend is truly torture, but now we finally get to witness how the season plays out!
And look, some are saying that the rest of the season won't be exciting, and Verstappen has this in the bag… But, first of all, it's Formula 1, so crazier things have happened. And second, we're in it for the art of crazy fast, crazy high-tech super driving. And we're not giving this up for anything!